A foodie's first time in Macao is always an exciting adventure. After all, this ambient city is a foodie's paradise, with delectable delights found in every corner. Plus, Macao was designated as a UNESCO Creative City of Gastronomy on 31 Oct 2017, an ode to its impressive culture and culinary legacy found in Macao food!
Be it flavourful street food or exquisite fine-dining restaurants, Macao has everything you need for a promising gastronomic journey! Let us tickle your tastebuds with these must-try food items and restaurants in Macao!
Also read: 4D3N Hong Kong & Macao: Things to See, Do & Eat
To keep up to date with the latest happenings in Macao, including upcoming events and activities, don't forget to check out the Macao Government Tourism Office website here! 
What's more, click here to check out more of the best eats in Macao!
Must-try Macao food when in the city
1. Macao Pork Chop Bun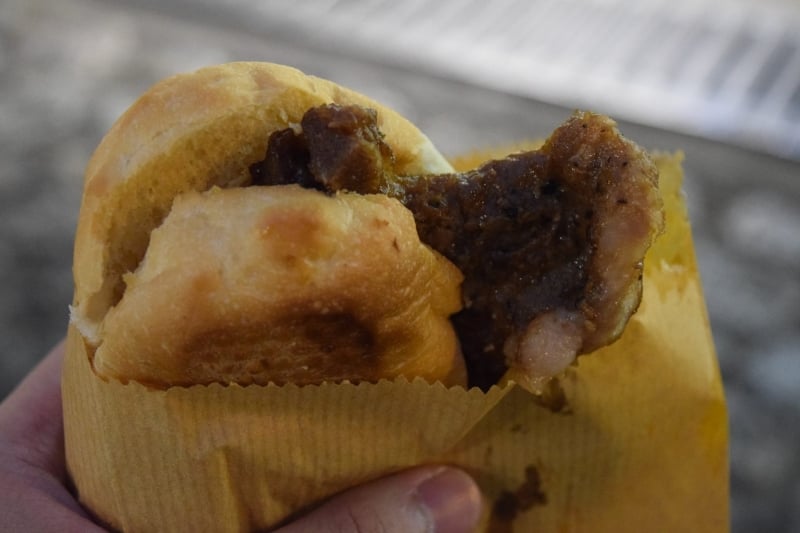 Macao's streets brim with mouthwatering treats for adventurous taste buds. But for a start, the simple Macao pork chop bun is an exemplary introduction to the city's flavours. The pork chop is marinated in a delicious concoction of garlic, soy sauce, and spices. After frying till juicy, the pork chop is sandwiched between two flaky buns for the perfect combination of sweet and savoury!
You can find pork chop buns in many areas of Macao, from restaurants to specialised shops and even street vendors near Senado Square! Pair it with a cup of milk tea and you have the perfect snack combo!
2. Portuguese Egg Tart
Macao's diverse mix of cultures makes it possible for unique recipes to exist. The Portuguese Egg Tart is one such example for Macao food as a whole. This puff pastry is much more than just satisfying the sweet tooth. The flaky crust and creamy custard filling create an exciting combination of textures. Just take a bite, and you'll surely see what we mean!
3. Crab Porridge
In Macao, crabs are usually in season between autumn and winter as they are juicier this time of year with a real flavour punch!  To keep warm, locals cook porridge out of these delicious crustaceans. The best rice porridge is usually slow-cooked to perfection. It should be fluffy and the taste of crab and fish should surface. One sip, and you'll know why some locals travel from the other side of Macao just for a taste of it!
4. Portuguese Chicken
Despite its name, Portuguese Chicken is actually a Macanese invention, a showcase of the diversity in Macanese cuisine. The dish consists of tender chicken, flavoured with garlic and other spices, cooked in a fragrant tomato and onion-based sauce. The dish is usually served with potatoes and vegetables, although it is sometimes paired with rice too.
While the dish does borrow influence from a different Portuguese dish, Portuguese Chicken ( or po kwok gai in Cantonese) is a mainstay in the Macanese food scene mainly for being one of the most iconic and representative dishes of the city! Be it classy restaurants or hole-in-the-wall eateries, you'll find this fragrant dish almost everywhere you look!
5. African Chicken
Another popular Macanese dish with a unique name is African Chicken, a staple in Macao since its inception between the 1940s and 50s. The story goes that, back then, Macanese chefs decided to combine Portuguese and African flavours and spices to create this mouthwatering dish, thanks to the city's unique position as a port of travel between the two countries.
The dish typically consists of chicken marinated in garlic, ginger, chilli peppers, turmeric, paprika, and ingredients before being grilled to perfection. It is often served with a spicy peanut sauce along with rice, potatoes, and some vegetables.
6. Minchi
At first glance, Minchi might not look like much, but this hearty, traditional Macanese dish is the ultimate comfort food. The dish derives its name from the word "mince "in English but this simple minced dish (often beef or pork) has many more elements to it that make it one of Macao's must-try dishes.
While recipes differ from eatery to eatery, Minchi is typically served with diced potatoes, onions, garlic, and soy sauce, and seasoned with aromatic spices like bay leaves and paprika. It's most often eaten with white rice with a fried egg (runny yolk and all) to top it off!
7. Meat Jerky
What makes meat jerky in Macao so special? After all, this flavourful traditional Chinese snack is easy enough to find even in places outside of the city. The answer lies, once again, in the unique culinary culture of Macao, where the dried meat is infused with Macanese flavours.
Macanese meat jerky is typically made from pork, beef, or chicken. The thinly-sliced meat is marinated in a mixture of soy sauce, sugar, spices, and sometimes other ingredients like honey or wine before being air-dried or smoked until tender and chewy. The marinade gives the jerky its distinctive caramelized coating and slightly sticky texture. Whether you want to eat it as a snack or bring some home as souvenirs, you'll find plenty of shops selling meat jerky in Macao!
8. Curry Beef Offal
It may not be for everyone, but curry beef offal is another one of the must-try traditional dishes in Macao that true foodies shouldn't pass up on. Known for its rich flavours, curry beef offal is a local favourite, thanks to the fragrant curry sauce that makes this aromatic and savoury dish an unforgettable culinary experience.
To further demonstrate the diversity of this UNESCO Creative City of Gastronomy, curry offal is often served either with rice or Naan, a traditional Indian bread, to scoop up the curry!
9. Bacalhau
Simply put, bacalhau is salted codfish, a staple ingredient found in many Portuguese dishes that has also found its place on the menu of many a Macao eatery. Some of the most popular Macanese variations of this dish are Bacalhau com Chouriço (codfish with Portuguese sausage), Bacalhau à Macau (codfish cooked with spices and chili), and Bacalhau Frito (fried codfish).
In particular, we recommend bacalhau balls. These are croquettes made of mashed codfish, potatoes, onions, and eggs, and deep-fried until they're lightly crispy on the outside. The crispy batter should make an excellent combination of the soft and moist ground codfish inside every piece.
10. Steamed Milk Pudding
A simple yet delicious treat in Macao is steamed milk pudding (also known as dairy custard). Found in cafes and dessert shops all over the city, this light but decadent pudding is made by steaming milk, sugar, and egg whites until it sets into a silky-smooth custard that tastes mildly sweet.
11. Almond Cookies
Almond cookies are versatile and light snacks that can be enjoyed just about anywhere in Macao. Two important ingredients build the flavours behind this inexpensive treat: almond and mung beans. When baked together, the fragrance coming from the duo of ingredients becomes irresistible. It's almost a trademark when it comes to Macao food, making them the perfect souvenirs when you return home.
12. Durian Ice Cream
Durian ice cream probably isn't like a Macanese treat, but it is actually one of the most famous desserts in the city! What makes durian ice cream in Macao special is the ingredients used: rather than use artificial flavouring, each cup of ice cream is made using fresh durian pulp and mixed with cream for a creamy but smooth texture. Don't fret if you don't like the pungent smell of durian, because the ice cream offers a slightly more subtle aroma, whilst retaining the unique flavour of the fruit.
And there you have it: the best things to eat in Macao, from traditional comfort food to mouthwatering street treats. And believe it or not, this article is just only scratching the surface! As one of the top foodie havens in Asia, Macao is home to yet more culinary gems to discover!
To keep up to date with the latest happenings in Macao, including upcoming events and activities, don't forget to check out the Macao Government Tourism Office website here! 
What's more, click here to check out more of the best eats in Macao!
---
Brought to you by Macao Government Tourism Office