Most tourist activities in Taiwan are found in the north, in its metropolitan capital city of Taipei and its surrounding counties such as Hualien and Yilan, both of which are famous for extremely picturesque natural scenery.

One Taiwanese gem of a place that has been under the radar (but slowly rising in popularity) is the port city of Kaohsiung, situated in the south of the island. It is the second largest city of Taiwan and the busiest port of the country.
You might be wondering: what exactly is there to see or do in Kaohsiung? Well, I'm glad you asked, because I have just the thing for you: a one-day itinerary to see the best of Kaohsiung inspired by my own travel plans when I visited the city in March 2016! Interested? Well, read on and let's discover Kaohsiung together!
Also read: How to Travel Taiwan on a Budget
Nuts and Bolts: Where to stay and how to get around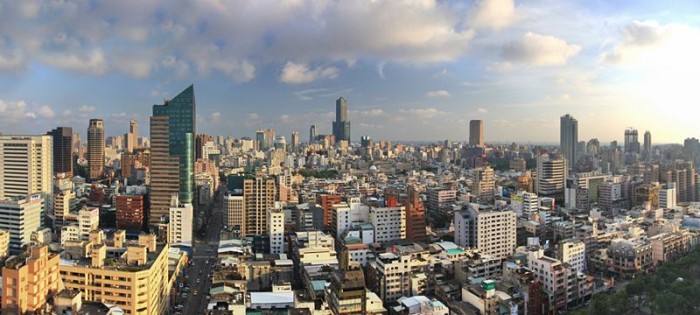 Image credit: Marku1988
Right, first, let's get some basic information out of the way.
Although it is not as big (as far as area is concerned) as Taipei, Kaohsiung is not exactly a small city either. Therefore, it is important to find accommodation with a good and strategic location. I personally recommend looking for a place to lodge at in the Zuoying District, specifically along Yucheng Road. It is one of the liveliest sections of town (we'll get to that later) and it is close to the Kaohsiung Arena MRT station.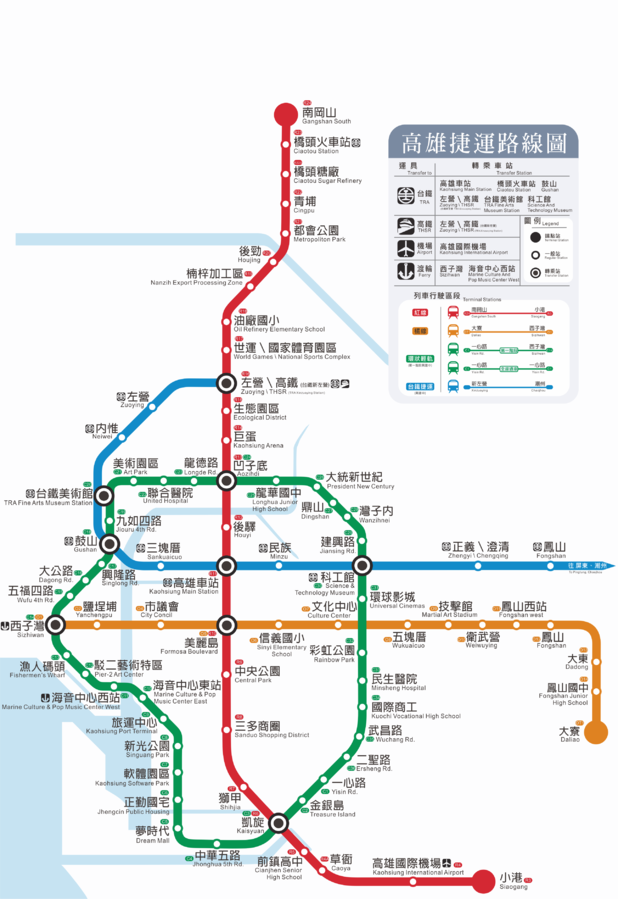 Image credit: Taiwanfaq
And speaking of the MRT, it is imperative that you familiarise yourself with the city's underground public transit if you want to follow this itinerary. Fortunately enough, the subway system in Kaohsiung is relatively simple to understand.
There are 3 operational lines (used to be 4) but we will only be utilising the two main ones: the RED line which runs from Kaohsiung International Airport to Gangshan South (it stops at Kaohsiung Arena, making travel between your accommodation at Yucheng Road, should you choose to stay there, and the airport very convenient); and the ORANGE line which runs from Sizhiwan to Daliao. Take note of the stop 'Formosa Boulevard' which acts as the transit point for both the RED and ORANGE lines and there's something special here (again, we'll get to that).
During the day: Visiting the Pier 2 Art Centre and a scenic hike up Shoushan National Park
Okay! So it's time to officially kick-start the one-day tour of Kaohsiung! First, you'll want to first make your way to the Kaohsiung Arena MRT station (or any MRT station for that matter). For the purpose of not confusing you, my guide is based on the assumption that you took my advice (bless you!) and found a place to stay on Yucheng Road.
Purchase a ticket from one of the many automated vending machines for Yanchengpu (it involves both the RED and ORANGE lines and transits at Formosa Boulevard). It should cost no more than 30 TWD, maybe a little less for a single journey ticket. And then, simply hop on the MRT (RED line towards XIAOGANG) to begin.
We'll be visiting the beautiful but slightly underrated Pier 2 Art Centre and the scenic Shoushan National Park today. But before we get there, you'll want to hop off at Formosa Boulevard and not just because it's where you switch lines!  
As you head towards the central part of Formosa Boulevard for the ORANGE line platform, you'll definitely encounter what is called 'The Dome Of Light'. The public art display which adorns the station is in fact the largest glass work in the world. It's vibrant colours and unique design cause many, tourists and locals alike, to simply stop, look up at the roof and admire the sophisticated artistry. Dare I say, I've not seen many more public transit points as beautiful as this!
Take a few photos (or selfies, if you will), and take some time to admire the artwork. If you're hungry, there are some stalls selling bentos and snacks at Formosa Boulevard in addition to quite a number of shops selling souvenirs. There's no rush, really. But once you're done, head to the platform to change onto the ORANGE line MRT headed for SIZHIWAN and hop off at Yanchengpu.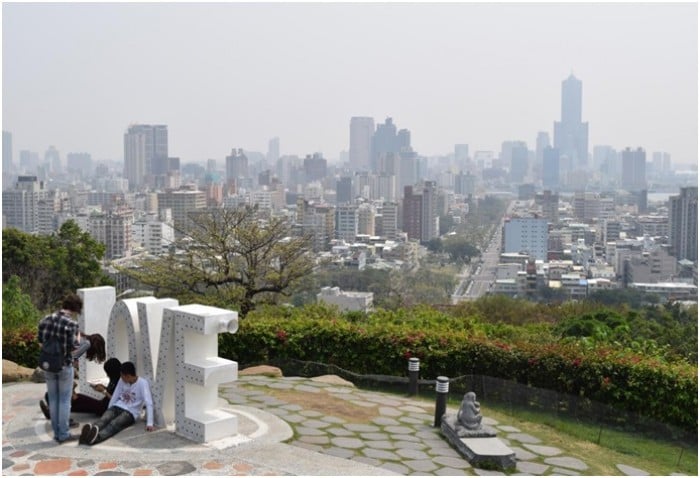 Once out of the station at Yanchengpu, look towards the northwest. Squint a little and you should see some hills in the distant. That's basically the Shoushan National Park area and that's where you're headed. Hope you're ready for a hike! Psst, you could also take the number 56 public bus from opposite the MRT station which stops off at the car park of one of the entrances.
As you make your way up the hills, you'll pass by a few shrines and monasteries by the hilly roadside. They all offer a serene ambience and a breathtaking view of the city and the port of Kaohsiung. Believe me when I tell you that there's just something surreal as you look down on the bustling port city from up in the calm and peaceful confines of the monasteries in the hills.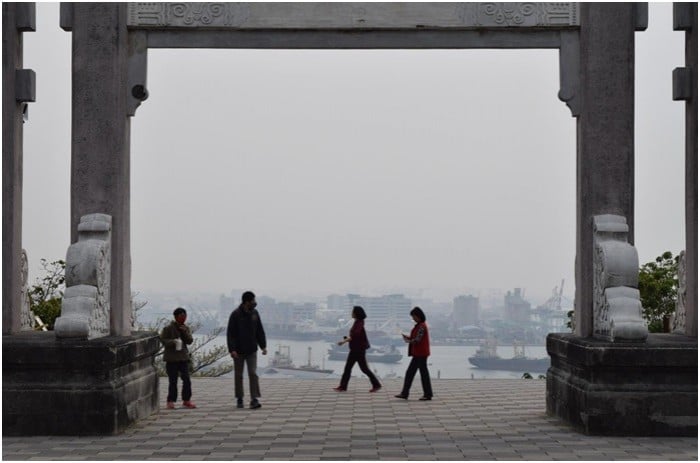 As you proceed deeper into the national park, you'll also encounter a zoo and many more interesting places with amazing scenery. I'll leave it to you to discover them all! I would suggest allocating about a minimum of 4 hours to half a day to fully explore (and hike!) the area before returning back to Yanchengpu Station.
But don't hop on the MRT just yet, there's one other thing to see in the area and it's thankfully only a few minutes walk from the station. Head southwest on Dayong Road (there will probably be others headed in the same direction, just follow them) and you'll arrive at the Pier 2 Art Centre.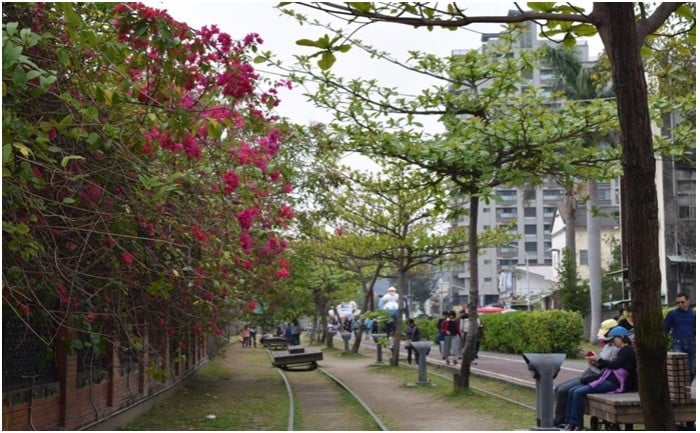 The art centre is located by the pier (duh!) and is a collection of public art exhibits by the city's local artists. The warehouses at the centre used to be abandoned until local artists convinced the city council to release the location to them and for them to use it to express their passion for art.
It is now a beautiful pedestrian area with imaginative 3D artwork and decorations overlooking the pier. Whip out your cameras and go trigger happy with the amazing scenery! And don't you dare forget to take a customary selfie with the resident guardian of the Pier 2 Art Centre! Okay, that last bit of information was made up, but hey, BUMBLEBEE!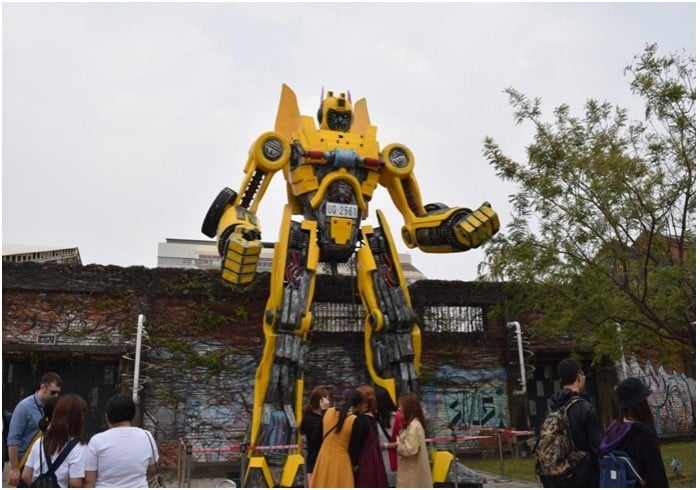 As the sun sets, visit the pagodas on the Lotus Pond and throng the Ruifeng Night Market!
It should be late afternoon by now if you started the tour at about 9am, so based on your liking, you could either return to your hotel to wash up or continue with the two remaining items on the day's itinerary. Either way is fine as you'll need to use the MRT again anyway.
Regardless of what you choose to do, once you're ready, hop on the MRT (RED line) towards Gangshan South and stop off at the Ecological District. From here, it's a 15 minute walk to the Lotus Pond, another must see location in Kaohsiung.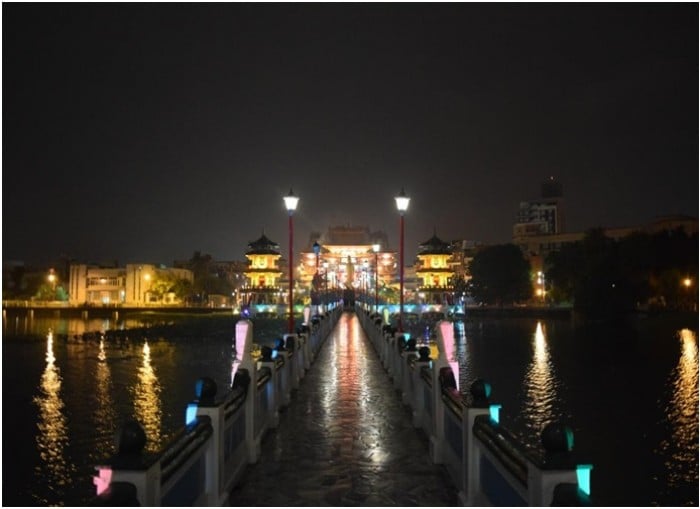 Now, considering the Lotus Pond is at its most beautiful at night when the skies are dark and the lights are on, you'll have to make your own decision about what time you want to make your way here. Of course, remember that the daylight hours vary according to seasons.
The pond's most iconic attraction are its dragon and tiger pagodas. But in addition to the pagodas, there are also the Spring and Autumn Pavilions, the Goddess of Mercy statue and numerous shrines and Buddhist temples around the area which add to the atmosphere and thematic scenery. If you visit during the day, there are also shops selling medallions and ornaments around.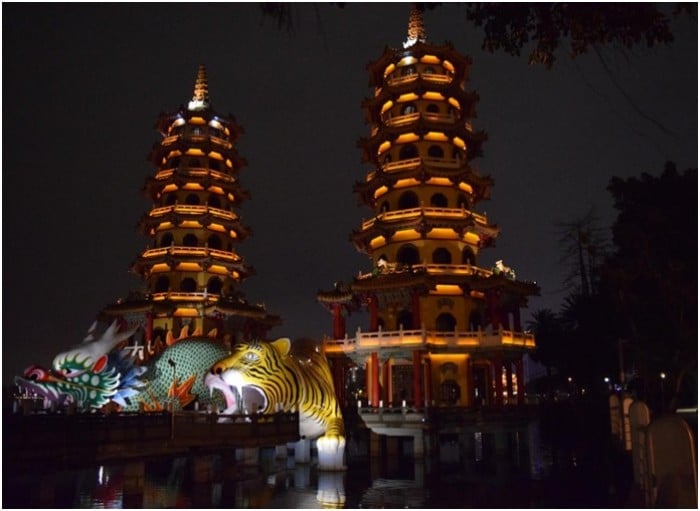 Once you've exhausted your 'ooos' and 'ahhhs' at the Lotus Ponds beautiful scenery, make your way back to Kaohsiung Arena Station. But before you go back to your hotel, there's one very important place to visit.
You see, visiting Taiwan and not going to a night market is like going to someone's birthday party and not bringing a present, not quite a mortal sin but socially unacceptable. #exaggeration
Also read: 8 Must-Try Taiwanese Foods
While many people recommend the Liouhe Night Market in Kaohsiung, I prefer the Ruifeng Night Market on Yucheng Road (remember how I said it's a good location to stay at?) You see, the Liouhe Night Market is a very touristy night market, with slightly marked up prices and a little less local ambience.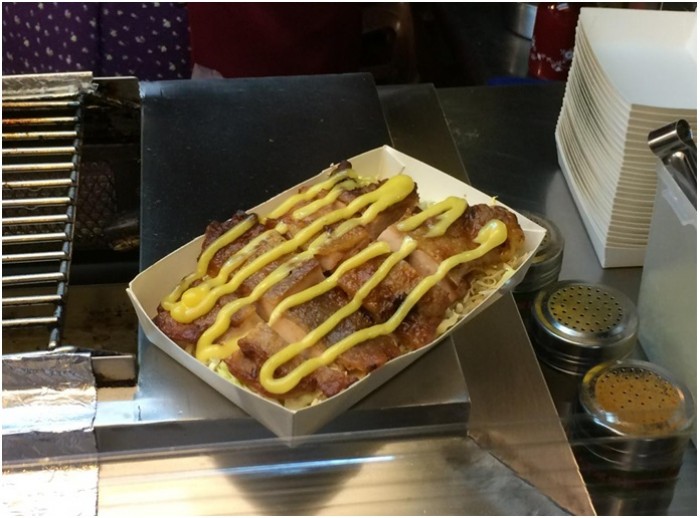 The Ruifeng Night Market on the other hand is hot, packed, and on weekends, a human–sardine packing machine. You'll find gastronomic delights from Taiwan and many other parts of the world including Korean, German, Mexican and French snacks! And they all taste oh so good! You'll be (literally!) rubbing shoulders with the locals and trust me, you'll get a proper taste of the night market food culture in Taiwan at Ruifeng Night Market. And because I'm in a kind mood, here are two more pictures just for you! Taste the yum!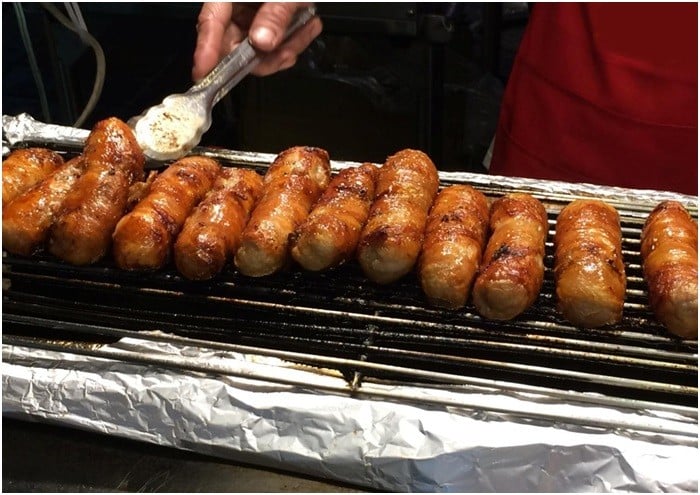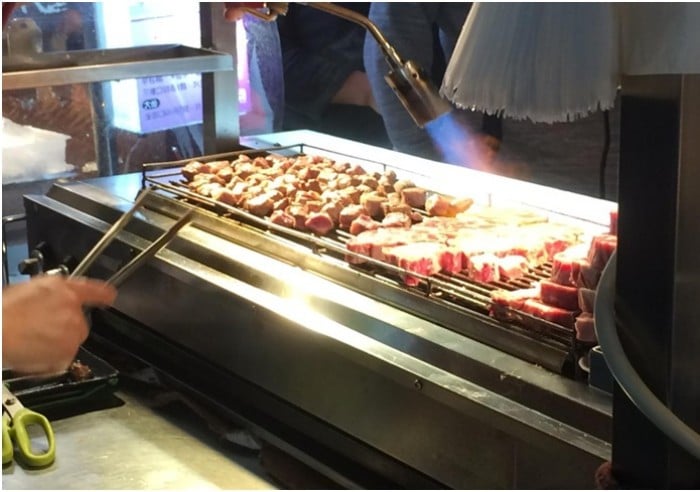 Now that you've filled your tummy with some good Taiwanese street food goodness, you may choose to return to your hotel and retire for the night or you can do some shopping along the streets near the Ruifeng Night Market. Even branded items such as Nike and Adidas come cheap in Kaohsiung, so don't miss your chance to stock up!
Of course, there's yet more things to do in Kaohsiung
Like I said, Kaohsiung may not be a huge city but it certainly does not find itself lacking any attractions. I've only covered 4-5 items in this itinerary and it takes a full day to cover it fully! And yet, there's even more to see and do in Taiwan's largest port city!
If you find yourself with more time (or days) to spare, you should definitely also hop on a cruise of the Love River, visit the Buddha Memorial Centre in Fo Guang Shan and even do some island hopping to Cijin Island!
There's no way I could cover everything about this lovely city in one article but I hope this helps as a starting point! Well, go along now! Go explore Kaohsiung and enjoy it as best as you can. I know I did and I'm certain you'll want to go back to Kaohsiung again too once you've seen its charms!