Even as borders slowly reopen around the world, it's a timely reminder to appreciate places in Singapore that are visually and aesthetically close to your favourite holiday destinations. Besides, wouldn't you say that our exploration of the Lion City only helped us to satisfy the 'travel itch' that built up over the last two years? 
These places will give you a taste of many different countries and cities spread across the globe. Think of it as going on a world tour, without having to leave Singapore. So grab your cameras and fervent wanderlust, and set out on this journey of discovery! 
1. The serenity and natural beauty of Bali, Indonesia
Bali has always been one of the top holiday destinations for Singaporeans; often for full-blown tropical holidays and sometimes even for quick weekend getaways. So it's no surprise that we miss the tropical vibes, tranquility, and lush greenery of Bali, Indonesia! But this Singapore attraction is surely going to get you reminiscing your fondest memories of Bali: the Sang Nila Utama Garden located in Fort Canning Park will transport you to the Land of the Gods! 
The trip starts the moment you walk into the garden through a series of Javanese split gates. You will also notice a reflective pool that serves as a meditative refuge for many who visit this soulful garden. An open-air, refreshing meditation session amidst acres of greenery certainly takes you to the tropical paradise, doesn't it? 
As you continue your journey, you'll also come across several ornamentals such as Magnolias, Ixoras, and other aromatic plants such as Gardenias and Vallauris that have great significance in the Javanese culture. And unlike your trip to Bali, the entrance to this realm is free of charge! So you know where to head to if you're among the many of us who miss this tropical haven. 
2. Gorgeous sunsets and stunning Australian views
Endless blue seas and spectacular views are just some of the many things that make Australia a desirable holiday destination. And that's just what your trip down to the Raffles Marina Lighthouse will offer you! This elegant and minimalist piece of architecture often referred to as a beacon of scenic beauty is popular among photographers and travel bloggers. The picturesque location, coupled with the cool sea breeze, is perfect for a relaxing afternoon.
It's also one of the best places in Singapore to catch aesthetic photographs for your Instagram feeds. As evening rolls in, you can catch a gorgeous sunset that ranges from hues of pink and purple to golden and red. Talk about the perfect way to end the day, right?
Also read: 16 Perfect Spots to Catch the Sunset in Singapore
And if you're hungry after your lazy day out, you can head down to the many restaurants in the Club or the Marina Bistro to enjoy a drink and grab a bite to eat. Sounds like the only thing missing from making it an Australian holiday is a jar of vegemite! 
3. The calmness of nature and tranquil Canadian lakes
It's quite difficult to fathom what a trip across the globe to Canada would feel like. While we can't give you the whole of Canada, we certainly can lead you to the Seletar North Link in Singapore. This gorgeous waterbody closely resembles the famous Liard River in Canada and is a great place to visit if you're looking to leave the hustle and bustle of city life behind. Much like the river in Canada, Seletar North Link makes for a great location for a photoshoot. This makes it a magnificent backdrop for your social media feeds. 
Being one of the lesser-frequented places in Singapore, your friends and family will be left wondering where you captured such stunning photographs from! This place is truly nature at its finest and is also located near places that are great to engage in fun-filled activities: you can unwind at the nearby Rowers Bay Park, or even embark on a kayaking adventure. So be sure to take a trip to Seletar North Link if you're missing out on travelling to the Great White North this year! 
Also read: 6 Scenic Driving Routes in Singapore to Get Away From it All
4. Warm cafe vibes and the 90's New York City
"See no one told you life was gonna be this way"! Much too relatable, now more so than ever, am I right? While we wait to fulfil our dreams of having the perfect NYC Christmas, we can't help but sing along to this iconic song. And, what better place is there to do that than Central Perk Cafe, where you'll get to enjoy the ultimate New York coffee shop experience with your friends?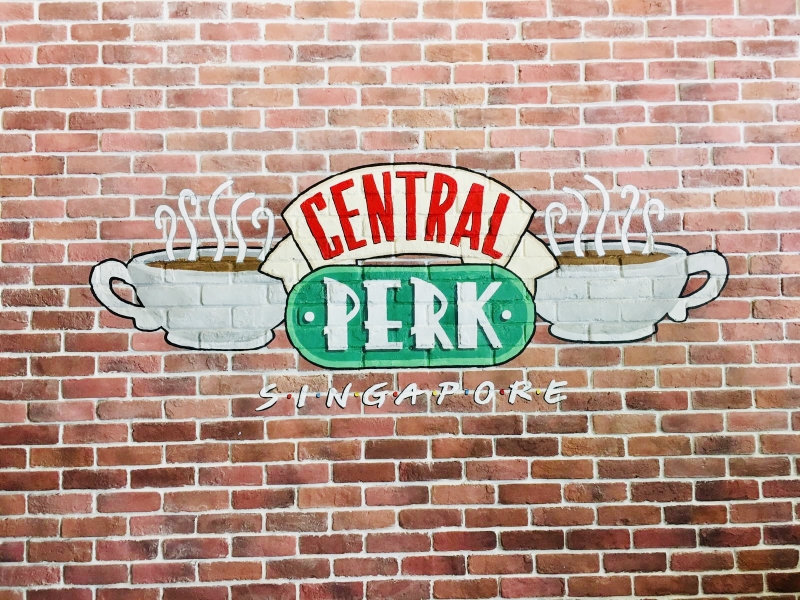 Modelled with reference to the popular TV show, F.R.I.E.N.D.S., this cafe is perfect for a coffee lover and a F.R.I.E.N.D.S. fanatic. This is one of the few places in Singapore to experience the authentic 90's New York City, with the furnishing and architectural elements reminiscent of both the TV show and coffee shops from the decade. Some of the iconic memorabilia include the orange couch, the large coffee mugs, and even Rachel's wedding dress! 
In addition, the ambiance of the cafe itself includes the neon signs, the high tables and chairs, the warm tones, and the brick walls. Indeed a nostalgic moment for ardent fans, this cafe is the perfect way to experience New York City in Singapore! 
5. Canals and Venetian gondola rides
Beautiful bridges, striking architecture, and peaceful Gondola rides — truly an idyllic Venetian dream, right? Well, the Sampan Rides at Marina Bay Sands comes close to recreating this beautiful scene. This Singapore attraction draws inspiration from the famous Gondola rides of the City of Canals at a fraction of the cost! At S$13 per individual, you can ride along the canal at The Shoppes. We certainly know that this experience will turn out to be a delightfully romantic evening for two!  
While on this journey, you can make a wish as you circle the Rain Oculus and even enjoy a close-up view of the hourly water cascade. Imagine this: 22,000 litres of water released from a skylight two storeys overhead! Be sure to keep your camera ready because that is going to make for an impressive view. The shimmering blue waters, the striking bridge, and the surrounding area are going to make for a wonderful experience. While we can't get you to Venice, this Sampan ride experience will certainly reignite your Venetian dream!
6. A fine dining experience amidst Greek interiors
We've all seen dozens of pictures of Santorini, Greece! The iconic shades of blue-and-white painted over pristine little houses make for possibly the most Instagram-worthy background. So why not take a little trip to Santorini and visit Blu Kouzina located at Dempsey Hill? The lovely blue-and-white interiors of this place in Singapore are synonymous with the beautiful Greek landscape. And the delectable Mediterranean cuisine here is surely going to be a delight to the taste buds! 
When you are done clicking pictures of the interiors to recreate the perfect Greek summer aesthetic, you can go through their extensive menu to enjoy authentic Greek dishes. Be it the Greek classic moussaka, one of their most popular dishes, or their pita bread with hummus and Melitzanosalata (eggplant dip), each one of their dishes will hit all the right spots! So if you're looking to spend a gorgeous afternoon in Greece with a hearty meal, be sure to head to this restaurant. 
7. The English countryside and Tudor-style houses
What we probably miss the most whilst hustling amidst this urban city life is probably acres of greenery and the slow-paced countryside. So why not spend a day reminiscing about the English countryside on a day trip to the Chek Jawa Wetlands located at the southern tip of Pulau Ubin? The best part about taking a trip to this place: you'll actually feel like you're leaving Singapore and stepping into a whole other city! Even if you've been to Pulau Ubin before, a journey deep into the wilderness of this offshore island will treat you to a lovely experience! 
As you walk this path, you'll also come across a Tudor-style house that is quite synonymous with English country-style dwellings. This was built by a British chief surveyor Landon Williams in 1930. You can enter this dainty cottage to find a cosy fireplace and even a jetty that extends into the sea! Be sure to read through the informative boards in the house and learn all about the history of this place. Now that sounds like a splendid way to absorb the English atmosphere and the salty sea, doesn't it? 
8. Enjoy African music, decor, and flavours
A safari in Africa seems out of question right now, so how about we enjoy the next best thing? At Kafe Utu, enjoy the diverse flavours and dishes from this exciting continent. And the African music, tribal decor, and communal spaces within the Kafe complement the food to give you an entire day in this culturally-rich continent! 
The authentic dishes here originate from Monrovia, Marrakech, and Malindi. You can also head up to the UTU lounge with your friends to enjoy unique cocktails, Kenyan ales, and tapas-style plates!
Indeed, this is one of the few places in Singapore that pays extremely close attention to its point of inspiration; what results is the closest you can get in Singapore to experiencing African culture.
The intricately designed sofas, cushions, decorations, paintings, and even door panels all resonate with the beauty and diversity of African culture. A museum tour of sorts work together to create a blissful experience for visitors; from the hand-carved doors, hand-blown water glasses from Kenya, the leather menus, and the majestic Mahogany banquet table. We promise you, this is the best and most delicious experience of Africa you'll find in the Lion City! 
Well, that was a spectacular world tour, wasn't it? From exploring Asia and Australia to Europe and even Africa, long weekends this year are starting to look more exciting! We can't wait to embark on this extremely promising journey through these places in Singapore. Which country will you be visiting first?