Hunter Valley is a region in New South Wales, Australia that's known for producing wines from the following grape varieties: Chardonnay, Semillon and Verdelho for whites and Shiraz, Cabernet Sauvignon and Merlot for reds. Since this wine-making area is less than three hours away from Sydney, it's a popular place amongst tourists and locals for out-of-the-city day trips.
Also read: Fun Things to Do In & Around Sydney On Your Very First Trip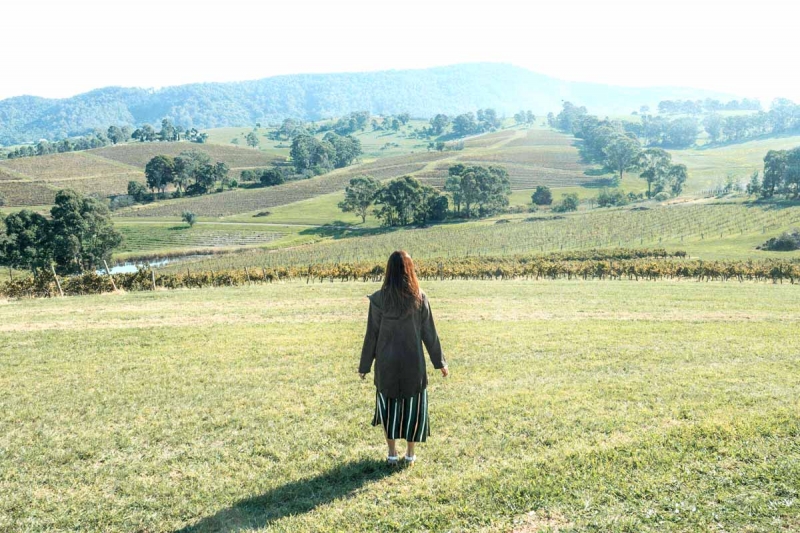 Not a wine connoisseur? Intimidated by wine jargon and etiquette? Don't worry. I wouldn't call myself a wine drinker either. In fact, before my Hunter Valley visit, I was a wine tasting virgin. I guess I was just eager to try something new so I gave it a go. You should too! And if you're going to book a Hunter Valley tour, I suggest you do what I did and book a small chef-led group tour with Gourmet Getaway Tours. Not only would you get to explore dreamy vineyards and sample some of Australia's finest wines, you'd get to savour unique Australian dishes too.
Need more convincing? Alrighty then! Allow me to tell you all about my gastronomic adventure. Though, let me warn you, this post will make your stomach growl.
First Stop: Sydney Fish Market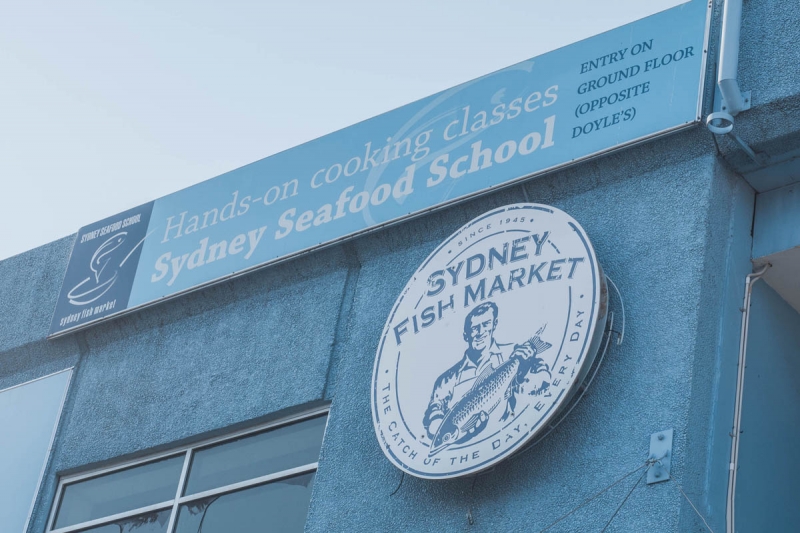 Yes, you read that right. Our first stop wasn't a vineyard or a winery but a wet market. Although, we didn't just go to a random one. We stopped by the third largest fish market in the world — the Sydney Fish Market! (Fun fact: Tokyo's Tsukiji Fish Market is the world's largest and Mexico City's La Nueva Viga Market is the second largest.)
I know most people tend to have negative notions of wet markets, especially when it comes to hygiene and sanitation, but the Sydney Fish Market is a premium marketplace and is recognised globally as a centre for seafood excellence. It has six fish retailers, a bakery, a butcher shop, a sushi bar, a delicatessen, a greengrocer, a bottle shop, a gift shop and tons of restaurants and cafes.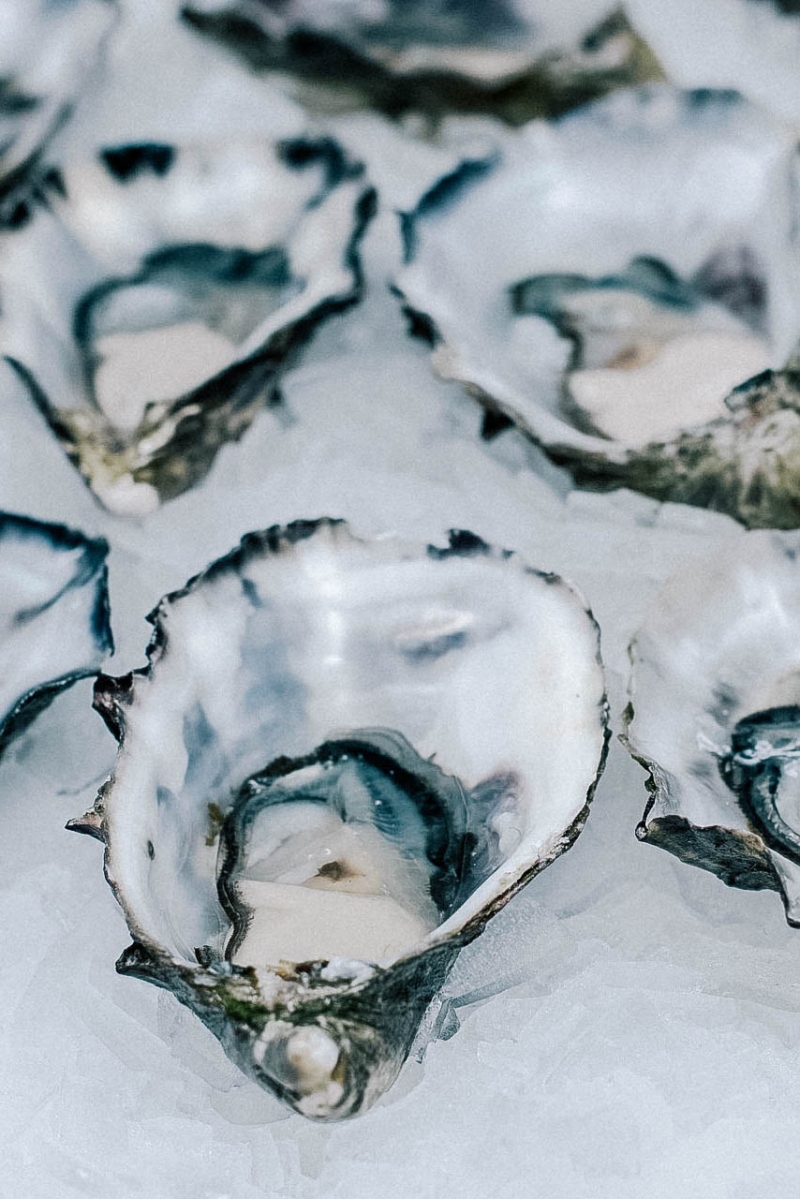 Our awesome tour guide/qualified chef/driver, Jimmy Henry, happily took us around and picked up a few locally-caught fresh seafood (like barramundi) along the way for the day's meals. More on that later..
Second Stop: Hawkesbury River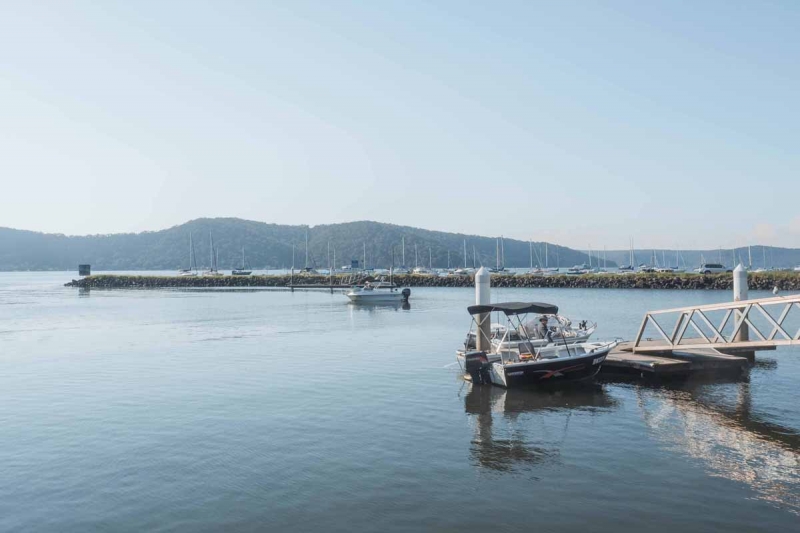 Since our tour started so early (pick-up time was at 6.30am), I didn't get to grab breakfast while getting ready for our Hunter Valley expedition. Luckily, breakfast was part of the deal. So after a short (maybe 10-15 minutes) bushwalk along the rugged banks of the Hawkesbury River, which was on the way to Hunter Valley, Jimmy displayed his excellent cooking skills and we were treated to a delicious hot breakfast.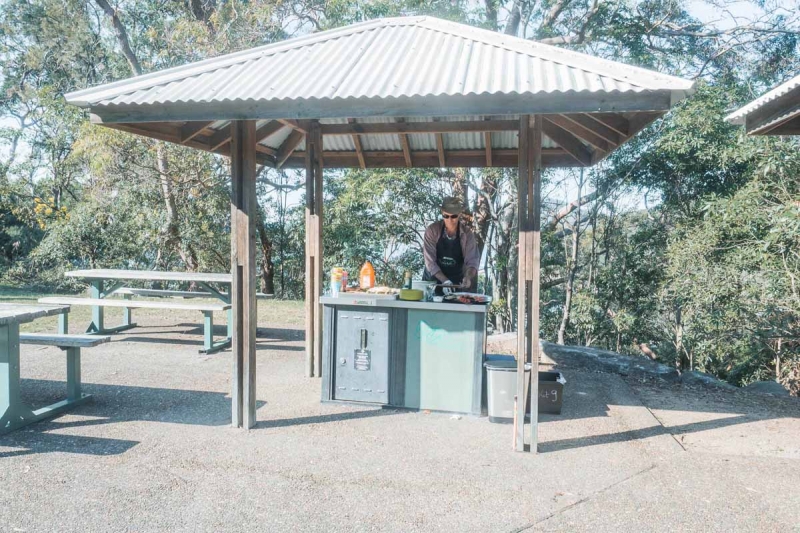 After breakfast, Jimmy set up a sushi-making station in one of the many picnic tables dotting the area and taught us how to properly roll our own sushi. I love sushi but I've never attempted to make one from scratch before so this was a fun activity. It was extremely easy too because Jimmy was nice enough to prepare all the ingredients for us so all we had to do was combine and roll!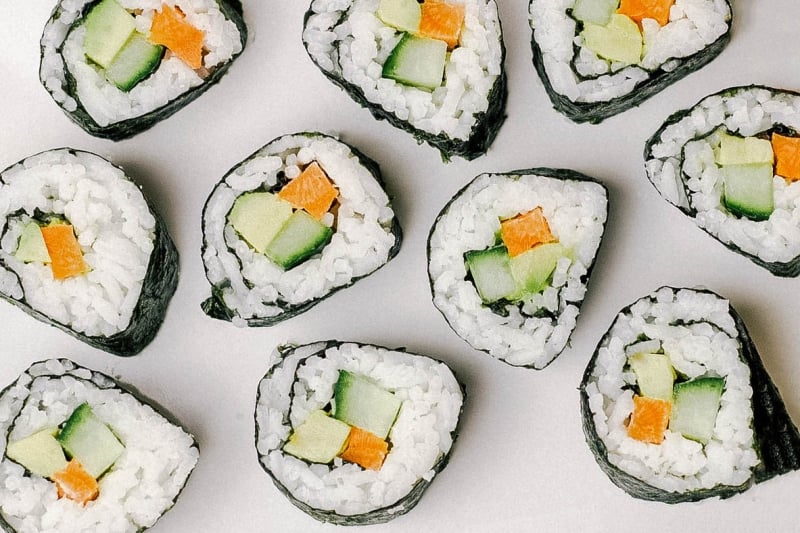 If you're wondering if I got to eat my finished product, I didn't. Not right away, anyway. We all had to save our "pièce de résistance" until we got to the wine tasting part of our tour since according to Jimmy, our sushi had to go with wine. So we packed up and finally headed out to Australia's oldest wine region..
Third Stop: Wollombi Wines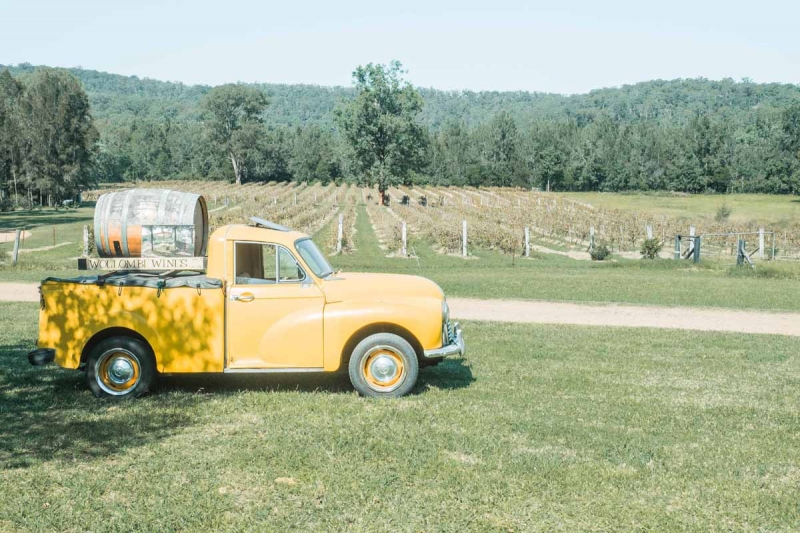 The drive to Hunter Valley was unbelievably scenic that even though I was so sleepy, I forced my heavy lids to stay open just so I could take in as much as I could. Also, I wanted to spot a few wild kangaroos hopping around in the countryside.
Also read: Road Trippin' Around Sydney & Tasmania: 10 Breathtaking Locations Worth Driving For
The first vineyard we visited was Wollombi Wines, a boutique family-owned vineyard with picturesque views of Wollombi Brook. The great thing about this vineyard is that all wine operations — yes, even the nitty-gritty — are carried out by family members so it seemed more like a passion project than a business. What makes the wines here special is that they're not mass-produced as the family carefully chooses the wines that they make available and only sells their products at their cellar door and farmers markets.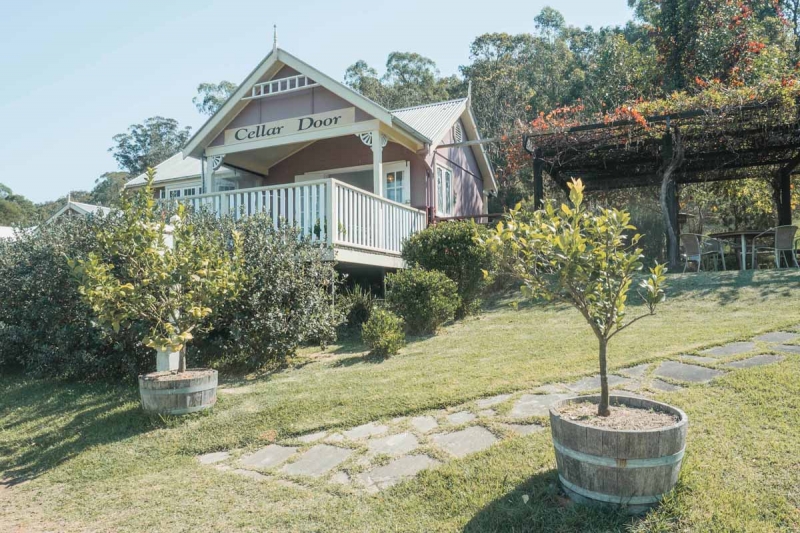 I have to admit, I consumed more wine than I should have during my first tasting but fortunately, the wines here have low alcohol content. Out of the 10 different kinds that we tried, my favourites were the 2016 White Splash and the 2016 Sticky. Yeah, in case you haven't noticed, I prefer white dessert wines over reds.
Fourth Stop: Saddler's Creek Wines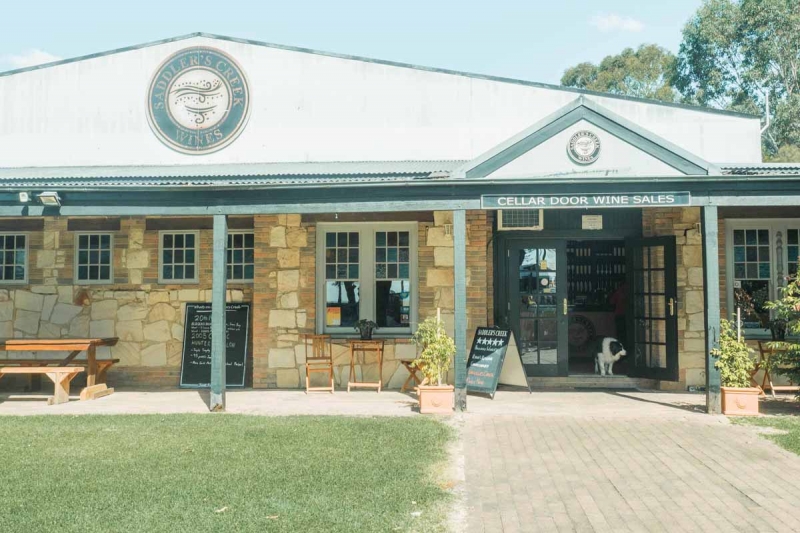 Next up on our itinerary was Saddler's Creek Wines, an award-winning winery located in Pokolbin. I felt so spoiled while we were here as we got to try their premium range of wines, including the famous Bluegrass Cabernet Sauvignon, while feasting on the delectable lunch (antipasto with chorizo and artichoke-stuffed field mushrooms) Jimmy rustled up in the kitchenette at the back of his bus.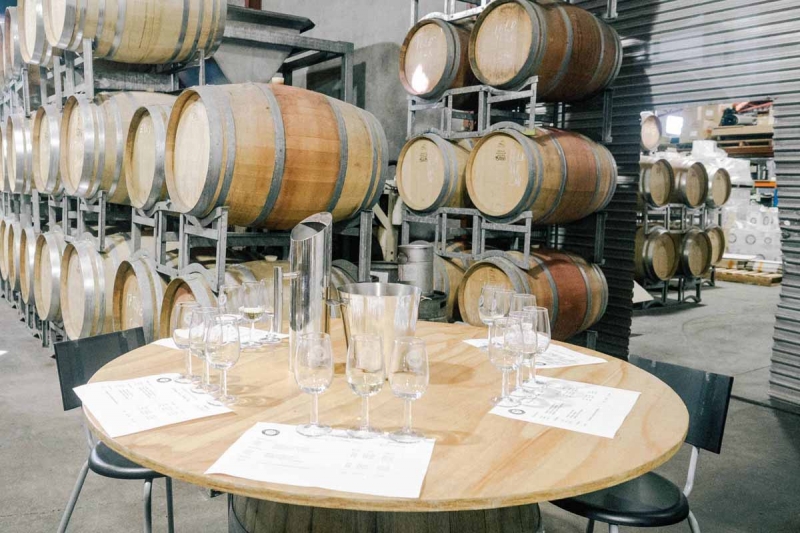 Last Stop: Mount View Estate Winery
The last wine producer on our itinerary was Mount View Estate Winery, one of Hunter Valley's earliest vineyards. It has a well-respected Wine Club and enviable views of the breathtaking Mount View Mountain Range, which served as the perfect backdrop for the day's final wine tasting. Again, we were served with meals that matched our every sip.
Here, we finally got to try our do-it-yourself sushi with a couple of clean and crisp white wines. And for the highlight of our dégustation, we had kangaroo sliders with wonderful Shiraz and Cabernet Sauvignon from the winery's reserve collection. It was my first time to try kangaroo meat and the taste exceeded all my expectations. It wasn't weird or overpowering at all. Maybe it was Jimmy's cooking magic that concealed the strong taste but for me, it was just like beef.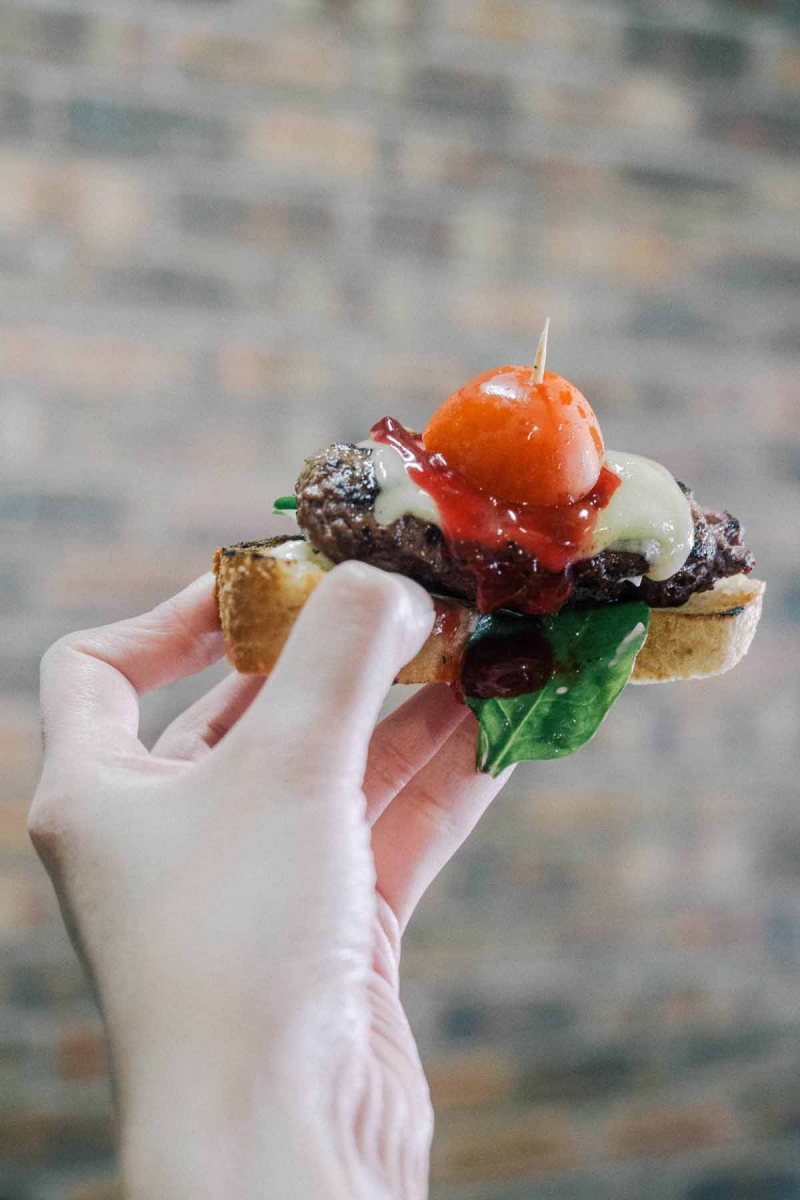 To cap off our gourmet experience, we had crème brülée mixed with wattleseed, an Aboriginal edible seed frequently used by Australians for cooking and baking. The finale was bittersweet, which was exactly how I felt when our day came into a close and we had to return back to Sydney, our tummies full and satisfied.
Also read: 5 Incredible Road Trips from Sydney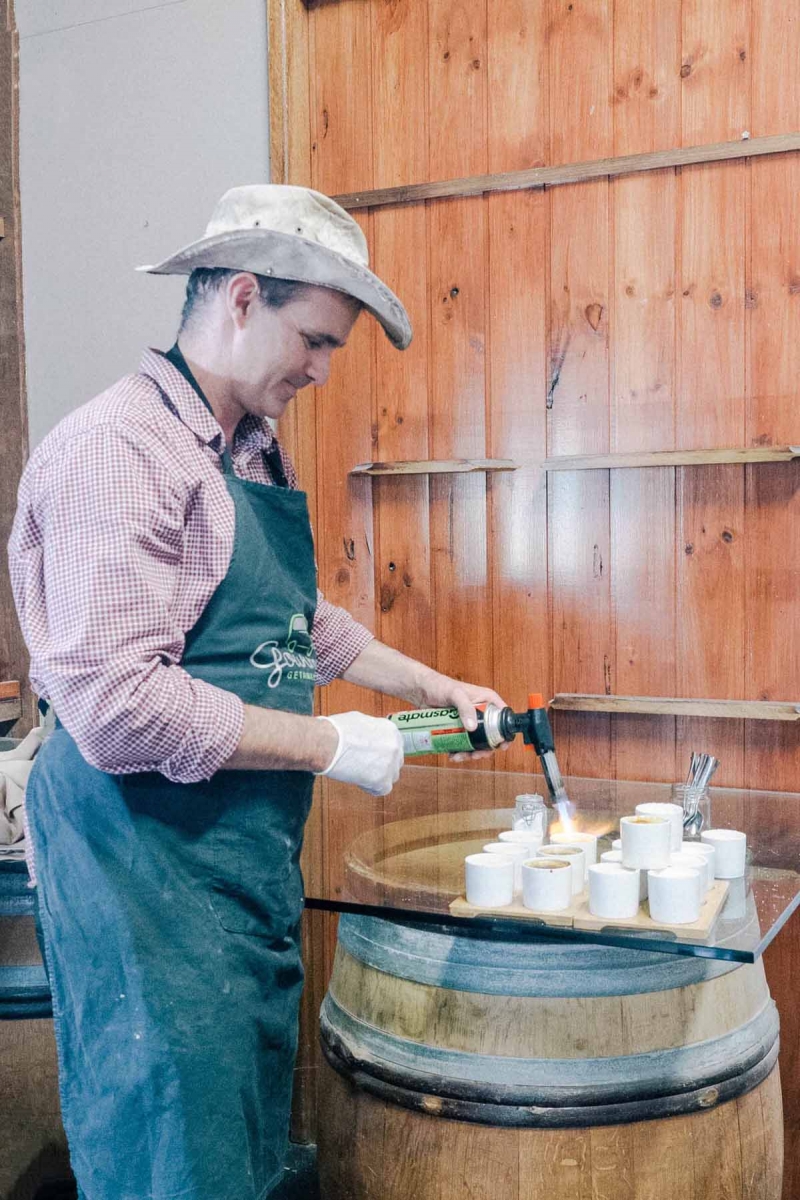 Important points
A full-day Hunter Valley food and wine tour costs AUD180 per person. Quite pricey, I know. But you'll love the experience so much, you won't regret it.
As there are hundreds of wineries in Hunter Valley, the three vineyards on your itinerary might be different from the ones I visited and mentioned above. It'll really depend on which vineyards are available for wine tastings on the date of your tour.
If you have special dietary requirements, just let Jimmy know. He'll do his best to accommodate your needs.
If you have children and want to bring them, that's fine. But they have to be 18 years old or over to be able to try the wines.
For bookings and other enquiries, visit the Gourmet Getaway Tours.
Bon appétit!