I, of sound mind and a possessor of a relatively normal level of anxiety, am not usually one to impulsively jump into something without thinking it through. So, it was a bit of a shock to me that I agreed when my friend asked my unemployed (at the time) behind to join her on a trip to Australia. This endeavour eventually made a huge dent in my savings, but you know what? The experience was worth every penny — and I have the 48-hour Melbourne itinerary to prove it!
Melbourne, as popular as it is, is a tiny city. Most of the attractions can be found within the central business district and almost every place can be found near another. It's entirely walkable, and has a very admirable transportation system that I still rave about to this day — providing a lot of truth to its ranking as one of the most liveable cities in the world.
Just a few reminders, though! First of all, almost everything closes by 5pm — so make sure to start your days early, or just head to whichever pub seems the best to hang out after hours. Websites are super helpful in this regard, because they're fully updated and reliable.
Second, you may want to book entrance tickets in advance, so the only other things you'll have to worry about are food and a few souvenirs. Meals can get quite expensive, but that's mostly what you'll be spending on, considering a lot of the city's infrastructure is free for use. Lastly, since it's a walkable city, Google Maps is enough to navigate your way around Melbourne. If not, the locals are quite friendly, too!
Also read: 14 Places & Activities in Melbourne & Its Surrounds You Can Undiscover in 2019
Day 1: The Central Business District
Queen Victoria Market
We lived by Queen Victoria Market, making it the logical first stop on our Melbourne itinerary. It's the largest and oldest market in the city, and it feels and looks like something from a different time. There are rows and rows of shops that sell everything from fine meats and cheeses to fresh fruits and vegetables, as well as other uniquely crafted items. 
Tip: Check out their site to learn about their hours, because they can close as early as 2pm depending on the time of year.
Old Melbourne Gaol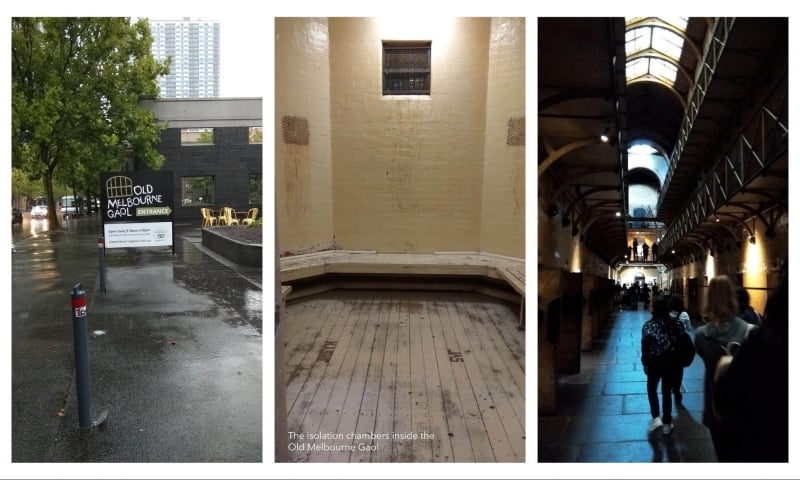 This is a bit of a different stop. The Old Melbourne Gaol is a prison-turned-museum that once housed some of Australia's most dangerous criminals and a few several hundred bodies that were tortured and buried. It's not for the faint of heart, which was unfortunate because I was. However, it's a spectacular place to tour, and they try to add some fun to it. The tour guide acts like a prison guard and treats the guests like prisoners themselves (minus the torture)! 
In addition, you get to experience being inside some of the isolation chambers, hang out in the prison courtyard, and run the length of its hallowed halls. You can even climb the rusty metal staircases, view individual cells, and check out some haunting memorabilia from the executions of some of Australia's biggest criminals. Also, PSA: There's a cool machine near the entrance that churns out flattened pennies, which make for cool souvenirs!
Tip: Take the night tour if you're crazy enough to do it! Plus, book your tickets in advance — this is one of the few places on this Melbourne itinerary that you'll pay an entrance fee for.
State Library of Victoria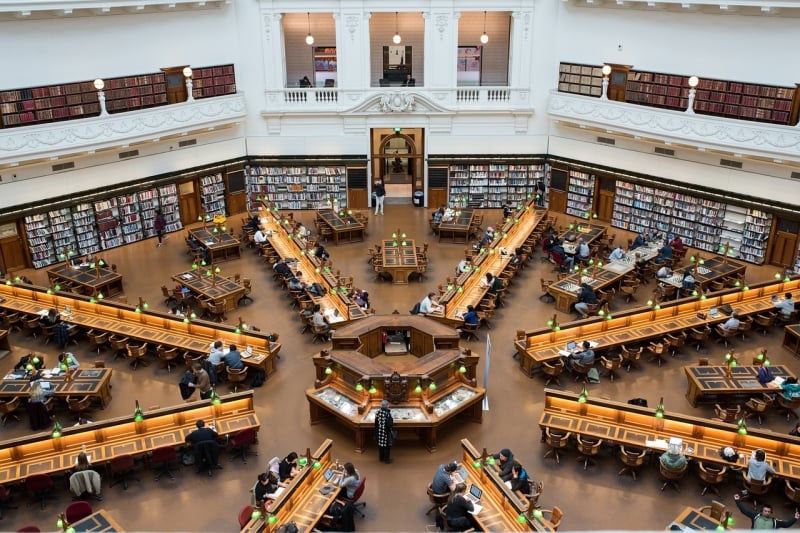 The library that has everyone swooning is a short walk away and is totally free to enter. Behind its grand facade is a fully-equipped modern library that spans across six levels. Through a few doors, you'll find the amazing domed area that everyone's been posting about on Instagram: the La Trobe Reading Room. It's got all the classic elements of a 19th-century library for the modern age, with rows of wooden desks with iconic green lamps, an endless amount of books, and a precious domed ceiling.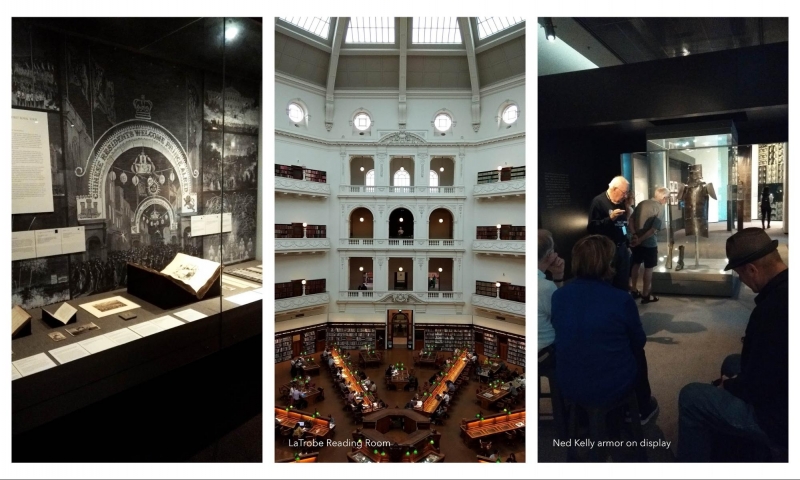 If you make your way up, you'll find several exhibits that showcase old art and photos (especially fun for lovers of all things vintage), and interesting items from Australia's history. At the very top floor is a stained glass window in the image of William Shakespeare.
Flinders Street Station
Right at the corner of a busy intersection sits a grand old building by the name of Flinders Street Station. It's a packed area with people going in and out at every moment, and is a vital part of the city as its busiest railway station. It's quite a sight as an art nouveau-style building with a huge dome and clock tower — a wonderful must-see that deserves a spot on any Melbourne itinerary.
Federation Square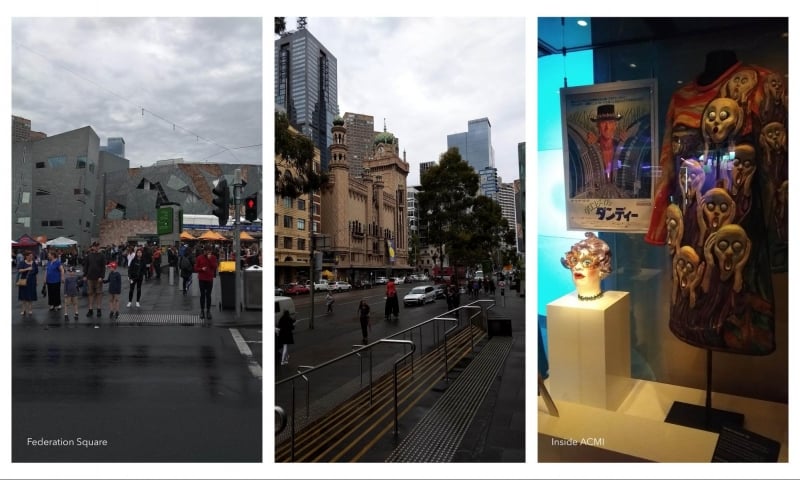 Across Flinders Street Station is Federation Square, known as a giant area for gatherings and public events. It was super easy to go around because Federation Square is home to a lot of attractions. If you look across the street, you'll find St. Paul's Cathedral and the Ian Potter Centre, which is an extension of the National Gallery of Victoria.
The Australian Centre for Moving Image is another spot you have to add to your Melbourne itinerary. It houses most of Australia's film history, with exhibits featuring Mad Max creator George Miller, costumes from Baz Luhrmann films, and (gasp!) Cate Blanchett's Oscar for the Aviator, among other Australian films!
Tip: Nearby, you'll find the Melbourne Tourist Centre, which is very helpful for any maps or pamphlets you might need.
National Gallery of Victoria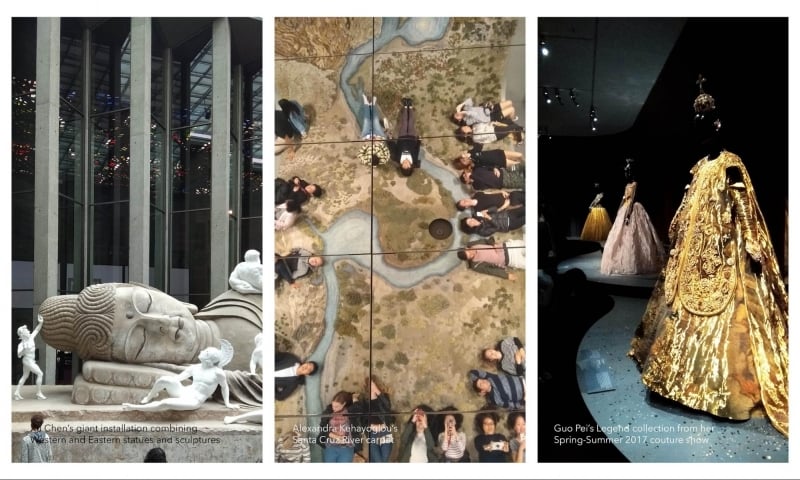 The NGV is probably my favourite museum to date — be sure to include it in your Melbourne itinerary! We were lucky enough to come during the Triennial, which featured the work of over a hundred artists across the entire museum, and it was a truly amazing experience.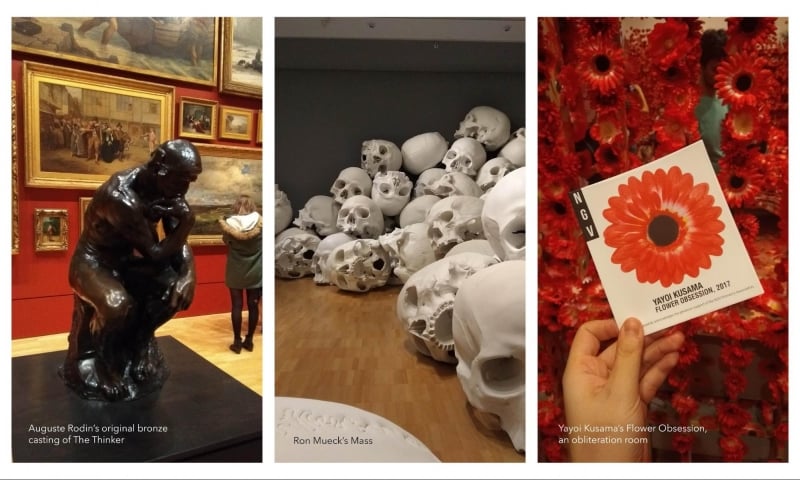 From rooms of giant skulls to moving projections and a room designed by Yayoi Kusama, it was an endlessly fun way to enjoy art in many unique ways.
Tip: Check out their website for any upcoming exhibits and their opening hours. Take note that you'll have to check-in your bag before entering.
Queen Victoria Gardens
Just across the NGV are the Queen Victoria Gardens, offering a refreshing change of scenery after hours of walking around indoors. The pristine green space is a memorial to Queen Victoria, and is a great place to relax and breathe.
Hosier Lane and AC/DC Lane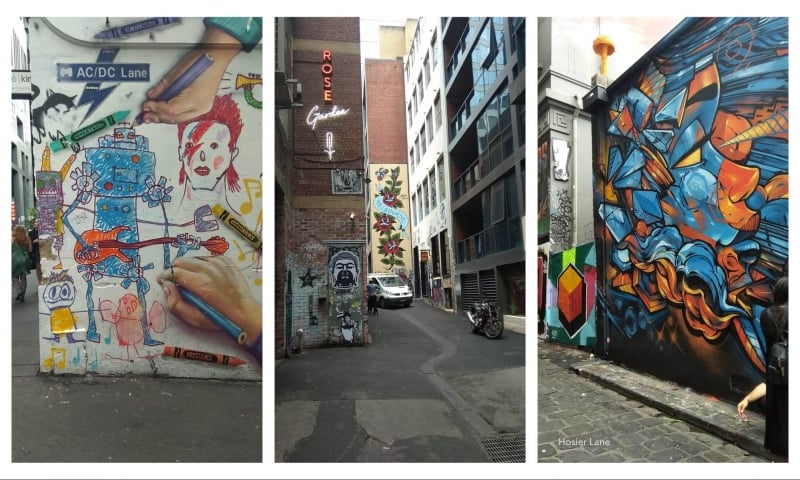 There's a whole map of laneways you can add to your Melbourne itinerary, but we decided to go with the most famous ones: Hosier Lane and AC/DC Lane. The nature of these lanes is that they are ever-changing, so it's different with every visit. The likelihood of catching an artist at work is very high and fascinating to watch, too! AC/DC Lane is a tribute to that famous band, and Hosier Lane is known to have launched the Melbourne art scene to the world.
Also read: Top 10 Day Trips to Experience Melbourne Like Never Before
Day 2: St. Kilda
A contrast to the compact layout of the CBD, we headed south to St. Kilda, whose sunny shores provided some much needed laid-back energy.
St. Kilda Pier
Penguins. Yes, they have penguins. Depending on the time of year, there's a penguin colony that hangs out at St. Kilda Pier. But here's the catch: They only appear after sunset or very early — around two hours before sunrise. The pier gets a little crowded at sunset, so if you're up for it, a quiet visit is best achieved before sunrise.
Tip: Check out a few websites to find out Melbourne's sunrise and sunset times, as well as which time of the year is best to visit the penguins.
Luna Park
Not to be confused with the one in Sydney, Melbourne's Luna Park is very famous on Instagram. It's been in operation since 1912 and is filled with unique rides, food, and souvenirs. The Scenic Railway is also the oldest continually operating roller coaster in the world, so admission feels kind of worth it. Catch it before it opens so you can get a nice photo out front!
Palais Theatre
The famous theatre has been open since 1927 and is a common tour stop for performing artists all over the world, with it being the largest seated theatre in Australia. It has a wonderful art deco exterior, but frankly, without any acts, there's not much to do.
Acland St.
If you've ever had any pastry-themed fever dreams, you might have been imagining Acland St. And after rows of amazing pastries, there are more rows of restaurants, boutiques, and bookstores like the famous Readings. As a stationery lover, Urban Attitude is a personal favourite of mine!
Back to the CBD
We finished walking around St. Kilda (and its beach) early, and even had time to look around a Sunday market. While walking, we came across a Greek hole-in-the-wall restaurant and bought some lunch. Afterwards, we headed back (souvlaki in tow!) to the CBD via tram.
Shrine of Remembrance
This is a grand war memorial to every Australian who ever served in war. Its pathway is a super long stretch flanked by tall large trees and is further surrounded by a lot of greenery with trees dedicated to certain units. Coincidentally, we were lucky enough to witness the celebration of Greek National Pride Day. After watching, we sat down on a bench, which happened to be near a Greek war memorial, so we also got to witness a few families honour their loved ones.
Block Arcade and Royal Arcade
Heading back within the CBD, we finally got to visit the famous arcades of Melbourne. They're wonderfully structured and beautiful to look at. The art deco elements are still very strong and well-preserved, and the shops inside are quite interesting to look at (if not a little expensive)!
Old Treasury Building and Parliament House
The Old Treasury Building houses the history of Melbourne and Victoria, while Parliament House hosts tours and has several public galleries. Unfortunately for us, the Old Treasury Building is closed on Sundays and Parliamentary House was under renovation when we were in town.
Melbourne Museum
We figured we'd save the furthest location for last. While the Melbourne Museum is a greater distance away from the CBD, it is still completely accessible via tram. It's a natural and cultural museum that houses artefacts, interactive exhibits, natural habitats, and probably the most exciting of all: dinosaur skeletons!
Notable eats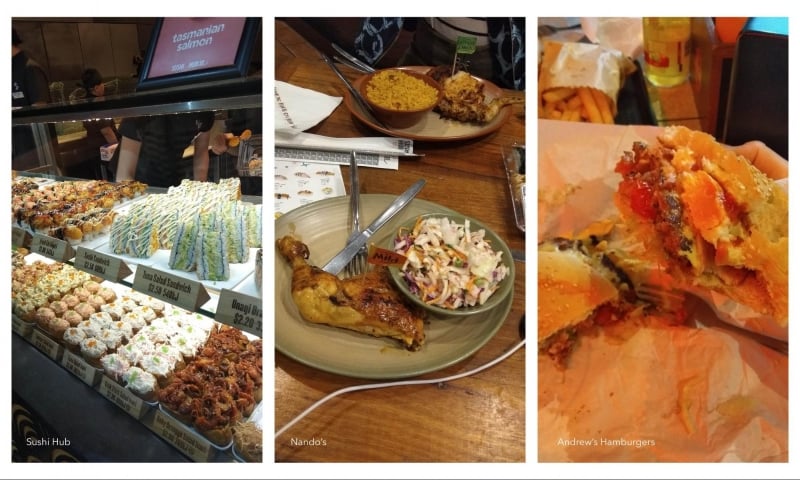 Sushi Hub
Sushi Hub's are by far the largest pieces of sushi I have ever encountered. They're also quite delicious, and can be found just within the CBD along Swanston Street.
Nando's
In all fairness, the ever-so-famous Nando's was quite good — and cheap, if I might add. The must-try, of course, is their peri-peri chicken, and you can buy a bottle of their good sauce right at the restaurant. There are multiple Nando's branches within the CBD.
Andrew's Hamburgers
Andrew's Hamburgers pride themselves in serving "Melbourne's original burger since 1939", and boy, did they deliver with their huge servings! This is a bit farther away, being located on Bridport St., near Queen Victoria Market.
How to get around
City Circle Tram
This is pretty much the only form of transport you'll need. The City Circle Tram goes around the entire CBD and is completely free to use. It's easy to navigate and not too difficult to understand. If you need more help, you can also download the tram's official app to guide you to where you want to go.
For places outside the CBD, there is a transit card called the Myki which you can use on trams, trains, and buses.
Also read: 10 Airbnbs in Melbourne for the Perfect Aussie Vacation
With this quick and easy Melbourne itinerary, you'll be able to witness the best of the city in just 48 hours!