The Gold Coast is undeniably a stunning place.
This coastal city is one of Queensland's most popular destinations and for good reason. Not only does its pristine beaches run on forever, it is also home to an urban metropolis that is always bursting with life and energy. However, most people think that the Gold Coast is only good for its theme parks; the attractions and rides there are certainly more than enough for a day of fun, but there is so much more to this amazing city. Here are ten things you should definitely check out on your first visit to the Gold Coast!
1. Soak up that Vitamin D! 
At the Gold Coast, your first order of business has definitely got to be hitting the beach. Imagine soft, cool sand crumbling under your feet as you pace the pristine coast to find the perfect spot to lay your picnic mat. Spend an entire afternoon basking in the balmy weather, and feel the warm rays of the sun beating down on you. If it gets too warm, pop into the clear waters for a midday swim. Whether it is Surfers Paradise, Broadbeach, or any of the Gold Coast's prominent beaches, there's no doubt that you'll have amazing day out in the sun.
Recommendation: Rhapsody Resort
If you want to be in close proximity to Australia's celebrated Surfers Paradise beach, this accommodation makes for a superb pick. The self-contained apartments boast either surreal city views or phenomenal ocean views. From cosy studio apartments perfect for couples to spacious one and two-bedroom apartments for larger groups and families, Rhapsody Resort caters to all sorts of travellers.
Rhapsody Resort's strategic location coupled with its warm hospitality makes it a notable choice if you're heading to the Gold Coast. With many restaurants within walking distance and the Orchid Avenue shopping belt just two tram stops away, everything is within reach all for your convenience.
Take advantage of the endless rolling waves and get your surf on. If you don't have your own board, or are a novice surfer, you can always rent one and take lessons from Go Ride a Wave, one of the oldest surf schools in Australia. The friendly trainers will familiarise you with the board on land before you take a shot at the waves – be prepared to fall over a few times before you get the hang of it. By the end of your lesson, you'll probably be able to stand on the board or even be totally hooked on surfing! For your own safety, stay within the designated 'safe zone' and don't wander away from the trainers and other surf students.  
2. Embark on a gastronomic adventure 
Throw away your misconceptions of typical Western food – the food scene in the Gold Coast is so much more than fish and chips and avocado toast. Instead, embark on a gastronomic adventure and tantalize your taste buds with the wide selection of international cuisine available. Try exotic Persian stew and the freshest Japanese sashimi, or opt for hearty Italian sharing plates and familiar Malaysian noodles. The wide availability of food and unique restaurant settings will leave you feeling like you've travelled the whole world!
3. Chase the sunrise from a hot air balloon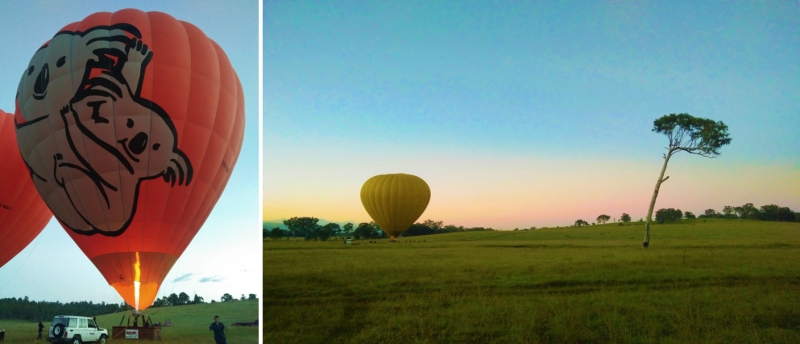 Rise and shine! Even though holidays are meant for sleeping in, this next activity is definitely worth waking up early for. After an early-morning pick up from your accommodation, be transported to a launch site for your very own Hot Air Balloon Ride. The steady team of pilots and flight crew will fire up a huge balloon that fits up to eight passengers, and provide a safety briefing before you embark on your flight. Soon after, it'll be time for lift-off and you'll be up, up and away! As your balloon gently wafts through the air, watch as the skies turn brilliant shades of orange and pink, and look out for the sun as it peeks out from behind the clouds. In addition, appreciate this undisturbed, peaceful view of the Gold Coast from a bird's perspective – it's certainly a sight to behold. Upon landing, you will be transported to O'Reilly's Grand Homestead & Boutique Vineyard for a champagne and buffet breakfast. Relax by the vineyard as you savour your warm breakfast, and delight in knowing you still have a whole day ahead of you.
Opening Hours for flight: 3.30am to 5.30am (daily)
Opening Hours for office: 8am to 8pm (daily)
Address of office: 23 Ferny Ave, Surfers Paradise QLD 4217, Australia
4. Get up and close with marine animals at Sea World
I know what you might be thinking – isn't it unethical to visit these animals in captivity? Indeed, there are many controversies and concerns that surround the treatment and care of animals in wildlife parks. That said, Australia's premier marine animal water park, Sea World Gold Coast, is committed to promoting the welfare of its wide range of animals. It should definitely not be confused with the Seaworld in San Diego, America, which faced backlash over the death of its orcas. In fact, these two similar sounding parks have no association with each other at all.
At Sea World Gold Coast, the staff is dedicated in their care for the animals, and in raising awareness about the importance of wildlife conservation. Visitors can admire the great rapport between Man and animal at the popular dolphin show, Affinity, and watch the carnivorous polar bears frolic around in a naturalistic polar environment. Learn more about these adorable marine animals in an environment they are comfortable in, and support the park's efforts to rehabilitate and save others in the world.
Opening Hours:

9.30am to 5pm (daily)
Address: Seaworld Dr, Main Beach QLD 4217, Australia
5. Experience weightlessness with iFly
It's a bird, it's a plane, no, it's a human! Seize the opportunity to soar in the air with iFly, the indoor skydiving experience like no other. Get suited up and enter the flight chamber with your friendly instructor, and let your body do the rest. It may take some time to get accustomed to the environment, but relax and enjoy this novel sensation of weightlessness. In addition, you will get to view other participants fly around in the chamber, and watch the instructors put on an exciting flight performance of their own. It's an experience you won't forget anytime soon.
Entrance Fee: AUD 69 – AUD 99 per person
Opening Hours: 9am to 9pm (Monday to Friday); 8.30am to 9pm (Saturday); 8.30am to 7pm (Sunday)
Address: 3084 Surfers Paradise Blvd, Surfers Paradise QLD 4217, Australia
6. Skim the waters to a secret island
Whoosh! Have you ever wanted to experience the exhilaration of zooming across water? With Jet Ski Safaris, this dream can easily be made into a reality. After some basic training, hop on your very own jet ski – you are the captain of your own 'ship'! Feel the cool breeze and salty spray of the water brush against you as you cruise along the blue waters and venture into hidden islands. What could be more thrilling than this?
Take a short break at the tropical South Stradbroke Island while interacting with friendly animals at the same time. Whether you decide to take a dip in the water and swim with the dolphins or feed the kangaroos (healthy snacks of course), these special guest appearances are bound to make your trip even more memorable. Enjoy a meal and relax on this tranquil island before taking another invigorating ride back to the Gold Coast.
Opening Hours: 7am to 6pm (daily)
Address: 7A 60-70 Seaworld Drive, Main Beach Qld 4217
7. Learn about the indigenous culture
While appreciating all the beauty and modernity that the Gold Coast has to offer, it is also important to take some time to reflect on how far the city has come. This south-eastern region of Queensland is the traditional ancestral land of the Yugambeh people, and increasing efforts have been made to raise awareness about their Aboriginal culture and lifestyle. One of such initiatives is executed through the Jellurgal, an Aboriginal-owned and operated tour company that seeks to educate people about the Yugambeh people. This tour takes place in the heart of the Burleigh Head National Park and includes options to trek around the traditional sites, witness the sacred smoking ceremony and ochre anointment, as well as be entertained by the Aboriginal dance. Be enlightened by the rich indigenous history and customs, and support their efforts to maintain a presence in the Gold Coast, or Yugambeh Country.
8. Drink to your heart's content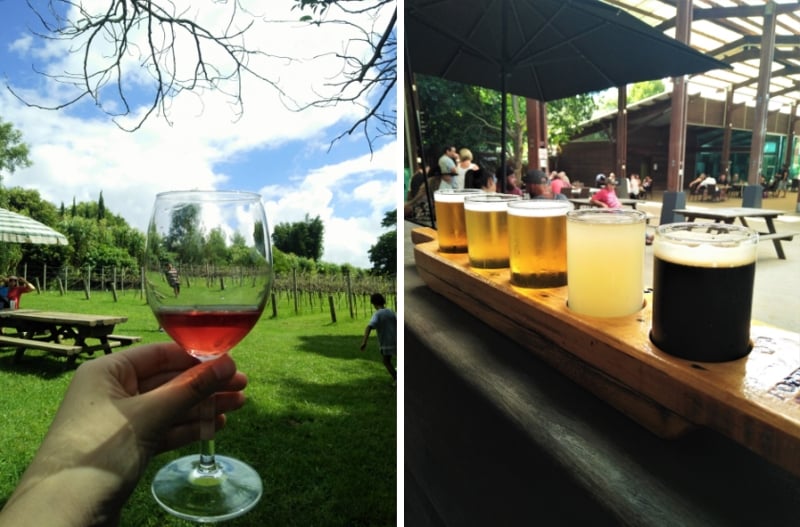 All you alcohol lovers, this is for you! Experience Queensland's finest distilleries, wineries, and breweries all in one day with The Vino Bus. The tour bus does pick-ups from your accommodation in the Gold Coast, before ascending Mount Tamborine for an entire day of indulgence and bliss. Be blown away by not only the mountain's stunning scenery but also the high-quality wine, cheese and service from the boutiques here. Enjoy having your very own guide from The Vino Bus, who is at your service to answer questions about the destinations and offer wine recommendations. With the extensive selection of tours available, there's no question that you'll be able to find a tour that caters to all your interests and needs (you can even organize a Hen's Party on the trip!). Just sit back and drink to your heart's content, and let The Vino Bus do the rest!
9. Get lucky at The Star casino
Not many people think of the Gold Coast as an entertainment hub, but it is time to think again. The Star offers a one-stop shop for an evening of unparalleled excitement (and some downtime away from the kids!). Feel the electricity in the air as you try your hand at the plethora of games and slot machines at the casino, or support your favourite teams at the sports bar. Just make sure that you engage in responsible behaviour, and not to go overboard when placing bets. Also, do take note that you have to be 18 years and above to enter (bring identification), and a smart casual dress code must be observed (no slippers!). After your time here, you should also drop by one of the many restaurants at The Star for some delectable delights.
Opening Hours:

24h (daily)
Address:

The Star Gold Coast, Broadbeach Island, Broadbeach QLD 4218, Australia
10. Go camping at Nightfall Wilderness Camp
Yes, you can go camping in the Gold Coast! Aside from being home to renowned beaches and coasts, the Gold Coast is also strategically located close to a number of Queensland's most beautiful national parks and campsites. One of the most popular camping – or rather, glamping – grounds is at Nightfall Wilderness Camp, located between Christmas Creek and Lamington National Park. Enjoy the peace and tranquillity of nature while retaining the comforts of city life – the glamping experts will take care of everything for you. With private tents, a campfire and the company of your loved ones, life doesn't get much better than this.
Evidently, there is so much that this sunny coastal city has to offer. Beyond its theme parks, there's no question that you will be thoroughly entertained by the plethora of sights and activities available. Don't wait any longer, and make your way to the Gold Coast for the holiday of a lifetime!