Who doesn't love epic road trips? We know we do for sure! And Australia is just the perfect place for long drives, stunning scenery, and endless sing-along sessions in the car with your loved ones. Our favourite places, however, have to be Sydney and Tasmania due to the numerous drop dead gorgeous locations we got to visit on our road trip!
So the next time you're headed to the land of jolly kangaroos and adorable koalas, be sure to include these locations in your road trip itinerary. Take it from us – the splendid views you'll get when you reach your destination will be worth every minute you've spent driving to get there.
We had a wonderful time driving around Sydney and Tasmania; on a road trip, no drive is too long – the journey is just part of the whole experience! Here are 10 amazing locations that we recommend to anyone planning a similar trip – rev up your engines, and get ready for a kick-ass adventure Down Under!
Sydney Stop 1: Bondi Beach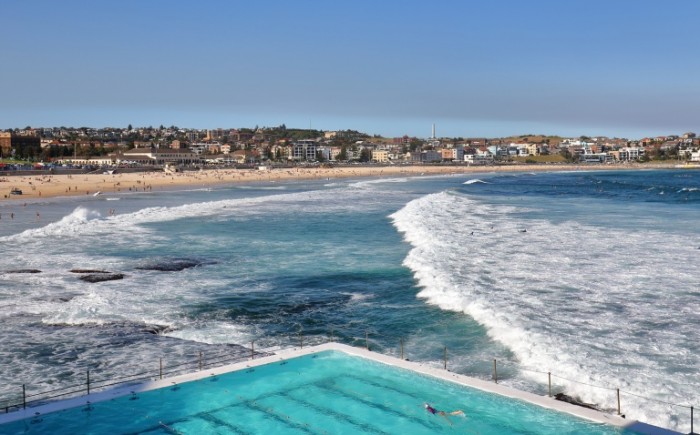 Image credit: Jensen
Bondi Beach is one of the most renowned tourist sites in Australia, and probably needs no introduction; I bet you've probably scrolled through countless pictures of it on Instagram or Facebook! With soft sand, aquamarine waters, and dozens of cafes and restaurants all around, Bondi isn't called the beach capital of Australia for nothing. We caught surfers casually riding the waves, as well as volunteer lifeguards decked in neon colours training on the weekends! We spent an idyllic afternoon just lying on the beach, sipping on a refreshing cocktail and watching the waves crash onto the shore.
We also recommend heading for a refreshing dip at the Bondi Iceberg Club swimming pool, which has been an iconic fixture of Bondi Beach for more than 100 years. It's arguably the most photogenic spot at Bondi as well, so make sure to snap as many photos as you can!
Sydney Stop 2: Weekend Bondi Farmer's Market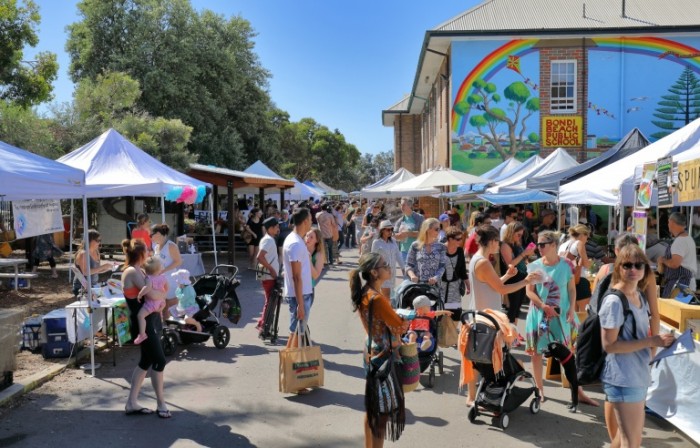 Image credit: Jensen
Held every Saturday from 9am to 1pm, the Bondi Farmer's Market is a bustling hive of activity. We were in awe at the variety of goods sold here – seasonal fruits and vegetables, homemade jams, gluten-free bakes, fresh seafood, olive oils, honey, herbs and spices, organically grown meat and poultry, handicrafts, flowers and more! It also offered us a glimpse into the lives of the locals as they enthusiastically promoted the fruits of their labour.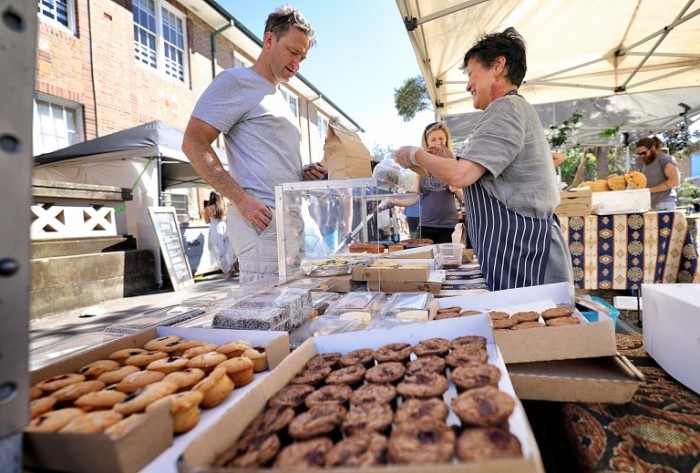 Image credit: Jensen
The weather was perfect, so we decided to buy various foods and snacks, including gluten-free muffins (which were so moist and delicious), and have a picnic right there! They also sold freshly squeezed lemonade which was extremely refreshing and thirst-quenching. Plus, we could even stock up on snacks in the form of juicy fruits in preparation for our long drive ahead.
Sydney Stop 3: Blue Mountains National Park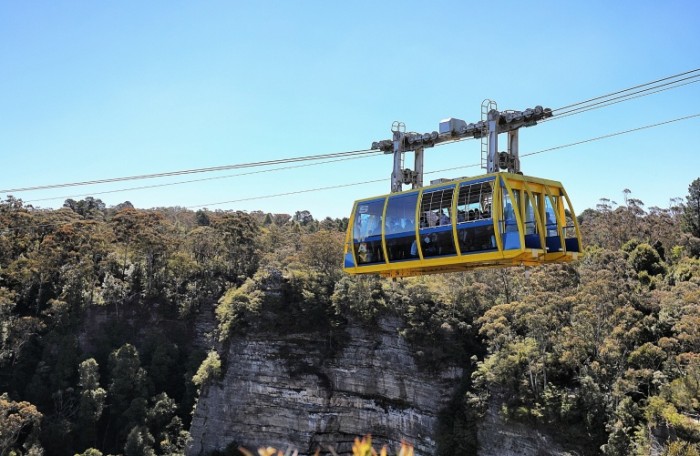 Image credit: Jensen
Next, we headed to the famous Blue Mountains National Park! Boasting a scenic railway, scenic cableway, scenic skyway, and a scenic walkway, there were just too many ways to explore this beautiful park. We eventually decided on the Scenic Skyway, and boy was it a thrilling experience! With a see-through glass cabin floor, and panoramic views of Katoomba Falls, the Three Sisters, and Jamison Valley, we just couldn't bear to leave at all.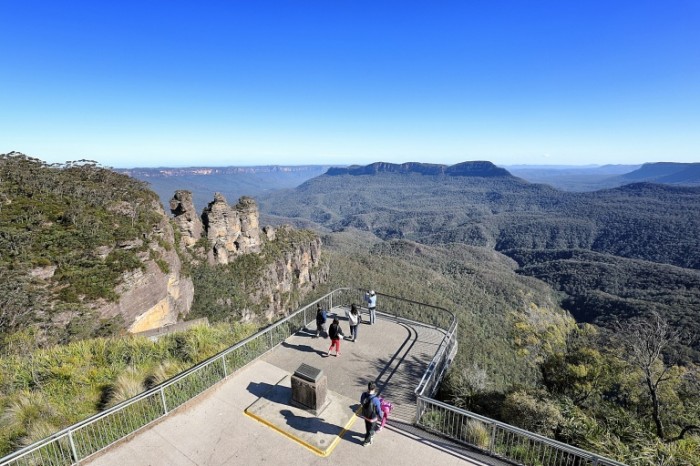 Image credit: Jensen
We headed to the Echo Point Lookout, which was the best location to take in the splendid views as well as the majestic vistas of the canyons and mountains. It was such an incredibly humbling experience to feel so miniscule in the face of Mother Nature! It was also a great way to refresh and recharge after a long drive.
Sydney Stop 4: Lincoln's Rock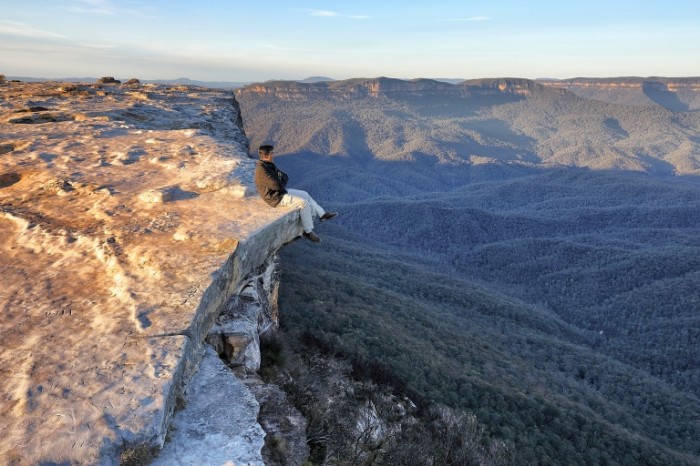 Image credit: Jensen
Warning: visiting the Lincoln's Rock is definitely not for the faint-hearted. We spotted several burnt cars at the bottom of the mountain when we looked over the edge, which made us imagine all kinds of possible scenarios that caused that predicament… But the most probable explanation would be that we were looking at the aftermath of stunt sequences staged by movie producers. Guess we'd never know! We were rewarded with unparalleled views of Jamison Valley and it felt absolutely surreal to witness this beauty. Oh and yes, we sat at the edge of the rock unashamedly for that quintessential Instagram photo-op, so don't forget to snap yours too!
Sydney Stop 5:  Mistletoe Winery Vineyard, Hunter Valley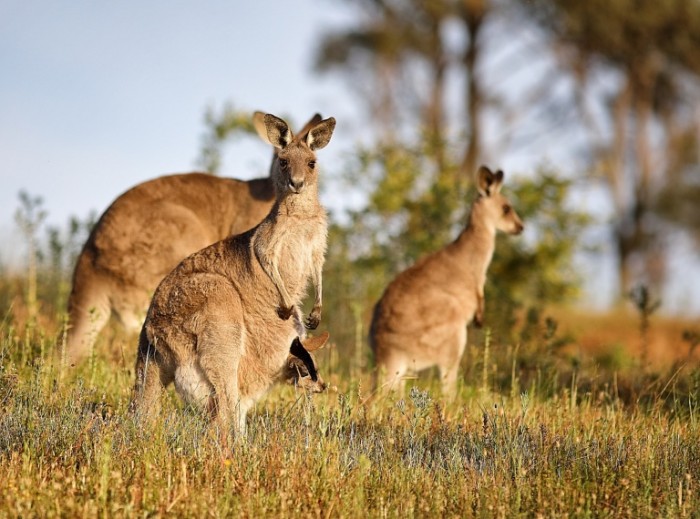 Image credit: Jensen
Guess what we spotted at Mistletoe Winery Vineyard? Yep, lots and lots of adorable kangaroos! Most of them come out during the early hours of the morning or in the evening when the temperature is cooler, which enables them to forage in comfort. Home to sprawling vineyards, gourmet foods, spa retreats and more, Hunter Valley redefined the meaning of true bliss for us. We explored family-owned wineries, shopped for the freshest produce at farmers markets, and had a relaxing massage at one of the day spas – a well-deserved session of rest and rejuvenation!

Image credit: Jensen
We even got to hop into a hot-air balloon for a unique bird's eye view of the vineyards! It was truly an eye-opening experience watching the pilot and his crew assemble and disassemble the hot-air balloon. We were also completely mesmerized by the sunrise, where glorious sun rays lit the sky aglow with hues of red and orange. Witnessing the birth of a new day from a hot-air balloon was definitely one of the best highlights of our road trip! For those of you daredevils looking for a little more adrenaline, you can opt for a thrilling skydive instead.
For part 2 of our road trip adventure, we flew over to Tasmania!
Tasmania Stop 1: Curringa Farm

Image credit: Jensen
Located one hour away from Hobart in Tasmania, Curringa Farm is a gigantic farm offering secluded accommodation, incredible forest trails and river views, as well as farm tours to see sheep shearing and adorable farm dogs! Fun fact: the owners, Tim and Jane Parsons, told us that more than 2500 fluffy sheep roam around the farm every day!

Image credit: Jensen
We had such a sumptuous dinner at the farm as well – a delicious and juicy slab of Cape Grim beef, which literally melted in our mouths with every bite. They also cultivate crops such as cauliflowers which are then shipped to places all around the world. Our accommodation was so cozy and tranquil, we couldn't help but spend copious amounts of time just chilling indoors. The best part was waking up every morning to a stunning view of lush greenery and fluffy sheep! This experience was truly priceless – oh how we wished that we never had to leave.
Tasmania Stop 2: Lake Pedder (Southern Lights)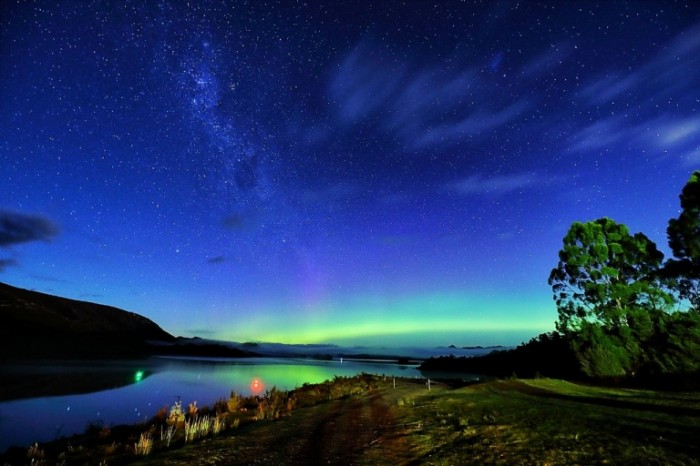 Image credit: Jensen
Most people know of the Northern Lights, or Aurora Borealis, which are visible from places such as Norway, Iceland and Finland. But did you know that there's the Southern Lights, also known as Aurora Australis as well? Tasmania is one of the best places to catch sight of the Southern Lights, so you might want to consider catching a flight to Tasmania instead of Scandinavia!
AND YES, WE CAUGHT IT! We had an amazing experience chasing the Southern Lights in Tasmania, and our prayers were finally answered when we visited Lake Pedder. Due to minimal light pollution in the area and a clear, open view of the skies, Lake Pedder is one of the best places in Tasmania to catch the Southern Lights in all its glory.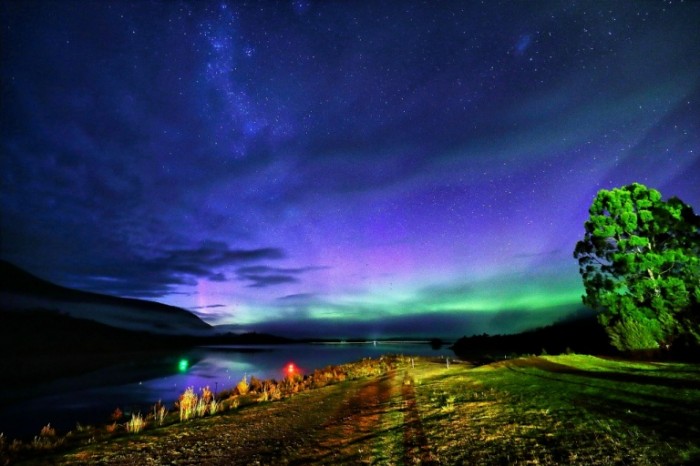 Image credit: Jensen
It was truly mesmerising to watch those vibrant colourful swirls of red, green, blue and purple dance across the skies. We were even lucky enough to catch sight of the Milky Way as well. Bucket list, check!
Tasmania Stop 3: Cradle Mountain, Lake St. Clair National Park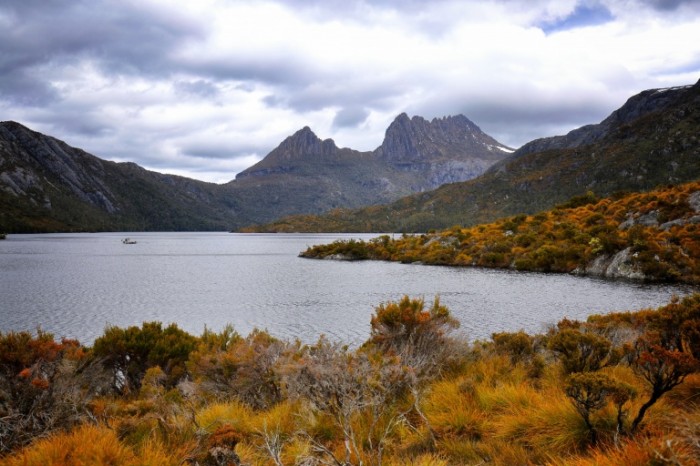 Image credit: Jensen
We were pleasantly blown away by the alpine heathland, icy streams, glacial lakes, and the wealth of flora and fauna that greeted us when we entered the Cradle Mountain-Lake St. Clair National Park. The rugged mountain and wild landscapes certainly made the entire area seem like it came from a different world altogether. Cradle Mountain is the starting point for the renowned Overland Track, a 6-day hike that will take you through captivating mountainous terrain for an epic adventure, but unfortunately the weather prevented us from taking up that challenge. Let us know if you've tried it!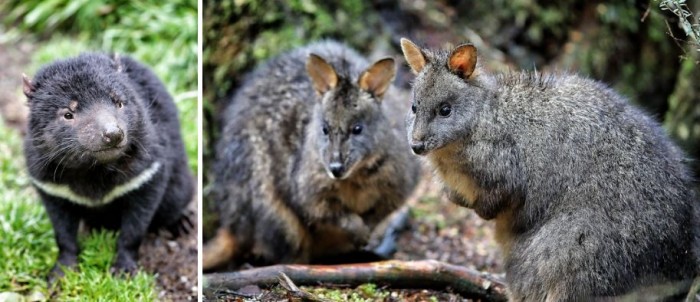 Image credit: Jensen
They also have a conservation facility in the national park, where you can get up close and personal with Tasmanian devils, spotted quolls, wallabies, and wombats! We also got to learn more about their conservation work through talks by the park keeper, as well as a video documentary, which was very informative and enriching.
Tasmania Stop 4: Freycinet National Park


Image credit:

Jensen
Home to majestic granite mountains, white sandy beaches, azure waters and breathtaking views of the Tasman Sea, the Freycinet National Park is a must-visit for anyone in Tasmania. You can go swimming or kayaking in the crystal clear waters, and even snorkel or dive underwater to see the abundant marine life. Wait up, that's not all! You can even choose to hop aboard a cruise to explore the park's stunning scenery and wildlife up close.
The main attraction of the park, however, is none other than the famed Wineglass Bay where we challenged ourselves to ascend to the peak. The trail was increasingly steep and the trek was exhausting, but this view from the top was worth every single bead of sweat. Highly recommended! We stayed at the peak for a long time just admiring the glorious view in front of us.
Tasmania Stop 5: Mount Wellington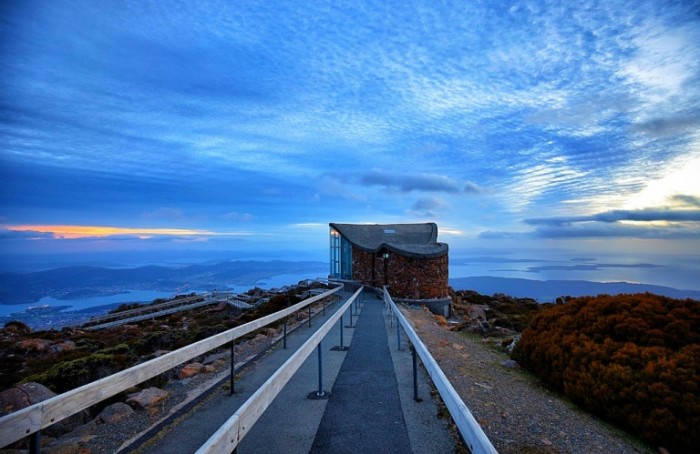 Image credit: Jensen
One of the most popular tourist attractions in Hobart, Mount Wellington is a short 20 minutes drive away from the CBD. Boasting panoramic views of Hobart below and the Derwent River, it's one of the most scenic spots in Tasmania. We were extremely thankful to be able to catch the golden sunrise before a misty veil enshrouded us in nothing but whiteness. It felt as if we were floating amongst the clouds! By the way, it's much colder at the peak so make sure you bring along thick jackets along.
Aren't you raring to drive to these places right now? I hope your driving skills are up to par, because navigating some of these winding Australian roads is definitely no walk in the park. But that's exactly what makes the journey so memorable – taking a roadtrip to all these places just serves to add to the fun! Load up your playlist with all your favourite songs, and get ready to explore all these beautiful corners of Australia!
---
Brought to you by Jetabout Holidays and Tourism Australia.