How can you not love Korea? Whether you're a hardcore K-drama fan, shopaholic, nature lover, or avid foodie, this amazing country offers something for everyone! And with their growing popularity in recent years, Seoul, Busan and Jeju have become top tourist destinations. But aren't you just tired of hearing about the same old places to visit? Don't you want to venture off the beaten track and delve into the hidden gems of Korea?
These are my 8 recommendations for different types of travellers visiting various cities in Korea. You can now forget about visiting mainstream, overcrowded places and start travelling like a local! Trust me, your friends will be clamouring over your Instagram photos and asking for your itinerary.
Oh, and y'know what made travelling like a local so much easier for me? Enjoying amazing discounts off hotel bookings, tour packages, travel insurance and more with my HSBC Credit Card! It was an absolute breeze. Now, are you ready to find out where to explore in Korea?
1. Seoul & Paju for the Shopaholics
How can you miss visiting Korea's capital city when you are there? With shops at every corner of the city, Seoul is definitely the number one shopping haven for the shopaholics. Forget the mainstream and well-known shopping areas like Dongdaemun and Myeongdong, and instead, visit the less touristy shopping districts like Namdaemun and Samcheongdong.
Namdaemun is a traditional market that is often overlooked by tourists who end up going to Gwangjang market! Namdaemun offers everything and anything you can buy under the sun for extremely reasonable prices. Samcheongdong is also an upcoming hipster place to hang out and shop with your friends, with a plethora of local designer boutique shops popping up in the area. It was also recommended by Park Bo Young (Do Bong Soon in the latest K-drama 'Strong Woman Do Bong Soon') at her recent fan meeting in Singapore!
For those who prefer having a hassle-free shopping trip, HSBC has a
3 Days Seoul Local Shopping Alley Tour package
promotion with Dynasty Travel. At just S$1,078 per pax, it's inclusive of return tickets via Singapore Airlines from Singapore to Seoul, 2 nights' accommodation at Manu Hotel (located near to Namdaemun market) and a full day tour! Hurry up and
book using your HSBC credit card
by 31 May 2017.
If you feel like splurging on international brands instead, head on to Paju Premium Outlets, a shopping haven near to Seoul, accessible by bus 2200 from Hapjeong Station, Seoul Subway line 2, exit 2. Here, you will find more than 150 branded stores selling quality items at half their usual prices! What place could be better than this?
2. Pyeongchang for Adventure Seekers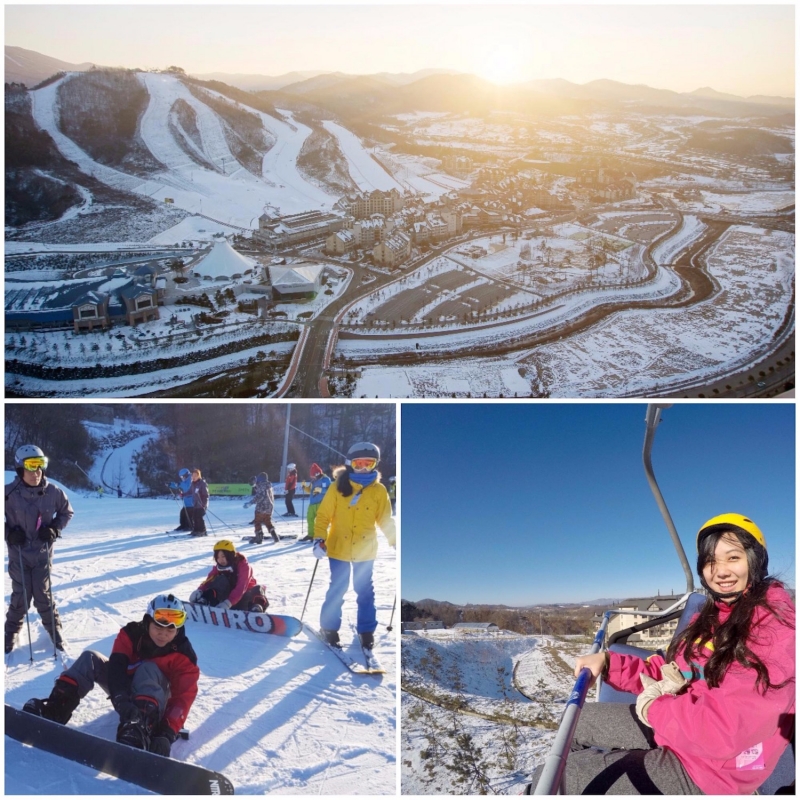 As the host of next year's Winter Olympics, Pyeongchang sure has a lot to offer for adventure seekers. If you want to feel the hype of the Winter Olympics, head on to Alpensia Resort in Pyeongchang where the Ski Olympics will be held next year. Get your hands on a snowboard or a pair of skis and thrust yourself down the steep hills to get the adrenaline rush from snowsports, something we can hardly do here in Southeast Asia. For first-time skiers, do not worry, Alpensia Ski Resort offers all sorts of slopes for beginners to advance professionals!
If you are planning to visit Korea in seasons other than winter, fret not! You can do more than just skiing there! Pyeongchang offers white water rafting at Donggang River, sky jump and even cave expeditions too. An easy way to experience all three is to hop on a free bus by Korea Tourism Organisation that takes you to these thrilling activities in a single day trip from Seoul. All you need to do is pay the activity fee and enjoy a smooth trip to Pyeongchang!
3. Pocheon for Families
If you're travelling with your family, try heading north of Seoul to Pocheon for a great adventure! On your way there, stop over at Goyang City and visit Korea's huge urban waterpark, One Mount for a fun splash with the kids. With both outdoor and indoor facilities, One Mount will definitely be a place you and your kids will remember!
After a great time in One Mount, head over to Pocheon Herb Island where you will feel as if you're in a Mediterranean country. Expect to see beautiful herb gardens where your kids will get to learn about different Mediterranean herbs and everything herb related! What's more, they can even feed and ride a donkey if they want to! Don't forget to stay until after sunset in Pocheon Herb Island to witness the island illuminated with colourful night lights, making it even more magical!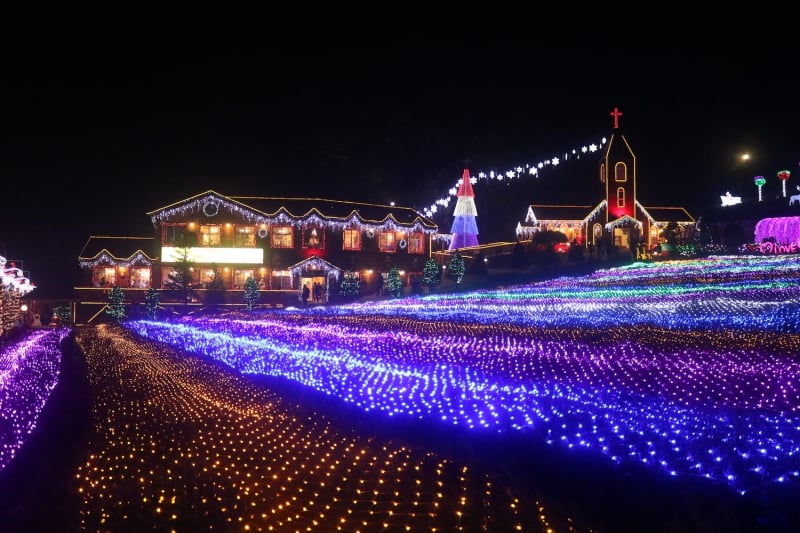 4. Andong for Foodies and Culture Lovers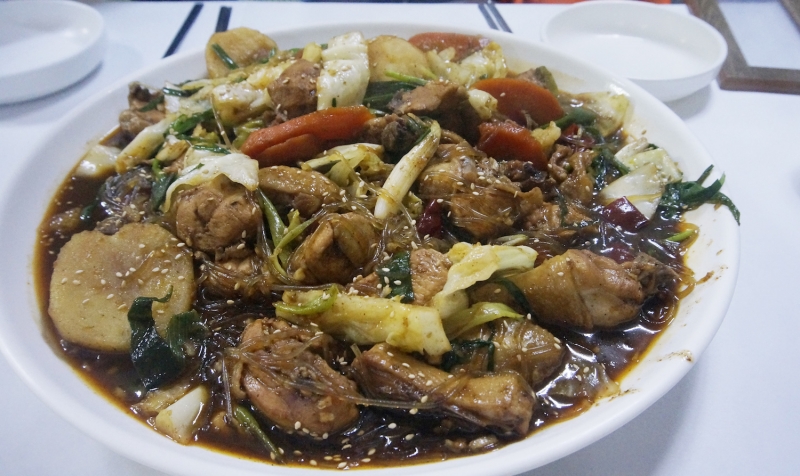 Head down to Andong for those of you who enjoy delicious food and Korean traditional culture. Andong is home to the mouth-watering Andong Jjimdak – they even have an entire street dedicated to this dish! Although you can find it in Seoul and other bigger cities, it is definitely worth it to go all the way to Andong to taste the most authentic version available! Also, try out many other traditional Korean dishes at the Andong Market while you're there, it's a less crowded version of Gwangjang Market in Seoul.

While you are in Andong, be sure to visit Hahoe Folk Village, a UNESCO World Heritage site well known for Korean traditional Masks called Ddal. Take a nice stroll through the cultural village while enjoying lush greenery all around!

Visit the Hahoe Mask Museum at the Folk Village to learn about Korean traditional masks and other international traditional masks. If you feel like it, head to their workshop area to get your hands on decorating your own Ddal mask for a small fee!

Experience Andong's International Mask festival where cultural groups from all over the world come together to celebrate their country's mask culture from end September to early October every year.
5. Suwon for History Enthusiasts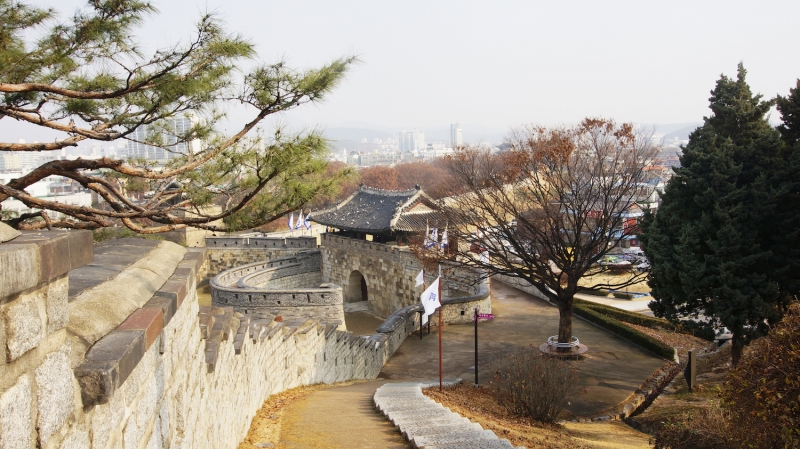 If you're a huge history buff, consider going to Suwon, a city connected to Seoul by Seoul Subway Line 1. Witness for yourself one of the city's historic fortresses and its magnificence. Take a languid walk around the city via its wall, a structure built in the era of the Joseon dynasty in the 1400s. Other fun activities that you can do around Suwon Hwaseong Fortress include Korean traditional archery, or a hot air balloon ride to get an aerial view of Suwon.

Also, visit Suwon Palace and learn about the city's history. You'll even get to try on royalty gowns while you're there! You can learn about everything, from the history of Korea's heating system to how the royalties dine and enjoy their food in the Palace. Awesome or what?
6. Yangpyeong for Shutterbugs
Yangpyeong is another town near Seoul and is also accessible by Seoul Subway Line 1. This town offers many gems that are often unknown to tourists and only frequented by locals. Dumulmeori and Semiwon are beautiful gardens at Yangpyeong, connected to each other, that are beautiful for photos in any season. To get there, take Seoul Subway line 1 and alight at Yangsu station.
When in Yangpyeong, be sure to go to the Greem Cafe, a hidden cafe in Yangpyeong that is often used as a background set for Korean dramas. Unlike a traditional cafe, you simply need to pay 7,000 KRW (~8.70 SGD) as the entrance fee to get a complimentary drink of your choice. You won't be able to stop yourself from snapping tons of photos there, that's for sure!

7. Boseong for Nature Lovers

Boseong is literally a paradise for nature lovers, and is THE place to get your daily dose of green tea. To get to the Boseong green tea plantation, you will need to walk through an enchanting mini forest which will make all your worries dissipate away. It's an idyllic escape away from the concrete jungle of Seoul. The splendid view and fragrance of green tea when you are in the plantation area itself is also very therapeutic for the soul. Be sure to try out the various green tea food products they have there – everything from green tea ice cream to even green tea ddeokbokki is available!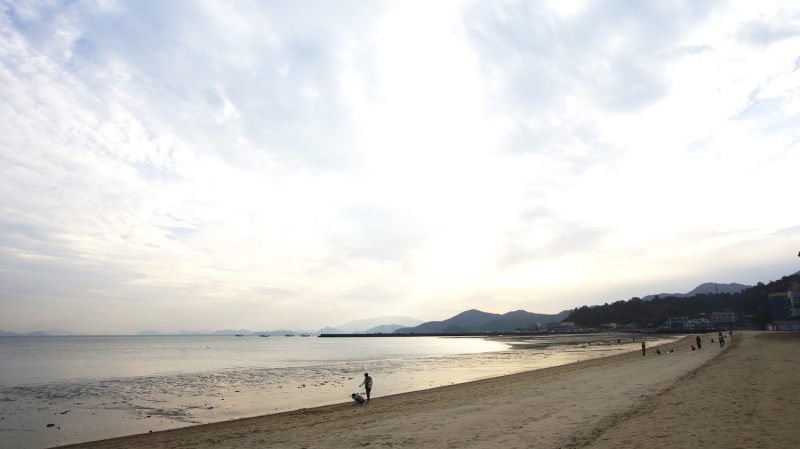 After indulging in everything green tea flavoured, head on to Yolpo Beach to enjoy the panoramic view of Korea's southern sea. You'll feel as if you have the entire beach to yourself! Soak in the gentle sea breeze or splash around in the waters for an unforgettable time.
Some of the cities on this list like Suwon and Yangpyeong are near enough to Seoul such that a day trip will be sufficient. However, for other cities like Andong and Boseong, consider staying over in the city for a night or two since they are quite a distance from Seoul. Don't forget to use your HSBC credit card to
get up to an additional 15% off hotel bookings made through Expedia
! Simply quote "HSBCHOL15" to enjoy this exclusive discount. What are you waiting for?

8. Incheon for K-culture Addicts
Incheon is becoming increasingly popular for drama filming locations, it is close to Seoul yet not as crowded, making it a must-visit destination for all K-drama lovers! Popular dramas like 'Goblin' and 'Descendants of the Sun' have used various locations in Incheon as their drama set.
Hanmi Bookstore and Jayu Park are some of the many filming locations for 'Goblin'. Go there with your fellow K-drama fan friends to recreate the iconic scenes! Stroll down Songdo Central Park too and if you're lucky, you may bump into the famous triplets, Daehan, Minguk and Manse from 'Superman Returns', one of Korea's famous variety shows.
Don't forget to visit Wolmido Island as well – an island connected to Incheon by bridge, where 'Descendants of the Sun' was shot. Take in the breathtaking and picturesque view of the sunset across the ocean while playing in Wolmi Amusement Park!
Excited to embark on your next adventure to Korea? Don't forget to buy your travel insurance before you leave! And with a whopping 50% off single trip plans from now till 11 June 2017 or 20% off annual trip plans, it seriously doesn't get better than this! Just pay using your HSBC credit card and you'll be ready to go.
What's more, from now till 30 June 2017, enjoy up to 12% cash rebate on your Online and Overseas spend with a minimum spend of S$1,000 on overall eligible transactions!
Weekdays (Mon-Fri): 6% cash rebate

Weekends (Sat-Sun): Double your rebates on weekends – 12% cash rebate

Cap at S$200 cash rebate per customer per month

Limited to first 5,000 customers who meet the min. eligible spend of S$1,000 per month
I hope you're incredibly inspired to travel to these lesser known destinations in Korea! And psst… it's best to visit them now while they remain hidden gems! So the next time you head to Korea, venture beyond the usual cities and you'll never know what you might discover.
---
This post is brought to you in partnership with HSBC Credit Cards
* SmartTraveller is underwritten by AXA Insurance Pte Ltd. and distributed by HSBC Bank (Singapore) Limited ("HSBC"). It is not an obligation of, deposit in or guaranteed by HSBC. This policy is protected under the Policy Owners' Protection Scheme which is administered by the Singapore Deposit Insurance Corporation (SDIC). Coverage for your policy is automatic and no further action is required from you. For more information on the types of benefits that are covered under the scheme as well as the limits of coverage, where applicable, please contact AXA Insurance Pte Ltd. or visit the GIA or SDIC web-sites (www.gia.org.sg or www.sdic.org.sg).