When travelling in Korea, drink like a Korean. The two most popular alcoholic beverages, Soju and Makgeolli, are considered traditional Korean alcohol and it should be in your checklist of "things to try" when in Seoul. The best part is about these beverages is that they will not burn a hole in your pocket. Therefore, drink to your heart's content and who knows, you might feel the local energy seep into you.
Soju

Image Credits: http://bit.ly/1onAwXs
Soju is an alcoholic spirit made from rice, with alcohol content generally ranging from 19% to 25%.  It is a sweeter version of vodka and has a smooth consistency. Soju is popular not only in South Korea. Believe it or not, it is actually the top-selling spirit in the world! One brand of soju you most definitely have to try is the well-known "Jinro".  Soju generally go well with any Korean food and apparently, many Koreans can't imagine having a meal without it. It is not surprising then that soju is easily available just about anywhere in South Korea.
Makgeolli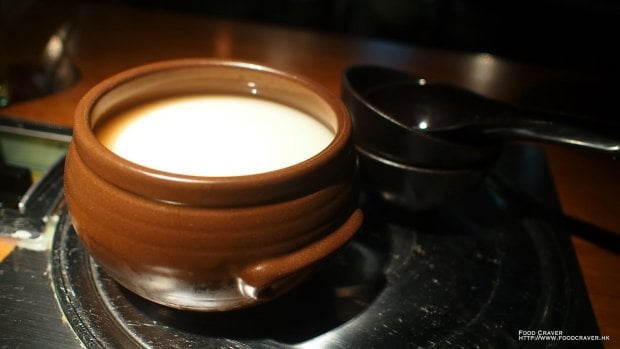 Image Credits: http://bit.ly/1rvbria
The literal translation of Makgeolli is "farmer's alcohol" and true to its name, it was known as a labourers' drink. Makgeolli was originally consumed by farmers after a hard day of work in the fields. Nowadays, makgeolli has made a modern comeback and is a drink for just about anyone. Made from rice and barley, it is thick and milky in consistency, sweet in taste and its alcohol quantity is much lower than in soju. Makgeolli is best savoured with Korean pancakes (pajeon), seafood, and also with spicy dishes. Like soju, makgeolli is widely available anywhere in South Korea, from Korean noodle eateries to convenience stores.
The Best Soju and Makgeolli bars in South Korea
Vinyl "Street Bar"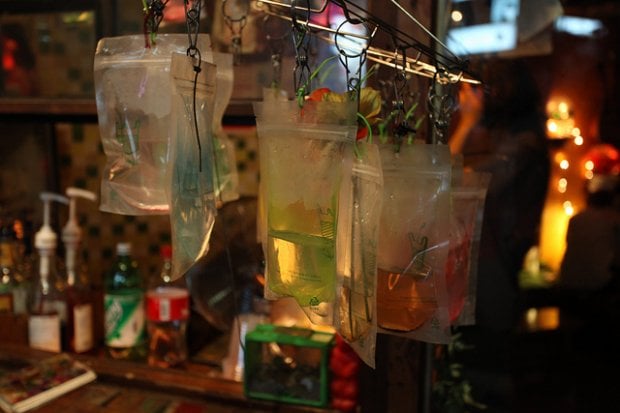 Image Credits: http://bit.ly/1uIb4PP
Although it is not a challenge to find a good bar Seoul, Vinyl "street bar" in Hongdae is one quirky bar you should actually make the effort to look for. People have been raving about this place. Not only are their drinks affordable, they are served in quite a unique manner as well – in plastic bags with straws. Now, you wouldn't want to miss out on Vinyl's iconic ziplock cocktails, would you?
Address: 411-1, Seokyo-dong, Mapo-gu. (마포구 서교동 411-1); Subway: Sangsu (Line 6);
Vinga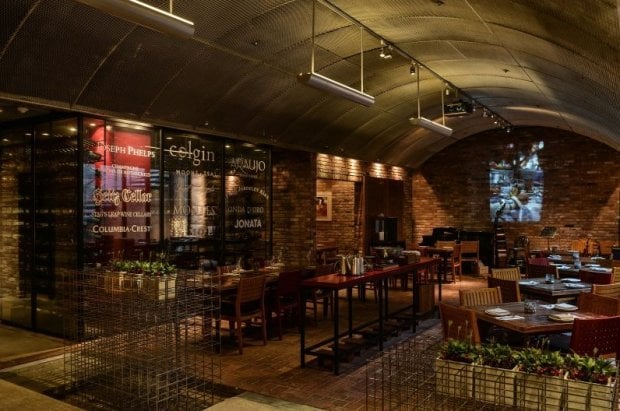 Image Credits: http://bit.ly/1sYQpVu
If you are looking to indulge in wine in a fancy place, Vinga, Seoul's top wine bar, is definitely the place for you. Order your soju or makgeolli in style and immerse yourself in its classy atmosphere. Vinga has a huge wine selection of some 800 different types that you can take your pick from. Come after 7.30pm if you'd like to catch some live music playing in Vinga. Your evening will definitely not end so soon should you spend it here.
Address: B1 Podo Plaza, 634-1 Sinsa-dong, Gangnam-gu.
Wolhyang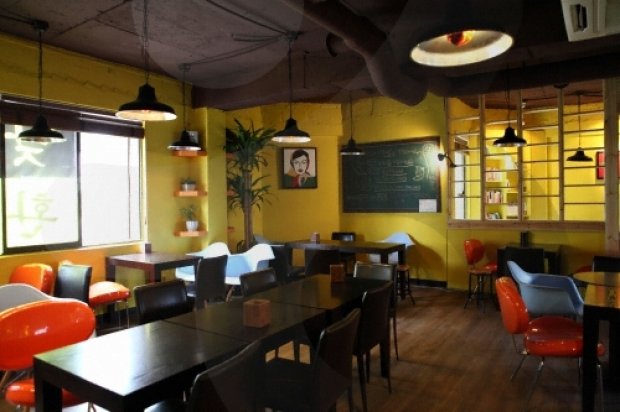 Image Credits: http://bit.ly/1u0vkya
Many will vouch for Wolhyang as being the place for the best makgeolli in town. Take your pick from traditional to mixed makgeolli, and sip it up from the little bowls they are served in. A well-reputed chain for makgeolli, you are unlikely to be disappointed by your visit here.
Address: 335-5 Seogyo-dong, Mapo-gu (마포구 335-5서교동)
The Timber House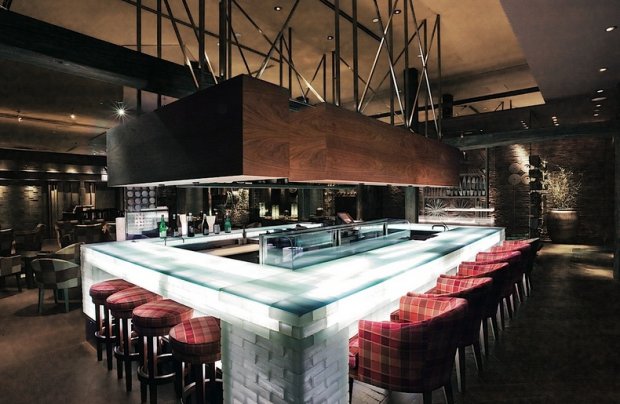 Image Credits: http://bit.ly/1mX0cPs
The Timber House in Park Hyatt Seoul is a well-loved bar in Seoul because of its impeccable cocktails. It has a cosy interior, designed as a cultural space with traditional Korean architecture. If there is one drink you have to try here, it is the award-winning 'Love in Sky,' which is a soju-based cocktail made with omiza syrup, schnapps and iced raspberry tea.
Address: 995-14, Daechi 3-dong, Gangnam-gu
The Flower Shop That Sells Alcohol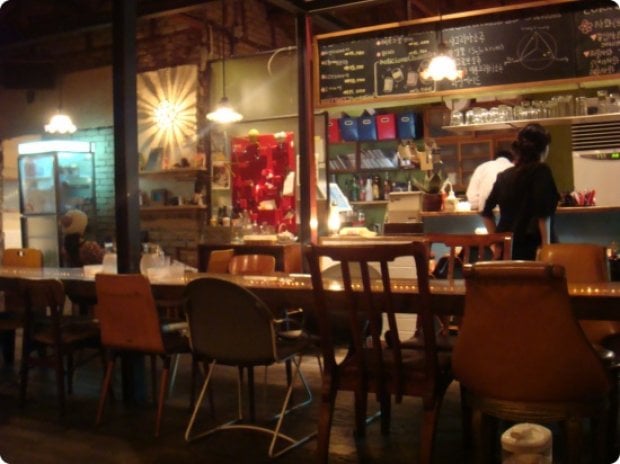 Image Credits: http://bit.ly/1BovsrI
Get drawn in by the cute name of the bar or the delicious cocktails waiting inside. You can enjoy soju and fruity cocktails in this flower-themed shop at affordable prices.
Address: 358-51 Seokyo-dong, Mapo-gu, Seoul, Korea
Chin Chin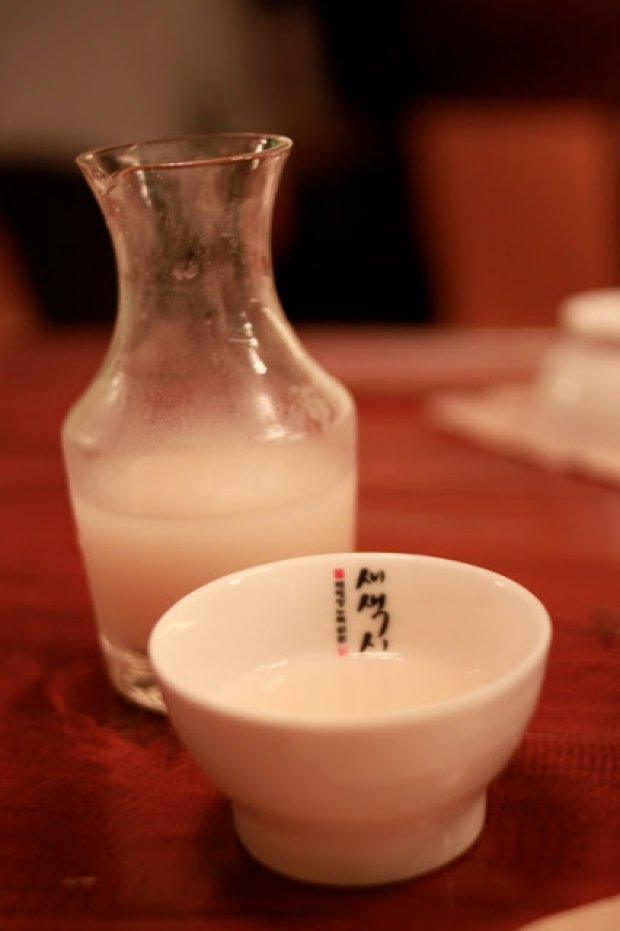 Image Credits: http://bit.ly/1rBB6pl
A great upscale place for makgeolli lovers is Chin Chin, which offers 20 different makgeolli selections. Splurge on their famous Tiger and Saeng makgeolli – it will be worth the money!
Address: Seoul-si Mapo-gu Seogyo-dong 343-9
Dduk Tak
Lastly, Dduk Tak is a Korean rice wine bar in Hongdae. Dduk Tak is known to serve organically produced makgeolli, hence the drinks at Dduk Tak have unique authentic flavours. Try their Chamsary makgeolli along with your pick of dishes available like stew or seafood.
Address: Seoul-si Mapo-gu Seogyo-dong 330-17
Drink up!
South Koreans love to drink. I believe the best way to extract the essence of their lifestyle, and to immerse yourself into their culture is to indulge in their favourite cocktails and drink up the way they do!
Start planning your holiday to South Korea to get your soju and makgeolli fix!