Brimming with rich cultural influences, Korea is home to a wide array of fascinating festivals. Some of these festivals aim to highlight how the nation's historical legacy inimitably shaped modern-day Korea, while others lean towards the joyous celebration of nature and the changing seasons. No matter which, a festival in Korea promises nothing but unadulterated fun for any kind of traveller! If you're up for getting in on the fun, check out these seven special upcoming festivals that are absolutely worth your time (and photo storage).
1. Gimje Horizon Festival – Premier Festival
Where: Gimje City, Jeollabuk-do Province
When
:
20 – 24 September 2017
Things to look forward to:
✔ Agricultural Experience Programme
✔ Tug-of-war Contest
✔ Traditional Swinging Competition
✔ Kite-flying
An annual affair since 1999, this festival is helmed as one of Korea's Premier Festivals by the Ministry of Culture, Sports and Tourism. Situated at Byeokgolje Reservoir or "the great plains of Korea", the festival emphasises the importance of agriculture and farming. Aside from that, the event sheds light on the country's impressive regional economic growth, courtesy of its prided primary industry. The expansive golden fields dotting Gimje town are highly fertile and offer optimal conditions for growing rice.
Fun Fact: Gimje is the only region where Koreans can see the horizon from a landlocked area! Festival-goers can revel in a myriad of engaging hands-on programmes – from a rice wine (makgeolli) festival and maneuvering a farming cart to cooking rice traditionally in a furnace, you will certainly garner a deeper appreciation for these fluffy white grains. Game enough for something a tad more challenging? Grab your pals and battle it out over an authentic tug-of-war contest! If you're not keen on getting physical, soak in the picturesque natural scapes and try your hands at kite-flying or have a go on the traditional swings.
2. Jinju Namgang Yudeung Festival – Global Festival
Where: Jinju City, Gyeongsangnam-do Province
When
:
1- 15 October 2017
Things to look forward to:
✔ Hanging and Floating Wishing Lanterns
✔ Water Fireworks
✔ Creative Lantern Exhibition
This epic kaleidoscopic display of spellbinding fireworks and colourful lanterns is one that you definitely wouldn't want to miss during the season autumn. The Jinju Namgang Yudeung Festival stems from the lantern lighting custom adopted during the 1592 medieval Jinjuseong Fortress Battle where, to prevent enemies from wading the Namgang River, this tactical military strategy was used as a defense mechanism during the Japanese invasion.
Highly regarded as a Global Festival, this celebration of lights allows you to partake in "gaejesik", where lanterns are ceremoniously lit as tribute to the gallant veterans and the 70,000 lives tragically lost. As you saunter along the vibrant riverside, marvel at dazzling floating lanterns that illuminate the dark waters and float gracefully down the Namgang River. Creatively crafted by students and carrying personal wishes of the citizens, this magical display manifests the festival's overarching theme of hope and dreams.
This large-scale 11-day event also features spectacular themed lantern displays, as well as intricate lanterns handcrafted by talented Korean and international artists. See if you can spot super-sized recreations of Statue of Liberty, the Sphinx and even famous characters namely Donald Duck, Spiderman, Superman, and the Teletubbies. The highlight of the event culminates in an extravagant opening pyrotechnics display that paints the skies in luminous sparks, which is bound to incite lots of oohs and aahs from the crowd!
3. Andong Mask Dance Festival – Global Festival
Where: Andong City, Gyeongsangbuk-do Province
When
:
29 September – 8 October 2017
Things to look forward to:
✔ Korean Mask Dance
✔ Madanggeuk (Puppetry)
✔ Ttalnolyi Parade
✔ World Mask Exhibition
Andong, the capital of traditional folk art, makes for an apt venue for the yearly Mask Dance Festival. Rumour has it that when Queen Elizabeth asked to be taken to the "most Korean place in Korea" for her 73rd birthday, she was brought to Andong! With over 50 events and hands-on programmes, you will most definitely be entertained (and spoilt for choice!).
The main highlight is the Korean mask dance that portrays the nation's inherent heritage and intrinsic culture. Actors decked in ethnic costumes sashay in tandem with traditional tunes during the fascinating performance. International mask dance troupes are also invited, allowing visitors to catch a glimpse of the varying, and extremely intriguing, folk traditions from around the world. Aside from that, expect original puppet plays and the Ttalnolyi (Mask Play) Parade to really add another dimension to your quintessential Korean experience. Get your creative juices flowing and artsy-fartsy side on before creating your very own traditional mask, all at this unique festival.
4. Hwacheon Sancheoneo Ice Festival – Premier Festival
Where: Hwacheon County, Gangwon Province
When
:
6 – 28 January 2018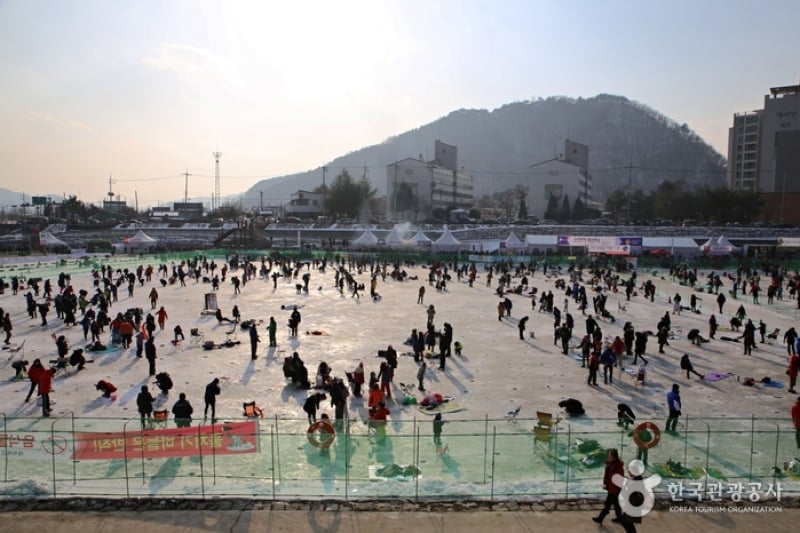 Things to look forward to:
✔ Trout Ice Fishing
✔ Snow/Ice Sledding
✔ Elgomi Castle
✔ Indoor Ice Sculpture Square
✔ Bobsleigh
Another novel festival to add to the list, the Hwacheon Sancheoneo Ice Festival is uber-cool – both figuratively and literally. With a plethora of exhilarating snow-filled activities, Korea's all-time favourite winter festival always rakes in visitors by the millions. The must-do attraction here? Trout ice fishing! Over a whopping 12,000 holes are cut through 2-metre thick ice for this highly-raved activity. Your heart will be racing from both the immensely cold temperatures and the thrill of potentially catching a fresh mountain trout ("sancheoneo")! If you're feeling a tad more bold, why not jump into the icy waters of the pool beside the stream and try bare handed fishing. After ogling at each other's catch of the day, indulge in the trouts — either grilled or as raw sashimi — at the Sancheoneo Grill Centre. It doesn't get any fresher than that, does it?
The activity options here are endless, making it absolutely ideal for that long-overdue family outing. While the kids squeal in delight down the freezing ice sculptures, adults can be merry and partake in ice sledding, snowmobiling or even bobsleighing. It's pure exhilarating fun for all ages!
For those craving some adrenaline-pumping (and heart-thumping) fun, challenge your pals to a snow sleigh race down the slopes. You will really need to hang on tight for this one or you might just spiral out of control!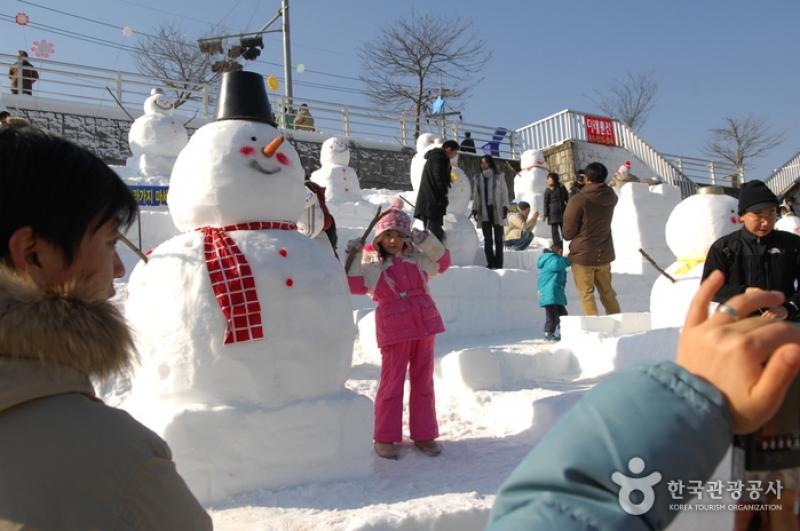 Alternatively, if you prefer to just revel in the festival's ambience and take it a bit slow, grab your cameras and snap adorable shots with the snow sculptures. These super-cute sculptures are guaranteed to make you smile even with the subzero temperatures!
If you can't wait to have a blast in this winter wonderland, we have just the thing for you! Save yourself the research and take your pick from these tour packages that include the Hwacheon Sancheoneo Ice Festival:
Take the chance to explore more of Korea while you're at it; there's just so much to see and do. And yes, these packages come inclusive of flights, meals and transportation. Start booking your holiday to Korea right away to enjoy all this and more!
5. Jindo Miracle Sea Festival – Best Festival
Where: Jindo Mysterious Sea Route, Gogun-myeon, Jindo Island
When
:
April 2018, exact dates TBC
Things to look forward to:
✔ Miracle Sea Road Walking Experience
✔ Sea Road Beacon Light Parade
✔ Legendary Reenactment of Grandmother Ppong
✔ Jindo Traditional Alcohol Tasting
The island's natural phenomenon (known as "tidal harmonics" to science geeks) rose to international prominence back in 197,5 when a French ambassador witnessed the sea between Jindo and Modo Island receding to unveil a mini, narrow causeway. He dubbed it the Korean version of "Moses' biblical miracle".
Throngs of masses frequent the festival at the southern tip of the Korean Peninsula, usually clad in bright orange/yellow thigh-high rubber boots as they attempt to trek between the landmasses. Locals and visitors can opt to traipse along the famous path when the tides are low or dig for precious crustaceans like clams, crabs and other assorted ocean delicacies. You can also sample some traditional Jindo alcohol or be amazed by the stunning beacon light parade!
This mystical attraction also houses a centuries-old tale of a lady known as Grandmother Ppong, who miraculously made it to Modo Island, in a bid to escape the wrath of tigers on Jindo Island. Science or fiction, you decide!
6. Jinhae Gunhangje Festival
Where: Jinhae District, Changwon City
When
:
1- 10 April 2018
Things to look forward to:
✔ Multimedia Fireworks
✔ Victory Parade
✔ Jinhae Military Band
✔ Honor Guard Festival
Jinhae Gunhangje Festival is regarded as the country's best and biggest spring festival. Be enchanted by the sight of 360,000 gorgeous pastel-pink cherry blossom trees, that paint an absolutely postcard-worthy picture. As you walk along the canal, you can feast your eyes on different exhibits ranging from multi-coloured umbrellas, lanterns and even symbolic figurines! This is your romantic Instagram-worthy backdrop, for sure. The streets are also filled with food vendors selling a plethora of food from popular Korean snacks to "too-pretty-to-eat" giant cotton candies.
Initially functioning as a memorial service for Joseon Dynasty's most noteworthy naval admiral Yi Sun-in, this festival today still incorporates the tribute during the Victory Parade. Be amazed by members of the Republic of Korea's Army, Navy, Air Force and Marine Corps that constitute the Jinhae Military Band, who promise to put up a stellar performance. Prep your selfie sticks, for this backdrop is literally every photographer's dream.
7. Muju Firefly Festival – Best Festival
Where: Hanpungnu-ro, Muju County
When
:
August 2018, exact dates TBC
Things to look forward to:
✔ Firefly Light Show
✔Live performances and parade
✔ Art and Play Programme
This fascinating festival rakes in a large number of visitors annually due to its powerful overall message that resonates deep within. Featuring the delicate residents of Muju, festival-goers will be treated to a magical sight of neon fireflies that will paint the night sky in a shimmery glow.
The festival is essentially an advocate for the need to maintain a clean and green environment, since these luminous bugs can only survive in the cleanest of surroundings. The illuminating parade of these dancing creatures also subtly aims to highlight (quite literally) the importance of preserving fragile Mother Nature, whilst shedding light on pressing environmental issues.
Aside from the glistening fireflies, you can also partake in releasing a lit-up balloon as part of the Flying Balloons of Hope programme. As you watch it soar and drift away, watch how the night sky remarkably comes to life. Dodge the congested, smoggy city and revel in this spectacular sight instead!
Indeed, each festival has something different to offer, so why not try to check as many of them off? Almost all of them have been carefully selected by the Ministry of Culture, Sports and Tourism, based on the frequency of visits by tourists in previous years and what it is representative of. Explore the full list here! For more information regarding any of the above festivals, check out Korea Tourism Organization's official website and Facebook page. Alternatively, bookmark this Experience Korea! page where you'll find everything you need (and more!) to plan your next trip. Have a splendid time enjoying these very unique festivals, and we guarantee that you'll have the time of your life!
---
Brought to you by Korea Tourism Organization (Singapore).