Would you ride an amphibious bus in Paris?
If you've ever wandered into Berlin, Boston, or Amsterdam, the concept of an amphibious bus should be anything but new to you. But for those who don't know, the unique vehicle is a form of transportation that functions as both a bus and boat. Usually modified from sea-borne military crafts, they're quite common in cities with bodies of water that run through them. And with the French capital being home to one of Europe's longest and arguably most popular rivers, it was only a matter of time before it made room for these unconventional attractions.
Also read: Grab Singapore Now Operates Hybrid Vehicles for Cleaner Environment
How to ride the amphibious bus in Paris
Amphibious buses also go by the name of hybrid buses, floating buses, bus-boats, or ducks, with most activities that involve riding them being called duck tours. What makes the one in Paris different from other cities is that it's purposely built in France for passenger use. "About 2/3 of the value of the first French amphibious bus was carried out entirely in France, with the help of the administration and a large number of French companies," Les Canards de Paris, which operates the amphibious bus in Paris, known as Marcel le Canard, shared.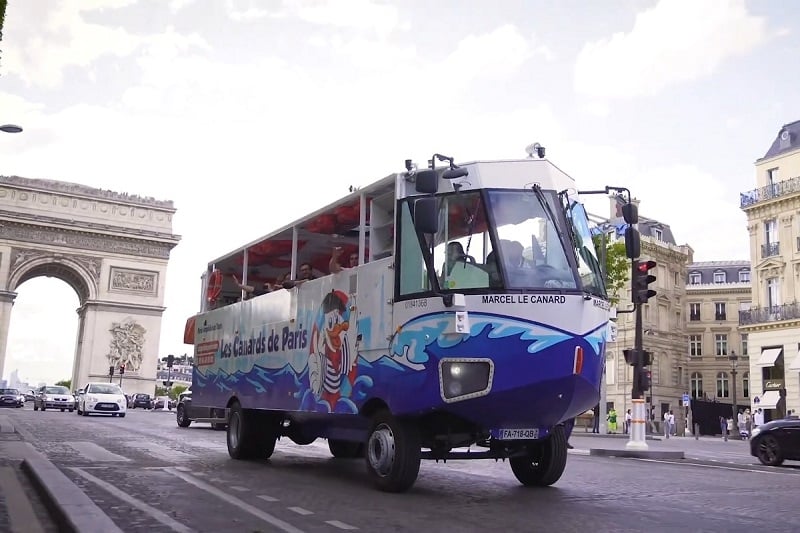 Furthermore, Les Canards de Pari said that the vehicle has met relevant road and river safety standards of France. This makes it safer and less likely to cause sinking or catching fire travel accidents associated with similar buses in other destinations. Seats cost €35 for adults and €20 for children aged between two and 12 years old. A deal of €15 is also available to families with up to two adults and two children. Those younger than two years old are not allowed to board the bus due to safety concerns.
According to Les Canards de Paris, each tour lasts for 100 to 120 minutes, 20 to 25 minutes of which are spent on the river Seine. On the road, you'll pass by the following Paris attractions: The Eiffel Tower, The Invalides, The Alexander III bridge, The Little Palace and the Great Palace, The Champs-Elysées, the Arc of Triumph, the Trocadero, and Hauts-de-Seine. The bus then splashes into Seine around Seguin Island. Here, passengers can experience the "Seine Musicale", the Saint-cloud gardens, and the skyline of La Defense district.
Also read: Explore Paris in a Day With These Attractions + Food and Shopping Tips
What to know in preparation for the ride
The buses come with a live tour guide, who speaks both English and French for the convenience of most passengers. If you're booking the tour as a larger group, you can also request a guide who speaks your language. Simply inform the company in advance. The same goes for groups who want to hire the boat for private events, which cover team building sessions, birthday celebrations, weddings, and bachelor parties, among others.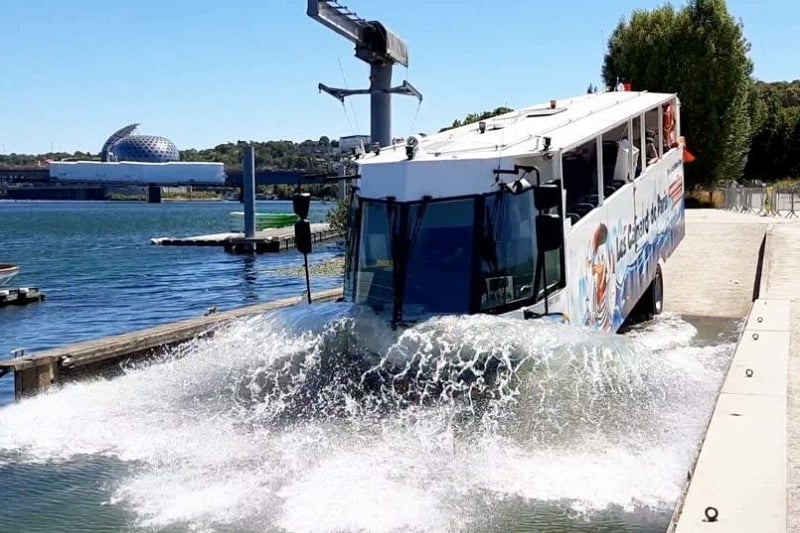 The tour departs from Place Jacques Rueff in the middle of the Champ de Mars garden. There, the operators will also accept walk-in passengers as long as there are available seats onboard. For advance bookers, it's recommended to arrive at least 15 minutes before your scheduled tour to avoid delays in checking your ticket. This should be printed or downloaded on a mobile device. To go to the departure point by taxi, simply tell the driver to head to Place Jacques Rueff. When commuting by metro, rapid transit system, or bus, here are options you can take:
– Line 8 "Ecole Militaire" station then 13 minutes on foot
– Line 6 or 9 "Trocadéro" station then 19 minutes on foot
– Rer C "Champ de Mars – Tour Eiffel" station then 12 minutes on foot
– Bus line 69 or 86 "Champ de Mars" stop then 2 minutes on foot
You can book the Marcel le Canard or amphibious bus in Paris by going to the official website of Les Canards de Paris. To see what the French hybrid bus tour is like, watch the following video.
---
All images credited to Les Canards de Paris | Official Website