Knowing more than one language is always an advantage. Anyone who tells you otherwise is just being arrogant. I mean come on, we've all been there before. When you're either lost or clueless on how to communicate your message in another country whose tongue is different from yours, you just wish you could speak their language!
But more importantly, having a grasp of a foreign dialect gives you a deeper understanding and appreciation of diverse cultures and people. There's no downside to having some basic knowledge of a vernacular far from your mother tongue. 
If you don't have the time or can't afford to enrol in formal language classes, start small by downloading language apps. There are plenty of effective and fun mobile language apps available, from those that offer courses to those that feature educational games. 
Though this may be an unconventional way of learning a new language, whether basic or advanced, these foreign language apps will definitely help you avoid miscommunication in your travels. Take these down!
For language courses
1. DuoLingo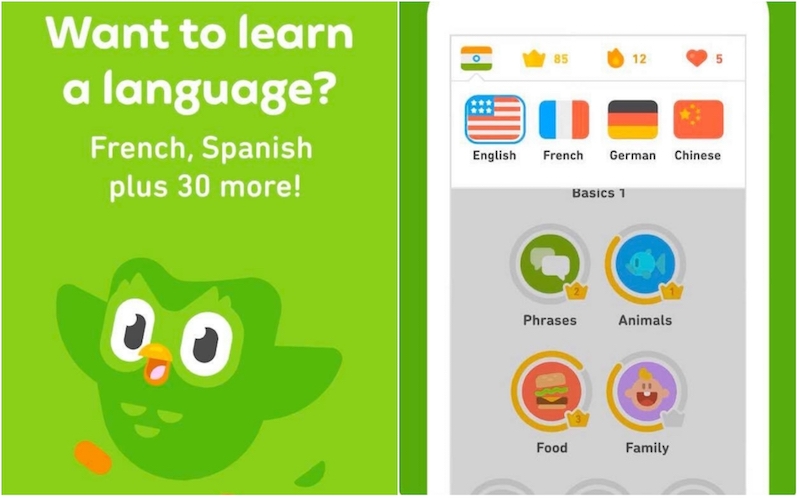 DuoLingo is an unmatched language app that teaches users not only survival vocabulary for their travels, but also complete language courses for advanced learning. This app is designed by language experts and used by more than 300 million people worldwide. Now you might be asking, "How on earth does it manage to attract so many users?"
Well, it's simple, really. DuoLingo can teach you more than 35 different languages in your first language. That's right, it doesn't assume that the user's first language is English, which is a huge show of inclusivity and thoughtful strategy. You won't find this app boring either, because it makes use of game-like lessons and characters to entertain you while you learn. 
With this app, you can practise speaking, reading, writing, and improving your vocabulary and grammar in your chosen language. And get this — its language selection even branches out to fictional languages such as Klingon and High Valyrian. Any Star Trek and Game of Thrones fans out there?
This app is free, but should you choose to purchase DuoLingo Plus, you get a seven-day free trial!
2. Babbel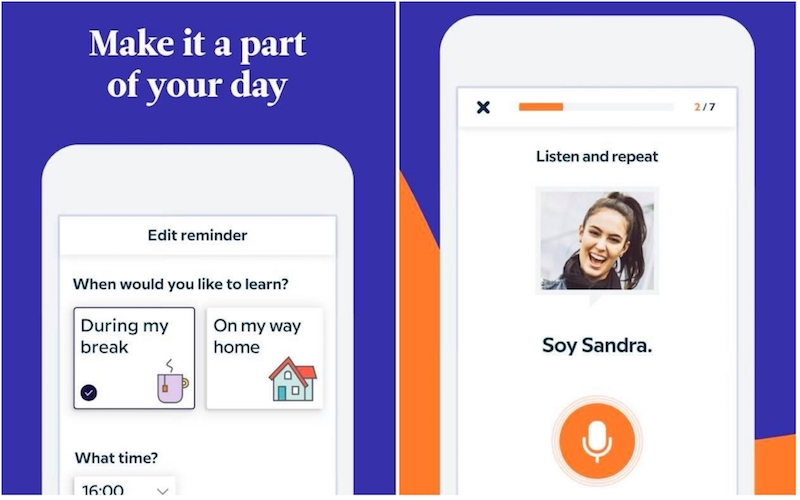 If you don't want to be overwhelmed with all the options that DuoLingo can provide, perhaps Babbel can narrow things down for you. With this language app, you can learn 14 different native tongues, namely: Spanish, French, Italian, German, Portuguese, Russian, Polish, Turkish, Norwegian, Danish, Swedish, Dutch, Indonesian, and English. 
What gives Babbel the edge is its highly intensive educational courses. For the record, it has 5,000 courses and 60,000 language lessons for your in-depth learning. But don't be intimidated, Babbel proudly teaches its users different languages using easy and quick lessons you can fit into your day. Like DuoLingo, Babbel can also hold these lessons in your first language should you wish it!
Some effective Babbel programs worthy of note are its lessons for every situation, be it for travel, work, or daily interactions; as well as programs to perfect your pronunciation, and to learn grammar in context. 
With such an impeccable system, it's no surprise that researchers at Yale University found that 100% of their Babbel participants improved their oral proficiency in just three months. Meanwhile, studies from Michigan State University found that 96% of their participants acquired higher test scores on grammar and vocabulary after 10 hours of learning from Babbel. If that isn't enough to convince you to use this language app, we don't know what will!
3. Busuu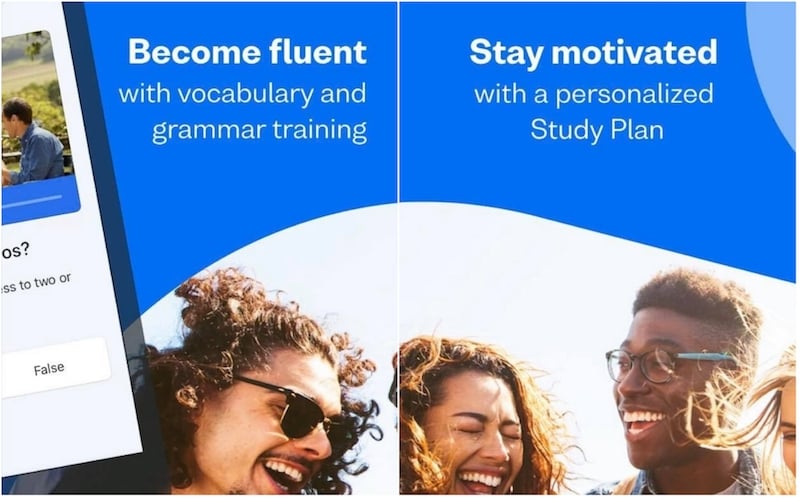 Don't have time for sitdown language courses? Busuu prides itself on helping users learn different languages amidst lack of time and motivation. This language app adjusts to your time with its Study Plan feature, where you can tell the app what you want to learn and for how long. From there, Busuu will tailor its lessons according to your needs!
This app has over 100 million users, all of whom study any of the 12 languages the app teaches; these are English, French, Spanish, Italian, German, Chinese, Japanese, Portuguese (Brazilian), Polish, Russian, Arabic, and Turkish. And guess what, you can learn all of these in a more interactive setting!
Busuu's standout aspect is its Conversation Feature, where you may connect to the app's community of 100 million native speakers. These are also students like you whose native tongue is the one you're currently studying. They can give you feedback on your answered exercises and vice-versa. Isn't that awesome?!
Also read: 15 Useful Japanese Phrases You Need to Learn Before Travelling to Japan
For flashcard style and voice translators
4. TripLingo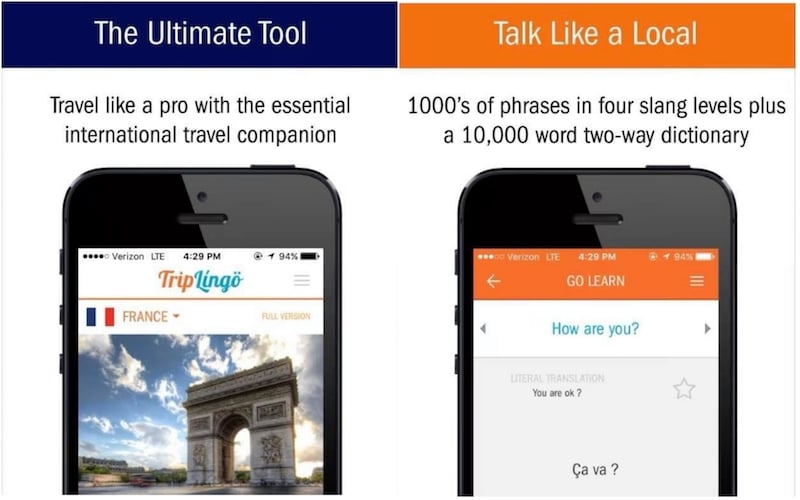 This particular language app was made specifically for international travellers, so make room on your mobile. TripLingo doesn't only translate basic phrases that are essential to travelling, but it also helps you learn about different cultures' slang languages; this main feature is called Slang Slider!
With this, you'll learn about the different levels of formal and casual ways of speaking in a given language, which will make you sound all the more proficient and approachable in the eyes of locals. Isn't that what we all want when travelling overseas?
The app is also equipped with a voice translator if you want to get an immediate translation of what you want to say to a local; as well as a live translator you can contact to get a crash course on the local dialect, culture, and so much more. 
With TripLingo's free version, you already get a thousand phrases translated into 13 different languages and an instant voice translator in 42 languages. We're also giving this app plus points for offering an image translator, audio lessons, an offline dictionary, and an intelligent tip calculator with a currency converter. 
With travel-friendly features like these under its wing, TripLingo was awarded the "Business Travel Innovation of the Year" by Fast Company, and featured in multiple platforms such as CNN, Forbes, and Fox!
5. Memrise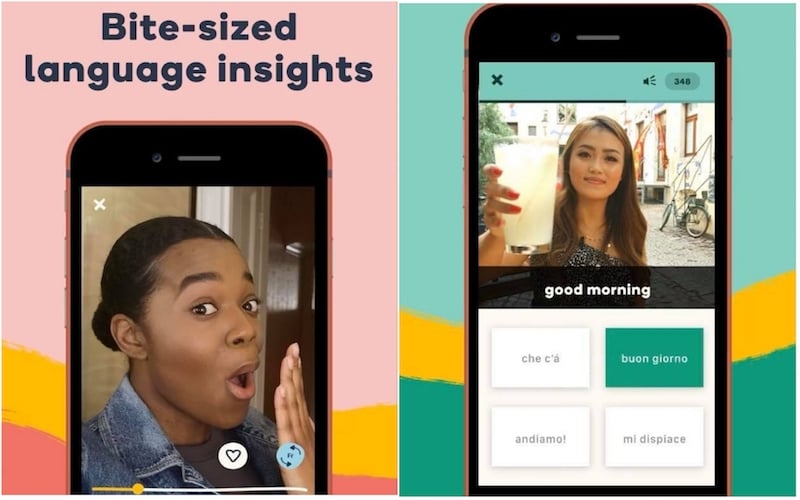 Want to learn a new language but hate textbook learning, or maybe you have a short attention span? Memrise is the answer to your prayers! This language app comes with so many interactive and fun features that you won't even notice the time pass you by. 
For starters, you can learn over 200 languages with the help of Memrise; these include French, Spanish, Japanese, Korean, Italian, Russian, Polish, Mongolian, and so much more. Expect to learn from real native speakers who will help you understand and remember foreign words through flashcards, quiz-type games, funny video clips, and snippets from real bucket-list destinations!
Apart from enhancing your vocabulary, the app also promises to improve your pronunciation, listening skills, and work on the difficult words you encounter. To make this learning process more personal, Memrise keeps track of your improvements and grants you points as you go along. 
Yes, you can participate in the app's ranking system where you compete with your fellow students. With over 50 million users on Memrise, it gets very addicting to outscore each other. Maybe you should join them!
6. Drops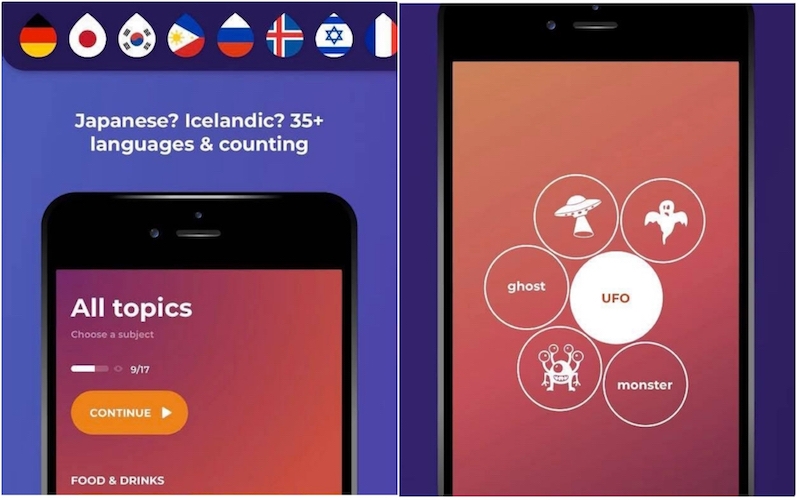 Want to keep things simple yet entertaining? Drops will teach you a foreign language through beautiful illustrations. Here, you connect the right words and phrases that fit digital sketches rather than just rely on boring old word translations. On top of that, you can set your vocabulary priorities straight with the help of Drops' professionally curated word lists; so, if you want to translate travel talk before food and drink, then all you have to do is select it from the categories! 
What's more, Drops will teach you how to write in a foreign alphabet, as well as offer crystal-clear audio that will correct your pronunciations. But what truly sets this language app apart is its five-minute rule. You read that right, Drops limits your learning to only five minutes a day!
This might sound like a detriment to your improvement, but it's actually not. Drops believes that putting a five-minute ceiling to your language learning per day will naturally encourage better focus with little to no distractions. With a system of visual learning to match, you'll absorb words faster and better each session. 
If you choose this app as your mode of learning, there will be more than 33 languages to choose from, such as Arabic, Hawaiian, Finnish, German, Maori, Filipino, and many more. 
7. Rosetta Stone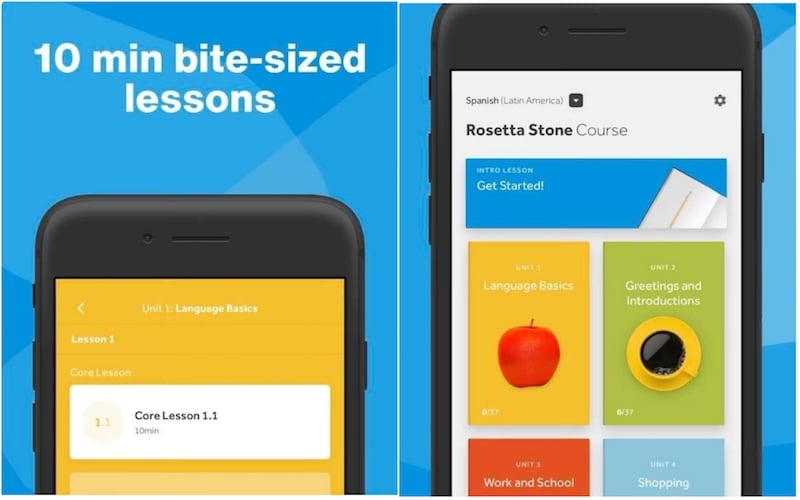 Think of Rosetta Stone as Drops' cousin who you can spend a bit more time bonding with. Like Drops, Rosetta Stone can put a limit to your language practice each day. You can choose otherwise, of course. But if you opt to limit your sessions, you may select among 5 to 10-minute bite-sized lessons instead of just five minutes of learning per day. This language app also makes use of images to teach its users the translations and meanings of new words. 
There's no need to worry if you're a slow learner. Rosetta Stone allows you to personalise your learning plan and set your own pace. When you set your learning plan, you'll find that the app facilitates its language lessons with visuals of real-life scenarios when you're at the office, speaking with family, and most especially when you're travelling on a holiday. Broaden your vocabulary and fine-tune your pronunciation among any of the 24 languages it offers, from Dutch, Greek, and Hebrew, to Filipino, Hindi, and Vietnamese!
Also read: 15 Easy Korean Words & Phrases Every K-Drama Fan Should Know!
After going through these tested and unique language apps, you can't possibly be caught lost and clueless when you find yourself travelling to a foreign country again. While we're all grounded in the midst of the coronavirus pandemic, why not get a headstart and begin your foreign language classes now? Everything's at the palm of your hand!
---
All images credited to the App Store.