Provence is filled with olive groves, lush vineyards, charming medieval towns, and sunsets over the sprawling countryside. But what makes it so widely known and beloved among travellers are its millions of lavenders, which begin to bloom throughout the region from mid-June to early August. By mid-July, this flower reaches its most regal hues. 
Not only do these violet-blue flowers bring such vibrant life into the terrain, but they also come with medicinal and relaxing properties to soothe away fatigue. Occasionally called "blue gold" for its therapeutic benefits, lavender can be found in many fields and farms across Southeastern France. 
When it's time to travel again, these are the best spots for your lavender adventures through Provence! 
Also read: 10 Eye-Popping Flower Fields You'll Want to See in This Lifetime
Drôme
Tagged as the northern gateway to Provence, Drôme paints an unforgettable scene as a lavender-growing region. The pleasant climate and low humidity of this area allow the lavender to flourish in abundance, while a gentle breeze can't help but attract visitors nearby. If you happen to be biking around the town of Nyons, it's hard to resist the temptation to stop and look to see where the fragrant aroma is coming from. 
Catch the lavenders of Drôme flowering from early June to the end of August! As the sun sets into the fields, nature provides dramatic lighting for you. 
Sénanque Abbey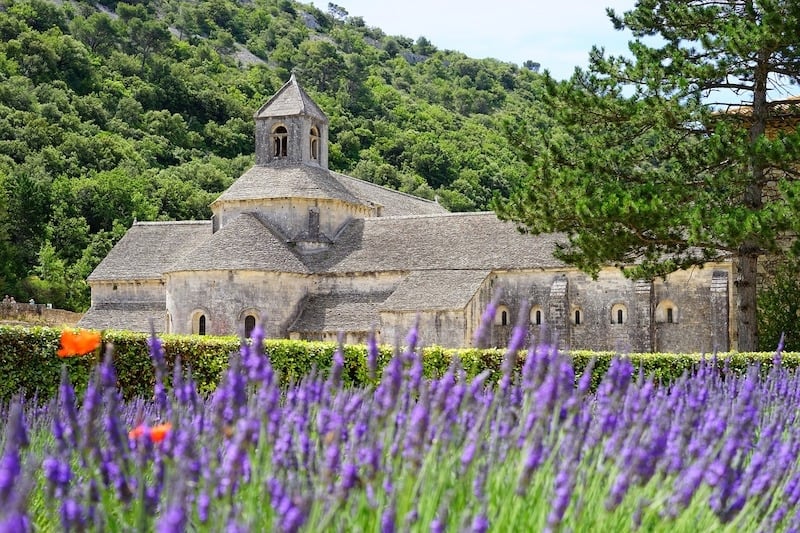 If you're planning to frolic through Provence's fields like a character in a Disney movie, then you're going to need a fairy-tale backdrop to match. Look no further than the magnificent Sénanque Abbey, where you'll find a 12th-century Cistercian abbey with a 900-year history, surrounded by enchanting flowers that grow around the premises. 
Just enough lavender grows for the monks to cultivate and make an honest living out of it, producing everything from essential oils to lavender-scented soaps. You can witness the abbey in its full glory in early July.
Valensole Plateau
One of Provence's most prolific lavender harvesting sites is the Valensole Plateau, which hosts many famous summer festivals in the region: the Fête de la Lavande (Lavender Festival) in the village of Valensole in July and the Foire de la Lavande (Lavender Fair Exhibition) in Digne-les-Bains in August, to name a few. 
Interestingly enough, the word "valensole" is a combination of two words in Latin, "vallis" and "solis," which translate to "the valley of sun." Likewise, this plateau is every photographer's dream because of its seemingly endless stretches of lavender, seen best in the magical light of golden hour. 
Scenic footpaths offer a closer glimpse of the fields in Valensole, but you might have to rent a car and drive around the area to capture some truly stunning shots. Just make sure to arrive around 5.30am to 7am for the sunrise or anytime before 9.30pm for the sunset, as this purple wonderland brings all the tourists to the yard when peak season hits. From mid-June to late-July, the flowers bloom with a brilliance that can rival any postcard. 
Sault
Any travel guide worth their salt will tell you that one of the best places to find lavender in Provence is the hilltop village of Sault, also known as the lavender capital of Southern France. In elevated and mountainous regions such as this one, the Alpine lavender tends to bloom much later than in other parts of the country. 
Too late to catch the lavender of Valensole and Sénanque? Not a problem! Head to the fields of Sault in August, where the carpet of purple flowers appears even brighter once the summer reaches full swing. Just in time, too, for the annual Sault Lavender Festival on 15 Aug. Don't forget to sample the lavender honey and ice cream during your visit! 
Aurel 
Another home for late-blooming lavender is Aurel, a sleepy hamlet in the middle of a forest. Just outside the village is a secluded spot that comes to life with teeming flowers in August. Here, you can take in a sea of lavender with Mont Ventoux looming in the distance. 
Once you've had your fill of flowers, feel free to explore the sights of Aurel. Travel back in time to a historic village with a 13th-century château, winding streets, pretty cafés, and charming houses made of stone — all things beautiful and French, if you ask us! 
Also read: 12 Most Colourful Natural Attractions Around the World! 
France is surely photogenic in any season, but this purple-coloured splendour makes a tough argument for the summer. Between the bright blue skies and the lavender fields of the region, you get the idea: Anywhere you go in Provence, there's no such thing as a dull detour!