To say that smartphone photography has come a long way would be a real understatement. Gone are the days of grainy photographs captured on a tiny camera on the back of a Sony Ericsson flip phone. Today, you have phones that can let you take a close-up shot of the moon, super vivid portraits, and ultra-sharp images that would make even the most avid DSLR fans blush. 
Portable, slim, lightweight, and easy to use, mobile phones are quickly becoming the preferred option for photography on the go. Most of the visual-centric social media apps today are also optimised for phone photography. It's safe to say that knowing how to take a good photo with your phone is a welcome skill to have in today's world. 
However, if having a 40-ish megapixel camera isn't good enough for you, here are some gadgets to level up your mobile photography! 
Also read: Best Travel Photography Apps
1. Tripods
Just like a typical DSLR, most smartphones today allow users to customise their camera settings in a variety of ways. From adjusting aperture settings, tinkering with the shutter speed and more, mobile phones today are capable of capturing jaw-dropping images…if you pair them with the right accessories. 
One such gadget is a tripod. Not only does a tripod offer increased stability, it also helps you to take long-exposure photos. For amateurs, that means helping you to create light trails, smoothed-out water, and even motion blur photos like this:
There are plenty of options to choose from when it comes to mobile phone tripods. There are sturdy mini-tripods that are perfect for food photography and also fully extendable ones that function like a proper camera tripod. As long as it's sturdy, you're golden. 
2. Ring light stands
While tripods help with taking photos of other things, a ring light stand helps with selfies. Anyone who's familiar with TikTok or livestreaming probably already knows about this mobile gadget. Essentially, it's a stand with a bright ring-shaped light at the end with a placeholder to secure your phone in the middle. 
With the flick of a switch (usually USB-connected), you can turn on the ring light, and voila: Perfect lighting for self-portraits. Most ring lights are also highly-portable, allowing you to adjust height and angle. 
Alternatively, you can also consider getting a portable LED light panel. Simply clip it to the top of your smartphone and you have a stable light source for your photography. 
3. A gimbal 
When my friend first told me about a gimbal, I thought he was referring to Kimball, a popular brand in Malaysia that sells a variety of pasta and chili sauces! But no, a gimbal doesn't make your food tastier, it gives you added stability when shooting or filming, especially while using your camera outdoors. 
Basically, mobile accessories like these use a motor to stabilise and rotate in a number of different directions. That's how those super smooth overhead shots are filmed. For photography, it offers the same functionality as a tripod but is infinitely more flexible. 
4. A selfie stick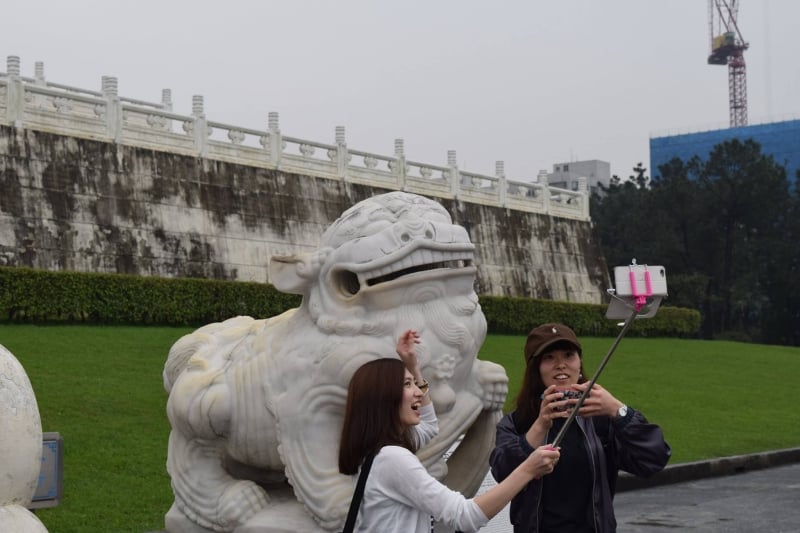 Yes, the most rudimentary of mobile photography gadgets to have. Personally, I'm not such a great fan of selfie sticks. I'd rather much prefer a gimbal. However, gimbals are much more expensive while selfie sticks can be picked up even on a tight budget. 
A good, sturdy selfie stick allows you to extend your reach. This gives you the chance to take photos from angles that are otherwise humanly impossible. It also allows you to take wide-angle selfies too. 
5. A remote shutter control
One function that comes with a small number of selfie sticks is shutter control. Basically, it allows you to activate the shutter and take a picture on your phone without having to press the button on the screen. However, you can also buy remote shutter controls on their own. 
The most effective use for a remote shutter control is for taking group pictures. Instead of setting a timer and rushing back to get yourself into position, simply take your time and hit the button on the control when you're ready. Easy peasy. 
6. Smartphone lenses 
As amazing as smartphone cameras are, there are still some things they can't do as well as conventional cameras. If you're serious about levelling up your mobile photography, consider investing in different smartphone lenses. These can be attached to the back of your phone, on top of the default camera, to further enhance your photography experience. 
These external clip-on lenses offer a plethora of different functions. Some offer better focal length, some give you more vivid images, and there are also fisheye lenses that increase the angle of the shot. 
7. A power bank
You're probably wondering what a power bank has to do with photo accessories for your phone. It's simple, really. If you're spending plenty of time shooting and filming, chances are your mobile phone's battery is going to drain pretty quickly (insert joke about Apple here). This is especially true if you're spending lots of time tinkering with camera settings. 
What's more, mobile gadgets like gimbals and shutter controls also need to be charged from time to time. So if you're relying on your phone to be your main camera during your trips around the world, you definitely need one (or two) reliable power banks. 
8. Or just get a camera rig
If you have the budget to spare, and you'd rather buy a one-size-fits-all mobile accessory, then the phone photography gadget you need is a camera rig. These amazing inventions basically function like a mini phone photography organiser. 
You can use it to mount your phone, attach a lighting source (like a smartphone LED light panel), connect a microphone, and more! The only downside to a camera rig is that a good one can be pretty expensive compared to other phone photography accessories. 
9. Microfibre cleaning cloth
It's not just about the tools that help you take better photos. You also need to give your phone cameras the proper tender loving care they need. One of my pet peeves as a photographer is seeing people clean their lenses with tissue paper, rough cloth, or even their own t-shirt! I can almost hear the micro-scratches on the lens! 
If you want your phone cameras to last longer, use a soft microfibre cleaning cloth to get rid of any smudges and to clean your lens. Trust me, it makes a world of difference. 
10. Mobile photo printer
I understand that we live in a digital world now. Instagram has replaced physical photo albums and TikTok is the sort of app that could potentially define an entire generation. That being said, polaroids still seem to be popular. That's why my final pick for mobile accessories to have is a mobile photo printer. 
This accessory usually uses Bluetooth or Wifi to allow you to instantly print out your photos. It's a pretty handy tool, especially if you want to make memories or simply want to gift someone a piece of your work! 
Also read: Point and Snap: 10 Polaroid Cameras to Start Your Photography Journey!
Get snapping on your phone! 
And there you have it: 10 mobile gadgets to level up your phone photography! Personally, I feel that a tripod, a couple of lenses, and a cleaning cloth is all you need to take professional-looking photos with your phone. 
However, if you want to go one step further, all of these photo accessories for your phone are a great addition to have! If you take a nice picture after reading this, make sure to let me know and do share your photos with us on TripZilla's Facebook Page!