ZUJI x TripZilla: Presenting to you, our nifty 'ZUJI Keeps It Real' series!

Straight up, no fluff: arm yourself with candid travel cheat sheets that contain authentic stories, real life experiences and insider tips for fellow travellers. We've been inspired and we hope you will be too!
---
Don't underestimate the importance of GIRL POWER; going on a holiday with your bestie is definitely something you need to have on your bucket list! If you're not sure which travel destination to pick, there's no better place than Korea for your next BFF trip – from the amazing range of shopping spots and mouth-watering food everywhere on the streets to the best places to achieve flawless Korean skin, Korea has it all. The best part? It isn't that far away at all!
NOTE: THIS FLASH SALE HAS EXPIRED, BUT DON'T MISS THE NEXT ONE! FOR INSIDER INFORMATION ABOUT THE NEXT FLASH DEAL, JUST:
Going on a trip, they say, can make or break the friendship. Find out which with these top 10 experiences that any BFFs should have together in Korea:
1. Go on a full-fledged shopping spree
Of course, the number one thing to do with your girlfriends would be to go on a full-fledged shopping spree! For an epic day of shopping, forget Myeongdong; my bestie and I like to hit up Ewha Womans University area in Seoul instead. Although it is increasingly becoming more popular, Ewha Womans University area is still frequented by a large number of local students. Besides being a heaven for Korean-style clothes lovers, Ewha is also a great place to get affordable cosmetics and to take insta-worthy photos!
Travel Cheat Sheet Tip: Combine your purchases and ask for a discount from the shop owner. If you're in a cosmetic store, remember to ask for free samples too. If it rains, head to the underground shopping area in Gangnam Station (Seoul Subway Line 2) and Express Bus Terminal (Seoul Subway Line 3, 7, 9) instead!
How to get there: Ewha Womans University Area is located along Seoul Subway Line 2.
If you're looking to buy international branded goods, head over to Lotte Premium Outlet in Paju, Gyeonggi-do for your shopping spree. I went there on a weekend night and the place was not crowded at all despite the multiple sale that were going on! This place is perfect for an epic day out with the bestie; why, both of you can easily spend the whole day here!
How to get there: Take bus 200 or 2200 from Hapjeong Station, Seoul Subway Line 2 (exit 2).
2. Chill at a themed café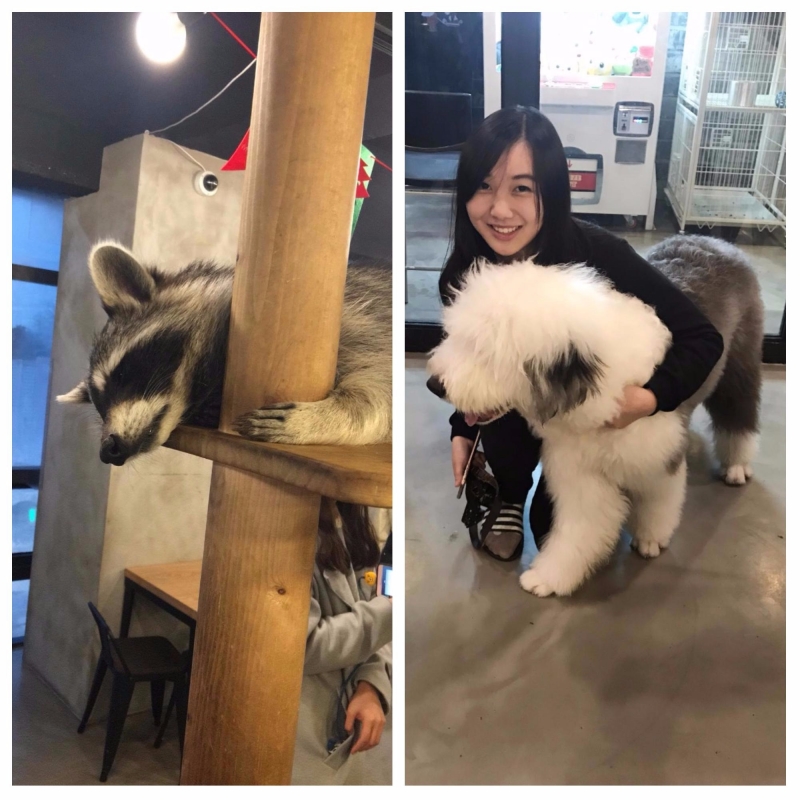 Besides shopping till you drop, simply sitting and chilling in a café can be the perfect way to spend the day with your BFF. When I went to Korea, I found so many cute themed cafés that are perfect for this very activity!
My favourite is the Raccoon Café, which only charges an entrance fee of 6,000 won (~SGD7) per person. The best part is that unlike other cafés, it isn't mandatory to buy a drink at this one. If you feel like it, however, the drinks only cost 1000-2000 won (~SGD1-2) only. Besides meeting cute raccoons, you'll get to meet various dogs in this cafe as well, including a fluffy Old English Sheepdog!
Travel Cheat Sheet Tip: Don't make this a touch and go activity; personally I spent 3 hours there just trying to hug a raccoon and getting my bestie to take a good picture for me. I recommend being prepared to spend at least an hour here!
How to get there: The Raccoon Café is located in Hongdae, along Seoul Subway Line 2. It can be found on the fourth floor of the ABC Mart Building in the Hongdae University area.
I also loved going to Get & Show, a Lego-themed café in Seoul's Hongdae district with my best friend to relive our childhood memories. Besides enjoying a cup of coffee, why not build an empire to rule together? Lego kit rentals start from 4,500 won (~SGD4.50) for the first 30 minutes with an additional 150 won (~SGD0.20) per subsequent minute. In total, it'll only cost around 9,000 won (~SGD11) for an hour of constructive, pun intended, fun with your bestie!
How to get there: Get & Show is located near Hapjeong Station along Subway Line 2, and is located inside the Bricks Korea building.
In fact, why not make a day out of it and see how many themed cafés you can check off your list? The key, I feel, is to base yourselves in a centrally-located accommodation, and visit each one in a strategic manner. Browse through these 4D3N Seoul flight + hotel packages that are going from just S$542, and take your pick. Plan your transport wisely, which will allow you to relax and enjoy each themed café to the fullest!
3. Be pampered at a Jjimjil-bang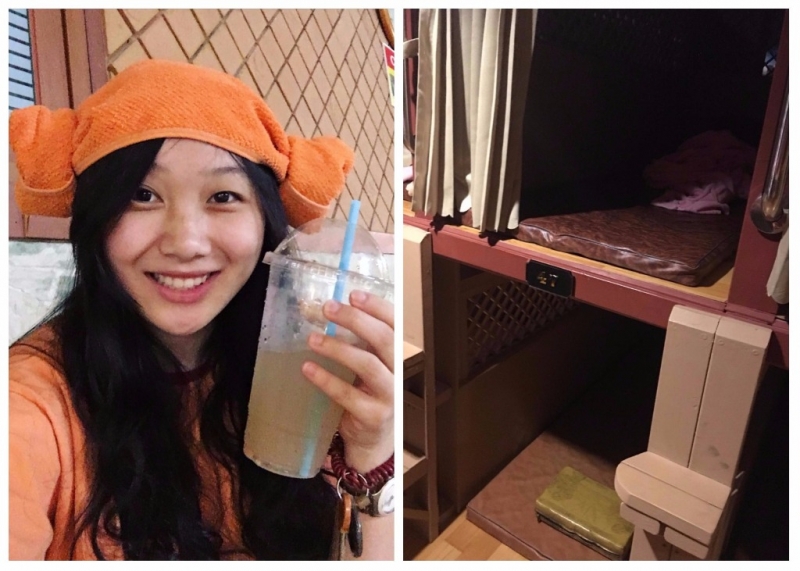 If food and shopping aren't enough to please your BFF and you, I bet this will – if you want to know the secret to having flawless Korean skin, this is it! Jjimjil-bang refers to a Korean sauna and is available everywhere in Korea. There are many types, ranging from cheap ones to ultra luxurious ones.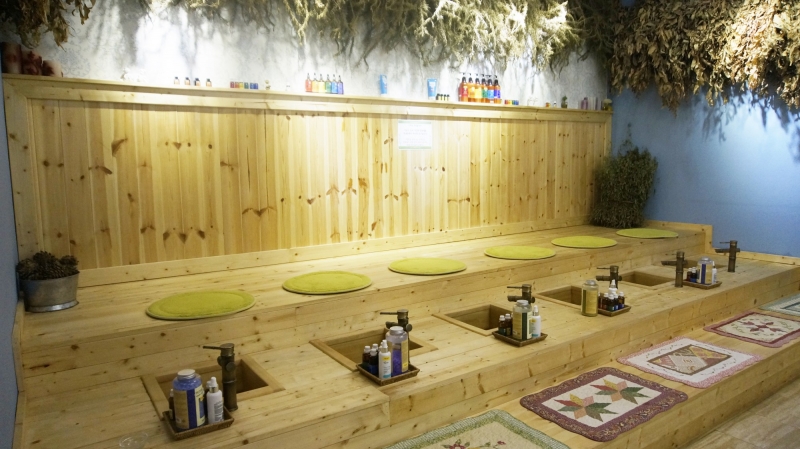 While the most famous Jjimjil-bang amongst tourists in Seoul is the Dragon Hill Spa, I suggest venturing out of the city to the Pocheon Herb Island's Herb Healing Center, a beauty spa that offers a wide range of packages that will pamper you and your girlfriends silly. The spa packages here range from 120,000-336,000 won (~SGD150-415).
Travel Cheat Sheet Tip: Travel to Pocheon Herb Island in November and December to witness the spectacular lighting festival there that comes alive after sunset!
How to get there: To go to Pocheon Herb Island, take an express bus from Seoul Express Bus Terminal to Pocheon Intercity Bus Terminal and take a taxi from there.
Another thing to try is to spend the night in one of these saunas! Besides having a ridiculous range of sauna rooms for you to choose from, Siloam Sauna has proper sleeping facilities – bunk beds, and even separate rooms for those who snore. It's also very affordable, costing only 10,000 won (~SGD12) for adults in the day and 15,000 won (~SGD18) for adults who wish to spend the night having a good heart-to-heart session with their BFFs.
Travel Cheat Sheet Tip: For a luxurious sauna experience, I recommend Aquafield in Hanam. The cloud room and charcoal room is bound to make your skin softer! Go on a weekday to get 2,000 won (~SGD2.50) off your entrance fee.
4. Take 인생샷s (photos) for each other
인생샷 consists of the words 인생 ('life in Korean'), and 샷 ('shot' in Korean), loosely translating to 'the best pictures in my life'. There are so many Insta-worthy places in Korea for you and your bestie to go to and take all these shots – some of my favourite spots in Seoul were Haneul Gongwon and Common Ground.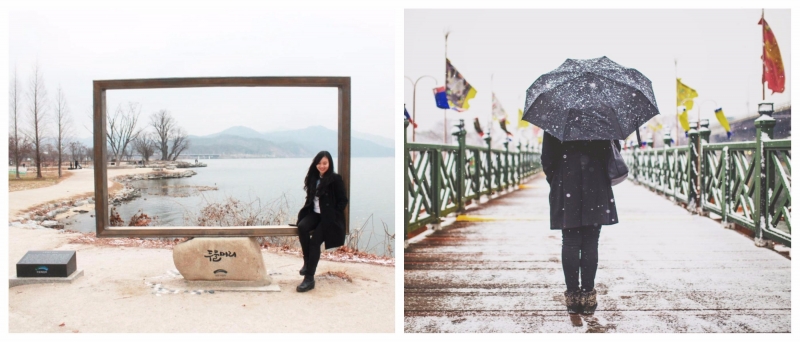 Located just an hour away from Seoul, Yangpyeong's Dumulmeori and Semiwon are also beautiful places to take 인생샷s. Dumulmeori is a popular drama filming site for dramas such as 'She Was Pretty' and the 'Goddess of Marriage'.
Also read: The 10 Most Instagrammable Spots in Seoul
How to get there: Take a train to Yangsu Station (exit 1) on the Jungang line. Alternatively, go to Gangbyeon Station (Seoul Subway Line 2), Exit 4 and take Bus 2000-1. Get off at Yangsu-ri Dumulmeori and follow the signs.
This brings me to my next favourite thing to do…
5. Be wannabe stars at any K-drama's filming location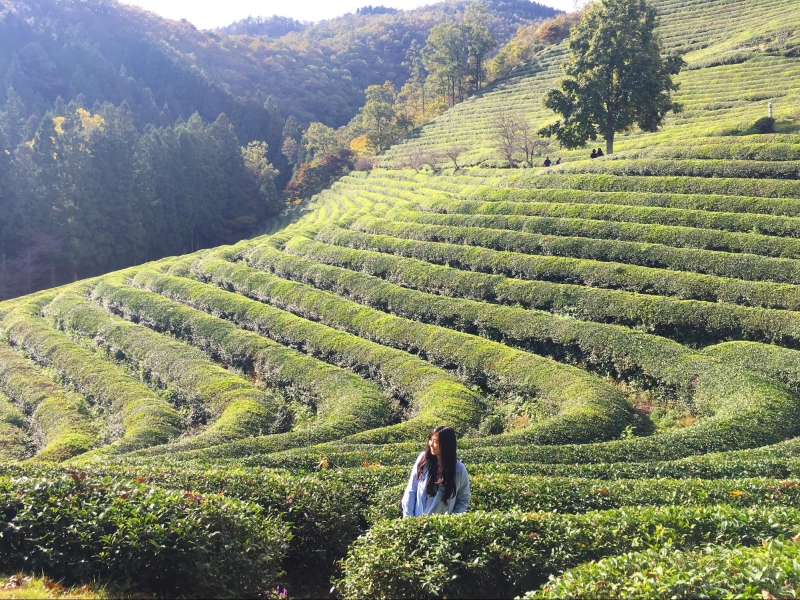 If you love Korean dramas (affectionately known as 'K-dramas') as much as my bestie and I do, visiting the actual filming sites is definitely something you should do! Besides going to the popular Dumulmeori and Semiwon in Yangpyeong, I went to Boseong Green Tea Plantation where 'Legend of the Blue Sea' was shot.
Travel Cheat Sheet Tip: Boseong is located at the southern tip of South Korea. To get there, travel by KTX to Gwangju from Seoul and take a bus day tour to Boseong from Gwangju's Seongjeong Station. For just 10,000 won (~SGD12), you'll get to visit the Green Tea Plantation, as well as other attractions in Boseong. This bus tour departs every Saturday and Sunday at 9.00am from the station.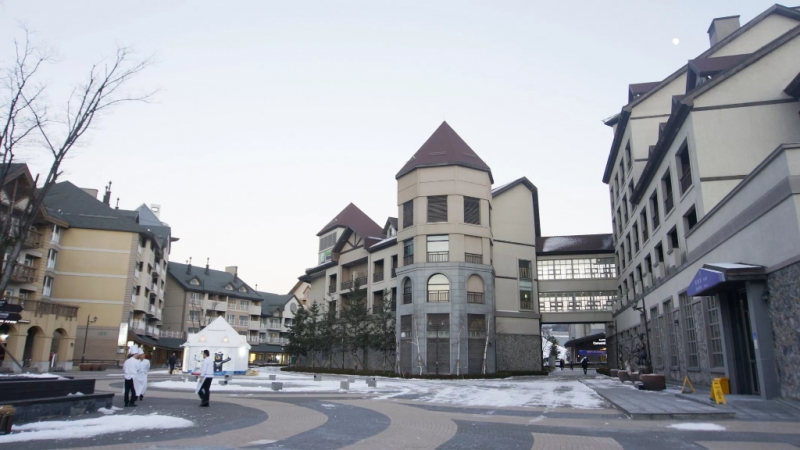 I also went to Alpensia Ski Resort in Pyeongchang, the set for 'Hotel King' and 'Something About 1%'. Another beautiful place that you should go to is Gangneung's Jumunjin beach, the shooting location for the famous scene in 'Goblin'.
How to get there: Pyeongchang can be reached in a 100-minute KTX ride from Seoul (the new line will launch in 2017). Jumunjin Beach can be reached via bus (no. 300 or 302) from Gangneung Station.
If you want to experience more than just the filming sites, visit Korea's first hallyu theme park, MBC World, in Seoul where you will get to hang out with holographic K-pop stars strutting their stuff on stage, learn dance moves from them or even become the main character of your favourite K-drama
This once-in-a-lifetime experience is just a flight away! Don't be content with simply watching all these happen on television; book a flight to Seoul from just S$399 and experience it first-hand. Book your flight with your Citibank Card and enjoy an ADDITIONAL 5% rebate, which means your flight will only cost S$379 – what a steal!
How to get there: Take a train to Digital Media City Station along the Airport Railroad Express Line (exit 9).
6. Bond over food and Makgeolli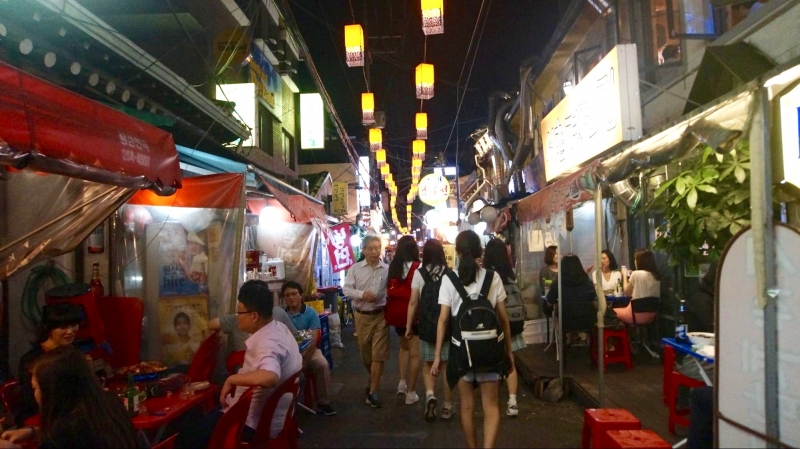 On colder days, a lovely thing to do is to hang out in a warm restaurant over a meal of traditional Korean food and some Korean rice wine, also known as Makgeolli. While places like Gwangjang Market in Seoul may pop up in your mind, we prefer to go to the King Sejong Food Culture Street near Gyeongbokgung Station. The street contains many small Korean family restaurants that serve delicious Pajeon (Korean pancake) and flavoured Makgeolli.
How to get there: The King Sejong Food Culture Street is located near Gyeongbokgung Station (Seoul Subway line 3).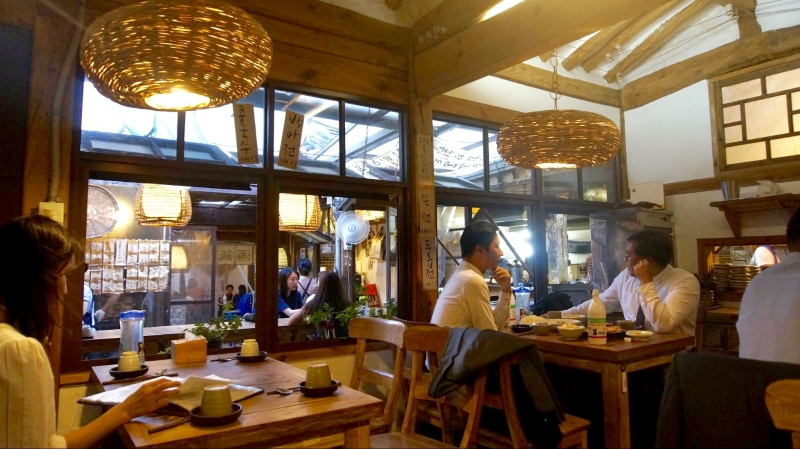 I would also recommend going to this place called Jeondaegamdek (전대감댁). They serve amazing Chestnut Makgeolli and yummy pancakes to go with it. Bonus: the restaurant is also decorated like a traditional Korean house!
Travel Cheat Sheet Tip: I also like going to Mow Mow (모우모우) for fusion Korean pancakes and a Makgeolli slushie if I don't feel like having traditional food. They have a branch in both Hongdae and Itaewon.
If you feel like you have the flair for being a domestic goddess, don't simply order your food off a menu; shake it up by participating in a fun Seoul city tour that includes Korean cooking classes (plus you'll enjoy an additional 11% off when you book through ZUJI)! Pit your skills against your bestie as both of you face off in a gruelling episode of Masterchef: Korean edition.
They say sharing is caring, and there's nothing better than sharing a meal with your BFF! Korea has tons of food options that great for sharing – think giant vats of army stew,
Dakgalbi
(a spicy grilled chicken dish) and of course, various bottles of
Makgeolli
. Book your trip to Korea now – choose from
flights going from just S$399
 or a
4D3N flight+hotel package from just S$542!
7. Gain weight together – totally worth it!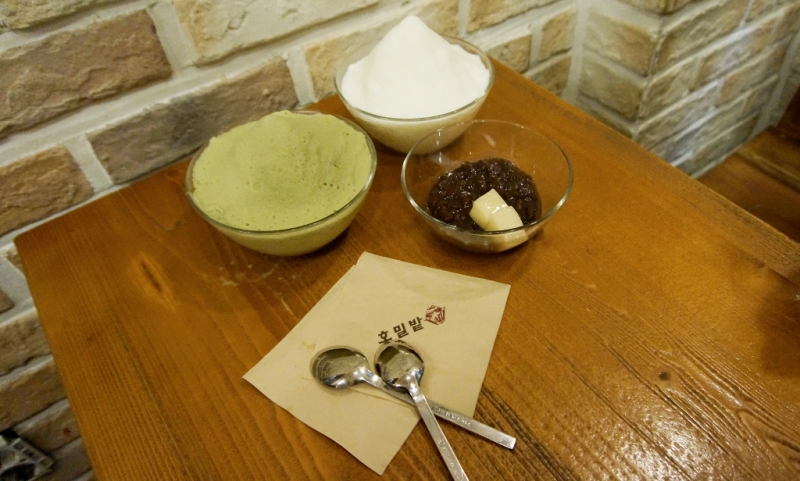 My number one go-to dessert in Korea would definitely be bingsu (shaved ice)! Not just any bingsu, mind you, but the ones served by Homilbat (호밀밭). Compared to the highly, in my opinion, overrated Sulbing, try Homilbat instead. They serve authentic red bean bingsu in various flavours for a really affordable price! The original flavour costs only 5,000 won (~SGD6) as compared to the one in Sulbing which costs 12,000 won (~SGD14).
How to get there: Take a train to Sinchon Festival (exit 3).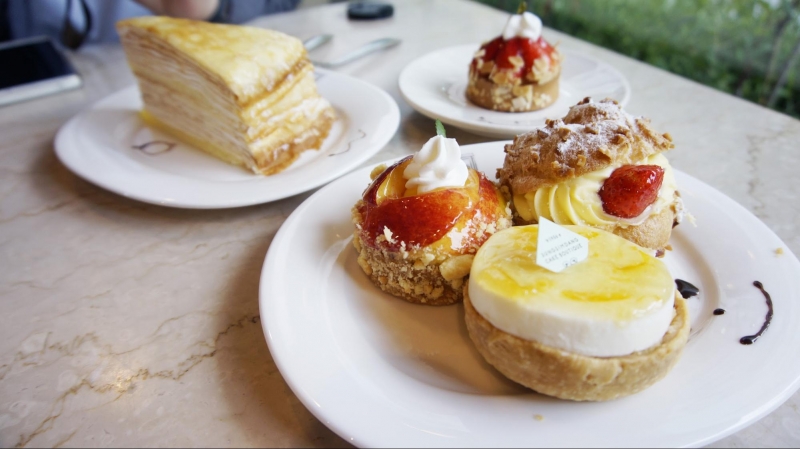 If you want something less Korean (why would you want this though?), I would go to Sung Sim Dang Bakery (성심당) in Daejeon, a city located 1 hour away from Seoul by KTX. This Michelin-starred bakery serves amazing pastries and cakes that will satisfy any sweet tooth!
As we all know, during the aftermath of a good meal… the food coma situation is real. Don't go booking hotels that are located far from the centre, I'm sure the last thing you'd want is to be hanging onto the handrails in the subway in a drunken food-coma induced stupor just to get back to your hotel. Book one of these 4D3N flight + hotel packages to Seoul from just S$542, and make sure your hotel is right where you want it to be.
How to get there: Take an intercity bus from Seoul Express Bus Terminal to Daejeon, before transferring to an express or local bus to Eunhang-dong.
8. Have a thrilling day at a theme park
Forget Lotte World and Everland, go to Gyeongju World instead for a great day out at an amusement park! Gyeongju World is definitely less crowded than the amusement parks in Seoul – helloooo to less queues and more time for rides! Entrance tickets are cheaper here too; 36,000 won (~SGD44) for an adult day pass at Gyeongju World as compared to 54,000 won (~SGD66) in Everland. Don't forget to explore the historical city of Gyeongju too while you're at it!
How to get there: The fastest way to get to Gyeongju is to take a 2-hour KTX ride from Seoul.
I also went to the relatively new water park, Lotte Waterpark, in Gimhae located near to Busan. This water park features custom-designed Polynesian-themed waterslides and pools; it is currently the largest water park in Korea, although not many non-locals know about it yet. Truly a hidden gem. An all day pass will cost 55,000 won (~SGD67)  per adult.
Travel Cheat Sheet Tip: If you do not want to spend the whole day in the park, go for the discounted afternoon tickets at 45,000 won (~SGD55)  instead! This ticket is only valid for entrances after 2.30pm.
How to get there: Take the Light Rail to Buwon Station, then transfer to a bus to Lotte Outlet Bus Stop.
9. Go crazy at a Korean Festival
There are festivals happening every month in Korea, so regardless of which season you visit Korea, chances are that your trip will always coincide with one or the other! Some more popular ones are Boryeong Mud Festival that happens every July in Boryeong City, as well as the Pyeongchang Trout Festival at the end of December.
Be ready to go crazy with the Koreans at these festivals! Boryeong Mud Festival is not a place for those who love to be clean, because all of us were covered in mud from the moment we stepped into the festival grounds. From mud wrestling, mud sliding and even swimming in the giant mud bath, this festival guarantees an entire day of insane fun! This year, Boryeong Mud Festival will be happening from 21–30 July, so beat the crowds and book your ticket to Seoul early – going from just S$399 with ZUJI!
How to get there: Take an express bus from Seoul Central City Bus Terminal to Boryeong, then transfer to a bus to Daecheon Beach.
Another crazy festival to participate in is the Pyeongchang Trout Festival, where people gather to fish for trout in the winter season. Yep, bet you never thought you'd hear the words 'fishing' and 'winter' mentioned together in one sentence. Yet, here we are – one of the many activities you can do during the festival is to catch a fish with your bare hands in a pool, whilst clothed in just a t-shirt and shorts. Doesn't sound that daunting? Try doing it in the midst of the snow at sub-zero temperatures!
The festival normally starts early in January and will last all the way to the second week of February, so there will be plenty of time for you and your bestie to catch this one. Book your tickets early, and start planning!
How to get there: Take an intercity bus from Dong Seoul Bus Terminal to Jinbu.
10. Sing your hearts out at a Coin Norebang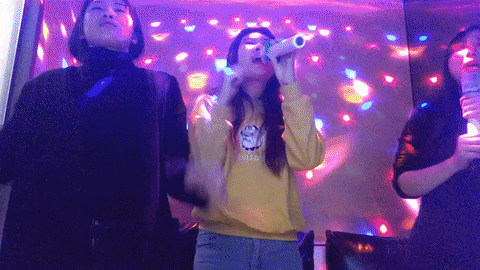 Norebang literally translates to 'singing room', and you can find this at almost every corner in Korea. We met up with another of our girlfriends whilst in Korea, and sang our hearts out during a karaoke session! We also danced like there's no tomorrow. #noshame
Coin Norebang offers the same service as a normal Norebang, except that you pay per song. This is great as you only pay for the number of songs that you wish to sing! The rooms are also not too big, making it perfect for a group of two to four. The price can range from 100 won (~SGD0.10) to 500 won (~SGD0.60) per song.
Travel Cheat Sheet Tip: Pay for multiple songs at once, and the shop will usually give you a couple of bonus songs!
My BFF and I had a total blast in Korea, and now we just can't wait to go back. Gather your girl squad, and I'll see you there:
For first-hand information about ZUJI's upcoming deals and promotions, simply subscribe to their mailing list right here and have them delivered right to your doorstep: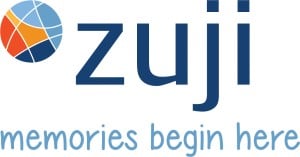 Thank you for your subscription.
By subscribing to ZUJI's mailing list, you will:
Be the FIRST to know about flash sales and exclusive airfares/promotions

Receive hints about flash sale timings – every minute counts!

Have first-hand information about ZUJI special promotions
It's time to firm up your friendship with an overseas trip. Are you and your BFF up for the challenge?
Brought to you by ZUJI & Korea Tourism Organisation (Singapore).