What comes to mind when you think of South Korea? Is it the glitz and glamour of K-pop, or is it the alluring array of skincare and beauty products? Armed with a large assortment of both savoury and sweet treats, Korea is also a paradise for snack junkies.
So for all you snack-loving ladies (and gents) out there, here are 15 delicious snacks and drinks that will more than satisfy your cravings when you're feeling peckish. And since good things are meant to be shared, we highly recommend pulling your BFFs along for a full-fledged snack-hunt in Korea!
We promise your stomach will be grumbling and your wanderlust will be bubbling just halfway through this article. 
1. Butter Caramel Pringles
Butter Caramel Pringles… Say whaaat? Inspired by the famous Honey Butter chips that took Korea by storm, these Pringles are a mix of addictive saltiness and delightful sweetness. Exclusively available in South Korea, this can of buttery and crispy goodness is ideal for sharing with your besties, and the pretty pink packaging is definitely a bonus!
2. Kimchi Stew Potato Chips
Just like how some people are not a fan of pineapples on pizzas, there are also some who are not a fan of potato chips that are sweet. If butter caramel just isn't your thing, don't worry, there is also a wide selection of savoury chips for you to turn to! One of the most unique flavours available is the Kimchi Stew flavour. A classic dish in Korean cuisine, kimchi stew is a spicy and hearty broth filled with ingredients such as kimchi (spicy pickled cabbage), scallions, tofu, onions and pork. Likewise, these crunchy chips are a combination of salty and tangy flavours, with a kick of spice. What better way to experience Korea? 
3. Pikachu Churros
Pikachu AND churros? Shut up and take my money! I don't know how anyone can resist this, because I certainly can't. This is best as an afternoon snack to nibble on while shopping at Myeongdong or taking a refreshing stroll along the Han River.
4. Disney Tsum Tsum Tea
Cuteness overload! Exclusively available in GS25 convenience stores in Korea, these adorable Tsum Tsum paper cups are a dream come true. There are a total of six cup designs featuring different Tsum Tsum characters, namely Olaf, Ariel, Chipmunk, Winnie the Pooh, Princess Elsa and Eeyore. Each cup comes with a tea bag as well as a random mini Tsum Tsum plush magnet. This is the perfect chance to get matching cups with your BFF and fulfil your best friend twinning goals.
5. Yakult Yoghurt Jelly
Introduced this year, these cute packets of jelly come in three flavours: Original Yoghurt Jelly, Apple Yogurt Jelly and Strawberry Yogurt Jelly. Not only does the packaging take the shape of the actual Yakult bottles, the jelly pieces are also adorably shaped like mini Yakult bottles. The refreshing taste and chewy texture of the jelly make it perfect for sharing with your besties and a great souvenir to bring home.
6. Orion Strawberry Choco Pie
When it comes to Korean snacks, Choco Pie is one of THE most well-known and well-liked options. For those who have yet to be enlightened, a Choco Pie is a small chocolate-coated snack consisting of two round layers of cake with marshmallow filling. People usually stick to the original Choco Pie, but you can always be unconventional and try other flavours such as Banana and Green Tea.
This year, Korean food company Orion also introduced Strawberry-flavoured Choco Pies as a spring limited edition release. The appealing pink packaging as well as the fragrance of strawberry will certainly attract legions of Choco Pie fans eager to get a taste of the newest flavour.
7. Market O Real Green Tea Brownies
Like the Choco Pies, the original Market O Real Brownies are also an extremely popular choice of snacks. Deliciously fudgy and dense, these brownies are said to be made from locally sourced ingredients and include no chemical additives. Late last year, Orion introduced these delectable green-tea-flavoured brownies with tasty chocolate chunks, combining the richness of green tea and the chewy texture of the brownies. Rejoice, green tea lovers!
8. Minions Flavoured Milk
There is just no end to the cuteness of Korean snacks. Packaged in Minion bottles, the milk comes in four different flavours: banana, chocolate, corn, and coffee. Part of the Cherry Blossom limited edition release, these adorably-designed bottles can be collected and used to stir up feelings of envy amongst your friends. So keep your eyes open and snag as many of these bottles as possible the next time you visit Korea!
9. Double Dip Pepero
Much loved by Koreans and frequently featured in Korean dramas and variety shows, Pepero is almost like the national snack of Korea. There is even a Pepero Day in Korea! Held on November 11, Pepero Day is celebrated by exchanging Pepero snacks with friends and loved ones to show affection for each other. Visit any grocery or convenience store and you'll find stacks and stacks of Pepero in various flavours, ranging from Oreo to Tiramisu Cheese. But have you heard of Double Dip Pepero? Dipped with double layers of chocolate, these chunky Pepero sticks are excellent little treats for sharing with your friends. Simple and tasty, Double Dip Pepero is available in two flavours: Milk Chocolate & White Chocolate, as well as Strawberry Chocolate & White Chocolate. Double the layer, double the happiness!
10. Chocolate Rice Cake Pie
Rice cake is a staple in Korean cuisine. From traditional sweets like pan-fried rice cakes with red bean filling, to savoury dishes like tteokbokki, rice cakes are widely used in many Korean dishes and snacks. But LOTTE puts a modern twist on the classic rice cake by adding chocolate to it. Filled and coated with a layer of velvety chocolate, this snack feels like a hybrid of Choco Pie and Japanese mochi and will be the perfect little treat to satisfy your sugar cravings!
This little baby is just a flight away from sitting snug in your tummy.
11. Melona Fruit-Flavoured Ice Bar
Creamy and refreshing, these fruit-flavoured ice bars are the ideal snack after a long day of shopping and sightseeing under the blazing sun of the Korean summer. There are several flavours available, including Melon, Strawberry, Mango, Banana, and Coconut. My personal favourite is the Melon ice bar, but don't just take my word for it! Feel free to get all the different flavours to share with your BFFs and decide amongst yourselves which is the most delicious of them all.
12. Snoopy Flavoured Milk
Another adorably-packaged milk! Koreans seem to be obsessed with cute packaging designs and milk, but we're not complaining. These are available in coffee, strawberry, salt & caramel, and banana flavours. Feel free to buy one of these for breakfast and you'll be ready for a day of sightseeing and hipster Instagram photoshoots! Get different flavours to share with your friends to try a little bit of everything and appreciate the various Snoopy illustrations.
Grab your BFFS, and get ready for the trip of a lifetime!
13. Fish-shaped Ice-cream Sandwich
Derived from one of the most classic Korean street food called bungeo-ppang (fish-shaped pastry filled with sweetened red bean paste), these fish-shaped sandwiches are the levelled-up version with not just red bean paste but also ice-cream! Other than red bean paste, Korean food manufacturers have also been experimenting by creating alternative versions with other fillings such as sweet potato paste.
14. Roasted Seaweed
A healthier snack alternative to potato chips, these roasted seaweed sheets are sufficiently crispy and salty, making them the perfect snack for midnight heart-to-heart talks with your BFFs or movie marathons in your hotel rooms. Usually lightly seasoned with natural sea salt, these seaweed sheets are addictive and also ideal as side-dishes to go with rice or noodles. Plus, seaweed is a sea vegetable, so that's considered as healthy eating… Right?
15. Lots and lots and lots of Korean ramyeon!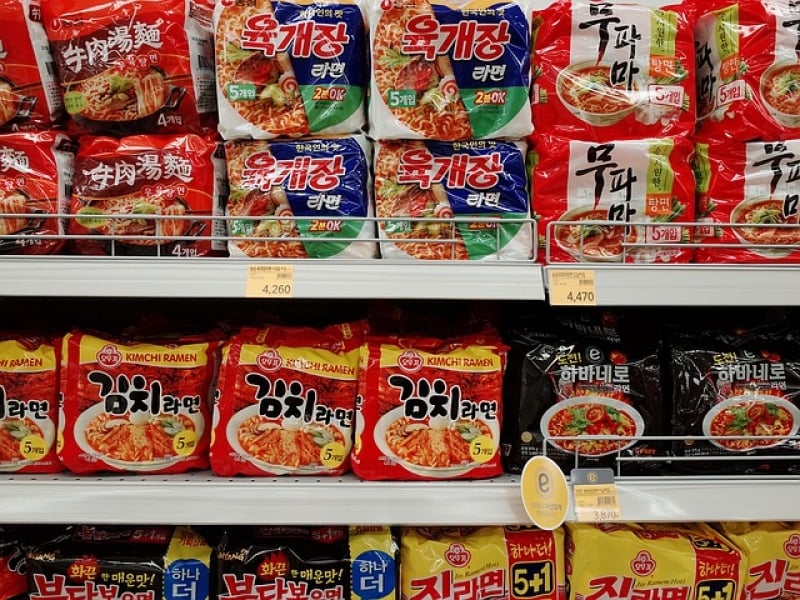 You can't really say you've been to Korea unless you've checked out the wide selection of Korean ramyeon (instant noodles). Ramyeon is one of the most versatile food ever – you can eat it for lunch, for breakfast, or even as a snack. From everyone's favourite a.k.a Shin ramyeon, to more special flavours like Cheese ramyeon and Spicy Chicken Stew ramyeon, one can never get enough of these springy noodles. Other than ramyeon, you can also consider getting instant jjajangmyeon (noodles in black bean sauce) and rabbokki (ramyeon + tteokbokki). All of these are perfect for late-night suppers with your friends!
Without a doubt, South Korea is a place full of glorious and ingenious snacks that we all need in our lives. Due to popular demand, limited edition snacks like Disney Tsum Tsum Tea and Strawberry Choco Pies might be a little harder to find. Otherwise, most of these snacks can be easily found in supermarkets in Korea such as Lotte Mart, HomePlus and E-Mart, as well as convenience stores such as GS25, 7-ELEVEN, and CU. While you may be able to find some of these snacks online or in your local Korean mart, nothing beats the experience of browsing through aisles and aisles of delectable goodies in Korea itself. You might even discover hidden food gems which no one knew about.
So, what are you waiting for? If you need more information on where to go and what to do in Korea, feel free to check out Korea Tourism Organization's official website as well as their Facebook page.
---
Brought to you by Korea Tourism Organization (Singapore) and CheapTickets.sg™.