There's no denying it, autumn in Korea is devastatingly beautiful. You've seen it in scenes from your favourite Korean dramas and on your friends' Instagrams, but what about experiencing the resplendence of fall for yourself? In Seoul, it's more than just the brilliance of scarlet and gold but an immersive experience into the season complete with sights, scents and flavours of autumn.
If you're travelling around Korea with only a couple of days to spare in Seoul, here's a guide to experiencing the best of Seoul and its surrounds.
Day 1
Day trip to Nami Island  
Nami Island (남이섬) is about 2 hours away from Seoul, but it's so gorgeous in autumn that it's definitely worth the trip! Try to take the first shuttle bus that departs between 9.30am – 9.45am to make the most out of your first day.
As featured in the wildly popular Korean drama "Winter Sonata", Nami Island is the place to go for the perfect fall photoshoot, so bring your best camera and come dressed in your best autumn outfits.
Spend some time in the many gardens on the island, including the Citizens' Garden which has a magnificent display of golden leaves. Other than the stunning fall landscape that Nami Island offers, it is also a hub of culture. Explore Korean traditions and art at the island's handicraft studio, sculpture gallery and Song Museum.
For lunch, make a visit to Sonata Café, which serves seasonal Korean snacks like hotteok (sweet pancakes), or the many other restaurants scattered across the island including Asian Family Restaurant Dongmoon, Korea's fourth Halal certified restaurant!
Getting there:
Take a shuttle bus from Insa-dong, Namdaemun or Myeongdong, or the ITX from Yongsan station to get to Gapyeong Wharf. From there, take a ferry into the island (ferry charge is included in the entry fee). For a panoramic entrance into Nami Island, pay ₩44,000 to fly in on a zip-line (entry fee included)!
Entry fee: ₩13,000
Address: 1 Namisum-gil, Namsan-myeon, Chuncheon, Gangwon-do, South Korea
Opening Hours: The island is open 24 hours though the ferry only runs from 07:30 to 21:40.
Website: https://namisum.com/en/
Sunset at Haneul Park
Although you may be tempted to spend your entire day at Nami Island, head to Haneul Park (하늘공원) in the late afternoon to be awed by another of Seoul's seasonal wonders. The aptly named Haneul Park or Sky Park provides a fantastic view of Seoul, including the Seoul World Cup Stadium. Be prepared for a climb to reach the park but you'll be thoroughly rewarded with magnificent sunset views.
Haneul Park is most frequented in autumn due to the otherworldly fields of eulalia blooming during the season. Another ridiculously Instagrammable place, catch the evening light as it breaks through the silver blossoms at one of the 22 lookout spots in the park. For an even more spectacular sight, head to the observation deck for aerial views of the park in bloom.
Getting there: The nearest station is World Cup Stadium Station. From Nami Island, take the take the Gyeongchung line from Gapyeong station to Sangbong-Yeog station, then change to the Gyeongui line. Take the train to Gongdeok station before changing to Seoul Subway Line 6 which will take you to World Cup Stadium Station.
Entry fee: Free
Address: Haneul Park, 487-48 Sangam-dong, Mapo-gu, Seoul, South Korea
Opening hours: 09:00-18:00. Opening hours can differ depending on the season.
Feast at Sinsa-dong
Head over to Sinsa-dong in Gangnam for dinner set in one of Seoul's most exquisite neighbourhoods. Lined with golden Gingko trees, the Garosugil area makes for a scenic evening stroll straight out of a Korean drama.
Visit Pro Soy Crab (프로간장게장) to try some of the freshest seafood in peak season. Try the blue crab with generous servings of roe, jumbo prawns and gizzard shad – all of which are plump and juicy thanks to the cooler weather! Considered one of the best soy crab restaurants in Korea, don't miss the chance to indulge in a sumptuous array of seafood.
Getting there: The nearest station is Sinsa Station. If you're coming from Haneul Park, take Seoul Subway Line 6 to Hangangjin station. From there, take bus 142 from Seoul Institute of Technology and Education to Sinsa Station Sageori.
Address: Pro Soy Crab, 9 Gangnam-daero 97-gil, Seocho-gu, Seoul
Opening hours: 24 hours
Website: http://www.prosoycrab.co.kr/
Taste autumn with
gukhwaju
While you're in the Garosugil district, warm yourself up at one of the street's numerous hipster bars. Try gukhwaju or chrysanthemum wine, a seasonal wine often drunk during autumn.
Gukhwaju can be found in bars, restaurants, supermarkets and convenience stores, and if you're looking for an understated Korean bar that serves kickass bites as well, head to Cuckoo (뻐꾸기). With reasonable prices and a buzzing ambience, it's an awesome place to chill out with friends.
Getting there: The nearest station is Sinsa station, but if you're coming from Pro Soy Crab, then just meander down Dosan-daero and you'll find it!
Address: 4, Dosan-daero 17-gil, Gangnam-gu, Seoul, 135-890
Opening hours: 17:00 – 04:00
Day 2
Get your
songpyeon
fix
Kickstart your day with another autumnal snack, songpyeon! Many Korean dishes incorporate rice cakes, most commonly tteokbokki, but songpyeon is unique as it made from the autumn harvest of rice and commonly eaten during the Korean Harvest Festival, Chuseok. Made with rice flour and mung beans, songpyeon comes in a variety of flavours and fillings, from sesame seeds to walnuts and honey.
You can usually find these at train stations or along the street at a small 'tteok' stall. But for some really authentic songpyeon, head to Biwon Tteokjip (비원떡집), given the title of oraegagye (오래가) or "oldest store" by the Seoul Metropolitan Government.
Getting there: The nearest station is Anguk Station and from there, it's a 5-minute walk along Yulgok-ro.
Address: Yulgok-ro 20, Jongno-gu
Opening hours: 10:00 – 18:00 (Mon-Sat)
Website: http://www.biwon.net/
Explore the Secret Garden in Changdeokgung Palace
Hidden in the recesses of Changdeokgung Palace (창덕궁) is the tranquil Secret Garden, where crimson maple leaves drape across elaborately designed pavilions in autumn. A UNESCO World Heritage Site, Changdeokgung Palace is an incredible balance of architecture and nature.
Access to the Palace is only available through guided tours with only 100 tickets available per tour, so remember to book in advance! The limited access preserves it as a space of tranquility and allows you to immerse yourself in an enchanting garden, painted in rich autumn colours.
Getting there: The nearest station is Anguk Station or if you're going from Biwon Tteokjip, you can either take a 10-minute walk over or take bus 272 or 601 from Anguk Station to Seoul Donhwamun Traditional Theatre.
Entry fee: For the Secret Garden: ₩8,000
Address: 99, Yulgok-ro, Jongno-gu, Seoul
Opening hours: 10:00 – 17:00, from Tue-Sun. Hours change depending on the month so check beforehand!
Website: http://eng.cdg.go.kr/main/main.htm
Lunch on loach soup
Before you get squeamish about the idea of eating loaches, they're simply a type of pond fish typically served boiled in soup. In the past, chueotang (loach soup) was eaten during autumn when the loaches were fat for winter. While chueotang is a common feature on Korean menus all year round, try this nutritious and hot meal during autumn to get into the seasonal spirit!
An extremely flavourful dish made with soybean paste, grated ginger, bean sprouts, cabbage and other vegetables, the loach soup is said to give you energy and improve your complexion! Try Yonggeumok (용금옥), which has been around since 1932, making it one of Seoul's oldest eateries specialising in chueotang. Being a traditional Korean restaurant, expect to sit on the floor while you dig into authentic Korean nosh in its modest interiors.
Getting there: Its nearest stations are Jonggak Station or Euljiro 1-ga Station. If you're coming from Changdeokgung Palace, take bus 162 from Seoul Donhwamun Traditional Theatre to Euljiro 1-ga Station, Gwanggyo.
Address: 24-2, Dadong-gil, Jung-gu, Seoul
Opening hours: 10:30 – 22:00 (Mon-Fri), 10:30 – 20:00 (Sat-Sun)
Walk along Deoksugung Stone Wall Road
Deoksugung Palace (덕수궁) is the underrated cousin to the popular Changeokgung Palace and is a stone's throw away. Head to Deoksugung Stone Wall Road to admire the autumn splendour along the dreamy length of road, lined by trees bearing the thick autumn foliage.
For an impeccable overhead shot, visit the Jeongdong Observatory on the 13th floor of Seoul City Hall Seosomun building (admission is free). While you're there, try to catch the changing of the guard that happens thrice daily at 1100, 1400 and 1530!
Getting there: The closest station is City Hall Station. If you're going from lunch at Yonggeumuk, you can either take a walk down or take Seoul Subway Line 2 from Euljiro 1(il)-ga Station to City Hall Station.
Entry fee: ₩1,000 for general entry into the palace. If you don traditional Korean clothes (hanbok), you can enter for free!
Address: Sejong-daero 99, Jung-gu, Seoul 04519
Opening hours: 09:00 – 21:00 (Tue-Sun)
Website: http://www.deoksugung.go.kr:8081/
Have a tea break at
Samcheongdong
Samcheongdong is known for having an eclectic mix of artisanal cafés, art galleries and traditional Korean houses (hanoks). During autumn, be treated to the charming sight of pale yellow gingko trees next to these quaint traditional houses. Straight out of a Korean drama or a scene frozen in time, the golden-leaved streets make for a truly picturesque experience.
In the vicinity of Samcheongdong is the teahouse and dessert shop, The Second Best in Seoul (서울서둘째로잘하는집),  that serves traditional patju or Korean red bean porridge. Made with azuki beans and topped with chestnuts and mochi, this hot dish is generally consumed during the cooler months, providing a brief respite from the cold.
While you're there, order the sujeonggwa (cinnamon punch) as well, a traditional Korean cinnamon drink made with dried persimmons, ginger and cinnamon, which purportedly has many health benefits.
Getting there: The closest station is Anguk Station. If you're going from Deoksugung and want to wander around Samcheongdong, all you have to do is follow the scenic walk along Deoksugung Stone Wall Road until you reach Samcheondong Walkway.
If you'd like to go straight to the teahouse, take Seoul Subway Line 3 from Press Center Station to Korea Banking Institute Station.
Address: 122-1, Samcheong-ro, Jongno-gu, Seoul (next to Korea Banking Institute)
Opening hours: 11:00 – 21:00
Autumn treats at Myeongdong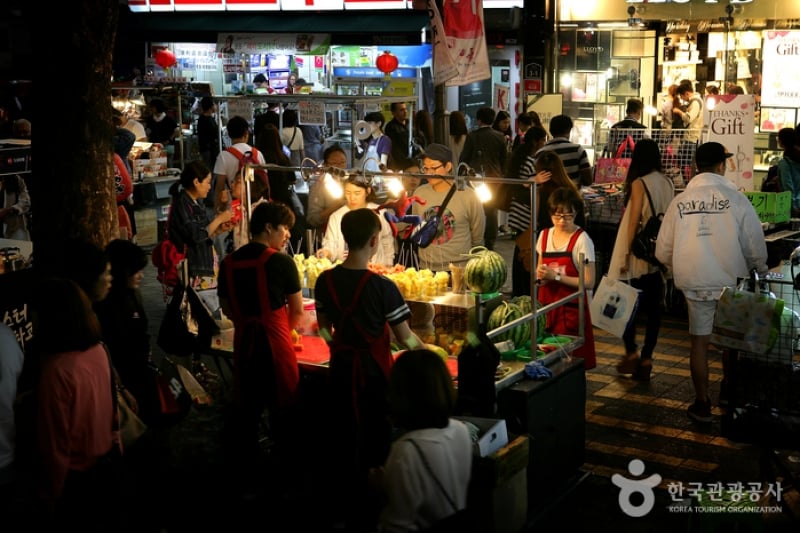 One of Seoul's most popular shopping districts, Myeongdong (명동) is also a great place to get seasonal street food and snacks. Try roasted gingko nuts and chestnuts, which are usually harvested in the fall, or other warm treats like the roasted sweet potato and hoddeok (sweet pancake).
Getting there: The closest station is Myeongdong Station. From Samcheongdong, take Seoul Subway Line 3 to Euljiro 3(Sam)-Ga then change to Seoul Subway Line 2 and get off at Euljiro 1(il)-ga.
Address: 83-9 Myeong-dong, Jung-gu, Seoul, South Korea
Opening hours: 17:00 – 22:00
Korea has plenty to offer across all four seasons but experiencing autumn here is really an unforgettable experience. Plunge into the thick of autumnal brilliance with this guide and you'll leave with no regrets! For more information on Korea in autumn, visit Korea Tourism Organization's official website and Facebook page.
---
Brought to you by Korea Tourism Organization (Singapore Office).