So you just spent big bucks to get yourself all the way to Seoul. And unless you are one of those travellers who don't mind squatting or sleeping on the streets (or check out some hip luxury hotels in Seoul under SGD30 here), then you might possibly be spending even more bucks to put a temporary roof over your head. After all that spending to get you here, it seems like your only way to survive in this 5th most expensive city in the world is through a really tight budget.
But what if I tell you that it's possible to get by in Seoul at almost NO COST at all? Your cheapskate vacation awaits!
FREE Phone Calls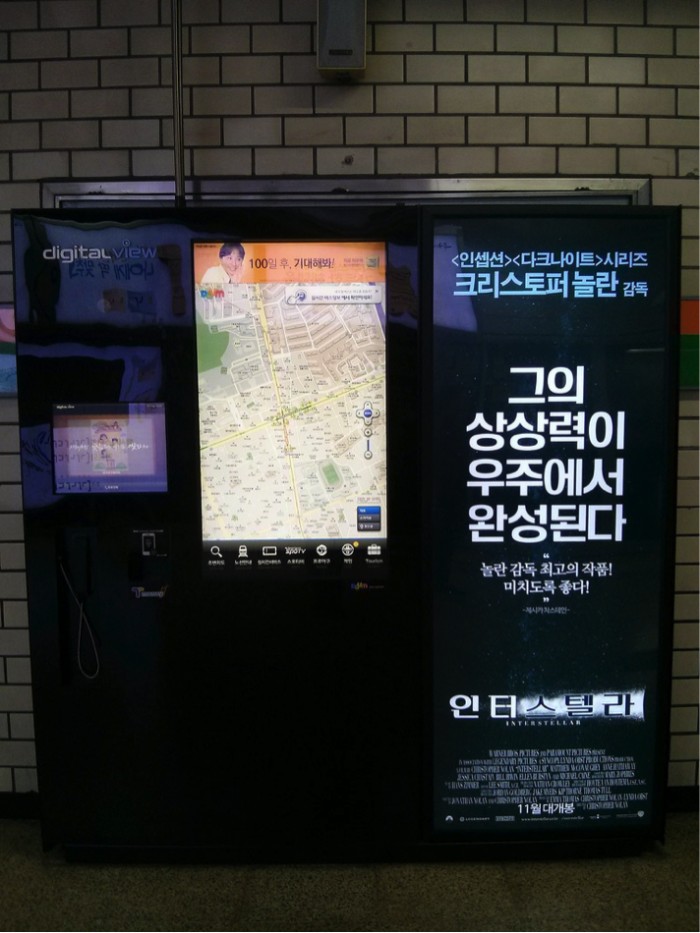 Image credit: Duane Brown
So you've just arrived in Seoul, wandered off alone away from your friends or family, and then lost your cellphone in the middle of who-knows-where in this big city. No problem. Keep calm and head straight to any of Seoul's major subway stations. There, you will find these "giant smartphones" where you can make any domestic call within Korea at no cost whatsoever.
Here're the simple instructions: go to any of the city's major stations, find these "Digital View" booths, pick up the phone, and call. It's that simple… and it's for free!
FREE Korean Lessons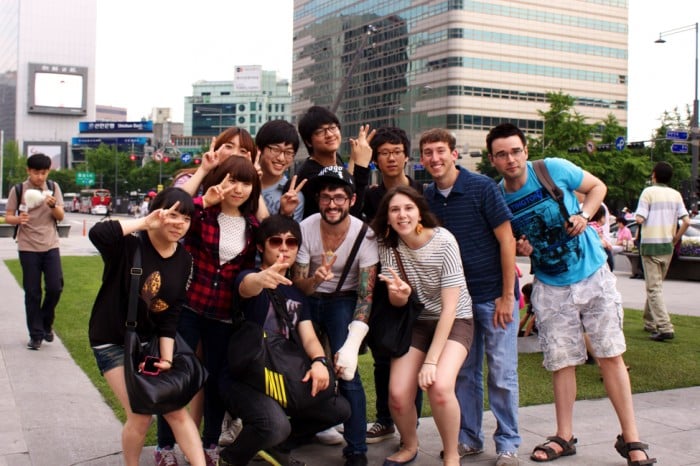 Image credit: seafaringwoman
Getting around Korea without understanding or speaking the language can be a real problem. But if you're planning to stay here for quite a while, there's an easy solution to this problem that will cost you NOTHING. Of course you can always learn Korean online for free. But I feel the best way to learn a language is by engaging with the locals. In Seoul, there's plenty of free Korean classes in traditional classroom settings run by volunteers and even sometimes professional teachers. From Myeongdong Language Exchange Group and Hannam/Itaewon Global Village Center to Korea Cultural Foundation, you can truly immerse yourself in the Korean culture by interacting with the locals. All for free.
FREE Wifi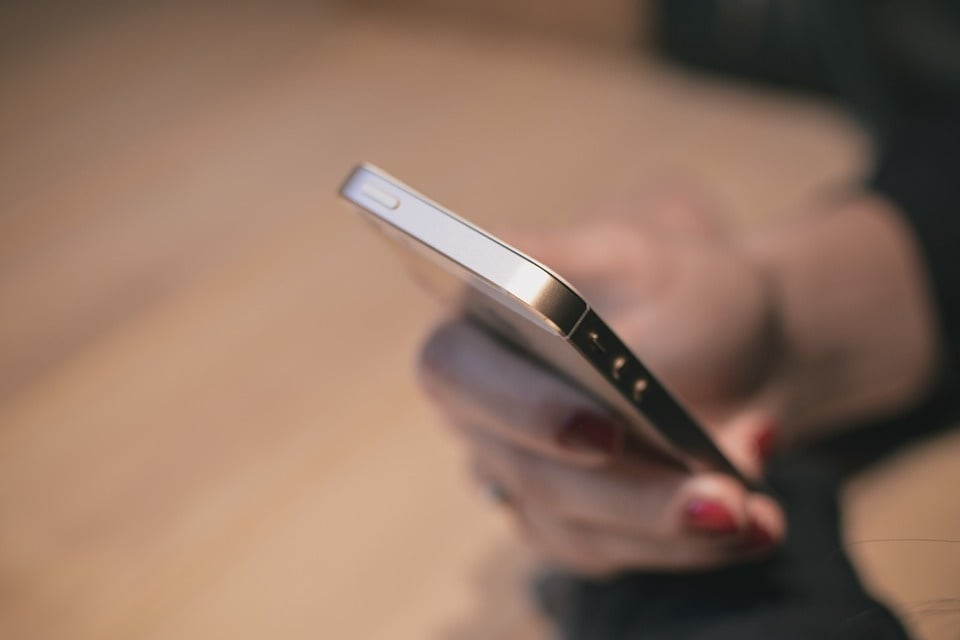 So maybe you don't need to make a phone call. What if you are more concerned about posting every meal you have in Seoul on Instagram? Or showing off your hipster traveller candid shots to your friends and family back home? Well, Korea is not the most wired country in the world for nothing. The great city of Seoul offers 10,000 free public Wifi zones in the city's popular areas for all you avid Wifi users out there. No need for logins or passwords. Just find "Seoul Wifi" and food porn and hipster shots to your heart's content.
FREE Concierge Service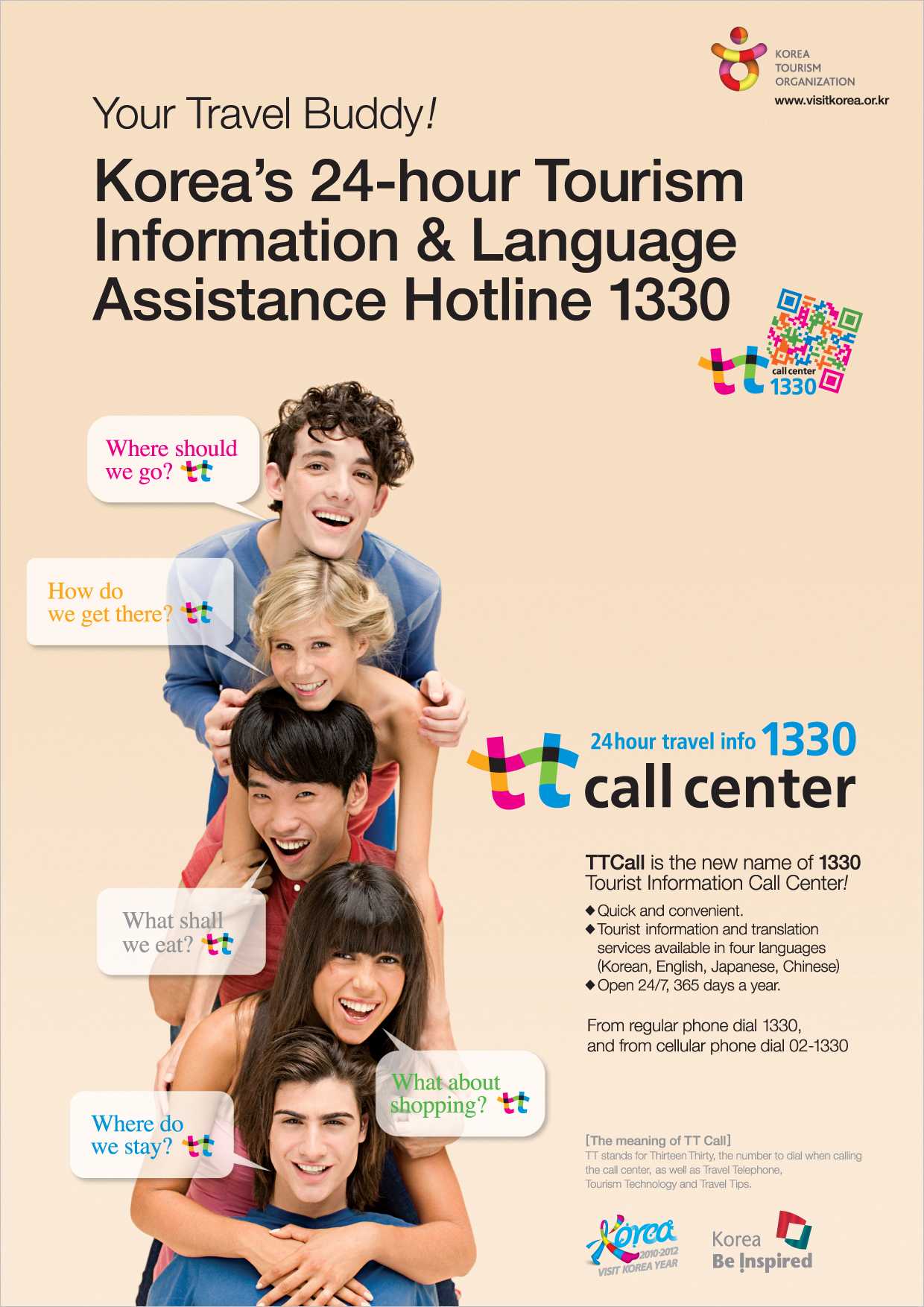 Image credit: Visit Korea
Anyone visiting Seoul should know about the incredible service provided by The Korea Tourism Organization. Simply call 1330 from any phone (and why not the "Digital View" phones?) and you are instantly directed to operators who will search up anything just for you. You can ask about bus schedules, food recommendations, activities to do in Korea, or maybe even where to buy Big Bang dollies. Whatever it is that you're wondering about Korea, just call this number and someone will help you out. And if they can't tell you, they'll look it up on the (Korean) internet while you wait.
Tip 1: Although this is targeted towards tourists, Korea's foreign residents can also use this service.
Tip 2: This service is available not only in Seoul but all cities in Korea.
FREE Professional City Tours

So it's a few days before your trip to Seoul. Or you are already here. And like the procrastinators that so many of us are, you have nothing concrete planned. Well, no big issue! Walking tours offered by the city of Seoul are available to everyone free of charge. The tours are conducted by guides who are professional and well-versed in their knowledge of the city's best tourist attractions – from Gyeongbokgung Palace and Jongmyo Shrine to Namsan Park and Hanok Village. What's more, the tours are conducted in Korean, English, Chinese, and Japanese. No prior reservations are required; just walk into any of these tours and stress- and money-free itinerary all laid out for you!
FREE Tours of Tourist Attractions from Students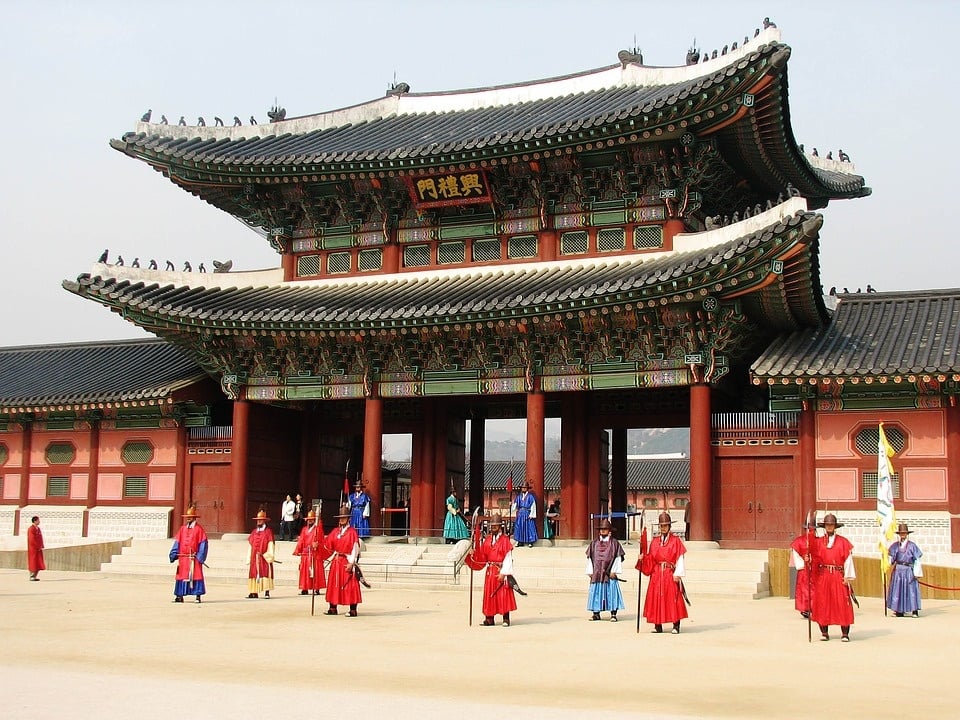 Perhaps you are not one for formal, professional tours and prefer low-key, casual exploring. In Seoul, there are several free Seoul tour services that are conducted mostly by Korean college student volunteers. Check out Meteor Youth, FreeTourSeoul, and SeoulMate as starting points. Usually, these student volunteers just want to introduce Korean culture and attractions while making some foreign friends. Instead of professional guides, you can consider them as professional buddies. What better (and FREE) way to immerse yourself into the local culture by interacting with some really cool Korean college students around Seoul!
FREE Makeup Samples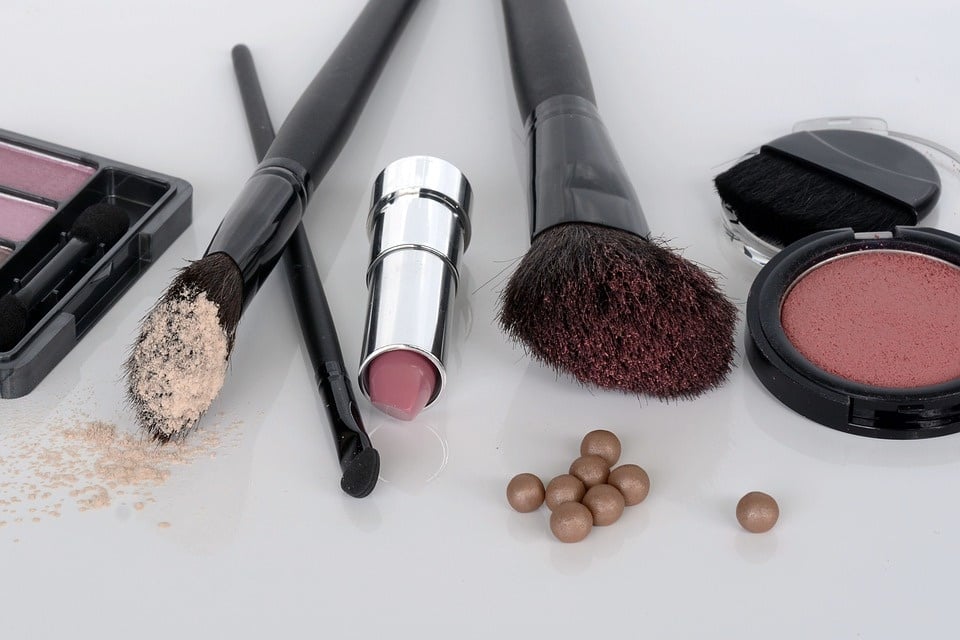 Korean cosmetic brands are well-recognized as some of the top and trendy in the world. So for you makeup fanatics out there, it's useful to know that free makeup samples are part of the Myeongdong shopping experience. As one of the primary shopping districts in Seoul, Myeongdong is like a makeup paradise. This means there's a huge competition between stores to get business; every store usually has a worker standing outside to shout at tourists to come in. Even if you're not planning to buy anything, just walk in, pretend to have a quick look around, take in your free sample, walk around a bit more, and go back out. Repeat and you will walk out there with a bunch of free goodies but a full wallet. Who knew you can look pretty for weeks all for free?
Insider Tip: Even outside of Myeongdong, you can get free samples after buying any cosmetics or skin care products in Korea. Simply ask and they'll give it to you!
FREE Food Samples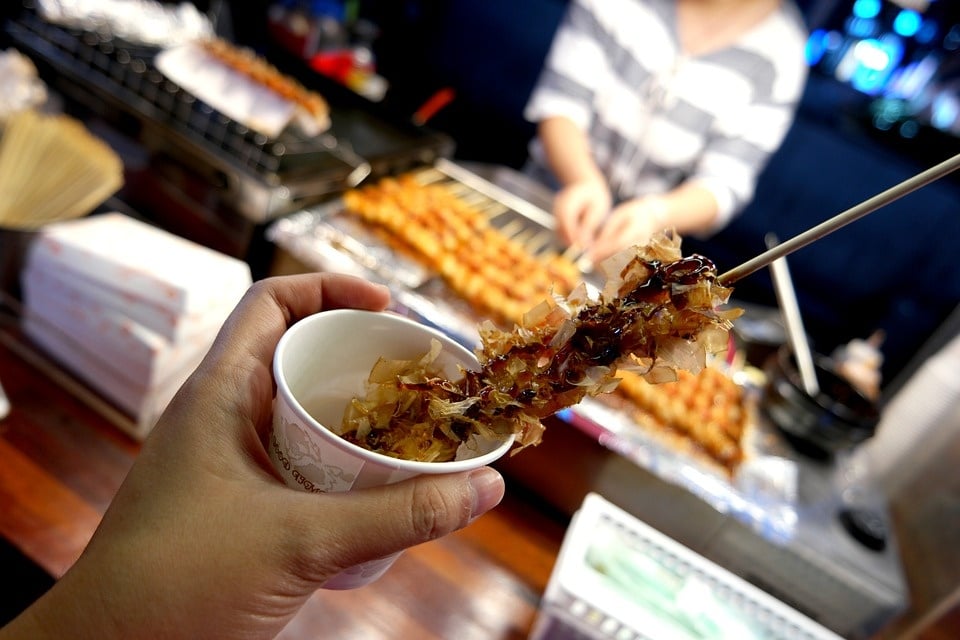 It seems like the major supermarkets in Korea know the general fact that people love free food very well. While usually not available in smaller supermarkets, the larger Korean chains (like Lotte, HomePlus, and E-Mart) offer free samples for people to try – from Korean dumplings, kimchi, bulgogi, galbi, japchae, fruits, and lots more! Just walk right up to any of the booths, unleash the inner cheapskate in you, and indulge in an all-you-can-eat Korean buffet. Even Koreans joke that the supermarket is the best to place to get a meal if you're hungry but broke. Here, the ultimate cheapest meal awaits you!
Insider Tip 1: You're only supposed to take one, but the booth personnels usually don't mind if you take two or three samples. They also don't mind if you return for round 2 when they finish cooking another batch of whatever they're selling!
Insider Tip 2: Bulgogi and other more expensive free samples are undeniably popular. Prepare to wrestle with a few ajummas to get your hands on the food!
FREE Alcohol Refill Bars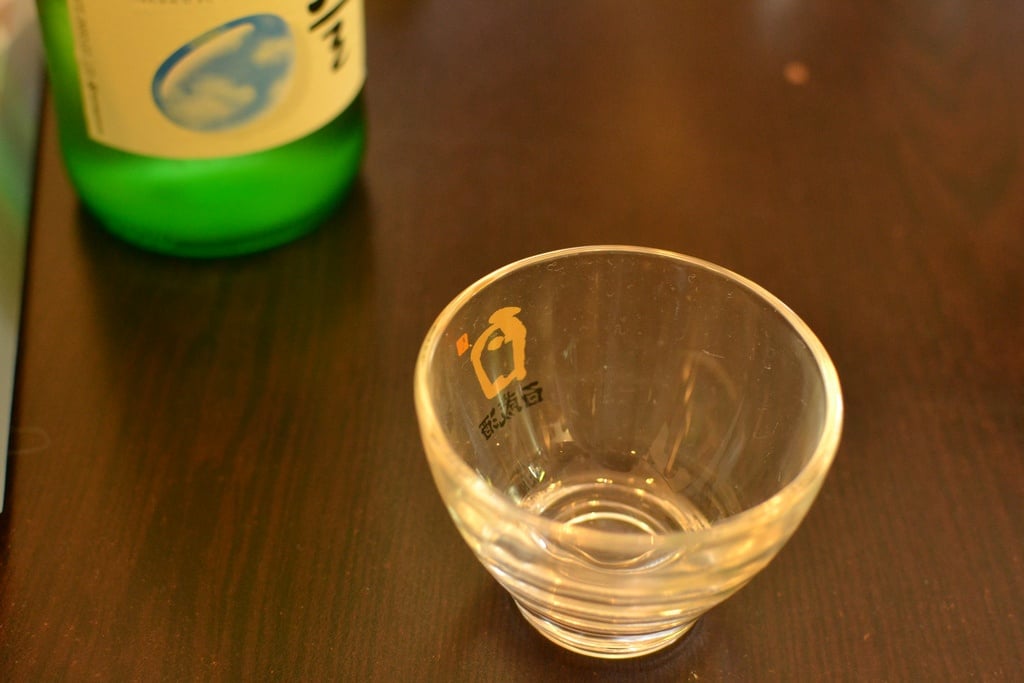 Image credit: kawaiikiri
No, the biggest alcoholic drinkers aren't the Russians. They are in fact the South Koreans. So it comes as no surprise that there are bars in Seoul that provide free alcohol refills. In the vibrant and hip college town of Hongdae, there are bars like 'Ssada! Maekju!' and 'Makgeolli Salon' where you can get the party started with free refills for draft beers at SGD9/person, soju at SGD6/person, and makkeoli (rice wine) at SGD6.5/person. That's some good deal right there; so go and have a fun night out without breaking the bank!  
FREE Accommodation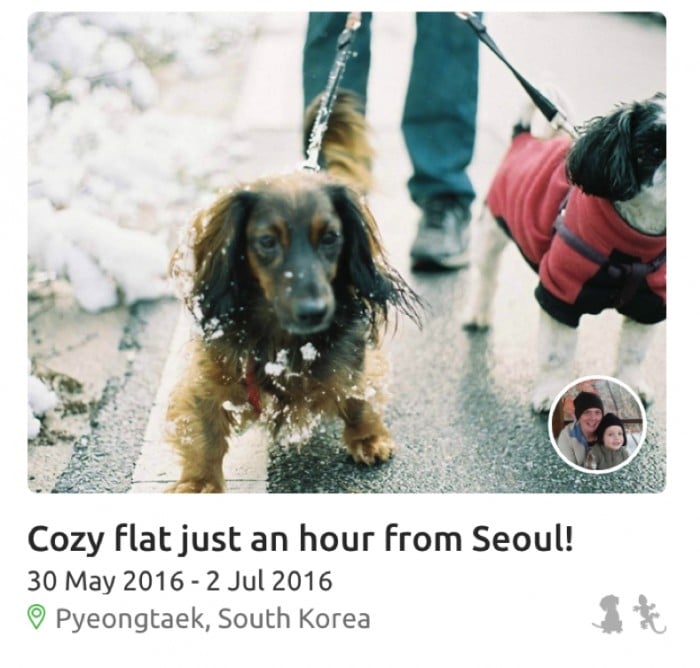 Image credit: TrustedHousesitters
So let's take it to the extreme. What if you want to also cut down on spending money for your accommodation during your time here in Seoul? Yes, there are ways like couchsurfing or working in farms under WWOOF. In Seoul, you can also try house-sitting! This is when you take care of pets, plants, and homes while their owners are off on their own travels. Trusted Housesitters can be your starting point and with at least one good house-sitting reference, you'll find it easier to convince a stranger across the world that you're worthy of their trust. Not only does this keep your accommodation costs low to even free, it gives you an intimate experience in a new place with complete immersion in a local neighborhood!
Also read: Budget Travel in Seoul: 12 Tips from First Time Visitors
So there you have it! It turns out that your vacation to Seoul might just cost you only a flight ticket or two. If you follow these tips, you might just find yourself living in Seoul like a modern Joseon royalty.