Whether it's eating a Chicago-style hot dog or visiting Millennium Park for a photo with "The Bean," the things to do in Chicago are endless! One of America's largest cities, the metropolis is known for its incredible architectural styles and sights. Since it's a city that's known for its architecture, it's only fitting that the Airbnb homes in Chicago are just as awe-inspiring!
If you're planning a trip to Chi-Town, there's no better way to experience the birthplace of the skyscraper than staying in one of the city's incredible Airbnbs. Read on for a list of Chicago's 10 top-rated Airbnb homes that are just as impressive as America's top architectural city. 
CHECK BOOKING OPTIONS IN CHICAGO
Also read: 12 Instagram-Worthy Airbnbs in Los Angeles for Your Next Visit [UPDATED 2021]
Top Airbnb homes to book in Chicago
1. This spacious artist's loft in Chicago's West Loop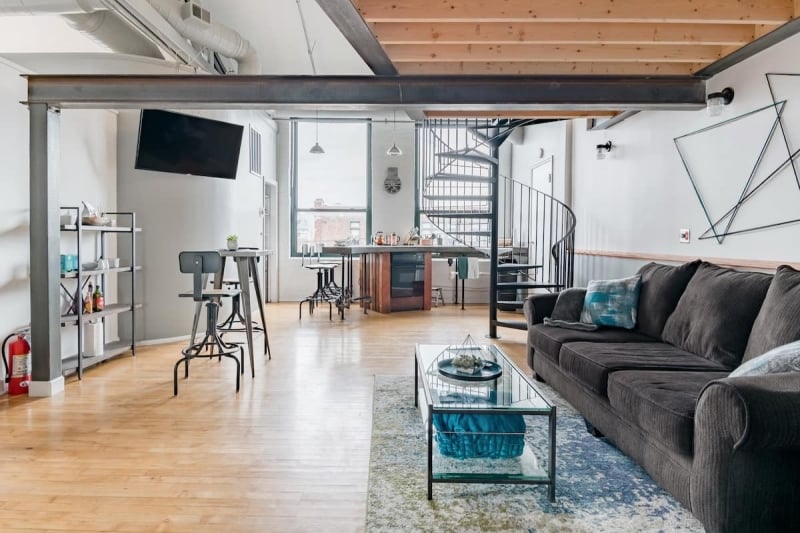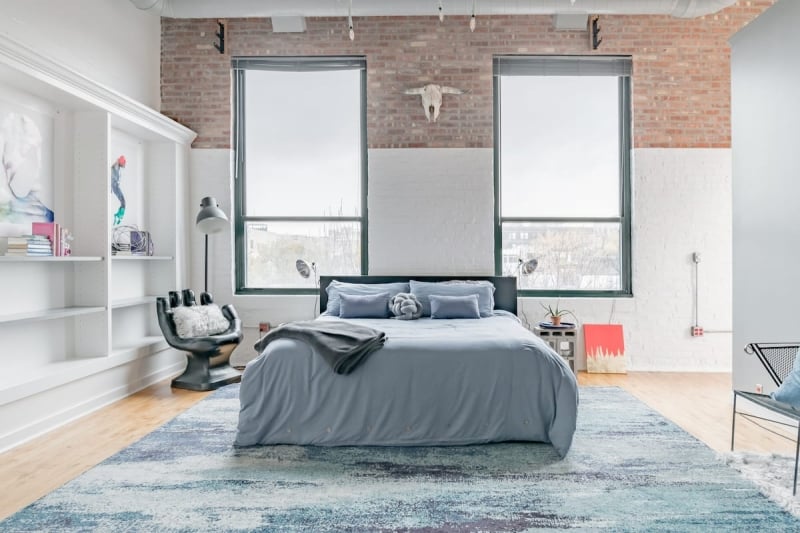 Listing type: Entire loft
Max. no. of guests: 6
No. of bedrooms: 2
Located near the heart of Chicago's West Loop, you'll find that everything you need is within walking distance of this beautiful loft. The bustling enclave is a favourite among tourists and locals. West Loop is also a foodie mecca, so your tummies will be satisfied throughout your stay. 
This industrial loft has a simple yet artful design, with curated art pieces found throughout the apartment. Spacious and comfortable, it's the perfect home for a group of friends or a family! 
2. This incredible factory loft with a professional kitchen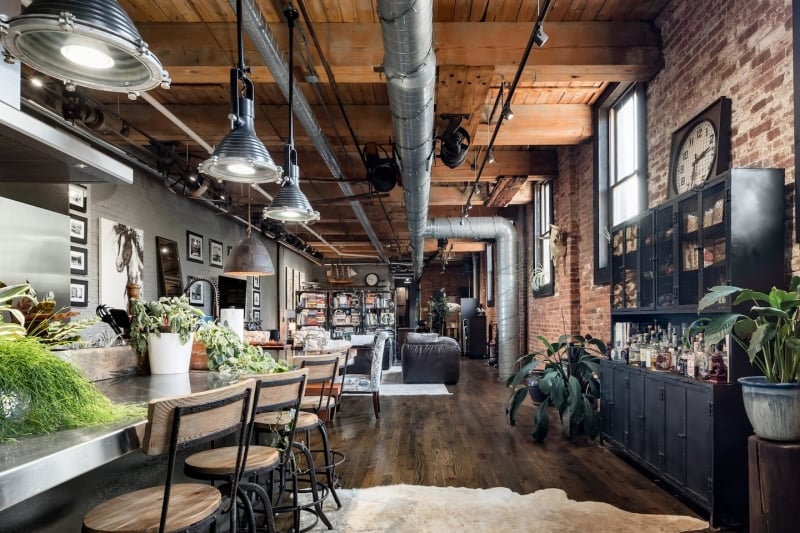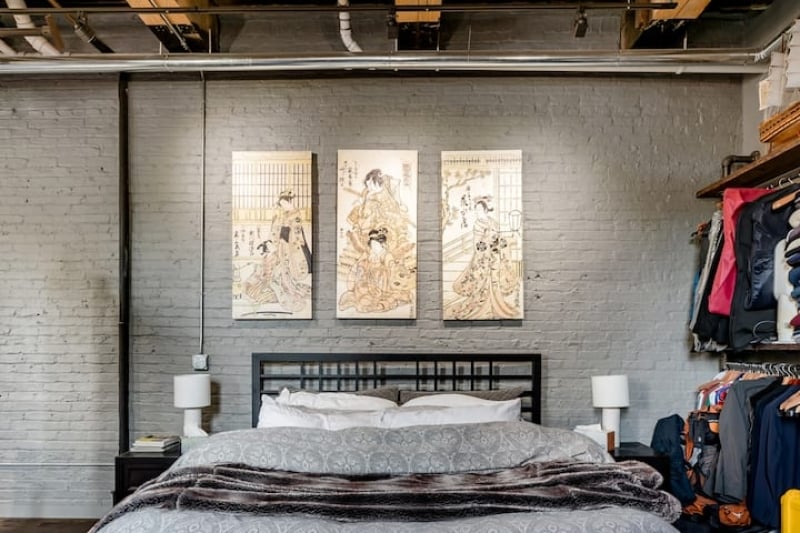 Listing type: Entire loft
Max. no. of guests: 2
No. of bedrooms: 1
Wicker Park is known as one of Chicago's trendiest neighbourhoods. Find anything from coffee shops to boutiques at this spot, where public transport is also easily accessible.
After a day of exploring the vibrant neighbourhood, whip up a storm in this loft's professional-grade kitchen, or relax in the Japanese soaking tub. The mix of wood and earthy tones in this loft results in a space that's roomy yet cosy at the same time. 
3. This minimalist flat with a look that marries modern and vintage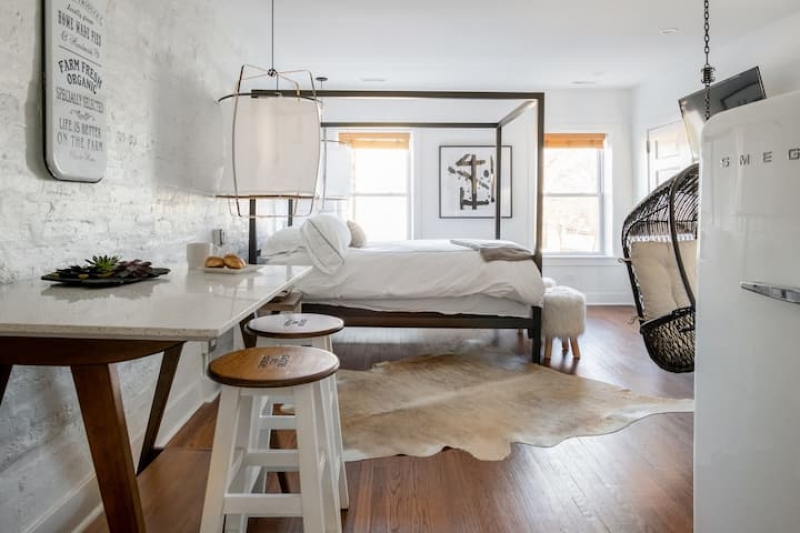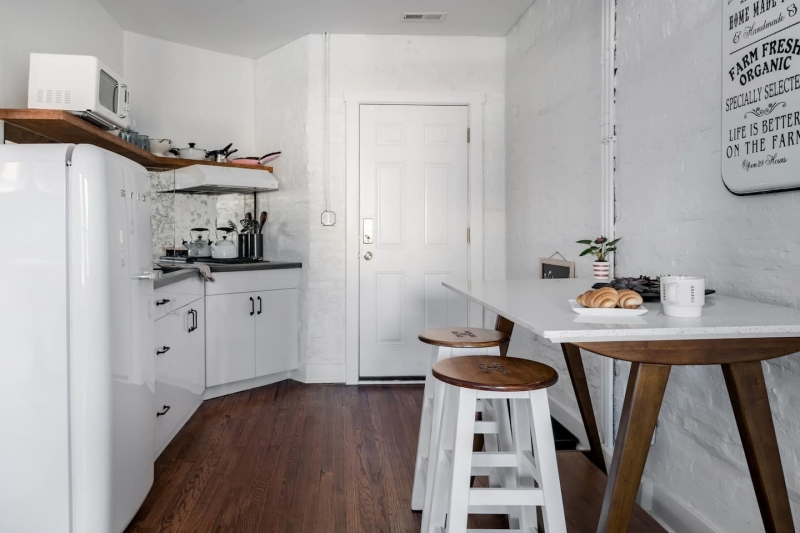 Listing type: Entire flat
Max. no. of guests: 2
No. of bedrooms: 1
Baseball fans will love this home because it's only a 10-minute drive to Wrigley Field, home of the Chicago Cubs! The North Milwaukee district is rich in history, with Irving Park having been a farm in the 1800s. Experience traces of what the town used to be like while exploring the neighbourhood where various eateries and shops can be found. 
After a long day, relax in this Airbnb in Chicago that comes complete with comforting amenities and minimalist decor. 
4. This chic apartment in Chicago's arts district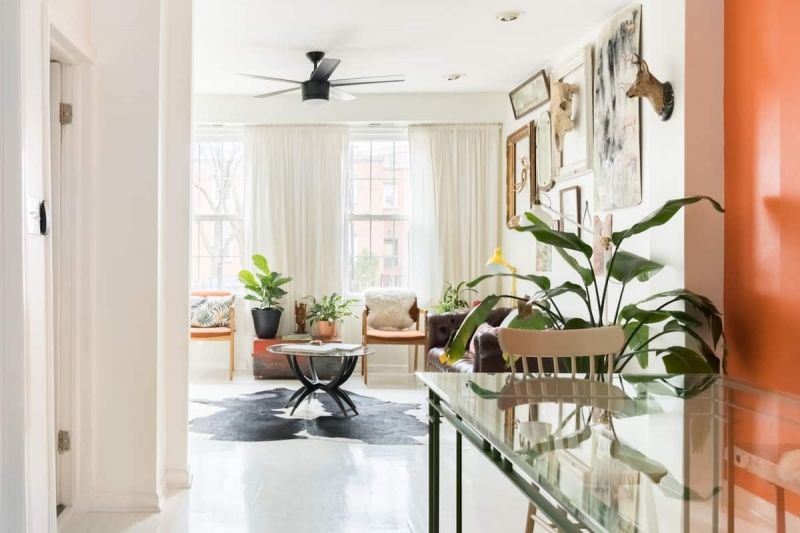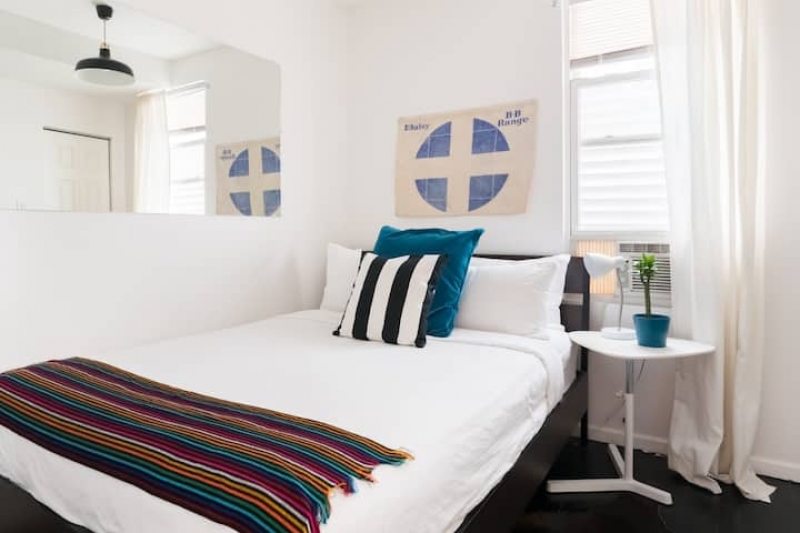 Listing type: Entire flat
Max. no. of guests: 4
No. of bedrooms: 2
There's no better way to immerse yourself in Chicago's arts scene than staying in Pilsen, Chi-Town's arts district! The vibrant neighbourhood is the place for music, art, and food-lovers. Pose in front of the Instagram-worthy street art, or feast on the carnitas from one of Pilsen's many carnitas joints. Pilsen's vibrancy is reflected in this Airbnb's mismatched artwork and eclectic colours. 
5. This penthouse that was featured in architectural magazines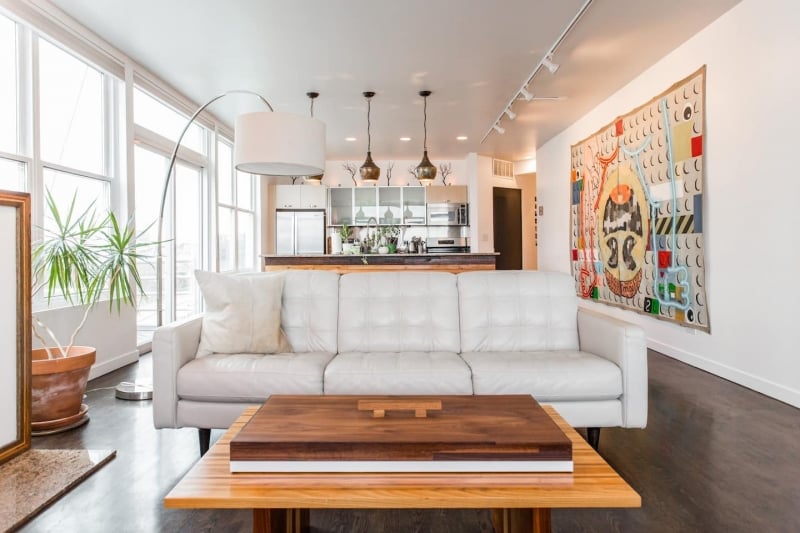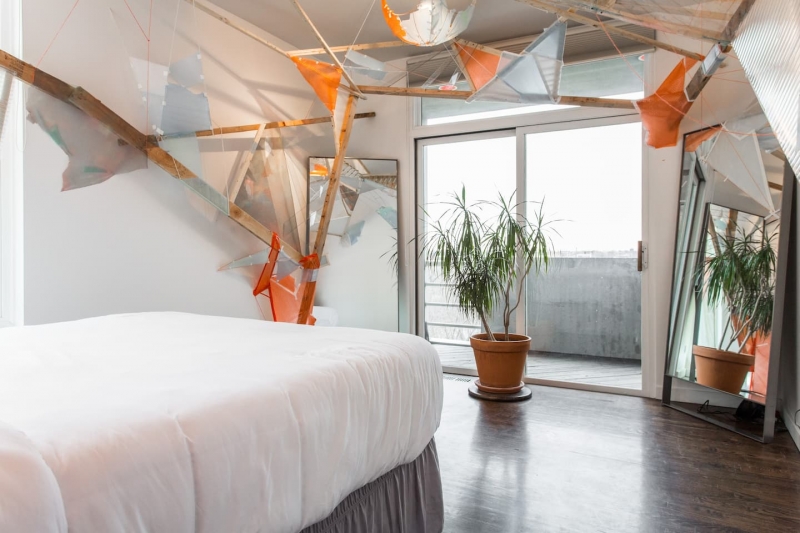 Listing type: Entire flat
Max. no. of guests: 8
No. of bedrooms: 3
Exploring Chicago on foot does get exhausting so this Airbnb is perfect, with public transport being easily accessible. The Chicago Avenue subway stop is only half a block away, while the buses can take you downtown in minutes. You may also choose to unwind within the confines of this spunky designer home that comes with your very own barbecue grill.
6. This rock 'n' roll-themed flat with an Elvis cutout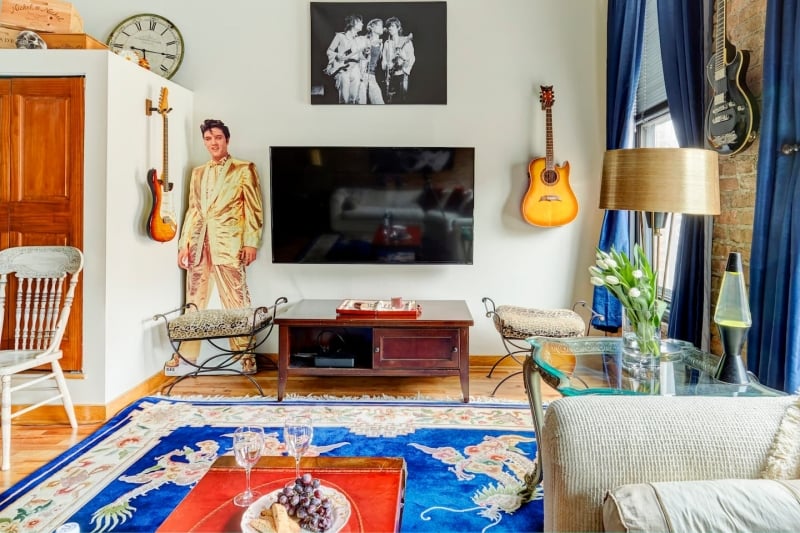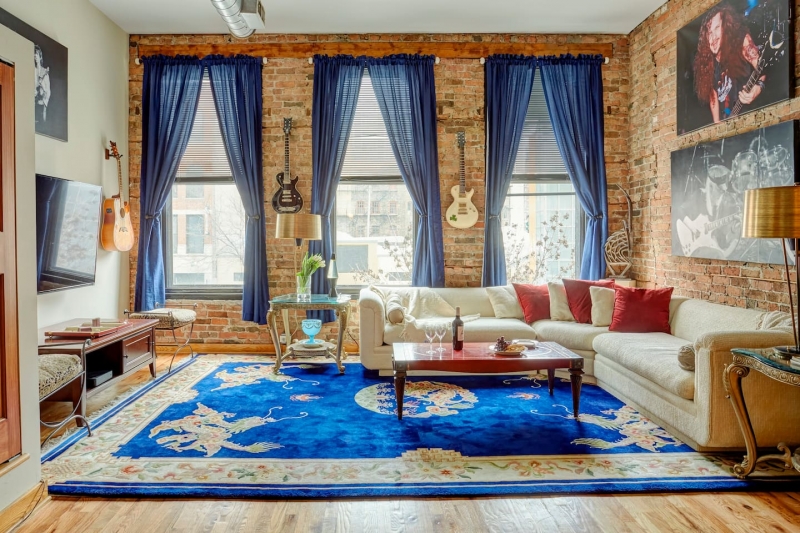 Listing type: Entire flat
Max. no. of guests: 8
No. of bedrooms: 3
Staying home can also be an experience in itself with this rock 'n' roll inspired Airbnb in Chicago! The home is decorated with memorabilia in the form of posters and guitars that will make you feel like a rockstar. It's also located in River North, one of Chicago's liveliest neighbourhoods. A place that's always bustling with energy, you'll find everything from eateries to art galleries in River North.
7. This bright studio apartment that allows pets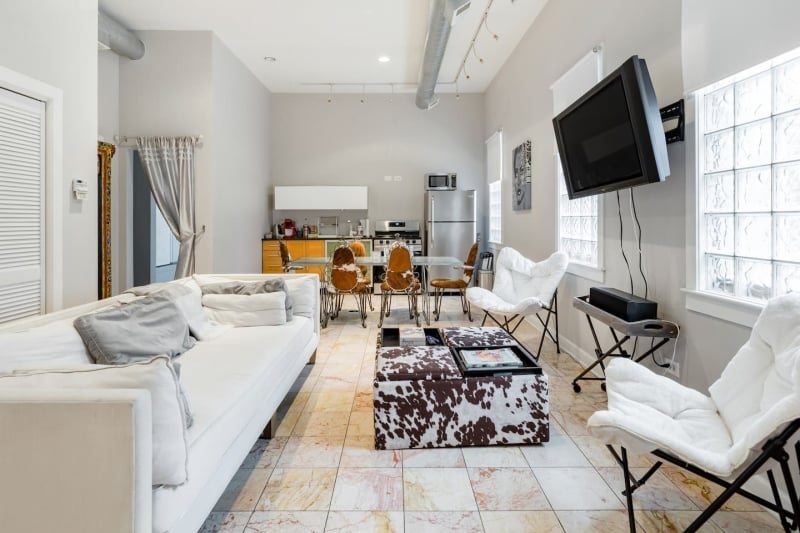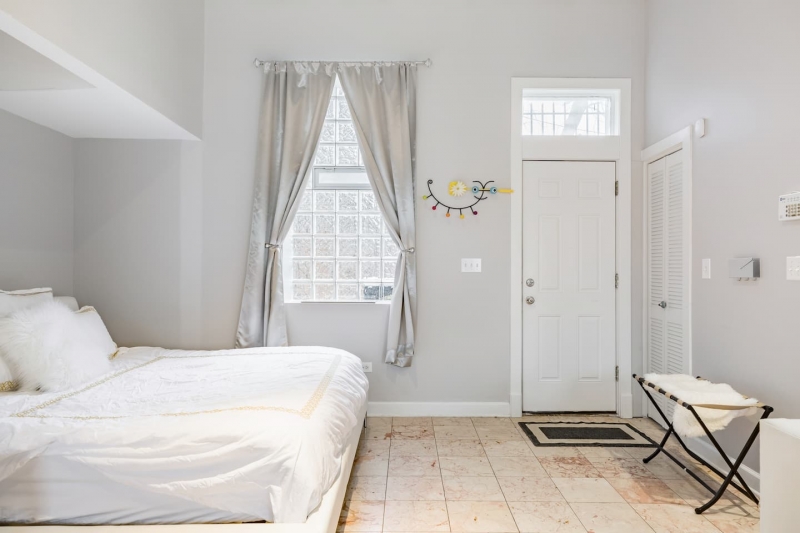 Listing type: Entire flat
Max. no. of guests: 2
No. of bedrooms: 1
This inviting apartment features rustic decor that will make you feel like you're out of the city. It's comfortable and inviting, with ample space for two! Wicker Park and Logan Square are just a stone's throw away with streets of restaurants and shops to explore. Pets are also welcome in this Airbnb, which comes with a private yard for your furry friends to play in. 
8. This brick penthouse with rooftop views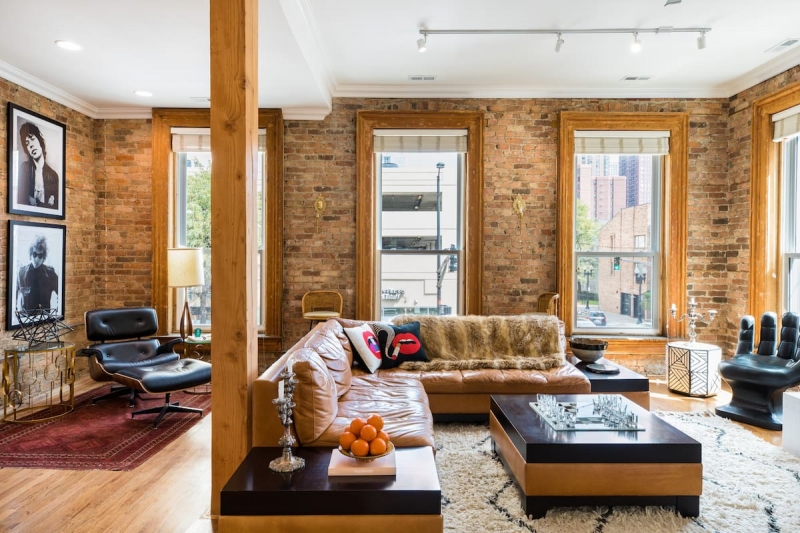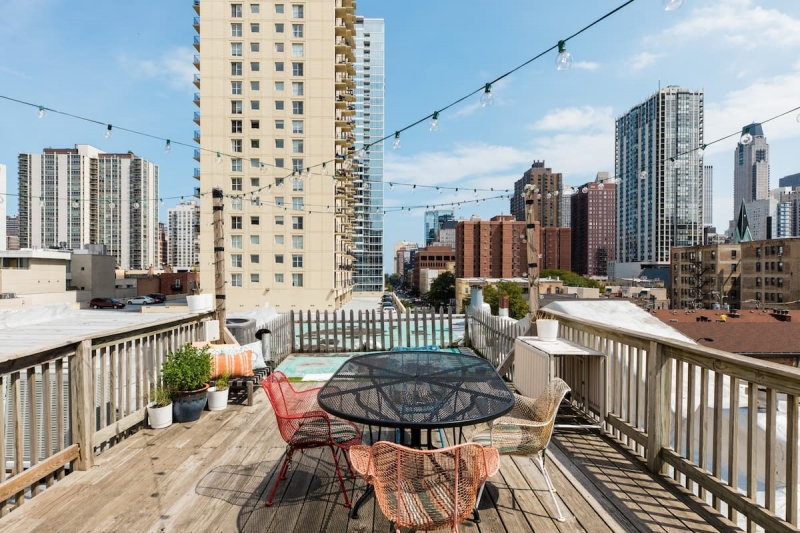 Listing type: Entire loft
Max. no. of guests: 16
No. of bedrooms: 5
Vacationing with your extended family or a large party of friends? You'll have to bookmark this massive penthouse. The loft features a mix of old and new with its modern design contrasting its dated barnwood floors. A private rooftop is also yours to throw a rooftop party anytime you want. 
The penthouse is located in Old Town, a historic neighbourhood famous for the buildings from the Victorian era. It's also close to the Magnificent Mile, Chicago's shopping paradise! 
9. This five-bedroom factory loft with a screening room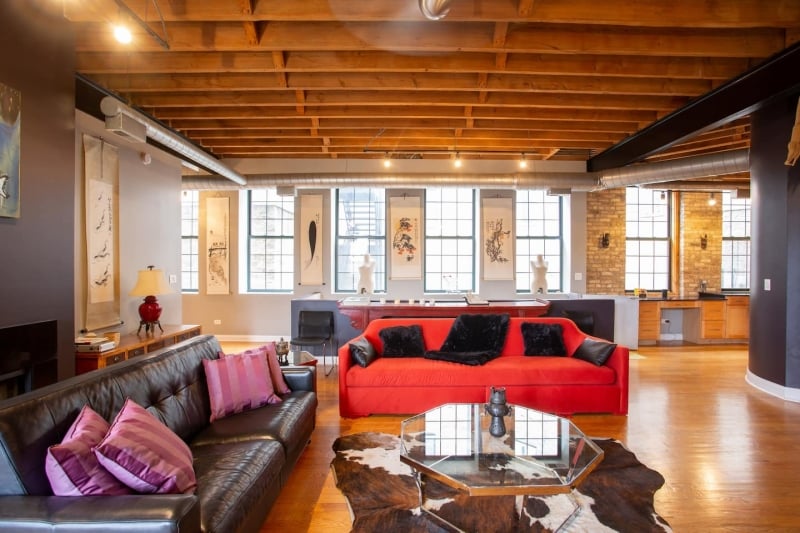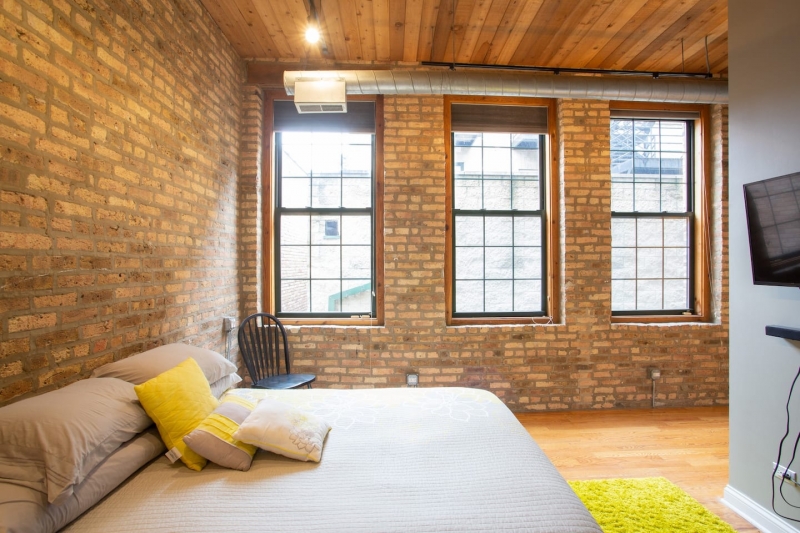 Listing type: Entire loft
Max. no. of guests: 8
No. of bedrooms: 3
Two minutes is all you need to get to the nearest bus stop or train station if you're staying in this Airbnb in Chicago. In fact, its location is so convenient that you can even get to the famous Wicker Park on foot. With decorative pops of colour, this loft will have you whipping out your phone for photos the minute you enter.
Oh, and did we mention it comes with a pool table and a screening room? 
10. This family-friendly apartment in Irving Park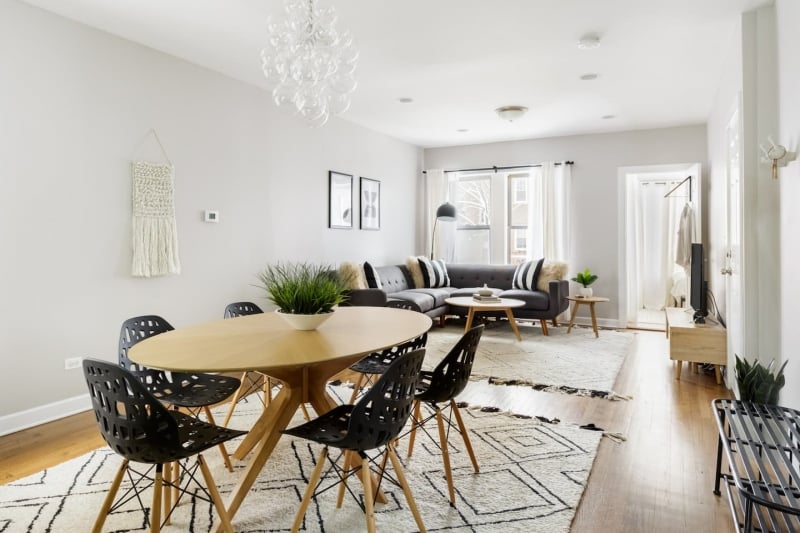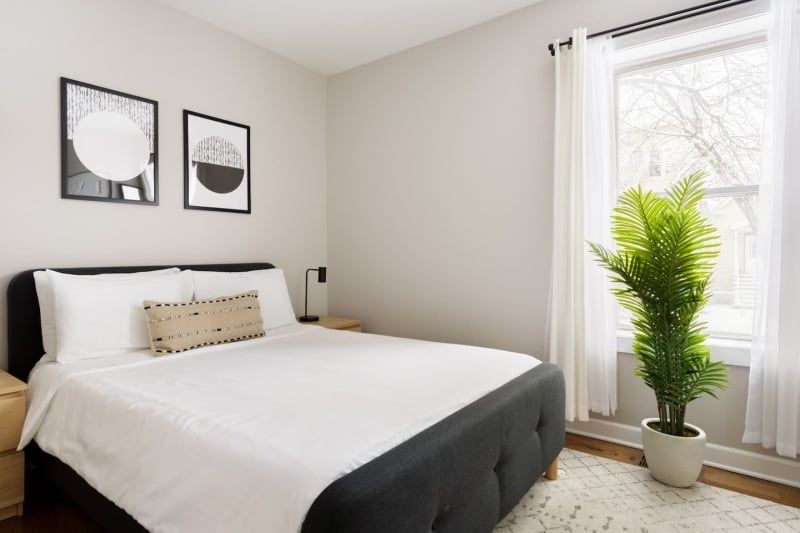 Listing type: Entire flat
Max. no. of guests: 5
No. of bedrooms: 3
This minimalist apartment is a popular pick for those who enjoy a simple yet stylish home. Access to the city is easy with public transport, and the nearest convenience store can be easily reached on foot. You'll definitely feel right at home in this fully furnished apartment! 
Also read: Travelling Across The USA By Train: A 15D Journey From East Coast To West Coast
CHECK ACCOMODATION OPTIONS IN CHICAGO
As evident in the list above, Chicago's homes are nothing short of exceptional. Which Airbnb in Chicago will you pick for your trip to Chi-Town? Let us know by tagging us in your photos when your trip pushes through!