The Philippines is a tropical country, and it's generally hot all year round. So, we always look for ways to cool down and quench our thirst. When exploring here, it's important to stay hydrated. Aside from water, of course, here's a list of local cold drinks you must give a try too!
Also read: 25 Popular Street Food & Snacks to Try in The Philippines
1. Buko pandan juice
Nathaniel's Bakeshop is famous in the Philippines for their buko (coconut) pandan salad. It's one of the favourite desserts of Filipinos. But aside from that, the 24-year old bakeshop now offers a juice version of their bestseller. And it's safe to say that we love it as much as we love the salad!
Where to find: Nathaniel's Bakeshop, 221-E, Katipunan Avenue, Project 4, Quezon City
Price: ₱55 (US$1.04)
2. Sago't gulaman
A Filipino merienda wouldn't be complete without this sweet local concoction called Sago't Gulaman. Sometimes, one glass of this drink won't even last before finishing a meal. So, Gerry's Grill made a smart move and introduced a bottomless version of Sago't Gulaman to their patrons.
Where to find: Gerry's Grill, 3rd Level Midtown Wing, Robinsons Place Manila
Price: From ₱70 (US$1.30)
3. Pure coconut juice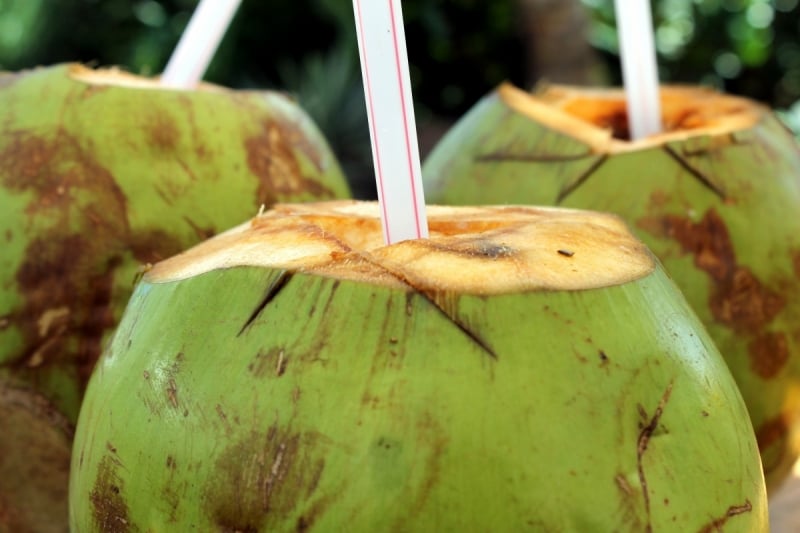 Is there anything better than having your fresh buko juice straight from the coconut shell itself? Ikkoryu Fukuoka Ramen may be a Japanese Restaurant, but it's one of the rare places in Manila where you can order your buko juice and have it served in its shell. To top it all, you can eat the coconut meat after finishing the juice.
Where to find: Ikkoryu Fukuoka Ramen, G/L, Building 7, Bonifacio High Street, Bonifacio Global City, Taguig City
Price: ₱100 (US$2)
4. Iced Kapeng Barako
Who says you can't have coffee on a hot day? At Cafe de Lipa, they twist the Batangueño favourite by making it iced instead of only hot. But expect it to have a strong kick even if it's already iced because that's how an authentic Batangas coffee should be!
Where to find: Cafe de Lipa Origins, 32 San Carlos drive, Mataas na Lupa, Lipa City, Batangas
Price: ₱100 (US$2)
5. Freshly pressed juice
A cold drink that detoxifies, you say? Count us in! You can have your local fruits and vegetables in juice style at the Detoxify Bar. Every bottle of their cleansing juices is made fresh just a minute after you order.
Where to find: Detoxify Bar, Level 5, Main Wing, Shangri-La Plaza, EDSA Mandaluyong City
Price: ₱220 (US$4.20)
6. Halo-halo
A lot of versions have made it to the market over the years. As a result, the source of the best halo-halo in the Philippines is still up for debate. There are times when it's filled with 12 different ingredients. But Razon's of Guagua prepares their special halo-halo differently. Their version of the icy dessert makes use of sweetened fruits like banana and macapuno. Even with its simplicity, it's always a blockbuster hit on any day.
Where to find: Razon's of Guagua, Upper Ground Floor SM City Manila
Price: From ₱85 (US$1.60)
Also read: Top 7 Desserts in the Philippines & Where to Find Them
7. Mais con hielo
Aside from halo-halo, mais con hielo is a Filipino favourite as well. With just crushed ice, whole corn kernels and light syrup, you're good to go.
Where to find: Goldilocks, SM Manila
Price: From ₱50 (US$1)
8. Saging con hielo
Do you want something cold and sweet? Saging con hielo is the answer if you're craving for something filling and drinkable at the same time. It's another unique take on the blended ice selection of Filipino drinks.
Where to find: Gerry's Jeepney, 7-B Maginhawa Street, UP Village, Diliman, Quezon City
Price: From ₱85 or US$1.60
9. Kamias shake
Fruit shakes are everywhere in the Philippines. But it's fun when you stumble upon a different flavour to try now and then. Kamias as a drink? That's interesting! In India, the locals use kamias to fight obesity. So, it's no wonder that Zubuchon offers this special drink to pair with their sinful lechon. It seems like it's one of their ways to make us feel less guilty, don't you think?
Where to find: Zubuchon, Yakal corner Talisay St. , Makati City
Price: From ₱100 (US$2)
10. Ice scramble
Ice scramble won't just satisfy your craving for something cold. It will also take you back to your childhood all over again. Do you remember the days when your resident kuya (big brother) made ice scramble only with condensed milk, cheese, and Hershey's chocolate sauce? Now, it's topped with candies, marshmallow, and even rice krispies. You can also have them in ube and strawberry flavour sometimes. What a treat!
Where to find: Rapsadoodle, 77 INDG Bldg. Nicanor Roxas Street, Banaue, Quezon City,
Price: From ₱85 (US$1.60)
Also read: 13 Weird Ice Cream Flavours You Can Taste Only in the Philippines
Sodas and canned juices aren't always enough to satisfy your thirst. Sometimes, we have to look for something that could perfectly match the Filipino taste. Adding ingredients like saging na saba or coconut makes a simple drink a bit more special and enjoyable especially during a hot, humid day.