Big waves, white sand beaches, unique geological formations, and the quintessential hula dance – these are probably the things that you'd imagine when you speak of Hawaii, but there's definitely more that you have to discover in this beautiful sun- and surf-kissed destination.
If you've been dreaming of travelling to Hawaii, yet discouraged by how this Central Pacific archipelago is simply too far to turn your dream into a reality, here's good news for you. You can now easily reach Honolulu, the capital of Hawaii, by hopping onto AirAsia X flight from Kuala Lumpur, Malaysia, which on top of a two-hour stopover in Osaka, Japan, will fly you straight to sunny paradise. Just in time, AirAsia X is now having a limited-time promo fare to Honolulu from only RM999 (all-in). Hurry, promo runs from now until 15 Oct 2017 only!
Now that the accessibility issue is solved, let me give you MORE reasons to inspire you to fulfil your grand Hawaiian escapade.
1. Endless stretch of multi-coloured beaches
Hawaii is known for having not just long stretches of white sand beaches, but black, yellow, green, and red sand beaches, too. Take your pick from over 400 known beaches!
Why not start your day at the world-famous Waikiki Beach first? You might have heard the name before. Actually, most tourists did not know that Waikiki Beach is in a sense a collective name for eight sections that comprise it – the Duke Kahanamoku Beach, Forst DeRussy Beach Park, Gray's Beach, Royal Hawaiian Beach, Prince Kuhio Beach, Queen Kapiolani Beach, San Souci Beach, and Outrigger Canoe Club Beach. With all these beaches in a single stretch, I'm sure you will not get tired of having a lot in just a single place.
Another beach worthy of your time while in Hawaii is the Lanikai Beach. The name Lanikai translates to "heavenly sea." The enticingly calm blue waters of this tranquil Oahu beach strip is hard to resist. The name, whoever gave it, is a fitting description to this sandy paradise.
2. Captivating natural wonders
Hawaii's beaches are in a league of their own but beyond those, the country is filled with countless spectacular sights. From the awe-inspiring flowing lava permanently draping some of the Hawaiian landscapes to the jagged rocks sculpted by consistently foaming waves that line some of Hawaii's coastlines, there is no end in sight to these natural Hawaiian wonders. We can go on and on, but there's really nothing like seeing all these with your very own eyes.
While in Hawaii, the possibility of losing track of your travel itinerary is big. So to help you straighten things out, it is best if you visit off-the-beaten-track destinations first. These include Tidepools at Makapu'u and Kae'na Point in Oahu.
Makapu'u tide pools is one of Oahu's captivating sights. Its beautiful black lava formation is truly an eye candy, especially at sunrise. Go give yourself a nice dip in one of these natural pools. Also, don't miss the Kae'na Point while you're still in Oahu. It is located on the westernmost point of the island. This place is sacred to the locals, and is a designated bird sanctuary. So for those of you who love birds, this is truly a nice stopover.
3. Challenging hiking trails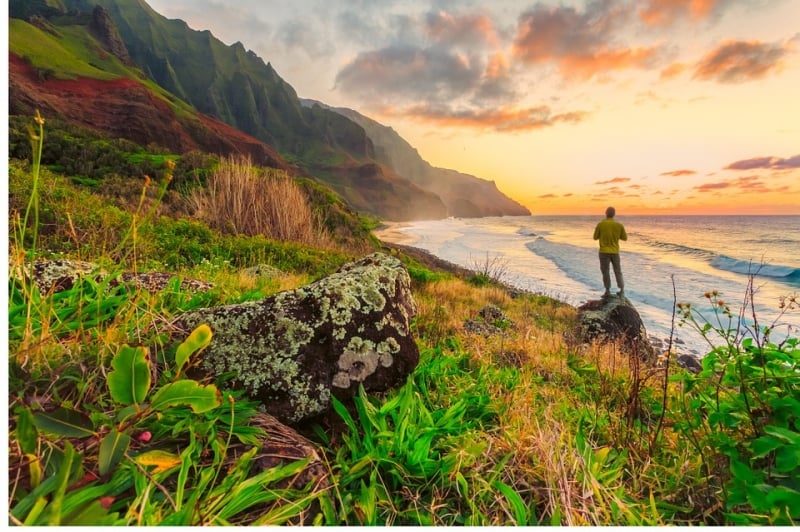 Do you have a wayfarer blood running in your veins? A lot of adrenaline-pumping hiking trails dot the Hawaiian landscape just waiting for you to conquer.
One of the must-try trails is the one leading to the 300,000-year-old Diamond Head crater in Honolulu. It offers a formidable view of the vast Pacific Ocean and the beautiful Honolulu terrain. In fact, the promontory was once used as a watch post by the US military due to its vantage point. Though the trail is not as long as you would expect, what will make your adrenaline pump is its sheer ascent.
Are you in for an ultimate morning Stairmaster workout? Then conquer the Koko Crater Trail in Honolulu. Indeed, this challenging trek will not also be called the Koko Head Stairs for nothing. Taking more than one thousand steps to reach the top sounds easy, right? I bet it's not! It is a real endurance tester. You must try it.
Have you been inspired by the Arizona's Grand Canyon? I bet you will love Kauai's Waimea Canyon, too! This gorge has jaw-dropping ravines reaching up to 3,000 metres deep in some points. No wonder it is also dubbed the "Grand Canyon of the Pacific."
Other notable Hawaiian hiking trails worthy of your time are the Iao Valley and the Kamakou Preserves on the islands of Maui and Molokai respectively.
Iao Valley, which translates to "cloud supreme" in the English language, is a valley formed by streams. The most famous landmark on this natural wonder is the Iao Needle. At 1,200 ft high, this lava remnant is taller than the Eiffel Tower.
Kamakou Preserves is an equally wonderful place to spend your time while in Hawaii. This secret nature preserve is a must-see for its rare flora species. This three-mile, round-trip journey around the Kamakou boardwalk is definitely a must-take. Who knows the rare and endangered flora and avian species that the Kamakou Preserves is protecting might not be there the next time you hit Hawaii! Spend time with them while you still can.
4. Countless outdoor adventures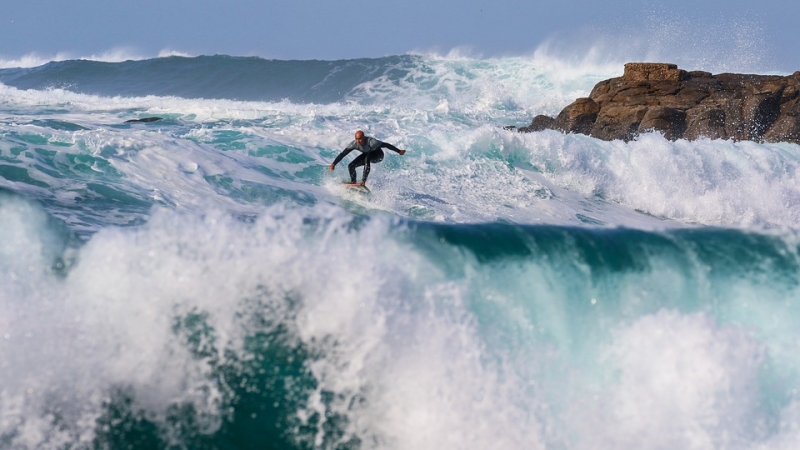 Don't leave Hawaii without experiencing its many outdoor adventures. From camping in Molokai to dolphin and whale watching in Maui, the possibilities are endless.
You can also embark on a road trip to Hana Highway, a 52-mile winding road trip from Kahului to the town of Hana which offers a splendid view of Maui's coastline. There are a lot of eye candies along this highway, including black-sand beaches, alluring plunging waterfalls, and placid natural pools.
Of course, what's the point of making this long journey without capping it up with a surf ride on one of Hana's famous surfing spots, right? Hana's Koki Beach is your best option in town. Indeed, there are still a lot of watersport alternatives while you are there. You can go kayaking, parasailing, and zoom your way around on a jet ski.
5. Interestingly rich history
Hawaii was first settled about 15,000 years ago, and was found by the Polynesians with only the stars guiding them. Fast forward to 900 AD, and almost all of the major Hawaiian islands were already inhabited. Naturally, these thousands of years of existence left Hawaii with plenty of historical landmarks that you can actually visit. One such landmark is the Pi'ilanihale Heiau located along the Ula'ino Road in Maui, which is by far the largest temple in all of Hawaii built during the reign of King Pi'ilani in the 16th century. It has walls reaching up to 50 feet, which is a real sight to behold.
Aside from this one, there are still hundreds, if not thousands, of historically rich landmarks around Hawaii that are worth a visit. While you're there, do check out Pearl Harbour, Sanju Pagoda, the Honolulu Museum of Art, and Waikiki Aquarium. The list goes on and on!
6. Layers of traditional customs
Hawaii has some of the most unique customs in the world, especially as everyone in the country belongs to a minority. Yes, you read that right! Hawaiians comprise a mix of people, starting from the original Polynesians who first ventured into this group of islands. Different groups of people have never stopped coming to Hawaii after that – each group that went one after the other, which includes Caucasians, Latinos, Asians, as well as Japanese and Chinese, contributed to what is now known as the Hawaiian culture.
This amalgamation of different cultures gave the Hawaiians what is perhaps the most diversely unique traditional customs in the world. The cultural marriage eventually gave rise to the most well-known traditional fare in Hawaii: the hula dance. To their people, hula is life. It tells their tradition, history, and culture. With every step of the foot, swaying of the hips, and twisting of the hands, a story is being told. Hula as a kind of storytelling told not by mouth, but through dance, is a sight to behold in itself. It is performed everywhere in Hawaii, especially during festivals. A week-long hula festival called Merrie Monarch Festival, also known as the Merrie Monarch, is performed every spring in Hilo in honour of King David Kalakaua.
7. Lip-smacking luaus
Of course, Hawaii is also known for having some of the most exquisite and delicious traditional cuisines in the world called luaus. One of them is the Hawaiian laulau, which is a beef or fish recipe cooked using the traditional method of wrapping the beef in either taro or luau leaves.
You must also try the mouth-watering kalua pig! This dish is cooked using traditional cooking method: cooked in an underground oven called imu. This way of cooking lends a traditional smoky flavour to the meat as it is gently roasted to tender perfection. Trying these delicacies from the local master cooks themselves is truly a gustatory feast!
8. The most cordial locals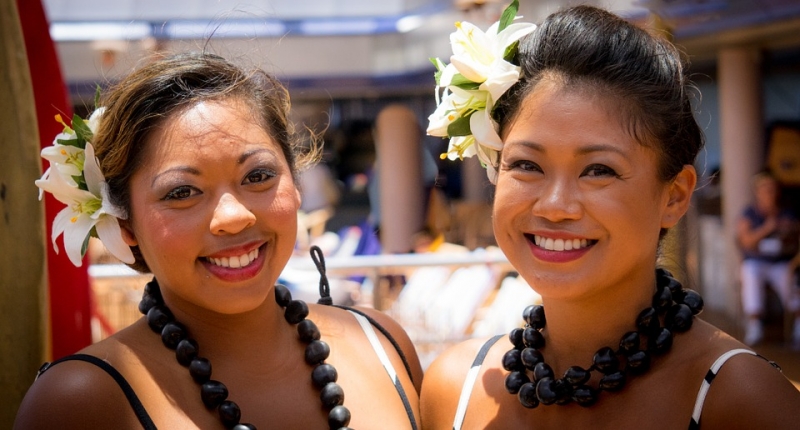 Hawaiians are famous for what they call the "aloha spirit." In Hawaii, the word "aloha" is more than just a mere greeting. Instead, it is their way of life. This means that the locals are accustomed to being the first to offer goodwill and friendship to other people, which further leads to them being listed as the least stressed people in the world. If you're looking for a place to relax and unwind, the Hawaiians are more than willing to extend the aloha spirit to you.
Also read: 8 Reasons Why the Faraway Islands of Hawaii Are Worth the Distance
Hawaii is truly a nature-blessed country and should definitely be on your next travel list. Why? Because getting there from Kuala Lumpur, Malaysia, is not a problem anymore! AirAsia flies to Honolulu, Hawaii, from Kuala Lumpur, Malaysia four times a week. The exuberant flight staff will surely see to it that you get to your dream destination with no hassle at all.
The relaxed long-haul flight will take you to a fuss-free, two-hour stopover in Osaka, Japan. And, you'd be happy to know that transiting passengers will not be required a Japanese visa anymore, so you can easily return to your seats on your flight to Honolulu, Hawaii, after clearing the necessary airport security protocols. If flying long-haul has always been out of your reach, you can now fly farther for less with AirAsia X – where flights to Honolulu are going from just RM999 ALL-IN (one-way)! Book your tickets from now to 15 October 2017 for travel till 31 March 2018. Pack your bags now and we'll see you there!
---
Brought to you by AirAsia.