Hawaii, the island state off the west coast of USA, is probably most renowned for its beautiful beaches and azure blue waters. However, there's so much more to this island state than sipping a glass of piña colada while watching the sun set behind the horizon!
From roaming iconic movie sets to scaling actual (but dormant) volcanoes, here are 11 things to get you started on your next Hawaii getaway!
Explore all that Hawaii has to offer with AirAsia! With all-in one way fares from only RM 899 (or RM 904 for non-members)*, enjoy some of the lowest fares from Asia to this Paradise of the Pacific.

Book your flight from now till 31 Dec 2018 to enjoy these great savings with AirAsia!
* Travel Period: 8 Jan 2019 – 13 Aug 2019. Other Terms & Conditions apply.
1. POW street art that leaves you going WOW
Hawaii is full of countless Instagram opportunities and the hip neighbourhoods of Honolulu city is just one of them! Thanks to POW! WOW! – a collective of artists that celebrates culture and art through gallery shows and mural projects around the world – Honolulu's streets are filled with countless larger than life and Insta-worthy murals.
In February 2018, over a hundred local and international artists came together in the Kaka'ako district of Honolulu to create countless murals and other forms of art.
Today, these vibrant murals are spread over the city, just waiting for you to accidentally stumble upon. Hunt down over 100 murals that are spread across the city and beef up your Instagram game!
2. Walk amongst dinosaurs at Kualoa Ranch Nature Reserve
You might never get the opportunity to walk amongst actual dinosaurs but walking through the Jurassic Park set is an equally cool experience!
Kualoa Ranch Nature Reserve is part private nature reserve, part working cattle ranch and all-time movie star. Did you know that over 70 Hollywood movies like Jumanji, Pearl Harbor and multiple Jurassic Park movies have been filmed here since the 1950s?
Live out your action movie dreams as you vroom across the compound on ATVs or even whizz down on a zipline to admire its gorgeous landscape. Just watch out for the free-roaming cattle!
3. Ride the waves, go whale watching and more!
While we've all heard of Waikiki Beach, a less popular yet just as beautiful beach to check out in Hawaii is Sunset Beach. One of the most popular beaches in Hawaii for serious surfers, this beach is also perfect for anyone who loves to enjoy the sand, sea and everything in between. While the beach is popular in the winter, summer is perfect for snorkelling when the waves are calmer.
If you're at Sunset Beach, make sure you pop over by The Sunrise Shack – a bright orange shack that isn't only aesthetically pleasing but serves refreshing açaí bowls for you to enjoy along the beach!
Of course, surfing isn't the only water activity you can participate in! Head to the shallow Auau Channel between Maui, Molokai and Lanai to catch humpback whales as they break the surface of the water.
And that's not the only marine life that you can catch sight of in Hawaii – you can also swim with sharks, take a submarine to explore beautiful coral reefs or even take a boat to fish for tunas and marlin! You can even take a leisurely kayak out on the Wailua River – you just might chance upon the Secret Falls!
4. Say 'aloha' to Hawaii's active volcanoes
Did you know? Hawaii's islands are actually a chain of volcanoes, formed over centuries through millions of volcanic eruptions. Now here's another fun fact: one of the world's most active volcanoes – Kīlauea Volcano – can be visited at the Hawaii Volcanoes National Park!
Following a series of eruptions since May 2018, the volcanoes' iconic glowing lava lake has since disappeared, however, you will still be treated to no less dramatic views – the summit crater floor has sunk 460 metres and the caldera expanded to more than 1 square mile!
Explore the park with one of the resident guides to learn more about the area's volcanic activity, while enjoying exclusive access to some of the best spots, including private lava tubes! If you're lucky and the weather conditions permit, you might even get to kayak around the island for alternative views of the area.
5. Scale the "tallest" mountain in the world
While we all know Mount Everest to be the highest mountain in the world, Mauna Kea in Hawaii technically holds the title to that instead. The base of Mauna Kea lies 6,000 below sea level, making it, in fact, approximately 1,150 metres taller than Mount Everest.
Embark on a climb up Mauna Kea and earn bragging rights for scaling the world's tallest mountain, while teaching your confused friends a thing or two about world mountain facts. You can also head to the observatories at the summit for panoramic views of Hawaii and even catch a glimpse of the moon!
6. Get the best view from the skies
But if the view from Hawaii's highest point isn't exhilarating enough for you, you can sign up for a helicopter tour for a bird's-eye view of the island. That's assuming that the weather permits and there isn't any volcanic smog posing a danger of course!
Climb aboard Blue Hawaiian Helicopters and soar through the skies in style. With the top-grade safety equipment, Bose® aviation-grade noise-cancelling headsets, comfortable and spacious seats, and large panoramic windows, Blue Hawaiian Helicopters promises stunning views of the lush greenery and coasts below.
In fact, did you know that aerial shots for movies like Jurassic Park, Tropic Thunder and Pirate of the Caribbean lll were filmed with Blue Hawaiian Helicopters? Not to mention National Geographic television documentaries! If that doesn't tell you anything about flying with Blue Hawaiian Helicopter, then we don't know what will.
7. Explore Hawaii's greener landscapes
Hawai`i is a hotbed (pun unintended) of many geological wonders! From Waimoku Waterfall in Haleakala National Park to the largest natural lake on the island – Halulu Lake in Ni'ihau, you're bound to be entranced by breathtaking panoramic views during your Hawaiian getaway.
Our personal favourite? Akaka Falls in 'Akaka Falls State Park – probably the most well-known waterfall on the island. The uphill hike to this feature is easily accessible, taking less than an hour and filled with lush rainforests and beautiful bamboo groves.
8. Tease your palate with a Hawaiian Plate
Foodies, this one's for you!
Think Malaysia's Nasi Kandar, but the Hawaiian version of it. And no, we don't mean adding pineapples! A Hawaiian Plate is a common Hawaiian lunch meal comprising of a generous serving of white rice (sometimes two), delicious meat and a scoop of a mayonnaise macaroni salad.
If that sounds too heavy for you, why not try a fresh poké bowl instead? Enjoy some of the freshest diced raw fish, lightly seasoned atop a bed of fluffy rice. Indulge all you want without feeling overstuffed!
To end off your meal, hunt down a vibrantly coloured and flavourful açaí bowl. Typically made from açaí, fruits and granola – this snack is not only healthy but will leave you feeling refreshed and ready to get back on your exploration of Hawaii. Plus, they're sometimes served in a coconut bowl or even a papaya bowl – talk about Instagrammable food!
9. Party it up the Hawaiian way!
If you really want to soak in the Hawaiian culture, keep your eye out for the Aloha Festival – an annual month-long celebration of Hawaiian history, music and dance! The best thing? It's free of charge!
This state-wide event of epic proportions is filled with performances like hula dances, Hawaiian music, and even a parade of local marching bands, skirted horse-riders, and floats decked out in Hawaiian flowers!
Even if you've missed the Aloha Festival, you can still indulge in Hawaiian culture with a luau – a traditional Hawaiian party!
Feast on traditional dishes like poi (pounded taro root) and kalua pig (shredded pork prepared in an imu or underground oven) and enjoy special entertainment like traditional dancers and fire dancers.
10. Learn about Polynesian culture in a fun & immersive way
Speaking of luaus, learn more about Polynesian culture in a fun and interactive way at the Polynesian Cultural Center, a 42-acre theme park and living museum located on the northern shore of Oahu, Hawaii.
Visit authentic villages, indulge in traditional Hawaiian fare and enjoy the myriad of cultural shows. Don't forget to pick up some lovely souvenirs from the Hukilau Marketplace while you're here!
11. Pay tribute to the Pearl Harbor soldiers
If the 2001 Pearl Harbor movie and Faith Hill's heart-wrenching single didn't already teach you enough about the Attack on Pearl Harbor, then this trip to the Pearl Harbor Memorial most definitely will.
Head out to the waters and stand above the wreckage of the USS Arizona – the ship that started the United States' involvement in the war – or climb aboard and tour the Battleship Missouri – where the Japanese surrendered and ended one of history's biggest wars. Whichever way you look at it, a visit to the Pearl Harbor Memorial is bound to be an eye-opening experience, especially for history buffs.
Enjoy AirAsia's incredible deals for flight tickets from Malaysia to Honolulu, only from now until 31 Dec 2018! Enjoy all-in one way fares from only RM 899* (RM904 for non-members) and revel in how unbelievably exciting and gorgeous it is!
* Travel Period: 8 Jan 2019 – 13 Aug 2019. Other Terms & Conditions apply.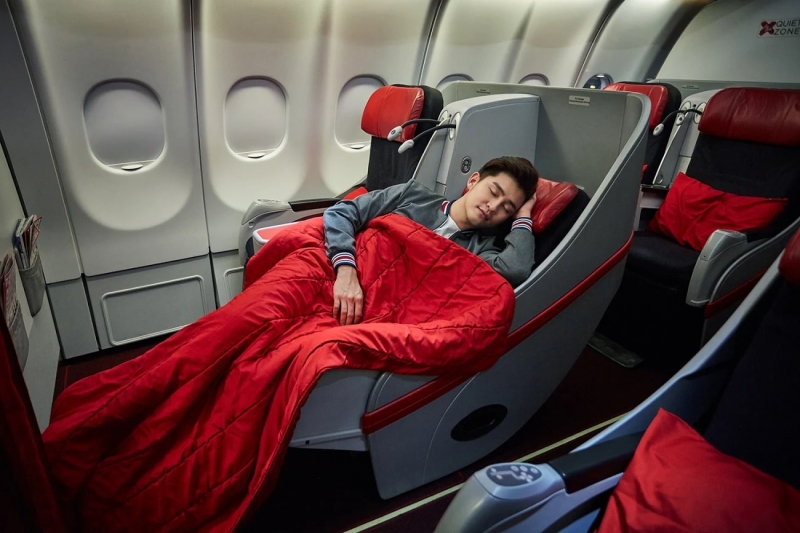 Looking for extra comfort? Fly with AirAsia to enjoy their Premium Flatbed. Lay flat in ultimate comfort and enjoy priority boarding, free baggage allowance, complimentary meals and more − only for RM 2999. Find out more.
---
Brought to you by AirAsia and Hawai`i Tourism Authority.