There's no doubt about it: New York City is everything, an iconic destination that's one of the best cities in the world. But as much as we love the relentless energy and excitement of the city that never sleeps, we all need a breather once in a while. The good news is, there's no need to look very far. Just a two-hour drive from NYC, Upstate New York has no shortage of swoon-worthy Airbnb options ready to be your home away from the concrete jungle.
A remote cabin in the woods? Maybe a home in a charming little village? Or prefer a waterfront family home? These idyllic landscapes all offer a nice respite from city chaos. To help you narrow down your choices, here are some of the best Airbnbs in Upstate New York for travellers in the mood for a tranquil getaway. 
Top Upstate New York Airbnb homes for a quick out-of-the-city getaway
1. This idyllic artist's estate with a private waterfall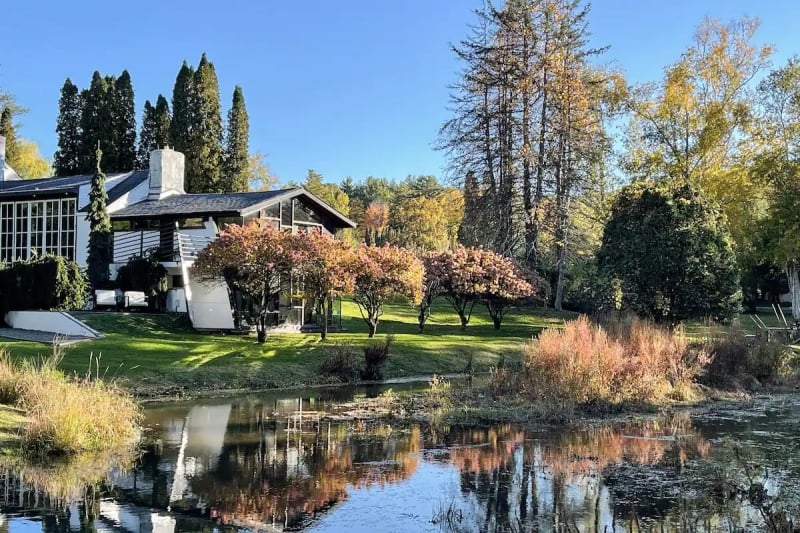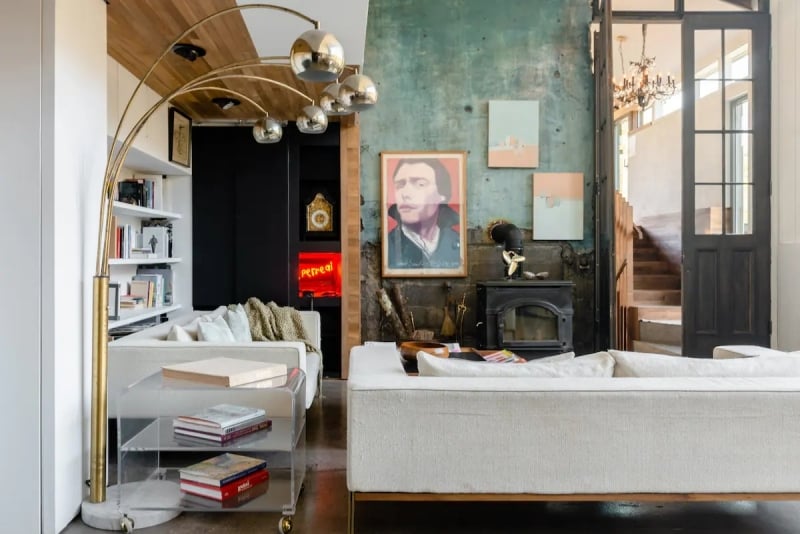 Listing name: Woodstock Historic Artist Estate – The Pond House
Listing type: Entire home
Max. no. of guests: 5
No. of bedrooms: 2
If you're searching for a place in Upstate New York that speaks to your artistic soul, then you've come to the right Airbnb. The family estate of social realist painter Reginald Marsh, The Pond House in Woodstock looks straight out of a dreamy landscape painting. It's set against a postcard-pretty backdrop of lush green gardens, a glittering pond, a private waterfall, and a canopy of birches and century-old cedar trees.
Inside, the light-filled space is just as picturesque. Vintage chandeliers sit side by side with more modern decor, while floor-to-ceiling windows look out onto the scenic surroundings. A balance of comfort, luxury, and natural beauty, this is exactly the kind of upstate Airbnb perfect for a relaxing vacation away from the city.  
2. This stunning Upstate New York Airbnb with mountain views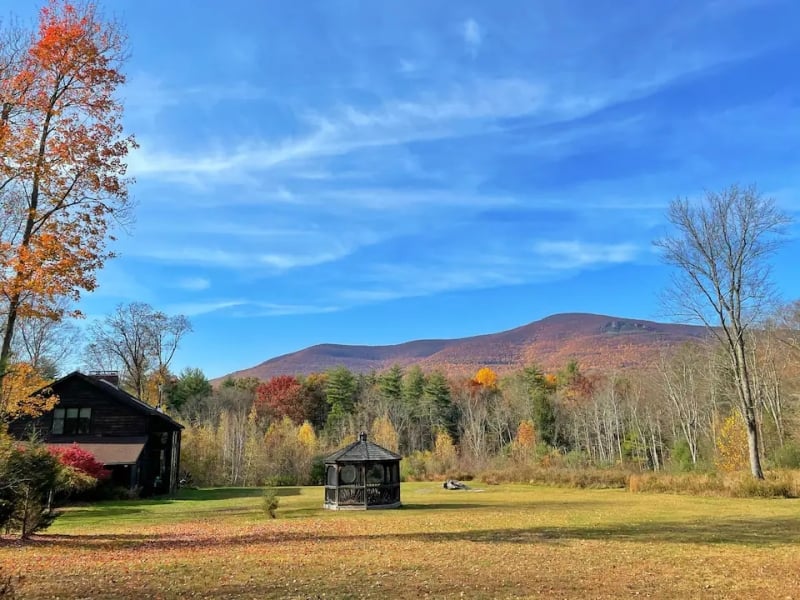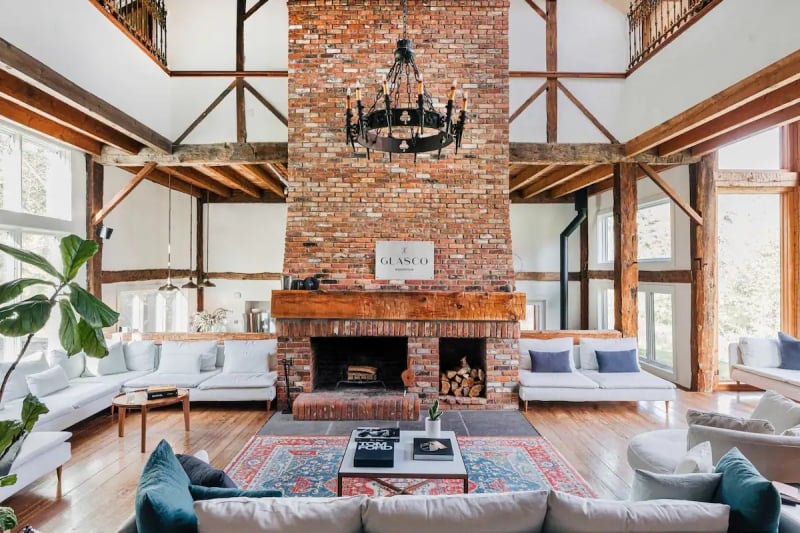 Listing name: Glasco Woodstock – 16 Acres with Mountain View.
Listing type: Entire home
Max. no. of guests: 16+
No. of bedrooms: 5 
Breathtaking mountain vistas are on full display from this design-forward converted barn in Woodstock. It's a far cry from the Big Apple, with unparalleled views of Overlook Mountain instead of soaring skyscrapers. And the house is set on a 16-acre property, so there's hardly a soul in sight — a great fit if you're running away from the crowds!
Inside, the grand living room stands out as a highlight. Thirty-foot ceilings, skylights, and massive windows create an open, airy space that will make you feel connected to the outdoors, even when you're chilling with the family in front of the fire. Other highlights include a hot tub, a fire pit, and even a private stream on the property.  
3. This enchanting barnhouse perfect for outdoor lovers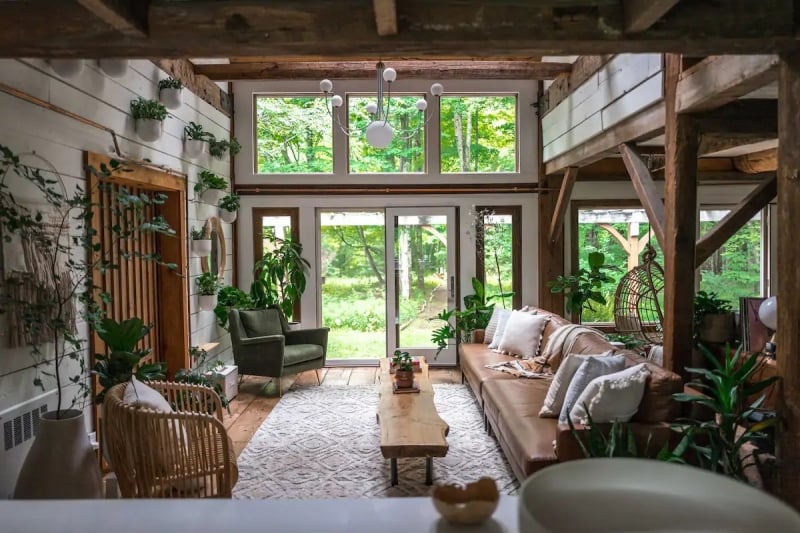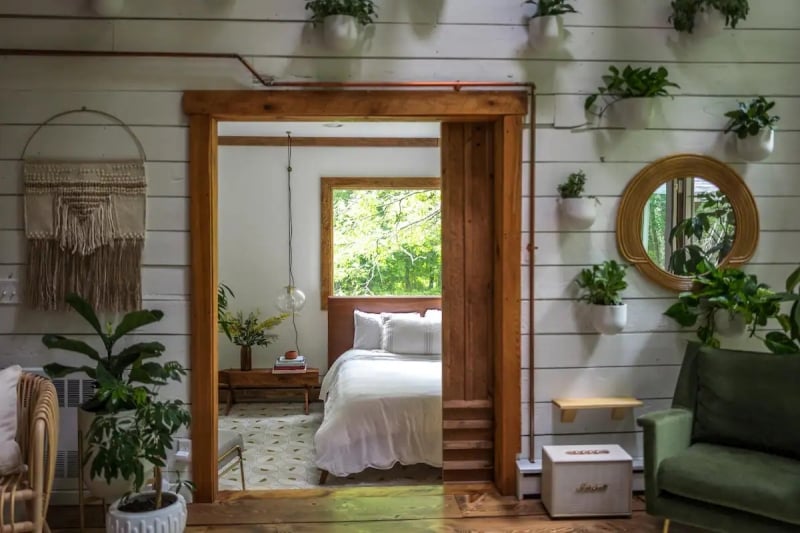 Listing name: The Barnhouse – Ski House near Hunter and Windham
Listing type: Entire cabin
Max. no. of guests: 8
No. of bedrooms: 4
Although Hunter Barnhouse was built in 1845, there's nothing dated about this recently renovated upstate Airbnb in Jewett. Modern yet homey, it's an escape many travellers will find easy to love. Expect beautiful wood furnishings, large windows filling the rooms with sunlight, and an abundance of indoor plants. 
Anyone visiting Upstate New York for outdoor pursuits will find this the perfect base for their year-round adventures. Here, nature lovers can hike nearby trails during warm-weather months, and then hit the slopes come wintertime. That said, Hunter Barnhouse is well-appointed for guests who'd rather stay in, too. There are board games, books, and Netflix, plus a hot tub and a fire pit — more than enough to occupy you for an entire weekend!
4. This secluded treehouse to relax and disconnect from the world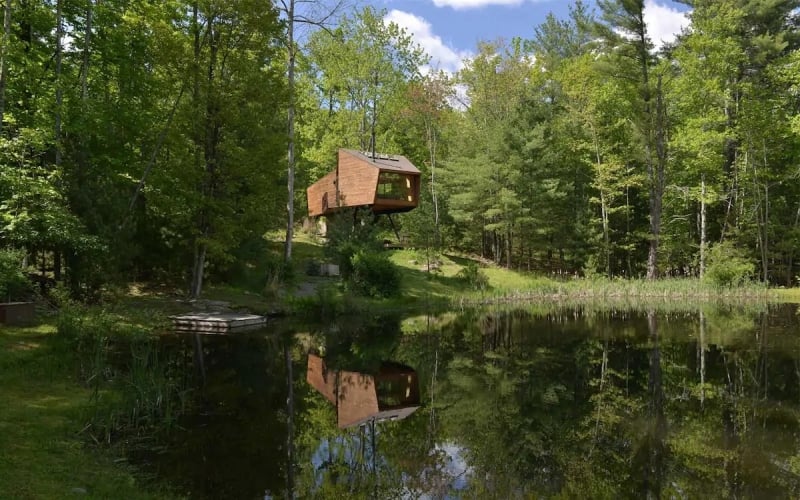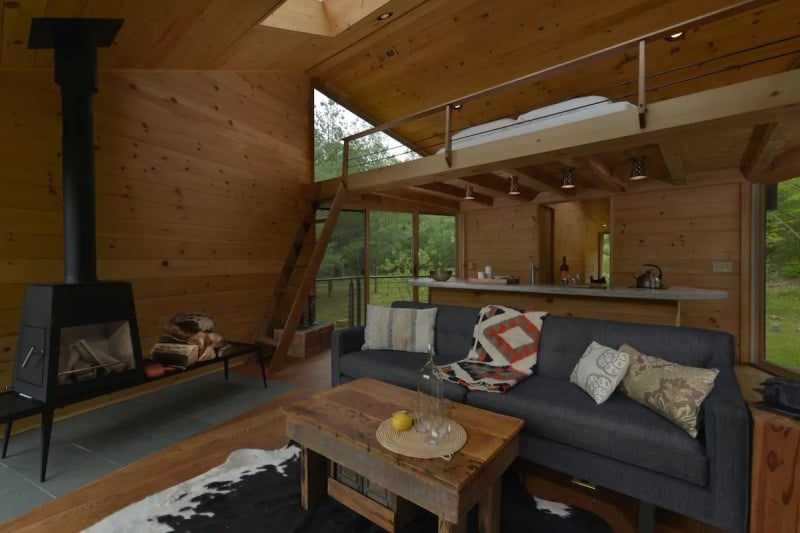 Listing name: Willow Treehouse – secluded, unique, romantic
Listing type: Treehouse
Max. no. of guests: 2
No. of bedrooms: 1 
No WiFi, no cellphone service, no Netflix — this unique treehouse in Willow invites travellers to completely unplug. It's tucked away in a secluded wooded area, perched among the trees and on the banks of a small pond. Here, there's nothing to do but sleep, eat, relax, and maybe jump into the pond on especially hot summer days.
This eye-catching treehouse Airbnb in Upstate New York has impressive touches you won't typically find in a rustic cabin, including a hot tub. Beautiful modern interiors and high-quality furnishings make the place an Instagrammer's dream retreat. And while it's hidden away from the crowds, the treehouse is just a 15-minute drive from the town of Woodstock where there's easy access to dining, shopping, and hiking spots. 
5. This off-grid container cabin in the Catskills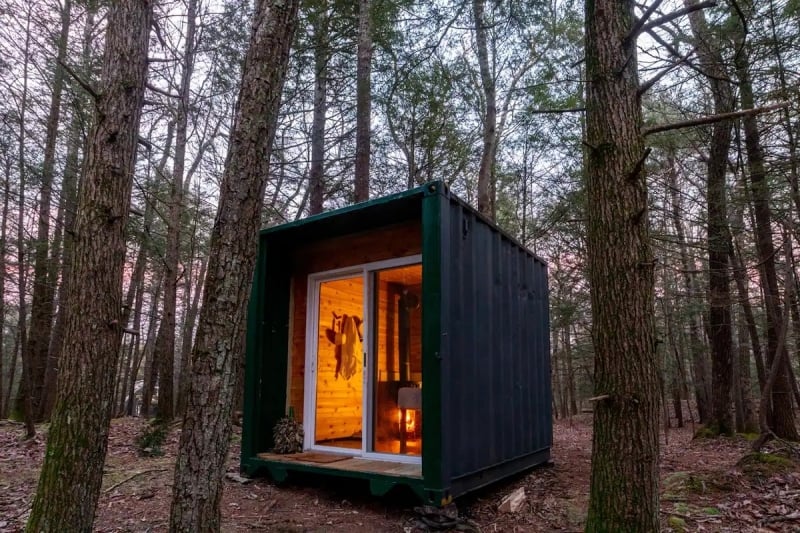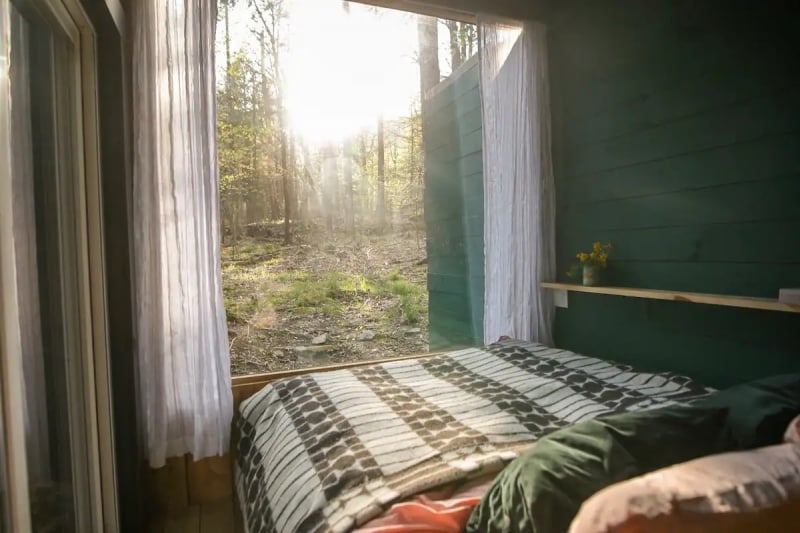 Listing name: 40-Foot Container Cabin in the Catskills
Listing type: Entire cabin
Max. no. of guests: 4
No. of bedrooms: 1 
Travellers on the lookout for Airbnbs in Upstate New York that take them off the beaten path will enjoy this 40-foot container cabin set in the heart of Catskills wilderness. It's made for explorers drawn to nature, with delightful sights you won't find in the urban jungle, from deer roaming the property in the early morning light to countless shooting stars streaking across the sky at night.
While a few amenities in the Airbnb are basic — like, a compost toilet — you'll find that this Upstate NY cabin is packed with some luxuries, too. There's a sauna, as well as a wood-fired hot tub that's a blissful treat on cooler months in the Catskills. Booking for two? Opt for the tiny home that's available on the same property.
6. This beautiful hilltop studio for calm vacations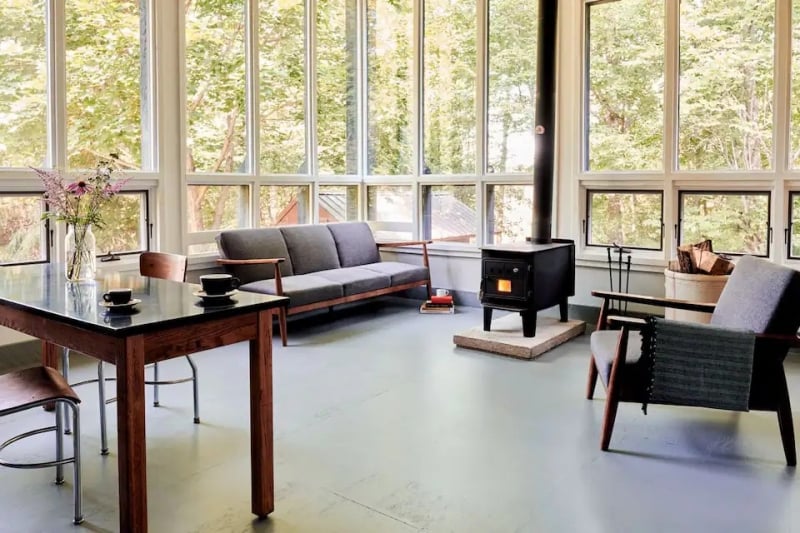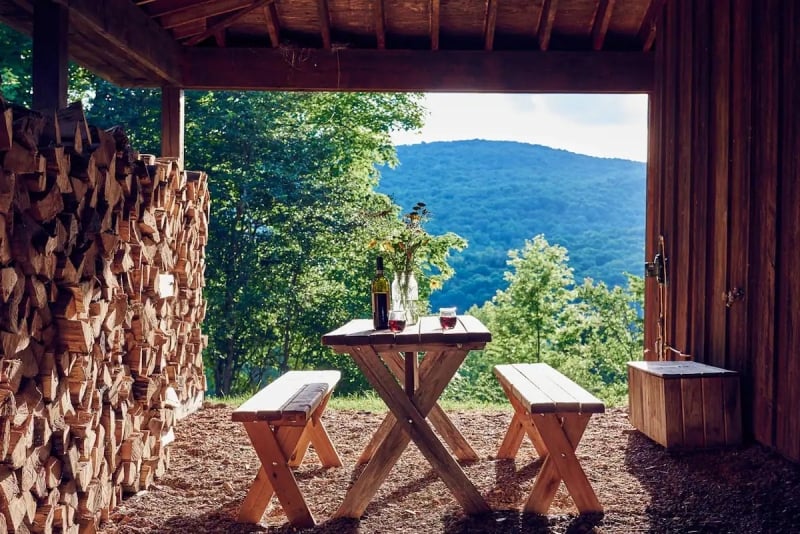 Listing name: Table on Ten Studio on the Hill
Listing type: Entire home
Max. no. of guests: 4
No. of bedrooms: 2 
Meet this contemporary hilltop studio in South Kortright, the kind of Airbnb in Upstate New York that anyone will appreciate. Need to work remotely? There's reliable WiFi, and the mountainside quiet will do wonders for your productivity. Travelling with the family? 23 acres of private meadows and woodland extend outside the doorstep for exploration. Eager to indulge in sports? Hiking, cycling, skiing, and snowshoeing opportunities abound. At the same time, you don't have to leave the property for impressive sights: Witness beautiful sunsets every day through the forest clearing. 
7. This charm-filled upstate Airbnb near the Hudson River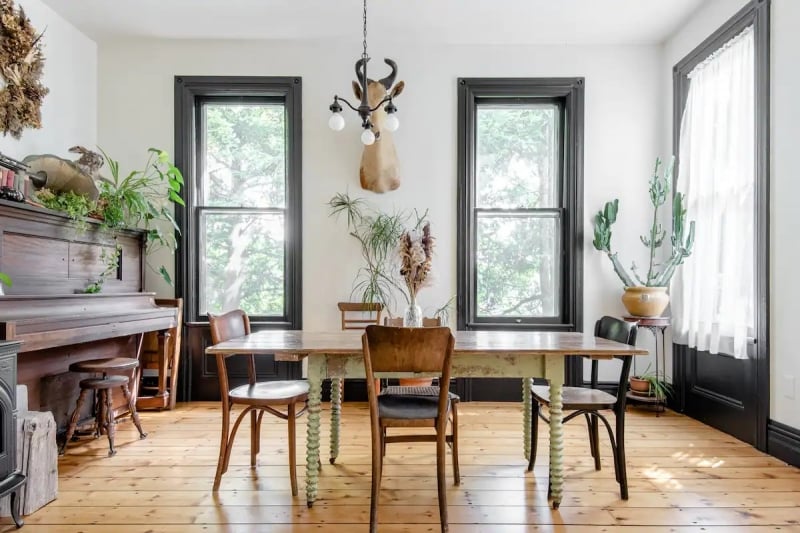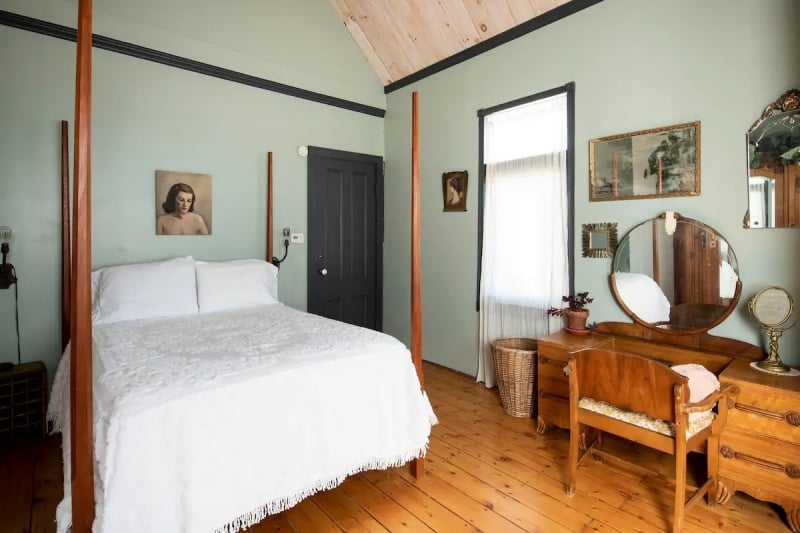 Listing name: Victorian Hudson River Jungalow in Historic Coxsackie
Listing type: Entire home
Max. no. of guests: 4
No. of bedrooms: 2 
A relaxing getaway awaits at this wonderfully restored Queen Anne Victorian-style house from the 1880s. The authentic Art Deco kitchen is the highlight of this Airbnb, with the decorative antique stove. But there's plenty to love here, from the bright dining area decorated with various knick-knacks to the sunny backyard with a fire pit for roasting marshmallows at night. 
If you're not so keen on going off-grid, this vintage home is one of the Airbnbs in Upstate New York on our list that won't take you away from civilization. It's nestled in a laidback residential area in Coxsackie, a languid stroll from the park and the famous Hudson River. Outdoorsy activities are a quick drive away, but the town offers plenty of charming spots to explore, from historic brick buildings to quiet little cafes. 
8. This stunning church-turned-Airbnb in Upstate New York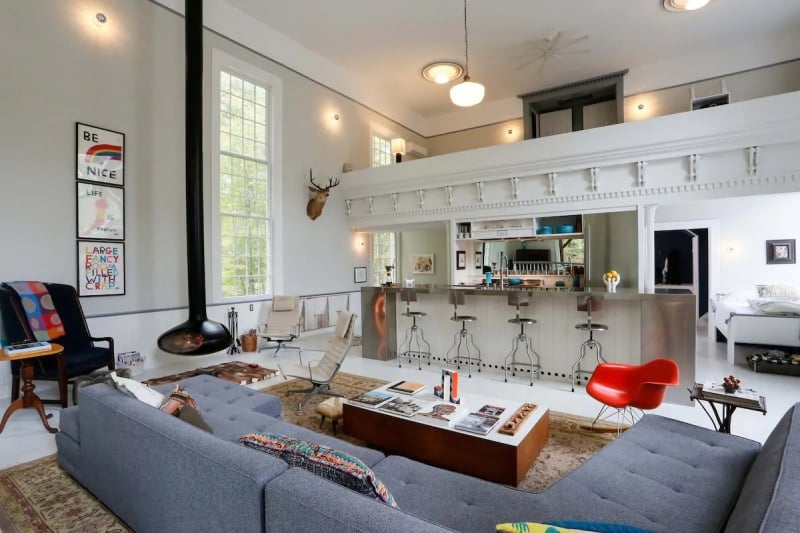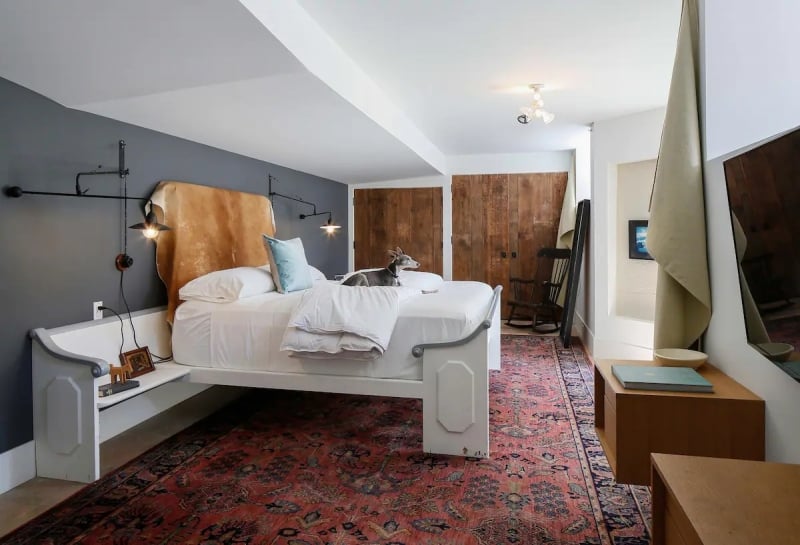 Listing name: Phillipsport Church House
Listing type: Entire home
Max. no. of guests: 6
No. of bedrooms: 5 
Saying a little prayer for a good Upstate New York Airbnb? For a one-of-a-kind retreat, take this old church originally built in 1823 that's been masterfully converted into a modern rental that's fit even for the most discerning traveller. 
This is an absolutely divine pick for groups, with five spacious bedrooms, a chef's kitchen, a loft, and even a fire pit with Adirondack chairs. You're bound to spot cool details hinting at the building's holy past, such as the choir loft. But perhaps most charming of all, there are cheeky nods to the building's past: a working organ in the corner, for one, and a witty sign that reads "House of Dog."
9. This tranquil lake house in Greenwood Lake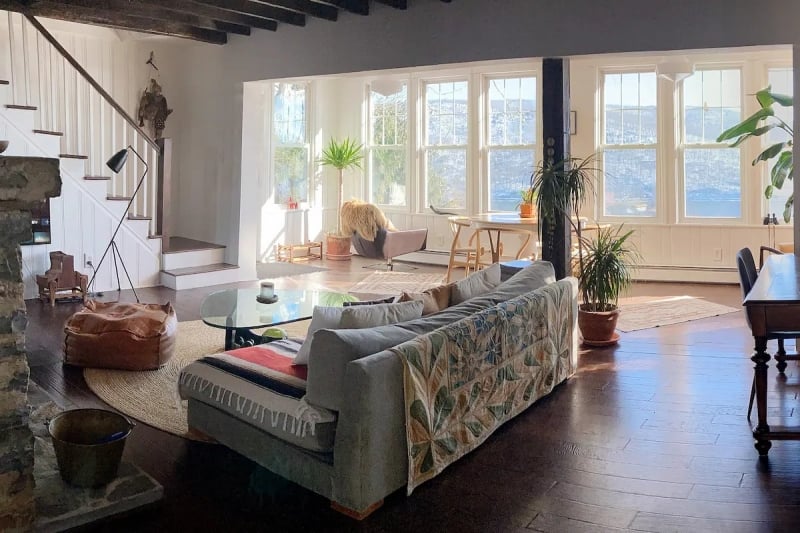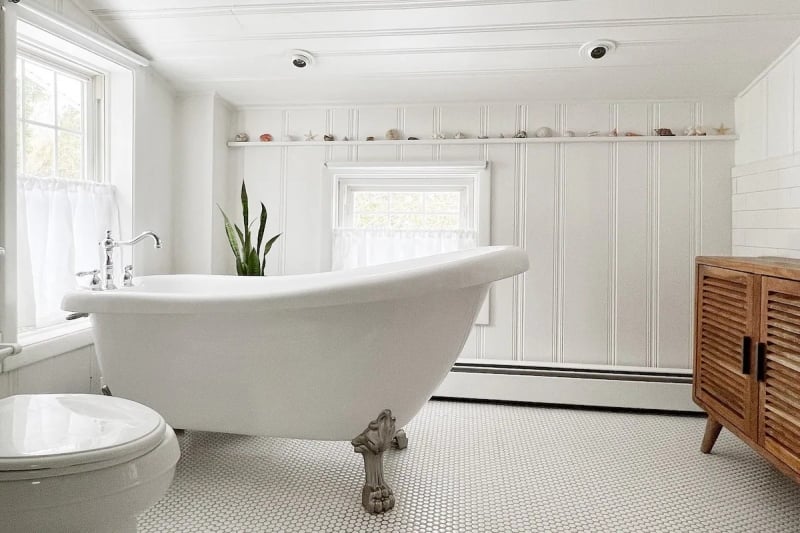 Listing name: Spectacular Lake Views from Every Room & Garden
Listing type: Entire home
Max. no. of guests: 4
No. of bedrooms: 2 
Few Airbnbs in Upstate New York are as relaxing as this two-bedroom waterfront oasis in the village of Greenwood Lake. You'll find scenic views of the lake itself and gardens in every room, along with lovely touches including a fireplace, a smart TV, and a clawfoot tub in the bathroom. 
Best of all, this upstate Airbnb is part of a community that enjoys access to a private beach. Prefer adventures away from the water? Take a walk to the Appalachian Trail, or enjoy thrilling ski runs nearby. If you're more interested in calmer pursuits, there is also a nice selection of antique shops and wineries in the area. 
10. This luxurious floating farmhouse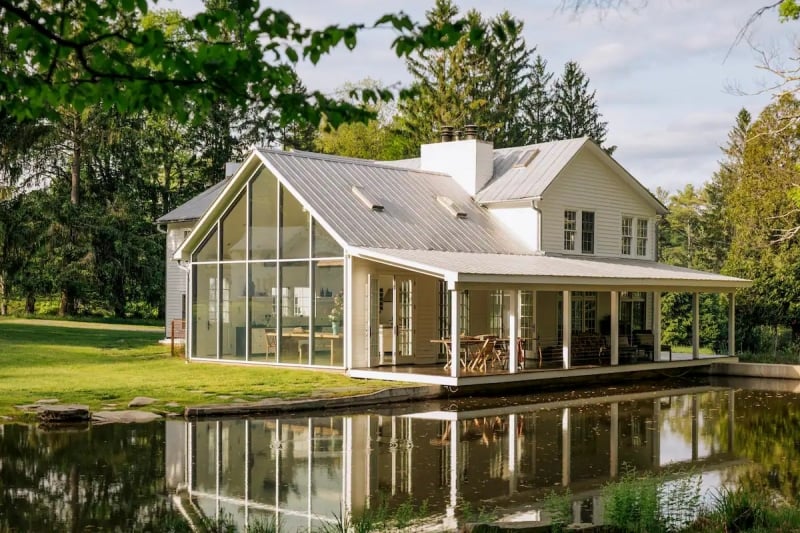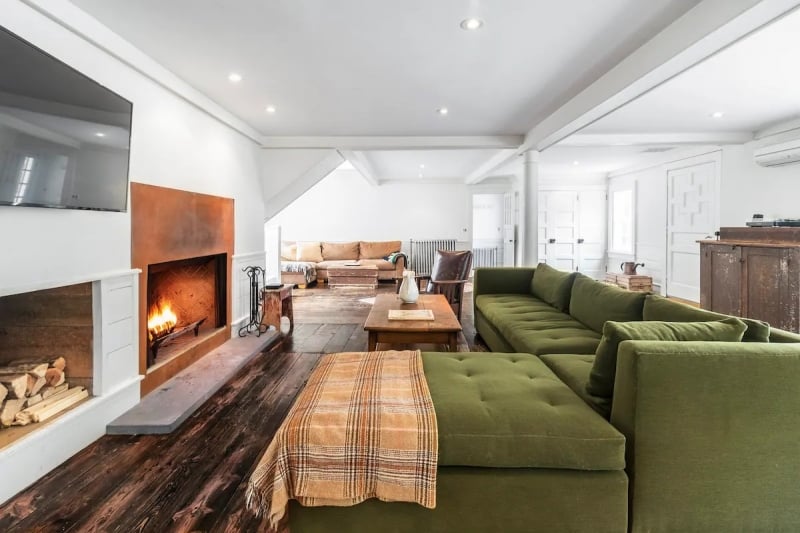 Listing name: Floating Farmhouse
Listing type: Luxury stay
Max. no. of guests: 11
No. of bedrooms: 5 
Willing to splurge on an Upstate New York Airbnb? Here's a luxe stay in Eldred that spares no expense. It promises a five-star family vacation, with beautifully appointed bedrooms, a full kitchen with a wood-fire pizza oven, and sprawling outdoors that will make you feel like royalty on your own private estate. Spend your days fishing or rowing, then wind down at night with a glass of wine in the alfresco dining area. Sounds like a dream out-of-town escape, right?
Also read: 12 Coolest Airbnbs in New York City for Every Traveller
If you're headed to explore more NY gems, there are plenty of Airbnbs in Upstate New York to stay at. From rustic farmhouses to more offbeat stays that make for a one-of-a-kind getaway, you'll have your pick of serene escapes near the city. So, which Upstate New York Airbnb are you eyeing for your next trip? 
Got a property you'd like TripZilla to feature? Inquire with us here.
---
This article contains affiliate links. When you book through these links, we may earn a small commission at no additional cost to you. All images courtesy of the respective property listings.