Just like anyone yearning to travel again after so long, my boyfriend and I decided to take this chance to visit Europe for our first time. What's more, working in the travel industry drew me to visit Gaudí's works in Barcelona and the piazzas and basilicas of Italy — so it was easy enough to figure out which European countries we'd be heading to first. That said, here are all my travel tips if you're thinking about travelling to Europe soon! 

The importance of planning ahead
Deciding your route
First off, on top of deciding which cities we'd be going to, we had to plan the route as well. The cheapest option was the Milan > Florence > Rome > Barcelona route, which means plenty of pre-booking done in advance. 
Trenitalia was the recommended train company for inter-city travel within Italy, while Ryanair offered the most affordable flights within Europe. 
Accommodation
Of course, another important thing to decide is where you'll be staying. Four cities meant four different accommodations; thus, my biggest travel tip is to ensure that at least one of these accommodations is a vacation apartment with a washing machine. This way, you won't have to pack so many clothes when travelling to Europe (especially if it's a two-week trip or longer).
On that same note, Airbnbs and hotels also don't differ that much in price, at least during peak tourist seasons (like the summer). That is why it's better to book a hotel for the added security and housekeeping services. Just make sure the reviews on the booking site and Google are at least 3.8 stars.  
Visiting Europe tourist attractions
Unfortunately, since these popular cities in Europe are known for their tourist attractions, pre-booking tickets has to be done in advance as well. Besides, securing your slot is also mandatory for crowd control purposes. 
So rest assured, while it might seem like you're making a lot of advance payment, you won't have to worry so much when you're at the destination itself. Put simply, with guaranteed entry to your bookmarked tourist attractions, you can explore with a stress-free mind; most importantly, you have a place to rest at night. 
Be prepared for anything
Stay hydrated
If you're like me and you drink a lot of water (especially if you live in the tropics), you might be disappointed to know that many hotels (at least where we were) don't provide a kettle or complimentary water. So, be sure to stock up on bottled water from the supermarkets. 
Fun fact: There are no 7-Elevens in Spain and Italy, so look out for a Carrefour instead. 
On mask wearing
While masks are no longer mandated in both Spain and Italy (except for hospitals, nursing homes, and some public transport), you might still want to pack a few with you. The Europe tourist attractions we went to were very crowded, and we found ourselves wearing a mask especially within enclosed spaces. What's more, the Trenitalia trains require everyone to wear FFP2 masks — so make sure you buy the correct ones. 
On overcoming the language barrier
You'll be happy to know that in tourist-populated cities, many locals speak English — especially if you're at tourist attractions or the restaurants and shops nearby. 
However, there is an upside to restaurants whose owners only speak (or whose menu is in) the local language: You'll be in for an authentic and delicious meal. But of course, it certainly helps to pick up a few simple phrases in the local language! For me, just getting by on ciao, buenas noches, and gracias was enough to see the smiles of the people who served me — it made my time overseas that more special. 
Pro tip: If an eatery has menus in both English and the local language, ask for both and compare the prices to ensure you're being billed correctly. 
Also read: 50 Essential Spanish Phrases for Your Next Vacation
Contactless payment
Admittedly, I was initially worried that I only had €350 cash on me during my two weeks of travelling in Europe. However, every establishment we went to (even traditional family-owned restaurants) adopted contactless payment. Thus, we got by just using YouTrip or Revolut! 
Pro tip: Use YouTrip on the weekends, as the conversion rates are better then. 
Know what you're going there for
For some people travelling to Europe, planning the itinerary is perhaps the most fun part of any trip. This could be as simple as deciding where to visit, all the way to breaking down the schedule for each day. My spontaneity led me to stop at the former, so that I had the freedom to change my plans if I wanted to. 
Milan: A shopping paradise
First things first: if you're looking for architecture and history, Milan might not be the most exciting. Aside from the Duomo di Milano, the rest of the city thrives with shopping malls and streets filled with boutiques — which no doubt would be perfect if you're planning to shop. 
 Of course, Milan also makes a great point from which you can travel to Venice. These cities lie in the north of Italy, and it's a 2.5-hour train ride away. Unfortunately, as Milan was our first destination after a 14-hour journey from Singapore, we didn't manage to make that journey. 
Pro tip: Set aside your first day to rest and adjust to the jetlag. Don't plan on cramming your itinerary right from the get-go. 
Florence: A history buff's haven
With basilicas and museums everywhere, I already expected to fall in love with Florence. The Uffizi Gallery and Accademia Gallery might only hold one-floor's worth of exhibits, but don't let that fool you; the labyrinth of rooms and corridors is enough to make you spend anywhere from two to four hours here. 
Luckily, there is a way to save money: I advise against paying to enter a basilica, at least in Florence and Rome. These cities have a number of free-to-enter basilicas, and are a great place to keep away from the summer heat or to take a break from walking around. Besides, the astonishingly grand interiors and frescoes should be enough reason for you to step inside! I recommend Basilica di San Marco in Florence and Sant'Ignazio di Loyola in Rome. 
Just remember that as a basilica, you'll need to remain quiet and respectful of those in prayer here. So, you can sit on a pew, but be mindful not to put your feet up on the kneeler. 
Rome: An abundance of tourist attractions
As the capital city of Italy, I knew to expect the most tourists here. Not only was this true, but tourist attractions like the Colosseum, Pantheon, Trevi Fountain, and Vatican City surprised us with its crowds even more. 
On that note, I also knew that it'd be difficult to snap photos in these places. Just decide whether you have the patience to wait for people to pass — or if you're willing to capture a photo with many people in it. Sometimes, the latter is unavoidable, especially at Piazza di Spagna where the famous Spanish Steps lie. 
Barcelona: A big city with plenty of landmarks
It wouldn't be time well spent in Barcelona without visiting at least one of Gaudí's works. That being said, his landmarks (La Sagrada Familia, Casa Batlló, Casa Milà, and Park Güell — to name a few) all require an entry fee. 
Pro tip: If you're planning on visiting more than one landmark, opt for a packaged ticket, which is available on many booking sites. Keep in mind that this will range between S$100 and S$300. 
Since our spending had already accumulated a fair bit, we didn't opt for the package. Instead, we only paid to enter La Sagrada Familia. The architecture was already spellbindingly intricate from the outside; as soon as we entered with an audio-guided tour, we were treated to an amalgamation of colourful glass stained windows and majestic arches — certainly unlike anything we'd seen before. 
Another must-visit Barcelona attraction is Camp Nou: Europe's largest stadium. It's a little out of the way, so be sure to set aside an entire day. I might've come here not knowing anything about FC Barcelona, but all that was about to change. From spending two hours alone at the museum to being blown away by how big the stadium was, I certainly left an FC Barcelona fan! (My boyfriend was very happy about that). 
Know how to enjoy the city
1. Be wary of travel scams
Perhaps my biggest piece of advice: Know what to look out for so that you'll know how to properly enjoy the city. The sad truth is that as beautiful as Barcelona and other cities in Europe are, these places can be notorious for pickpockets and scammers. However, that shouldn't deter you from falling in love with the city, with its stunning architecture, parks, and piazzas. So, as long as you always stay aware of your surroundings, you can have a good time. 
Here are just some things to look out for, especially at Europe tourist attractions, piazzas, and train stations: 
Those who bump into you, especially if it's not crowded. Check your belongings and pockets after. 

Painters who leave their work on the floor. If you step on the paintings (which you might at crowded places), you'll have to pay for their artwork.

Those walking around with a camera offering to take a picture for you. If they do, they'll ask you to pay for the photo. 

People carrying bracelets. If you're unaware, these people will place a bracelet around your wrist and demand that you buy it. 

People selling water and sunglasses at a marked up price, especially where it's hot and crowded. 

People carrying a clipboard asking you to sign a petition. Be extra careful of them, as your personal information might be misused. 
Also read: Travel Scams: 8 Real Travellers Share Their Horror Stories
2. Explore on two feet
How did we avoid being pickpocketed? We chose walking as my main mode of transport! 
This way, we also didn't feel too guilty about eating too much pizza, pasta, tiramisu, and sandwiches; not to mention, drinking too much sangria. Anyway, walking is really the best way to explore any city. You can take a detour if you'd like, and stop anywhere to snap a pretty picture. 
Walking also made us realise that Florence was our favourite city. Every corner was a sight to behold, where old buildings and piazzas with statues and fountains were aplenty. This led us to find all three Statues of David, as well as be immersed in the atmosphere of excited tourists and smiling faces. 
Pro tip: If you do choose to walk everywhere, pack comfortable shoes. Heels and sandals might look pretty for your OOTD, but it's not worth the pain and discomfort as the terrain is bumpy and uneven. The summer is also quite sunny, so don't forget to bring along a pair of sunglasses!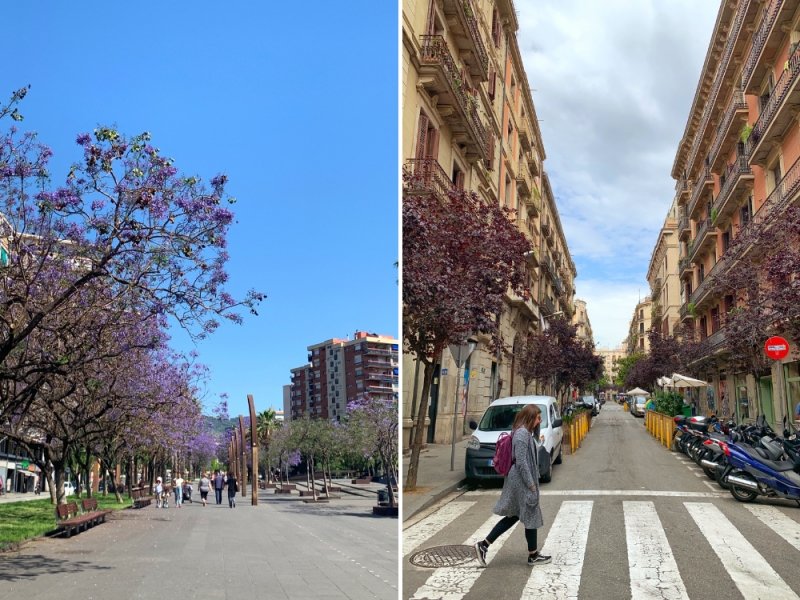 Barcelona's La Rambla — a 1.3-kilometre long symmetrical walkway between El Raval and Gothic Quarter — is absolutely stunning during the day. Think jacaranda trees, tram lines, and clear skies, where every angle beckons to be captured. Just take note: One, don't eat at any of the restaurants along here, as these are tourist traps serving expensive and/or mediocre food. Two, avoid the area at night, as people have witnessed catcalling or weed peddling here. 
3. Google Maps is your best friend
Aside from being an obvious navigational tool, Google Maps will also suggest the best restaurants near you — just search terms like "gambas," "tapas," or "carbonara"! We also found the Google reviews to be quite accurate; as long as the rating was 4.2 stars or higher, the food turned out to be really yummy. 
Google Maps in Barcelona was a bit confusing, as a diagonal road runs through the city. (Many times, we didn't know whether we were on this diagonal or a straight road). Just keep your eyes peeled on the landmarks and street signs! 
Do as the locals do
And of course, what is time spent in a new country if you don't do as the locals would?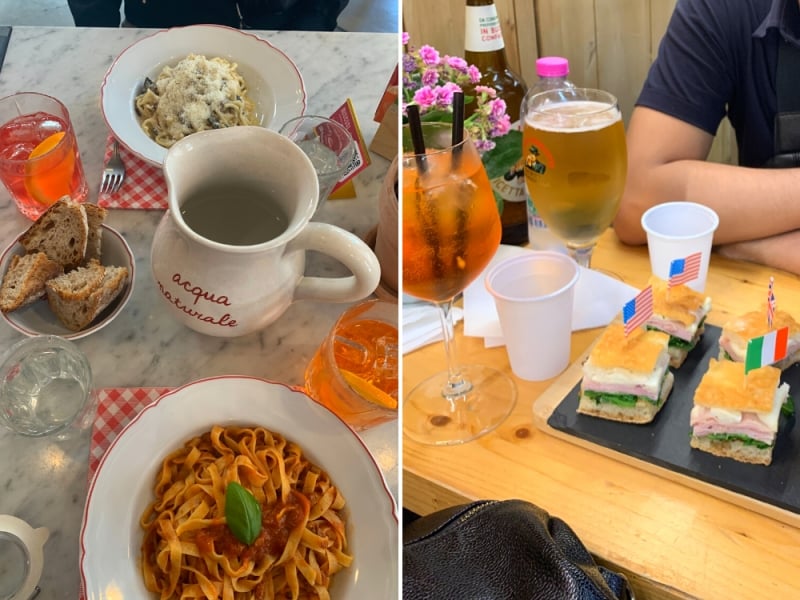 The Italians and Spanish have dinner quite late in the day: between 8pm and 9pm. Easily our favourite part of the day is between 5pm and 7pm, when the locals enjoy an aperitivo: a pre-meal drink. This is usually an order of aperitif (an aperol or campari liqueur topped with champagne) and a side of cheese, meat, and/or sandwiches — the latter free-of-charge at some places!
Pro tip: Search "aperitif" on Google Maps, and head to one ranked 4.7 stars or above. 
Final thoughts on travelling to Europe
Just as when we first arrived, we also made it a point to set aside my last few days to rest, or at least, to visit only one or two spots. This is something I've learned to do from my solo trip to Cambodia — and will continue to do for my future trips.
Alas, I still caught COVID-19 the next day after my flight back home. Right now, there's no point thinking about where I might have gotten it from — the crowded Vatican City, the airport, or the many other Europe tourist attractions. Either way, I would've still embarked on this trip without a second thought. 
To all of you travelling to Europe soon: Happy travels and stay safe! If you've got any interesting travel stories to Europe (or anywhere else, for that matter), we'd love to hear more about it! Reach out to us, and you may be our next Featured Traveller. 
---
All images credited to Cassandra Nerva and Eugene Yeo.