A new floral exhibit has made its way to the world's largest glass greenhouse in Singapore! From now till 30 Oct 2022, head to the Flower Dome at Gardens by the Bay for A Spanish Serenade with Sunflowers. 
This showcase of floral and architectural displays — a first-ever collaboration between Gardens by the Bay, the Embassy of Spain in Singapore, and the Spain Tourism Board — is dedicated to the unique landmarks and cultural highlights of Andalusia, a southern autonomous region of Spain. 
Every section of the greenhouse has been transformed into a piece of Andalusia, letting guests take a peek into what the vibrant region is like. That said, here's what you can expect at this limited-time-only display. 
Upon entering A Spanish Serenade with Sunflowers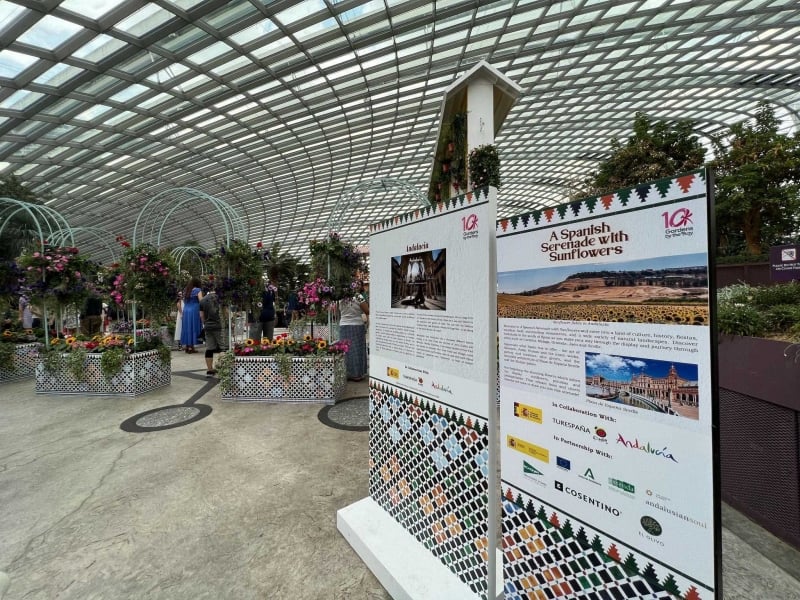 First thing to note: Don't worry if you come here not knowing much about Andalusia. There are informational signs scattered throughout to guide you. 
The first of these is located at the entrance, which gives you a brief overview about Andalusia and the exhibit. A Spanish Serenade with Sunflowers takes inspiration from five of Andalusia's cities: Seville, Granada, Malaga, Jaén, and Córdoba.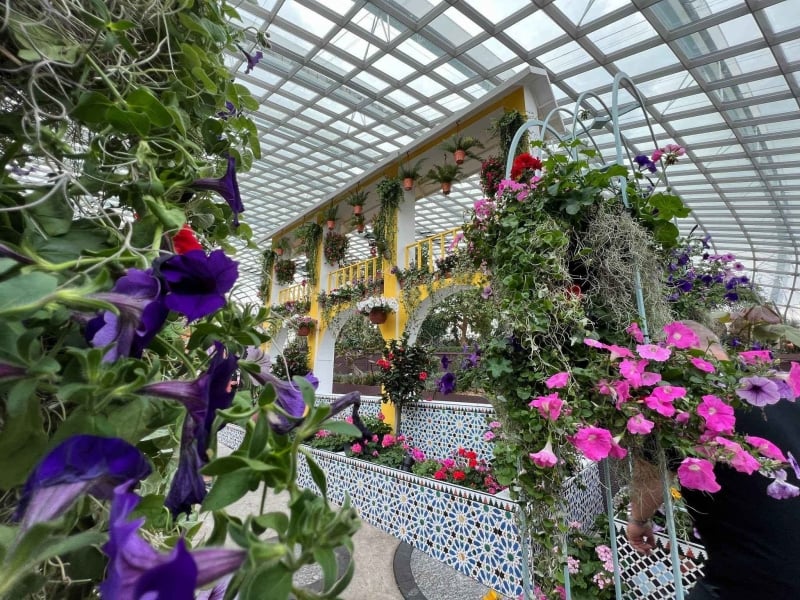 While you're standing here, look up at the bright yellow veranda accompanied by Andalusian mosaic tiles and floral arches; this setup is inspired by the entrance of traditional Andalusian houses. Along with this, notice the vivid display of flowers, sweet smells, and cool air all around. 
A peek into Andalusian culture at the Floral Dome of Gardens by the Bay
Central Garden
Chief among the displays is the Central Garden, which features a recreation of the renowned Patio de las Doncellas (Courtyard of the Maidens) of Spain's Royal Alcázar of Seville. This Mudéjar and Moorish architecturally styled courtyard includes a large rectangular reflecting pool in the middle and floral beds on either side — just like the UNESCO World Heritage Site in Seville.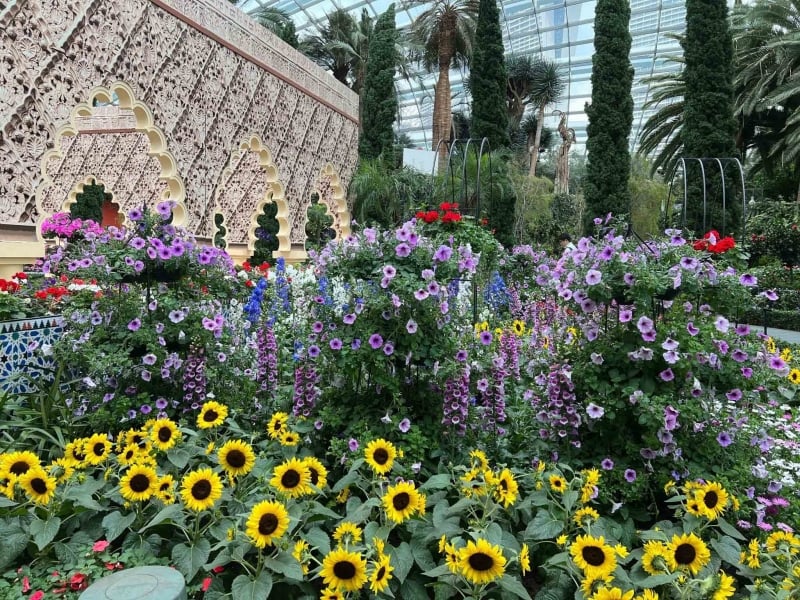 Plus, you can't miss the colourful flower fields surrounding this display! Consisting of sunflowers and other popular Spanish garden blooms like pelargoniums, petunias, roses, and camellias, this attractive spectacle is inspired by the Gardens of the Royal Alcázar of Seville. 
Also read: 10 Eye-Popping Flower Fields You'll Want To See In This Lifetime
Image credit: Gardens by the Bay
Then, snap a photo at this striking walkway dedicated to the patio houses of Córdoba. Fiesta de los Patios (Fiesta of the Patios), a 12-day annual cultural festival held every May, sees Córdoba residents decorating their patios with flowers, fountains, and ceramic pieces — for the title of most beautiful courtyard. 
In fact, this cultural festival first began in 1921; holding such significance, it's no surprise that the festival has even been inscribed into the UNESCO Representative List of the Intangible Cultural Heritage of Humanity.
South American Garden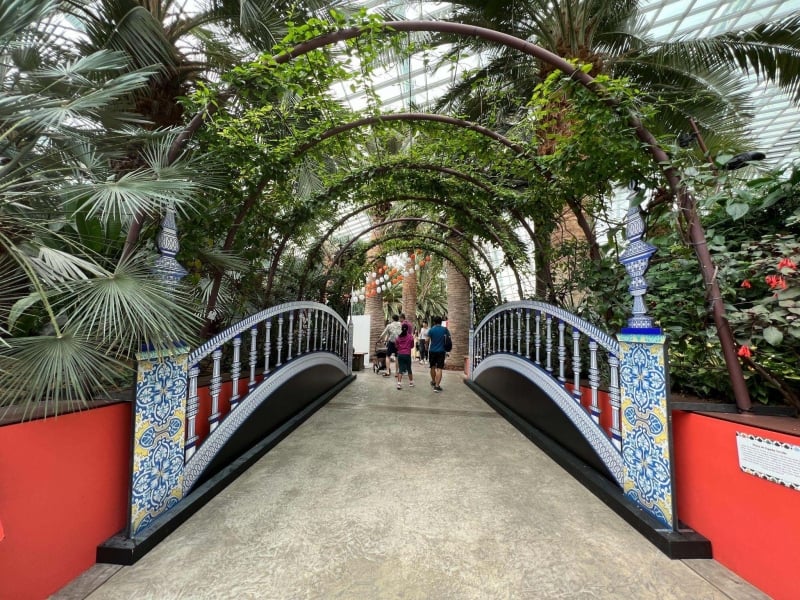 If you agree that picturesque archways make a wonderful photo op, then head to the South American Garden. Influenced by Seville's Plaza de España — one of Spain's most well-known plazas — this bridge is designed using the plaza's iconic hand-painted tiles.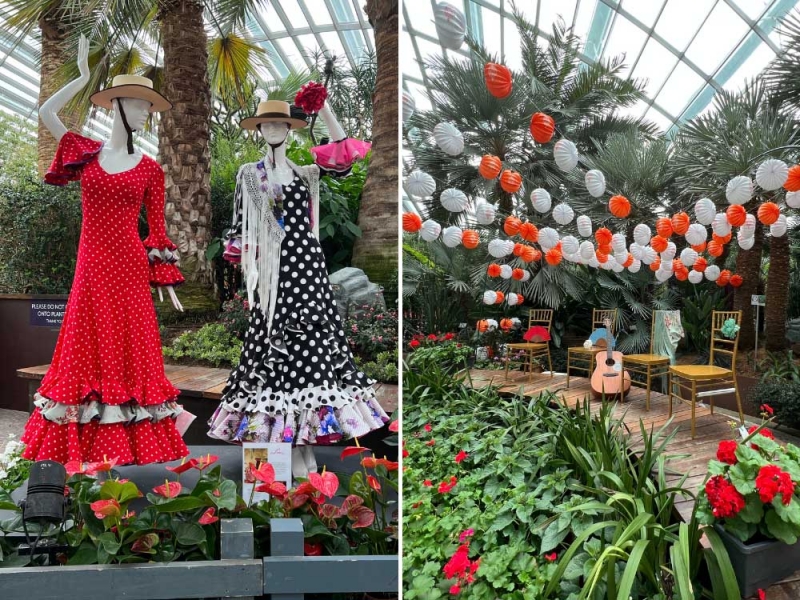 Within this space, you'll get to learn about Flamenco, one of the most renowned dances in Spain — also part of the UNESCO Representative List of the Intangible Cultural Heritage of Humanity. In fact, Flamenco has over two centuries of history, and it originated in southern Spain (Andalusia and Murcia)! 
Fun fact: Flamenco is a combination of vocal music, dance, and music accompaniment (cante, baile, and toque respectively). Typical instruments include clapping, guitar, castanets, and cajón flamenco (a box-shaped percussion instrument). 
Also, take a look at dress displays here, which are symbolic of the fashion culture of Andalusia. The dresses, hats, and fun fans could also work as ideas for shopping! 
Mediterranean Garden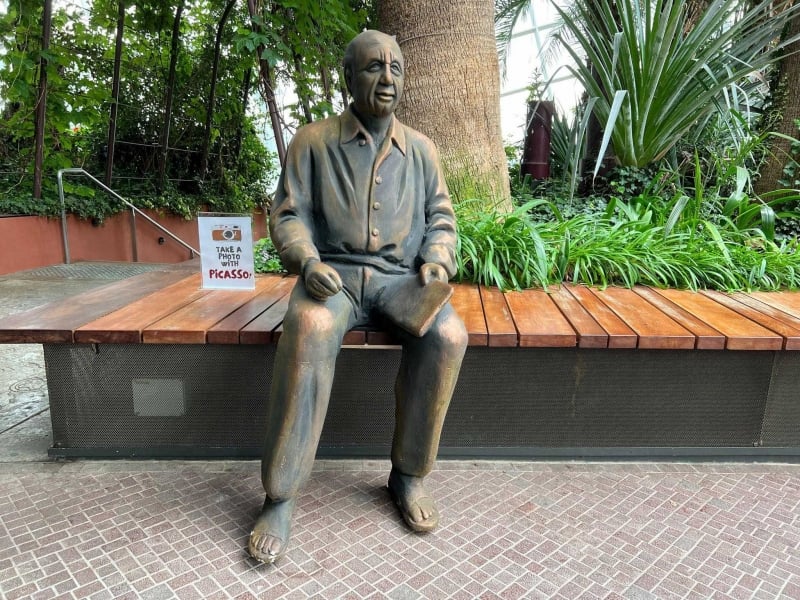 Statues always make for a fun photo (especially when it's encouraged to pose with one)! So, make sure to strike a pose with the Pablo Picasso statue at the Mediterranean Garden. 
This statue is modelled after the one in Malaga's Plaza de la Merced; incidentally, the same city where the influential artist was born and spent most of his childhood. Here, you can learn how the city served as the canvas and inspiration for his artwork. 
At the same time, discover the practice of pottery in Granada. Dating back to the 12th century (during the Muslim rule of Andalusia), these ceramics have come to be the perfect representation of the city's rich history, borrowing Christian, Muslim, and Arabic influences. 
You'll spot motifs like flowers, birds, and plants; and most notably the pomegranate, the symbol and namesake of Granada (pomegranate tree).
Olive Museum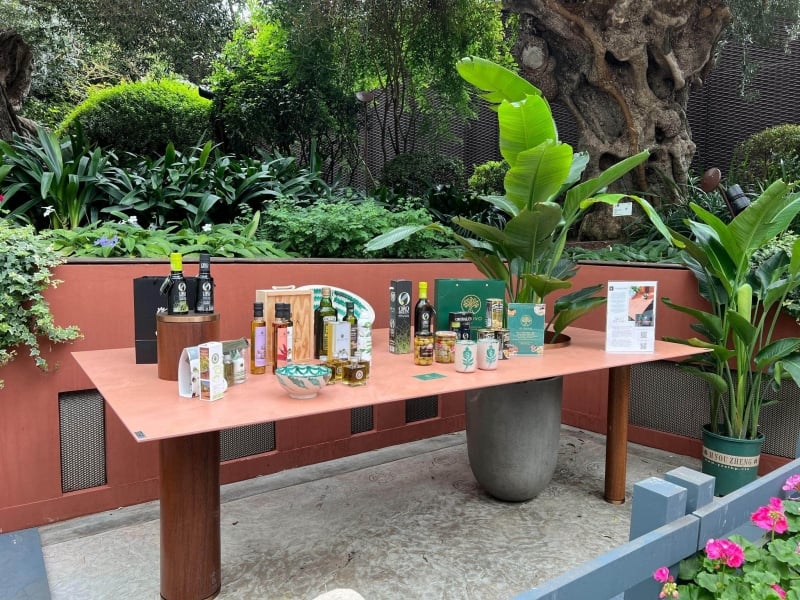 If you've been to the Flower Dome before, you might've already seen the Olive Grove. Luckily, with Spain being the world's largest producer of olive oil, this area has been transformed into an Olive Museum instead! 
Here, guests can learn about the cultivation, production, and consumption of olive oil; and how it has come to be a symbol of Mediterranean culture. The olive grove landscape of Andalusia is currently on the UNESCO Tentative List of Cultural Heritage (with hopes to be a World Heritage Site one day). 
Fun fact: Spain has the most olive trees in the world, with most of these concentrated in the south of Andalusia, specifically in Jaén. As a matter of fact, there are over 60 million olive trees in the city alone! 
What else to expect at A Spanish Serenade with Sunflowers 
Performances and workshops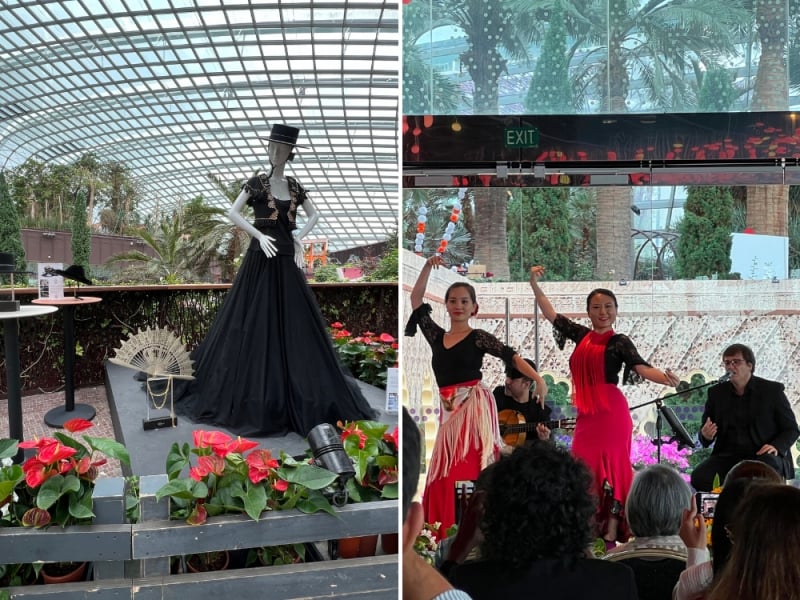 In addition to the exhibit, guests can also look forward to performances at A Spanish Serenade with Sunflowers! A Flamenco showcase will be held on 23 Oct 2022 at the Flower Field Hall; plus, a Spanish violin and guitar duo will perform at the Supertree Grove on 14 Oct 2022.
These performances are free, but pre-registration is required by clicking here. For the full Andalusian experience, why not schedule your visit to A Spanish Serenade with Sunflowers on either of the two dates? 
For little ones, sign up for a craft workshop to make your very own sunflower bookmark or coaster at just S$12 per 15-minute session! Dates for these are 15 and 16 Oct 2022. Find out more here. 
Giveaway
The icing on the cake at A Spanish Serenade with Sunflowers? Standing a chance to win a LOEWE luxury pouch from El Corte Ingles, or Spanish dining vouchers at Tapas Club from Spain Tourism Board.
Follow the mechanics to enter the giveaway: 
1. Capture your best OOTD shot at A Spanish Serenade with Sunflowers, and upload it onto Instagram from now till 30 Oct 2022. 
2. In your caption, tell us what you enjoyed most about this floral display. 
3. Tag @gardensbythebay @elcorteinglesluxe @spain in your post and include the hashtags #GardensbytheBay #ASpanishSerenadeWithSunflowersGBB #ElCorteInglesLuxe in your post. 
Terms and Conditions apply. For more information, visit this site. 
What are you waiting for? With the event happening 9am to 9pm daily from now till 30 Oct 2022, hurry down to the Flower Dome at Gardens by the Bay now to enjoy A Spanish Serenade with Sunflowers before it ends! Admission charge to the Flower Dome applies. 
Buy your tickets and find out more here!
---
Brought to you by Spain Tourism Board.