I don't know about you, but the term "Business Class" has always remained elusive to me. It barely crosses my mind as I scour for plane tickets every time I travel. For the average person, it remains in a separate entity of "luxury goals to aim for… but not currently attainable". So, imagine my excitement when I found out that I would be flying on Cathay Pacific's Business Class…and to SPAIN, no less!
I've flown Cathay Pacific's economy class before and it was definitely a favourable and smooth experience. Plus, all transits are in Hong Kong where you have plenty of shops, dining, and entertainment options right at your feet, so you don't have to worry about how you're going to pass those long transit hours. But with Business Class, I was eager to find out how they would take the entire flight experience UP TO THE NEXT LEVEL. And boy, was I pleasantly surprised!
Psst…I also have to admit, the thrill of sauntering past the snaking queue of passengers at the Economy Class entrance, and waltzing through the Business Class entrance was a little too satisfying.
#1: SG > Hong Kong (Transit)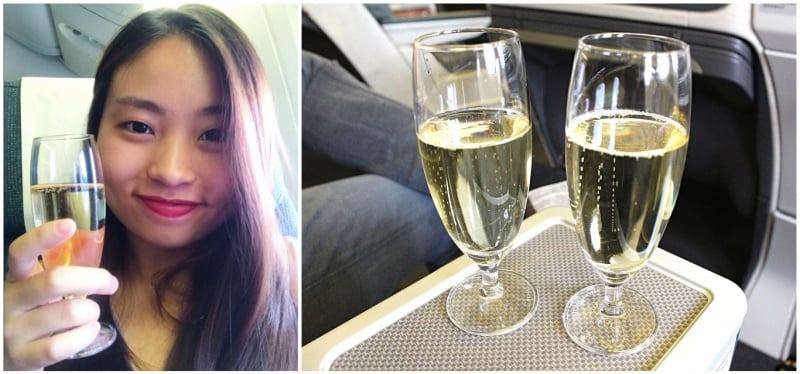 There's nothing like a hearty welcome the moment you board the plane. Oh yes and champagne, of course! A refreshing glass of bubbly was exactly what I needed to kickstart my travel adventure.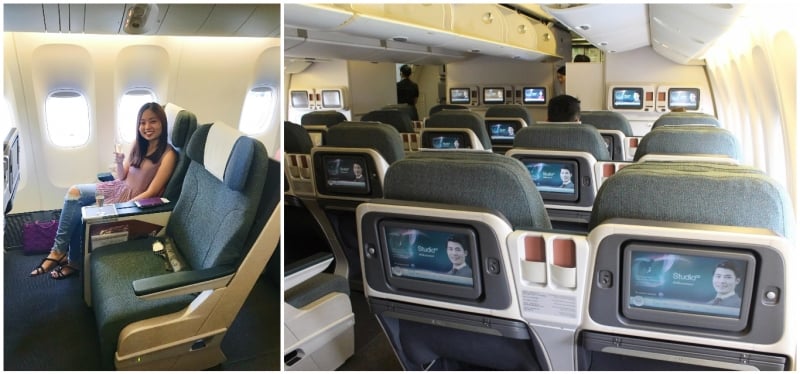 The first leg of my trip was from Singapore to Hong Kong, which was a mere 3 hours and 55 minute flight. I was onboard the Boeing 777-200/200ER which featured spacious recliner seats. Ample leg room, check. The overhead compartment was also more than sufficient for whatever little baggage we carried.
Once we were all settled in, and happily cocooned under the warm blanket in our comfy seats, I had a short nap before waking up to the delicious aroma of cheese and ham wafting through the aisles. Ah, it was dinnertime!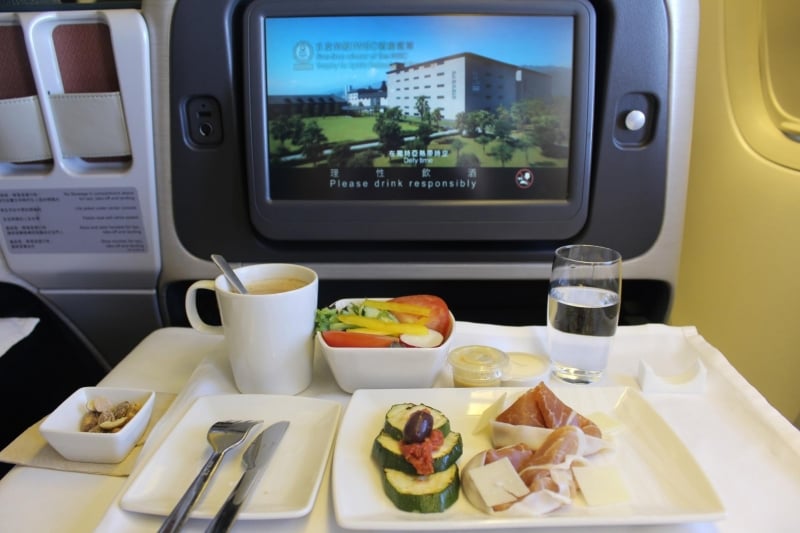 For starters, we had Prosciutto and Parmesan cheese, grilled zucchini and sundried tomato coulis, as well as Mesclun salad with Japanese cucumber, radish, and tomato Miso dressing. It certainly whet my appetite! Oh, and we had a wide selection of bread to choose from as well. To my delight, they even had my favourite – Garlic Bread! I wiped them off my plate within minutes, patiently waiting for my main course to arrive next.

That unassuming drink on the left by the way, is Hong Kong style milk tea! I'm no caffeine addict, but milk tea?! It's my one true love. I had to do a double take when I spotted it under the drinks list in the dining menu. Needless to say, I shamelessly asked for multiple servings of milk tea throughout the entire flight. There are no words to describe that blissful warmth that spreads all over your body as you gulp down a hot and frothy cup of Hong Kong milk tea at 30,000 feet above ground.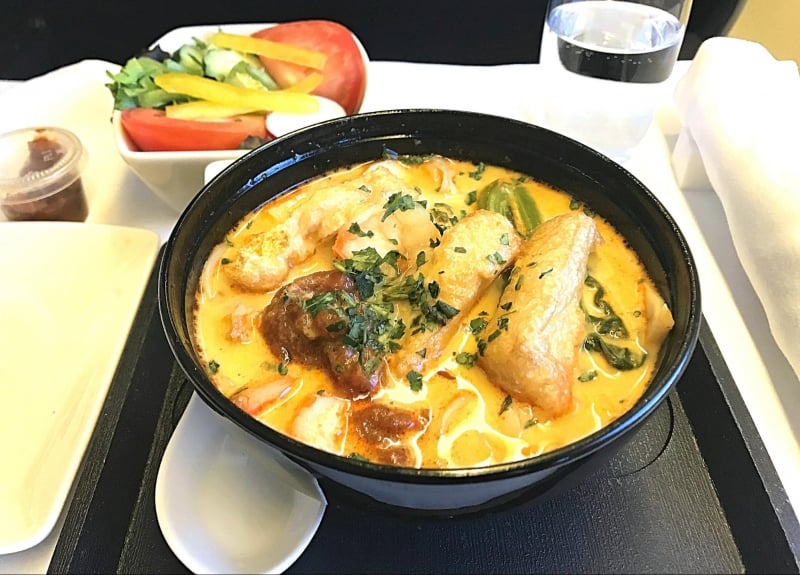 As for my main course… It was a piping hot bowl of LAKSA! Amazing or what? The spicy yet tangy laksa gravy just slid down my throat so smoothly, coupled with generous portions of juicy prawns and fish cakes. Proud to say that I happily slurped up EVERY. SINGLE. DROP.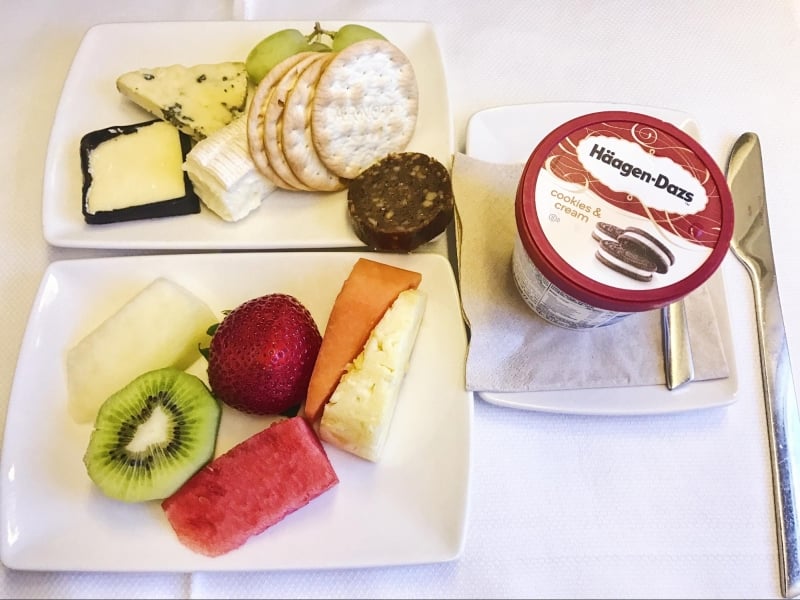 For dessert, we had a splendid assortment of cheese and fruits, alongside a serving of deliciously sinful cookies and cream ice cream from Haagen Dazs. YUM!
The Pier: Cathay Pacific's (Biggest) Business Class Lounge
And now we're on to the best part of the flight journey…The transit at Hong Kong International Airport! Cathay Pacific has a total of 7 lounges at Hong Kong International Airport, with names such as The Bridge, The Cabin, The Pier, The Arrival, The Wing and so on. The biggest and most luxurious one you have to check out though, is none other than The Pier!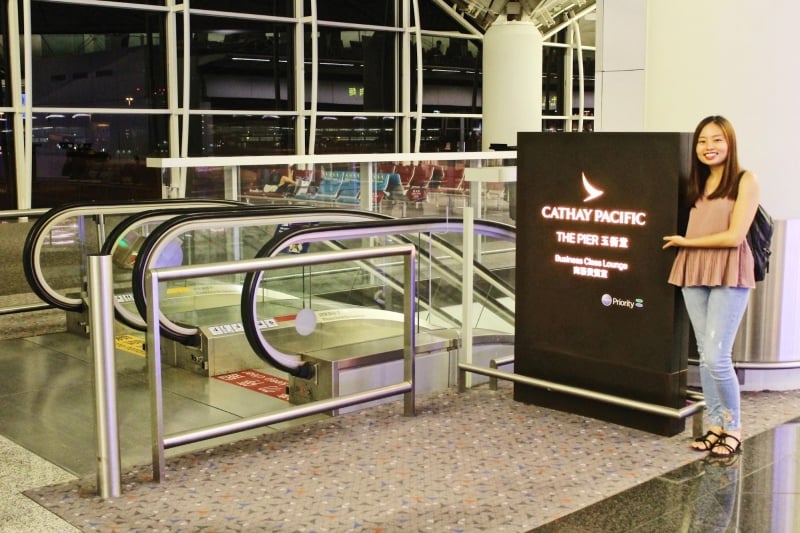 Comprising of a Food Hall, a Bar, a Noodle Bar, a Teahouse, Showers, Relaxation Rooms, and plenty of plush seats for your utmost comfort, the sprawling compound was an absolute delight to explore. It stretches from one end to another, with a long corridor in between for you to venture along and decide where you want to eat or sit down to rest.
The Food Hall – Portuguese Egg Tarts & More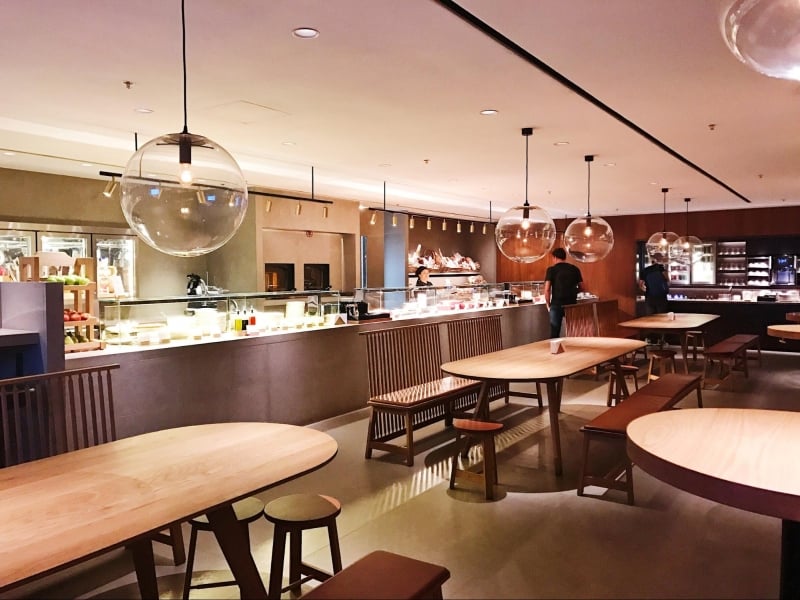 The first section you enter would be the Food Hall. This area is essentially meant for those who want a quick, light snack to munch on. They offer a plethora of Western and Asian choices such as pizzas, quiches, pastas, salads, muffins, pastries and even…Portuguese Egg Tarts!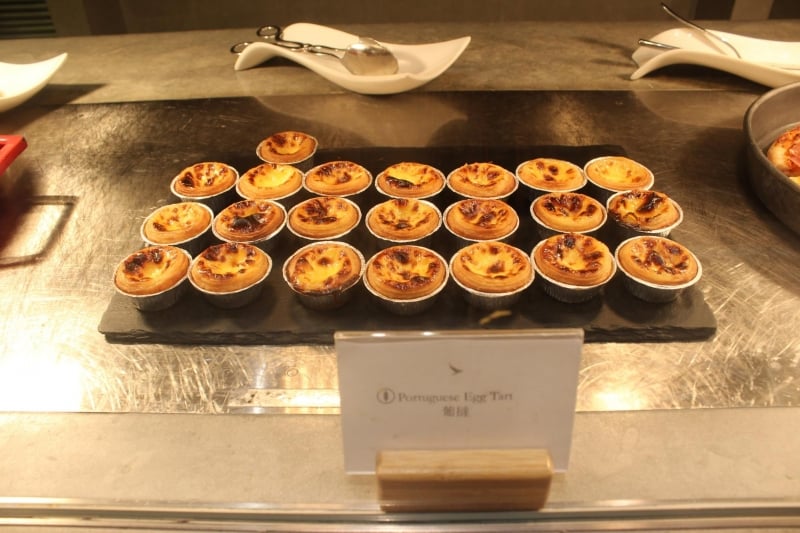 Just look at those perfectly baked beauties! It was comforting to know that I could get a taste of Hong Kong's iconic pastry without having to step out of the airport. I just couldn't stop at one; the crispy and flaky crust combined with a silky smooth pudding-like centre caused explosions of joy in my mouth. I'm almost salivating as I type this!
The Bar – Signature Treat Cathay Delight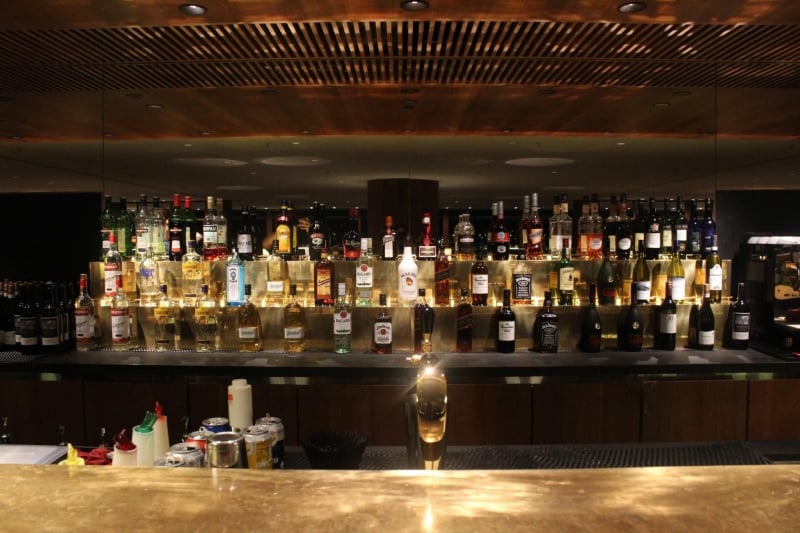 Right next to the Food Hall, stands an opulent bar with incredibly skilled bartenders that will conjure up your cocktail within seconds. Enjoy champagne, wines, beers, cocktails, hard liquor, coffee, and even hot chocolate right here!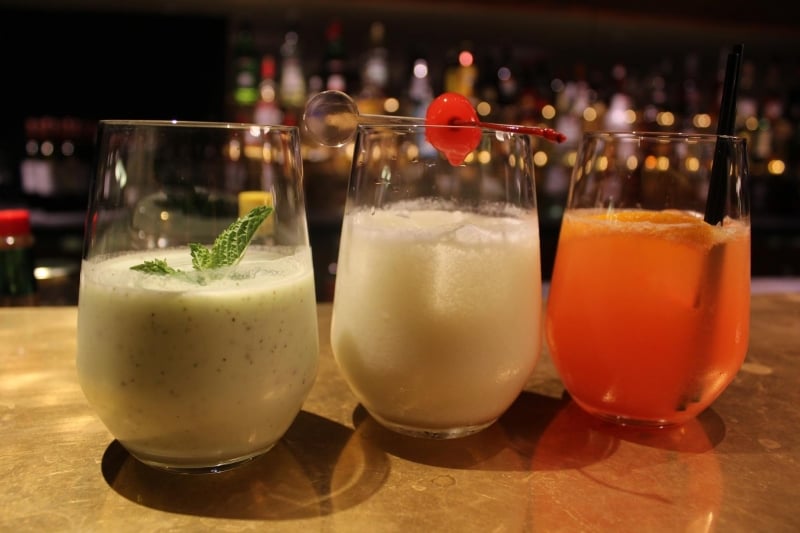 They have such an extensive beverage and wine list that will leave you spoilt for choice. But my personal favourite would be their signature drink (pictured on the left), aptly named the Cathay Delight. A wonderful mixture of kiwi juice, coconut milk, and vanilla, it is a unique concoction that's delightfully refreshing! Definitely the ideal perk-me-up after a long flight.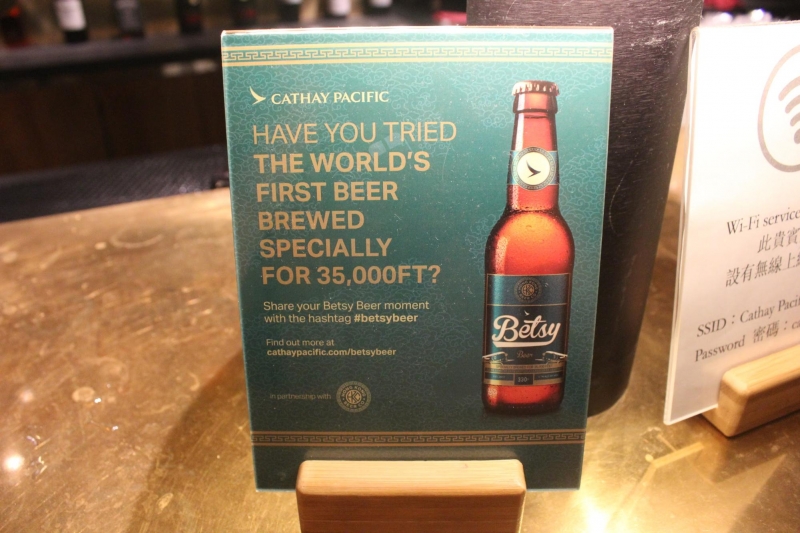 If you missed it out on the plane, you can also try their iconic Betsy Beer right here at The Bar. Brewed specially to cater to your dulled palate at 35,000 feet in the air, they've created a limited edition craft ale that has travel in its DNA. You've got to try it to believe it! It's surprisingly light and fruity, thanks to the extra 10% in carbonation as compared to other beers, as well as its fusion of ingredients comprising: the Hong Kong Dragon Eye fruit and English Fuggle hops with a dash of honey.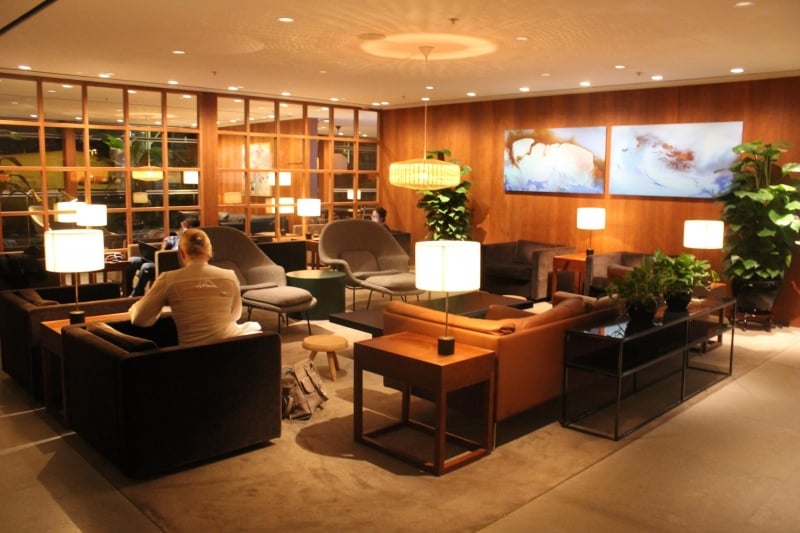 After ordering a cocktail or non-alcoholic drink of your choice, snuggle into any of these comfy and plush sofa seats for a good nap! Alternatively, you can even choose to sit by the floor-to-ceiling windows for an unparalleled view of the airplanes and the tarmac in the day. I simply love the warm lighting and soothing aesthetics of the lounge, a predominantly brown/grey colour palette contrasted with the occasional green potted plant – it just provided such a tranquil ambience that lulled me to sleep.
The Noodle Bar – Dan Dan Noodles & Vegetable Dumplings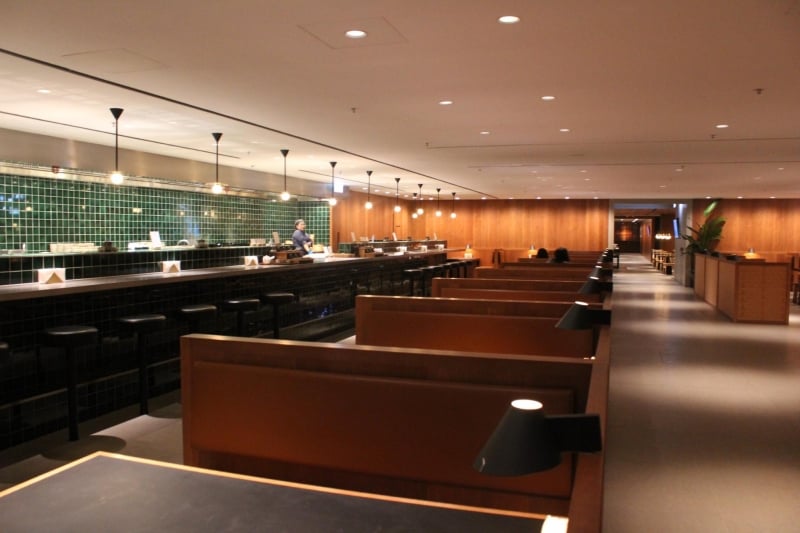 The Noodle Bar is undeniably the highlight of Cathay Pacific's Business Class Lounge! It's a hot favourite amongst travellers all over the world who head here for a delicious bowl of noodles and dim sum during their transit. And now, I'm officially a noodle bar fan too!
Their signature dish is none other than the Dan Dan noodles (top right); think springy and thin Shanghainese noodles engulfed in a mildly spicy, creamy peanut gravy! It was absolutely DELISH. I completely understand why everyone raves over the Noodle Bar at The Pier now. These bowls may look small but trust me, the portions are pretty filling.
They have vegetarian options too, such as the Rice Noodles with Tofu and Enoki Mushrooms (top left), and Steamed Vegetable Dumplings (bottom). Don't even get me started on how chewy and delectable those vegetable dumplings were! My friend and I feasted happily on FOUR servings of these dumplings – we would have asked for more had we not remembered that there would be food on our next flight. It was a wonderful gastronomic feast that left our stomachs lingering for more.
The Tea House – Fruit Juices, Smoothies, and Teas (obviously)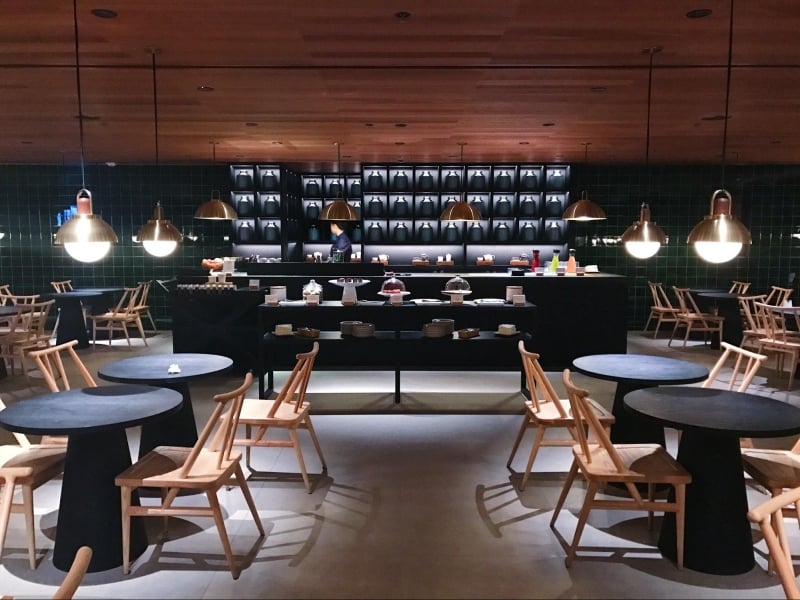 Walk on further and you'll reach The Tea House, a quaint section dedicated to the health-conscious traveller or those looking for a soothing and hot cup of tea. It is also hands down, the most Instagrammable section of the entire lounge!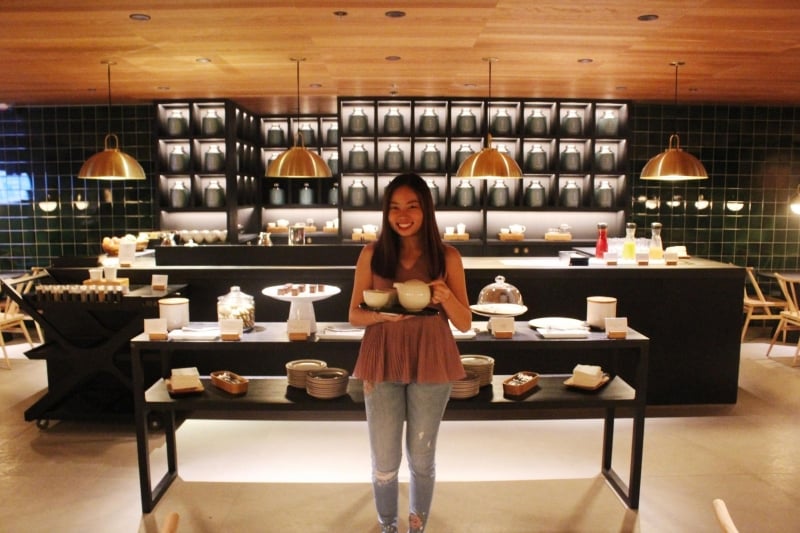 Coffee, tea or me? *winks* They've partnered with JING to bring a comprehensive selection of Asia's best teas and herbal infusions, which are sourced from gardens all over the world, such as China, Japan, India and Sri Lanka! Apart from the usual favourites such as Earl Grey, Chamomile Flowers, or Japanese Sencha, they also have seasonal specials such as Jasmine Pearls.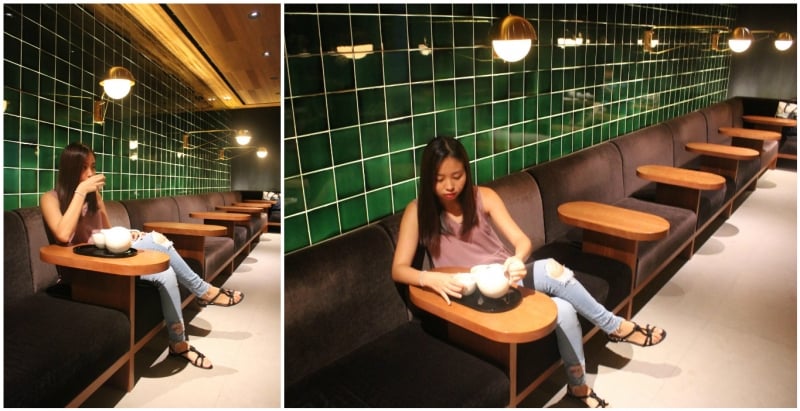 I tried the JING Traditional Iron Buddha tea, which is a traditional oolong tea with hints of nuts, fruit and chocolate. It was incredibly fragrant and light on the tongue, spreading waves of warmth all over my body as I sipped every mouthful slowly. Those plush sofa chairs and mood lighting created such a tranquil and soothing ambience, it felt as if time stood still. I could definitely sit here for hours drinking these aromatic teas all day. All I needed was one cup and I felt refreshed and rejuvenated instantly.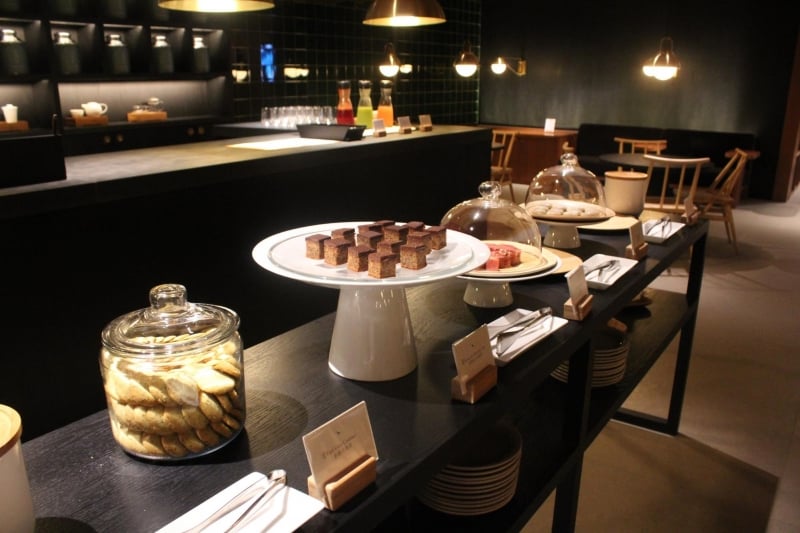 That's not all! Aside from beverages, they also have a mix of Asian and Western sweets such as Earl Grey cookies, Red Bean pudding, Jujube cakes and more. The perfect ingredients to complement your tea or smoothie!
Lounge Area – For Business or Leisure
For the workaholics, there's also a lounge area complete with iMac desktops for your convenience. Check out those spacious and comfy individual sofa chairs which come with their own personal tables! You can enjoy uninterrupted peace and quiet to concentrate on your task at hand fully.
In addition, they also provide newspapers from around the world in various languages, so you can always stay updated on current affairs no matter which part of the world you're travelling to!
Showers – Stay Fresh & Clean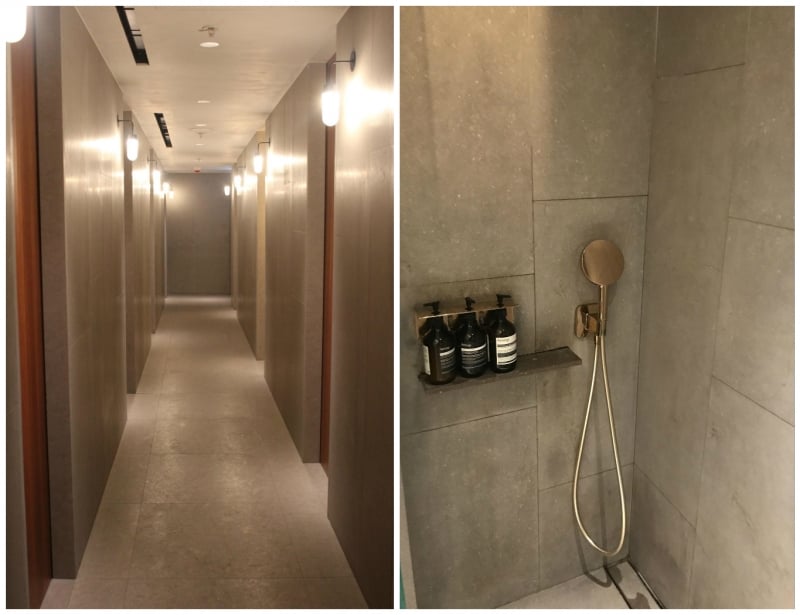 If you need a good ol' hot shower or simply just to freshen up, there are showers in the lounge as well! Impeccably clean, spacious, and minimalistic, luxuriate in Aesop shower products provided in each room. You'll emerge after your shower feeling recharged and ready to tackle your next flight!
Relaxation Room – For a Short Snooze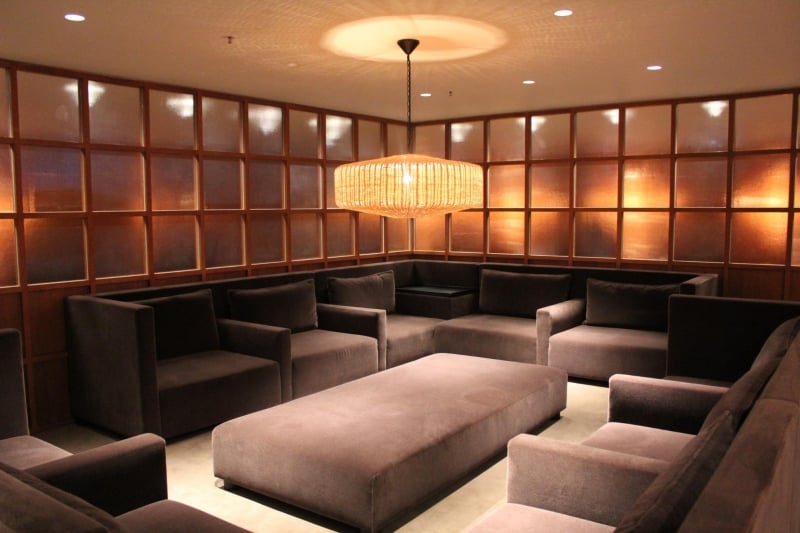 Hidden all the way at the farthest end of the lounge is the Relaxation Room, where it's so quiet you can even hear a pin drop. If you did not manage to sleep a wink at all during your flight, or am feeling jetlagged after crossing between two drastically different timezones, head over here for a short nap.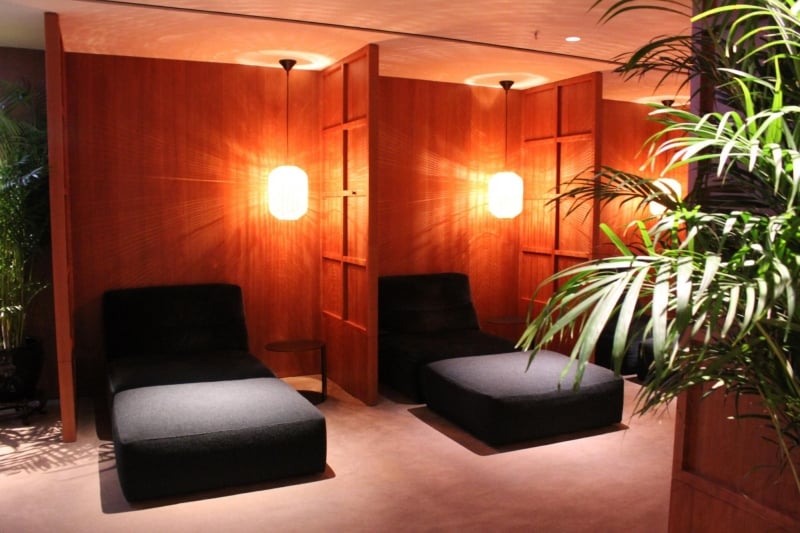 There are individual cubicles each boasting a sofa bed for you to lie on comfortably! But be sure to set an alarm – these unbelievably soft marshmallow-like beds might cause you to fall into a deep sleep and miss your connecting flight if you're not careful.
Who knew that transits could actually be so enjoyable, huh! I had such a wonderful time exploring the lounge, feasting on gastronomic delights and lounging on the sofa seats around. There's no hurry in getting to your destination when you have access to such a gorgeous lounge! I was fervently wishing that my transit time would somehow be miraculously extended, so I could savour the privileges of this lounge to the fullest extent. The Pier, I'll definitely be back.
Hong Kong > Madrid, Spain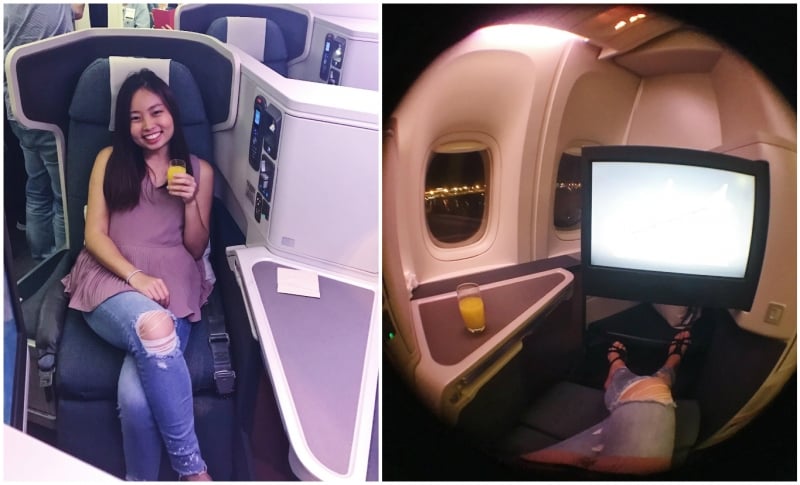 Now onto the longest leg of my journey, the flight from Hong Kong to Madrid! This was the most exciting part of my journey because I was finally able to try out the reverse herringbone seats, complete with direct aisle access for fuss-free convenience. It's awesome not having to trouble other people or squeeze past them whenever you need to go to the toilet, or worry about invading the personal space of the person sitting next to you, like in economy class. Two thumbs up to the impeccable service provided by the Cathay Pacific crew as well, where they addressed each traveller by name!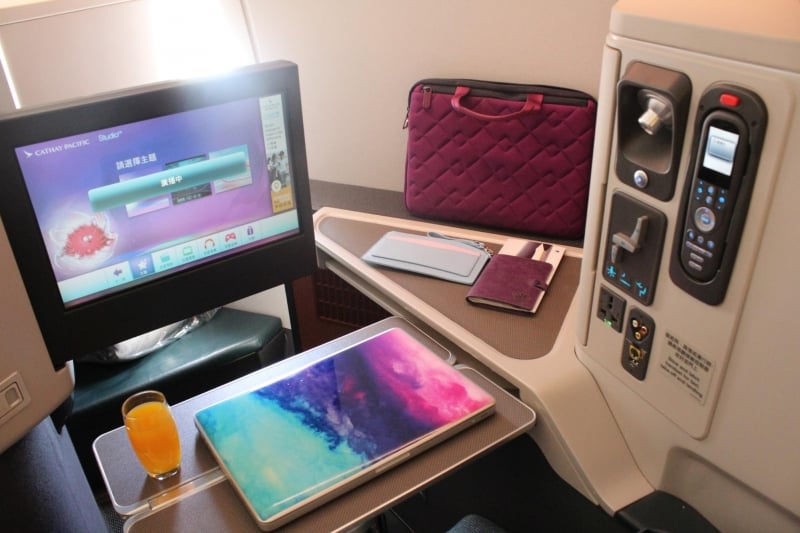 So this was my work desk situation onboard the flight – incredibly spacious! (And yes, you can probably tell from my belongings that I'm a huge fan of the colour purple). The control panel was situated right next to the seat at face level, comprising of even a reading light, a charging port, and the lever buttons for seat adjustments.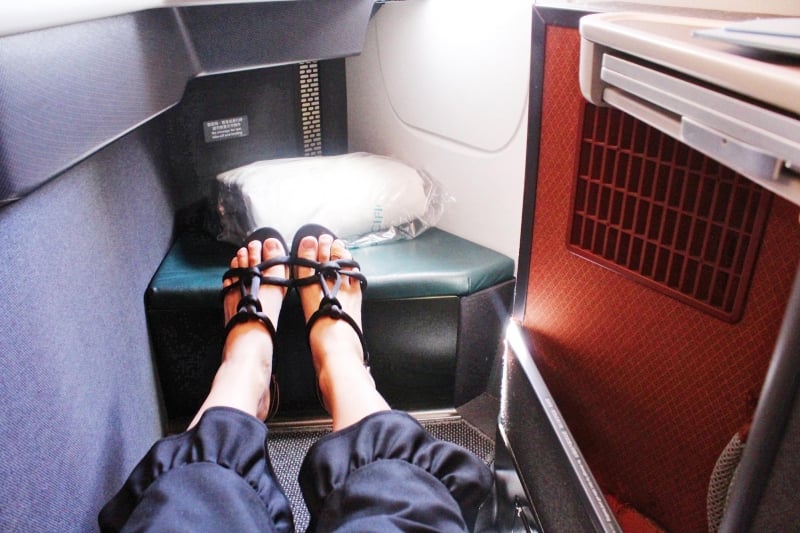 Loved the huge leg room which allowed me to stretch my legs as much as I wanted. That thick roll on the ottoman behind my feet, is none other than the soft and fluffy blanket which I snuggled in for a good night's sleep! I also adore the fact that they have an external storage compartment right at the corner, for us to stow away our random belongings especially during meal times.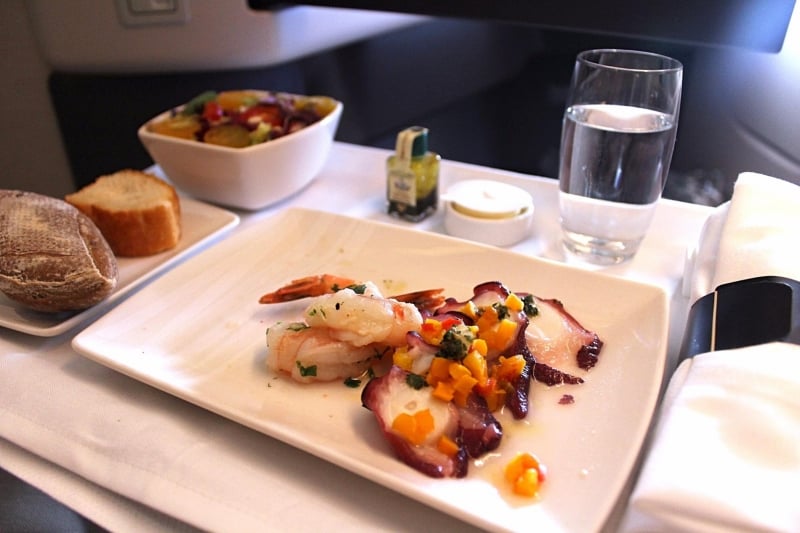 Needless to say, I made full use of my business class flatbed privileges to catch some shuteye during the flight, and slept so soundly just like a baby. I barely woke up in time for the meals! What really impressed me though, was how sincere and thoughtful the crew were.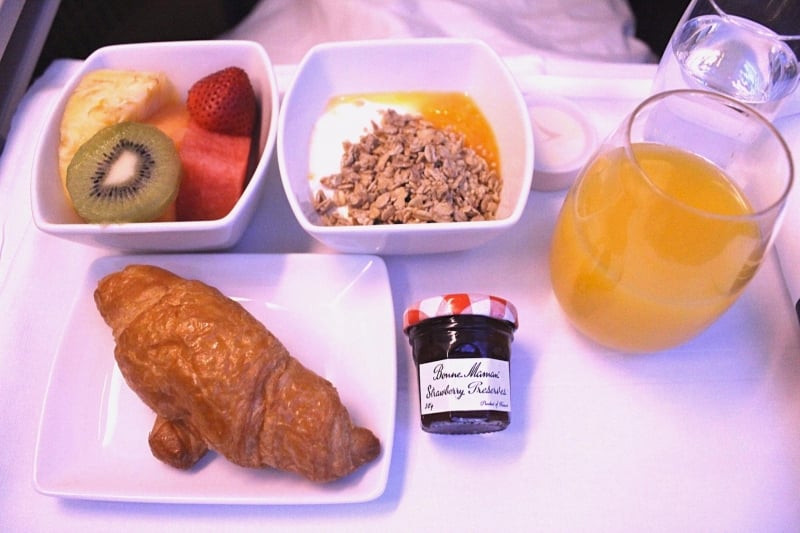 Even though I had missed the initial serving of breakfast, they were extremely alert and approached me to ask for my dining options the moment they noticed that I was awake. So while everyone else was already on their main course, I had only just started on my appetiser. Nevertheless, the crew was ever-so-attentive and kept my main course aside, promptly serving it the moment I was done eating my appetizers. They even offered pralines in addition to the ice cream AND cheesecake that were served as our desserts. As you can obviously see, I was very well-fed throughout the flight! No wonder I slept so soundly afterwards…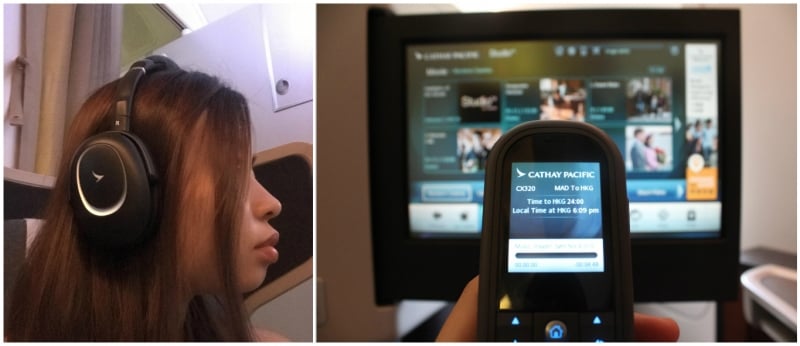 Another wonderful feature that I adored was the noise-cancelling headphones!! I gleefully indulged in movie after movie, getting so engrossed that I barely noticed the hours whizzing by, nor the sound of flight attendants traipsing up and down the aisles. They hugged my ears comfortably, and my ears didn't hurt even after wearing them for long hours, unlike earphones.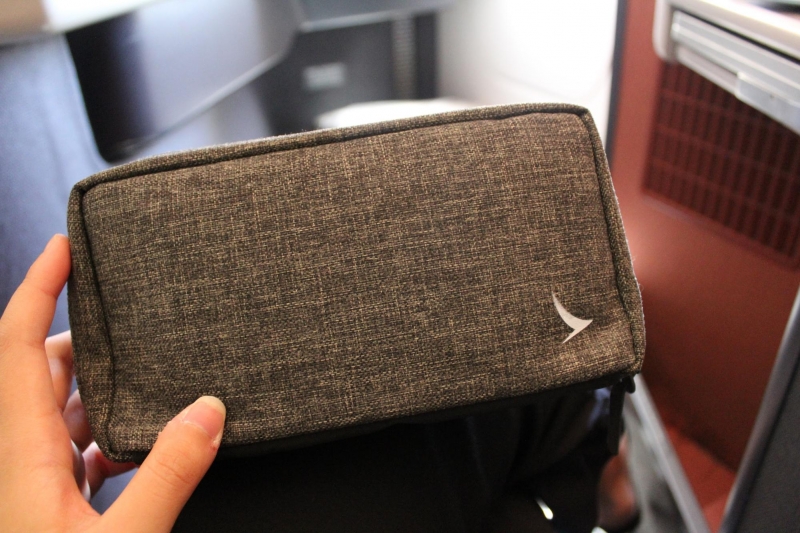 Cathay Pacific also provided an amenities kit comprising of an eye mask, knit socks, toothbrush, toothpaste, and Jurlique products such as lip balm and face mist. It definitely helped to keep my skin fresh and moisturised throughout the flight.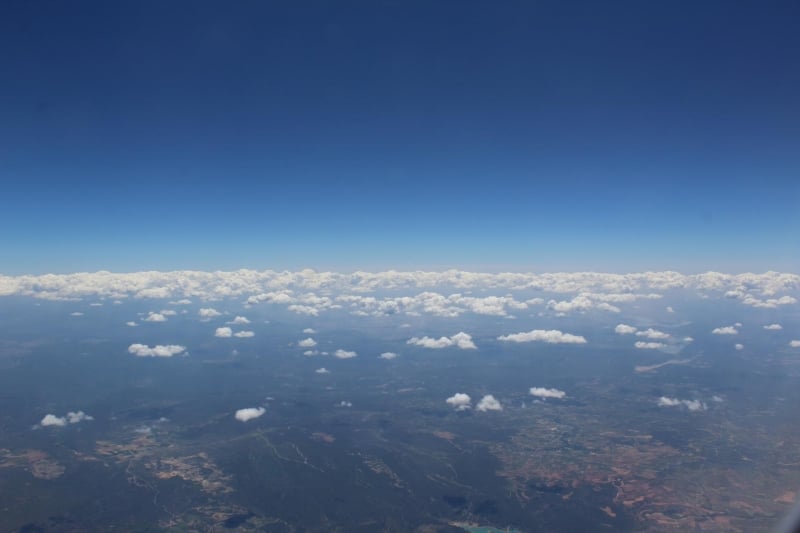 After a restful 14-hour flight, we finally arrived in Madrid! What else can I say? Cathay Pacific truly stands up to its ethos of a Life Well Travelled. It's been an incredible experience sitting Business Class and enjoying the multitudinous array of perks and benefits along the way. No matter where I'm headed, I know I can always trust the Cathay Pacific team for a smooth in-flight experience, and a transit like no other.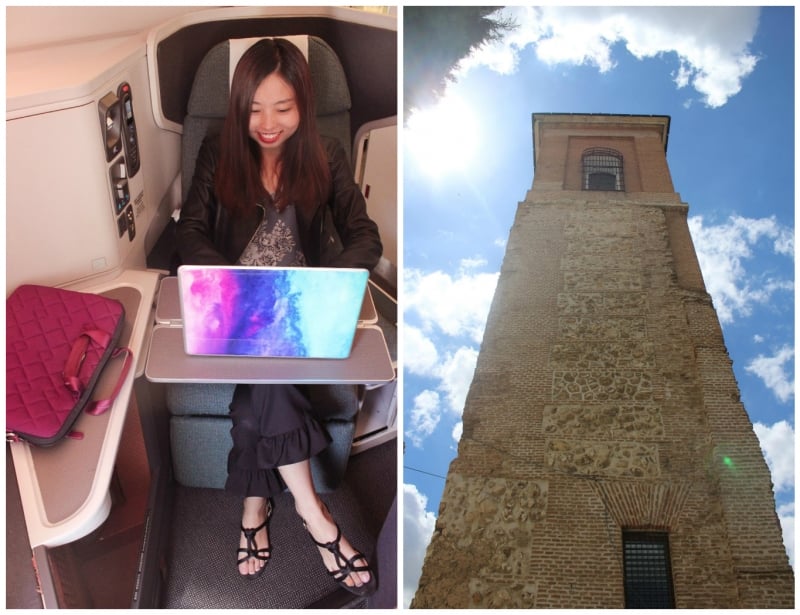 Now, I'm off to explore Spain for the first time. Stay tuned to find out which Spanish city stole my heart. Adios, amigos!
---
I extend my deepest thanks to Cathay Pacific and Spain Tourism Board for making this trip possible, and their incredible hospitality.