After Seoul, Jeju Island is probably the most popular travel destination in South Korea. It's easy to see why — this southern island is blessed with breathtaking mountains, dramatic coastlines, and pristine beaches. During the spring season, it becomes even more enchanting with its pastel pink cherry blossoms and bright yellow canola fields. Read on to find out how you can experience the wonder of spring in Jeju on your next trip!
Also read: 10 Affordable Airbnb Homes & Vacation Rentals on Jeju Island
Sign up for AIG Travel Guard® Direct, AIG's comprehensive travel insurance plan, and get:
A Samsonite Niar Spinner worth S$400 (with the purchase of an Annual Multi-Trip Plan)*
or
S$20 in eCapitaVouchers (with the purchase of a Single Trip Plan)*
when you use the promo code AIGTGD.
*Promotion is valid till 20 Jun 2023. T&Cs apply.
Protected up to specified limits by SDIC.
Best flower spots during spring in Jeju
1. Sanbangsan 
When spring arrives, a carpet of bright yellow canola flowers rolls out at the foot of Sanbangsan. This lava dome mountain located along Yeongmori Coast is one of the most scenic places to see canola flowers in Jeju. 
Be awed by powerful waves crashing against the shore below the mountain, while admiring the springtime blooms.  You may also hike to the summit of Sanbangsan, from which you can enjoy panoramic views of Jeju's beaches, valleys, towns, and the sea. 
Best time to go: Late March to early April
2. Udo Island
If you've time to spare during your Jeju Island spring trip, make an excursion to Udo Island. This small eastern isle is a rustic getaway from the mainland that boasts stunning canola fields in spring. To get to Udo, you'll have to take a 15-minute ferry that departs from Seongsan Harbour every 30 minutes. 
Apart from the canola fields on the island, there are several sea caves and beaches to explore. One famous sight is the Seobinbaeksa, a white sand beach with water that changes from turquoise to deep blue as you go further from the shore. 
Best time to go: Late March to early April
Ferry price for Jeju–Udo (two-way): ₩10,000 for adults, ₩8,100 for students, ₩2,400 for children aged 3 to 7 years, and ₩7,000 for the elderly and people with disabilities. 
Also read: 10 Beaches in South Korea to Visit for a Fun-Filled Adventure
3. Eco Land Theme Park
Located inside the primaeval Gotjawal Forest, Eco Land Theme Park is a tranquil place to experience Jeju Island spring in Jeju. The theme park holds a charming vintage train that will take you through the peaceful forest to their Lavender, Green Tea, and Rose Garden. 
This European-style garden is an IG-worthy flower paradise with lush fields of roses, herbs, and lavender. There is also a snack bar in the park where you can get fresh fruit juice to quench your thirst after a day of walking. 
Opening hours: 9am to 5pm (Mon-Sun)
Admission price: from ₩8990 
Best time to go: March to May 
Also read: 15 South Korea Theme Parks & Amusement Parks Worth Visiting
4. Hallim Park
Hallim Park is a vast botanical garden along Jeju's west coast. Flowers of different kinds bloom there throughout the year. If you visit in late March, you'll see pale pink Yoshino cherry blossoms, which are as lovely as they are fleeting. 
In April, the park explodes into a rainbow fiesta with tulips of many hues covering its grounds. Those who visit in May can look forward to seeing numerous species of brightly-coloured wildflowers and bougainvillaea. With exuberant blooms from March to May, this park is a must-see attraction to experience the best of spring in Jeju. 
Opening hours: 8.30am to 5.30pm
Admission price: ₩12,000
Best time to go: March (cherry blossoms), April (tulips), May (wildflowers and bougainvillaea)
Also read: Cherry Blossom Season 2023: Must-Know Tips & Essentials
5. Camellia Hill
Camellia Hill in Jeju is a healing garden that draws many visitors in all four seasons. The garden is filled with signs bearing positive messages, as well as resting zones where one can destress and be reminded of the beautiful things in life. 
Its iconic red camellias bloom in winter, but you might be able to catch them in early spring. Even if you don't, the dazzling cherry blossoms, tulips, and azaleas here will make your visit worthwhile. 
Around the garden, you'll find plenty of photogenic spots. There is also a cafe that sells soothing camellia tea and a store stocked with local camellia products. 
Opening hours: 8.30am to 6pm
Admission price: ₩8,000
Best time to go: February (camellias), March (cherry blossoms), April to May (tulips and azaleas)
6. Noksan-ro
Noksan-ro is a dreamy 10km road lined with cherry blossoms and canola flowers in early spring. Unsurprisingly, it has been listed as one of the 100 Finest Roads in Korea. The pastel pink cherry blossoms and canary yellow canola flowers make this a drive you'll never want to end. 
Best time to go: Late March to early April
7. Gasiri Wind Power Plant
Located along Noksan-ro, the Gasiri Wind Power Plant is a hidden gem with sprawling canola flower fields that'll make any photo look fantastic. The golden yellow fields, white windmills, and pastel blue sky form a pastoral dreamscape impossible to forget. If you visit during early spring in Jeju, the road into the windmill will be lined with cherry blossoms, which create a striking contrast with the yellow canola flowers. 
Best time to go: Late March to early April
Also read: 12 Flower Fields in South Korea That Look Straight Out of a Storybook
8. Seongsan Ilchulbong Peak
Recognised as a UNESCO World Heritage Site, Seongsan Ilchulbong Peak is a volcanic cone known for its magnificent sunrise views. There are no canola fields on the peak itself but the area near the cone is blanketed with them. Head to Gwangchigi Beach to view the canola fields against the backdrop of the majestic peak. 
Opening hours: 7am to 7pm
Admission price: ₩2000 for adults (25-65 years old) and ₩1000 for children and youths (7-24 years old), free for seniors and children aged six and under. 
Best time to go: Late March to early April
Also read: 7 Popular K-Dramas That Were Filmed on Jeju Island
9. Hallasan
Hallasan is South Korea's tallest mountain and an infamously hard climb. If you're game for the challenge, hike up the mountain's Yeongsil Trail to see a sea of azaleas spread out in front of Byeongpungbawi Rock. The azalea species found here is known as the rosebay rhododendron, which sports brilliant dark-pink petals. It has become a treasured symbol of Jeju Island as it thrives even in harsh conditions. 
Best time to go: May
Also read: Hiking Hallasan: My Arduous Journey to the Summit of Korea's Tallest Mountain
10. Jeonnong-ro
Jeonnong-ro is Jeju City's most iconic cherry blossom road. It is a 10-minute car or taxi ride from Jeju International Airport, and extends 1.3km from the KAL Hotel to Nanjo Intersection. The whole road is lined with cherry trees that are even more mesmerising at night, when they are lit up by street lights. There are many cafes and restaurants along this road where you can admire the cherry blossoms over a relaxing meal. 
Best time to go: Late March to early April
Jeju Island spring flower festivals
1. Jeju Cherry Blossom festival
The Jeju Cherry Blossom Festival celebrates indigenous species of cherries as they bloom in early spring. This year, it will be held from 4 to 6 Apr 2023, and will include firework displays, performances, food stalls, and more. 
In Jeju, you will find the King Cherry Tree, a native variety with large, luxuriant, bright pink petals. Appreciate their elegant beauty as you take part in the festivities. To see the best Jeju Island cherry blossoms, head to areas such as Jeonnong-ro, the entrance to Jeju National University, and Jangjeon-ri village. 
Also read: South Korea Cherry Blossom 2023 Forecast: When & Where to See
2. Jeju Canola Festival
The canola flower is Jeju's most well-known spring bloom. With its eye-catching canary yellow petals, it makes for surreal photos when combined with a clear blue sky and white clouds. Celebrate the charms of this sunshine flower at the Jeju Canola Festival, which will be held from 12 to 13 Apr 2023. Music concerts and exhibitions will be organised around the Keunsaseumie Oreum Volcanic Cone, so make your way there this spring. 
Where to stay in Jeju during spring
If you're wondering where to stay in Jeju to make the most of the beautiful spring season, we've got you covered. Below are five Airbnbs located near Jeju's best flower spots that will give you a stay to remember. 
Also read: 10 Cabin Retreats in South Korea for a Cosy Getaway
1. This quiet guest house near Sanbangsan mountain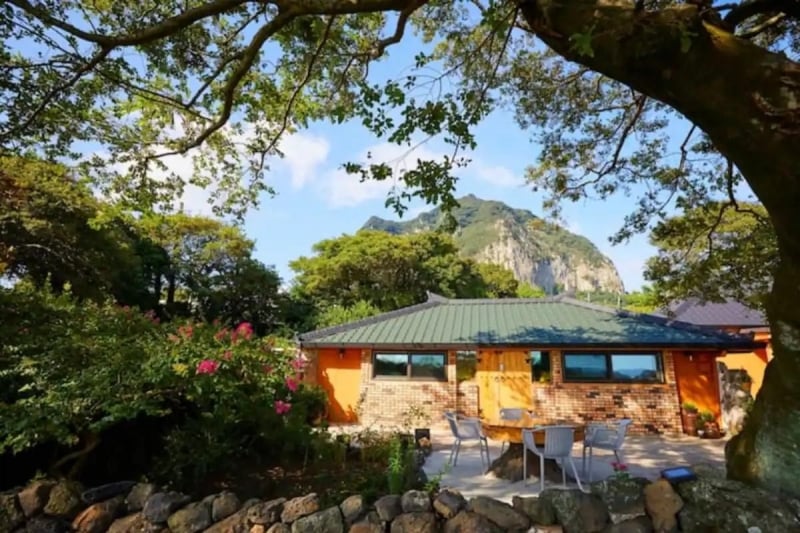 This Airbnb guest house is a five-minute walk from Sanbangsan. Surrounded by an idyllic citrus orchard and hundred-year-old pine trees, this cosy home is the ideal escape from city life. The guest house has a rustic wood interior, patio, mountain view, and private garden. It also contains a kitchen and workspace. With one queen bed, the accommodation can comfortably fit two guests. You'll surely be able to relax and experience the healing power of Mother Nature here. 
2. This house with an unreal mountain view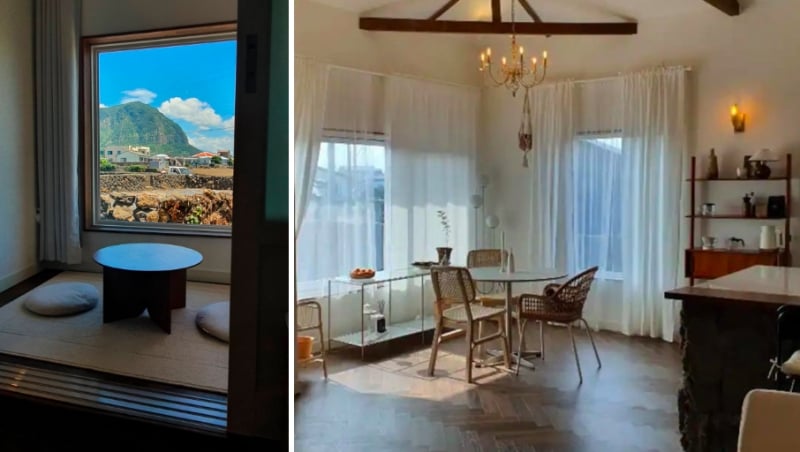 Sigor House is where you can enjoy a spectacular view of Sanbangsan from the comfort of your bedroom. This bedroom has a queen bed that can fit two people. Additional bedding is also available for groups of three. Apart from the mountain view, the house boasts a dreamy French-inspired interior that'll make for Instagrammable vacation photos. It also has a private hot tub and garden for you to unwind after a long day of exploring. 
3. This well-equipped private room near Seongsan Peak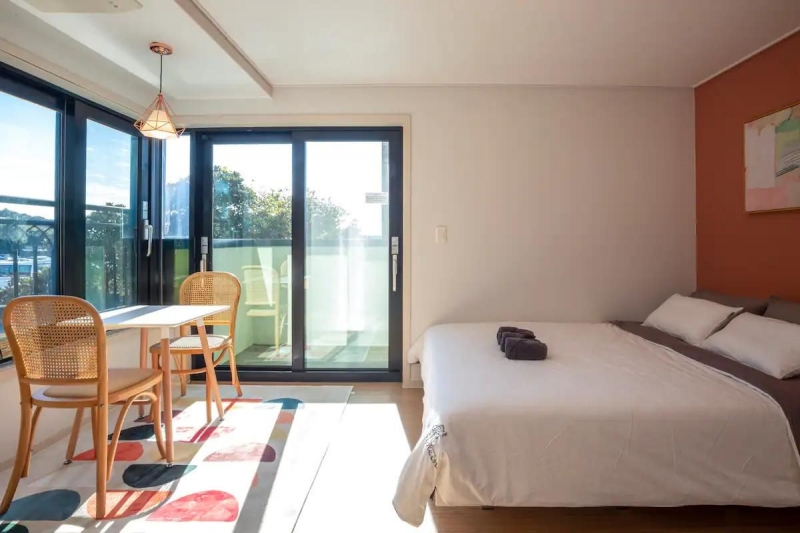 Dolcorom Seongsan is a private-room Airbnb that offers a lovely view of Seongsan Peak. Although it is just one room, it comes with plenty of amenities including a Nespresso coffee machine (capsules provided), microwave, and a TV with Netflix. The room can sleep two guests on the queen-sized bed. 
4. This seaside guest house on Udo Island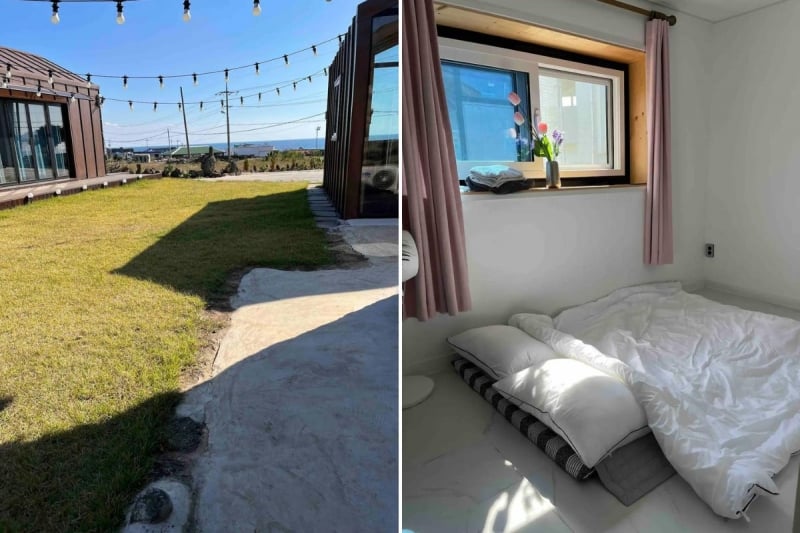 This quaint guest house by the sea will make your Jeju holiday one that you'll remember. Not only does it have a splendid sea view, but this picturesque stone-walled house also comes with an al fresco dining area and a barbecue grill. You have to inform the host in advance if you wish to use the barbecue. Additionally, the stay is close to Cheonjin Port, which is where visitors arrive on Udo Island. 
5. This guest suite by the sea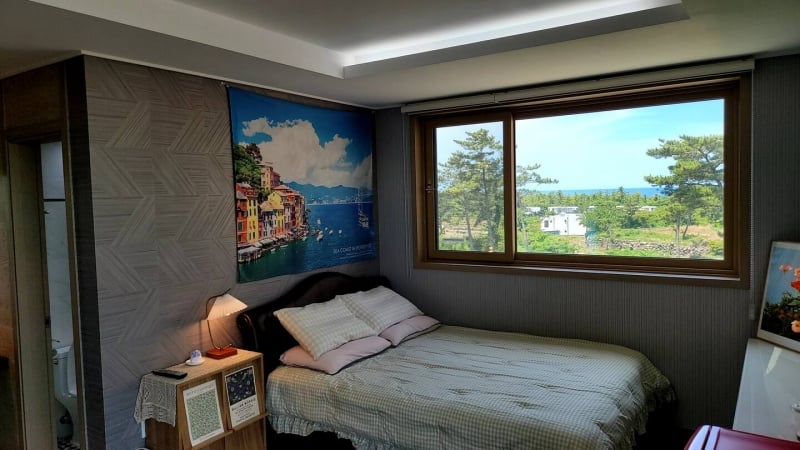 Another seaside stay — this time, near the lush Hallim Park, which is especially beautiful during spring. This spacious studio has large windows and a balcony for you to take in the gorgeous sea view and refreshing breeze. It can accommodate two people, who will sleep on a comfortable queen-sized bed. Free parking is available on the premises. 
Tips for enjoying a Jeju Island spring vacation
1. Check the flower forecasts
Official and unofficial forecasts for flower blooming periods in Jeju can be found online. Do check out these forecasts to avoid disappointment as seasonal flowers tend to be short-lived.
The first forecast you should view is the official cherry blossom forecast released by South Korea's meteorological agency. You can also read our South Korea cherry blossom forecast for 2023 here. Since Jeju is at the southernmost tip of the country, cherry blossoms here bloom earlier than in Seoul. 
Unfortunately, South Korea does not have an official canola flower forecast. However, you can still do some prior research to find out the best spots for viewing these flowers. The good news is that canola flowers last longer than cherry blossoms, typically blooming for more than 20 days. Hence, you'll have more leeway when planning a trip around these. 
Other Jeju Island spring flowers like tulips, azaleas, and bougainvillaea bloom after the cherry blossoms and canola. If you want to view these flowers, do find out when and where they bloom. Their blooming sites may be different from the cherry blossom and canola spots, and you don't want to waste time travelling to the wrong places. 
2. Bring lightweight clothes you can layer
Temperatures in Jeju range from 6-13ºC in March, 10-18ºC in April, and 14-22ºC in May. As it can get both chilly and warm, pack lightweight clothes that you can easily layer or take off. A light cardigan or sweater is ideal, along with colourful shirts that will pop against a backdrop of vivid flowers. With the right clothes, you can stay warm and look fashionable while enjoying a Jeju Island spring. 
Also read: 9 Useful South Korea Tips If You're a First-Time Traveller
3. Try out local specialities
Jeju Island is famed for its unique cuisine so make sure to get a taste of its signature dishes while you're here. Furthermore, a long day of sightseeing can deplete your energy, and there's nothing more rejuvenating than a hearty meal of authentic local food. One unmissable Jeju speciality is black pork (heuk dwaeji), which has been called the "wagyu of pork" for its rich fat and delightful chewiness. 
You should also try Jeju's fresh abalone, which you'll find served in a variety of methods at affordable prices. If you're going to Udo Island, treat yourself to some peanut ice cream there.  Made with locally grown peanuts, the peanut ice cream on Udo Island is the perfect blend of salty and sweet. 
4. Rent a car if possible
Jeju Island is one of the few places in South Korea where it makes sense to rent a car. There are no trains on the island, making public transport a less convenient option. There is a bus which circulates the whole island, but it does not arrive frequently. See the next section to find out more about renting a car in Jeju. 
5. Fly from Seoul
Seoul is a vibrant capital worth spending a few days in even if your main goal is to visit Jeju. From Seoul, flights to Jeju on Jeju Air are very affordable due to the high passenger traffic along this route. The flight time is just over an hour, so you'll be there in what feels like no time at all. As a bonus, Seoul has plenty of cherry blossom spots of its own, so you can chase cherry blossoms there after you've experienced Jeju Island spring season.
Also read: 15 Best Airbnbs & Vacation Rentals in Seoul for Every Budget
How to get around in Jeju
Public transport
As mentioned before, Jeju does not have a train system. However, taking public transport here is still doable. The island has three types of buses: City Buses, Tourist Shuttle Buses, and Airport Limousine Buses. 
The City Buses run between Jeju City and Seogwipo (where you'll find many canola fields) and arrive at intervals of 15-30 minutes. City Bus 201 will stop at Seongsan Ilchulbong, so take this one if that's where you want to go. The base fare for the City Bus is ₩1,200. 
The Tourist Shuttle Buses take you to most of the major attractions on the island. That said, the bus route is not catered to a spring itinerary, and thus not the best option for those who want to head straight for the flower fields. 
The Airport Limousine Buses connect Jeju International Airport to Seogwipo and run every 20 minutes. They have a large compartment for luggage. These buses are useful for getting to your accommodation if you are staying in Seogwipo. 
Also read: 5D4N Jeju Itinerary: Discover the Best New Attractions in Jeju
Car rental
Renting a car in Jeju allows you to explore the island at your own pace and avoid having to wait for buses that do not come frequently. To rent a car, you need a valid International Driving Permit (IDP) and your passport. The names on your IDP and passport have to be the same, or your rental may be denied. Drivers looking to rent in Jeju must be 21 years old and above, and possess driving experience of at least one year. 
Book online in advance to enjoy lower rental rates. When you arrive at Jeju Airport, you can take a free shuttle bus to the car rental office to pick up your car. The bus ride takes just 10 minutes. All the car rental counters are located at Gate 2 of the airport, so if you're feeling lost, approach the counter of the company you rented from for assistance.
Before you drive off, ensure that the GPS in your rental car is functioning properly. You can also ask the staff to help you change the language setting to your preferred language. Having a working GPS is important for navigation as the road signs are in Korean. 
Budget for a Jeju Island spring trip
A one-week Jeju Island trip costs around ₩707400 (S$730) per person on average, excluding the airfare and assuming that you're staying in an Airbnb. 
Of course, how much you spend will vary wildly based on the accommodation and entertainment options you choose. To stretch your budget, try skipping the hotels and going for guest houses and Airbnbs instead. There are many free and low-cost attractions in Jeju so prioritise those when putting together an itinerary. 
Also read:​​ 13 Tips for Travelling Around South Korea on a Budget
So, that concludes our guide to enjoying a Jeju Island spring getaway. If you plan in advance, you'll definitely be able to witness the island's flower fields bursting into riotous colour. Chasing cherry blossoms and canola flowers can be a chore, but it'll be well worth it when you finally get to see these stunning beauties. 
If you're catching up on your travel wishlist, consider an AIG Travel Guard® Direct Annual Multi-Trip Plan! This plan offers greater value and convenience every time you travel.
Travel worry-free with AIG's comprehensive coverage: from COVID-19 coverage (including medical expenses, trip cancellation, and more) to reimbursements for baggage loss or delay.
Choose AIG as your travel partner
Protected up to specified limits by SDIC.
---
This article contains affiliate links. When you book through these links, we may earn a small commission at no additional cost to you. All Airbnb images are courtesy of the respective property listings.