When winter starts nipping at your heels (or your Instagram feed, being in a tropical country and all), it's a good reminder to keep an eye out for Christmas lights coming your way. And until the last shining bulb on a pine tree goes out, the festive celebrations aren't over just yet. 
From historic towns in Europe to a legendary festival in South America, these Christmas lights around the world will cast a magic spell over your holiday. 
1. Galeries Lafayette in Paris, France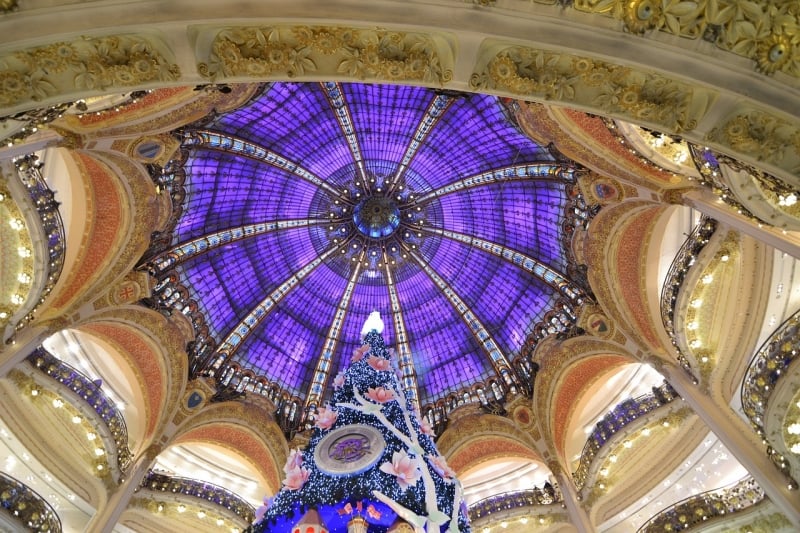 Every Christmas season, the Galeries Lafayette turns into a paradise of lights. This high-end department store in Paris offers a breathtaking wonderland with festive shop windows and a giant sparkling tree under a glass roof. It definitely takes the excitement of the holidays to new heights! 
Also read: 10 Paris Airbnbs For Your Next Visit to the City of Lights 
2. Cathedral Square in Vilnius, Lithuania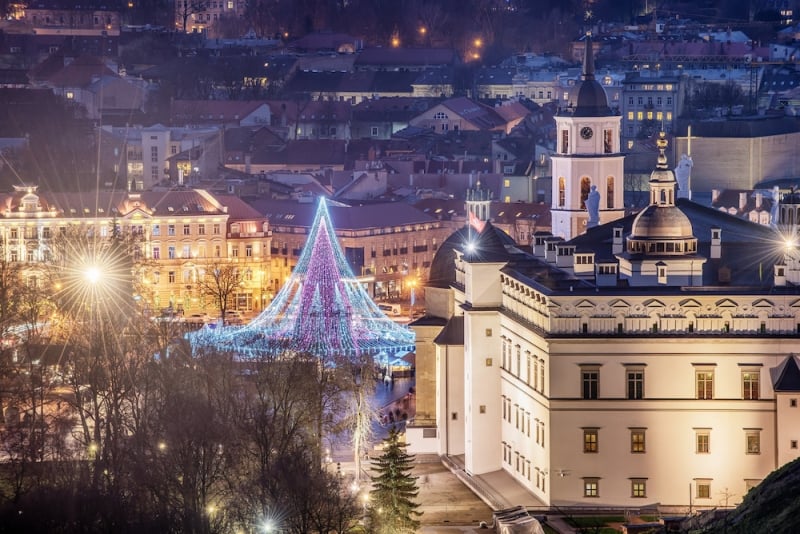 If you can't hitch a ride on Santa's sleigh, you can do the next best thing. That is, hop on a Christmas train! The Vilnius Christmas Train takes you through the historic Old Town in Lithuania's capital, where you can help yourself to handmade gifts, candied nuts, and hot chocolate. 
Another beloved holiday tradition is the annual lighting of the Christmas tree on Cathedral Square, which resembles the chess piece of a queen. Pretty awesome, don't you think? 
3. Carnaby Street in London, United Kingdom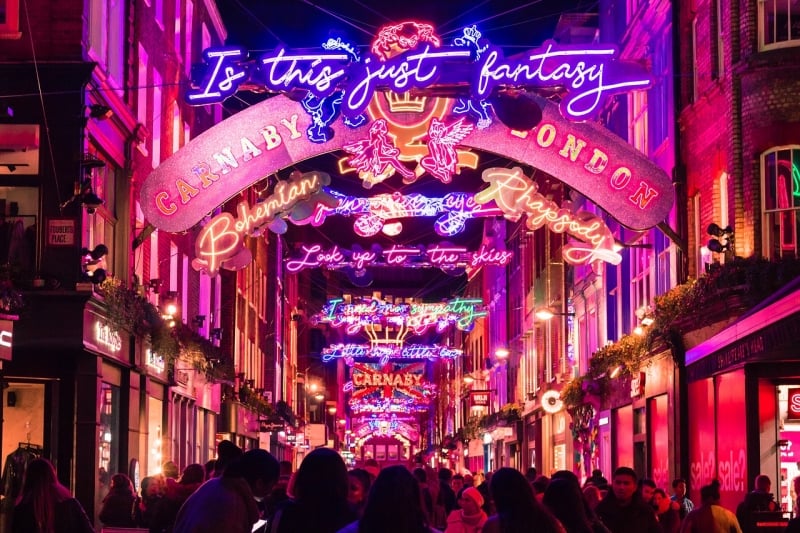 One of the prettiest streets in London becomes a vibrant walkway of lights at Christmas time! Carnaby Street, which was hailed as the "Capital of Cool," is lined with independent shops, restaurants, and bars that call back to the "Swinging Sixties" in London's history. Even today, it's easy to appreciate this street's appeal among Britain's youth. Come here during the winter to appreciate the festive light installations, which take on a different theme each year! 
4. Red Square in Moscow, Russia
Jump right into a Christmas extravaganza at Moscow's Red Square, where the cobbled streets become the site of a Russian fairytale. Thus, it's the perfect place to go snowboarding down an ice slide with a view of the Kremlin or take a ride on one of the brightly-lit carousels. Packed with kiosks selling pastries and mulled wine, the scenery in this historic square will keep you warm on the coldest winters. 
Also read: 8 Incredible Reasons Why You Should Travel to Russia
5. Rynek Główny in Kraków, Poland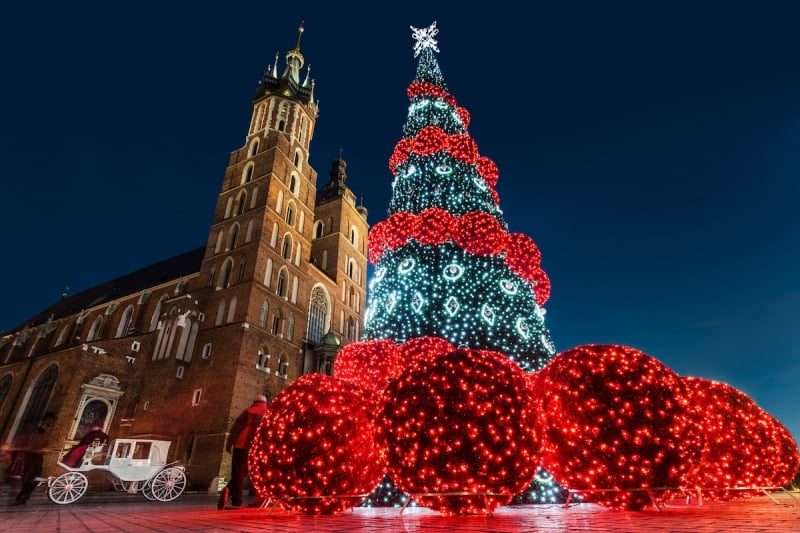 When it comes to Christmas lights around the world, Poland's is sure to impress! Numerous decorations and fairy lights adorn Kraków's main market square, Rynek Główny, making for a gorgeous backdrop in front of the 14th-century Town Hall Tower. Moreover, this UNESCO-listed Old Town boasts cultural performances and charming wooden stalls, as well as a truly magnificent tree in the medieval square. And how can anyone resist the Cinderella-esque coach waiting to steal you away?
Also read: 7 European Cities With the Best Christmas Markets
6. Rockefeller Center in New York, United States
Each year, the lighting ceremony of the Christmas tree at Rockefeller Center draws thousands of visitors to New York. And the famous tree looks especially stunning this Yuletide. Why? It's crowned with a star that's made from not one, not two, but three million Swarovski crystals! Needless to say, this iconic holiday landmark is a must-see in the city that never sleeps. 
7. Calle Larios in Malaga, Spain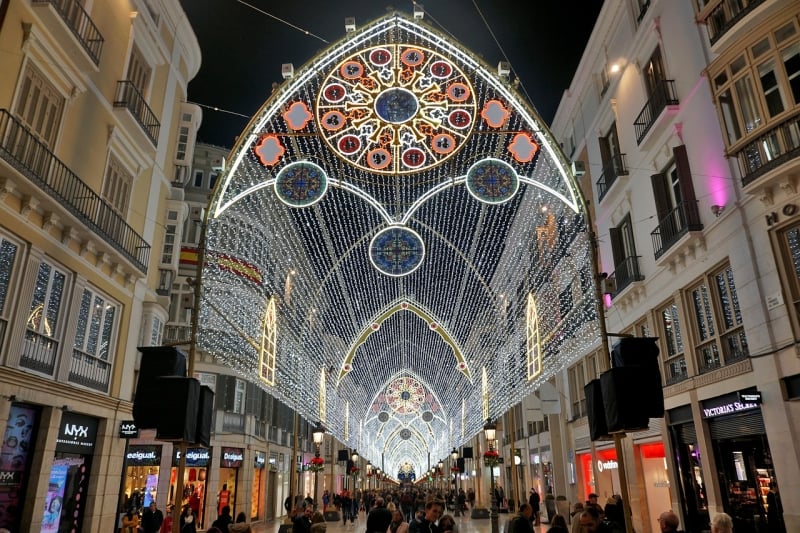 Among the Christmas lights set up around the world, the port city of Málaga gives many winter destinations a run for their money! For the themed installation on December 2019, Calle Larios, one of the most expensive shopping streets in Europe, was transformed into a full-blown "Christmas Forest," complete with illuminated angels, suns, and autumn leaves.
After this Spanish street was decorated with twinkling lights and glowing arches, many visitors have said that it felt like walking through a cathedral. 
8. Medellín in Antioquia, Colombia
Known as the "City of Eternal Spring," Medellín showcases Christmas lights in the form of castles, water lilies, boats, fish, rainbows, and more! This is a huge source of pride among the locals, who enjoy helping out in the preparations as the event grows bigger each year.
Head to Parque Norte, Medellín River, and Parques del Río for the best spots to marvel at the annual Christmas lights, which have ranked among the most captivating in the world. 
9. VanDusen Festival of Lights in Vancouver, Canada
Go for an enchanting stroll over a million lights strewn across trees, flower beds, tunnels, and garden pathways. At the VanDusen Festival of Lights in Vancouver, thousands of visitors explore attractions such as the Gingerbread Walk and Candy Cane Lake. No matter how old you may be, the holiday cheer at this botanical garden will have you smiling from ear to ear! 
10. Tivoli Gardens in Copenhagen, Denmark
If you happen to journey to Copenhagen over the holidays, you are very lucky! The winter celebrations go on until the first week of January, which means that you can still catch the world-renowned Christmas lights at Tivoli Gardens. This beautiful park in Denmark has inspired storytellers like Walt Disney and Hans Christian Andersen, who fell in love with its dreamy atmosphere. 
Also read: Here's How You Can Experience a Perfect White Christmas in Scandinavia
It's the most wonderful time of the year, indeed! These Christmas lights around the world are guaranteed to melt the hearts of even the grumpiest of Grinches. 
Do you have any special wintertime plans this year? Let us know when you tag us on IG @tripzillamag!