New York, New York! We know it's called the City That Never Sleeps, but you'll need a place to rest and recharge in between your urban adventures — even if you're just planning to crash for a few hours. Luckily, there are a lot of fantastic accommodations in the Big Apple. Want to stay close to all the action? A Times Square Airbnb promises you'll only be a few steps away from the biggest, brightest corner of New York. Go ahead, keep reading; your home in the big city awaits.
Also read: 16 Fun Things to Do in New York City
Best Airbnb homes near Times Square for an ultra-cool NYC vacay
1. This modern city suite with complimentary breakfast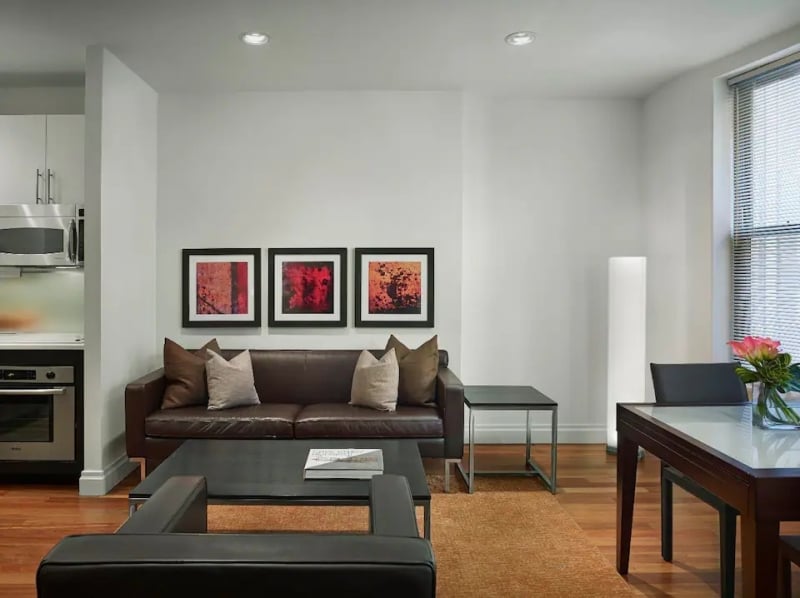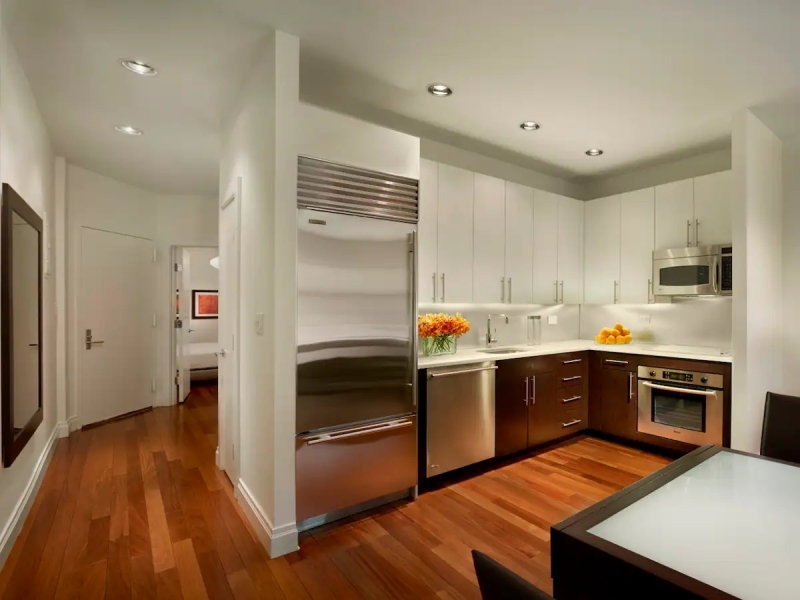 Listing name: AKA Times Square 2BDJR Near Bryant Park w/ kitchen
Listing type: Entire serviced apartment
Max. no. of guests: 5
No. of rooms: 2
For travellers on the hunt for a Times Square Airbnb, this contemporary residence in New York City is an absolute gem. It's your chance to live like the NYC upper crust: Luxuries abound inside this sprawling bi-level penthouse, from custom mattresses and luxurious linens in the bedrooms to sleek Italian porcelain baths. 
The views are as impeccable as the interiors, too. Take in the dazzling cityscape and the blinding lights of Times Square from 13 stories up — the sight is just as awe-inspiring from the top as it is from the streets! Oh, and did we mention that guests are served free breakfast?
2. This stylish Airbnb in the heart of Times Square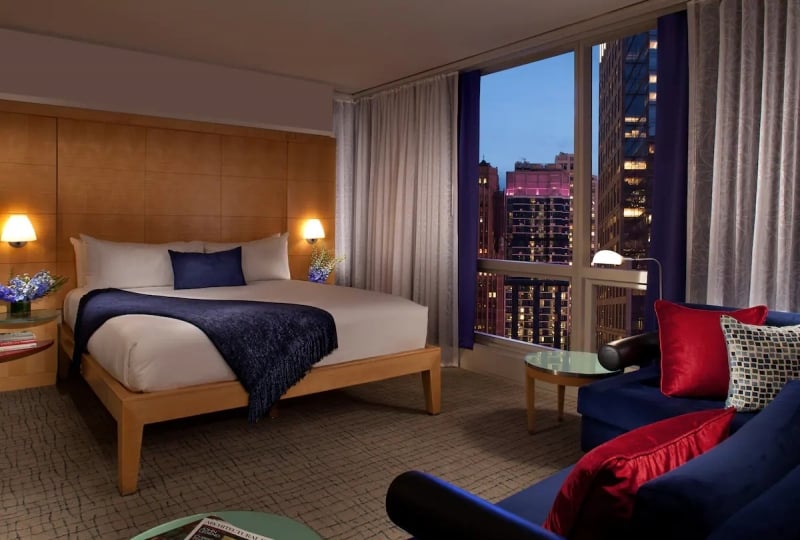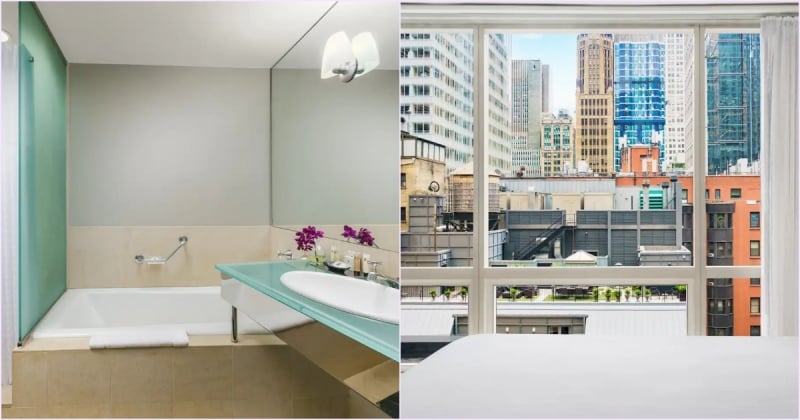 Listing name: AMAZING PRIVATE room located in the HEART of TS !
Listing type: Boutique hotel
Max. no. of guests: 2
No. of rooms: 1
If you're the type of tourist who never wants to be far from the action, then you'll definitely enjoy staying at this modern four-star hotel. Sitting in the heart of the ever-bustling Times Square, it's the Airbnb for travellers who embrace all the dazzling frenzy of the City That Never Sleeps. Moreover, its central location makes it easy to explore further, with multiple subway lines available at the Times Square–42nd Street Station.
Inside the room, you'll see must-haves for modern travellers, like a smart TV with Netflix, a work desk, and a spacious bathroom. Other perks include free WiFi and free breakfast on the go. For an additional fee, you can even bring your fur baby! 
3. This crowd-favourite Airbnb with a spectacular view of the Ball Drop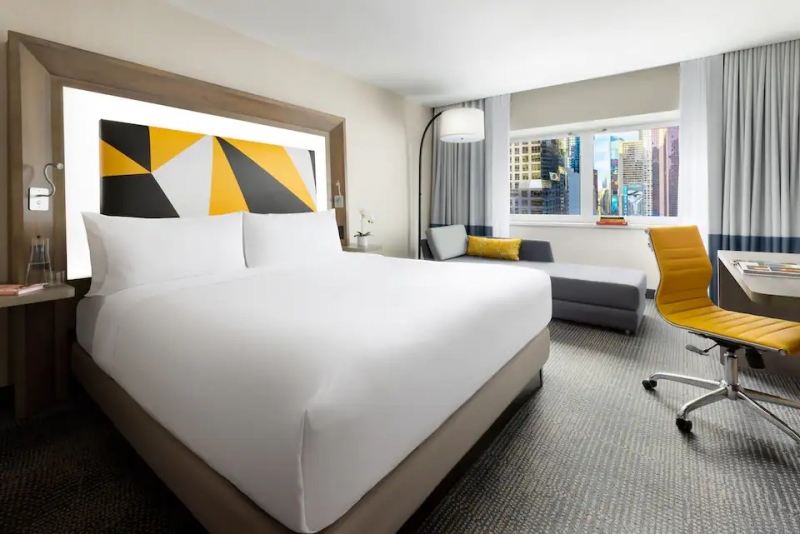 Listing name: Center of Times Square with Ball Drop View
Listing type: Hotel room
Max. no. of guests: 2
No. of rooms: 1
Travellers flock to the Big Apple every holiday season, especially in time for New Year's Eve. Why not make the most of your stay and pick an Airbnb with a view of the Ball Drop? This stylish hotel is the perfect spot to watch the festivities unfold: As the clock strikes 12, guests get a fantastic view from the chic rooftop bar. And beyond the New Year's Eve festivities, an Airbnb overlooking the dazzling Times Square definitely adds to the NYC experience. 
Also read: 14 Cities With the Most Exciting New Year's Eve Celebrations, From NYC to Taipei!
4. This cosy studio that's a peaceful slice of NYC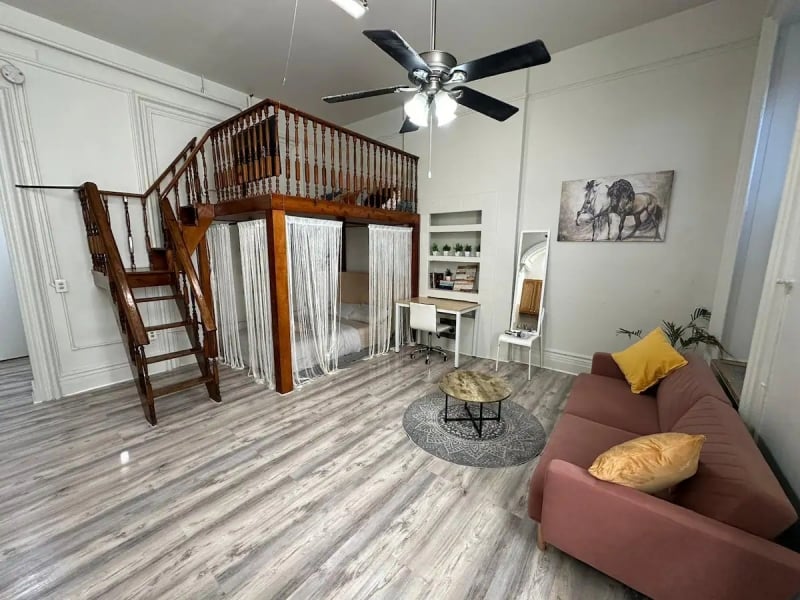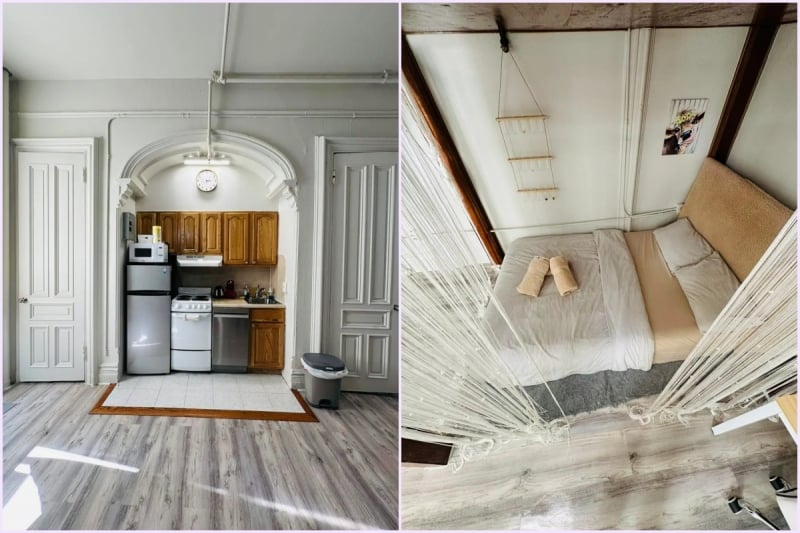 Listing name: Comfortable quiet place in Times Square
Listing type: Entire rental unit
Max. no. of guests: 2
No. of rooms: Studio
Take a breather from the crowds and the big-city lights at this charming little studio. The apartment is the perfect fit for two travellers, with a plush memory foam bed, plus a loft-style lounge area, a full kitchen, and reliable WiFi for digital travellers who need to catch up on Zoom meetings on the go. Cosy yet comfortably spacious, it's a peaceful home away from home that allows travellers to rest away from the hustle of New York.
That said, this Airbnb sits in the heart of NYC — you'll only be a short walking distance of Times Square! Restaurants, delis, and nightlife spots are nearby, as well as trains headed to other New York boroughs. 
5. This sun-drenched rooftop suite in Midtown Manhattan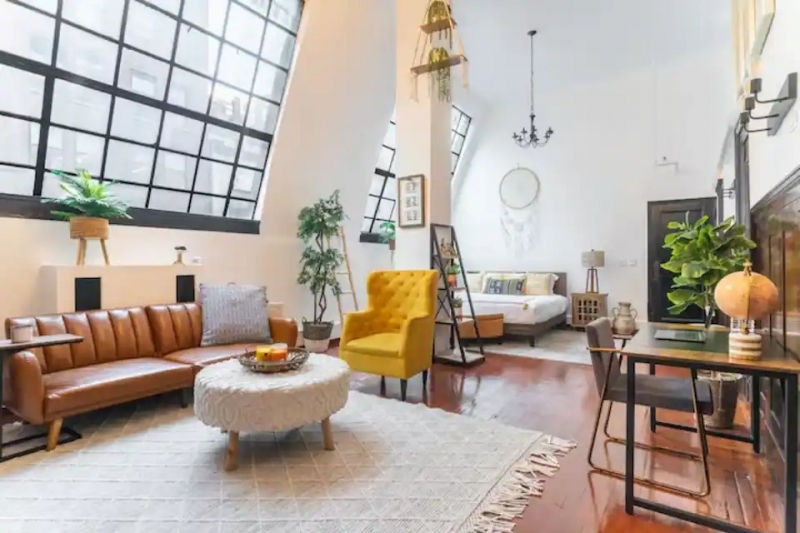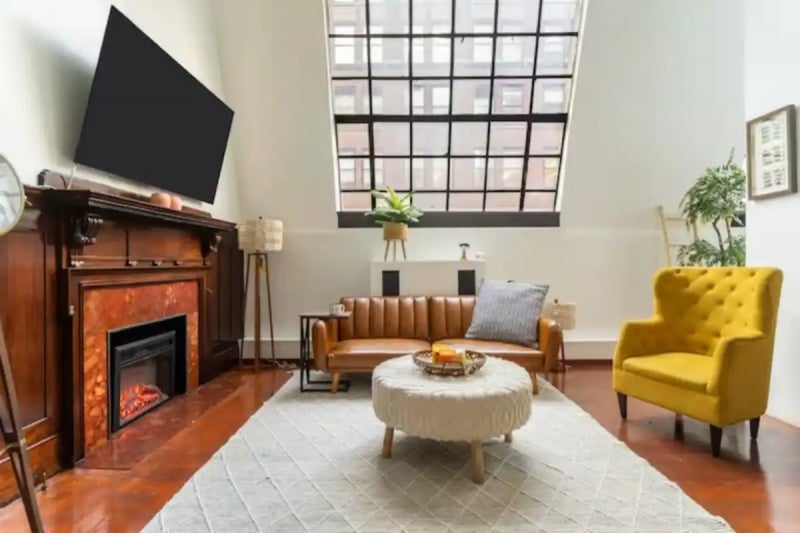 Listing name: Premium Rooftop Loft Suite | Midtown Manhattan
Listing type: Entire rental unit
Max. no. of guests: 2
No. of rooms: 1
Some spaces ooze good vibes. Just take a look at this sunny loft in Midtown Manhattan with its vaulted ceilings, massive windows, and open-plan living area. Although it's found in an old New York building, midcentury modern furnishings make the home feel fresh and in vogue. Plus, the rental comes equipped with the essentials: a comfy queen-size bed, high-speed WiFi, and a beautiful bathroom with a tub. There's also a kitchenette with a mini-fridge and microwave in the vacation rental; for cooking, guests can use the communal kitchen in the basement. 
Moreover, we love how tucked away this picture-perfect home is. Even if the Airbnb is only a five-minute walk to Times Square — aka one of the busiest parts of New York City — it's quiet and relaxed. 
Also read: 20 Best Things to Do in Manhattan — NYC's Most Popular Borough
6. This lavish Times Square Airbnb filled with opulent touches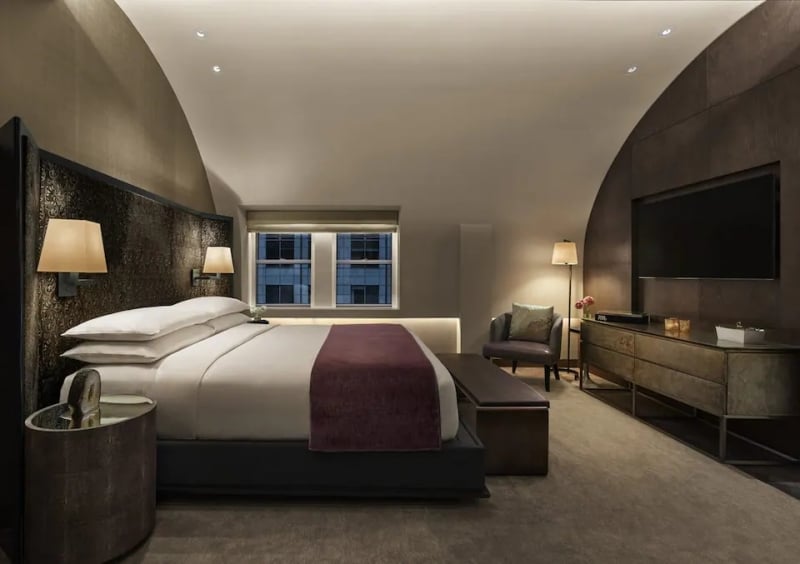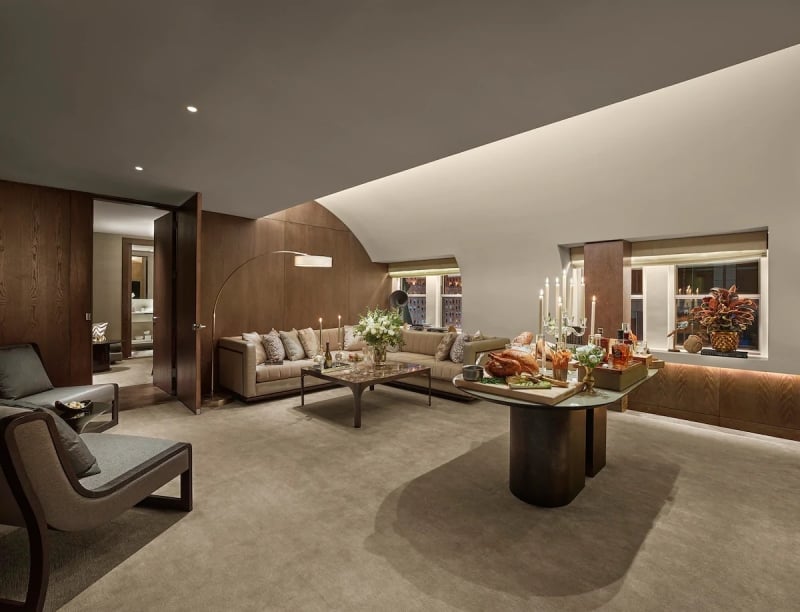 Listing name: Penthouse One Bedroom Suite in Times Square
Listing type: Private room in a hotel
Max. no. of guests: 3
No. of rooms: 1
VIPs, you'll feel right at home in this magnificent pied-à-terre in The Knickerbocker, the first luxury hotel in Times Square. Named after famed Metropolitan Opera tenor Enrico Caruso, the 90-square-metre penthouse dubbed "Caruso" draws inspiration from its namesake's lavish lifestyle. Sprawling rooms, bespoke furnishings, and luxurious beddings promise a five-star experience. And if you're ready to mingle with fellow travellers, grab a table and some cocktails at the rooftop bar, St. Cloud.
Be warned: This Airbnb near Times Square NYC fetches a pretty penny. But a previous guest promises it's worth every cent — and you deserve the occasional indulgence, after all!
7. This sleek apartment on Billionaire's Row with free breakfast and wine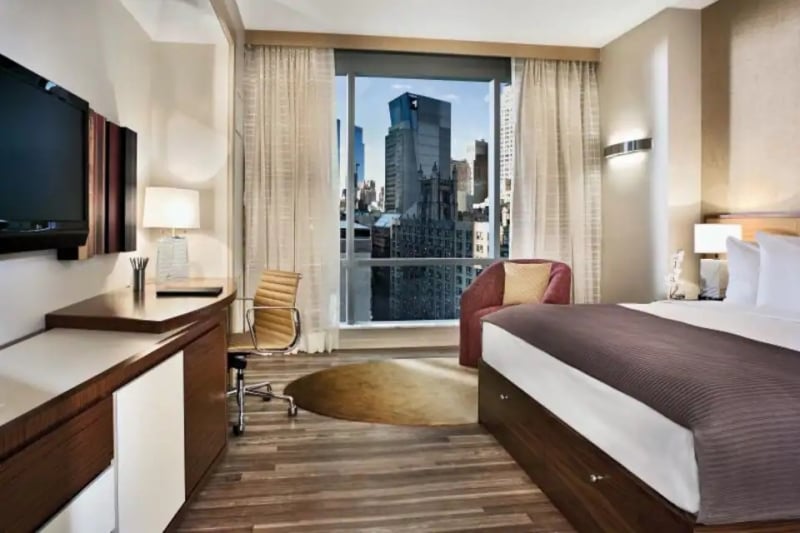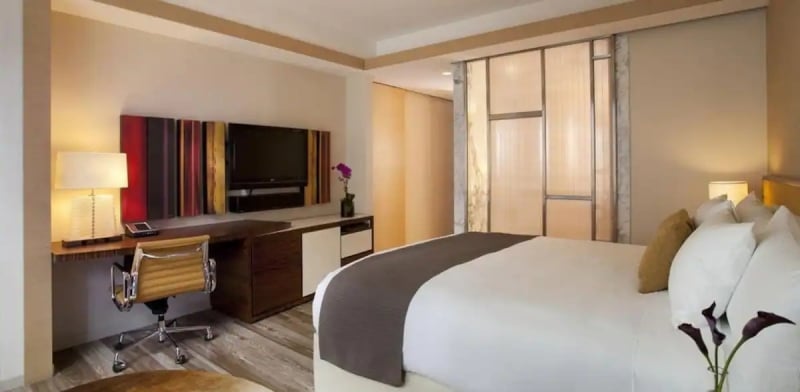 Listing name: Billionaire's Row w/ Free Daily Breakfast and Wine
Listing type: Entire serviced apartment
Max. no. of guests: 2
No. of rooms: Studio
Nestled in the slice of 57th Street known as Billionaire's Row, this serviced residence on Airbnb is just one block from luxury shopping haven 5th Avenue and a 15- to 20-minute stroll from Times Square. It's perfect for living your Sex and the City fantasies! Additionally, the chic interiors are as impeccable as its location, with sleek furniture, a workspace with an Eames Management Chair, and panoramic city views. The cherry on top? Complimentary wine for guests.
8. This three-bedroom sanctuary perfect for group vacations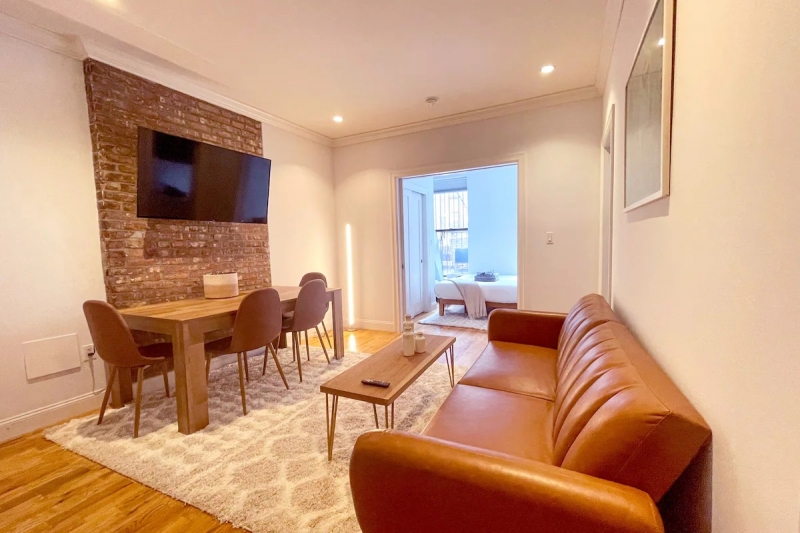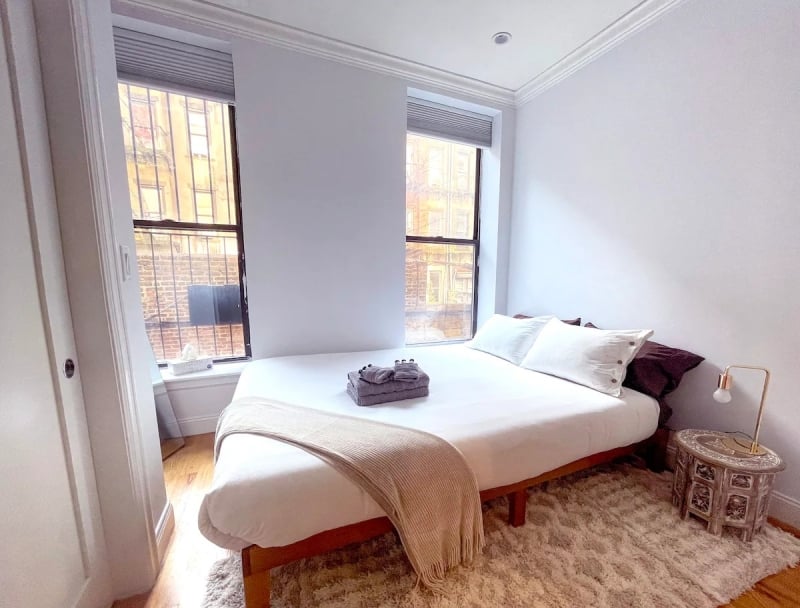 Listing name: 3 Bedrooms oasis in Times Square
Listing type: Entire rental unit
Max. no. of guests: 7
No. of rooms: 3
Live with the whole crew on vacation at this beautifully renovated apartment just a few blocks from Times Square. Three spacious bedrooms and a well-designed living, dining, and kitchen area make for a cosy place to bond with family and friends — there's no need for separate hotel rooms, right? 
Moreover, previous guests have commended the unit's relatively quiet atmosphere despite being close to restaurants and tourist attractions. Bright, airy, and extremely clean, it definitely tops our list of Times Square Airbnb homes for group vacations. 
9. This upscale apartment in Hell's Kitchen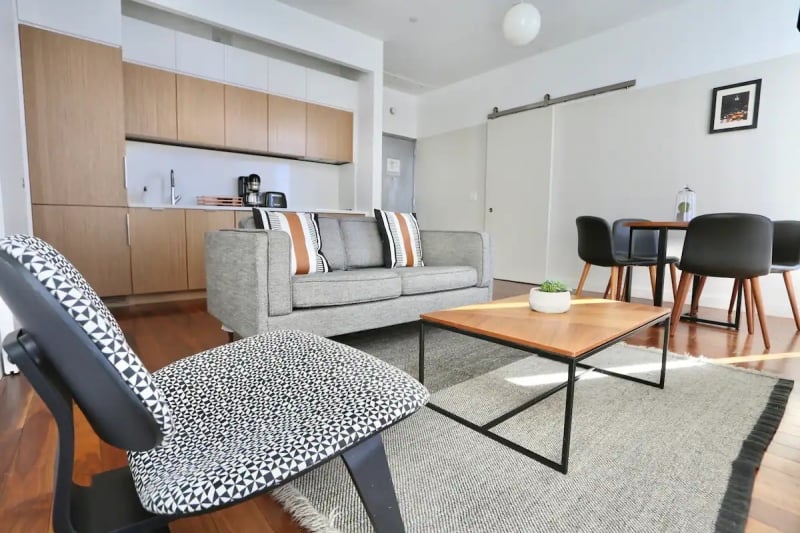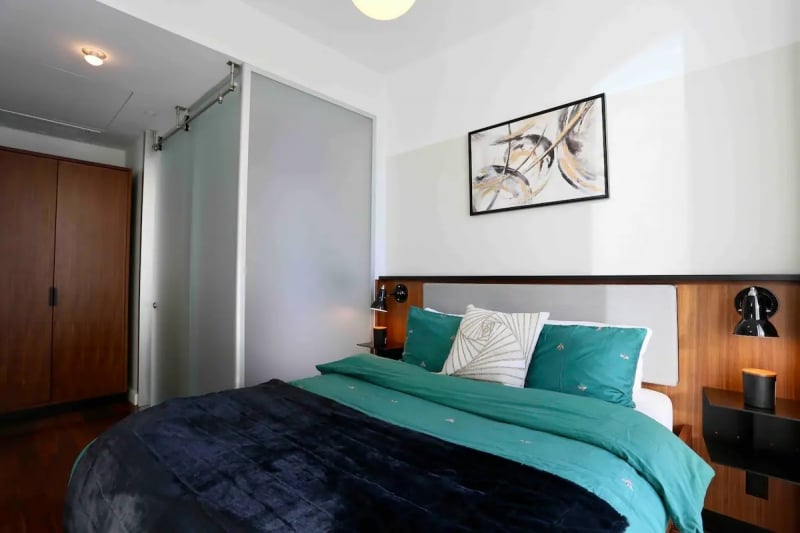 Listing name: Centrally Located Luxury Apartment
Listing type: Entire rental unit
Max. no. of guests: 4
No. of rooms: 2
Whether you're in New York for work or leisure, this contemporary apartment in Hell's Kitchen fits like a glove. Notable features include dimmable lighting, floor-to-ceiling shutters, soundproof windows, and individual climate control in every room. Plus, fast WiFi means quick emails and seamless Zoom calls with colleagues! Guests of this vacation rental also enjoy access to building facilities such as the fitness centre and laundry room. 
If Times Square is your main stop in New York, you'll be happy to know that this Airbnb is only about two blocks away from the tourist attraction. Not to mention, Hell's Kitchen is a hotbed for multicultural dining spots and exciting nightlife. What more can you ask for?
10. This artist's loft for aesthetes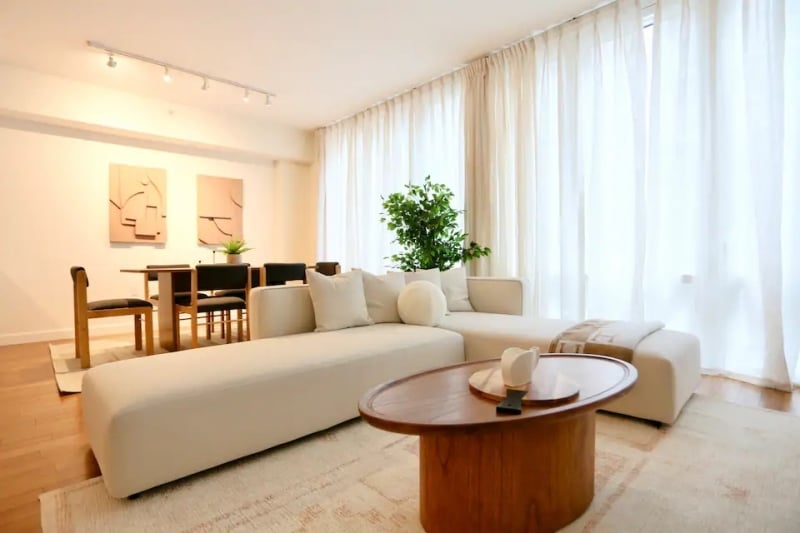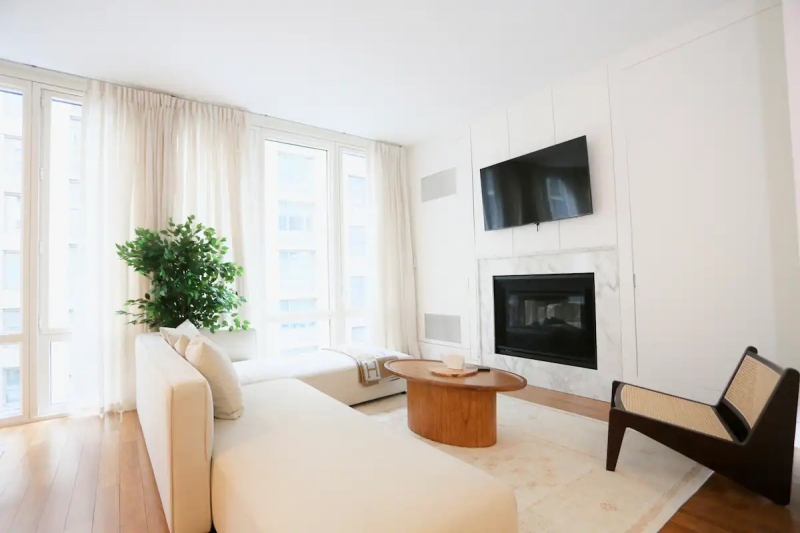 Listing name: Full Floor Japandi Artist Loft
Listing type: Entire condominium
Max. no. of guests: 5
No. of rooms: 2
Looking for the best Airbnb near Times Square for the 'Gram? This stunning Japandi-style loft certainly makes a case for itself. From the designer furniture to the carefully curated art pieces, the sun-soaked living space puts its best face forward. Luxurious materials are used throughout the home: hardwood floors, marble vanities, and granite countertops. There's also a custom-made electric fireplace for cosy nights when you're too lazy for pub crawls. 
Although this artist's loft is in a quiet building, it's remarkably accessible, with Times Square just an easy stroll away. The best of both worlds, indeed!
11. This historic two-level penthouse that screams old-world New York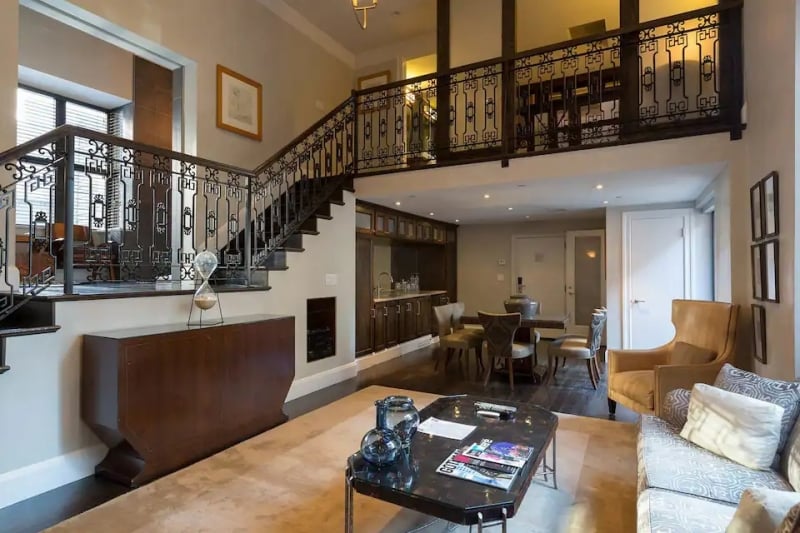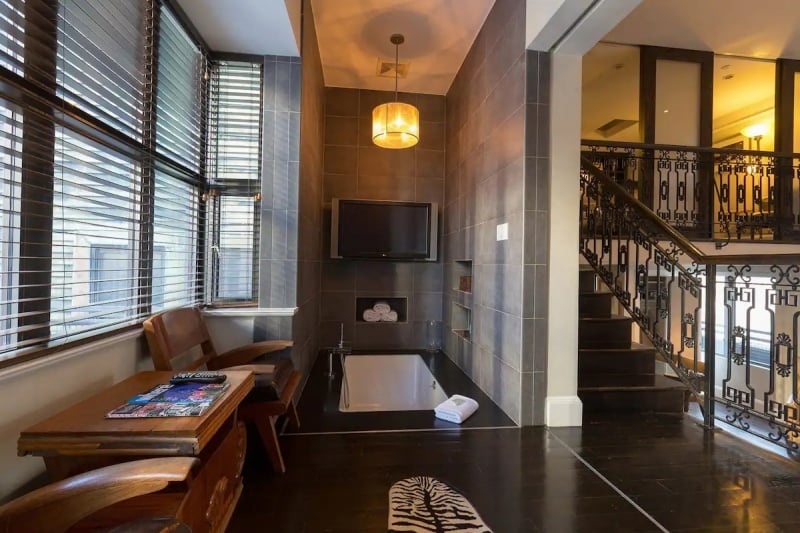 Listing name: Unforgettable Exclusive 2-Level Penthouse w/Hottub
Listing type: Entire rental unit
Max. no. of guests: 3
No. of rooms: 1
At this classic two-level penthouse, you can pretend to be an heir of an old wealthy New Yorker. Luxurious but understated, the supersized apartment features tastefully decorated interiors, high ceilings, and far more than enough room for three guests. There's even a hot tub in the mezzanine area — with a TV, because why not? 
Additionally, this Airbnb is within walking distance of the most iconic New York hotspots, including Times Square, Broadway, Grand Central Terminal, Empire State Building, and Madison Square Garden.
12. This spacious centrally located home away from home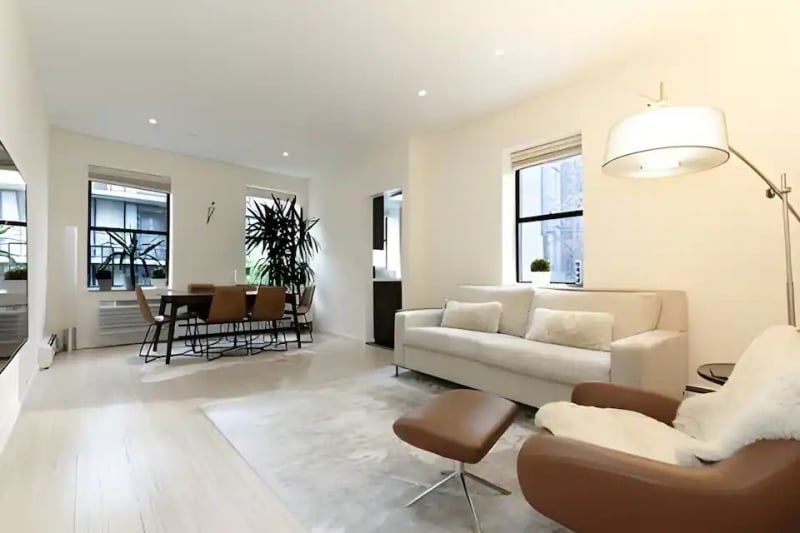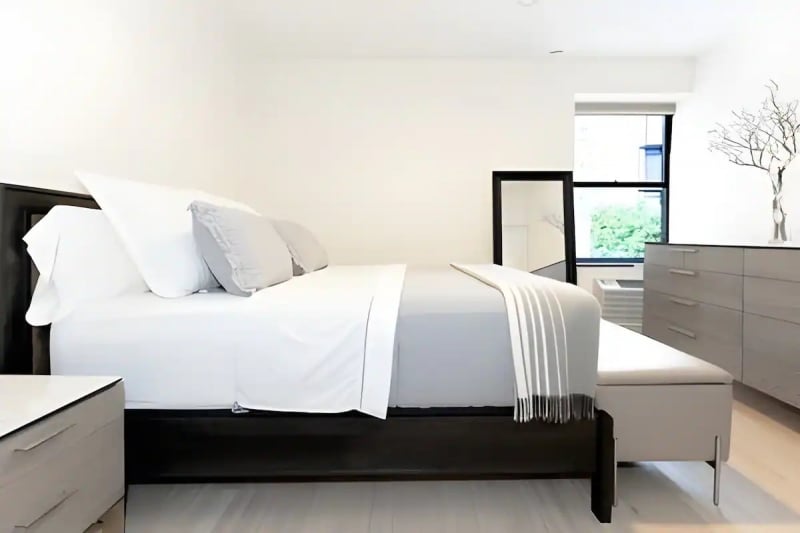 Listing name: 10 Min Walk To Times Square | 1 BR
Listing type: Entire rental unit
Max. no. of guests: 4
No. of rooms: 1
Budget travellers exploring the Big Apple will want to book this pristine apartment ASAP. Previous guests rave about its central location, a stone's throw away from Times Square, Central Park, and other New York attractions. Superhost Kai is also responsive and attentive, making sure to provide all the essentials, from dining and shopping tips to umbrellas for rainy days in the city. 
And more importantly, it's relatively easy on the wallet. Not only is it priced lower than many Airbnb listings near Times Square, but it also fits up to four guests — which means you can split the price four ways!
13. This mid-century Airbnb near Times Square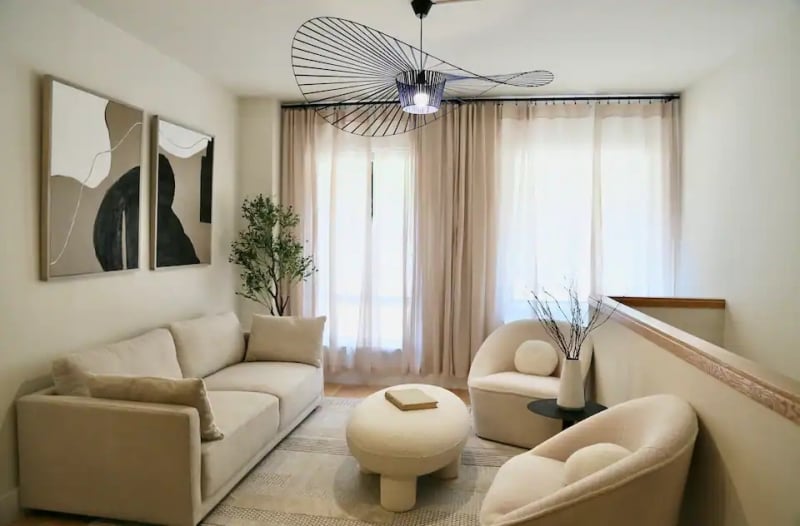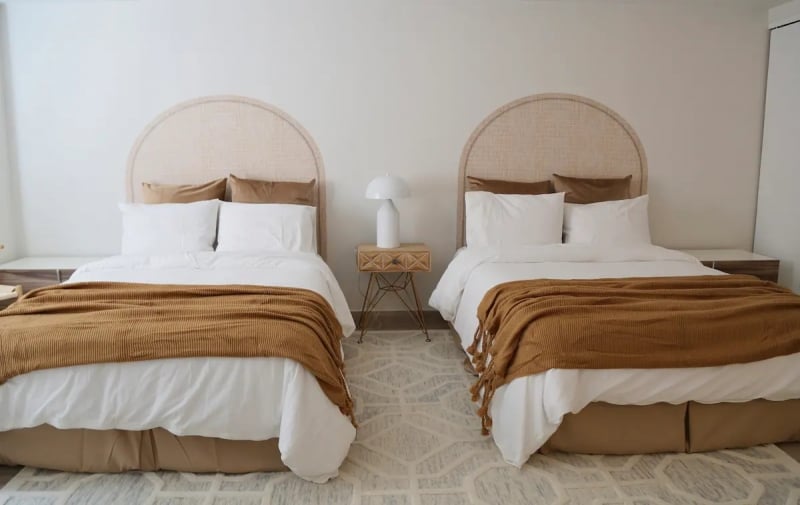 Listing name: Midcentury Designed Midtown Apartment
Listing type: Entire condominium
Max. no. of guests: 6
No. of rooms: 2
Neutral hues, clean lines, and organic shapes create a blissful atmosphere in this Midtown apartment — we're hard-pressed to imagine a more pleasant place to spend an afternoon in New York. 
Inside, two elegantly furnished bedrooms sit on two separate floors, offering space for groups of up to six travellers. Smart TVs, work-friendly desks, and high-speed WiFi are provided, while the gleaming kitchen lets aspiring home chefs go wild with a full-sized oven, cookware, and other essentials.
And when you step out the door, you're right in the heart of Manhattan. It's just an easy walk to Airbnb near Times Square NYC.
14. This charm-filled 19th-century gem renovated for modern travellers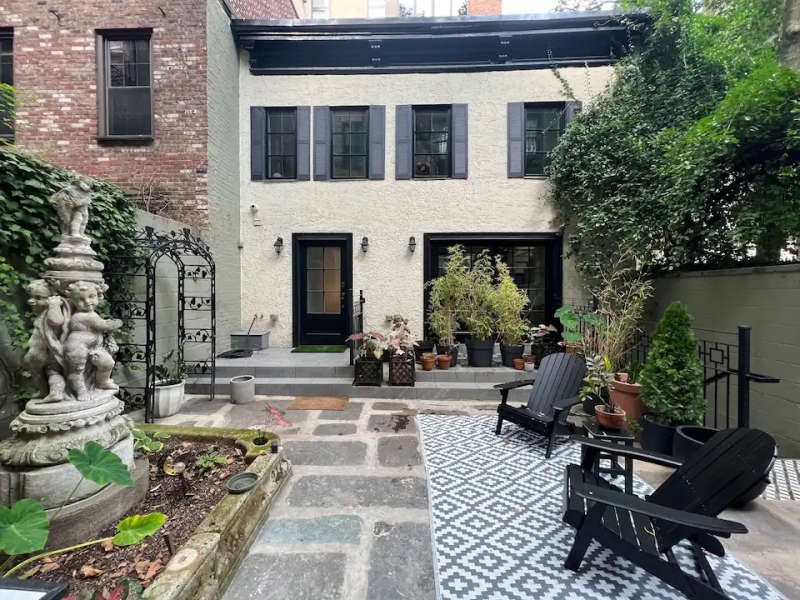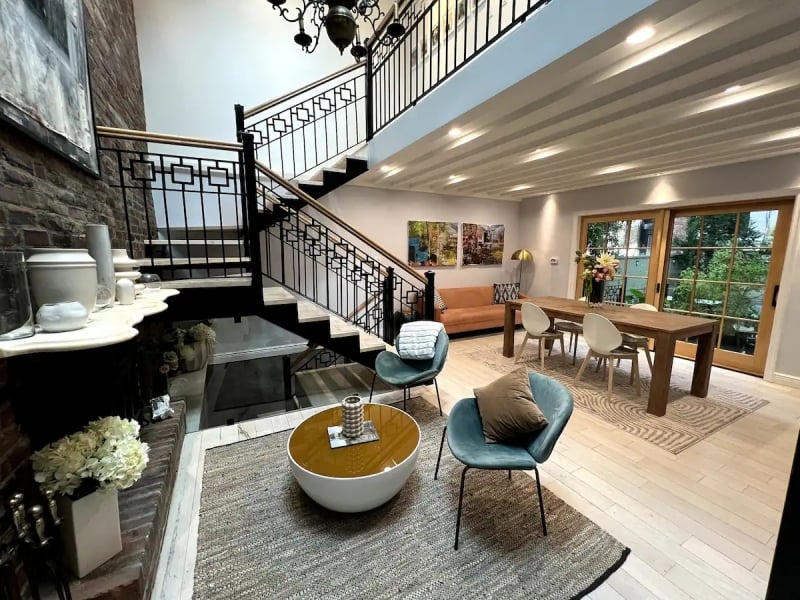 Listing name: Secret Carriage House
Listing type: Entire home
Max. no. of guests: 5
No. of rooms: 2
Need a change of scenery in the urban jungle? This 19th-century carriage house is a hidden gem in New York City. Discover little luxuries throughout the home: an office-slash-cinema, a two-person sauna, and a fully equipped kitchen. Beautiful contemporary artworks add texture to the three-level sanctuary, while the expansive walled garden offers a lush outdoor hangout spot that's rare in NYC rentals. 
Also read: 10 Gorgeous Airbnbs in Upstate New York for the Perfect Weekend Escape
Off to live out your New York dreams? These Times Square Airbnb homes promise to host you well while you have the time of your life in the Big Apple!
Got a property you'd like TripZilla to feature? Inquire with us here.
---
This article contains affiliate links. When you book through these links, we may earn a small commission at no additional cost to you. All images courtesy of the respective property listings.