If you love water fights, then you don't want to miss the Thingyan festival in Myanmar. Also known as Songkran festival in Thailand, the Buddhist holiday is the Burmese New Year festival that usually falls around mid-April and is celebrated over a period of four to five days.  
In Yangon, the party is as big as the capital city itself. Expect high-powered water jets, children armed with water guns and pick-up trucks jam-packed with people dancing to the heavy techno blasting on the streets.
Behind the playfulness, the practice of playing with water is rooted in the ancient Hindu belief that diving in water cleanses the soul spiritually. People pour water on each other to wash away the bad deeds of the previous year, and to start the new year with clean karma. This is why after soaking you down, the locals welcome you to do the same to them – with a big grin, no less.
Thingyan isn't just a water fight. It's one colossal blessings party! 
So slather on some Thanaka, juice up your water gun (the bigger the better) and follow these tips to get the best Thingyan experience ever:
1. Waterproof your gear and valuables
Expect to get soaked from the moment you step out of your accommodation till you get back. Nobody is spared at Thingyan, except for monks and pregnant women.
You'd want a piece of mind knowing your gadgets and other valuables stay dry while you party. Ideally, you'd want to carry a waterproof bag. But a cheaper alternative is to use sandwich ziplock bags to lock the moisture out.
Get a waterproof case for your phone if you can. But if you're a cheapskate like me, clear waterproof phone pouches that slings around the neck are readily available at streetside vendors. That way, you can take photos, Snapchat or text people while being hosed down.
It's a hassle to waterproof your valuables, but you don't want to return to your hostel at the end of the day to curl up in bed and avoid socialising with your dorm mates because you're miserable that your expensive camera got waterlogged and is practically defunct. Yes, please learn from my mistakes.
2. Get picked up on a pick-up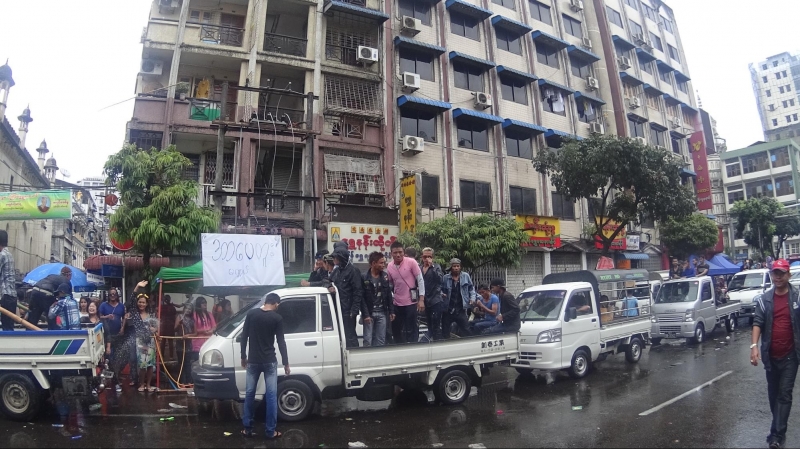 At this festival, pick up trucks piled with Burmese youths roll out onto the roads. They tour the city and stop by 'pandals' – temporary raised stages on main roads equipped with high-powered water jets – with the intention of getting thoroughly soaked. Join them.
Burmese people are a friendly and hospitable lot, and if you ask to join their ride they will probably welcome you with open arms. This is a great way to immerse yourself in the madness that is Thingyan and bond with locals at the same time.
Just remember that safety comes first. If you see that the truck is overcrowded and they provide nothing sturdy to hold onto, don't hop on. You don't want to fly out of a speeding vehicle in Yangon. Get wet, not bloody.
3. Partake in the free food
Another highlight of Thingyan festival is the free food distribution on the streets. You might not even have to spend any money on food in the day! Local families give out hot coffee, fried noodles and traditional Thingyan snacks like rice dumplings made with palm sugar.
Don't be shy when you see them! They are happy to feed strangers. To me, that's the beauty of the Burmese people – they share a strong communal culture. They might not have much material wealth, but their hearts are rich with generosity.
4. Take a day trip to the Golden Rock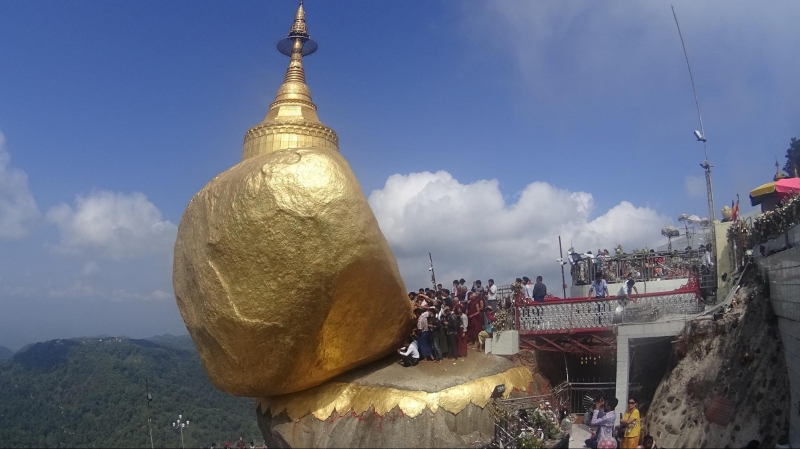 For the Burmese, Thingyan is more than crazy parties. Living out Buddhist traditions, it's also a time for prayers and almsgiving. One of the most sacred religious sites they travel to is Mount Kyaiktiyo, also known as the Golden Rock. The gilded pagoda on top of the giant boulder perching precariously off the cliff is a sight to behold.
You'll see hundreds of eager worshippers lining up to place a piece of gold foil on the rock. However, tradition dictates that only men are allowed to do so. Women have to stay around the parameters to worship.
Travelling out of Yangon can be pricey during Thingyan. Supply of transportation becomes limited as companies close for the holidays so bus tickets can get as expensive as US$50 per person. The other alternative is to get a taxi for your day tour which brings you to the town of Bago too. Our hostel arranged one that cost US$120 a day, which is a more comfortable and cheaper alternative if you can get others to join you.
5. Have Burmese street food after a wet day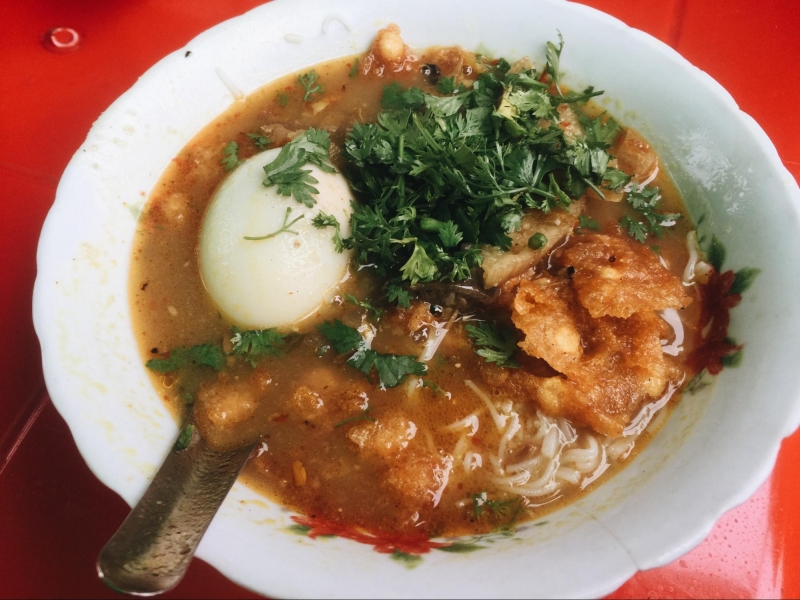 Most restaurants and shops will be closed during Thingyan. Have no fear though, because you can trust street food vendors to operate per usual. Head down to Yangon's city hall for a bustling street food market. I highly recommend getting a bowl of hot Mohinga, a rice noodle and fish soup dish, to warm yourself up after a long day of water fights.
Alternatively, Chinatown offers many restaurant options including barbequed seafood.
Thingyan is a wild time to visit Yangon. Although many tourist attractions and businesses are inaccessible at this time, it gives you a unique experience of the city. Burmese people sure know how to party, so embrace the madness to have the time of your life.