Aside from its spectacular beaches and being the birthplace of Pablo Picasso, Malaga has a lot to offer for a perfect beach and culture-filled holiday. Nothing beats its 300 days of sunshine and the artistic showcase of architecture. No wonder it's both the top trending destination on Airbnb for 2023, as well as one of the cheapest destinations in Europe! Aside from these, there are plenty of stunning options for where to stay in Malaga.
So, if you're planning to fly to this beach lover's paradise next summer, these top Malaga vacation rentals will do you wonders:
Also read: 15 Best Airbnb Homes in Spain, From Barcelona to Ibiza
The best Airbnbs in Malaga, Spain
1. This homely studio with the most welcoming vibes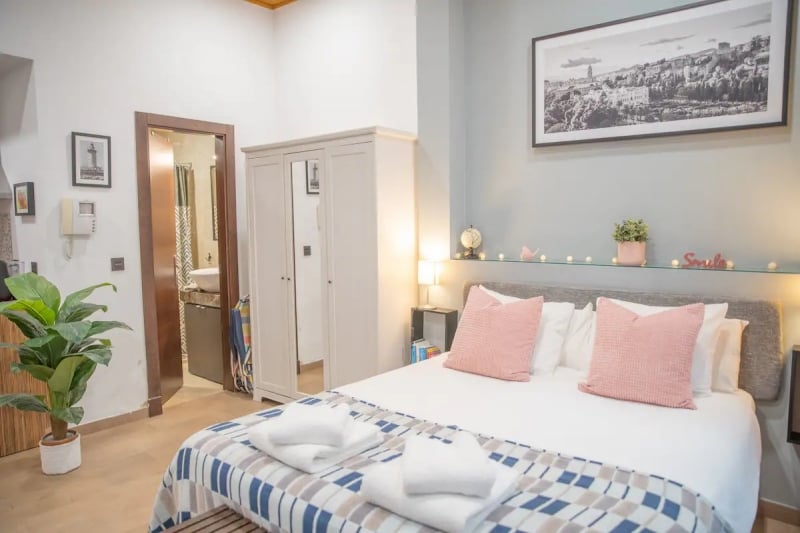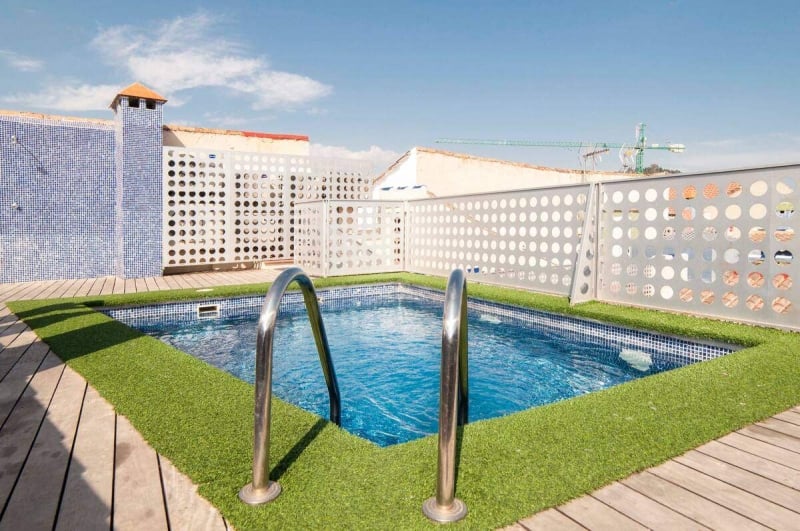 Listing name: Sunshine Studio! Culture & Relax in the Center
Listing type: Entire studio
Max. no. of guests: 2
No. of bedrooms: 1
This chic studio for two is one of the best Malaga vacation rentals that offer a comfy and quiet stay. The pink pastel touch against the neutral-themed interior creates a cosy ambience that will tempt you to snuggle in bed almost immediately. Aside from its free WiFi, this studio also offers wonderful views from its rooftop. So, take a relaxing dip in the pool overlooking the city's landscape after a long day at the beach.
In the morning, sip your cup of Nespresso from the studio's modern kitchen before you venture outside. FYI, this studio is located in the city centre. Meaning — you're in a prime location from tourist hotspots, of which the famous Larios Street, the Cathedral, and the Picasso Museum are part! Hands down the best Airbnb Malaga city centre puts forth.
2. This spotless apartment with a contemporary design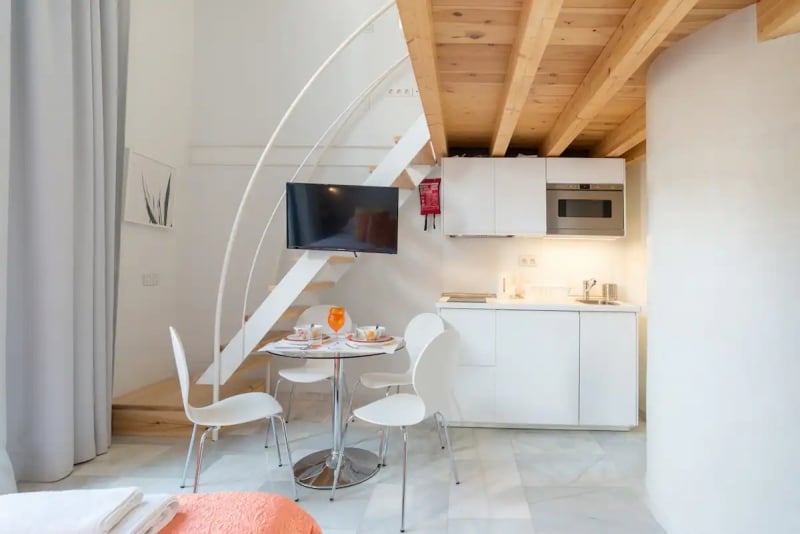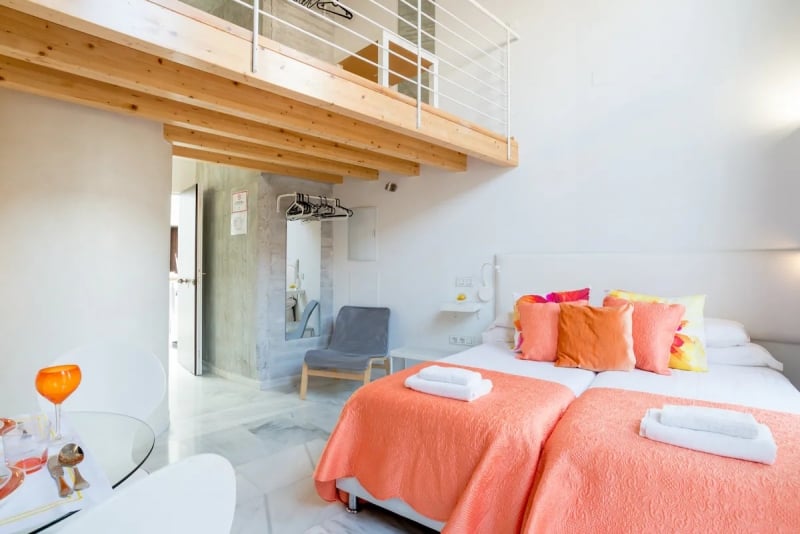 Listing name: Malaga City Breaks – Superior Apartment
Listing type: Entire apartment
Max. no. of guests: 4
No. of bedrooms: 1
If you're looking for a stylish stay for four, this minimalist abode should be at the top of your Malaga Airbnb list. The white interior makes up for the spacious look, while the pop of vibrant colours adds a lively atmosphere to this pristine apartment. Most of the reviews mention its top-notch cleanliness and easy communication with the host. 
Also, the stay is conveniently located near the city centre. So, worry not about having to drive or walk a long distance towards the city's main attractions and delicious food places! Definitely one of the best Malaga vacation rentals you should check out.
3. This cosy loft in Merced Square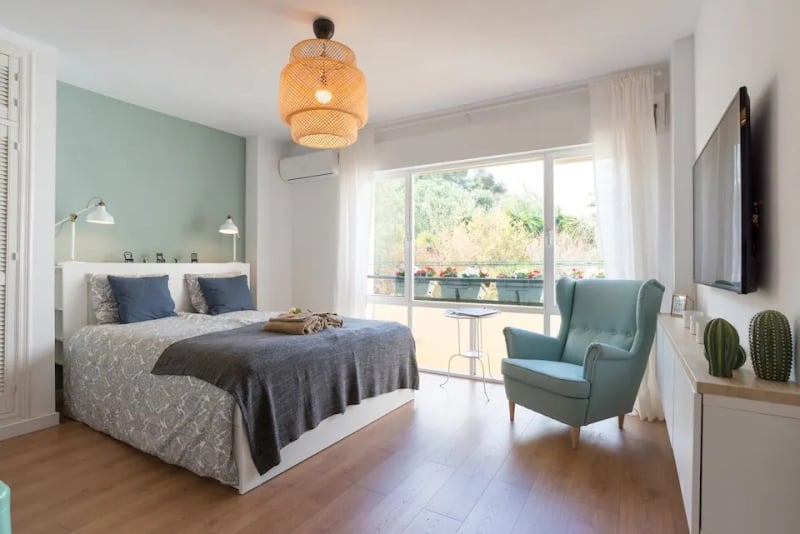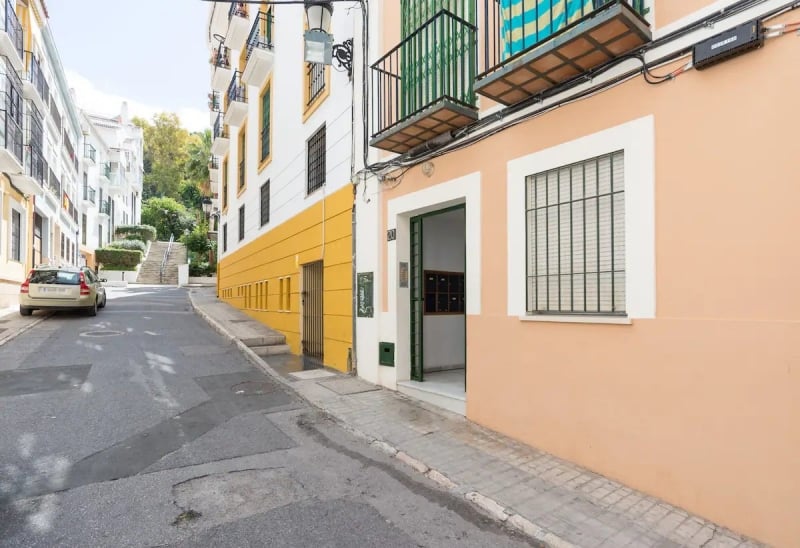 Listing name: Bright & charming historic center loft
Listing type: Entire studio
Max. no. of guests: 2
No. of bedrooms: 1
Nestled in the quiet yet privileged heart of the historic centre is this charming loft perfect for two. The blend of darker mint with white palettes really gives the space that beach-like interior which exudes a calming ambience as soon as you walk in. Enjoy binge-watching your favourite series on a smart TV or simply take in the views of Gibralfaro Mountain from the window.
When you're ready to explore, Calle Larios, Plaza Constitución, the beach, and the museums are easily accessible on foot. Not sure where to go? The stay offers the best recommendations of the city's must-visit attractions via its helpful guide! We assure you this stay is one of the most convenient Malaga vacation rentals the centre has to offer.
4. This timeless Malaga Airbnb apartment blessed with natural light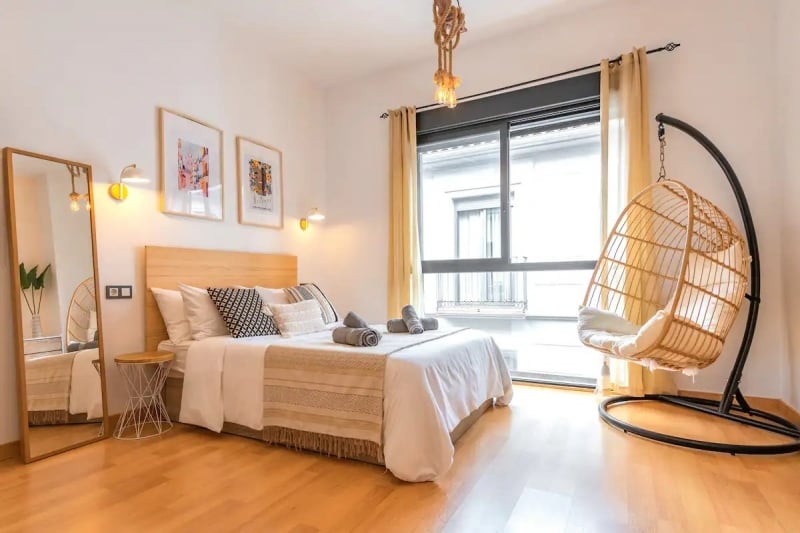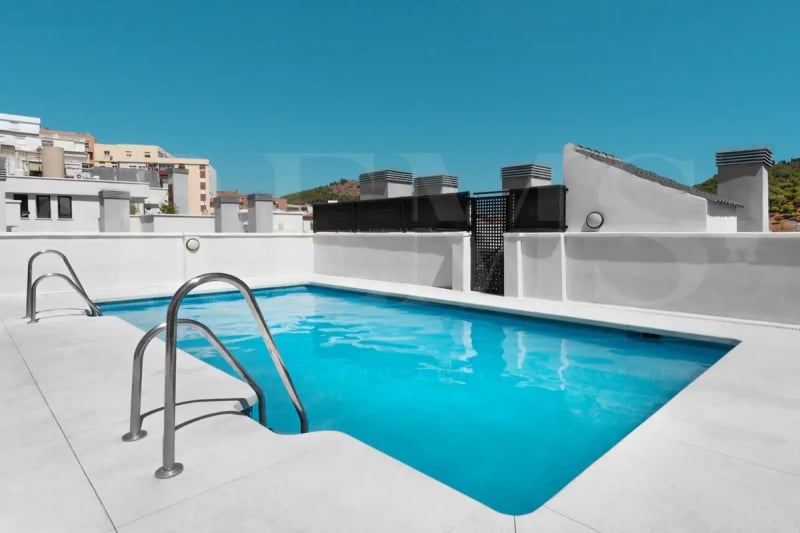 Listing name: Romantic Studio w/ swimming pool – Center
Listing type: Entire studio
Max. no. of guests: 3
No. of bedrooms: 1
This charming studio will be a perfect choice for a family of three who's looking for where to stay in Malaga. Spend quality time cooking together in its fully equipped kitchen that comes with a fridge, electric stove, and all sorts of utensils. Afterwards, get your family movie night going with an uninterrupted stream of everyone's favourite Netflix show, thanks to the studio's 5G internet.
Or if you prefer some alone time, pull out a book and immerse yourself in some fantasy as you sit in the bird's nest swing chair in your bedroom. When you're running out of things to do, take a dip in the swimming pool that lets you marvel at the endless blue sky. Definitely the Airbnb Malaga with a pool that gives you the best summertime holiday.
5. This fabulous villa that screams "luxury" from every corner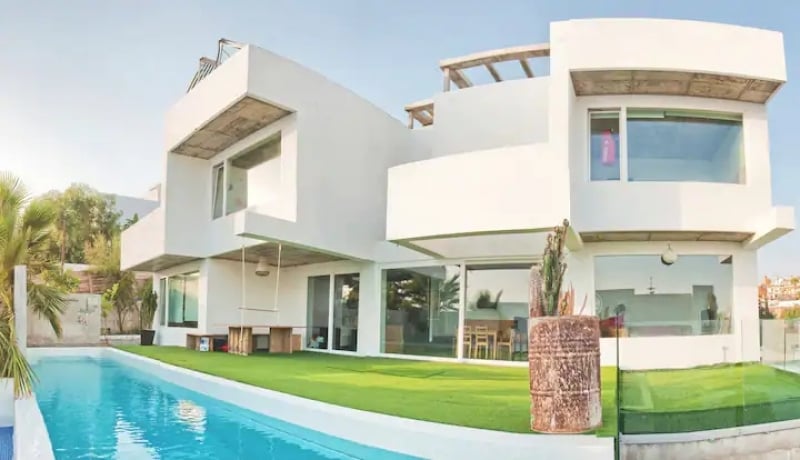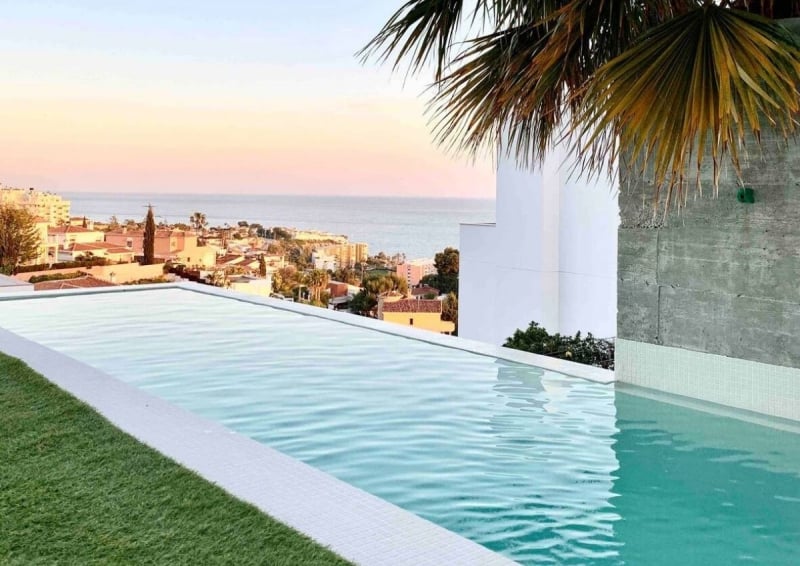 Listing name: Minimalist family villa with private infinity pool
Listing type: Entire apartment
Max. no. of guests: 7
No. of bedrooms: 3
Looking for the best Airbnb in Malaga with a pool that offers a luxurious space for a family of seven? This exclusive villa will do the trick. Designed with a minimalist interior and a touch of rustic style, this stay exudes a stylish yet comforting atmosphere. Hands down one of the best Malaga villas on Airbnb for your summer holiday.
Chill with your family for a great BBQ time — or better yet, soak in some blue when you swim at the saltwater infinity pool. In the evening, catch a magical moment with everyone, gazing at the majestic mountains and coast views bathed in the golden rays of the sunset from the rooftop. Psst, your kids will love the trampoline and playhouse installed in the space!
6. This blue-and-white-themed private loft for two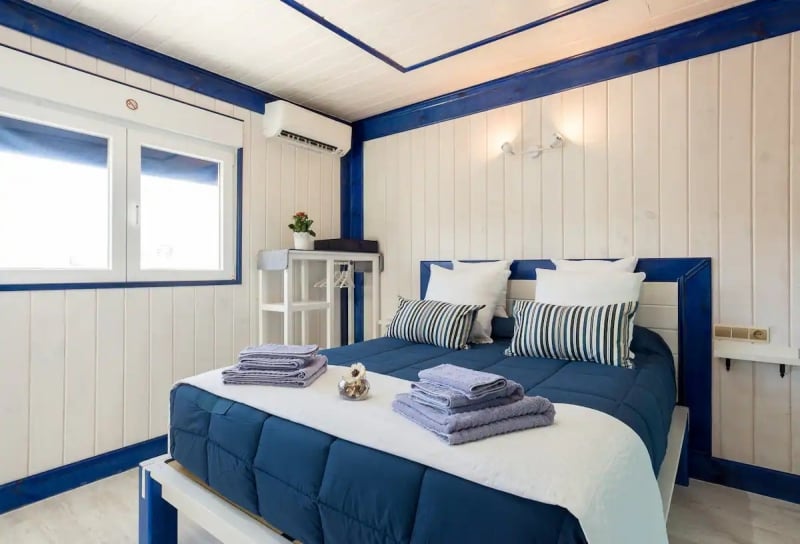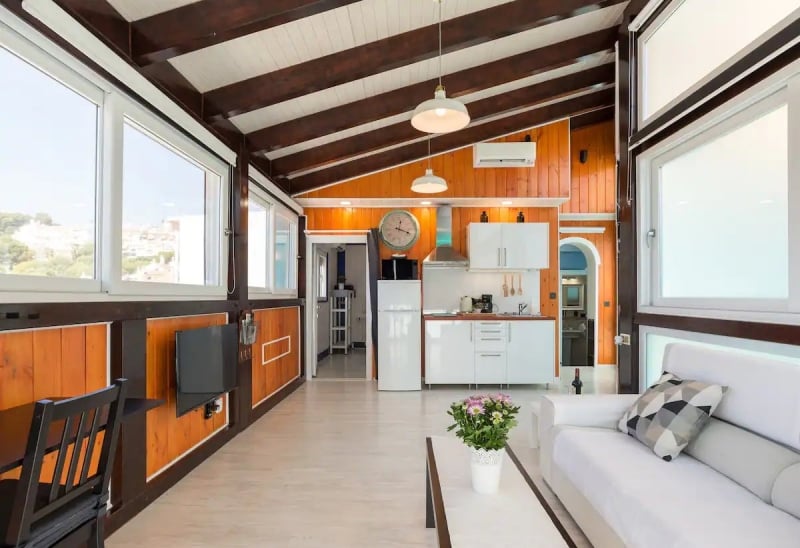 Listing name: Casa Turquesa-Loft Privado/Rest/Sea Views/Quiet/
Listing type: Entire loft
Max. no. of guests: 2
No. of bedrooms: 1
One of the best Malaga vacation rentals for lovebirds would be this coastal-themed loft tucked away from the bustling city. You'll be sure to appreciate the blend of modern interior with patches of great woodwork across each room. Without a doubt a fancy Malaga Airbnb that puts privacy and comfort side by side.
During your leisure, bond over intimate moments with your partner accompanied by the stunning sea views from the apartment's window. And when you're up for some exploration, take your lover to Playa Pedregalejo within an eight-minute walking distance from your stay. Afterwards, drive five kilometres downtown to see more of what the city has to offer. 
7. This convenient penthouse with stunning rooftop views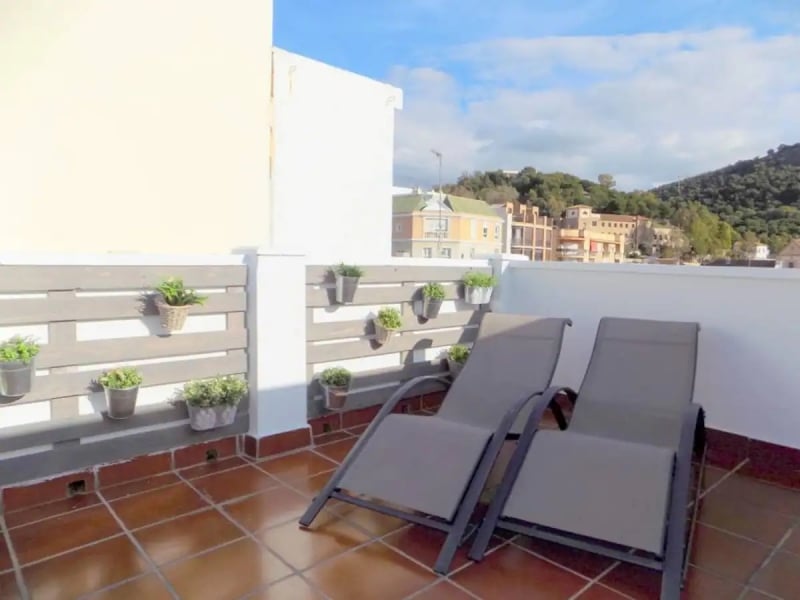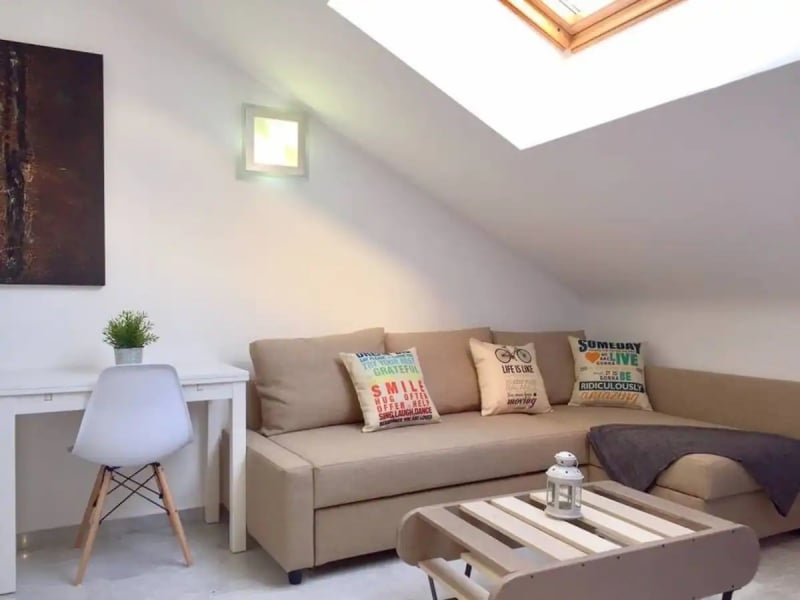 Listing name: Cozy penthouse in town center
Listing type: Entire apartment
Max. no. of guests: 2
No. of bedrooms: 1
Planning to stay in a penthouse in Malaga with your travel buddy? This homey apartment is all you need. The space is built with comfort and minimalist themes in mind, perfect for those seeking a home away from home during their summer vacation in the city.
Immerse in a deep conversation with your friend as you take in the beautiful view of the city and the mountains from its private rooftop terrace. Feel free to snuggle in your comfy bed with a book or two before you head out for some adventure, too. Speaking of which, be sure to visit Victoria Shrine and Merced Square, which are less than a five-minute walk from your stay!
8. This eclectic Malaga Airbnb that will leave you in awe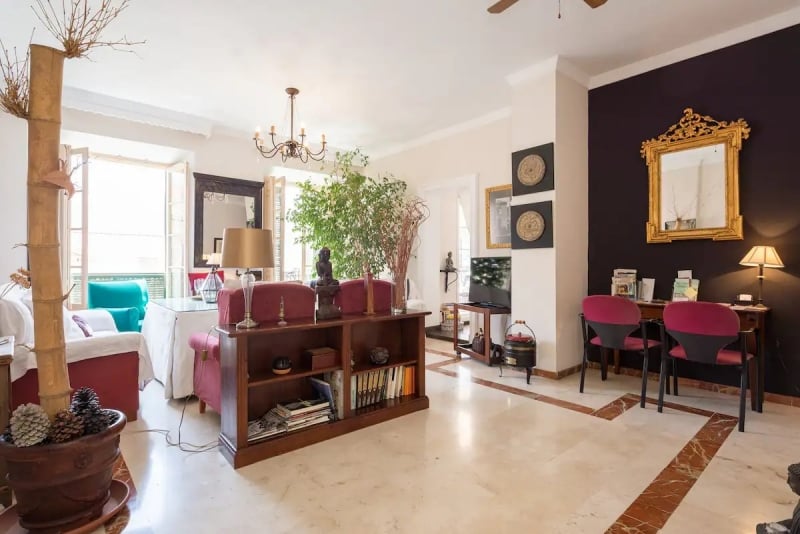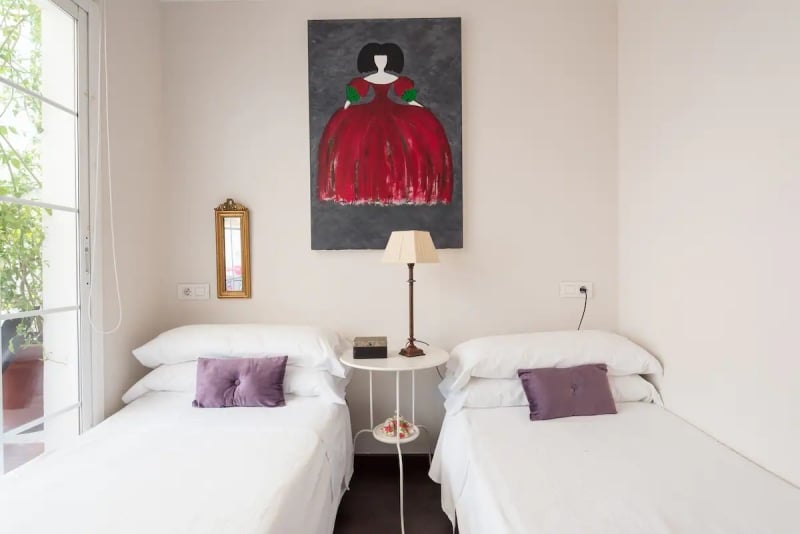 Listing name: Lovely apartment in Soho.
Listing type: Entire apartment
Max. no. of guests: 6
No. of bedrooms: 3
This lovely stay is hands down the best Airbnb in Malaga for your next girls' trip. The mostly black, white, and hot pink palette, together with a hint of greenery here and there, makes for a refreshing chic atmosphere. 
Though you might not want to leave your beautiful apartment, do check out the Calle Larios, Muelle Uno, and the Cathedral that are within walking distance from your stay. You can even enjoy the best food and shopping time thanks to the nearby restaurants and supermarkets in the Soho neighbourhood.
9. This stunning beach house with perfect views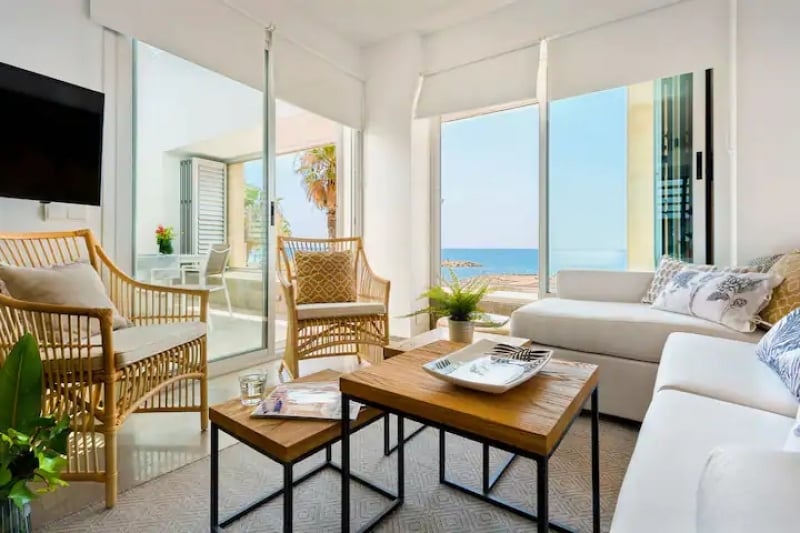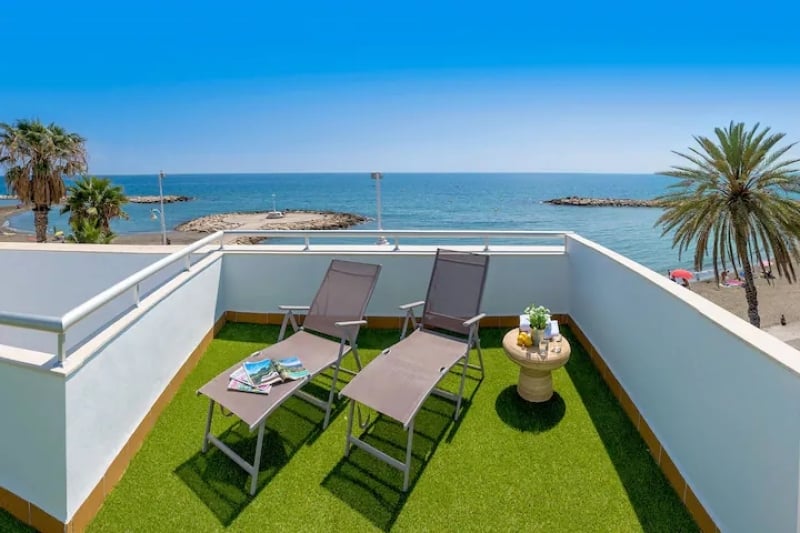 Listing name: Beautiful 2 Bd House with Terrace & views to the Beach. Pedregalejo
Listing type: Entire apartment
Max. no. of guests: 6
No. of bedrooms: 2
Take your family for the best staycation in Spain when you book this sophisticated house in Pedregalejo. Play some board games or enjoy reminiscing the good old days with your loved ones in the living room overlooking the spectacular beach views. 
If you're up for some fresh air, bring yourself to the space's private terrace that lets you sunbathe while enjoying the breeze from the sea. Good news: The area is dotted with restaurants and bars, so you'll never run out of places to indulge and have fun during your stay. Undoubtedly the most convenient Malaga Airbnb beach house you should check out.
10. This premium-looking suite in the Soho area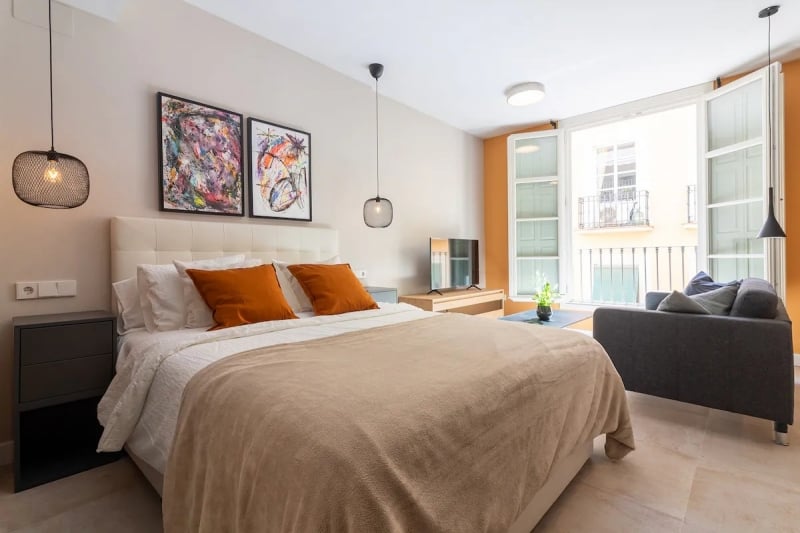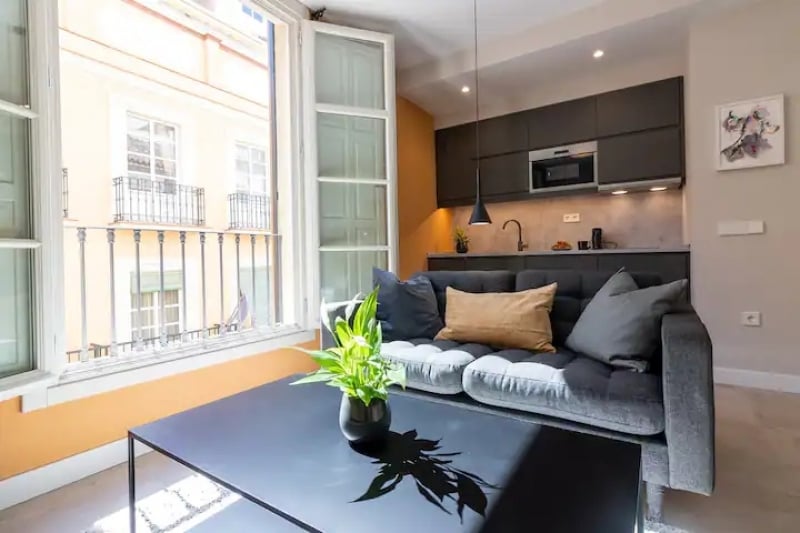 Listing name: GRUND SUITES GALLERY by Bossh! Apartments
Listing type: Entire studio
Max. no. of guests: 6
No. of bedrooms: 2
Nestled between the seaport and the entrance to Malaga Old Town is this exceptional apartment for two. The touch of black decor with an earth-toned background gives the space a premium yet comforting look that will elevate your stay. 
For a fun day out, you only need to walk ten minutes to the beach. And if you feel like exploring the city, the top museums and monuments are also within walking distance from this place. What's more, the Malaga-Costa del Sol Airport (AGP) is only a nine-minute drive from the Soho neighbourhood. Definitely an Airbnb near Malaga airport you should add to your list.
11. This peaceful villa fit for a group of four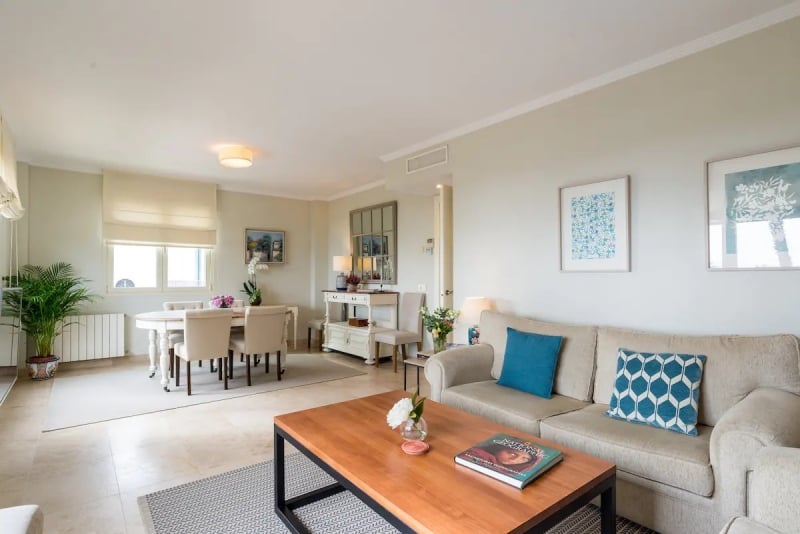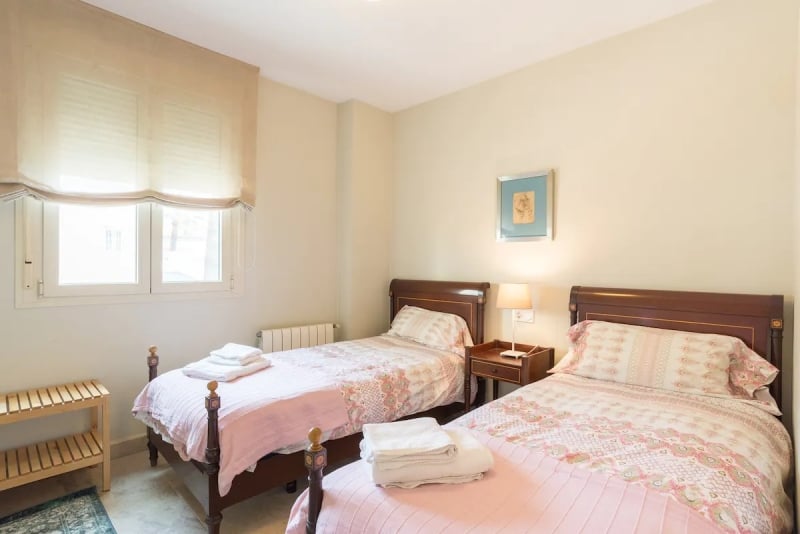 Listing name: Villa Concha, a waterfront luxury.
Listing type: Entire villa
Max. no. of guests: 4
No. of bedrooms: 2
If you're browsing through the list of Malaga villas on Airbnb, this modern villa should be among your top choices. The neutral interior palette and the great lighting play a major role in adding a luxurious look to the space. 
Enjoy dining together with your loved ones while you take in the splendid ocean vista from the glass windows across the walls. If you have some free time, watch a good show on the TV or read a book or two from the space's mini library. For some adventure, Malaga historic centre is only a ten-minute walk from your stay. So, make the most of your time in one of the homiest Airbnbs in Malaga.
12. This spacious abode with a view of Malaga Old Town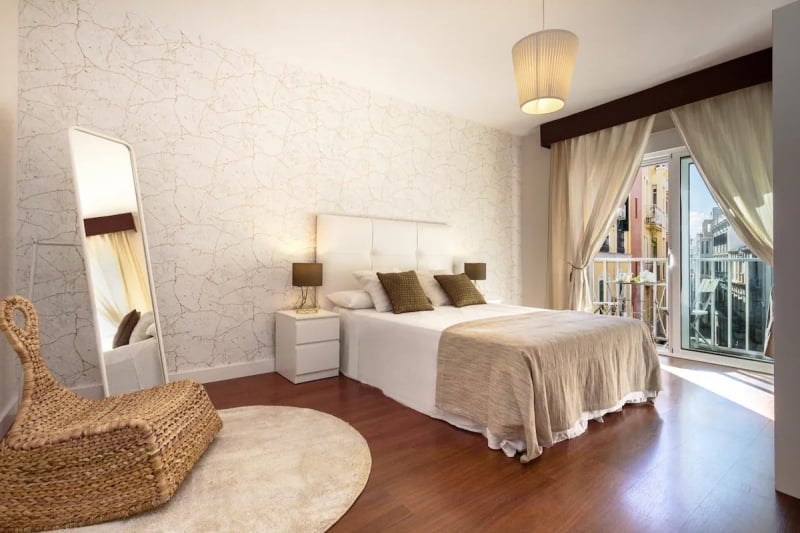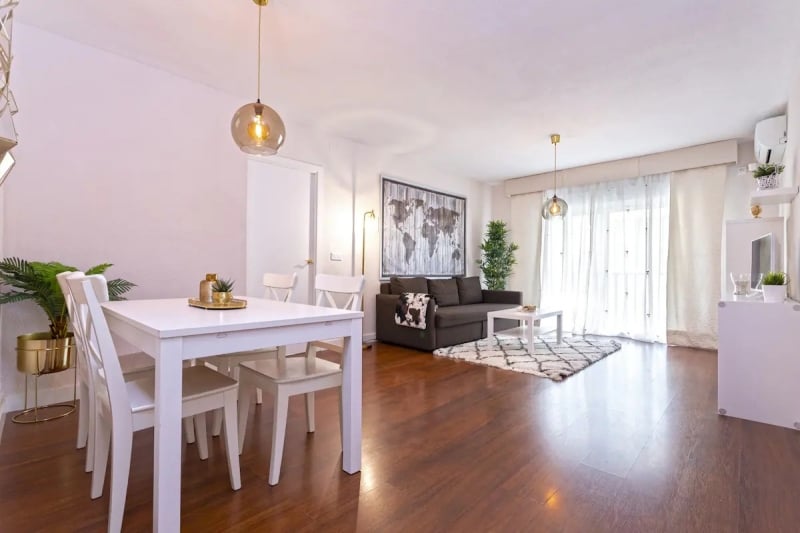 Listing name: Exclusive Apartments Street beatas
Listing type: Entire apartment
Max. no. of guests: 16+
No. of bedrooms: 5
Planning on booking the best Malaga Airbnb for your next family day? This remarkable apartment is here to elevate your family vacation with its luxurious space and accommodation. Have fun prepping some tasty meals for everyone in the apartment's fully equipped kitchen before you dig in together in the roomy living area. 
When it's time to head out, be sure to take a short walk to Picasso Museum and Malagueta Beach. Fret not about where to eat as you'll find plenty of restaurants along the way! Definitely one of the best Airbnbs in Malaga for a big group that wants to have the best summertime in the historic city.
Also read: 6 Things in Spain That Surprised Me During Our Family Vacation
So, find your preferred stay from any of these Malaga vacation rentals, and you're in for the best summer vacation in Spain!
Got a property you'd like TripZilla to feature? Inquire with us here.
---
This article contains affiliate links. When you book through these links, we may earn a small commission at no additional cost to you. All images courtesy of the respective property listings.