Singapore is widely acclaimed as a food heaven to not just the locals, but travellers as well. Ask any Singaporean what they miss the most when they travel out of the lion city for long periods and you'd most probably get "food" as an answer.

What exactly are the dishes they miss? And what are the top must-try dishes in this little red dot? We asked several travellers and this list is what we got – the 16 local foods that you must eat when in Singapore, ranging from springy noodles and fragrant rice to piping hot hawker fares and spicy delicacies.
Also read: You Must Be Kidding: Travel 10 Countries in Southeast Asia from SGD 209
1. Laksa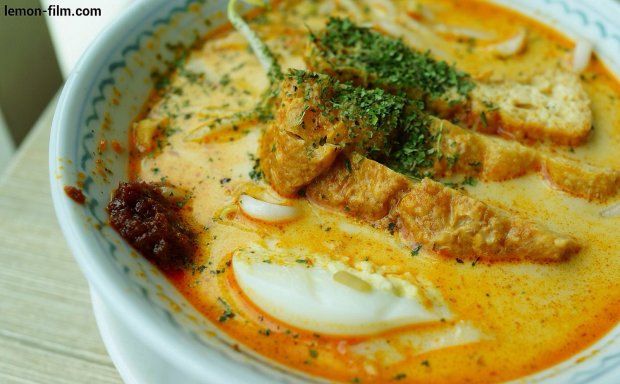 The single most important component of a great Laksa is no doubt the soup, or what the locals call zhap. The right mix of coconut milk, spices, and brewing techniques result in a heavenly zhap to die for, and we've found two stalls that have mastered this art. Outrageously long queues speak of the quality of the Laksa, and Singaporeans definitely take their queuing very seriously. Local tip: At Sungei Road Laksa, it won't be uncommon for you to see someone ordering 2 bowls of Laksa for himself! Don't rush to judge! At $2 a bowl, one serving is probably not enough for most of us; two servings give more gravy and therefore more satisfaction than one large bowl!
Our favourites:
1. Sungei Road Laksa (27 Jalan Berseh, 200027)
2. 328 Katong Laksa (53 East Coast Road, Singapore 428771)
2. Wanton Mee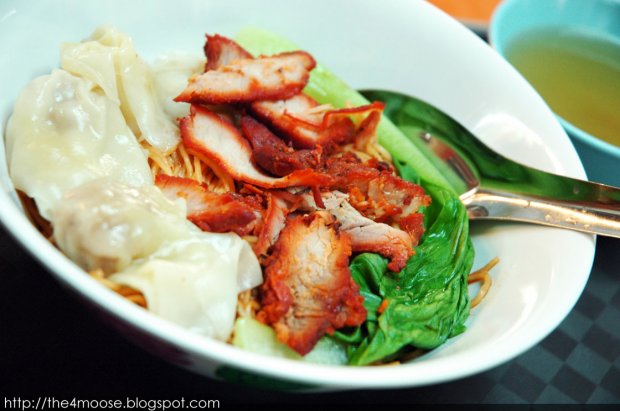 Before candied bacon, there was Char Siew. Marinated in a mixture of honey, oyster sauce, five-spice and other secret ingredients, these strips of boneless pork are then barbequed to perfection. The result is a sticky, sweet and savoury mouthful of porcine goodness. Having said, this dish is no one-man (or rather, ingredient) show. The springy noodles, fat wantons and Char Siew simply bring out the best in each other, as the best of relationships should.
Our favourites:
1. Fei Fei Wanton Mee (62 Joo Chiat Pl, 427785)
2. Old Airport Road Wanton Mee (Blk 51 Old Airport Road #01-02)
3. Prawn Mee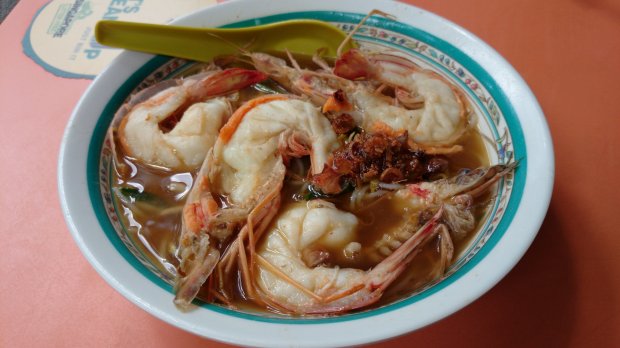 The true test of a good Prawn Mee is not in the size of the prawns, but in the flavour of it's broth. Prawn shells and pork bones are boiled – often overnight – resulting in the sweet, umami-rich stock. Our favourite stall tops off this piping-hot, mouthwatering noodle soup dish with fresh, succulent prawns and tender pork ribs. Enjoy your serving 'Singaporean-style' by adding chilli powder. Please excuse the stomach growl.
Our favourite:
1. Zion Road Big Prawn Noodles (Zion Riverside Food Centre, 70 Zion Rd Singapore 247792)
4. Bak Chor Mee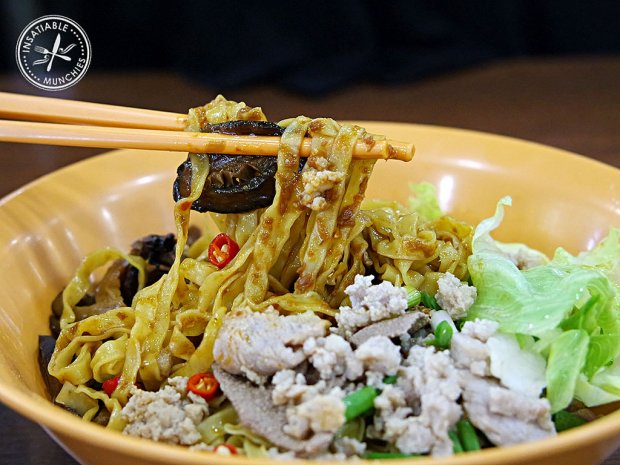 Bak Chor Mee may look ubiquitous among its Asian cousins, but don't be mistaken; when it comes to flavour, this dish is no wallflower. This bowl of bouncy noodles is tossed in delicious sauce and adorned with minced pork, pork liver and stewed mushrooms.
Nothing divides a nation quite like Bak Chor Mee, not even politics. This popular dish has inspired countless energetic coffeeshop debates on where the best bowl of noodles is to be had. It is hard to come to a consensus when a dish is so variable: soup or dry, more or less vinegar, sambal or ketchup. Hah just kidding about the ketchup! Sambal forever, with chilli padi on top!
Our favourites:
1. Ming Fa Fishball Noodles (246 Upp Thomson Rd Singapore 574370)
2. Hill Street Tai Hwa Pork Noodle (Blk 466 Crawford Ln #01-12, 190466)
5. Chilli Crab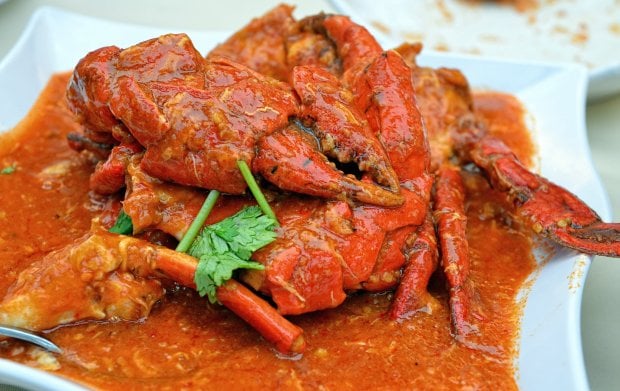 Chilli Crab is Singapore's most famous culinary export, and once you've had a taste of the tangy, sweet sauce, it is easy to understand why. So renowned is this mouth-watering dish that our northern neighbours once tried to lay claim on it. Thankfully, such blasphemy was quickly quelled by numerous reports affirming it's Singaporean origin.
Much has been said about Chilli Crab so we won't wax lyrical. Instead, here are two pro tips for a finger-licking good time. Firstly, remember to order a side of fluffy mantous. Dip it into the sauce, put it in your mouth and bask in the glorious explosion of flavours. Mantous are traditionally steamed, but the deep-fried version is arguably superior. Finally, forget your refined ways when indulging in this dish; it is best eaten with your hands. Anecdotal experience proves the sauce tastes better when you lick it off your fingers.
Our favourites:
1. Mellben Seafood (32 Ang Mo Kio Avenue 3, 560233)
2. Old Lai Huat Restaurant (223 Rangoon Road, Singapore 218460)
6. Sambal Stingray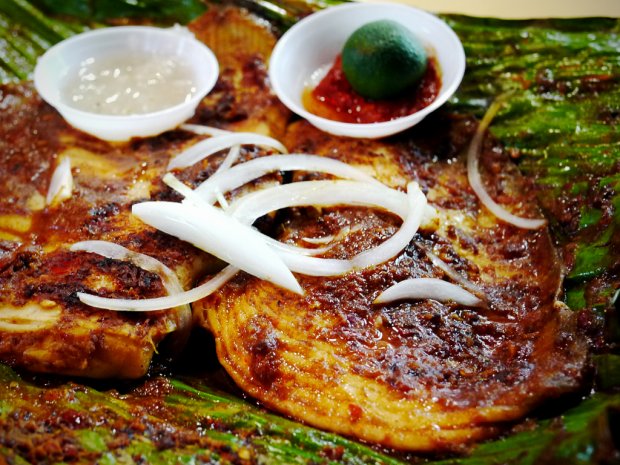 Where do we begin to describe our love for Sambal Stingray? Should we start with the sweet, tender flesh and crunchy cartilage of the magnificent ray? Or the fragrant and gently smoky flavour achieved by barbecuing it abed banana leaves? Perhaps we should also touch on the sambal paste, which is a piquant blend of garlic, shallots, belachan, tamarind, galangal and dried chilli. This beautiful synthesis of flavours and textures is best savoured with a generous squeeze of lime.
Our favourites:
1. Chomp Chomp Food Centre (Stall #1, Chomp Chomp Food Centre, 20 Kensington Park Road, Singapore 557269)
2. Rong Guang BBQ Seafood (Makansutra Gluttons by the Bay)
7. Roti Prata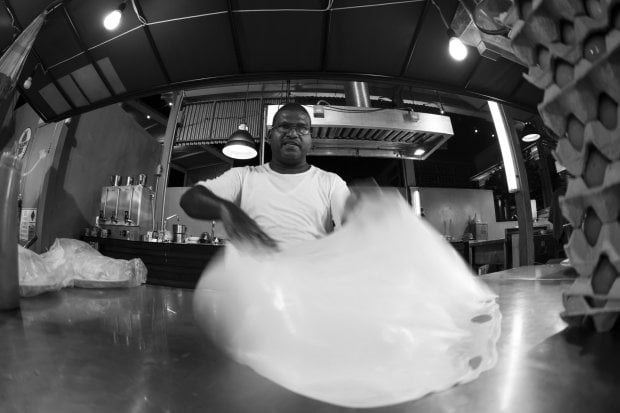 Roti Prata goes from this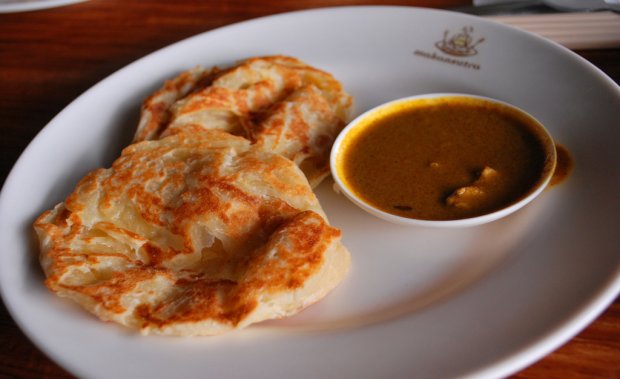 To this!!
Roti Prata is a fragrant Indian flatbread that is crisp on the outside while soft and flaky on the inside. Prata dough is skilfully stretched into a super thin sheet then folded inwards and tossed onto the griddle with oil or ghee. We consider watching the prata masters whirling and twirling the dough an appreciation of performance art. While Roti Prata is traditionally a savoury dish, modern iterations include chocolate, banana and the famed red velvet (an off-menu item at Casuarina Curry).
Our favourites:
1. Casuarina Curry (138 Casuarina Road, Singapore 579526)
2. Sin Ming Roti Prata (#01-51, Jin Fa Kopitiam, 24 Sin Ming Road)
8. Curry Fish Head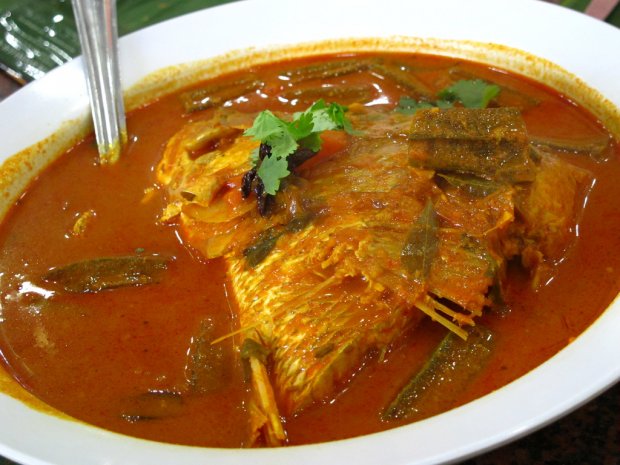 There are many different takes on this dish as the Chinese, Indians and Peranakans have all made their own version of Curry Fish Head. The Indian style tends to be the most punchy and spicy of the three, with their boatload of spices and chilli really heating things up, while the Chinese version tends to favour flavour over spice. The Peranakan style is vastly different as they use Assam curry gravy which is sour and spicy. We can't tell you which one is the best without sparking being biased, so here are our recommendations, go try them and let us know which one you prefer!
Our favourites:
1. Hup Choon Seafood Restaurant (1 Binjai Park, Singapore 589818)
2. Muthu's Curry (7 Dempsey Road, Singapore 249671)
9. Rojak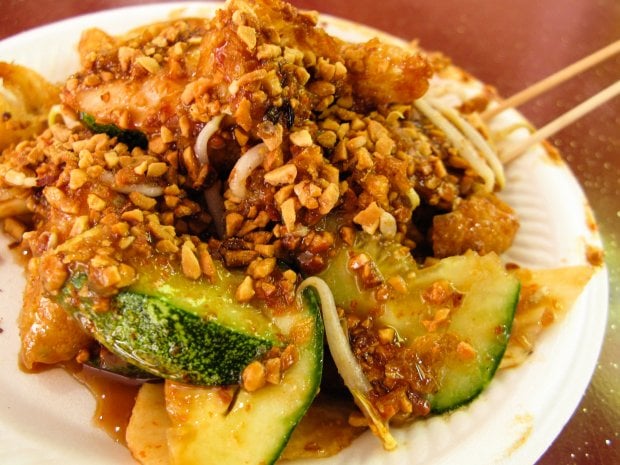 There are just so many permutations and combinations to Rojak; the various ingredients for starters, the sauces, the chilli, etc. It is all mixed together in one giant mixing bowl to produce a delectable dish, ideal for sharing in a group with many fruits and vegetables slathered in a sweet nectar.
Our favourite:
1. Old Airport Road Toa Payoh Rojak (51 Old Airport Rd, 390019)
10. Satay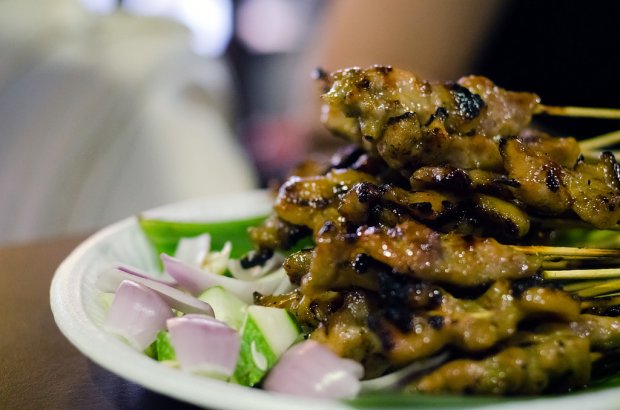 Satays are skewered chunks of meat (not unlike the yakitori of Japan), cooked over charcoal fire to perfection. The meat is marinated before being put over the fire which lends it the sweet and rich flavour that it is known for. Accompanied with peanut sauce, Satay is another mainstay of a Singaporean's typical hawker centre meal (mostly on cheat days).
Our favourite:
1. Chai Ho Satay & Dried Pork (#01-10 Clementi Food Centre, Block 448 Clementi Avenue 3)
2. Haron 30 Satay (Stall 55, East Coast Lagoon Food Village, East Coast Park Service Rd, 449876)
11. BBQ Chicken Wings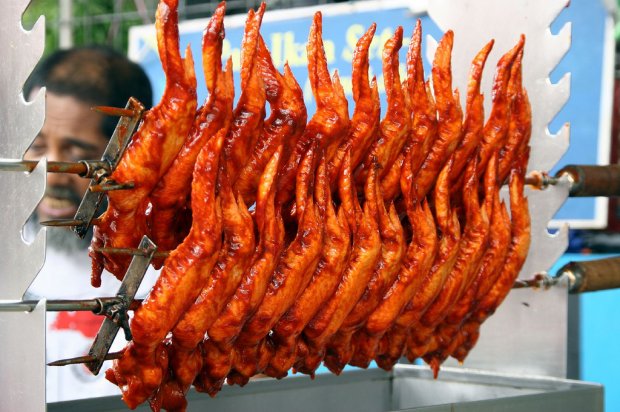 Many cuisines have their own takes on chicken wings, from American buffalo wings to Cantonese Har Jeong Kai, but the barbeque chicken wings found in hawker centres is quite unlike any of these. Grilled over stiflingly hot charcoal flame for an incredibly smoky flavour, it certainly takes a lot of effort to prepare. It is well worth it though, as the resultant chicken wings are evenly bronzed on all sides. Slightly crispy on the outside and juicy on the inside, BBQ chicken wings are best eaten hot off the grill, with the stall's homemade chilli and lime sauce.
Our favourites:
1. Huat Huat BBQ Chicken Wings ( 265 New Bridge Road)
2. Ah Hwee BBQ Chicken Wings (East Coast Lagoon Food Village, 1220 East Coast Parkway #01-14 s468960)
12. Roasts (Char Siew, Roast Pork)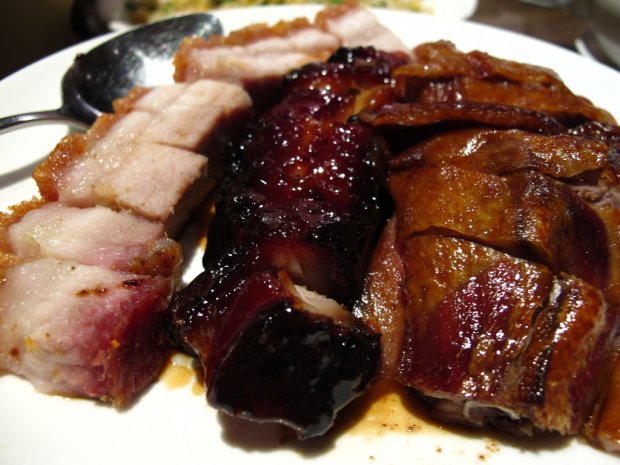 For the pork-lovers out there, roasts are a delightful treat to have, with fatty roasted pork belly with a crisp outer layer of skin and juicy char siew drizzled with a dose of sweet sauce. Great for sharing with a few others, this dish is definitely not for the calorie counters or the health-conscious as the marbling of the pork belly and the generous servings of gravy means that you will need more than a couple of sessions of exercise to burn this delight off.
Our favourites:
1. Fatty Cheong (6 Jalan Bukit Merah Lane 1, #01-120, Singapore 150006)
2. Hua Fong Kee Roasted Duck (#01-811, 128 Lorong 1 Toa Payoh)
13. Chicken Rice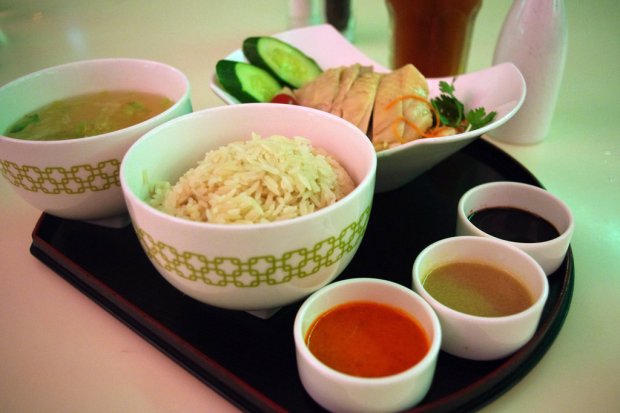 One of the dishes synonymous with Singaporean cuisine, Chicken Rice is a must-have when in Singapore. You'll find that Chicken Rice can cost from a reasonable $2 at some coffee shops to a budget-busting $32.80 at Chatterbox. The rice is much more flavourful (and sinful) than ordinary white rice, and goes perfectly with a nice chicken drumstick. It is really a trade secret how some of these stalls manage to make the chicken so juicy and succulent. How these stalls stand out however, is the quality of their dipping sauces, from chilli sauce (a mix of ginger, chilli and vinegar), to soya sauce.
Our favourites:
1. Chatterbox (333 Orchard Rd, 238867)
2. Wee Nam Kee Chicken Rice (101 Thomson Road,, #01-08 United Square, United Square Shopping Mall, 307591)
14. Nasi Lemak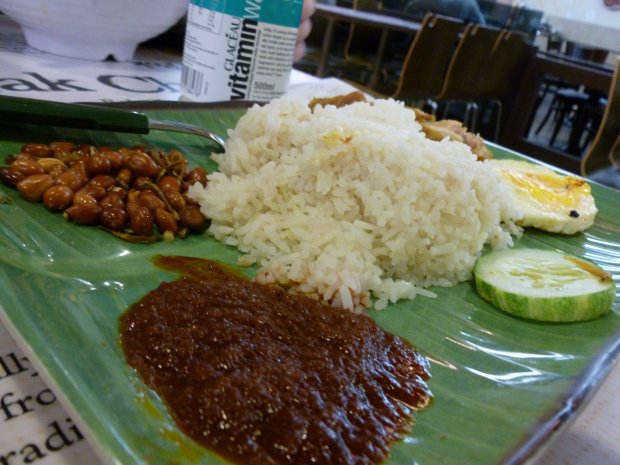 This local Malay dish started with humble roots, it started out as a cheap meal wrapped in banana leaves for everyday people to fill up their stomach. However, many started to develop a taste for the fragrant coconut rice, and the all-important sambal chilli that accompanies the rice. In all honesty, all the extra ingredients that accompany the dish (Otah, Chicken Wings, Fish etc.) are just bonuses, make no mistake about it the star of the show is the coconut rice and the sambal. These two stalls have developed their speciality into a craft. During a recent visit to Singapore, Indonesian President Joko Widodo had Selara Rasa's Nasi Lemak for one of his meals. That should speak to its quality for those of you who remain unconvinced.
Our favourites:
1. Selara Rasa (Adam Food Centre) (2 Adam Road, Singapore 289876)
2. International Muslim Food Stall (Blk 2 Changi Village Road, #01-03 Changi Village Market & Food Centre, Singapore 500002)
15. Claypot Rice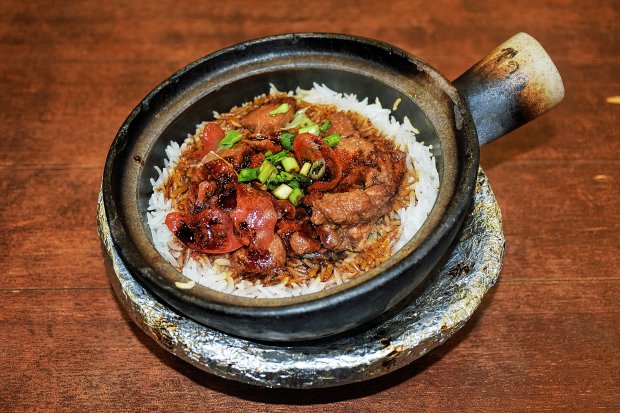 Throwing a mish mash of ingredients including Chinese sausages, chicken meat, vegetables into a claypot with rice cooked over charcoal fire results in an aromatic dish that will make you want to your very own clay pot.
Our favourites:
1. Geylang Claypot Rice (639 Geylang Road, 389570)
2. Yuan Yuan Claypot Rice (#01-38, ABC Brickworks Food Centre, 6 Jalan Bukit Merah)
16. Frog Porridge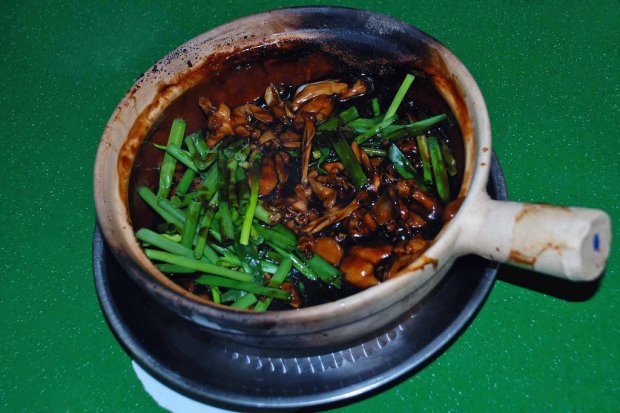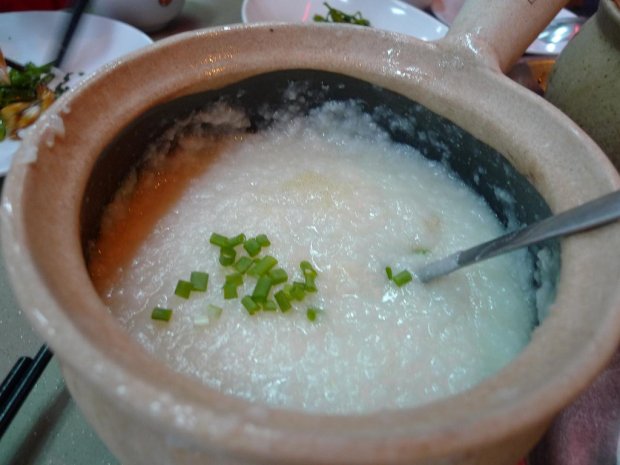 While you might not be accustomed to the practice of eating frogs for a meal, rest assured that they are mouth-wateringly tender (frogs have a texture not unlike chicken) and delicious. It is mostly cooked in one of two ways, either with red hot chillis which give the kung pao sauce a punchy flavour, or with ginger and spring onions to complement the sauce. The porridge is normally served in a separate claypot and is usually cooked in the Cantonese style, which makes it very thick.
Our favourites:
1. G7 Frog Porridge @ Geylang Lorong 3 (#01-01/02, 163 Geylang Road)
2. Eminent Frog Porridge ( 323 Geylang Road Lorong 19, Singapore 389359)
Also read: 13 Best Hostels in Singapore Under $30