Tucked in the mountains of Northern Thailand, the laid-back city of Chiang Mai is bursting with an abundance of delights: lush natural landscapes, vibrant art, ancient culture, and incredible Thai food. Here, you won't find the frenzy of Bangkok or Phuket. Instead, the experience is full of languid days exploring mountains, caves, art galleries, and local markets.
Neighbouring city Chiang Rai is just as appealing, featuring a myriad of beautiful temples and surrounding natural attractions. It's often overlooked in favour of Chiang Mai — but why pick one when you can hit both? According to Singapore-based travel blogger Jaren Chen, you only really need five days for an unforgettable trip to Chiang Mai and Chiang Rai.
Spending five days in Chiang Mai and Chiang Rai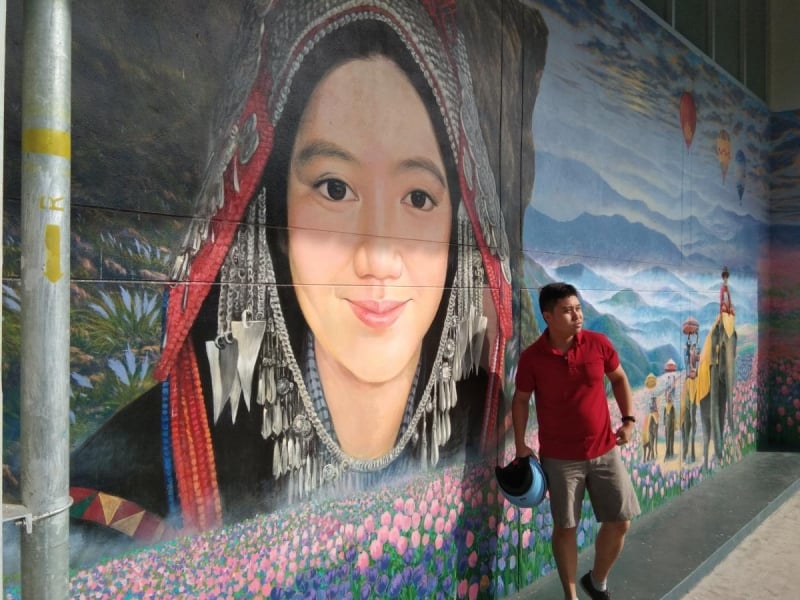 "To me, Chiang Mai is more of a short trip," Jaren said, calling the city the ideal long weekend getaway destination. "With good planning, five days across Chiang Mai and Chiang Rai is enough, though it may be a bit hectic if one is keen to take in all the sights." 
While five days sound relatively short, Jaren assured us this is enough time to soak in the notable sights of the two cities. He spent a total of three days in Chiang Mai and two in Chiang Rai, an adventure that took him to most of the region's main sights.   
Plus, shorter trips are much more wallet-friendly! Keep reading to see his Chiang Mai and Chiang Rai itinerary, trip highlights, and even a couple of budget tips to help you plan your next out-of-the-country vacation.
Also read: How This Traveller 'Randomly' Flew to Marrakesh & Fell in Love With the City
Jaren's 5D4N Chiang Mai-Chiang Rai itinerary
Day 1
A good chunk of Jaren's first day was spent in transit. Not only was his flight's take-off from Singapore at 5pm, but it was also a connecting flight with a stopover in Bangkok. He advised, "If there are no direct flights into Chiang Mai, always transit via Bangkok as there are a lot of budget carriers within Thailand that ply this route."
In many destinations, arriving late means there's little left to do but go to bed. Not in Chiang Mai, though. If you've still got a bit of energy after travelling, Jaren recommended a quick trip to the wildly popular Chiang Mai Night Bazaar. Whether you're planning to shop for souvenirs or sample local culinary delights, this is one of the best spots in the city to hang out at night.
Day 2
Even though Jaren flew into Chiang Mai, he opted to head straight to Chiang Rai the next day. Taking the bus is the cheapest option, and it only takes around three hours. He recommended taking Green Bus Thailand for a faster, more comfortable trip.
"Buses from Chiang Mai to Chiang Rai are quite frequent, with departures almost every 30 minutes from Chiang Mai Bus Terminal 3," Jaren explained. He added that travellers may buy their tickets from 7-Eleven the day before, but it's more convenient to get them on the day of travel from the Green Bus services counter at Chiang Mai's Arcade Bus Station.
To enjoy more time in Chiang Rai, Jaren hopped on the morning bus that left at 10.30am. He said, "That means, you'll arrive in Chiang Rai in the early afternoon, leaving much time to explore the town. Then, you can spend the night and the next morning exploring the highlights of Chiang Rai."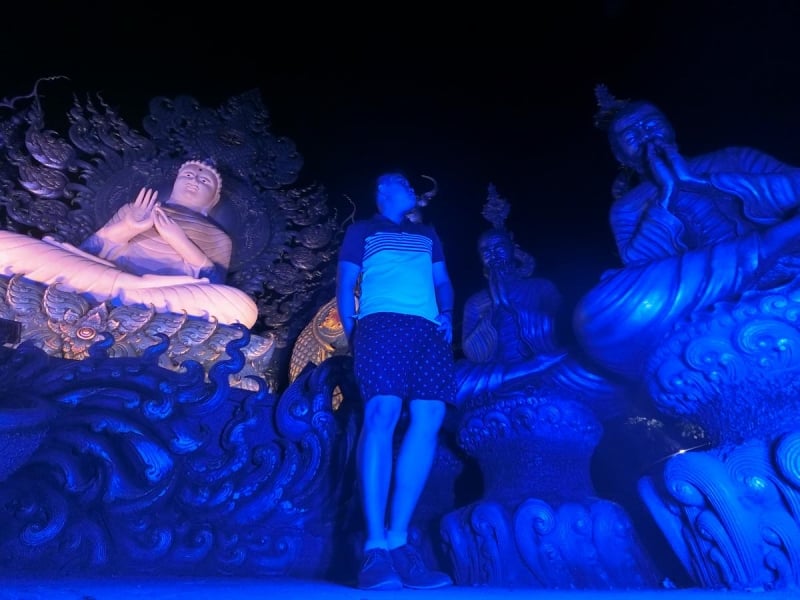 On a two-day Chiang Rai itinerary, you'll want to dive into sightseeing as soon as you step off the bus. Chiang Rai temples are absolute stunners, and Jaren was able to hit two of the most renowned on his first day in the city: Wat Huai Pla Kang and Wat Rong Seua Ten (Blue Temple).
The Blue Temple made an especially big impression on Jaren, as he counts it as one of the biggest highlights of his Chiang Mai-Chiang Rai adventure. A modern structure painted in eye-catching blue and gold, this relatively new Buddhist temple sits on the site of an abandoned ancient temple that fell into disrepair in the early 21st century. Locals say tigers used to roam freely in the old temple.
"This unique temple is a must-visit place, especially late at night," he recounted. "The blue lights make the temple feel creepy, adding a different dimension to it." 
Along with the temples, Jaren also visited the Golden Clock Tower and Chiang Rai Night Market on his first day in the city.
Also read: 10 Breathtaking Temples in Southeast Asia You Might Not Know About
Day 3
Before wrapping up his Chiang Rai itinerary, Jaren squeezed in another temple run to Wat Rong Khun, also known as the White Temple. A striking architectural marvel by visual artist Chalermchai Kositpipat, it's far from your standard sacred space.
Yes, the White Temple has all the classic Buddhist elements. But along with it are offbeat images: Expect disembodied heads hanging from trees, mythological creatures, and pop culture references like Michael Jackson and Spiderman. Sounds bizarre? It's something you have to see to believe.
It was 2.30pm when Jaren finally caught a bus out of the city. Another three and a half hours, and he's back in time for another leg of his Chiang Mai itinerary.
Day 4
When in Chiang Mai, take the time to explore the great outdoors. One of Jaren's favourite experiences in Chiang Mai and Chiang Rai came on the fourth day, when he and his friends took a trip to Doi Inthanon National Park. 
Thailand's tallest mountain and known as The Roof of Thailand, this national park is among the most popular day trips from Chiang Mai. Soaring waterfalls, winding trails, lush forests, and a wide variety of flora and fauna — it's no surprise that many travellers troop to Doi Inthanon to witness northern Thailand's natural beauty.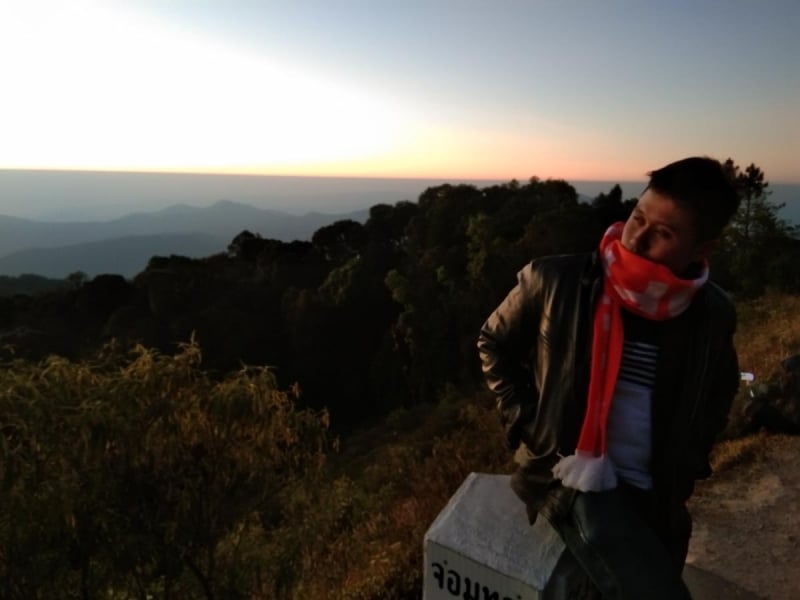 Wake up extra early to watch a glorious sunrise from the top of the mountain. Since the national park is about two hours away from Chiang Mai, this day trip requires a 4am call time — or even earlier. Travellers can reach the summit by car for sunrise, then hit the trails to venture deeper into the enchanting forest.
"The journey to Doi Inthanon National Park gave us an adrenaline rush as we rushed to catch the sunrise," Jaren recalled the time when they chased the beautiful daybreak at the summit. His pro tip: "It's pretty cold on top of the mountain, so remember to bring winter clothing!"
Day 5
On his last day in Chiang Mai, Jaren let himself bask in the cultural sights of northern Thailand. A late afternoon flight meant he had a couple of hours left for sightseeing, and he made the most of the time by visiting two popular tourist spots in Chiang Mai: Wat Chedi Luang and Doi Suthep.
By 2.30pm, Jaren was flying out of the country and headed back home. 
Discovering the charms of the city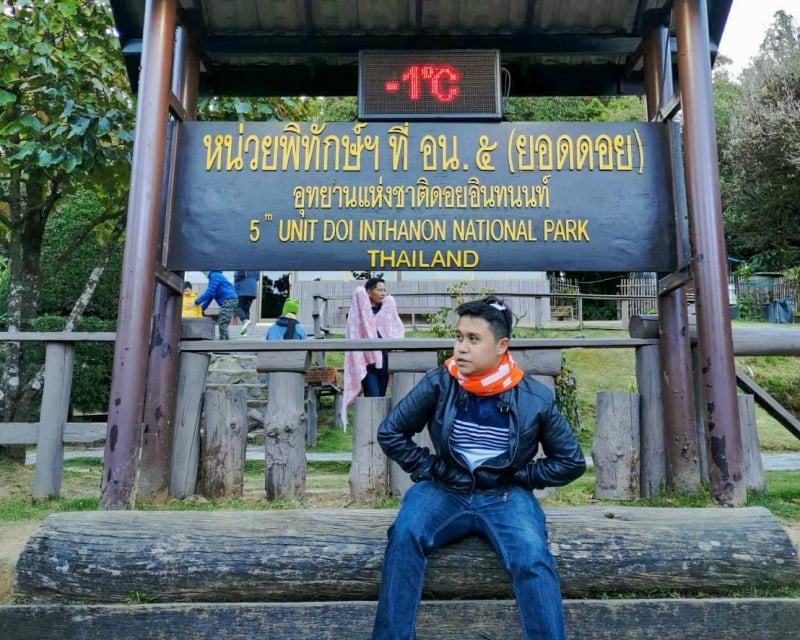 Five days sounds short, doesn't it? But it's enough for travellers like Jaren to be enamoured by the charms of Chiang Mai.  
"I loved the entire laid-back atmosphere in Chiang Mai," he said. "It makes it an ideal weekend escape for urban dwellers. Everyone seems to be quite chill." 
Jaren added that the mountain city's cool climes bring a unique quality to sightseeing in this tropical country. He explained, "The best part that makes it different from other Thailand destinations is the weather! The chilly weather, especially after sunset, makes the night market an even better experience."
Also read: 10 Best Destinations in Thailand for Culture and History
Jaren's cost-cutting tips while travelling the world
1. Master the art of bargaining
One of the ways that Jaren Chen keeps his costs down while travelling is by haggling. It's a skill he said is particularly useful in countries with plenty of outdoor markets like Turkey, Egypt, and Morocco. Bargaining with savvy vendors may be awkward at first, but it just takes getting used to. 
"Practice makes perfect!" he assured. "However, remember if you offer a price to the seller, stick to it and honour the price if the seller does relent."
Also read: From Tokyo to Istanbul, These Are the Public Markets Around the World That Deserve Your Attention
2. Travel during the off-peak season
Frequent travellers know this: Off-peak season is discount season. Fewer tourists typically mean prices for flights, accommodations, and tours drop significantly during these months.
Jaren suggested travelling during the start or end of the off-peak season when the weather isn't at its most turbulent yet, but most tourists have already gone home. He added, "Go during the shoulder season, between peak and off-peak seasons, to get the best of both worlds. You can save money while ensuring the weather or environment is still fit for travelling around."
3. Take public transport
Although it's not a hard-and-fast rule, public transport is usually the cheapest option available. As Jaren pointed out, bus and rail networks in many countries are usually good enough for travellers to make their way around easily. One of his saving hacks is travelling via overnight buses, which allows him to save on hotel costs and time.
"In Eastern Europe, taking the bus is the best option due to the price and flexibility," he said. "It allows one to admire the beautiful scenery while travelling through small towns. Buses also depart and stop at city centres, unlike some train stations located a bit further off the city." 
If you're planning to take public transportation frequently, Jaren advised getting a city pass for the cheapest and most hassle-free way of getting around efficiently. "It can turn out inexpensive to buy a city pass that covers the cost of all public transport on a single card."
Also read: 12 Most Interesting Train Stations You Can Find in Japan
4. Look for budget flights
You don't have to spend a fortune on flights, even if you're flying halfway across the world. Instead of settling for the most direct routes from your point of origin, Jaren encouraged travellers to check out budget carriers and figure out where they can save the most money.
"Remember, to get the best flight deal, you have to put in the hard work," he said. 
According to Jaren, it's also important to learn about the major airport hubs around the world. For instance, major hubs in Europe include airports in London, Amsterdam, and Paris. He continued, "Not many people realise that Hungary is actually a good connecting hub in Eastern Europe as well if you are looking to travel in the region as it is situated near Central Europe."
Also read: 10 Best European Countries That Won't Break the Bank
As a travel blogger, Jaren Chen finds himself constantly on the move. After hitting Chiang Mai, Chiang Rai, and a wide range of other destinations, he says his next trip will be a great safari in Kenya, Tanzania, and Ethiopia. Let the adventure begin!
Do you have your own travel story you'd like to share? Find out how to be our next Featured Traveller here.
---
All images are credited to Jaren Chen of TheGuyTravel, unless stated otherwise.