There is a saying that goes among most millennials and Gen Z: "Impromptu trips are the best trips." Indeed, for Pocholo Espina, a "random crazy incident" led to a trip to the gorgeous Marrakesh (alternatively spelt as Marrakech) in Morocco. And he has fallen in love with the city ever since! Currently based in Manila, Philippines, Pocholo is an entrepreneur who loves travelling and engaging in adventurous activities that allow him to see the beauty of the world. 
So, what made him fall in love with this place that's not as mainstream as other tourist destinations? Let us dive into the story of Pocholo's Marrakesh trip, including the itinerary, things that surprised him, his recommendations, and more!
Also read: Living as an Expat in Tokyo: A Filipina Writer From Hong Kong Shares Her Experience
Pocholo's Marrakesh travel guide
Day 1
It was a rush before departing from Valencia in Spain (where he was initially travelling), as Pocholo wasn't able to prepare his PCR test on time. "I only found out 30 minutes before check-in closed. So I ran like crazy and took a cab to a place 10 minutes away [from the airport]. I had to beg them to process it right away, and I made it with five minutes to spare," he shared. Pocholo took a two-hour long flight and arrived at Marrakesh Menara Airport at 9pm.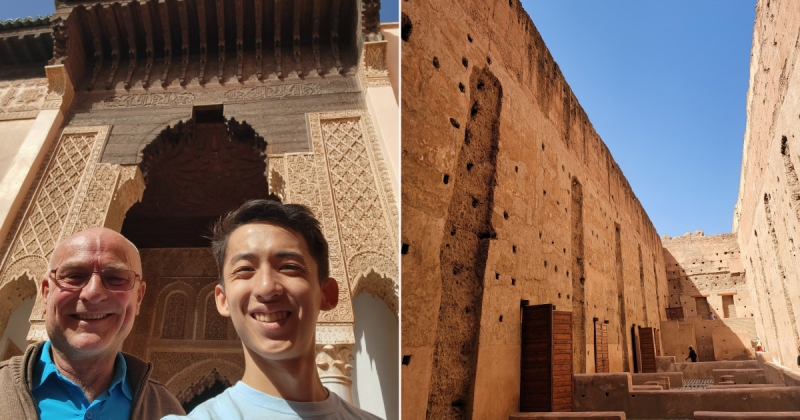 He was warmly welcomed by a very friendly host, Mike, who even upgraded his room for free. "He told me to go up to his roof deck for some Moroccan mint tea and to talk about what the city was like," Pocholo stated, adding that this was the first pleasant surprise he got in the country. Mike went on to explain the history of the Marrakesh Medina, where the different rings (surrounding area) are specialisations that date back to when Morocco was part of the African trade network.
In case you didn't know, Medina is an old Islamic capital of the city. Here, different rings are in control of different things: The inner ring is the plaza, where everyone gathered. This is followed by the markets where everything was sold, followed by the workshops that create it. The outermost ring is where caravans would come to import raw materials for the workshops, and where local traders would then sell their items to the caravans for export.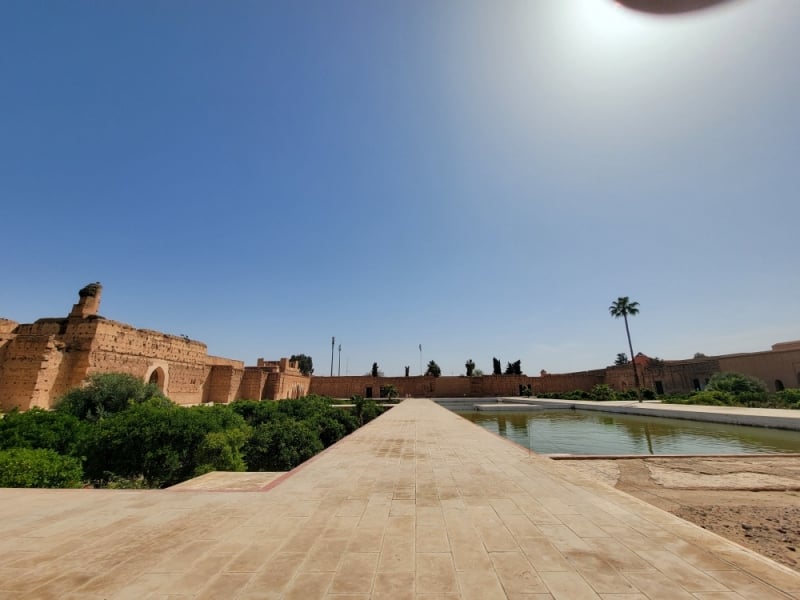 Pocholo finds it odd that in the middle of the Medina rings, you can find houses as spur routes (a short roadway that branches from a longer and major roadway), including the one he's staying in. "Mike explained that these were designed this way to keep the noise of the commerce away from what they called Riads, which translates into paradise," he shared. 
On the first day of his Marrakesh trip, he found out from his host that a desert experience to the Atlas Mountains and camel rides that Pocholo booked from Airbnb are tourist traps. According to the host Mike, the so-called journey to the desert doesn't provide the full experience, since the dunes are small and aren't as vast compared to going deeper into the desert. 
Day 2
Surprisingly, Marrakesh is a tranquil city despite being the fourth largest city in Morocco. "I was in the middle of a city of one million, surrounded by clay buildings as far as my eyes can see, and yet I can hear the birds chirping as though I was in the middle of a park," Pocholo was amazed. The host then joined him for a unique Moroccan breakfast with slices of bread, wraps, and peanut sauce.
He was then brought to a royal burial site before all the tourists came in. "It was left undiscovered during the colonial era, since it was covered by thick walls on all sides. This was because they didn't want anyone to disturb their paradise." 
Pocholo couldn't stop staring at the sophisticated architectural details, from the flooring to the carvings on the ceiling, there was nothing left to the ordinary.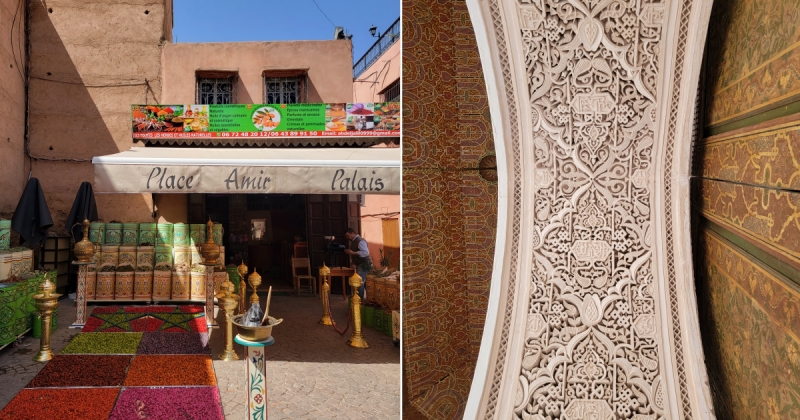 He then travelled to the Medina that was mentioned on his first night, as well as the El Badi Palace, where the kings of Morocco used to live. "I visited a tapestries museum containing fabrics and carpets traded through different times in Morocco's history and had a Moroccan lemon chicken tagine with taktouka and a side of couscous," he stated. "Not the biggest fan, but definitely a unique taste."
He then went to the elegant and peaceful Le Jardin Secret (secret garden with a book shop and a cafe), an oasis amid the hustle of the Medina. Afterwards, he was accompanied by Mike to try out a local bathhouse. "That was very unusual but interesting as locals do it all the time and the structure of the bathhouses hasn't changed for hundreds of years," he added.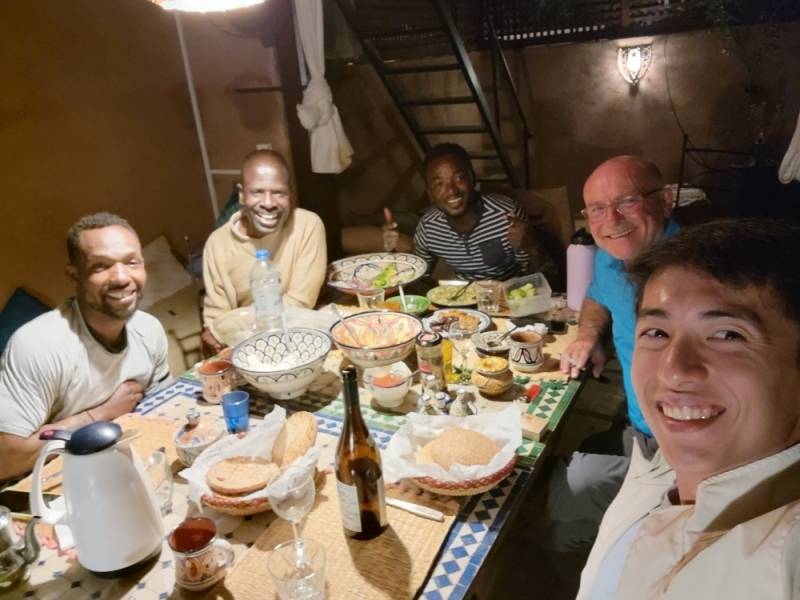 Another thing that Pocholo gained from this trip is the lovely friends from the Ivory Coast, whom he had dinner with. For those who love experiencing the nightlife, Medina at night is perfect for you.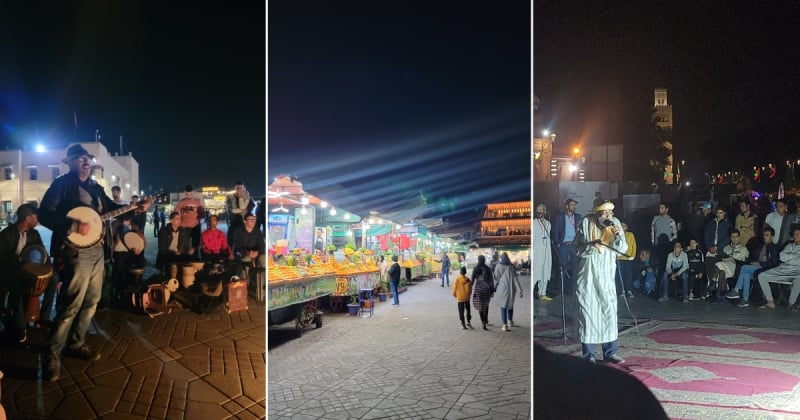 "I then ventured back to the Medina for the night festivities, and boy was it a treat!" The plaza now had stores open all over and in between them, where you'd find random people gathering in groups watching music, dance, act performances, and any form of entertainment you can think about. "It was in stark contrast to the silence that I experienced all day," Pocholo shared.
Tip from Pocholo: Do not go into the deeper rings unless you know your way around or can speak French. There are scammers who look for lost tourists and lure them to extort money. 
Also read: Everything That Went Wrong During My First Trip to Japan and South Korea
Day 3
The next day, Pocholo told Mike that he was almost scammed in the Medina. Thus, they went together to the workshop area where Mike had many friends doing different things. "One was a painter, the other made instruments, but one that truly caught me in awe was the woodworker. He even made a chess piece on the spot and gave it to me as a necklace. Truly a treat!" Pocholo joyfully shared.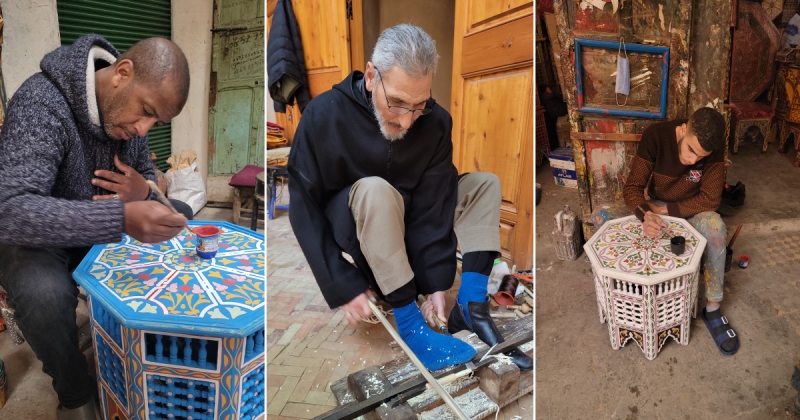 Onto the tourist highlights while travelling to Marrakesh: the Majorelle Garden (or Jardin Majorelle) and the Yves Saint-Laurent Museum. The garden was created by French artist Jacques Majorelle and features a villa designed by French architect Paul Sinoir almost a decade ago. The place also carries the name "YSL Garden," as well-known fashion designers Yves Saint-Laurent and Pierre Bergé worked together to restore the place in the 1980s.
Pocholo liked how inspiring Yves Saint-Laurent's story and art were, and said that he would for sure come back again. He particularly mentioned going there early in the morning to cherish the serenity of the garden. Moreover, he also borrowed his host's bike to explore the city and find the water museum — how adventurous!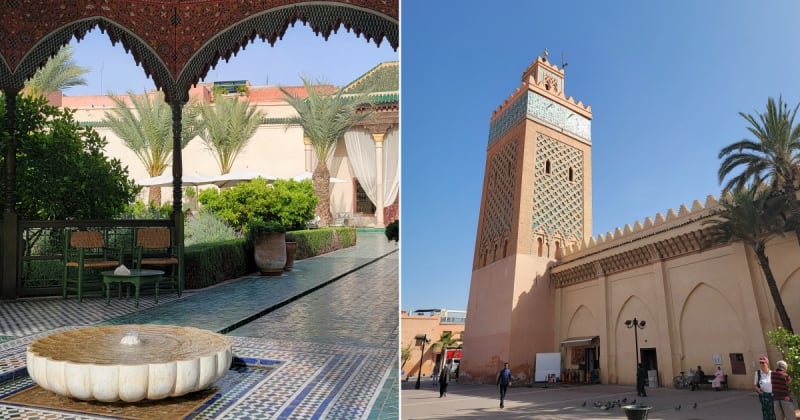 He thought that the water museum was an interesting place to visit. It documents the history of being creative and resourceful with water management, considering the people here are in the middle of a desert. 
At last, he winded down by just biking around the city and watching the sunset by the walls of the Medina. What a way of putting a full stop to this random, but memorable and unique Marrakesh trip!
Falling in love with the city
Since Pocholo went on this Marrakesh trip during the Ramadan period, the quietness in the middle of a busy city of one million people truly amazed him. "This was probably the biggest culture shock, especially coming from Manila, where it's just really noisy and crowded," he stated. Even so, his host's and the people's hospitality made him feel at home.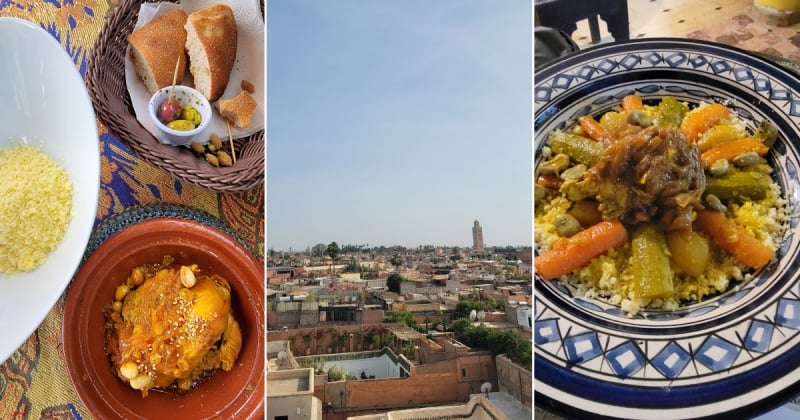 Pocholo loved how the city functions: Everything is tight-knit, and the city setting has a peaceful atmosphere. While he admits he is not the biggest fan of the local cuisine (hey, to each his/her own), it's undoubtedly distinctive and worth a try. 
When asked what else he would like to try the next time he is in Morocco, Pocholo desires to go on a desert expedition. "Mike also invited me to come back and go with him on a five-day expedition to the desert. Definitely looking forward to that, " he added. For this, they plan on sleeping in the middle of the desert and hiking to destinations along the way. Sounds like another trip to look forward to!
Recommendations when travelling to Marrakesh
In case you want to embark on your own Marrakesh trip, Pocholo has some useful recommendations. He shared that anything from the Medina is great for souvenirs. "It's great to know that anything you buy there is as 'local' and handmade as it gets." 
As for the means of transport, he recommends walking or biking around the city, especially since the city centre is not too big. He specifically highlights the Majorelle Garden (Jardin Majorelle), Yves Saint-Laurent Museum, and the Medina: all must-see destinations when you are in Marrakesh.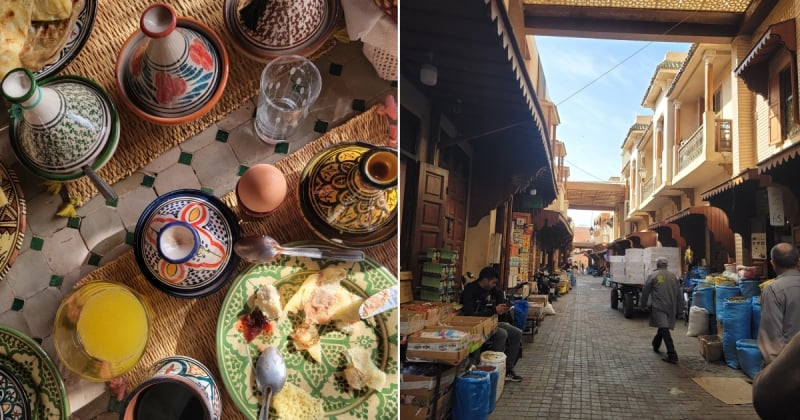 As for Marrakesh travel tips and tricks for first-timers, Pocholo said that two to three days is sufficient to explore the city. However, it would be great to go on a desert excursion for an additional two to three days. He is also utterly grateful to have Mike as his host, who allowed him to have a one-of-a-kind experience in Marrakesh.
Also read: This Is How I Survived Being Lost (and Drunk) in Tokyo
And there you go, a fascinating story of how Pocholo randomly travelled to Marrakesh, Morocco, and fell in love with the city. Got an interesting travel story you'd like to share? Click here to find out how you can be our next Featured Traveller!
---
All images are credited to Pocholo Espina.