Contributed by Dreams of a Wanderess
That ONE idea that made me go backpacking solo in Thailand – I wanted to see the elephants and become a Mahout for a day!
What is a Mahout?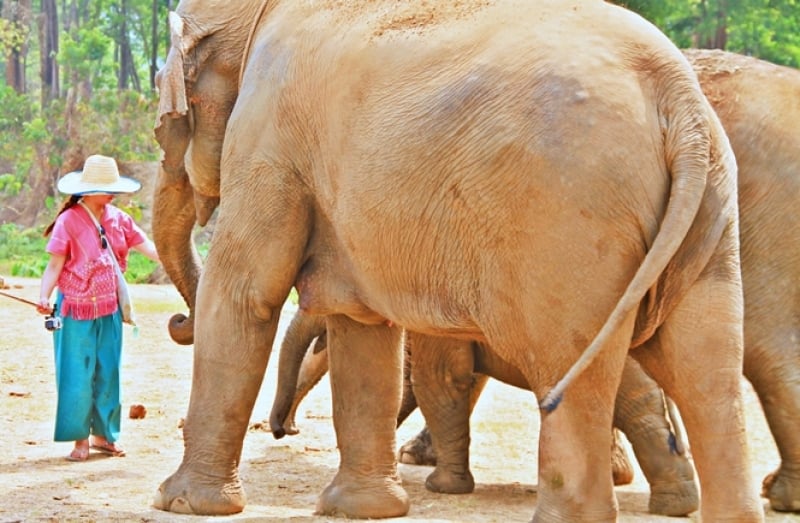 A Mahout is basically an elephant keeper. Their tasks include feeding, bathing, hugging and loving the elephants all day long. They also receive lots of sloppy kisses. Sounds like a perfect job? It sure did to me, so I made it my goal to experience this amazing job opportunity (even if it's just for day).
Also read: Meet the Wild Elephants of Pinnawala Elephant Orphanage
Finding an ethical elephant sanctuary
I took the time and effort to go through reviews of several companies. And it was disappointing to discover that many elephants get mistreated. These are the companies that usually promote elephant rides/treks and elephant shows.
Luckily, I stumbled upon 'Happy Elephant Home' on the internet. A company run by people who has a genuine concern for the animals. They DO NOT promote either elephant rides or shows. Instead, they do their best to give them the freedom and happiness that they deserve.
Mahout experience from start to finish
7am
I woke up early for my much anticipated day trip with the elephants. Our guide from Happy Elephant Home picked me up from my guest house. Then, transferred me to a minivan along with the other participants. There were only 5 of us that day. The drive to the elephant camp took around 1.5 hours.
9am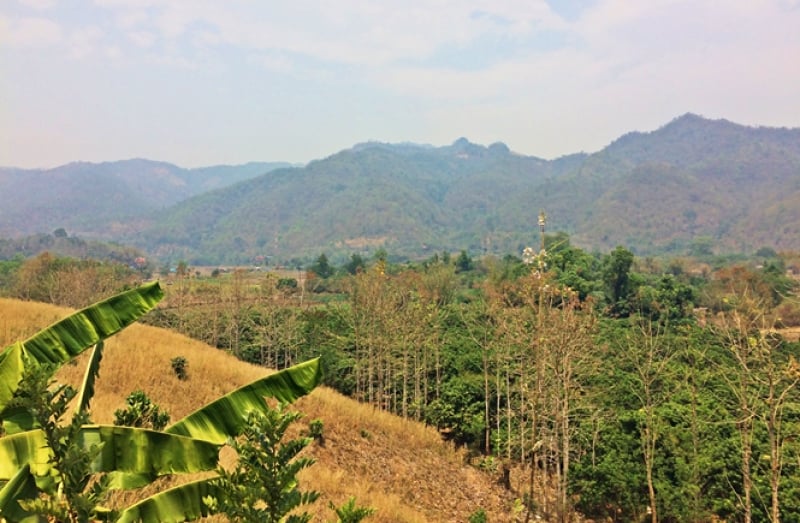 We arrived at the elephant camp and two lovely huskies immediately gave us a warm welcome. Then, we got to change into our colourful mahout outfits. We were also given a complimentary coffee/tea. At the same time, our guide gave us a short introduction about the camp and a rundown of the activities.
I actually felt guilty for missing half of the things our guide said. I was in awe of the beauty of the place. The camp is situated on top of a mountain and my mind couldn't help but wander. I mean just look at this!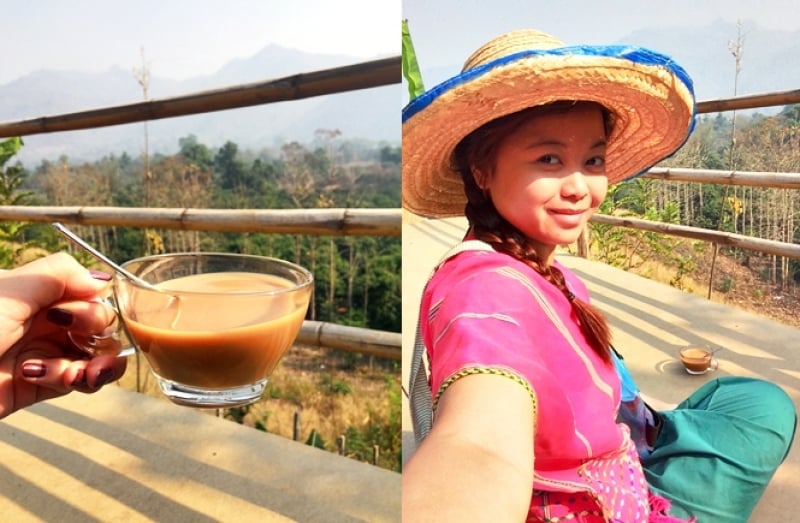 9.30am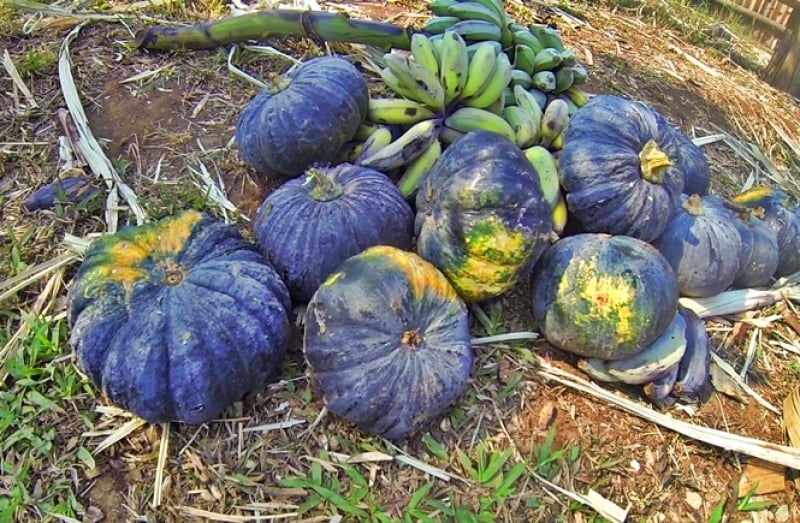 The first task is to prepare the food for the elephants – which were bananas and pumpkins. Our guide explained that pumpkins are good for the mommy elephant as it helps them produce milk for the baby. While the baby elephant usually picks the sweetest banana.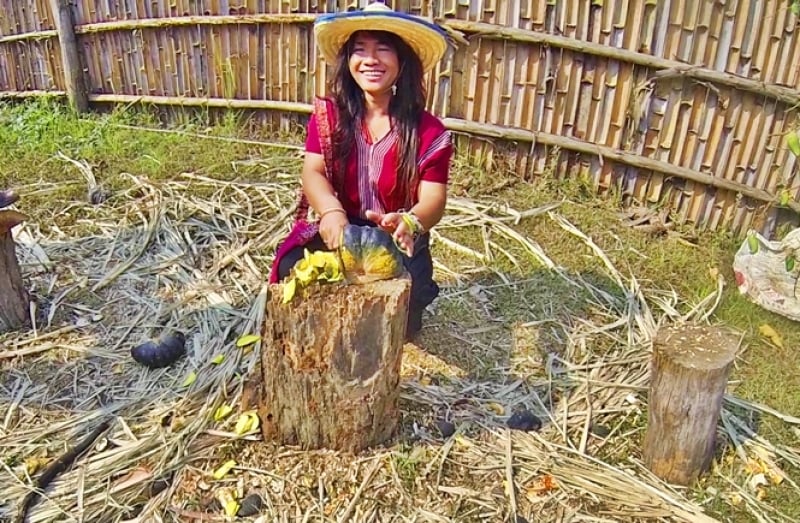 10am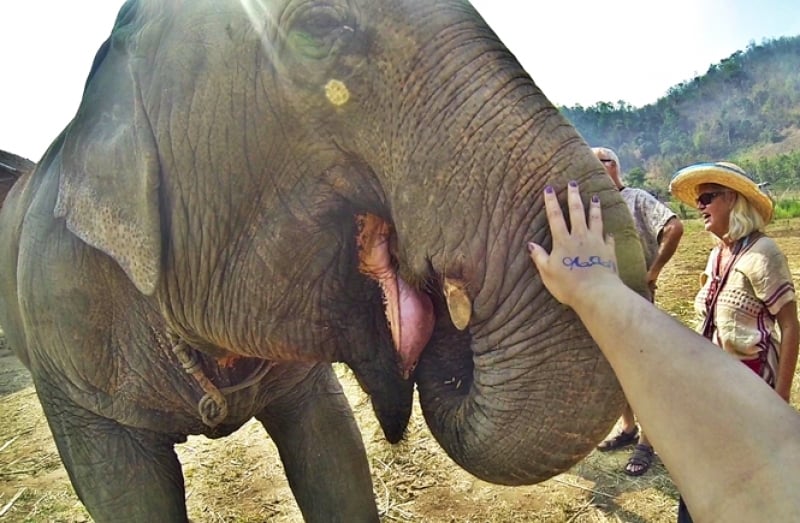 Once we filled our bags with fruits, it was time for the elephant encounter. We were first introduced to Omo. She was the happiest of them all, as you can see from the pictures. Her happiness is contagious, she wouldn't fail to make you smile. <3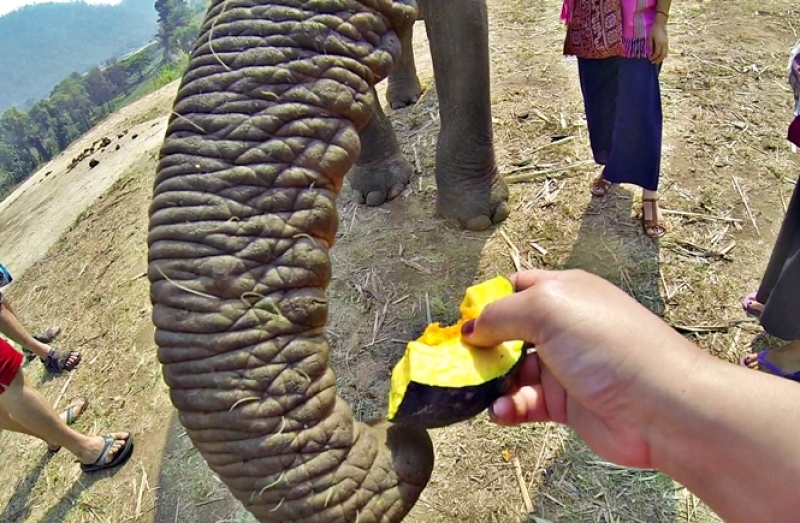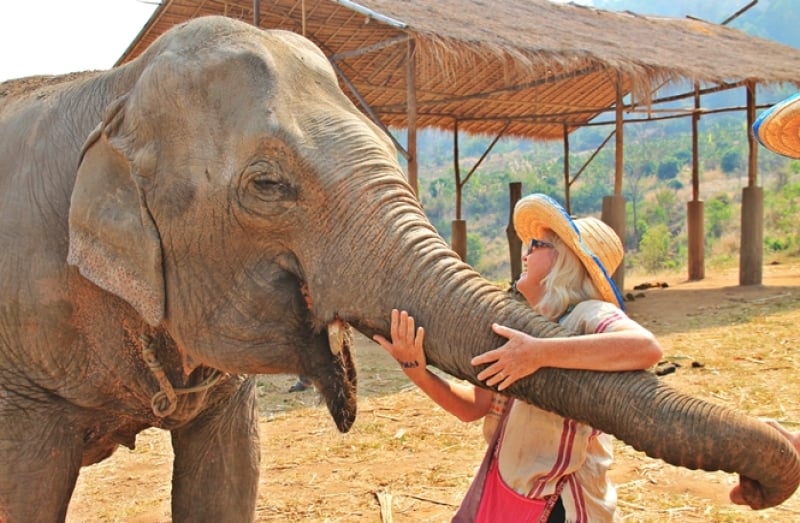 Then, we proceeded to the river, which was a 5-10 minute walk downhill. We also met the other elephants along the way – Chong Bai, Mommy Elephant and Mina (the playful one year old). SHE'S TOO CUTE!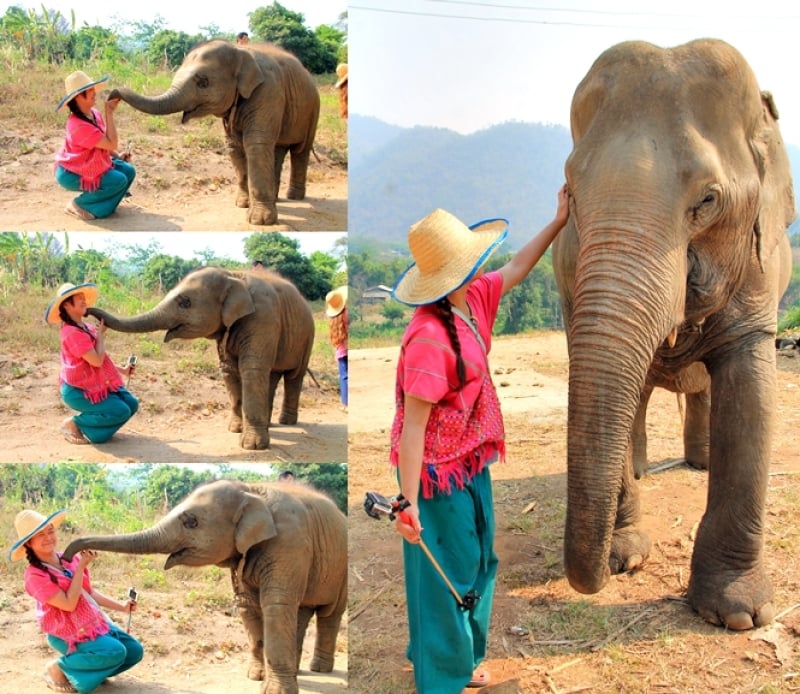 We were given plenty of time to walk the elephants. We fed and played with them along the way. At the same time, our guide was extremely helpful in answering our questions. She also shared unlimited stories and interesting facts about the elephants.
Also read: BFF Trips to Thailand… What Could Possibly Go Wrong? – 7 Short Stories
While I was most entertained by baby Mina, I felt the most connection with Chong Bai. Perhaps it was because I was touched by her story and I somehow could relate to her.
11am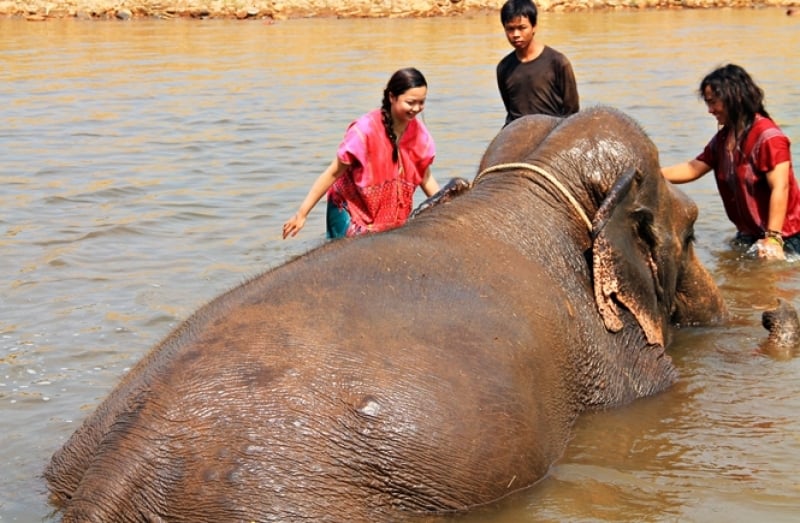 It was bath time! They're the sweetest and friendliest creatures, but don't forget how HUGE they are. It is advised to stay in front of them, because they tend to suddenly lay sideways into the water. After taking a bath, the elephants would shower themselves with sand/soil, which helps protect their skin from the sun. Then it was time to head back. I walked barefoot and felt like a real mahout with my feet covered in mud. At this point, I still couldn't believe how amazing the place looked. It really felt like I was in another world (fellow city girls would understand).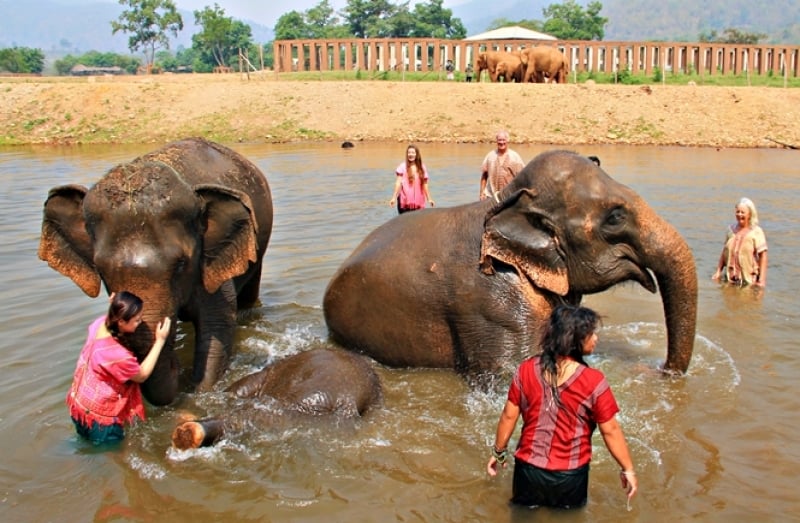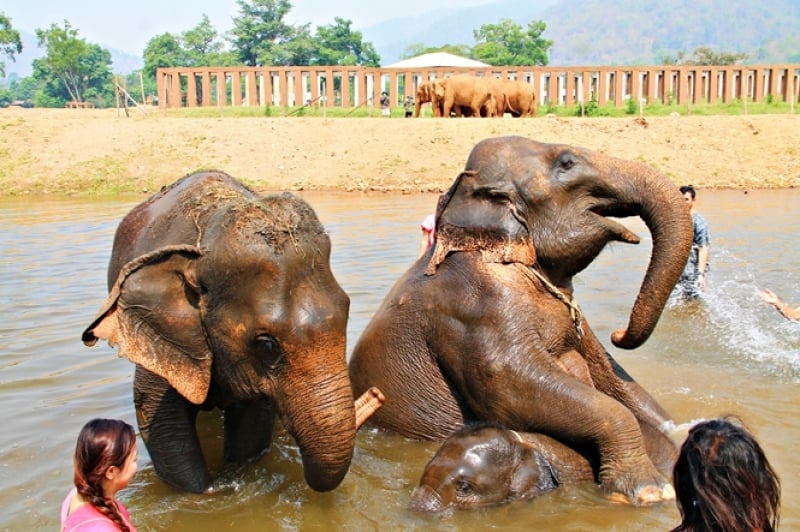 12nn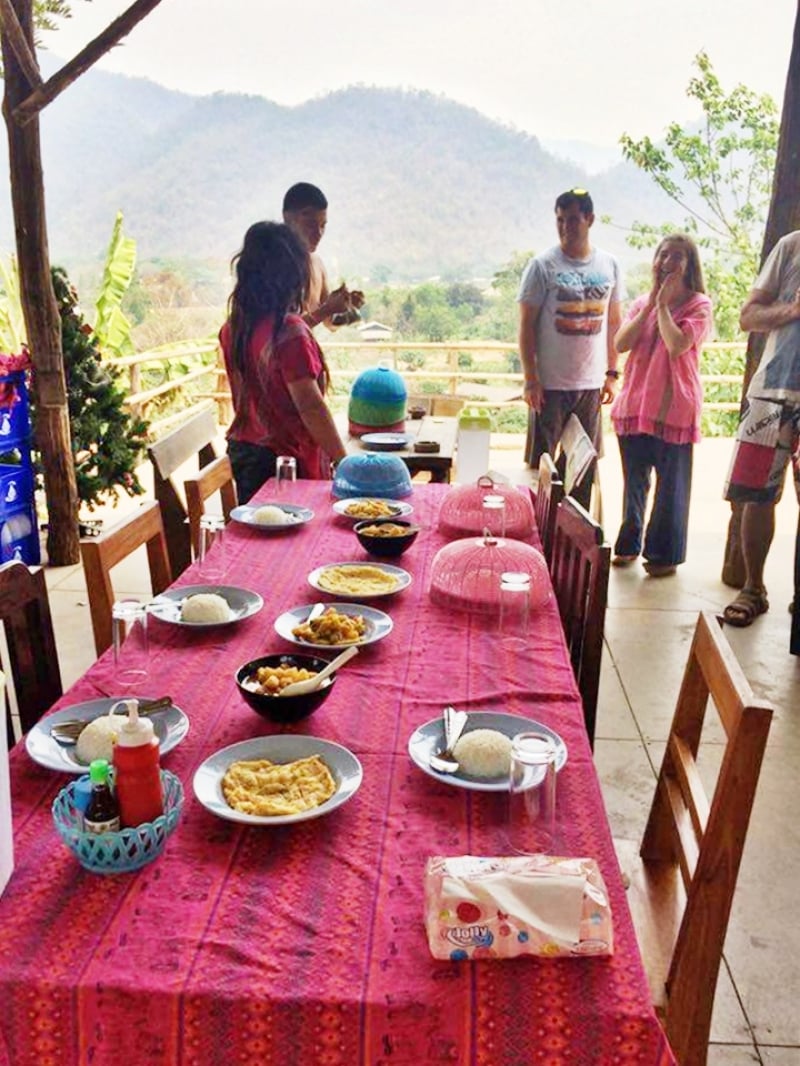 As much as I wanted to keep that funky outfit, it was time to change back to our normal clothes and get ready for lunch. Ohmygod, LUNCH! They prepared homemade Thai dishes for us. The meals were as simple as they can be, but it was the simplicity of it all that made it so special. We shared our delightful meals on a long table overlooking the forest. I would gladly trade my city life in exchange for this any time.
Also read: 7 Perfect One-Week Itineraries for Thailand
After lunch, our photographer showed us our pictures which you have the option to purchase for an additional 500baht, and the photos will be saved in a USB stick. I was happy that I bought them, the image quality is so much better than my own photos. And I surely loved the candid shots.
After that, our guide introduced us to a newborn elephant and her mommy – Coffee and Milo. Don't you just love their names? The little one was super cute, I just wanted to take her home! Look at that cutie…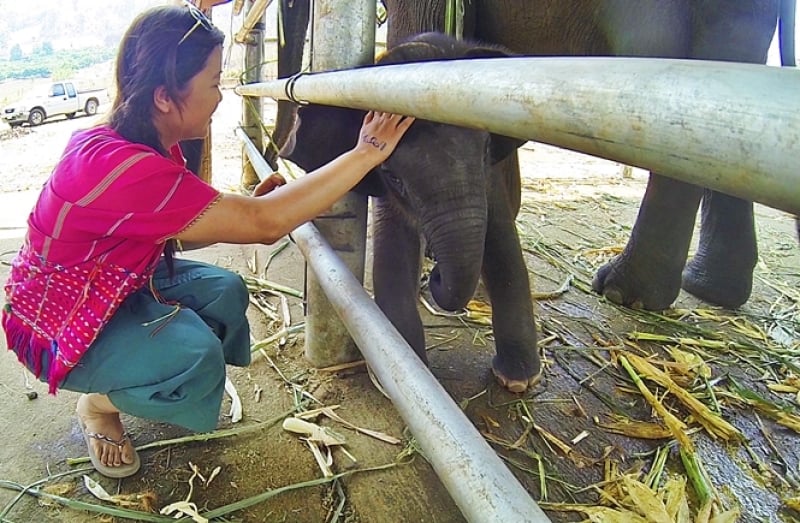 Sadly, it was time to say goodbye and head back to the city. They dropped me at my guest house and I bid farewell to my new friends from Chile and Australia. I went back to my room, still couldn't believe how amazing that experience was.
To conclude, a visit to an elephant sanctuary is a MUST do in Chiang Mai. Just beware of many tourist traps and dishonest companies. I highly recommend the Happy Elephant Home if you want to have a great private experience with the elephants and learn about them.
For more details about the tour I joined:
E:mail: [email protected]
Tel. 087-5778885 , 089-7570798
www.happyelephanthome.com