Contributed by Inspiring Grateful Travels
Bangkok and Kanchanaburi, Thailand
To the FIRST of many backpacking adventures! I'm really grateful to have experienced travelling alone, and this is the first trip that I was blessed enough to pay for ALL expenses with money I worked very hard for!
Accommodation: Buddy Boutique Inn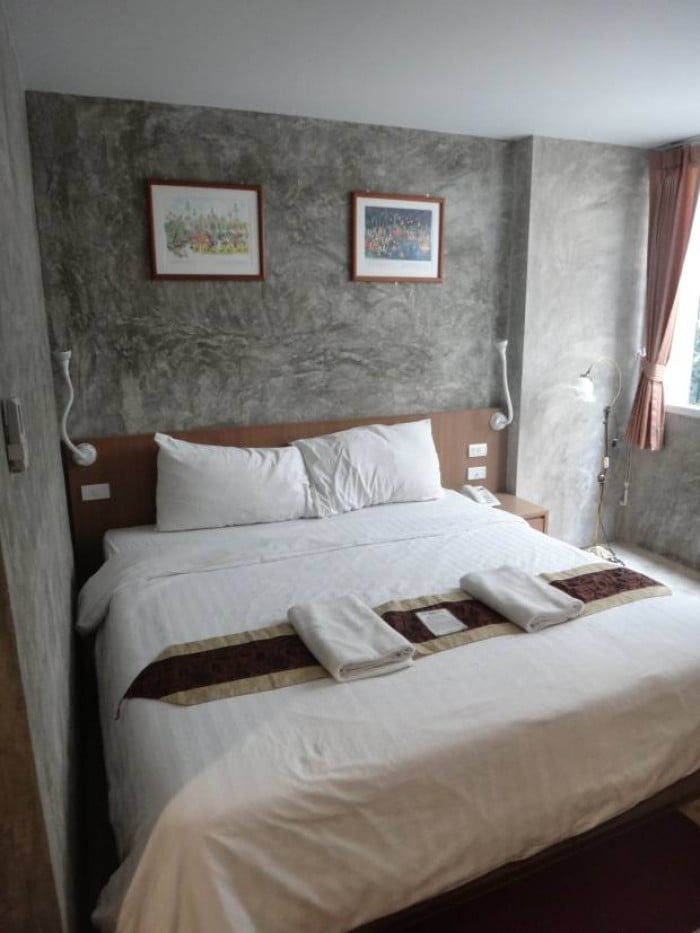 At Buddy Boutique Inn. Costs around PHP 1,500 per night.
I had a great stay at Buddy Boutique Inn! I am so grateful for the free room upgrade and gifts that they gave me. I am truly blessed. This hotel is near the backpacker haven – KHAO SAN ROAD. Hotel has clean rooms and facilities. The staff are just amazing, so accommodating and sweet!
Also read: 9 Kick-ass Hotels in Thailand You Must Stay In
Exploring Bangkok
1. Grand Palace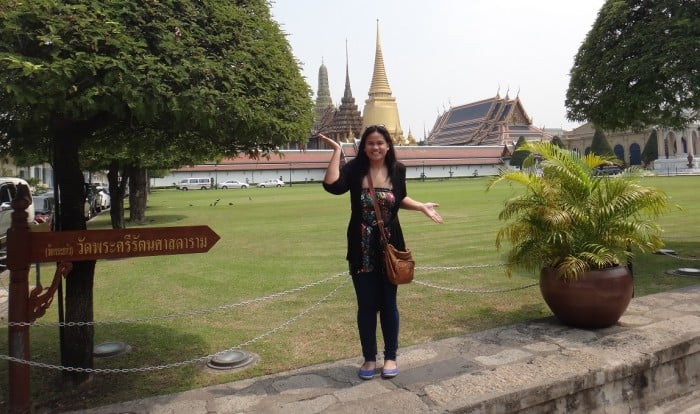 At the Grand Palace. Photo taken by a hot German guy. 😉
Amazing place! I felt like I was in another era! Or like in a Mulan movie! There were so many tourists. The Buddha Shrine inside one of the palaces felt so magical that I stayed for 10 minutes just appreciating and being grateful for the wonderful view in front of me!
BEWARE of scams outside the palace telling you that it's closed! Don't believe them. It is definitely open! I experienced being approached 2 times telling me that the Grand Palace was closed and that I should go to <specific temple> instead!
2. Wat Pho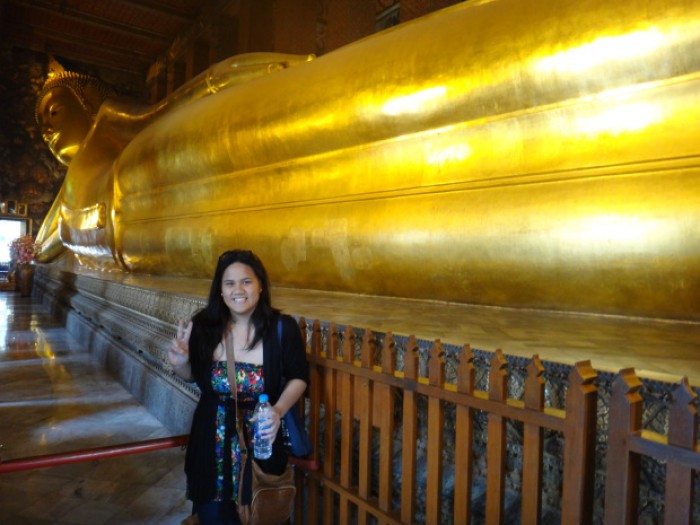 Check out this Big Buddha behind me. 😉
Just as amazing as the Grand Palace because of the biggest Buddha I have ever seen in my life. It occupied almost an entire building or temple.
The walk from Grand Palace to Wat Pho is around 15-20 minutes.
3. Wat Arun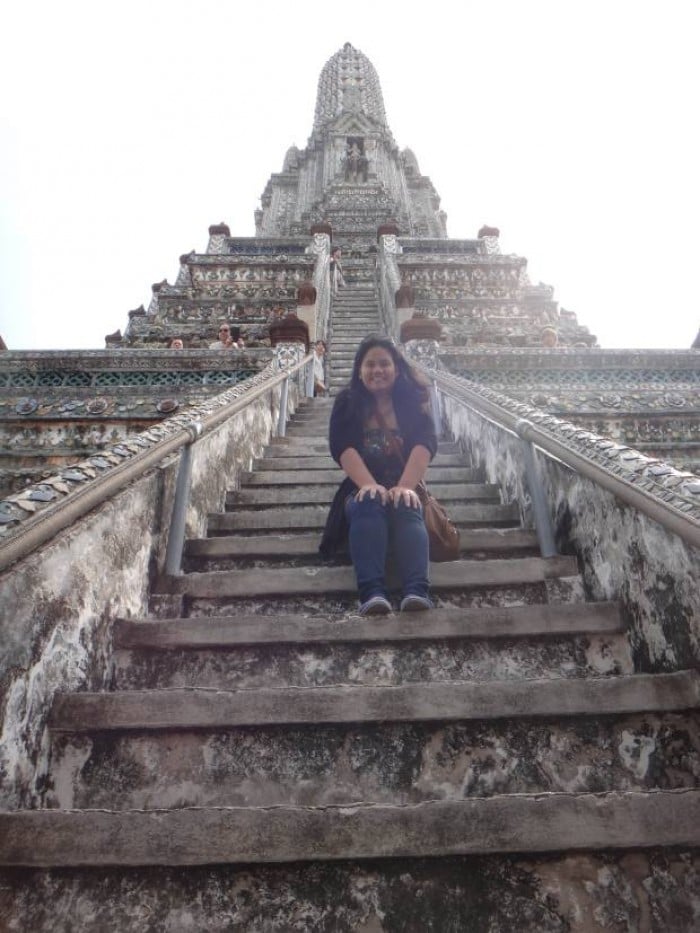 Super Steep Steps at Wat Arun! What a climb!
After Wat Pho, I took a ferry to cross the Chao Paraya River just to get to this temple. This is the temple I liked the most because it challenged me! Through its VERY steep steps, I got to feel adventurous! I even felt like it was a sort of a "legends of the hidden temple" challenge. It was also fun to see tourists from all over the world challenging themselves to conquer the steps just to get to the top.
Also read: Backpacking Thailand: 20 Tips Every Traveller Should Know!
4. Maliwan Thai Cooking Class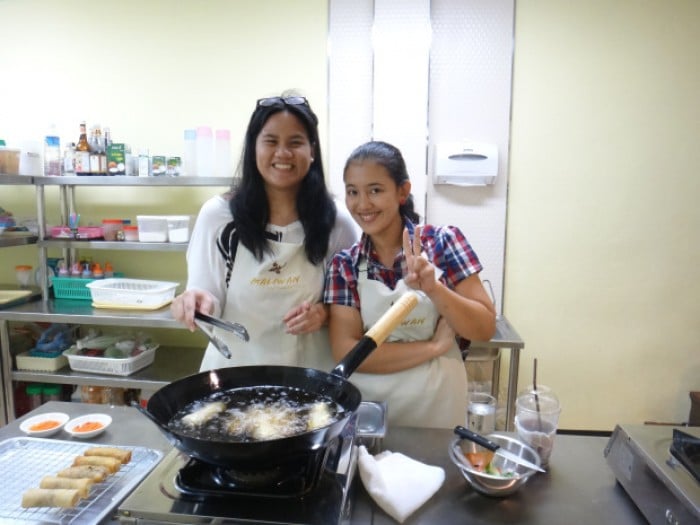 Cooking Thai Food in Thailand! Yum!
Incredible class! Couldn't be more grateful for all the things I learned from Maliwan Thai Cooking Class! Great people too, very nice and friendly! I got to learn the basics of Thai cooking and made 3 wonderful recipes – YUM MOO YANG (Grilled Pork with Sour & Spicy Salad, KAI PHAD BAI KAPRAO (Stir Fried Chicken with Holy Basil) & POR PIA TOD (Fried Spring Rolls). I loved YUM MOO MANG, I'll make sure to make this for my family SOON! ♥
5. Khao San Road
After that walk-a-thon of temples and a tiring cooking class, I explored Khao San Road – the famous backpacker's haven where one can see almost different nationals from a lot of countries. Khao San Road is a lively place with street shops (clothes, keychains, shirts, etc), food (pad thai, coconut ice cream, insects). You can also hear good music from different bars and just see people dancing to the music on the streets!
Exploring Kanchanburi
I availed the KANCHANABURI DAY TOUR by Day Tours Bangkok.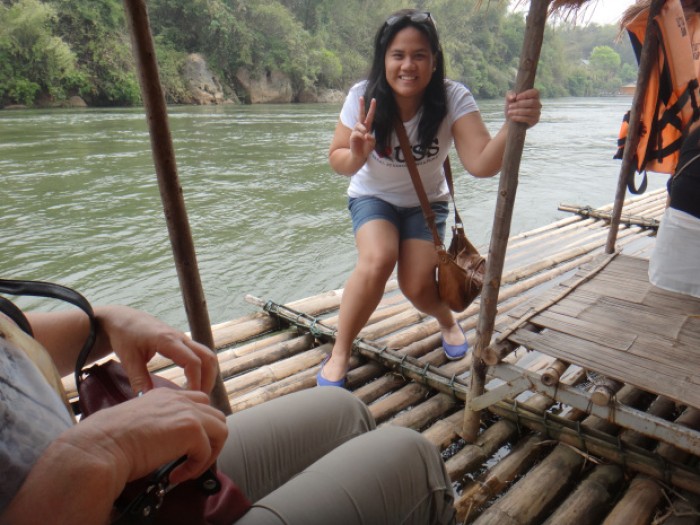 Pretty short River Raft Tour!
I ended my Thailand trip with a BANG! This tour was one of the best I've had so far in my life. I visited a World War II and Jeath Museum, walked across an old train bridge over River Kwai, Bamboo Rafted and Rode an Elephant at Elephant Camp, visited Sai Yok Waterfalls and got up close and personal with Tigers at a temple!
Also read: Must-Visit Attractions in Kanchanaburi, Thailand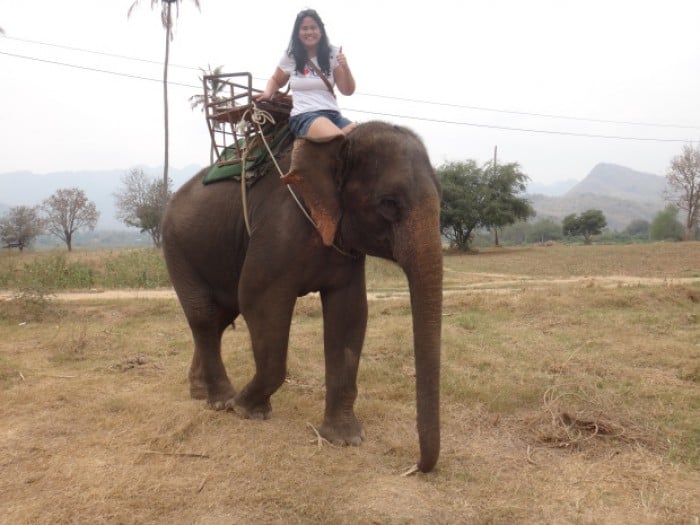 First Elephant Ride! 🙂 And definitely the last!
I know there are a lot of articles that say that we shouldn't ride elephants anymore. From my experience, I agree that they are not treated well because of environmental conditions, the blades that are used to tame them, and the accessories being put on them. But in the moment, it was really a great experience, after riding we bought food that we could feed them and just pet them carefully to make them feel appreciated. I don't regret my elephant ride because it was a really great experience but I will not do it again.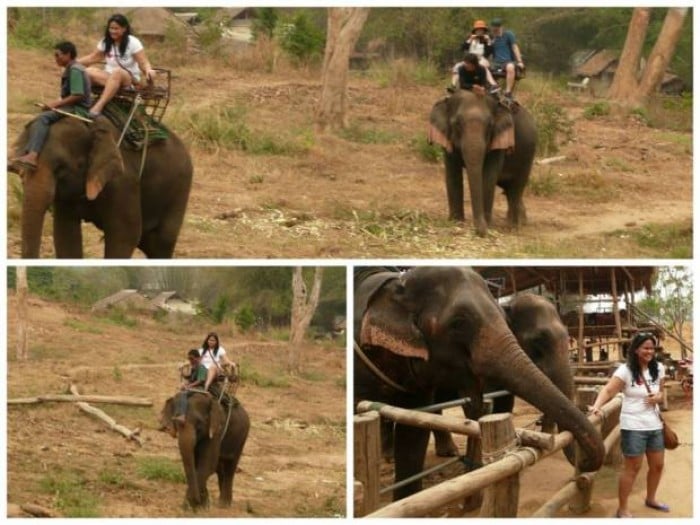 Photos sent by a lovely German couple I met on the tour
Aside from all these adventures, I got to meet and interact with very cool people from Poland, Germany, London, and Korea! They were all so nice and gave me some lessons on travelling! It was amazing just observing their cultures and how they interact with me.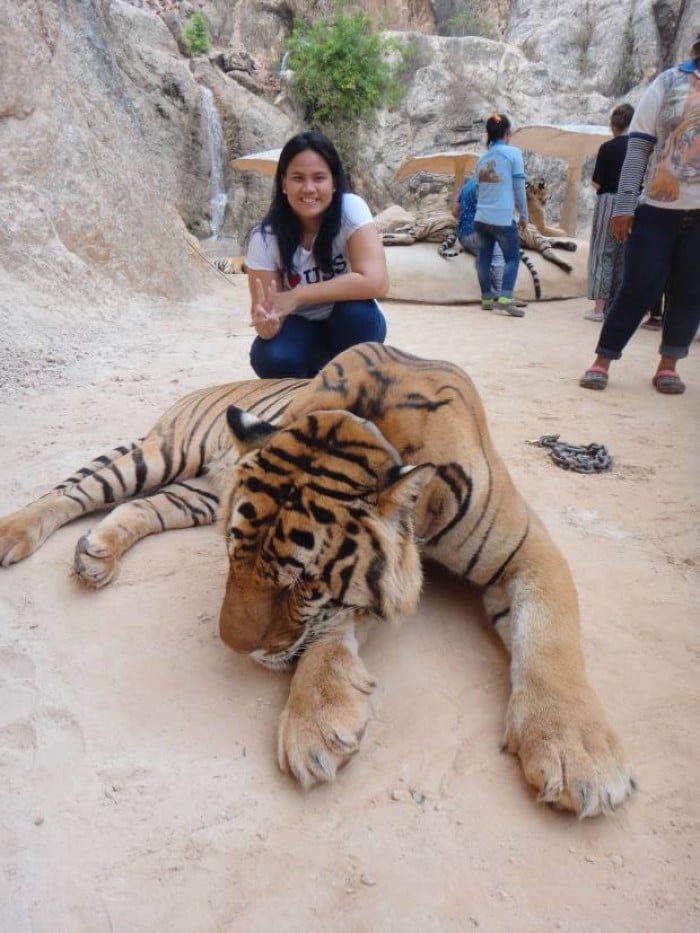 Tigerrrrrrrrrrrrrrr 😉
Some even exchanged contact information with me. This tour was such a great experience that I will always be grateful for!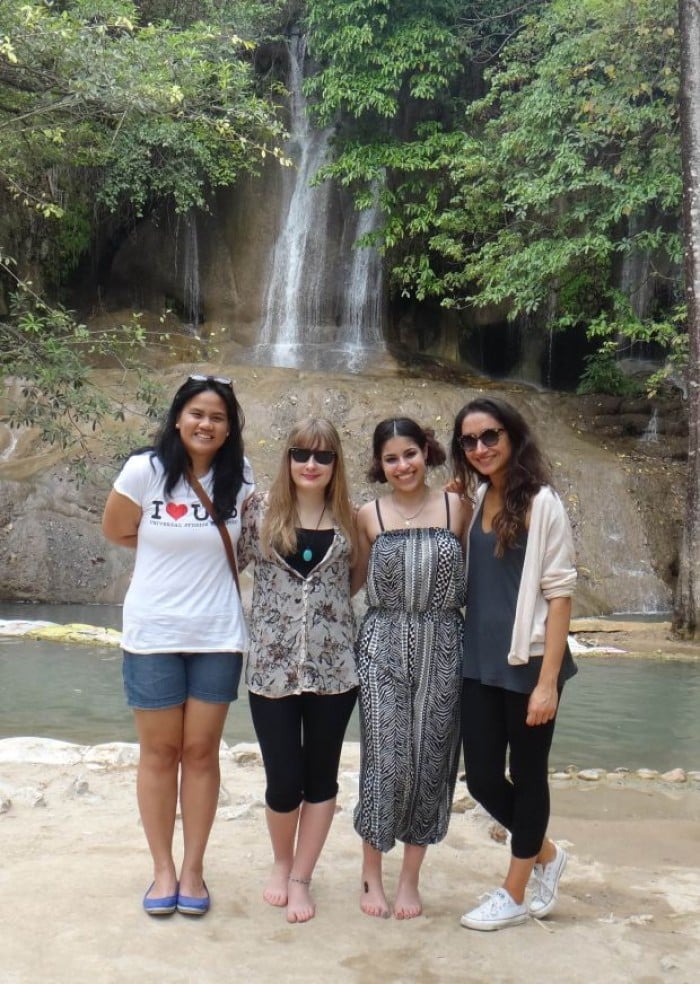 New friends from the UK! 🙂
Just a few grateful realizations:
It's good to travel once in a while and just reward yourself with experience.

I am proud to say that at 23, I got to backpack travel on my own in another country!

I want to marry a guy who loves to travel just as much as me.

When you travel alone, you don't only know more about that country, you also learn more about yourself!
Just a few pieces of advice FOR YOU:
Choose to travel

NOW

. There are lots of opportunities to travel, you just have to open your eyes to them!

Budget travel and tours planning are very accessible through internet blogs and search pages.

Instead of buying a new smartphone or tablet, choose to travel! Nothing beats travel experiences.

TRAVEL ALONE and learn more about yourself!
If you need any advice for your own Bangkok trip, feel free to ask me! Just comment below.
I just want to say THANK YOU to all those who helped me during the planning stage of this Thailand trip! I am so grateful for all the answers I got for all my questions. They all helped! THANK YOU, THANK YOU, THANK YOU!
Until my next adventure! ♥
I am very grateful for the money that I paid for these amazing travel blessings:

Cebu Pacific Flight

PHP 3,889.30

Airport Fees:

Travel Tax

Terminal Fee

PHP 1,620

PHP 550

Accommodation – Buddy Boutique Inn (3 nights)

PHP 4,564.20

Grand Palace

PHP 670

Wat Pho

PHP 140

Wat Arun

PHP 70

Round trip boat to Wat Arun

PHP 8

Maliwan Cooking Class

PHP 1,314.39

Kanchanaburi Tours (Shared Tours)

PHP 2,056

Food

Transportation

Souvenir Gifts

PHP 5,000

Estimated Total
PHP 20,000