Contributed by Britt of The Travelling House Sitters
Australia is known for many things, but when the weather is dandy, sand, sea, and sun reign supreme in the Land Down Under. So if you're headed to Melbourne anytime soon to laze along the coast (we highly recommend doing so under the warmth of the summer sun!), you will want to know which beaches to hit.
Here, you'll have countless options when it comes to choosing the perfect beach getaway. From popular picks that are just a quick drive away from the city to secluded little coves that are worth making a day trip out of, you are spoilt for choice when it comes to the best beaches near Melbourne.
1. St Kilda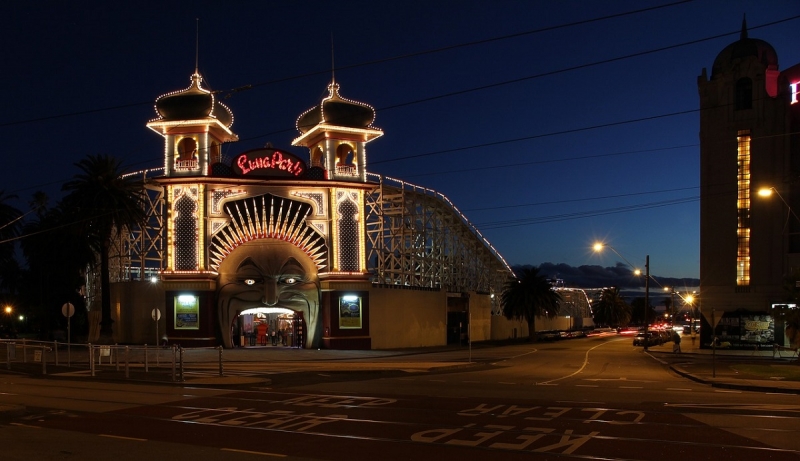 St Kilda is never boring and always bustling. Truly considered among the best beaches near Melbourne, it's located five kilometres away from the CBD and is one of the area's most iconic spots for both locals and tourists. It's a perfect pick for anyone who wants to head down for a dip as well as check out the busy foreshore. St Kilda also brims with cosy places to eat, drink, and people-watch. What's more, it's home to the famous Luna Park — so make time to drop by and enjoy a few thrilling rides like the Supernova or the Speedy Beetle! 
Tip: Our favourite place to unwind and have a drink is Vineyard, which boasts of a gorgeous view of the park and an awesome outdoor area you can freely enjoy. 
Those travelling with their families in search of the best beaches near Melbourne should know that St Kilda is perfect for kids, too. The beach is sheltered from heavy surf swells and is full of activities like windsurfing, paddleboarding, or even kite surfing. The sunsets at St Kilda are also pretty impressive, so we suggest you grab some fresh fish and chips, a few beers, and get comfortable on either the sand or adjacent grassy knolls. 
2. Brighton Beach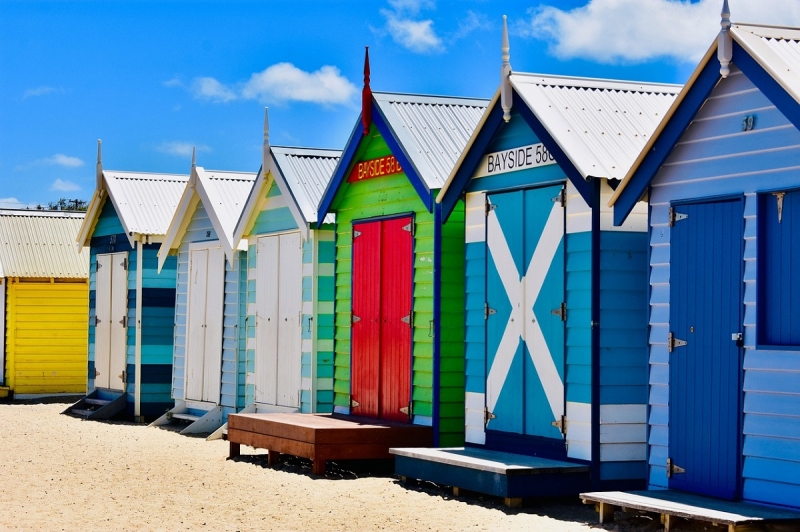 Brighton Beach is just around the corner from St Kilda. It is home to the famous bathing boxes, which we're pretty sure you've seen numerous times on social media. You will find 82 of these colourful boxes stretched along the coast. This picture-perfect beach is located just 14 kilometres from the CBD. You will find that it also has a minimal swell, as well as a wide stretch of sandy foreshore — perfect for a peaceful afternoon dip.
Also read: Top Things to Do in Melbourne Including a Stroll at Brighton Beach
Pet lovers, rejoice: Brighton Beach is dog-friendly, too! So between certain hours, expect lots of friendly fur babies running around and having the time of their lives. Feeling peckish? There are lots of restaurants, cafes, and pubs along Dendy Street, so simply stroll around and take your pick. If a hike seems more your thing, make your way to the nearby Green's Point for some beautiful views overlooking the bay. Can you picture it already? All these features make Brighton one of the most popular beaches near Melbourne, so expect a larger crowd. Cheers!
3. Bushrangers Bay Beach
If you're pining for something a little bit different and quite underrated, head down to Bushranger Bay. It may not be the spot for a casual swim, but views are worth the visit. With its volcanic rock cliffs and jagged rock formations, this a reminder of Melbourne's diverse natural beauty. 
Here, there are rock pools galore with all sorts of aquatic animals. Plus, it has an amazing picnic spot for all visitors! There are four to five BBQs free for use, so make sure you get there early on the weekend. Like all Aussies, we looove marinated chicken on the barbie (not shrimp!). Just note that cooking here can be a tad tricky since these BBQs burn the marinade before the chicken is safe, so know your grilling temps for chicken! Or choose to grill other meats, if chicken's generally not your cuppa. After lunch, jump in the water with a snorkel and enjoy the clear water and corals. Just remember: Respect mother nature!
Also read: Wildlife Tourism: When Is It Ethical?
4. Sorrento Front Beach
Sorrento has an assortment of beaches to explore. At the back beach, you have rock pools to explore, while the front beach features crystal clear waters with white sandy beaches. Here, you also get front row views of Queenscliff – Sorrento Ferry (also known as the Searoad Ferries). With its gentle swell, Sorrento Front Beach is the perfect spot for families to enjoy paddling around. There are also two beautiful jetties, which at over 200 metres, are perfect for a stroll or ideal for casting out a line.
Sorrento Front Beach is situated next to the green grassy knolls — great for an outdoor BBQ or beach picnic. Note that there are some public BBQs free for use here as well, so if that interests you, head over to the local supermarket and grab some of your favourite food to grill.  
5. Fairy Cove

Fairy Cove is situated three hours south of Melbourne. You'll find it in Wilsons Promontory National Park and is only reachable by foot. The spectacular beach has granite boulders scattered all over, however, it is only safe for swimming when the water is calm. Please note there are no lifeguards on patrol at this beach, so if you aren't a seasoned swimmer, better stay on land for this one. Don't worry, you won't be missing out even if you don't jump in the water — the views alone will make for the most memorable beach trip you've embarked on near Melbourne.
Also read: Top 10 Day Trips to Experience Melbourne Like Never Before
6. Williamstown Beach
If you're after a beach day that doesn't involve long drives, Williamstown is the perfect pick. It is only 20 minutes southwest of the CBD and is usually relatively quiet compared to the southeastern beaches. It is well patrolled, with nice clear waters and a beautiful beachside path that winds around Newport. Wander into the main drag of Williamstown to try some of the best fish in chips in Melbourne at Off the Pier. Yum! 
7. Lorne Beach, Great Ocean Road
For a mixture of leisure and surfing, Lorne is the place to go. You can enjoy the best of both worlds with a road trip to this famous surf spot that is only two hours from Melbourne. There is a dog-friendly spot at the Northern end of the beach, while the swimming beach in the south is just in front of the town's plethora of restaurants, cafes, and shops. Both south and north of the town boast of breaks ideal for surfers of all levels, so everyone can get in on the fun!
Also read: My Great Ocean Road Experience: An Amazing Day Tour!
8. Anglesea Beach, Great Ocean Road
A perfect pit stop on the way to Lorne is Angelsea. Also along the Great Ocean Road, the place simply radiates serenity. Soak in some well-deserved peace and quiet as you enter this quaint seaside village filled with shops and cafes. Not only does it have a lovely beach for families; it's right next to the river mouth, meaning the beach often has perfect conditions for those wanting to learn how to surf. 
9. Half Moon Bay
Half Moon Bay is only 40 minutes from Melbourne in the suburb of Black Rock. It is named after its crescent shape and houses the wreck of the HMVS Cerberus at the centre of it. Interestingly enough, this wreck attracts all sorts of sea life and acts as a breakwater. You will find lots of people diving to the wreck on the weekends, so if you're up for a unique experience, consider checking out the HMVS Cerberus! Due to the cliffs, the bay is well protected — a feature that draws in swimmers and boating enthusiasts as well fishermen. 
Tip: Head to the Cerberus Beach House to enjoy the freshest seafood in the area!
Now that a local has told you where some of the best beaches are in and near Melbourne, it's time to plan that beach trip. What are you waiting for?