Almost any visitor to Tasmania would have heard of Wineglass Bay, a striking beach with a unique crescent shaped curvature. While it is possible to take in its beauty from a lookout point or head down the beach itself, a less-taken third option exists.
One of three in the Hazards mountain range, Mt. Amos is a granite mountain with a pinkish tinge. Those who endeavour to reach the summit of Mt. Amos will eventually be rewarded a panoramic 360 degree view of the vicinity.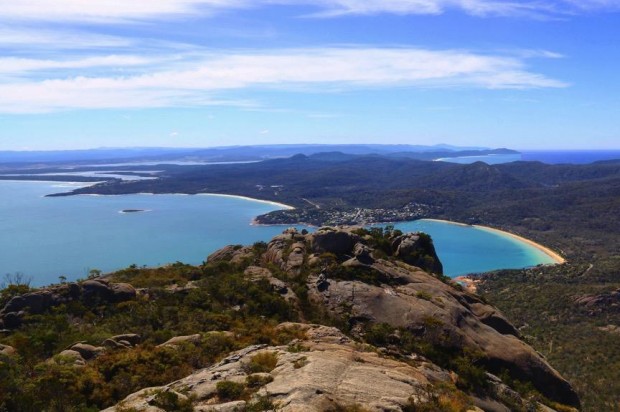 I was road tripping with a mate in Tasmania recently, as a way to celebrate the end of our university semester. A bushwalker at heart, I was bent on scaling Mt. Amos since the day I bought my flight tickets four months in advance. Also partly because I share the same name!
Getting there
Depending on which major city of Tasmania you are driving from, Freycinet National Park is approximately 2 hours 15 minutes away from Launceston, or 2 hours 45 minutes from Hobart. Before heading down to the walking tracks car park, where you access the foot of Mt. Amos, do not forget to purchase a day pass (AUD 24) at the Visitor Centre!
If you are travelling Tasmania without a car, public transport services to the walking tracks car park can be booked in advance. Unless you are without a car, I do not recommend this option, as you will have to take connecting buses that depart infrequently, in addition to excessively long travel times.
Duration and difficulty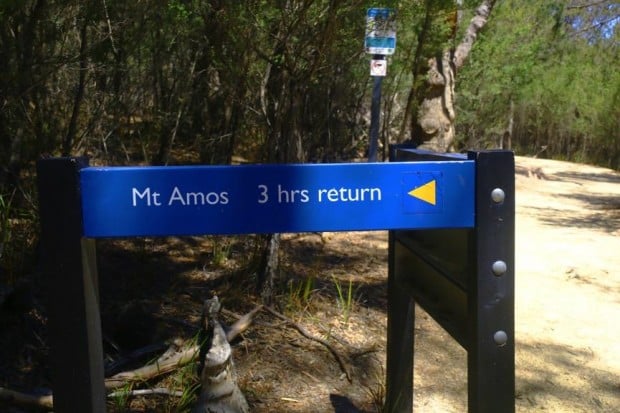 The park generously estimates a 3-hour return trip. The hike gets incrementally breathtaking (in terms of scenery) the higher you go; we spent a good hour snapping and filming away. However, if you're not interested in a leisurely climb, it is very possible to return in slightly over 2 hours.
A moderate level of fitness, and some bushwalking experience is recommended. The walk is physically demanding at some points, and climbers will have to use their hands to scramble up heights. Gloves can be used to facilitate scrambling.
Difficulty rating: 7/10.
Tips
The climb should only be attempted on days with fair weather. We arrived a day after it rained, and trekked over trickles of rainwater that made steeper sections of the mountain slippery.
It is recommended that you put on footwear with decent traction in order to traverse steep ascensions. My trusty pair of Nike Free runners was not suitable for this climb due to the rocky terrain that made my ankles cave several times, but I was lucky the amazing weather had left the mountain track relatively safe.
The base of Mt. Amos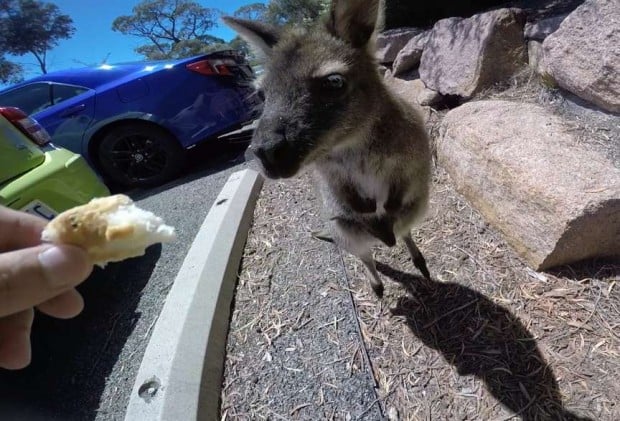 Upon reaching the walking tracks car park, we were greeted by a mob of wallabies. These petite-sized marsupials had come scurrying, seemingly too well accustomed to receiving food morsels from park visitors. As pictured above, I was guilty – albeit blissfully ignorant of the fact that feeding was strongly discouraged in these parts.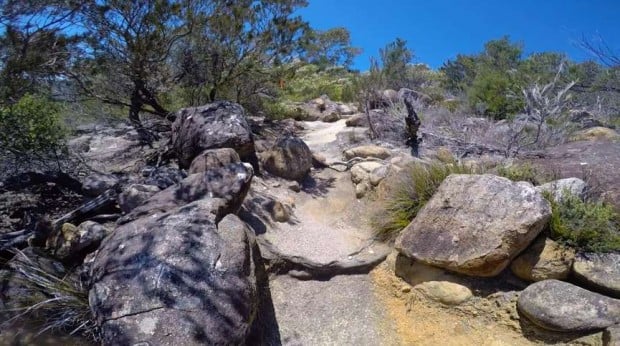 The walk starts pretty straightforward, paved until you reach an inclination. From that point onwards, I had to rely on my hands to scramble up rocky or unstable gradients, grabbing onto tree roots and sturdy ledges – basically anything firm!
Also read: Amazing Day Hikes in Southeastern Australia
The ascent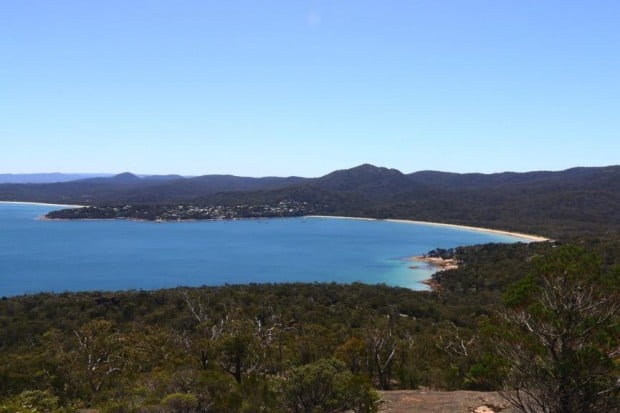 The first 'checkpoint' was when I reached a clearing that faced the beach. Instantly energised by the sheer picturesqueness of both the bay and the mountain peak, I was beginning to enjoy the ascend more with every single step.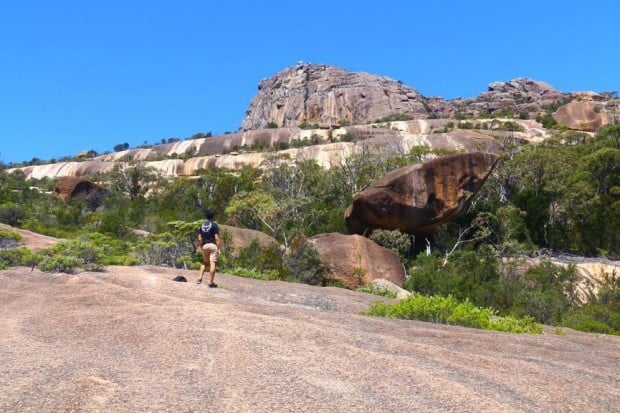 Look at it! I stood in marvel of the arresting sight of the peak, eager to get to the top.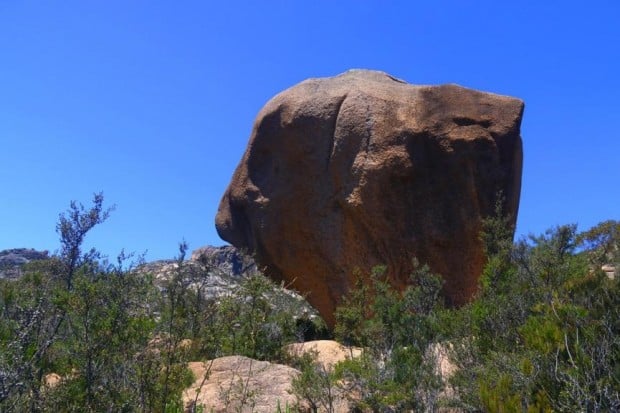 Enormous boulders like these rested on the ridges – I spotted almost as many as fellow climbers that day.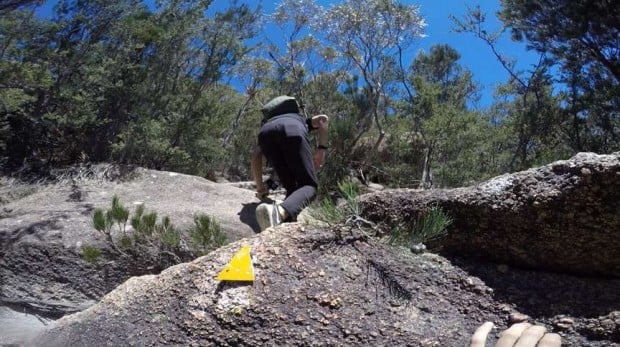 Besides the strenuousness of the climb, the Mt. Amos track could easily stumble inexperienced climbers, leading them astray at diverging paths. Because of this, arrows (yellow or orange) can be sighted periodically along the walk, pointing either upwards to the peak or downwards to the base. More often than not, people lose their way descending the mountain, and take a couple of attempts to orientate themselves. We helped direct a group or two down the right way, finding ourselves in the same predicament later.
Also read: Top 10 Majestic National Parks in Australia
The summit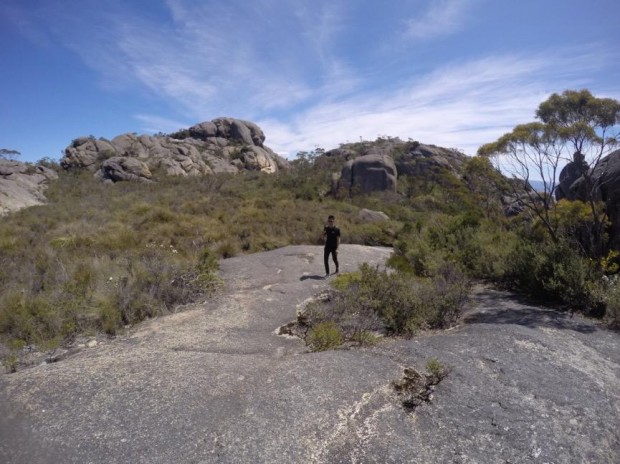 About an hour and a half in, the final push towards Mt. Amos' pinnacle featured an extremely sharp angle of ascent, as if in its last-ditch attempt to dissuade us from achieving our goal. While it wore us down good, the words 'the summit is just ahead' from a passing man who was making his way down gave us the strength to power through. Eventually, we hit a gently sloped open clearing with lots of shrubbery, which signalled the near-completion of the climb.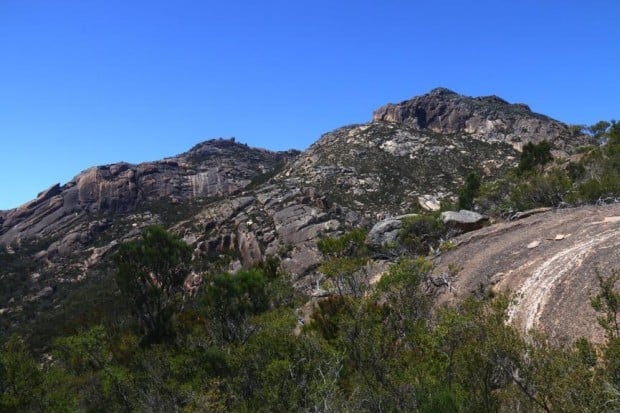 Still fresh from the gruelling ascent we made minutes ago, we gingerly made our way along the levelled path. I took a glance to the side, in plain view were the other 'Hazards', Mt. Dove and Mt. Baudin. "That's it? There must be more," I reasoned in disbelief of the unobstructed pathway to the summit of Mt. Amos that now lay before me. We could see the end of our challenging hike.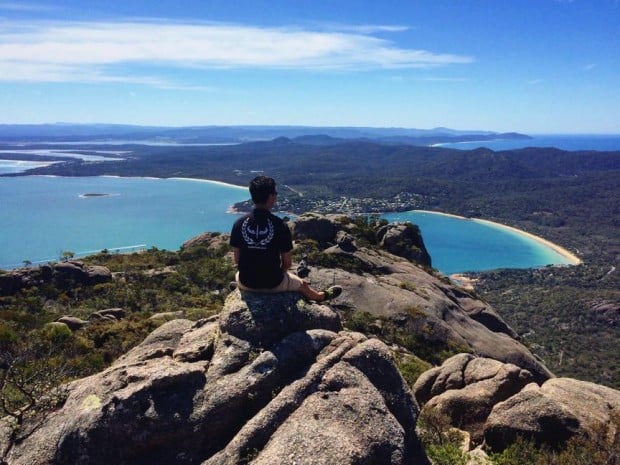 At last, we made it. I trod unimpeded on the rocky surface towards the bay. Throughout the course of this hike, the view got increasingly better the higher we mounted. And true to its repute, Mt. Amos provided a vantage unmatched and unobstructed, covering the whole Wineglass Bay and its resplendent waters. It was even more amazing that no one else came in for the next 20 minutes, which we spent fully transfixed at the scenery.
After being fully satiated with the placidness at 454 metres, we started to make our descent. The trek down took us 45 minutes, traversing haphazardly steep declines that were steep ascensions just a while back. I quietly rejoiced whenever uphill walkers appeared sporadically, using them as indicators to point us down. In exchange, most of them would either ask if the climb was worth it or how much farther they had to go, which we were more than glad to reciprocate.
Also Read: 12 Experiences You Must Have in Australia
In the end, it felt as though it happened too quickly. The experience was too surreal, something that I would remember over the next couple of weeks. Driving out of Freycinet National Park, I embarked on the next leg of my Tasmanian journey.