Darwin? Where's that?
When I first heard about Darwin, my first instinct was to Google this mysterious city I had barely heard of. And the more I searched, the more excited I got about exploring this enigmatic place that was hiding under the radar. Darwin did not disappoint.
Darwin taught me about a different pace of life. A slower pace of life, one that I was unfamiliar with. But Darwin slowly drew me in with its endearing charms. I learnt about its diverse wildlife, marvelled at its scenic landscapes, and indulged in its delicious cuisine at quaint restaurants in the city. But above all, it was the friendly and passionate locals that left me with precious memories to remember Darwin by. Needless to say, visiting Darwin was a welcome escape from the hustle and bustle of cosmopolitan city life.
It's wonderful that Darwin is just a short 4.5-hour direct flight away from Singapore, making it a perfect location for getaways.
For the uninitiated, Darwin is the capital of Australia's Northern Territory and the gateway to gorgeous places like Kakadu National Park and Litchfield National Park. It boasts beautiful azure waters at the coastline, but you must resist jumping in; unfortunately, the waters are deemed unsafe for swimming due to the continual presence of crocodiles and box jellyfish. However, if you're a wildlife lover, Darwin will be right up your alley!
And for those who think that you have to fork out money to have fun, you're sorely mistaken. I've discovered plenty of FUN and FREE things to do around Darwin during my trip. Read on to find out more, and you'll be booking a direct flight to Darwin via SilkAir in no time.
1. Catch resplendent sunsets at Mindil Sunset Beach Market
The Mindil Sunset Beach Market is one of the most popular attractions in the city, and rightfully so. It boasts a plethora of cuisines from all over the world, promising visitors a feast for their eyes and tummy. From cured ham blanketed by French raclette cheese to Vietnamese spring rolls, Spanish paella and even Laksa, you'll be thoroughly spoilt for choice! There's also a multitude of stalls selling all kinds of locally made handicrafts, essentials oils, crocodile products and more. Rainbow tie-dye shirts anybody?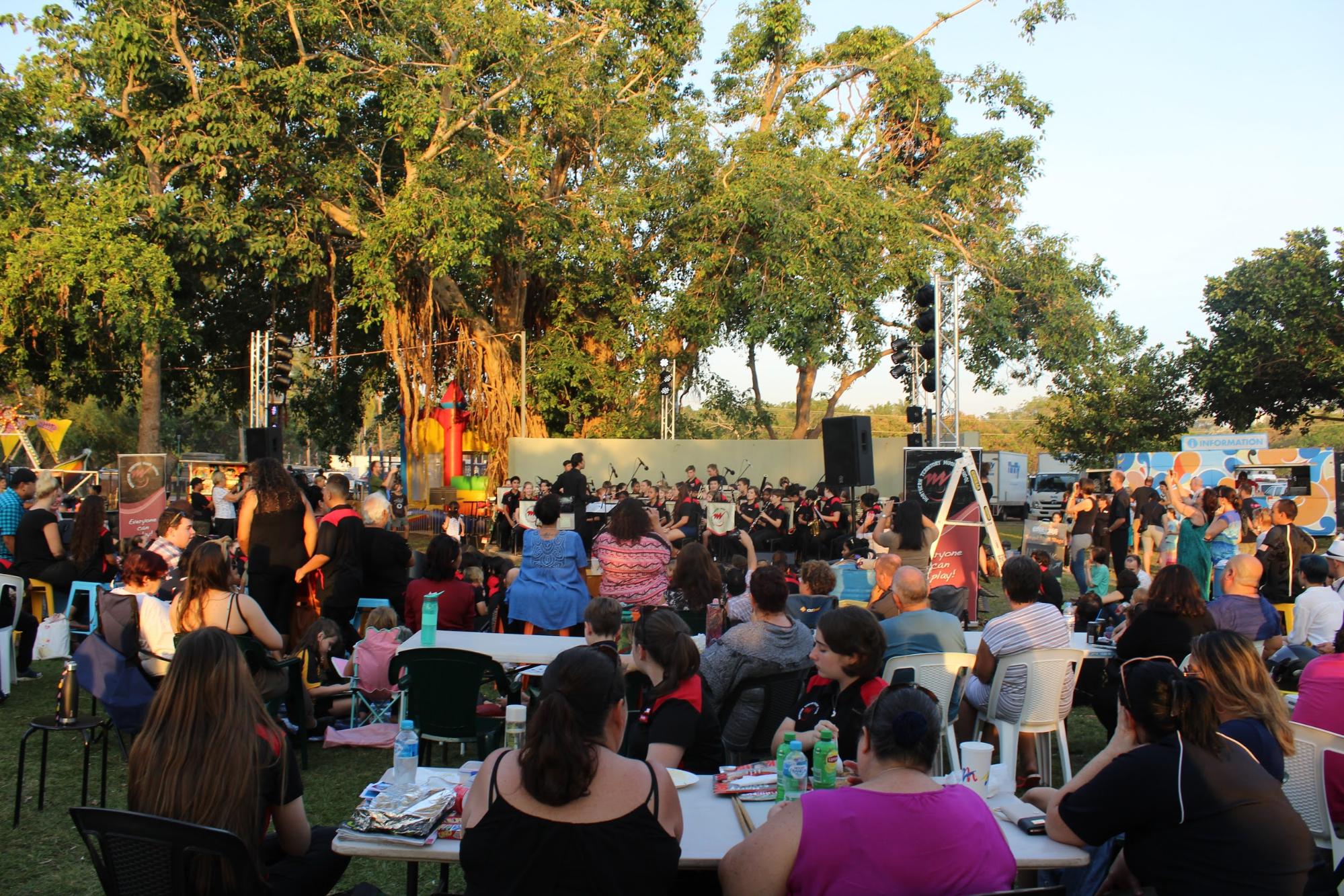 Plus, there's also a stage for live music performances by local artists and student groups! Proud parents and visitors can revel in melodious tunes whilst sinking their teeth into delicious fare.
But that's not the main highlight of visiting the markets – the sunset is! The locals love to bring along their picnic mats and occupy a prime spot on the beach where they will be rewarded with spectacular views of the glorious sunset. So take a break from all that feasting and shopping when it nears 6.30pm, and make your way to the beach for a priceless experience. I recommend going all the way to the shoreline for the best view. You'll get to escape from the crowds and just indulge in the grandeur of Mother Nature as you watch the sky become awash with streaks and hues of red, marigold and indigo.  
2. Take Insta-worthy photos with colourful graffiti at Austin Lane
If you've visited Hosier Lane in Melbourne, then you'll definitely adore Austin Lane in Darwin as well. Vibrant, cheerful, and adding a distinctive pop of colour to the streets, it's the perfect place to snap photos and brighten up your Instagram feed. On top of that, there are plenty of eateries around the area such as Little Miss Korea and PM Eat & Drink in case you get peckish.  
This iconic rainbow mural will definitely catch your eye if you pass by! Named "Poppies for the People", artist Mike Makatron creatively depicts Australia's flora and fauna landscapes, but with an added twist. The red poppies represent the distant WWI battlefield of France and the blood of the fallen soldiers, in contrast to Top End's lush greenery, which is home to the families of these fallen soldiers. It's a truly meaningful and vibrant piece of work to behold.
3. Take a refreshing dip at the pools in Litchfield National Park
Home to cosy waterholes and cascading waterfalls, Litchfield National Park is a must-visit for anyone exploring Darwin and its surrounds. Personally, it was one of my favourite spots because the cool and clear waters were particularly refreshing in the tropical summer heat!  Iconic spots such as Buley Rockhole, Florence Falls and Wangi Falls warrant a dip, so remember to pack your swimsuits along. Litchfield National Park is just 1.5 hours away from Darwin, and most of the swimming spots are open during the dry season (from May to October).
Buley Rockhole
Buley Rockhole is a picturesque oasis surrounded by lush greenery and clear, blue skies – my definition of pure bliss. Comprising a cascading collection of rock pools, Buley Rockhole has plenty of space for everyone to take a dip and just watch the world go by. Dive in from the ledge for a splashing good time or let the gentle currents soothe your shoulders with a free massage session. Either way, you'll never want to leave this incredible gem of a waterhole!
Florence Falls
Located at the bottom of Florence Falls is another plunge pool that's equally spectacular. With the magnificent waterfalls as your backdrop, swim around the clear, cool waters or battle the strong currents and get right under the twin falls for a powerful massage. You might also be pleasantly surprised by fish swimming around you, so pack your snorkelling gear along to spot them below!
4. Go for a languid stroll at the Bicentennial Park
Isn't this view soothing to the eyes? The Bicentennial Park in Darwin is one of the most tranquil spots in the city. Surrounded by lush greenery and overlooking the harbour, you'll be rewarded with resplendent views as you gaze out into the horizon. The meandering pathways make it an ideal place for afternoon walks and bicycle rides. The park is also home to the Darwin Cenotaph War Memorial, which commemorates Australian servicemen and women who served in conflicts in which Australia was involved.
Walking through the park on a sunny afternoon was one of my fondest memories in Darwin. The pathways were largely empty and I was left to the sounds of leaves rustling gently in the wind, the cool breeze caressing my cheek, and the musings in my head. I felt carefree, liberated, and fervently wished that time would stand still so the moment could last forever.
5. Marvel at panoramic views of Darwin Waterfront from the Sky Bridge
The Sky Bridge connects the Darwin Waterfront Precinct directly with the city centre, together with a glass elevator that brings visitors up and down daily (from the waterfront precinct). It's a great vantage point for panoramic views of Darwin's waterfront and harbour, as well as the retail shops and promenade below.
Just take a look at this charming sight! Darwin's Waterfront Precinct is home to the Darwin Convention Centre, Wave Lagoon, Stokes Hill Wharf, Deckchair Cinema, the historic Oil Storage Tunnels, quaint restaurants such as Wharf One, The Precinct and more. Locals also love to just lie on the lawn for a chill suntanning session, or head to the Big Buoy Waterpark for a quick dip!
As night falls, the bars and restaurants on the waterfront promenade come to life with glistening fairy lights, snazzy tunes and animated conversations amongst large groups of families and friends dining together. If you're lucky to get a seat next to the waterfront, you'll be rewarded with soothing views and a calm ambience – the perfect setting to kick back with a refreshing pint of craft beer, cider, or fruit smoothies and some delicious grub. 
I had a truly unforgettable dining experience at The Precinct Tavern and Wharf One, so be sure to visit them when you're in Darwin!
6. Gaze out into the azure waters at Stokes Hill Wharf
If you're not looking to spend a single cent, just sitting by the waters is in itself a therapeutic experience. Time just flies by when you're preoccupied with snapping photos and observing the vastness of the ocean. Nevertheless, I ultimately succumbed to buying a scoop of delicious coffee-flavoured gelato (oops!).
Stokes Hill Wharf is home to a plethora of restaurants and seaside eateries offering alfresco seating and specialising in seafood and steak. But don't worry, this experience will not cost you a fortune. Harbour cruises and yacht tours depart from here regularly too, so if you're looking for a luxurious night well-spent, I highly recommend hopping aboard a sunset cruise.
The Royal Flying Doctor Service Darwin Tourist Facility is also located at Stokes Hill Wharf if you'd like to learn more about the Bombing of Darwin, but an entry fee of S$26 applies. Stokes Hill Wharf is just a short 10-minute walk away from the Darwin Waterfront Precinct, so I'd recommend combining both locations in one day.
7. Explore the Museum & Art Gallery of the Northern Territory
The Museum & Art Gallery of the Northern Territory is easily accessed via the Darwin Hop-on Hop-off bus, and admission to the museum is completely free! It's famous for its permanent exhibitions on Cyclone Tracy and the iconic Northern Territory crocodile, Sweetheart. Here, you'll learn about Darwin's rebuilding process after the mass destruction left by Cyclone Tracy in 1974, as well as the interesting but tragic story of Sweetheart, the 5.13-metre male crocodile of the Sweets Lookout billabong.
I liked the other exhibitions that were ongoing as well, one of which celebrated 50 years of Tiwi Pottery, and the other which championed the work of Franck Gohier, a Northern Territory artist. Inspired and influenced by pop art culture, capitalism, the bombing of Darwin in World War II, and the city itself, Gohier's work features iconic, eye-catching screenprints embodying deeper political and social messages.
8. Picnic at the spacious lawn in Jervois Park
Jervois Park was an absolutely unexpected find. I was wandering along the coastline of Darwin, following the meandering pathways through Bicentennial Park, trying to explore a different path back to my hotel, Adina Vibe, when I stumbled across this gem beside the enclosed compound of Deckchair Cinema. Most people usually visit the Deckchair Cinema in the evening, so it's pretty easy to completely miss out on this gorgeous lawn right in front of the sea when the sky turns dark. But lo and behold, I visited it one sunny morning and it was the perfect place to just sit back and relax.
This sprawling park is a hotspot for families to have weekend picnics, or for hosting events, and it's easy to see why. There are benches as well if you're not too keen on sitting on the grass or a picnic mat. If you'd like to just bask in the serenity of the morning and take in gulps of fresh air, Jervois Park is the place to be.
P.S. With the exception of Litchfield National Park and the Mindil Sunset Beach Markets, the rest of the spots are within walking distance of each other.
Since you'll be saving money with these free activities, you can treat yourself to thrilling airboat adventures in the billabongs or even jumping crocodile cruises! There's just so much to explore in Darwin, and I haven't even started on the wildlife adventures yet. Stay tuned for the second chapter of my Darwin trip!
In the meantime, trust me when I say that Darwin's worth a visit, and don't forget that it's a mere 4.5-hour flight from Singapore. That's not a long journey to make for an unforgettable holiday, so resist no longer and start planning your trip there!
---
Special thanks to SilkAir, Tourism Australia, and Tourism North Territory for their kind hospitality and for opening my eyes to the beauty of Darwin.