I've been to Bangkok a good handful of times, yet each time I'm continuously amazed. Bangkok is a tapestry of fascination and oddities, and something about this throbbing city just keeps drawing me back – the rush and clamour of its downtown, the abundance of cheap shopping districts, the many cafes and bars I can't finish visiting in a lifetime, and the food that can never, ever go wrong.
This trip though, I took things slightly off the beaten track. I came back with a different set of tales – one that's more than Chatuchak Market and coconut ice-cream. If your idea of travel involves more than what the guidebook offers, maybe this could prod you to take things off the typical path during your next Bangkok trip too!
1. Take up a one-day Muay Thai crash course

Image credit: Luktupfah Muay Thai
You probably know it's possible to catch live Muay Thai matches in Bangkok. But this time, delve deeper and really immerse yourself in this classic country sport by signing up for a one-day crash course. Or three days, or a month, or really, get into the regime and stay there long-term till you're a true master of this martial art.
There are dozens of Muay Thai gyms all over Bangkok, with many of them offering daily sessions (from just 400 baht) to month-long on-site training programs.
2. Climb an abandoned building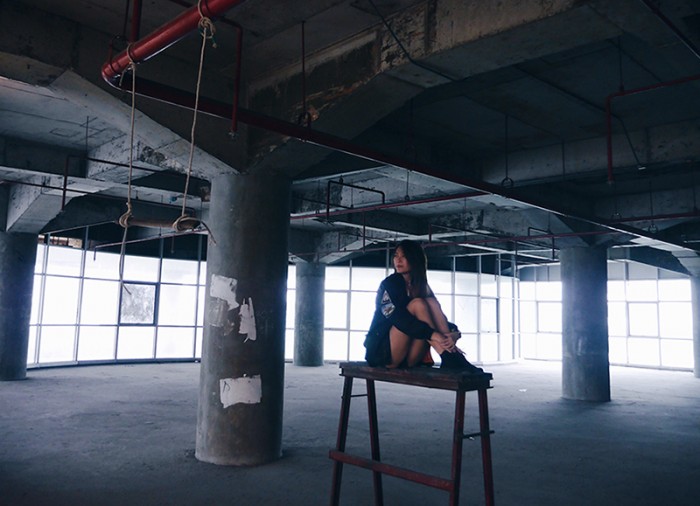 I'm a sucker for the strange, forbidden, and the like. And Bangkok hears me even on that. This sprawling metropolis is home to several abandoned and uncompleted buildings due to Asia's financial collapse in 1997. So if you got the balls, these ghost towers make perfect hunts for a day (or night) of urban exploration.
Image credit: farangset
This derelict ghost town of a building is I.C. tower, situated down the road of Phra Ram 9 MRT stop. It's not listed on Google Maps, but its 60-storey stature is certainly unmissable.
The loose escalator may shake precariously with every step, wild dogs may alarm you out of nowhere, and the darkest of corners may creep the hell out of you, but trust me, the satisfaction after you've conquered it is worth every chill down your spine.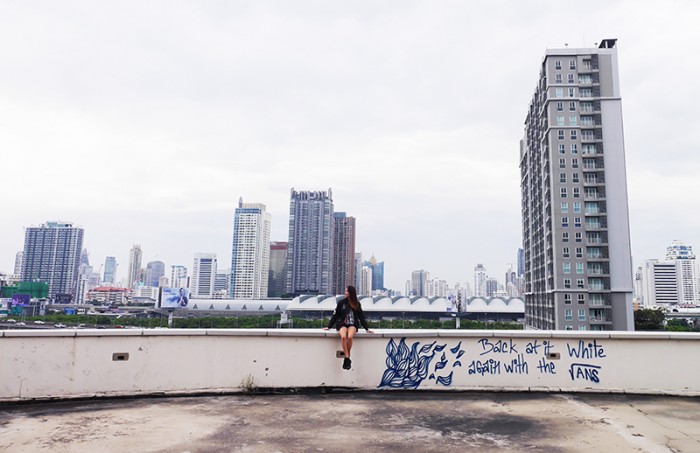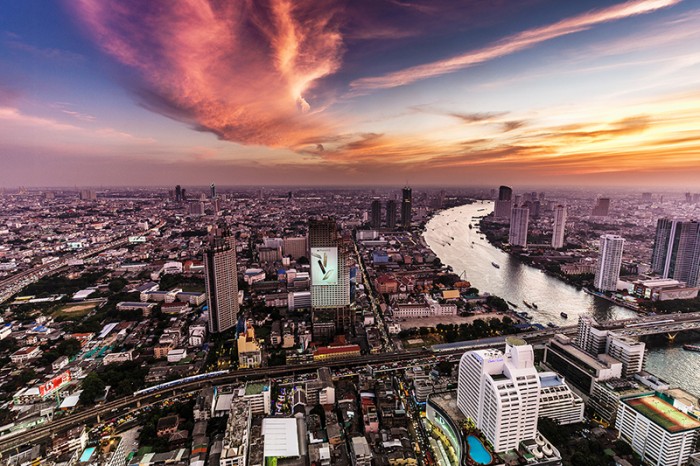 Image credit: Tore Bustad
Thrills and chills aside, the rooftops of such buildings also make unbeatable vantage points of the cityscape. Convinced yet?
3. Learn to cook a Thai dish from the locals by the roadside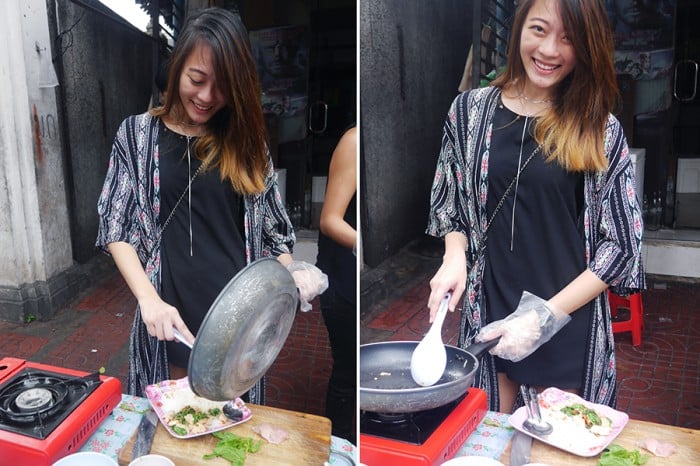 I don't know anyone who doesn't love Thai food. Vietnamese or Japanese food may contend, but it's pretty much the tastiest cuisine in the region. Spices, herbs, and fish sauce-everything, there's really nothing not to love.
This time, I did more than just eating. I basically whipped up my own frickin' plate of Basil Chicken!!!! Stripped away from fancy kitchen settings, the locals showed me the ropes of cooking this classic Thai dish. No frills, no fuss, and by the roadside – as authentic as a cooking lesson can get.
4. Bustle in pop-up markets before they're gone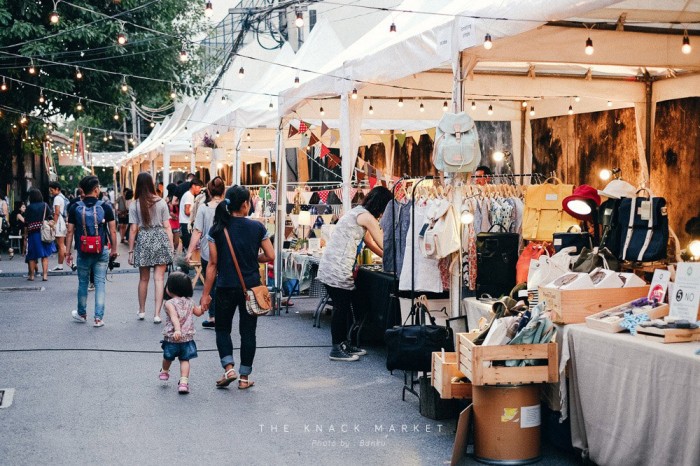 Image credit: The Knack Market
Think shopping and most travellers flock to Chatuchak market and Platinum Mall. But alternative shopping districts that many overlook are pop-up markets scattered all over Bangkok. Famous ones include Artbox and The Knack Market, and a dozen more you can look out for on their Facebook pages (TGIF Market, Neon Market and FYI Market).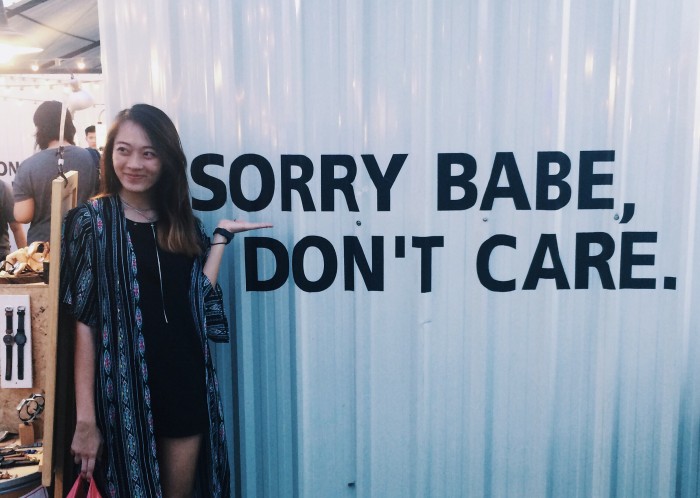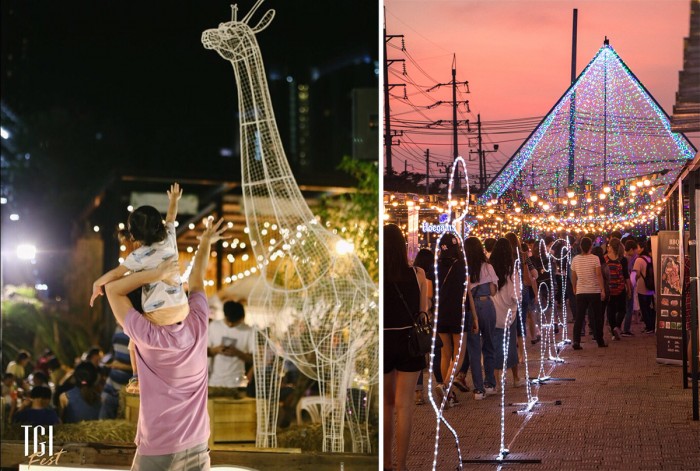 Image credit (left): TGIFmarket, image credit (right): Artboxthailand
Many of these 'lifestyle bazaars' are themed, and usually decked with cosy lightings, photogenic backdrops, great music and everything else that will give you that ~ambience~ your usual over-populated and kitschy shopping haunts can't.
5. Spend a night at Bangkok's 'kampong', Samut Songkhram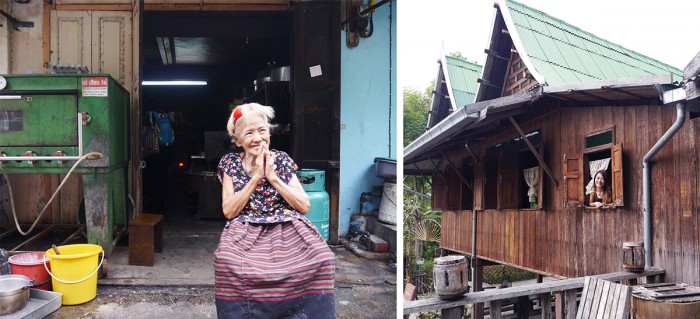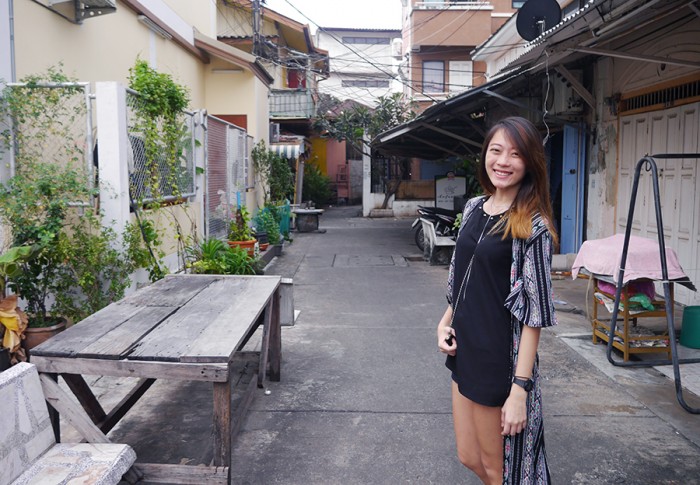 Away from the glittering skyscrapers and bustling night markets, there's an unhurried and rustic side of Bangkok few know about. The low-key Samut Songkhram Province is an hour drive away from central Bangkok, and a day trip here makes the perfect antidote for the city chaos.
It's Bangkok's equivalent of a 'kampong', and depicts the lifestyle of the Thai villagers in the most genuine manner.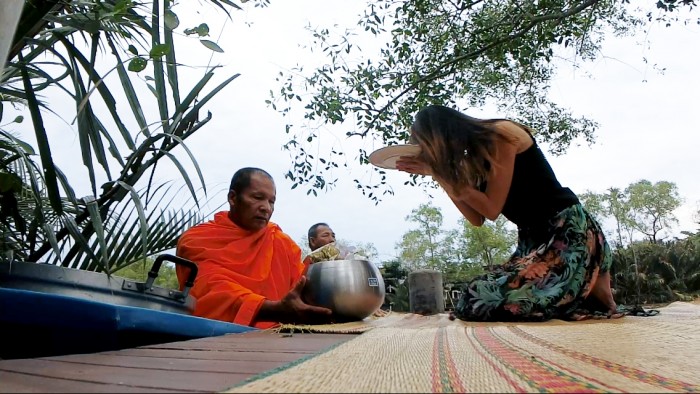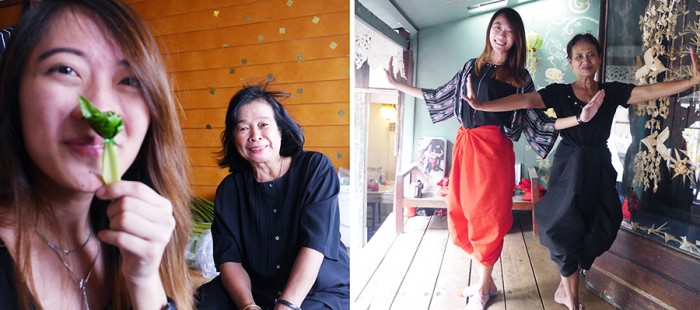 Make crafts out of pandan leaves with the locals, have brunch by the river bank at the floating market, marvel in the after-dark glisten at a night of fireflies-watching, learn a traditional dance you'll never find a YouTube tutorial on, be part of a monk offering ritual… Scrap the day trip – stay a night or two if you wish to thoroughly explore Samut Songkhram!
6. Squeal in excitement at unusual animal cafes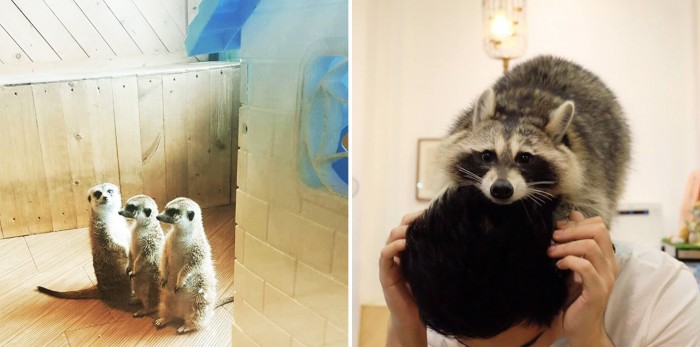 Image credit: Little Zoo Cafe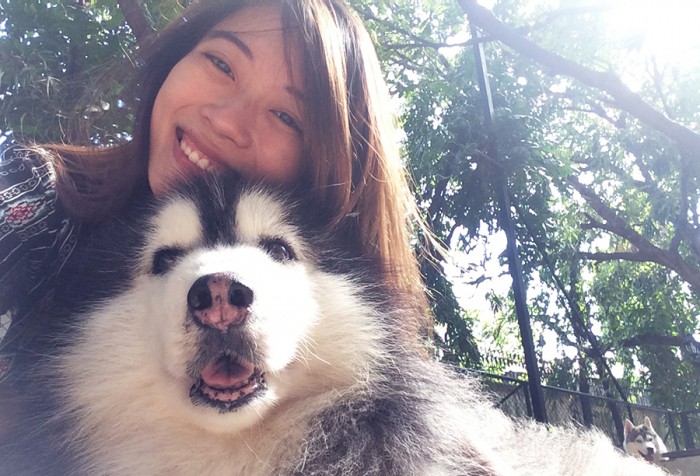 Straying away from pet cafes with the usual tiny pooches and purrs, Bangkok has raised the bar by introducing cafes which house exotic animals like huskies, meerkats, chinchillas, owls, raccoons and even fennec foxes. I mean, where else can you have 20 fluffy huskies gambolling around you, or a raccoon casually resting on your head?!!?!?! EEEEPS!!
Where:
TrueLove @ Neverland – 153 Soi Ari Samphan 2 (most easily accessible by cab)
Little Zoo Cafe – Sukhothai Ave 99, Muang Thong Thani (cab or take a shuttle bus from Mochit BTS)
The Animal Cafe – Sathu Pradit 19 Alley, Chong Nonsi BTS
7. Revel in the ruins of an airplane graveyard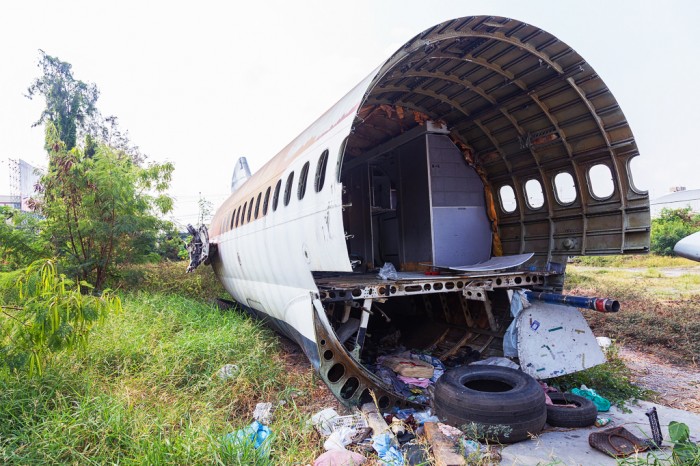 Image credit: daxward
Another site that will excite the urban explorer in you is the airplane graveyard at Ramkhamhaeng Road. The ruins of a Boeing 747 and two MD-82s have been lying in desolation at the site for over six years after their respective fatal crashes, complete with oxygen masks, life vests and seat belts littered all over. They are now occupied by three Thai families that obtain their source of income by charging visitors an 'entrance fee'.
Where: Ramkhamhaeng Road Soi 101 (most easily accessible with a cab)
Cost: from 100 baht
8. Get a taste of hell at Wang Saen Suk Garden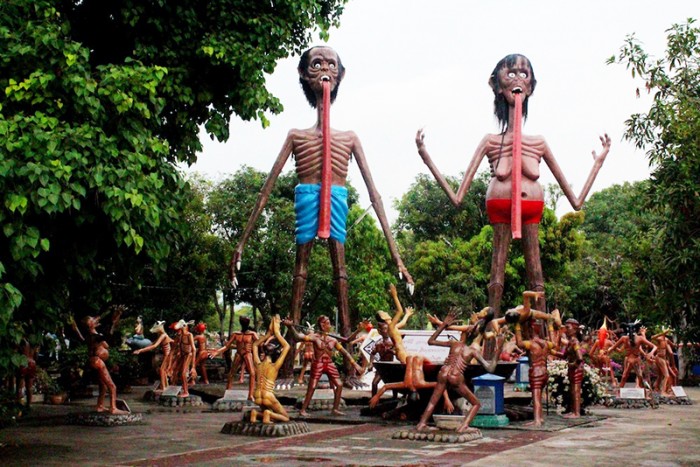 Image credit: Qormyach
If you have an appetite for the grim and nasty, or you're just curious how hell possibly functions, Wang Saen Suk Hell Garden is the place for you. This not-so-magical theme park is the largest hell garden in Thailand (strangely, more than one hell garden actually exists…), and gives visitors a peek of the Buddhist underworld with the abundance of beheaded bodies, gouged-out eyeballs, and extracted, bloodied intestines.
Singaporeans, this is basically an eerily similar version of our Haw Par Villa.
Where: Bang Saen Sai 2 Soi 19 (short cab ride from Ekkamai BTS)
9. Have dinosaurs tearing after you at Dinosaur Planet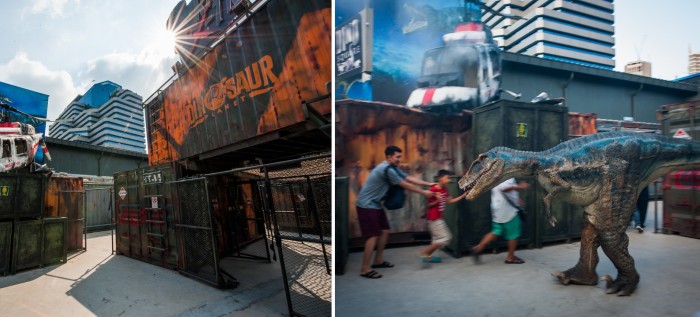 Image credit: Dinosaur Planet
Dinosaur Planet is the latest jewel to Bangkok's entertainment crown and since it only recently opened, it remains pretty unexplored by tourists. Conveniently located in the city centre at Empshere Sukhumvit 22, this pseudo Jurassic Park is as close to the real deal as you can get.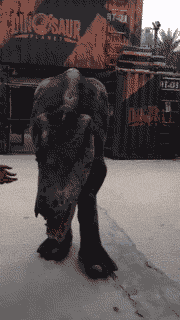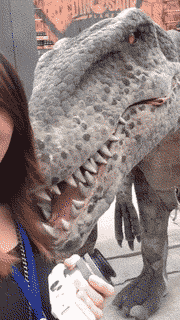 The Raptor X-treme is easily my favourite attraction of the lot, and here you have raptors chasing and breathing down your neck as you try to make it out alive from an obstacle course!!!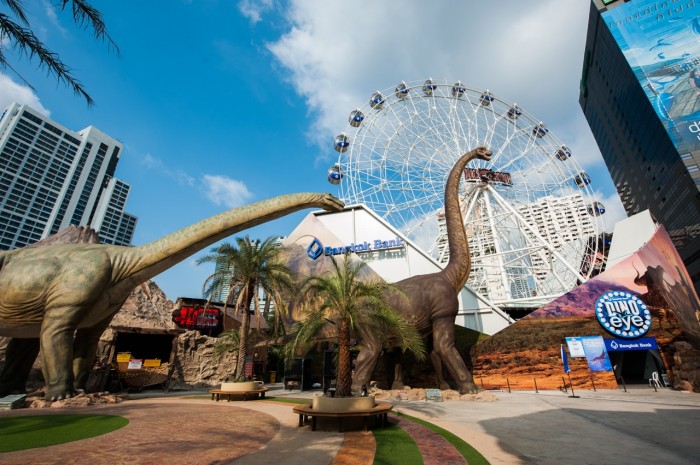 Image credit: Dinosaur Planet
If you want peace with the dinos instead, there are also many other attractions in this 1.5 hectare theme park to keep you occupied for hours, including a ferris wheel, a dino-riding farm and a 4D simulator that throws you back (quite literally) a million years into a dinosaurs' battlefield.
Where: Sukhumvit 22 The Emsphere, Khlong Tan (Phrom Phong BTS Exit 6)
Cost: 600 baht (adult)
10. Seek divine intervention guidance from a phallic shrine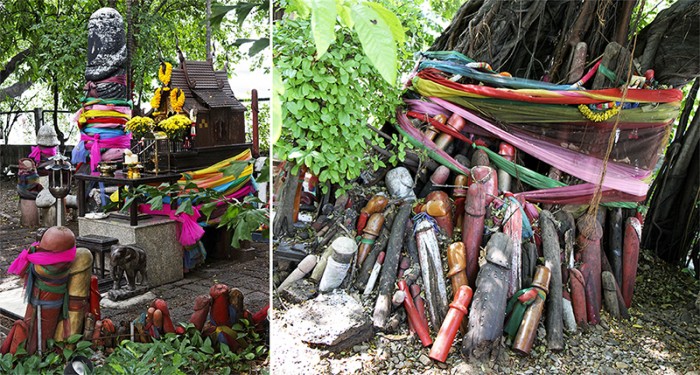 Image credit (left): Ddalbiez, image credit (right): Jason Eppink
Whether it's a novelty visit or one in hopes of a fertility boost, this phallic shrine (Chao Mae Tuptim) at Phloenchit BTS station attracts worshippers and travellers alike. There are over 100 phallic sculptures lying around the sacred tree of potency, and it's actually said to be extremely effective. Mmmmm.
Where: Phloenchit BTS, behind Swissotel Nai Lert Park Hotel
11. Check out Thailand's creepiest museum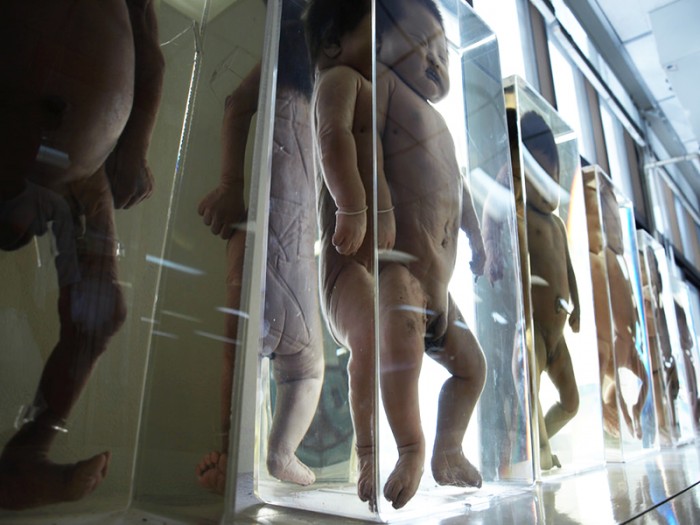 Image credit: deepwarren
There are fancy art museums, then there's Bangkok's Forensic Museum – morbid, mildly disturbing, but equally informative nonetheless.
Flung way off the beaten track, Bangkok Forensic Museum houses preserved babies with birth defects, bodies of accident victims and a bunch of other exhibits that'd probably make you skip your lunch.
Where: Siriraj Hospital, 2 Wang Lang Road (opposite Grand Palace)
I could go on forever with this list, but here are my top picks for your next great adventure in this amazing, amazing city. Come your next visit, do it justice, explore beneath the conventions, and have that Bangkok trip of a lifetime!
---
Thank you Tourism Authority of Thailand for the opportunity to rediscover and relish in the beauty of this majestic nation. It was an amazing trip and I'll be back soon!