The culture capital of Northern Thailand, Chiang Mai is a great city to indulge in activities like temple hopping, food tripping, and shopping at night markets. You can enjoy mouth-watering dishes and even check for discounts on restaurants in Chiang Mai through apps like eatigo. Or shop-'til-you-drop on night markets along the Old City Square.

Read more: 24 Fun Things to Do in Chiang Mai
To help you out, here are seven of my favourite day trip destinations to take from Chiang Mai.
1. Elephant Nature Park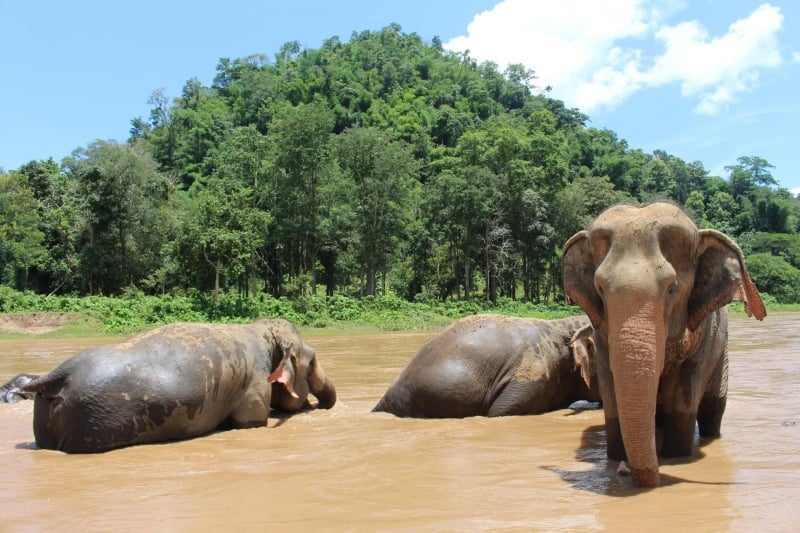 Located 60 kilometres from Chiang Mai city, Elephant Nature Park is a rescue and rehabilitation centre that aims to provide a home for dozens of distressed elephants all over Thailand. It was established by a Thai lady called Lek, who rescues elephants and takes them to her sanctuary where they can roam freely. To this day, the nature park's mission remains the same: to protect these gentle giants and sustain a natural haven for the endangered species.
For a minimum of 2,500 baht (S$102.50), visitors can enjoy a full day visit to the park and observe the elephants. Tourists can also choose to go on a forest walk with the animals, where they can be fed and bathed in the river.
Also read: Wildlife Tourism: When Is It Ethical?
2. Wat Phra That Doi Suthep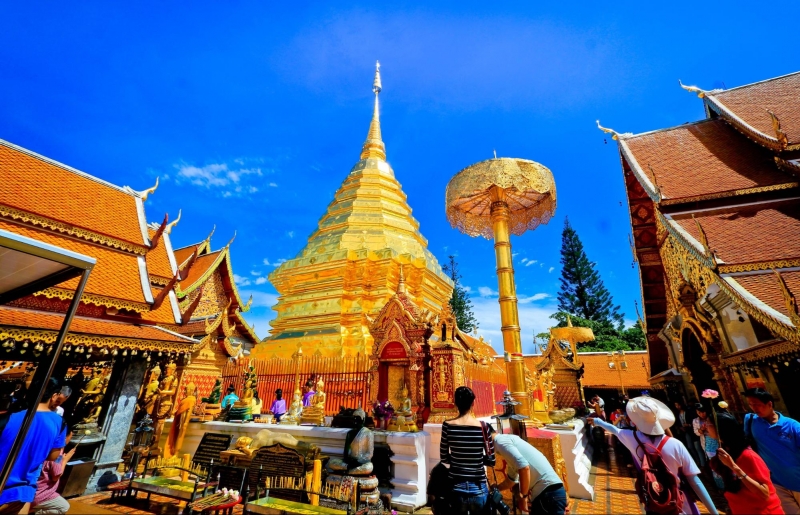 Chiang Mai is home to many temples, the most famous being the Doi Suthep temple — about a 45-minute drive from the city centre. Doi Suthep is a major pilgrimage destination and is one of the holiest Buddhist sites in all of Thailand. This ridiculously beautiful temple is situated on a hill that overlooks the city. What makes it even more picturesque is an elaborate 24-metre monument that's gold-plated from top to bottom. On a clear day, you can see the monument's golden exterior catching the brightness of the sun and blazing like a beacon in the city.
3. Wat Rong Khun or "White temple"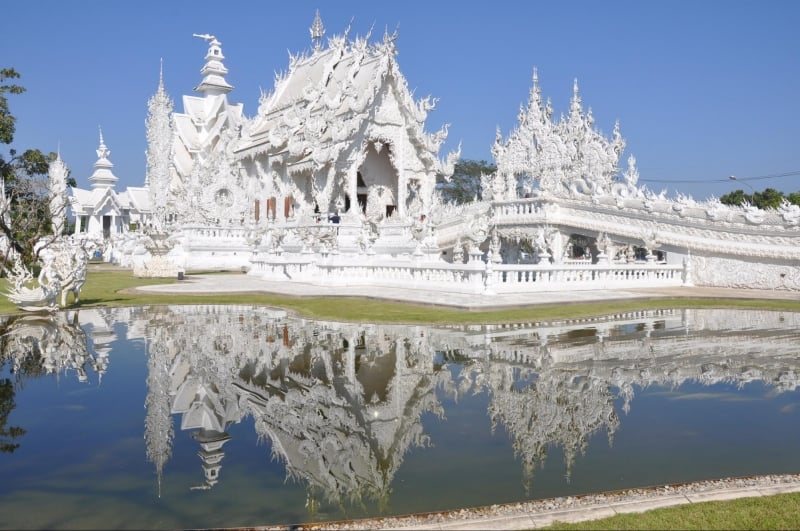 Aside from Doi Suthep, Wat Rong Khun or "the white temple" in the city of Chiang Rai is also one of the most recognisable in Thailand. It was designed by Thai visual artist Chalermchai Kositpipat, who is known for his unconventional approach to temple architecture. As the name suggests, this unique temple stands out because of its all-white exterior. The presence of glass shards in the plaster used for the structure lets it sparkle in the sun, making it even more eye-catching. The white colour symbolizes the purity of the Buddha, while the glass signifies Buddhist teachings.
4. Mae Sa Waterfalls
Part of the Doi Suthep-Pui National Park and located about 26 kilometres from Chiang Mai is the Mae Sa Waterfalls. Tourists flock to the natural wonder because of the site's impressive 10-level waterfall. The area is enormous and is a popular leisure spot perfect for unwinding while surrounded by lush greenery. Foreigners have to pay an entrance fee of 200 baht (S$8.20), while locals have to pay 20 and 10 baht for adults and children, respectively.
5. The Golden Triangle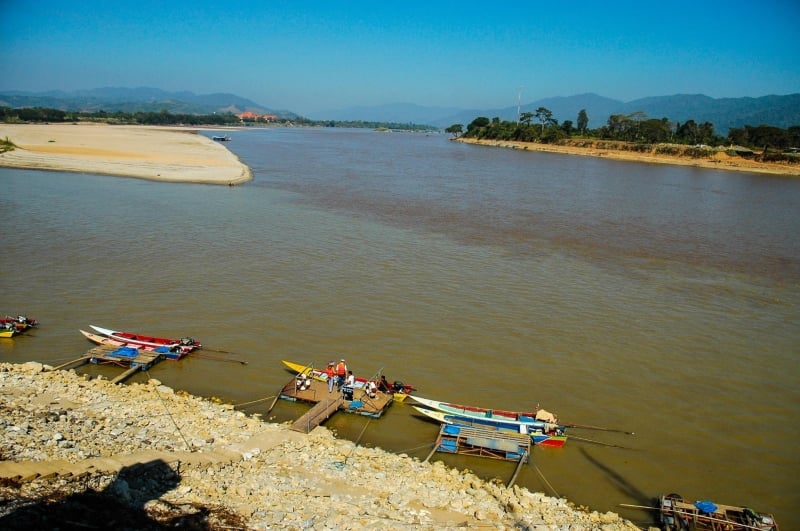 About three hours North of Chiang Mai is the Golden Triangle, an area where the borders of Thailand, Laos, and Myanmar meet. For those who need a geography refresher, the three countries are separated by the Mekong River. Gone are days of opium production and trade; now the region is serene, surrounded by hill tribe villages, ancient temples, and markets. Visitors can see the sights around the area by taking a long-tail boat trip along the Mekong River. Boats can be chartered for trips along the shores of Myanmar, Laos, and Thailand.
6. Doi Inthanon National Park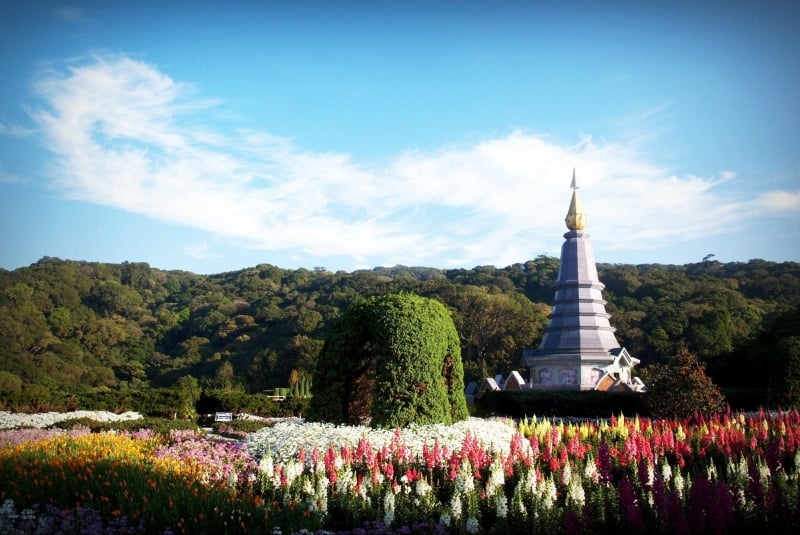 Just a two-hour drive away from Chiang Mai is Doi Inthanon National Park, home to lush tropical forests, rugged mountains, spectacular waterfalls, and beautiful pagodas. It is also where you can find the highest spot in Thailand, Doi Inthanon itself. Also known as the "The Roof of Thailand," Doi Inthanon rises to a height of 2,565 metres above sea level. The weather is cool all year round and regularly dips below freezing temperatures during the months of October up until late February.
If you plan on visiting the park, make sure to start early. Bring 300 baht (S$12.30) for the entrance fee, and do not forget to put on some sunblock.
7. Huay Tung Tao Lake
Just a 15-minute motorbike ride from the city centre is Huay Tung Tao, a large lake lined with bamboo huts, where you can relax with a magnificent view of the Doi Pui mountains. If you need to escape the city's hustle and bustle even just for an hour, then Huay Tung Tao is the perfect place to go. You can eat in bamboo bungalows set up by restaurants, swim in the lake, or just enjoy the view of the countryside. The area also has a two-lane circular road that's about four kilometres, suitable for cyclists and joggers.
Most of these activities can be done by hiring a songthaew (public car) driver or by hopping on a motorbike. Another option is to go for a guided itinerary. There are many tour operators to choose from around the city so take your pick and enjoy your trip!
Also read: Northern Thailand Itinerary: 6 Days in Chiang Mai & Chiang Rai