Image credit: Tourism Authority of Thailand
At the turn of 2019, we were given the golden opportunity to visit Thailand, where we had the honour of welcoming Singapore's millionth traveller to Thailand.
Thanks to Singaporeans' undying contribution to Thailand's tourism, they decided to reward 2018's millionth Singaporean traveller to the country, Angela Kwek Sui Hoon, with a grand welcome at the Suvarnabhumi Airport on the 21 December 2018 and boy, did she win big!
Image credit: Tourism Authority of Thailand
Coincidentally, Angela donned the perfect shirt for the occasion and had a once-in-a-lifetime photo-op with the Minister of Tourism and Sports of Thailand, Mr Weerasak Kowsurat. To top it all off, she left the airport like a boss in a luxury car. And so did I, albeit in a not-so-pimped out ride.
Image credit: Tourism Authority of Thailand
To celebrate the momentous occasion, the Thai tourism board had a host of activities lined up for the invited media, including a feast at a Michelin-starred restaurant. Our itinerary was packed but definitely something I was looking forward to. It included a big 'do for Mickey Mouse's 90th anniversary, a meal at a Michelin-starred restaurant and a visit to Thailand's second tallest building.
Happy 90th Birthday, Mickey Mouse!
Our day started off by commemorating the legendary Mickey Mouse's 90th anniversary at the Pullman King Power in Bangkok. This world of happiness pays homage to the world's most famous rodent and includes exhibitions, toys, and themed houses.
Address: 8-2 Rang Nam Alley, Khwaeng Thanon Phaya Thai, Khet Ratchathewi, Krung Thep Maha Nakhon 10400, Thailand
Contact: +66 2 680 9999
Dining in style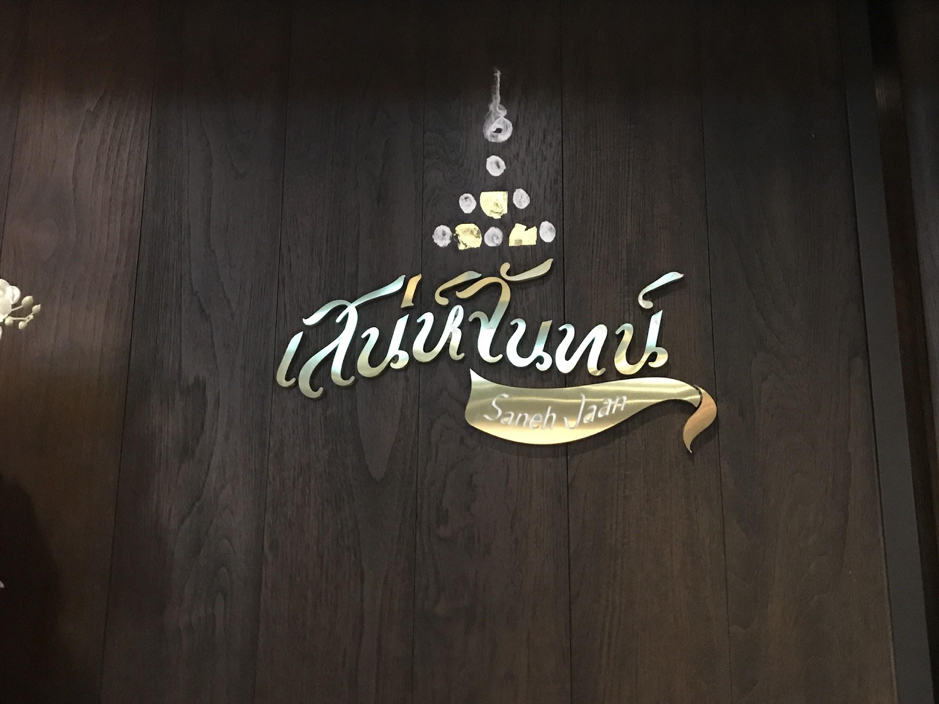 After a dose of technicolour nostalgia with Mickey, we headed over to Saneh Jaan, a lovely restaurant that welcomes you with its classy ambience and friendly staff. When I found out that this is a huge favourite among the members of the Thai Royal Family, it hit me that I was about to have one of the finest dining experiences of my life!

Image credit: Tourism Authority of Thailand

Image credit: Tourism Authority of Thailand
I kickstarted my gastronomic journey with traditional Thai appetisers, a medley of scallops and dumplings.

(Top: Dried shrimp, peanut, ginger, lemon wrapped in wild betel leaf bush; Left: Fried dumpling stuffed with minced chicken; Right: Stuffed flower-shaped dumpling; Bottom: Scallop salad with minced leaves)
Everything fell harmoniously into place despite the various ingredients; the best way to eat it is to stuff them all in your mouth at once. It was a literal party in my mouth.

(Steamed curry fish wrapped in curry leaves)
The main course was featured a Thai version of otah – an Indonesian/Malaysian grilled fish cake. The steamed curried fish had a luscious texture, but unlike its Singaporean cousins, these weren't spicy.

(Grain fed rib eye with northeastern style dip)
One of the main courses was a grain-fed ribeye steak, accompanied by a Thai northeastern-style dip. This was hands down one of the best steaks I've ever had, its rich meaty flavours were elevated by the sauce.

(Mango with sticky rice and coconut milk and fruit in citron syrup with ginger and shallot)
For dessert, we were served with a neat plate of mango sticky rice. While the presentation gets five stars, the dish wasn't as sweet as I expected it to be, which slightly disappointed the sweet-toothed person that I am.
All in all, it was a good experience dining at Saneh Jaan. For the ambience and their wonderful beef, this place is worth a visit!
Address: 130 Witthayu Rd, Khwaeng Lumphini, Khet Pathum Wan, Krung Thep Maha Nakhon 10330, Thailand
Contact: +66 2 650 9880
Learning the ways of a Thai chef
The next day, we headed down to the Blue Lagoon Cooking School where we tried our hands at crafting Thai dishes from scratch. We were tasked to make Thai curry, and trusting my Indian genes, I instinctively added too much chilli to my dish.
Unfortunately, that didn't go down too well but thanks to the awesome chefs who taught me well, I managed to salvage it!
Exploring art
Shortly after keeping away the apron, we headed over to the Bangkok Art Biennale for a thought-provoking tour. I never had an eye for abstract art but this place taught me how to appreciate true creativity. This exhibition would be interesting for art enthusiasts as there are no boundaries to the type of crafts showcased here.
However, there is one piece I related to (photo above) the most, as I felt that it was a perfect depiction of my expression right after tasting my own cooking earlier in the day!
Self-deprecating jokes aside, there were a few exhibits that intrigued me, such as the tower crafted from plastic baskets (pictured below).
Taking in the city landscape
To end off this tremendous trip, we made our way to the King Power MahaNakhon Skywalk – the second tallest building in Bangkok, penetrating the skies at 314.2 metres.

Image credit: Tourism Authority of Thailand
At the peak, there is an alfresco bar for you to relish the splendid views of the city with an ice-cold beer in your hand. A great combination, if you ask me!
On top of food and shopping, it is very evident that Bangkok has so much to offer in all year round. I certainly had a blast and so would you when you pay your visit to this charming city!
A big thanks to the Tourism Authority of Thailand for making this trip possible!