It's safe to say that Vietnam is well on its way to being one of the safest destinations for post-pandemic travels! After all, this country has successfully prevented any COVID-19-related death — an utterly impressive feat, if you'd ask anyone. In the meantime, you should definitely consider it as your next travel stop. This then begs the question: which city in Vietnam should you visit, especially if it's your first time? 
For most travellers, this often comes down to two cities: Hanoi City and Ho Chi Minh City (otherwise called Saigon). The former is the capital city, while the latter is the largest city in the country. Still, deciding which city in Vietnam to visit first will depend on your personal taste, of course. That said, read on for our comparisons per category to help you make the right choice! 
1. Must-see attractions
As with any other destination, the top attractions and landmarks are definitely an important factor! So, which city in Vietnam has more of these? Well, it's quite hard to compare, given the stark contrast. Hanoi attractions are more on ancient structures and natural landscapes, whereas most Ho Chi Minh attractions delve into their colonial past. 
Hanoi
The Vietnamese capital is teeming with Buddhist shrines and picturesque lakes. There's the millennia-old Imperial Citadel of Thang Long and the grand Ho Chi Minh Mausoleum. As for religion/spirituality, there's the Temple of Literature, One Pillar Pagoda, and Tran Quoc Pagoda. (Just make sure to dress accordingly when visiting these sites!) Meanwhile, legend has it that Hoan Kiem Lake is where a giant turtle reclaimed a magical sword from Emperor Le Loi! 
Ho Chi Minh City
Down south in HCMC, you'll find more museums and European-esque structures. A must-visit is the War Remnants Museum, which mainly focuses on the tragic Vietnam War. For more insight on Vietnamese history, there's the Reunification Palace, Ho Chi Minh City Museum, and Museum of Vietnamese History. For a dose of French architecture, don't miss the Saigon Opera House and the Saigon City Hall, as well as the neighbouring Saigon Central Post Office and Notre-Dame Cathedral Basilica. 
2. Culture
Apart from must-visit spots, we'll also take a look at the local culture and lifestyle. Hanoi has managed to remain loyal to its original roots — save for some Chinese influences here and there. On the other hand, Ho Chi Minh City has always embraced the foreign, from French culture to rapid Western urbanisation. 
Hanoi
Sure, there's a handful of colonial villas and mansions in Hanoi's French Quarter. And yet this city boasts of well-preserved culture and traditions, as seen in the Old Town Quarter. You'll also notice this in the abundance of homegrown brands and establishments around. And finally, this is where you'll find most of the country's oldest universities. This city is, after all, the political and cultural capital of Vietnam! 
Ho Chi Minh City
Ho Chi Minh City is somewhat the polar opposite, with its reputation as an emerging megacity. One look at impressive skyscrapers like Landmark 81 and Bitexco Financial Tower, and you'll see why! Apart from that, it's got quite the burgeoning art scene. So, you might want to visit a contemporary exhibit or purchase a local artisan's work while you're there. 
3. Food and dining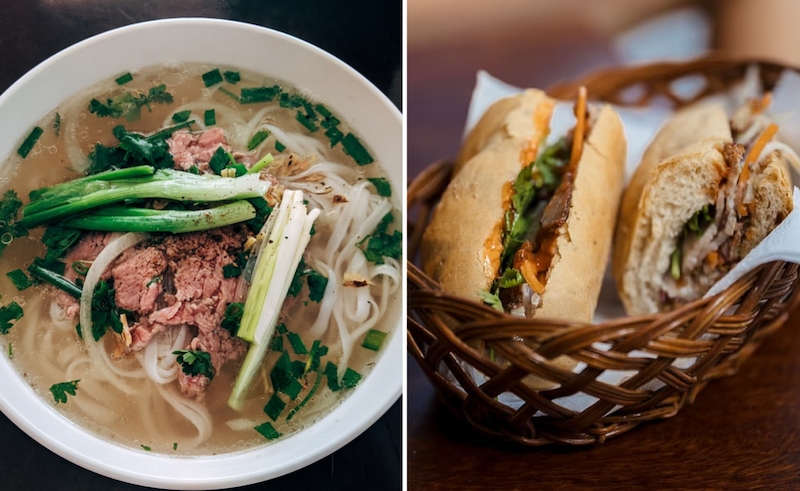 Let's be real — you can't talk about travelling to a city in Vietnam without talking about the food. Welcome to the Land of Pho and Banh Mi, folks! And like in every other city, the local culture clearly manifests itself in the food. In short: gastronomy. 
Hanoi
If there's one thing we love equally about Hanoi and Ho Chi Minh City, though, it's the vast selection of mouth-watering dishes! In Hanoi, street food is king (just ask Obama and Bourdain); from roadside stalls to hole-in-the-wall eateries in narrow alleyways. You'll also find lots of homegrown restaurants, most of which have belonged to the same family for decades! 
Ho Chi Minh City
But if you prefer more variety, then HCMC is your best bet. Apart from street food and authentic French-Vietnamese dishes, there's also a lot of options for international cuisine; from cosy brunch spots and expat-owned bistros to fine-dining restos. No wonder it's dubbed as the food capital of Vietnam! Oh, and it's also the birthplace of banh mi; on the other hand, pho and goi cuon hail from good ol' Hanoi. 
4. Coffee scene
Of course, the coffee in Vietnam deserves its own criterion! And while it was the French who introduced coffee to this country, the Vietnamese definitely perfected it. That said, grabbing a cuppa is a great way to refuel while exploring. But for true-blue aficionados, you might want to spend a whole day sampling the best coffee around the city! 
Expect coffee concoctions that are as imaginative as they are potent. Aside from ca phe sua nong (classic Vietnamese coffee) and ca phe sua da (Vietnamese iced coffee), the yoghurt coffee, egg coffee, and coffee with coconut milk are also a must-try. 
Ho Chi Minh City
Ho Chi Minh City has quite the café culture — as learned from the French — with an eclectic mix of stylish coffee spots. Don't miss out on The Cafe Apartments: a nine-storey building that houses numerous cafés and boutiques. 
Hanoi
In Hanoi, there's Café Giang A.K.A. home of the OG egg coffee! Its founder Nguyen Van Giang came up with the drink back when there was a milk shortage during the war. Also, while HCMC has the wider selection, Hanoi has a cooler climate that's more apt for café-hopping (more on that later) — your call! 
Also read: The Beginner's Guide to Vietnamese Coffee
5. Climate
If it's your first-time or you have yet to visit both cities, you might be surprised by the stark contrast of the climate in Hanoi and Ho Chi Minh City. After all, Vietnam is quite spread out, so the climate varies a lot in each region! 
Ho Chi Minh City
While Vietnam is generally known for having a hot, tropical climate, this is more applicable to Ho Chi Minh City! Located on the southern tip, it rotates between wet and dry seasons. (So, if you're from cities like Singapore and Manila, then this is all too familiar!) That said, it's best to visit during the drier months of December to March. 
Hanoi
Hanoi, on the other hand, has all four seasons! It can get especially cold during winter — yep, single-digit temperatures included. (Though, if you want to experience actual snow, you'll have to go to nearby mountain areas!) If you prefer moderate seasons — i.e., spring and fall — then head over between February and April, or September and November! 
Also read: My Unexpected Winter Experience in Hanoi: Bloopers & Realisations
6. Day trips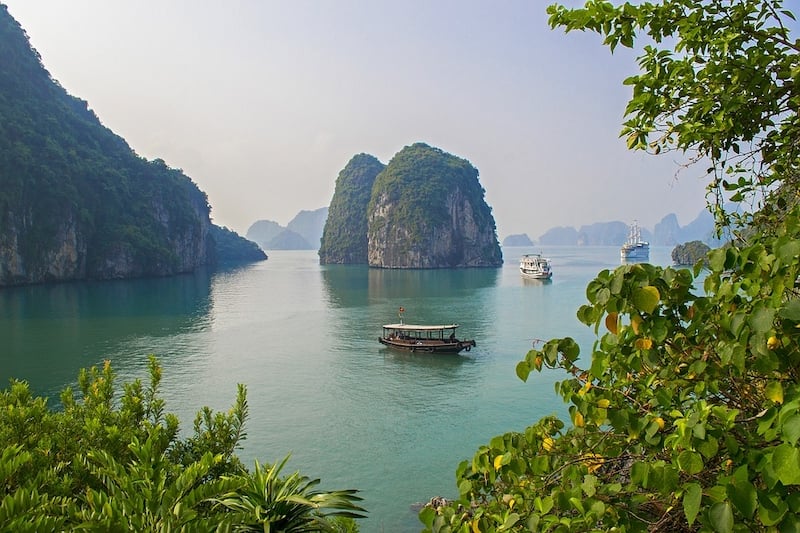 Any traveller would know that, more often than not, exploring a city is not enough; the outskirts are just as exciting (if not more)! That said, whichever major city in Vietnam you're headed to, venturing into the great outdoors is a must. 
Hanoi
As mentioned, Hanoi is an ideal winter destination in Southeast Asia. For actual snow, head over to the town of Sapa and bask in a unique winter wonderland of terraced rice fields! There's also the nearby Ba Vi National Park, which features a lush scenery of forests, temples, and hills. Another nearby attraction is Hoa Lu: the Ancient Capital of Vietnam during the 10th and 11th centuries. And of course, you can't miss the famous and ever-breathtaking Halong Bay (pictured above)! 
Ho Chi Minh City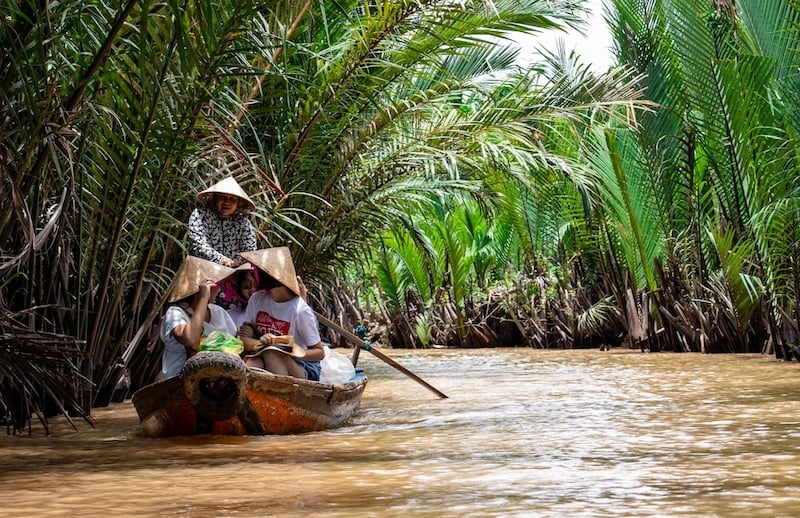 When it comes to day trips from Ho Chi Minh City, the most popular would be the historic Cu Chi Tunnels: an elaborate network of tunnels that helped the Vietnamese win against both French and American forces. Further south lies the Mekong Delta (pictured above), where you can rent a long-tail boat to see floating markets and local villages amidst lush waterscapes! Looking for a beach getaway? Vung Tau is your best bet for a fun, sun-soaked time. Don't forget to indulge in fresh seafood while you're at it! 
7. Shopping and nightlife
There's nothing like shopping and experiencing the local nightlife to make you feel young and alive — especially while travelling. Hey, age is just a number, right? 
Ho Chi Minh City
In between Ho Chi Minh attractions, make sure to drop by some of the shopping spots. If you're all about 'the more, the merrier' when it comes to options, then you've come to the right city in Vietnam! Go to: Ben Thanh Market for countless, interesting souvenirs; Dong Khoi Street (pictured above) for indie boutiques and art galleries; Saigon Square for affordable retail finds; and Vincom Center for all things luxe. End your day with a drink or two at a rooftop bar in District 1… or party the night away at Bui Vien Street.
Hanoi
Up north in Hanoi, the shopping experience is more on the laidback side. Nonetheless, you'll definitely enjoy going through the Old Quarter (pictured above), with its rows of vibrant shophouses. Each street specialises in particular products — like silk, shoes, silverware, and so on. After a long day of shopping and visiting Hanoi attractions, unwind with some craft beer at Legend Beer Hanoi. Though, if you prefer your beer to cost lower than US$1, then Bia Hoi Junction is your best bet! 
8. Multi-country travel
Since Vietnam is in continental Asia, it's not uncommon for travellers to travel by land to another country right after! Hey, if you have the time and resources to hit two (or three) birds with one stone, then why not? 
Hanoi
So, if you're planning a multi-country trip, then you'll definitely have to consider which city in Vietnam is closer to your preferred next destination. For Hanoi, that would be Laos and China. However, for the latter, the travel convenience will likely depend on how much 'powers' your passport has. But hey, if you'd like to venture beyond Southeast Asia, then go for it! 
Ho Chi Minh City
Meanwhile, HCMC makes for a good starting point for an Indochina trip. From there, you can take a six-hour bus ride to Cambodia — which isn't so bad, considering that you're headed to another country! Then after a few days, make a beeline for Thailand. And if three countries still aren't enough (okay, we gotta admire your energy), then take your pick between Myanmar and Malaysia for your last stop. 
Also read: Portugal to Vietnam by Train: An Easy Guide to The World's Longest Land Journey
The TZ verdict
In case you haven't noticed, we didn't exactly keep score on which city in Vietnam 'won' for each category. That's because at the end of the day, it honestly depends on your travel preferences. But anyway, let's sum it all up, shall we? 
So, Hanoi is ideal for travellers who want something traditional and laidback with some cultural exposure in between. Oh, and also those who prefer a cooler (climate-wise) side of Southeast Asia for a change! Meanwhile, Ho Chi Minh City is best for those who love an ever-buzzing metropolis with a fancy dash of European influence. If you enjoy urban-centric travel, then this should be your first stop in Vietnam! 
Also read: What to Expect When Travelling to Vietnam: Expectations vs Reality
So, have you decided which major city in Vietnam is perfect for you? Or if you've been to both cities already — which would you say is better for a first-time traveller with similar preferences as you? 
While you're at it, you might also want to check out cool places you can stay in Hanoi and in Ho Chi Minh City. Hey, a little 'window-shopping' never hurt anyone! 
---
Featured image credit: Polina Rytova | Unsplash