Posing as the historical capital of Vietnam for more than a thousand years, the city of Hanoi is steeped in tradition. Here, you can find ancient temples and pagodas sitting beside French-styled colonial buildings, a testament to its storied history after being colonised by the Chinese and the French. Some even bear American influences as a result of the Vietnam War.
With such a hodgepodge of cultural influences, it can get dizzying trying to explore all of Hanoi. Nevertheless, take your time to see its numerous temples and museums, have some street food or Vietnamese coffee, or take in a traditional water puppet performance. Read on to find out how to make the most of your time in this bustling city.
1. Visit Uncle Ho at the Ho Chi Minh Mausoleum
This large imposing building is the final resting place of the first Communist leader of Vietnam, Ho Chi Minh, or "Uncle Ho" as he is affectionately called by locals. Located in the centre of Ba Dinh Square, where Ho read the Declaration of Independence on 2 September 1945, the mausoleum is modelled after Lenin's Mausoleum in Moscow, but incorporates distinct Vietnamese architectural elements.
You can enter the mausoleum to see Ho's embalmed body in a glass case, but do note that photography and video taking are strictly prohibited, and there is a strict dress code to be observed (no shorts, mini skirts, or sleeveless shirts). You can also observe the "changing of the guard" ceremony in the morning. Admission is free, but the mausoleum is closed on Mondays and Fridays, so do plan accordingly!
2. Take in the sights at Hoan Kiem Lake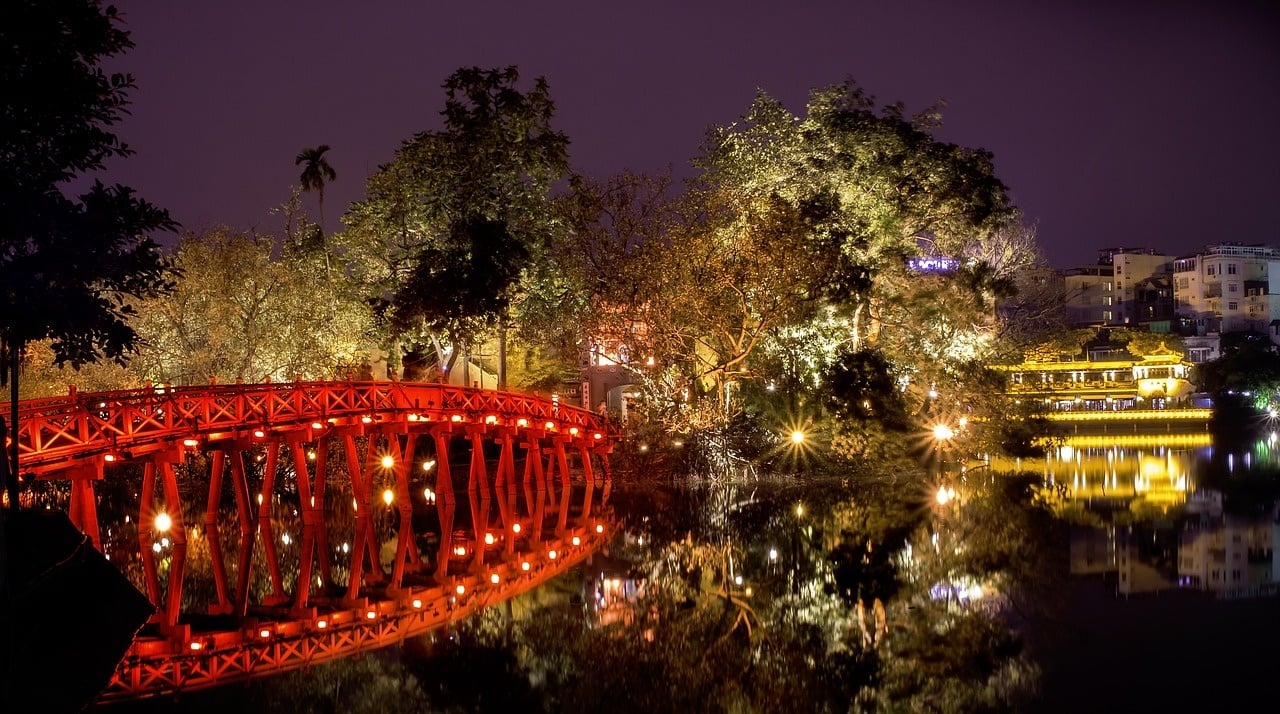 Located in the centre of Hanoi, Hoan Kiem Lake attracts both locals and tourists who want to get away from the hustle and bustle of the city. Also called Lake of the Returned Sword, legend has it that in the 15th century, Emperor Le Loi was sent a magical sword by Heaven to drive the Chinese away from Vietnam. After he had won the war, a giant golden turtle grabbed the sword and disappeared into the depths of the lake to return it to its divine owners.
Get here early in the morning to watch the locals do their morning yoga and tai chi, or take a leisurely stroll along the lake with your loved one and watch the sunrise or sunset. See if you can spot an elusive large soft-shelled turtle swimming in the lake, which is supposed to be an auspicious sighting!
3. Bask in the tranquility of Ngoc Son Temple
Hanoi's most visited temple, Ngoc Son Temple (also known as the Temple of the Jade Mountain), sits in the middle of Hoan Kiem Lake. Built in 1841 and expanded in 1865, this historical and religious site is dedicated to national hero General Tran Hung Dao, who drove away the Mongols in the 13th century. Sitting on a small island in the northern part of the lake, it is connected to the lakeshore by the strikingly red Welcoming Morning Sunlight Bridge.
As the temple is still used as a place of worship, you can watch monks pray and take in the smell of their burning joss sticks. It is an Insta-worthy location, so come prepared to take pictures with the bonsai trees, beautifully designed statues, and even a preserved giant turtle! The temple is open from 8am to 5pm daily, and a small admission fee is required for entry.
4. Shop 'til you drop at the Old Quarter

A short walk away from Hoan Kiem Lake, the historic Old Quarter is the top tourist destination in Hanoi. Here, you can find a plethora of shops selling souvenirs, as well as delicious street food. The streets themselves are named after the goods that were traditionally produced there, with some stall-owners still sticking to those same goods until this day.
Filled with locals and tourists alike, it may seem daunting at first to try and navigate the numerous small and narrow streets filled with scooters, bicycles, and cars, so my advice is to follow the locals and do as they do — you can't go wrong! From Friday to Sunday night, roadside stalls and local food vendors crowd the streets for the Hanoi Weekend Night Market, with local performers playing traditional Vietnamese music as well. Don't forget to bargain!
5. Shop for souvenirs at Dong Xuan Market
Housed in a four-storey Soviet-style building on the northern edge of the Old Quarter is Dong Xuan Market. It was built in 1889 and is Hanoi's largest indoor market. The ground floor has a bustling wet market section where locals shop for fresh produce and dried goods, while the upper levels sell T-shirts, handicrafts and other souvenirs at wholesale (read: cheap!) prices.
After shopping up a storm, you can enjoy some local delicacies at the dining area, with many exotic dishes such as duck blood soup (tiet canh), and fried frog. As it does get crowded, however, do watch out for pickpockets and take care of your belongings!
6. Sip some tasty Vietnamese Coffee
If you are tired of shopping or walking around Hanoi, why not pop into a cafe for some Vietnamese coffee (ca phe)? Ca phe is prepared in its own distinct style: coarsely ground beans go into a French drip filter (phin) which sits on top of the cup. A thin lid weighs down the beans, hot water is added to the phin, and the coffee slowly trickles into the cup. Sweetened condensed milk is then added to finish off the drink.
Hanoi offers both modern air-conditioned coffee shops and traditional sidewalk cafes alike. For the best of both worlds, visit Trieu Viet Vuong, also known as 'Coffee Street', which apparently packs the most cafes per square meter in all of Vietnam. Try the locals' favourite at Cafe Tho, or, if you're feeling more adventurous, have some egg coffee (ca phe trung) at Cafe Giang, which invented the egg yolk and coffee mixture. The egg coffee from Cafe Pho Co is highly recommended as well!
7. Eat like a president at Bun Cha Huong Lien
When former US President Barack Obama visited Vietnam in 2016, celebrity chef Anthony Bourdain brought him to this no-frills eatery to enjoy a meal of bún chả: grilled fatty pork served in broth (chả) along with rice noodles (bún) and fresh herbs, washed down with cold Hanoi beer.
The eatery has since immortalised the table where Obama and Bourdain sat at to eat by enclosing it in a glass box. They have also started selling the "Obama Combo", which is a set meal of the same dishes that Obama ate. Reviews are generally good, and although tourists have flocked here in droves due to the buzz, locals still frequent the place, which is generally a good sign. Why not try it for yourself?
8. Learn how to cook sumptuous Vietnamese food
If you love Vietnamese food and have a bit more time to spare, why not learn how to cook it yourself? You can check out Cookly, a website that allows you to book cooking classes online. These classes often take half a day and include a market tour at the beginning to shop for ingredients.
Many of these chefs are local chefs who will be able to teach you authentic home-style Vietnamese cooking. Who knows, you might find out that you are a natural!
9. Get some respite from the city at the West Lake
A 15-minute drive away from the Old Quarter, the affluent Tay Ho District houses the largest freshwater lake in Hanoi, the West Lake. In comparison to the bustling city centre, the lake is a good place to spend a lazy afternoon at. You can hire a boat to take you around the lake, or simply walk around the lakeside to enjoy the view.
You can also check out the Tran Quoc Pagoda, the oldest pagoda in Vietnam, which is located on a small island in the middle of the lake. End off your day by having a feast at one of the local seafood restaurants along the southern part of the lake.
10. Soak in the culture at the Hanoi Opera House
Built by the French colonial administration in 1911, the beautiful yellow-hued Hanoi Opera House was modelled after the Palais Garnier, one of the traditional opera houses in Paris. It is one of the architectural landmarks of Hanoi and an example of classic European architecture, with its marble floors, copper chandeliers, and French murals on the ceiling.
Here, you can watch a variety of performances such as art shows, concerts by the Vietnamese Orchestra and domestic pop singers, and even internationally-renowned classical musicians like violinist Hilary Hahn. Do check this place out if you're an architectural buff or want to get a slice of Vietnamese culture.
11. Visit the Imperial Citadel of Thang Long
The Imperial Citadel of Thang Long was made a UNESCO World Heritage Site in 2010, signifying its historical and cultural importance to the country. Built in 1011 by the founder of the city of Hanoi, Emperor Ly Thai To, it served as the political centre of ancient Vietnam for eight centuries until many structures were torn down by the French.
Look out for the remaining preserved structures, including the 40-meter tall flag tower, as well as a display room containing excavated items dating back to the 6th century and mock-ups of the citadel. Open seven days a week, this place is definitely one for the history buffs.
12. Attend a performance at the Thang Long Water Puppet Theatre
No trip to Hanoi would be complete without taking in a water puppet performance, a traditional Vietnamese art form that dates back to the 11th century. Back then, farmers made use of flooded rice paddies to stage creative puppet shows by standing in waist-deep water and controlling the puppets to make it seem as though they were gliding over the water.
At the Thang Long Water Puppet Theatre, puppet masters control the water puppets via large rods behind the screen, while a Vietnamese orchestra provides musical accompaniment. There are even modern smoke effects and lighting to add dramatic effect as the puppets glide and dance over the water, retelling Vietnamese folk stories and legends. This is truly a show not to miss while you are in Hanoi!
13. Visit the Temple of Literature
Built in 1070, the Temple of Literature is the site of Vietnam's oldest university. Originally dedicated to the Chinese sage Confucius, with the layout of the temple being based on his birthplace, this historic site is extremely well-preserved and an example of traditional Vietnamese architecture.
Explore its five hallowed courtyards and relax in its picturesque gardens that have seen many students lounge in them as well. If you're lucky, you may be able to see graduating doctors visit the temple, as is the tradition in Hanoi.
14. See the four sacred temples of Hanoi
If you have time to spare, why not hunt down the sacred temples at the four corners of the city? Bach Ma Temple, the oldest, lies in the east;  Voi Phuc Temple is located in the west; Kim Lien Temple in the south; and Quan Thanh Temple in the north along the West Lake.
Constructed by emperors of ancient times to block bad energy from flowing in, these four temples are collectively referred to as 'the four guardians' (Thang Long Tu Tran). The annual Thang Long Tu Tran Festival is held by locals in the spring to express their gratitude for the temples' collective protection.
15. See the Vietnamese Military History Museum
For military enthusiasts, this is the museum for you! A rusting collection of captured or decommissioned the US and French planes, tanks, helicopters and other machinery will catch your eye as you walk into the museum's courtyard, which is next to the Flag Tower of Hanoi.
Various exhibits also recount the history of Vietnamese military struggles against the Chinese, and later, the French colonists. For those wanting to educate themselves about the Vietnam War and see a unique collection of military artefacts, this would be a great place to go.
16. Go back in time at Hoa Lo Prison
This vast prison complex was built by the French colonists in 1896, who used it to hold Vietnamese prisoners, particularly political dissidents advocating for independence. During the Vietnam War, it was then used to hold American Prisoners of War (POWs), who sarcastically nicknamed it the 'Hilton Hanoi' after the Hilton Hotel group, as they experienced miserable conditions.
Most of the prison has now been demolished, with a small section being retained for use as a museum, along with exhibits detailing the history of the prison. The exhibits relating to the American POWs' treatment give a much more 'sanitised' account of what happened, but it is still worth visiting to see interesting relics such as a French guillotine used to behead Vietnamese revolutionaries, and former US Presidential candidate John McCain's (who was a POW) flight suit.
17. Explore St. Joseph's Cathedral (Nha Tho Lon)
If you can't visit Notre Dame in Paris, why not pay a visit to St. Joseph's Cathedral? Built in 1886 by the French colonial government, its neo-Gothic architectural style resembles that of Notre Dame, with its twin bell towers and stained glass windows. It is the oldest church in Hanoi, and serves as the cathedral of the Roman Catholic Archdiocese of Hanoi.
If you're lucky, you may be able to see a couple getting their wedding photos taken or even getting married in the cathedral itself! The area around the cathedral has also taken on a life of its own, as locals and tourists alike sit down to eat and drink and chit-chat at cafes nearby. Swing by the cathedral to marvel at its beauty and stay for its charm!
This ancient city may feel hard to navigate sometimes, but don't get too intimidated! My advice would be to take your time and alternate between exploring temples, museums, shopping at markets, and when you're tired, stop for some delicious street food and Vietnamese coffee. There's something here for everyone.
---
Featured image credit: OldCatPhoto via Canva Pro