When the COVID-19 pandemic finally dies down across the globe, we'll all be raring to go forth and travel the world once more. We may not have this freedom in the near future, but we'll get there, slowly but surely! 
The question is, do we go back to the way we typically travelled pre-pandemic, A.K.A. travelling by air? Or do we try something unconventional when we get another chance at exploring the world? I say we try something different! Enter train journeys — a traditional, underrated, yet exhilarating way of traversing across borders. Unlike plane rides, train journeys grace us with spellbinding views of lofty mountains, sprawling fields, flowing rivers, and ever-changing daylight. 
I've only gone on such train rides a few times in my life, but I can attest that the scenery I witnessed in that short amount of time made me want to experience more eye-opening train routes. So, imagine my awe when I heard about the route from Portugal to Vietnam — the most adventurous train journey in the world!
Portugal to Vietnam by train is officially the longest land journey you'll ever take in this lifetime. Yes, it's doable and a hundred times more fulfilling than when you travel by air. Few travellers have dared to try this, but it's a challenge that promises a once in a lifetime experience nonetheless. If you think you have what it takes, then here's what you should know!
What you're signing up for…
The whole route covers a distance of 17,000 km/10,563 miles.

Portugal to Vietnam by train will take you 12 to 13 days to complete, or approximately 327 hours, time zone changes included.

The European leg of the journey from Porto, Portugal to Warsaw, Poland will have approximately 40 hours of uninterrupted travel time; this means no jumping off the train to book overnight stays at the stops/destinations.

Certain passport holders still need to secure all the visas required in Europe and Asia before they embark on this journey. Don't forget to research about this!

Long train journeys are not for everyone. Portugal to Vietnam by train will entail extensive hours on the train, the longest on this journey being six days, plus long layovers.

Expect to spend an overall estimate of US$2,000 per head for the train tickets.

You need to reserve tickets in advance at least for the train journeys in Europe.
Portugal to Vietnam by train
The European leg of the journey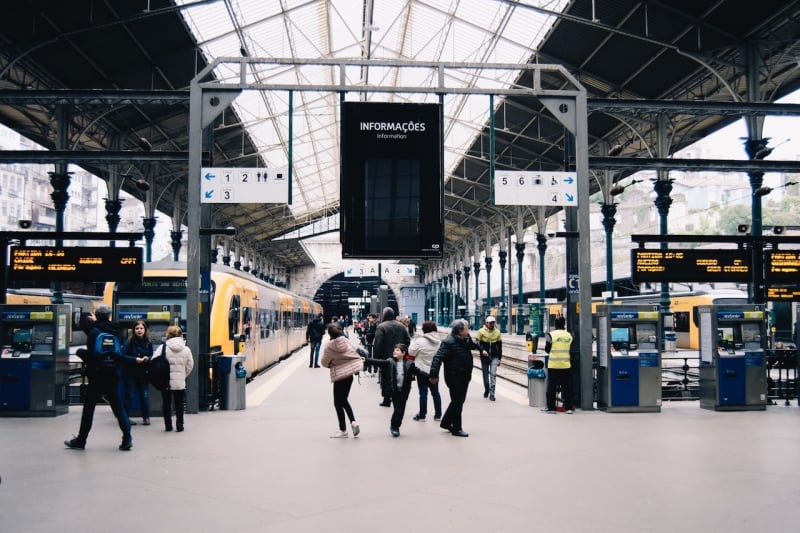 Note: We recommended availing of a Eurail Pass, which is basically a train pass you can use at most train stations all around Europe. Learn more about it here. 
Start your adventure from Porto to Coimbra, Portugal (~US$9-US$13)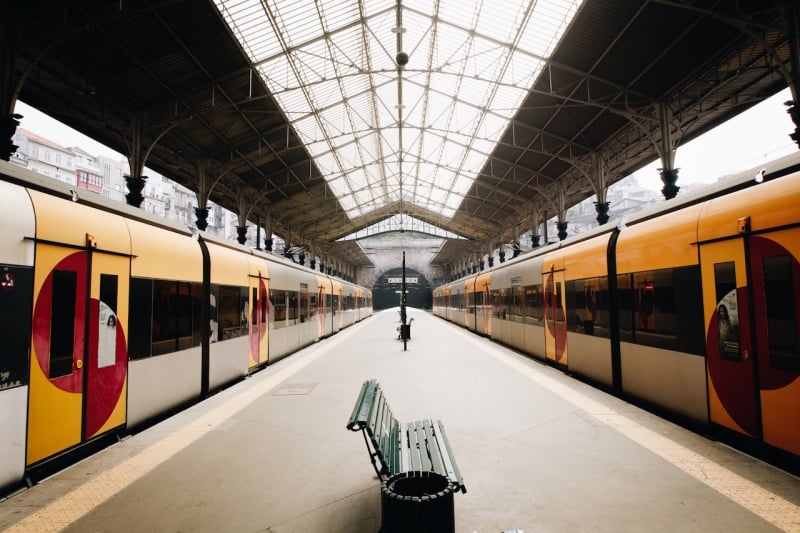 Your long journey begins in Portugal. You can hop on a train at the Campanha Station in Porto to take you to Coimbra B Station. The train ride will only take about an hour (1h30min at most) to get to Coimbra. Once you arrive at Coimbra B, there's usually a one-hour layover before you can hop on a train to France. 
Coimbra, Portugal to Hendaye, France (~US$59-US$72)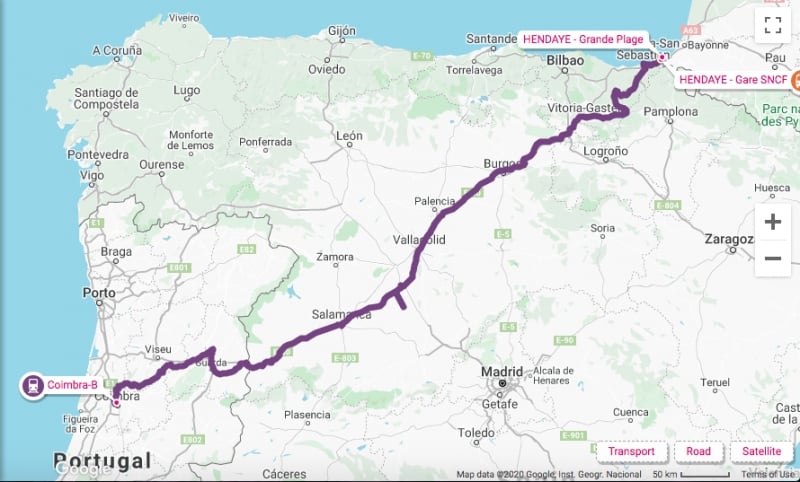 The long route from Coimbra B to Hendaye, France takes 11 to 12 hours. But you'll be happy to know that this seemingly endless journey heads northwest, passing the vibrant cities of Spain. Look through your windows and get a glimpse of Salamanca's sandstone architecture, Valladolid's historic churches, and Vittoria-Gasteiz's medieval fortresses. Bonus points if you take the night train and witness all of these scenes illuminated by city lights.
When your sight and mind are stimulated with diverse surroundings, embarking on this journey won't feel so much of a chore. And to think this is only the beginning of all the postcard-worthy places that will feed your sense of wonder!
Hendaye to Paris, France (~US$123-US$180)
You'll finally arrive at Hendaye's station after an eyeful of Spanish cities. Transfer to the station's TGV, France's high-speed trains. The next train will take you on a five to six and a half-hour journey towards Paris. 
TGV trains are said to be quite comfortable. They're equipped with modern facilities, including several facilities for the disabled, and even have a zero luggage weight limit. Sit back and relax as you zoom to the City of Love while enjoying the view of France's verdant countryside!
Paris, France to Cologne, Germany (~US$120-US$250)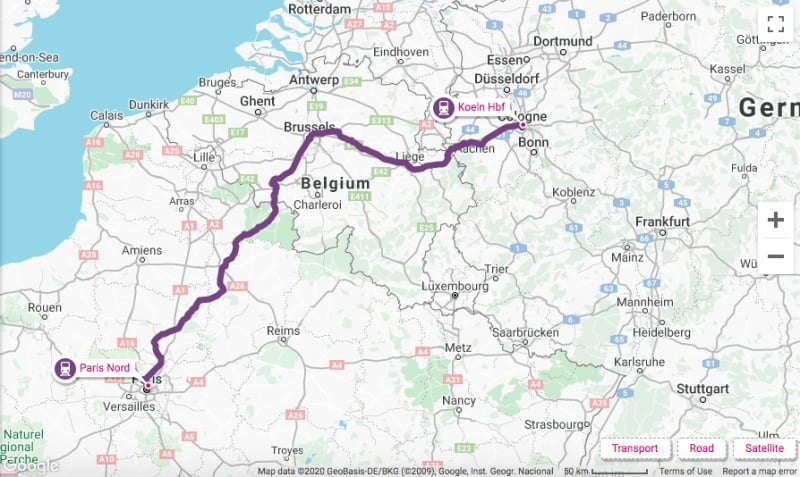 When you get to Paris, alight at the train station of the Parisian neighbourhood, Montparnasse. From there, transfer to a Paris Metro train that will take you on an hour-long ride to Paris-Nord Station. Once at Paris-Nord, hop on a high-speed train that will take you all the way to Cologne, Germany. This ride will only take three and a half hours. 
As you can see from the map, this route doesn't have to be a bore if you fancy taking a peek at the beautiful country of Belgium! The train stops at Brussels, Liege, and the German city of Aachen before it even reaches Cologne. If the rail route allows, then you'll be lucky enough to see Belgium's magnificent Renaissance architecture from the comforts of your train compartment!
Cologne, Germany to Warsaw, Poland (~US$85-US$224)
After feasting your eyes on romantic Belgian cities, you'll alight at Cologne Central Station. If you find that you have a few hours of layover before your train ride to Warsaw, you might want to see if you can briefly walk in Cologne before boarding the sleeping car. There's so much of Mother Nature to adore in Cologne. FYI, it's the largest city along the Rhine River and its green spaces account for over a quarter of the city!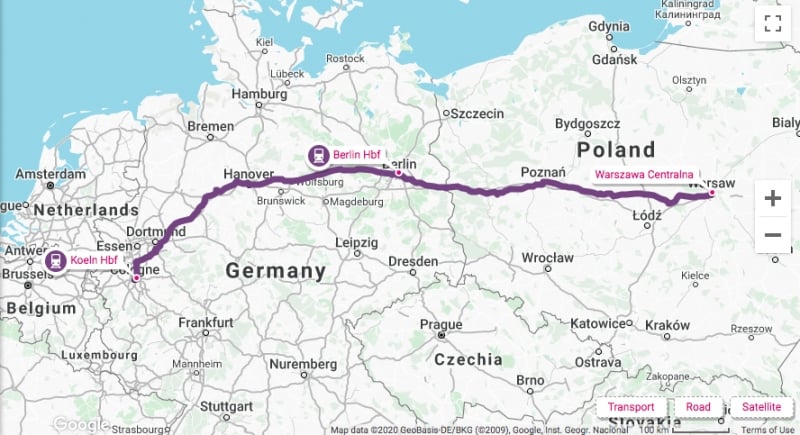 Take your time to stretch your legs in Cologne, because the journey to Poland will take a minimum of 10 hours. Hence, it's imperative to hop on a sleeping car where beds are readily available for passengers. As always during long train rides, don't forget to keep your eyes open for outlying destinations. The German cities of Dortmund, Hannover, and Berlin will be there when you gander through your windows, along with the Polish cities of Rzepin and Poznan, before you arrive at Warsaw. 
Warsaw, Poland to Moscow, Russia (~US$36-US$99)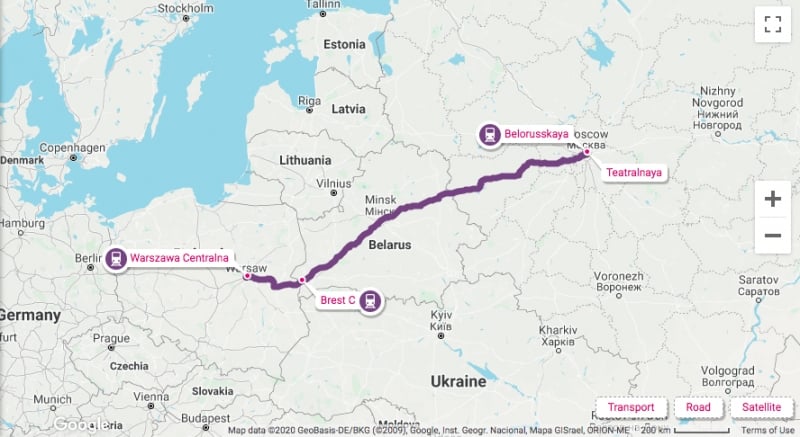 We're finally halfway through this guide about Portugal to Vietnam by train — stay with me!
When you arrive in Warsaw, Poland, it's better to have secured a transit visa for the country of Belarus at this point in time, because you'll need to ride a train that travels through Belarus to get to Moscow, Russia. Trains usually take 12 to 18 hours to get past Belarus, but no need to worry since the transit visa is valid for two days. Read about how to get your Belarus transit visa here!
The journey from Warsaw, Poland to Moscow, Russia takes approximately 20 hours. Though this part of Portugal to Vietnam by train may take almost a day, you'll be rewarded with a day-long layover in Moscow (hopefully!). 
And here's how: Once in Moscow, it'll finally be time to board a Russian national treasure that is the Trans-Siberian Railway. But its departures to Beijing, China via Mongolia are only twice a week; one train leaves every Tuesday, while the other leaves every Wednesday. If you find yourself in Moscow in between these days, then you're free to go on day tours! (Assuming you've secured a visa in case needed.)
Russia's capital is a bustling city with it being the second-most populous city in all of Europe. Moscow is home to several UNESCO World Heritage Sites; these include must-see establishments that represent the best of Russian architecture, such as St. Basil's Cathedral, the Red Square, and the Kremlin, which overlooks the Moskva River. Be sure to time and plan your visit accordingly so as not to miss the opportunity!
Also read: 8 Incredible Reasons Why You Should Travel to Russia
The Asian leg of the journey
Moscow, Russia to Beijing, China (~US$805-US$1,130)
All aboard the Trans-Siberian Railway!
This railway is the longest rail in the world with expansions today going as far as North Korea. It's pretty historic too — it was built in Moscow between 1891 to 1916 on the behest of government ministers who were appointed by Tsar Alexander III himself. Today, it's among Russia's proudest contributions to the tourism industry, with trains that are kept comfortable and entertaining in every journey. 
Note: Book your tickets through an agency. 
To travel by land from Moscow to Beijing, hop on the railway's Train 4, A.K.A. the Moscow-Ulan Bator-Beijing train (don't worry, it has sleeping compartments). The journey takes six nights and seven days, but trust me, everything will be worth it. One of the best parts of the train ride is a stop at Russia's Lake Baikal, which is the world's deepest freshwater lake!
But apart from that, this train cuts across Mongolia, and will offer you a generous view of Siberia's natural sceneries — endless birch trees, flourishing hills, wooden houses, and other picturesque establishments that will surely have you reaching for your camera. To top it off, you're going to see the scenic dunes of the Gobi Desert. Count yourself lucky if you spot gazelles, camels, snow leopards, brown bears, and even wolves!
Beijing, China to Hanoi, Vietnam (~US$290-US$310)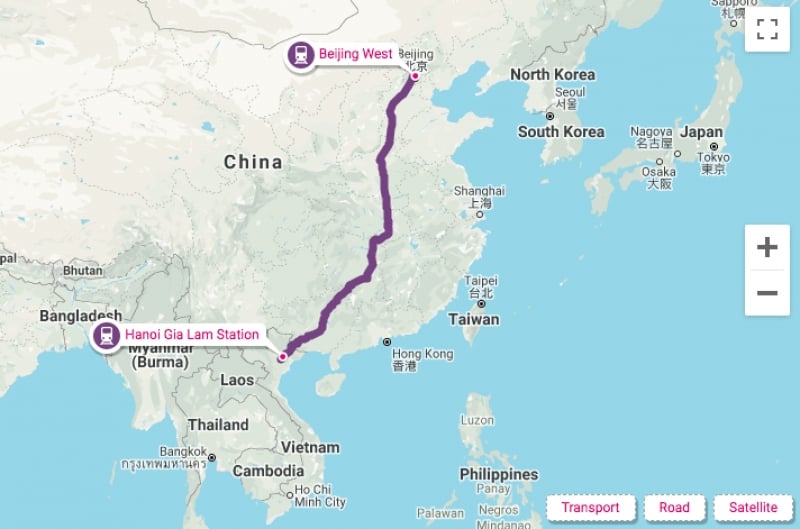 After that six night-long journey, you're finally in Beijing! Rush from Beijing Central Station to Beijing West to catch a sleeping train going to Hanoi, Vietnam. Buckle up, because the road to Hanoi Gia Lam Station takes a whopping 39h21min. You'll still have your share of interesting views, of course. The train will pass the city of Zhengzhou, the great capital of Henan Province, and Nanning, which is popularly known as the "Green City" thanks to an abundance of subtropical foliage. 
When you get to the Vietnam border, you'll have to switch trains. From there, Hanoi is only four hours away. But you still have one more leg to conquer!
Hanoi to Ho Chi Minh, Vietnam (~US$30-US$80)
Don't tap out yet, you're almost at the end! Ho Chi Minh is the final destination of Portugal to Vietnam by train. So, once you get to Hanoi Station, book a ticket to Ho Chi Minh Station. You can buy tickets then and there, or you can always reserve online to ensure your slot. The distance you will cover on this last adventure is 1,726 kilometres, and it'll take 32 to 35 hours to complete the journey. 
Needless to say, the natural landscapes of Vietnam will keep you company and take your breath away. On this memorable ride, you'll zoom past Vietnam's lush countryside, limestone mountains, quiet rivers, not to mention old-world French architecture here and there. With clean facilities, comfortable beds, and authentic Vietnamese meals to match, this last leg is the holiday on a train you've been dreaming of!
Also read: Ho Chi Minh to Hanoi: 34 Hours Aboard A Vietnamese Train
And there you go, your basic guide to the epic challenge of Portugal to Vietnam by train. Though it may not be a walk in the park, it will definitely be a fruitful and inspiring adventure that you're going to tell your family and friends about in the years to come. Don't forget to pack light, and most of all, bring your camera with you. Godspeed!