What do you think of when you hear about Cambodia? I'm sure the first things that come to mind are its glorious temples — from the world's largest religious complex Angkor Wat to the Tomb Raider filming location of Ta Prohm. 

I can't blame you, these Cambodian temples are the main representations of the country's history and religion, aside from the fact that they're on everyone's postcard-worthy pictures. Any sane traveller would prioritise them if he or she were to travel to Cambodia!
But seeing all these historical sacred spaces aren't the only things to do in Cambodia — it's only the beginning! Your cultural experience continues with the country's abundant nature, wildlife, artistic scene, and so much more. It's high time to look beyond the temples and explore the Kingdom of Cambodia in its entirety. Shall we begin?
1. Spot the bats at the Battambang Bat Cave
Want to see a colony of bats fly overhead around sunset? Put Banan district in Battambang province on the map and head to the Battambang Bat Cave. Every day at 5pm, thousands of bats leave this dark cavern to start their nocturnal hunting. You can hire a guide to take you to the hidden path that leads to the mouth of the cave so that you'll have the best view of this wildlife encounter!
They say that the swarm of bats fly in such a fury that you'll feel the temperature rising as they soar above. Not to worry, they won't swoop down or do anything to hurt you because they'll be too busy looking for food! You have enough time to capture photos of them too. Would you believe that it takes around 45 minutes for the cloud of bats to clear the cave?
Note: Before you visit the Battambang Bat Cave, you can also stop by the Killing Caves that are just a tuk-tuk ride away. A trip to the Killing Caves is typically part of an immersive experience in Cambodia because this is where the infamous Khmer Rouge, the communist party of Kampuchea, held their executions. If you're up for dark tourism, look out for the skulls and bones of the men and women who were victims of the Khmer Rouge regime. 
2. See your favourite animals at Phnom Tamao Wildlife Rescue Center
Here's a brilliant way to be a responsible bunny-hugging tourist: support the fight against illegal wildlife trade at Phnom Tamao Wildlife Rescue Center located in Phnom Penh. Here, you'll get to feed elephants, visit baby animals at their nursery, and get up close with endangered species such as leopards, gibbons, and otters. They'll even show you how they rehabilitate animals that were rescued from illegal wildlife trade. If that's not enough for you, you can volunteer to be an elephant keeper for a day! 
The walk-in entrance fee is US$5 and US$2 for adults and children respectively. But like with other things to do in Cambodia, it's better to book a tour in advance so that you can get an English-speaking guide — only a few people speak English at the centre. 
A booked tour for visitors who are 17 years old and above is priced at US$150 each, while 10 to 16-year-old youths pay US$75 each. Parents have to pay US$30 for their children that are three to nine-years-old too. This is just a small price in exchange for their wonderful service which includes pick up and drop-off, air-conditioned vans, and a mouth-watering Cambodian lunch!
Tip: You will be brought to and from the centre in air-conditioned vans, but you'll be walking the whole time at the centre. There are no air-conditioned facilities, so be sure to prepare yourself mentally; or better yet, avoid visiting during their hottest months, from March to May. 
3. Take pictures at Bokor National Park
Learning about Cambodia's history doesn't stop at its temples in Siem Reap. The Cambodian province of Kampot, for instance, also has a couple of storied attractions to spark your interest. Bokor National Park, officially named Preah Monivong National Park, is one of Kampot's main attractions that will take you back to Cambodia's French colonial era. 
But first, let's paint you a picture of what it's like to walk in the park. Bokor National Park is actually a protected land of 1,581 square kilometres. It's one of the two national parks in Cambodia to be considered as an ASEAN National Park too! Here, you'll find grasslands and forests that are home to elephants, leopards, black bears, and hundreds of bird species, to name a few. 
If you love to travel for nature, then this park is perfect because it features different paths that will take you from two to eight hours to walk, depending on which road you pick. Be sure to bring your camera, because each path will lead you to views of verdant pastures, and of course, wildlife encounters!
Bokor Hill Station
The most prominent historical attraction at the park is Bokor Hill Station, a French-built town created in the 1920s during France's occupation of Cambodia. The story goes that the French settlers in Cambodia sought to get away from the sweltering heat in Phnom Penh. Hence, they built this little resort on Damrei Mountain, which is a cool peak measuring over 1,000 metres above sea level, away from Cambodia's capital. 
Bokor Palace Hotel was said to be the town's crowning glory back in the day. It includes a casino and has an old Catholic church nearby along with surrounding shops, all of which tourists can explore. The icing on the cake would be taking in the breathtaking view of the Cambodian and Vietnamese coastlines while feasting on scrumptious local dishes by the ruins (yup, you're welcome to eat lunch there!). 
Popokvil Waterfall
Speaking of cool getaways, approximately five kilometres northeast of Bokor Hill Station is a two-tier cascade called Popokvil Waterfall. This is the perfect place to unwind and have a picnic with your friends or family after a long walk in the park. However, the pool is very shallow, so tourists can't swim at the falls. Instead, you can soak under the falls, wade your tired feet, and take as many photos as you want!
4. Bask in Cambodia's beaches
As a proud part of Southeast Asia (SEA), Cambodia doesn't lack beautiful beaches. In fact, the kingdom has 300 miles worth of beaches along the Gulf of Thailand; it's a pity they aren't as hyped as they should be. These unsung beaches range from quiet shores usually frequented by fishermen, to fancy resorts where luxurious accommodations and activities are offered. 
But no matter which beach you pick in Cambodia, you'll beat the crowd in other SEA destinations and still get to do all the fun water sports activities, like snorkelling and scuba diving. So, if you want to see this country's colour-studded coral reefs, along with its diverse marine life, here's the 4-1-1. Cambodia's beaches are found in four provinces: Kampot, Kep, Koh Kong, and Sihanoukville. 
Also read: Koh Rong Islands — Cambodia's Unspoilt Beach Paradise
Notable beaches
Sihanoukville is popular for its clear waters and convenient accommodations such as Saracen Bay. This bay was once a fishing village and is now appointed with charming  beachfront resorts that have an "Ibiza-like vibe", perfect for friends on a holiday. There's also the diverse Otres Beach, where travellers can take their pick from resorts to boutique hotels and family-run guesthouses. From the Otres beachfront, you can even visit Ochheuteal Beach, the main beach in the area that's only a five-minute motor ride downtown!
On the other hand, Koh Kong's Sner Beach is one of Cambodia's most sought-after isolated getaways. And perhaps it should stay that way. The beach offers a gorgeous and undisturbed view of the seascape along the unending stretch of sand dotted by cosy hammocks. People often come here to put their feet up and unwind to the sunset. Ergo, this place is perfect for some me time or even as a quiet escape for couples. Plus, it has the freshest servings of seafood. 
Another beach known for its amazing seafood is Kep Beach in the province of Kep. This is actually a large beach town that's close to Vietnam. It's the perfect blend of life and secludedness because it doesn't overflow with crowds, but definitely has cafés and shops buzzing at the beachfront promenade. And by the way, don't be surprised if you see French architecture here and there. Kep was a French beach resort until 1946, after all!
Suffice to say, there are more surprises waiting for you at Cambodia's beaches. But we'll leave you to unfurl all of them as you include Cambodia beach hopping on your list of things to do!
5. Learn from the Cambodia Landmine Museum
Did you know that the person behind this landmine museum was one of CNN's Top 10 Heroes in 2010? His name is Aki Ra and when he was five, he was taken from his family by the Khmer Rouge.
Aki Ra became one of the kid-soldiers who were forced to plant thousands of landmines during the different wars that befell Cambodia. After 35 years when the wars against Vietnam, America, and the Khmer Rouge were over, landmines were still going off in Siem Reap and damaging everyone's quality of life. 
It was then when Aki Ra returned to every village where he had planted his landmines and proceeded to manually defuse them, one by one. He decided to display the defused landmines in his home and charge each tourist $1 to view them. Every cent went to the children under his care who were either wounded by landmines or orphaned. Little did he know, this was only the beginning of his work!
Aki Ra's legacy
Fast forward to 2007, Aki Ra was able to establish the Cambodia Landmine Museum with the help of the museum's CEO, Richard Fetoussi. Together, they continued Aki Ra's mission of sheltering landmine victims and even sending the victims to school. The last landmine victim he housed in the museum's shelter facilities left in 2013 after graduating high school (isn't that bittersweet?). Nowadays, you'll see Aki Ra working with his NGO team called Cambodian Self Help Demining. 
Note: As of 2018, Aki Ra's NGO has successfully cleared 155 minefields and placed 36,000 locals back on their land. However, Cambodia remains to be one of the most heavily mined countries in the world. Experts believe that it won't be landmine-free for decades to come. 
All the landmines you'll see at the Cambodian Landmine Museum, Aki Ra defused alone. At the same time, you'll be educated in the importance of clearing landmines; and more importantly, how these fatal bombs have impacted Cambodians of all ages. With that said, this is definitely a cultural attraction in Siem Reap tourists should support. Entrance is free for Cambodian citizens and children, and only costs US$5 for tourists above 12 years old. 
6. Admire Khmer artwork at the National Museum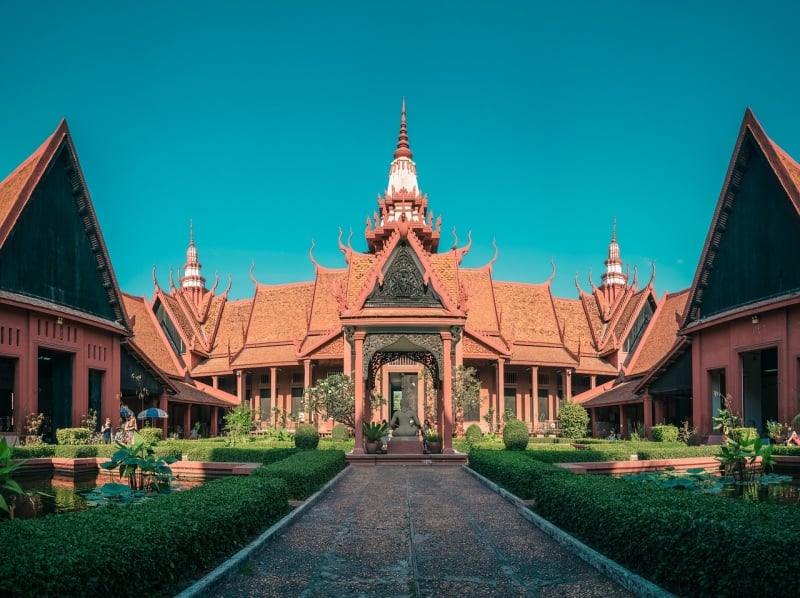 You can never go wrong in listing the picturesque National Museum as one of your things to do in Cambodia. From the outside, the museum's striking Khmer architecture effortlessly stands out with a beautiful, well-kempt courtyard to match. Inside, you'll find the world's largest collection of Khmer artworks. But no surprise there considering that this is also Cambodia's largest museum of cultural history, and its leading archeological attraction!
The museum houses 14,000 items; these include stone works, sculptures, ceramics, bronze items, and carvings of the Khmer people's gods and goddesses. Needless to say, the National Museum will give you deeper insights into the Khmer's ancient techniques and how artistic developments took place. Another cool fact about this museum? It has lent prominent cultural pieces from its collection to international exhibitions in France, Japan, and Germany, just to name a few!
7. Buy authentic souvenirs at Artisans Angkor
Located in Siem Reap, Artisans Angkor is as cultural as Cambodian shops can get. This store is devoted to preserving Cambodia's traditional arts and crafts through the regular workshops they hold for their craftsmen and women who produce their products. 
You should know that all the items the store sells are handmade by Cambodians who have studied the artistic techniques that have been passed down from generation to generation. They make sure all the engraved designs on their clothes, jewellery, home decorations, and even textiles reflect Cambodian culture, from the symbols to patterns and landscapes.  
Another beautiful aspect of Artisans Angkor is that they make it their mission to help rural people, who have had little education, make an honest living from creating the finest cultural items. The store offers professional workshops in arts and crafts in such a way that their students can get the hang of the job after only six to nine months of training. Doesn't this concept give a deeper meaning behind every piece you buy at their artisan shop? It's Cambodian tradition at its best!
8. Watch Cambodia's traditional Apsara Dance
There are plenty of cultural shows you can watch in Cambodia, but catching an Apsara Dance should be your priority. This Cambodian ballet is deeply rooted in history; you can even see evidence of ancient Apsara dancers carved on temple walls! Locals also believe that this dance form existed since the seventh century and comes from Cambodia's Buddhist and Hindu mythology. In Hindu mythology, Apsaras are beautiful women who visit the earth to entertain both the gods and kings. 
The dance usually requires costumes with golden coloured pieces of jewellery, skin-tight tops, and wrap-around skirts of varying colours. Since their folklore also describes Apsaras as women who lure men with their beauty, the dance is driven by slow and hypnotising hand movements. In fact, there's a whopping 1,400 Apsara hand movements that are still known today. This dance has become iconic throughout the world; so much so that it was included on UNESCO's Representative List of the Intangible Cultural Heritage of Humanity in 2008!
9. Taste Cambodia's variety of seafood
Earlier, I mentioned that you can enjoy fresh seafood at Cambodia's beaches. But honestly, Cambodia itself is one of the best Asian destinations to gorge on seafood! No matter where you are in Cambodia, you can look forward to mouth-watering servings of fish, shrimp, and squid. We heard that Fish Amok (steamed coconut fish in banana leaves) is pretty fulfilling paired with rice and coffee. 
Oh, and if you're a fan of crab, you'll find its biggest market at Kep. Seafood is Cambodia's speciality, so you needn't worry about whether or not they're clean enough to eat; they definitely are, and all you have to do is dig in!
10. Experience a Cambodian spa at least once
And to finally end your checklist of things to do in Cambodia besides temple tours, indulge yourself with a Khmer spa! Traditional Khmer spas usually offer a wide selection of treatments. They offer back massages, facials, aroma spa, and even fish spa. Some spas also make use of materials that come from rice, fruits, vegetables, and honey. They combine all these different elements to invigorate and relax tired travellers after a long adventure in Cambodia. Your only problem will be choosing which treatments to get!
Also read: My Photo Journal: Snapshots of Phnom Penh, Cambodia
See, I told you there were more thrilling things to do in Cambodia than the typical temple tours we often hear about. There are a few more to mention such as biking around Siem Reap and cruising from one city to another. But you get it by now, right? You've got a lot of discovering to do, and we'll be all ears once you're through!