For travellers seeking an authentic holiday experience in Southeast Asia, Vietnam should certainly rank high on your bucket list. The prime reason? Well, Vietnam is endowed with majestic mountains, lush forests, picturesque beaches and vast tracts of land, aside from a mouthwatering spread of food (read: It's a foodie's paradise).
Vietnam also boasts a long-standing history that have left tourists deeply intrigued. However, at times, this history has also led to a slew of misinterpretations that paint the country in a negative light.
Vietnam makes for an eye-opening destination, as long as you do not allow the misconceptions to cloud your mind! It's time to debunk the myths and look pho the truth instead.
Expectation: Eat a bowl of pho everyday because Vietnamese cuisine is ALL about pho…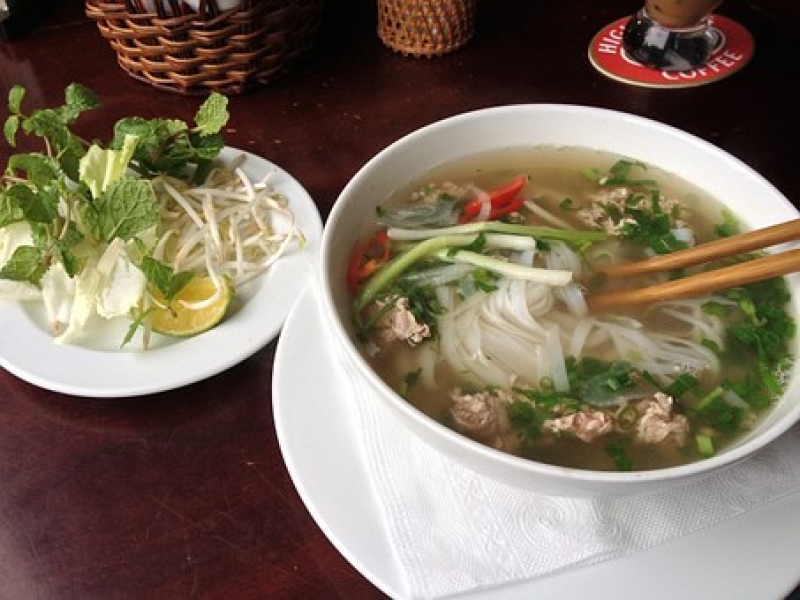 We all know that beef pho is synonymous with the best part about Vietnamese cuisine. The seasoned hearty beef broth, featuring tender beef slices, is paired with delicate rice noodles before being garnished with onions, Thai basil and cilantro. This Vietnamese noodle soup dish is uber-comforting and the main highlight is no doubt the deeply rich, savoury broth. But is that all there is to Vietnamese cuisine?
Reality: Your plan to eat pho daily might be ruined thanks to the myriad of other yummy local delights!
During your visit to various cities in Vietnam, you will find other unique local delicacies such as Nem nướng – famous Vietnamese rolls from Nha Trang province – as well as Bánh mì, baguette sandwich filled with grilled meat and vegetables.
That's not all, Bún chả is another must-try dish. Round rice noodles serve with grilled fatty pork and a side dish of dipping sauce makes for a satisfying meal. It is an indisputable truth that Vietnamese cuisine is absolutely amazing!
Expectation: Western cuisine is non-existent here
The food misconceptions continue as many have the impression that you cannot find a burger joint or a steakhouse here in Vietnam. Street food makeshift stalls are abundant and mainly serve local cuisine that you quickly tuck into on small plastic stools.
Reality: Just so you know, KFC, Burger King and other fast-food chains are ubiquitous
Do not despair! Contrary to what most people assume about the lack of Western food, you can find an array of international fast-food chain outlets such as Burger King, KFC and even Popeyes all along the same street!
You can also expect to find local fast-food joints such as Burger Joint Saigon and Quan Ut Ut, an American-style restaurant featuring superb burgers and grills. Those hunger pangs can be settled pretty easily with the dizzying array of options available.
Expectation: Local street food isn't safe to consume

Unhygienic, dirty and diarrhea-inducing could be some of the things that go through your mind when you think about street food. The lack of sanitation of street vendors as well as unsafe food handling practices are definitely causes of concern.
Reality: You can enjoy affordable and authentic Vietnamese cuisine at countless of small eateries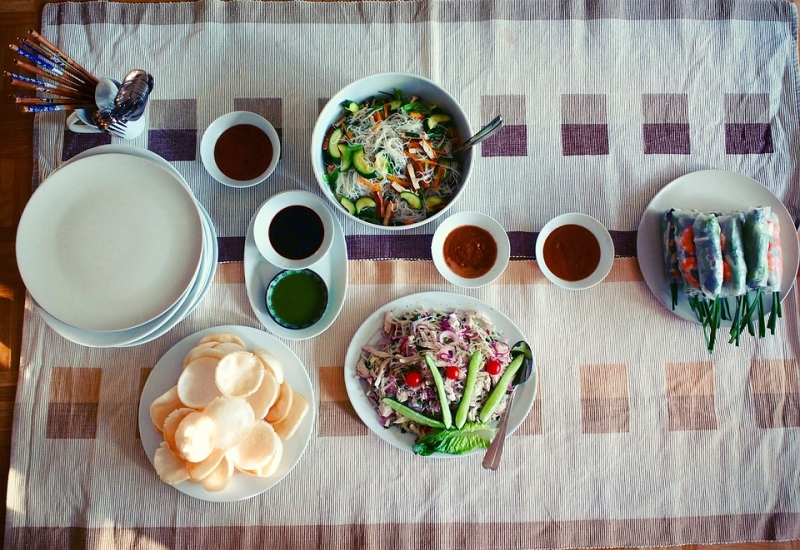 The thing is, you don't have to rely on street food if you want to sample authentic Vietnamese food. There are numerous dining spots at every nook and cranny of the city's streets that practice proper food handling and hygiene. Do not risk eating street food in a bid to save a couple of dollars when the outcome could be you spending the night in a local hospital!
Expectation: Vietnam sees a lot of air pollution!
Ah yes, the typical depiction of Vietnam: motorbikes galore. In a country where personal transportation is a necessity instead of luxury, many locals have resorted to riding motorcycles since cars would be costly to afford. This has not only worsened traffic congestions but also caused the air quality to severely deteriorate.
Reality: On the flip side, the prominent verdant fields and breathtaking terraces boast fresh, crisp air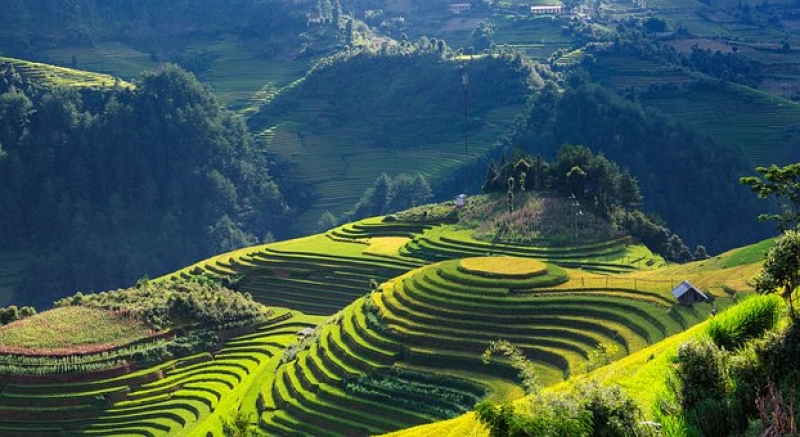 With Vietnam being a highly agrarian society, the same perception does not apply to the countryside, which is a stark contrast from the bustling cityscapes. The exact view that you will see throughout? Perfectly manicured rice terraces against the dreamy backdrop of lush natural vegetation.
Also, it is not surprising that the air here is a lot fresher too! If you are planning a trip to Vietnam, you must include a couple of days in the countryside (Hanoi is a great place to start!) to enjoy the best of both worlds.
Expectation: Soak in the tranquil views of Ha Long Bay and enjoy the sun, sand and sea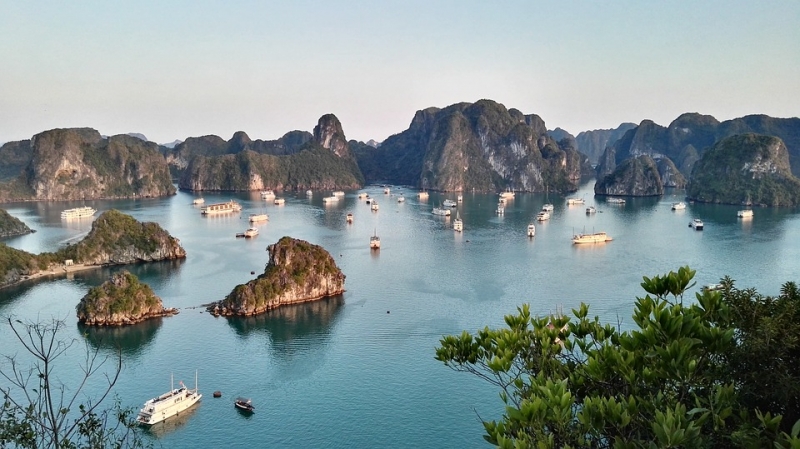 The views are pretty surreal and swoon-worthy aren't they?
Reality: The only view that you will see is one that brims with tourists while you soak in pee…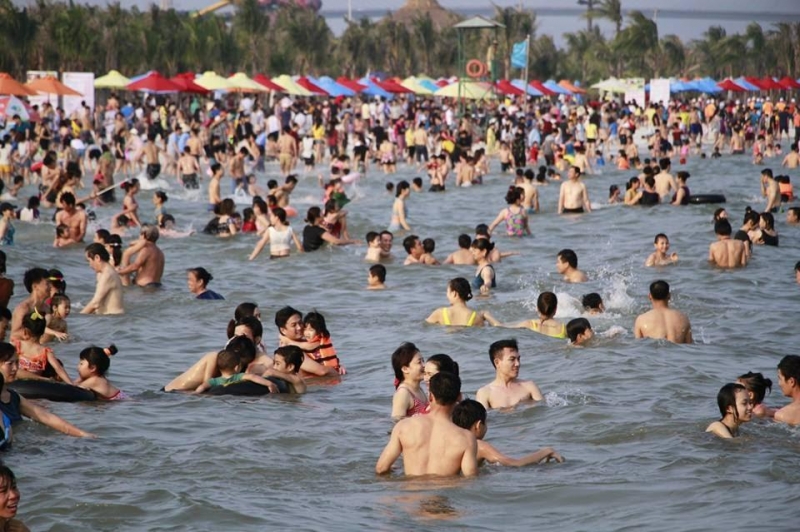 Sorry to burst your bubble but this is a more accurate depiction… There is no doubt that Ha Long Bay is a beautiful sight to behold – however due to over-commercialisation and a surge in tourists over recent years, the beaches and bays' reputation have taken a beating.
Expectation: Abundant pagodas and temples dot the cities since Vietnamese are Buddhists
You will find elaborate pagodas and shrines constituting Vietnam's diverse temple collection, from the north all the way down to the south. These are not just historical monuments but are religious sites where Vietnamese locals would go to receive blessings or make prayers. Aside from adding beauty and heritage to the cities, these places of worship are also important religious centres notably for Buddhists and Taoists.
Reality: Well, there are plenty of beautiful churches specially dedicated for Vietnamese Christians too
Since Vietnam has the fifth largest Catholic population in Asia, you will also notice churches, notably Catholic ones, scattered around town. Buddhism isn't the only religion that is being practised here in Vietnam.
Expectation: The locals don traditional clothes and wear the typical conical hat everyday
We're all guilty of associating Vietnamese women with Nón Lá, a palm-leaf hat in the shape of a cone.
Reality: Vietnamese are equally modern and trendy when it comes to their fashion sense!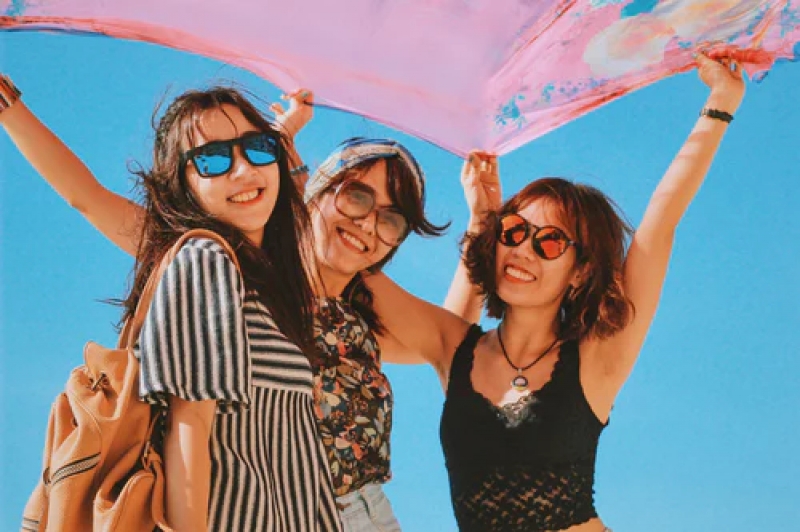 Well, modern Vietnamese do keep up with the latest fashion trends too. You will find international brands such as Pull&Bear, H&M, Zara very easily in the cities as well as local brands too.
Of course, you can find more conservative and traditional clothes (souvenir perhaps) at specialty markets where bargaining is de rigueur. Some of the more noteworthy markets include An Dong and Hanh Thong Tay markets in Ho Chi Minh City, as well as Dong Xuan and Phung Khoang in Hanoi.
Expectation: Vietnam is backward and poor due to its history of tragic wars
The North-South Vietnam war was a long, divisive conflict between the communist north versus the south and its ally, the US. That was after a slew of other wars as Vietnam previously tussled with the Khmers, Mongols and even its Chinese counterparts.
Not forgetting the First Indochina War involving French forces and the Viet Minh opponents, these tragic historical events saw countless of fatalities and innocent lives lost. Poverty and political corruption reigned supreme.
Reality: That was decades ago and this is how Vietnam looks like now. The future has more to behold!


Vietnam's dramatic natural landscapes, epic food scene and hospitable locals are all reasons why you should visit this exotic country. Don't let anything put you off your dream trip. Simply travel and experience it for yourself. Most importantly, do not be swayed by common misconceptions and be your own judge!