Contributed by Escapes and Diaries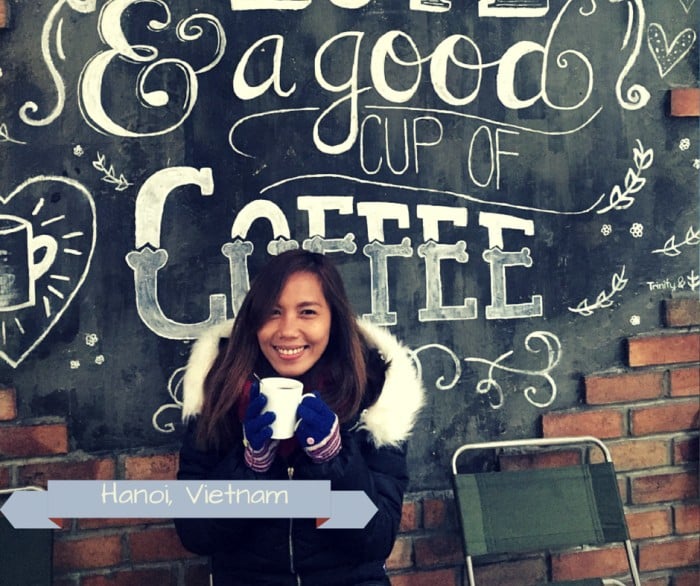 Growing up in a tropical country as a child, I have always dreamed of experiencing a very cold place where I could see snow or wear a winter coat, cute mittens, and colourful wool socks while drinking hot chocolate or coffee in a room with a heater like the little character girl that I read from one of my childhood books. It's always a dream for me, and one day, it came true.
The two-hour delayed flight was a nuisance. Two hours of twiddling our thumbs for boarding. How did we kill time? Nothing special. We were just playing onn the iPad and watching the typical scene at the airport. A vexed passenger was arguing with and yelling at the airline staff for his delayed flight, though my boyfriend and I couldn't interpret the Vietnamese language, we could comprehend to some extent that something is going on. We didn't pay much attention because just like a common scene at other airports, it's pretty normal to witness a passenger and airline staff having an argy-bargy.
I stood and walked around to look for food and noticed some people were schlepping winter stuff. I thought probably they were heading for cold cities such as London or New York. When I returned to where my boyfriend was sitting, 20 minutes before the boarding time, we began talking about the scene that we were actually observing at the moment.
Also read: Simple Hanoi Travel Hacks Every Filipino Traveller Should Know
"Do you see these people? Aren't they weird? I think we're boarding the same flight," I whispered to my boyfriend while he was on his iPad. "Oh yeah, why don't we check the weather in Hanoi?" he replied.
"You're such a genius!" I voiced, only to ferret out that the temperature will be relatively low from tonight until the next couple of days we were supposed to sojourn.
Inconvenience. We were suddenly laid in a state of inconvenience. We obviously came unprepared for the weather. No thick clothes lugged to warm us up. As we perched on the plane, we couldn't stop gabbing about how to get the better of the unexpected weather condition. The flight from Ho Chi Minh to Hanoi took only less than an hour. Everybody was bizarrely staring at us since we were evidently taken aback. In fact, I was dressed down in a white sleeveless and a skirt and my boyfriend in summer shirt and shorts. We hurriedly took a taxi once we boarded off and made our way to our hotel.
Gloomy atmosphere, dark sky, showers of rain, wet roads, freezing. That's what welcomed us the next morning on our first day in Hanoi.
As I opened and looked out of the tiny window of our small hotel room, everything seemed so de trop. We didn't worry though, my boyfriend was born and raised in the coldest part of Europe but he somehow felt uncomfortable. We also woke up and checked out late that morning due to the coldness of our room that didn't have any heater, plus we were exhausted from the flight.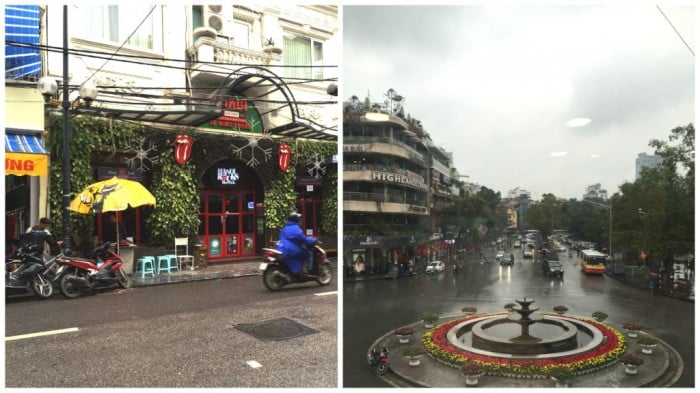 The first photo was in front of our hotel. Gloomy and wet roads. While the second one was taken while we were strolling around.
We didn't waste any minute. After jumping on to our next hotel to check in, we headed to the town right away to look for winter clothes. It took us a while to actually look for a nice one even though every corner of Hanoi has a winter shop/store. (I can tell you, my boyfriend is my number one fashion mentor)
Finally, we were able to shop for winter clothes that we both had on for the rest of our stay.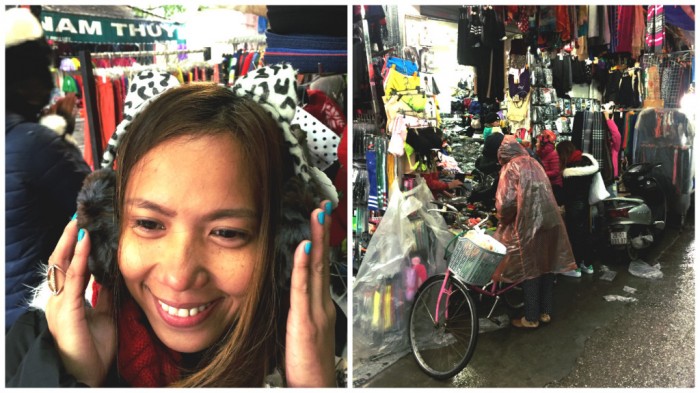 Found a cute earmuff. Unfortunately, we didn't buy it. I was like a child fitting up in my ear. It's very cute!
Also read: 26 Reasons to Fall in Love with Hanoi
Hanoi is truly a lovely place for me. I experienced the coldness I've been dreaming of. If you happen to make your way to this place, here are some of my epic and fun experiences in this cold, lovely place:
1. Drinking beer on the bar surface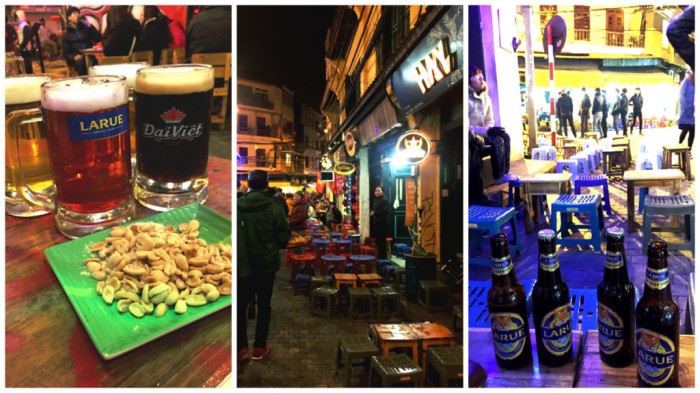 And this is what I was talking about. Beers on the surface. Why not?
I wonder why drinking on the street is very popular/common here since obviously, it's freezing cold. But geez! It was fun!
2. Having a cup of coffee and sweet hot chocolate at one of those lovely coffee shops in every corner of Hanoi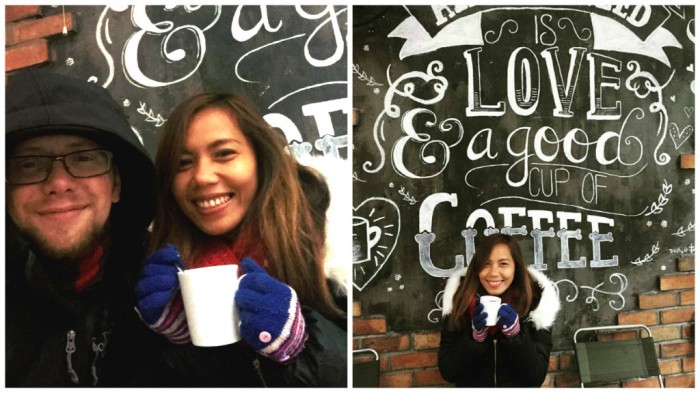 Coffee and hot chocolate
I remembered that after a drawn out saunter, I dragged my boyfriend to have a taste of the coffee in one of those lovely and attractive coffee shops on the street. We didn't go wrong. It was creamy and milky sweet!
Also read: 5 Hipster Cafes to Visit in Hanoi
3. Getting lost on the street while hoofing my way back to the hotel after buying a medicine at the drugstore for my sick boyfriend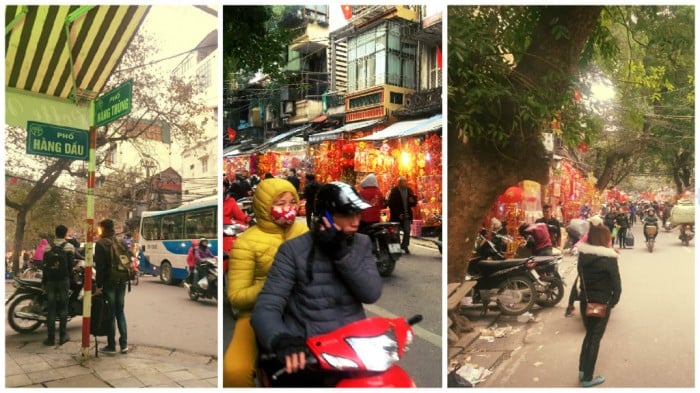 I didn't know which direction to go. I was lost on the road! 
It was a long stretched street but on my way back, I couldn't recognise the street where I came from. Should I go right or left? God! I was lucky I found my way back! I'm really bad at directions!
4. Communication barrier
I had a hard time communicating with a pharmacy staff, trying to let her understand that I needed a medicine for fever and flu.
5. Ordering a takeaway food alone at a mini restaurant where they almost got my order wrong due to language barrier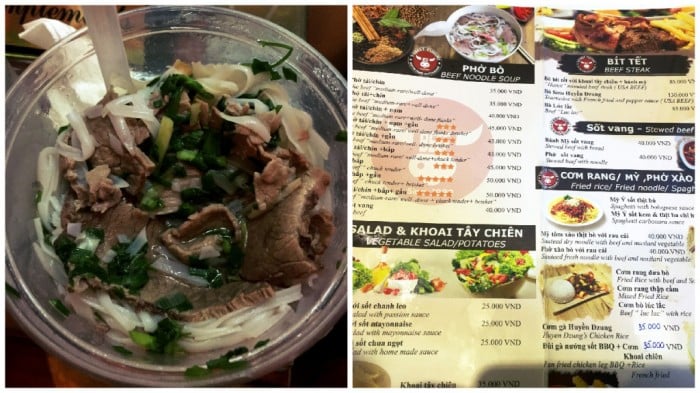 It's a delicious noodle I just pointed out at the menu. I didn't go wrong choosing this food. On those times that he was sick, hot food like this is necessary. Thanks to the menu!
Good thing they had menus where I could just point out what I wanted to order, and of course, hand gestures and polite smile got me going!
Also read: How I Spent a Deliciously Awesome Day in Hanoi on a Food Tour
6. Trying and tasting Hanoi's local cuisine and coffee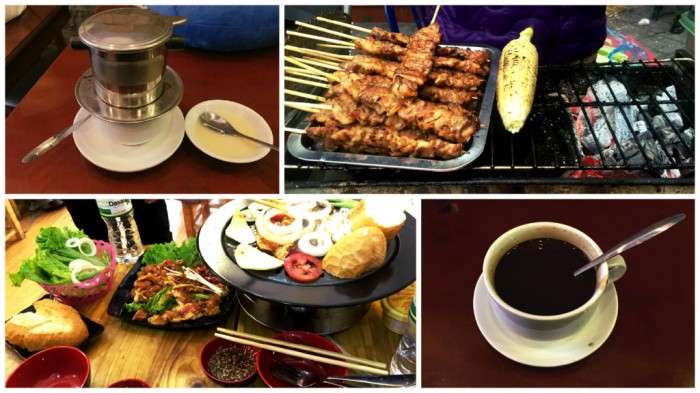 A grilled corn and a barbeque on the street, a creamy and sweet coffee and a Korean style bbq on the table. (Sorry, I forgot the name of the food) 😛
7. Strolling around the town while my body was totally freezing like my fridge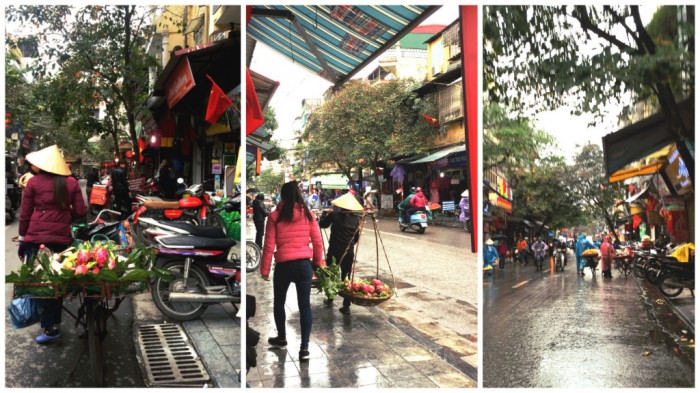 I personally didn't care about the cold wind touching my face and skin. I loved the view.
In the middle of the road when everything was wet, we still found pleasure in leisurely strolling around. We didn't mind the cold weather.
8. Missing the sun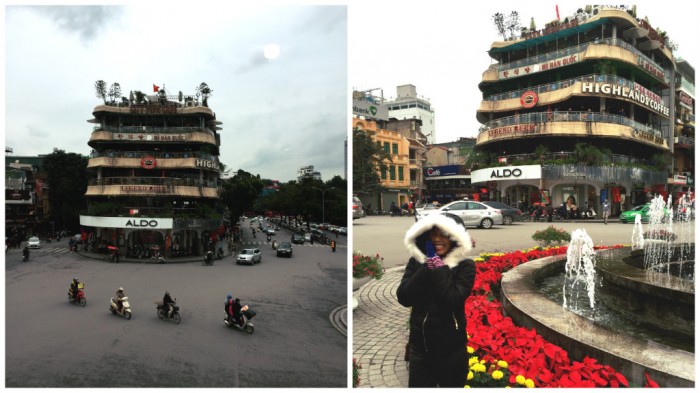 I still loved the gloomy and uncooperative weather! Do you see how I grin? ha ha!
Don't get me wrong. I came from the country where it's sunny every day. The sun's presence is one way to be happy and lively, and even though we only stayed in Hanoi for a couple of days, I surely did miss Mr. Sun. During the days we were there, Mr. sun didn't show up, literally. But of course, I still liked it! I'm a rain lover anyway. 😛
9. Hating the heater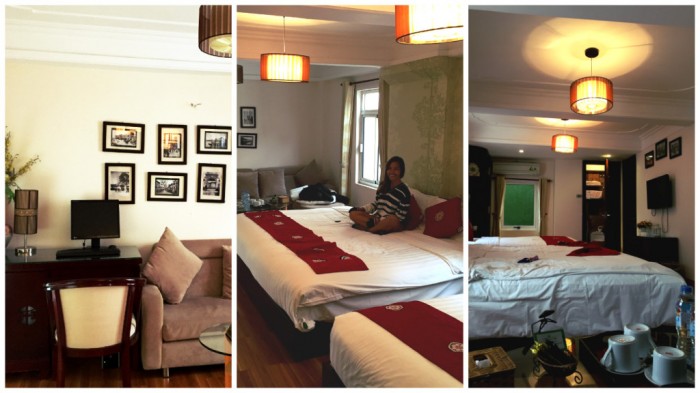 Our hotel was generous. They transferred us to a bigger spacious room. This is our room, the second bed was closer to the heater so I joked my boyfriend to just sleep on that bed instead since he liked the heater.
Seriously, the hotel was huge for only the two of us. There was a room with a heater but I rejected to use it. I think the heater made my skin sticky! It didn't feel good!
10. Watching a street performer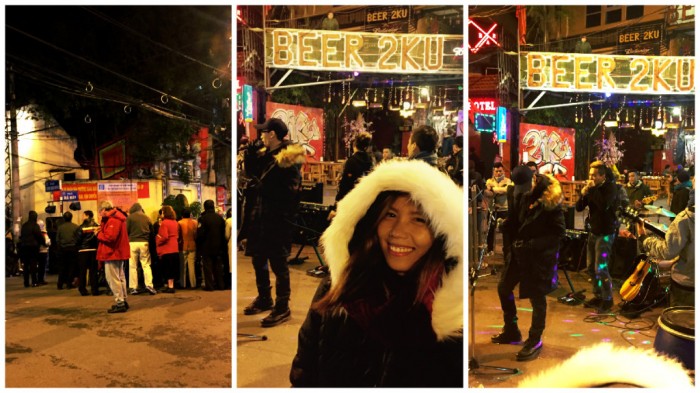 Street performer at late night
I guess it's pretty normal but this one is kinda different because just like the outside bar, they are also performing on the street while it's freezing cold! Good Lord! I didn't understand their songs, yet I was one of the audience who enjoyed listening to their music.
11. Coincidentally bumping into the man who was seriously arguing with the airline staff
Beautiful flowers. But they are artificial.
Remember? Although I wasn't particularly sure, but I presumed that he owned one of the flower shops on the street where we were wending our way because he was trying to sell us his displayed artificial flowers aligned in front of the flower shop.
12. The serious skirmish of me and my boyfriend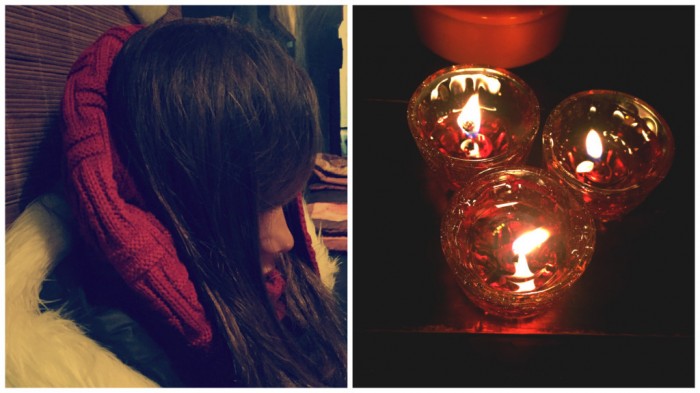 I didn't wanna face the camera but yea, my boyfriend took this side view shot of me because I didn't wanna show my teary eyes after that serious fight we had earlier that day
Sure. We were on the road for a month and Hanoi was our last stop, but this one was one of the most serious ones. Anyway, it was alright, everything went fine.
On our last day and night in Hanoi, the weather was pretty much the same — it represents my blues over the place I didn't want to leave. We had our last few beers with a jazz music on the background and the last Vietnamese meal at a small restaurant before getting on to our taxi to the airport. I even pleaded to my boyfriend that I wanted to extend but then we had our next destination in the Philippines soon. At the airport,  I remembered that I was dewy-eyed that didn't wanna take off my winter coat. I love the way I felt while dressed down with it and I was totally glued, though it was already warm at the place, and we're about to come back home in a real tropical place.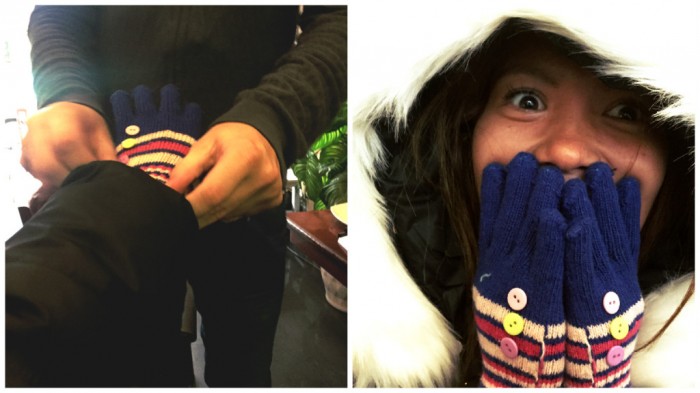 Yes, that's him! Putting on my cute hand gloves and I was the happiest kiddo!
I've also proven that my boyfriend is a wonderful caring person by putting my needs and wants first before his –warming up both my freezing hands and feet by putting on my woollen colourful gloves and socks, buying me my favourite cup of hot coffee and hot chocolate, and more to mention. Even though there was no presence of snow, this trip was absolutely one of the memorable I've ever had and I'm definitely coming back again and make more experiences and memories worth keeping!
Also read: How I Travelled 2 Days in Hanoi for ₱12,000 (All-In)
Looking back on this trip, I'm glad we chanced upon the beautiful city of Hanoi, it's particularly my first time to experience such dosage of cold temperature and I was beyond happy. My photos were proofs that I was completely amused over our escapade.
In a separate article later on, I will share with you the personal favourite activities we did and experienced in Hanoi.