Pristine islands, lush jungles, quiet riverside villages, and secluded mountains — to say that the natural landscapes of Thailand are breathtaking would be putting it lightly. And when you're in the Land of Smiles, we recommend making your trip more special with one-of-a-kind accommodations instead of a regular hotel room. There's definitely no need to settle for anything less than an extra-cool Thailand Airbnb. From treehouses in cat gardens to colourful castles, here are the most unique Airbnbs in Thailand on our wish list.
Also read: Thailand Will Start Charging Tourist Entry Fees by June 2023
Unique Airbnbs in Thailand for an unforgettable getaway
1. This dreamy fairytale castle in Central Thailand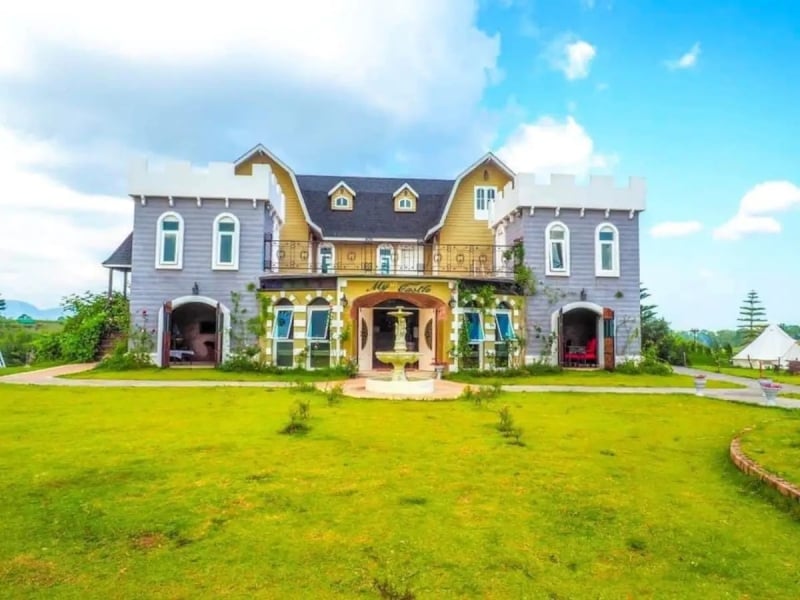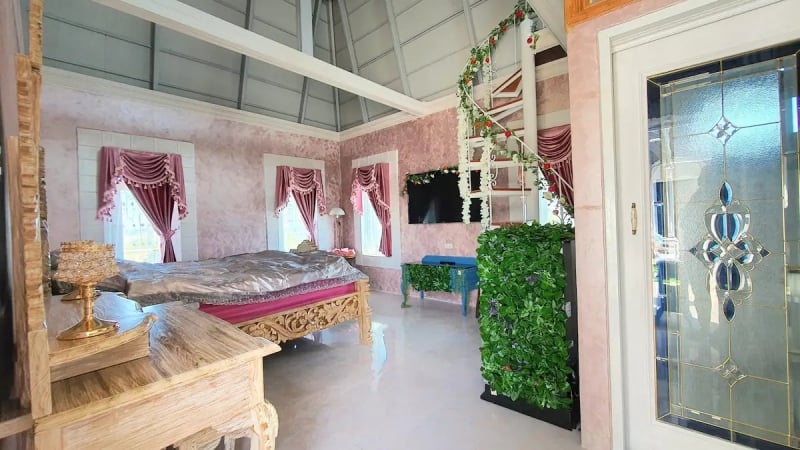 Listing name: My Castle Khaokho : A night like a fairytale
Listing type: Castle
Max. no. of guests: 13
No. of bedrooms: 5
Spending a night in a castle isn't something regular travellers get to do every day. So, when the opportunity comes up, we think it's worth considering. This fairytale castle in Khao Kho — dubbed the Thai Alps — is instantly eye-catching, with a majestic facade, sprawling lawns, and charming interiors. Even though it's not as opulent as most European castles, it's easy to feel like royalty in this Thailand Airbnb.
2. This eco-friendly oasis on the tropical Koh Yao Noi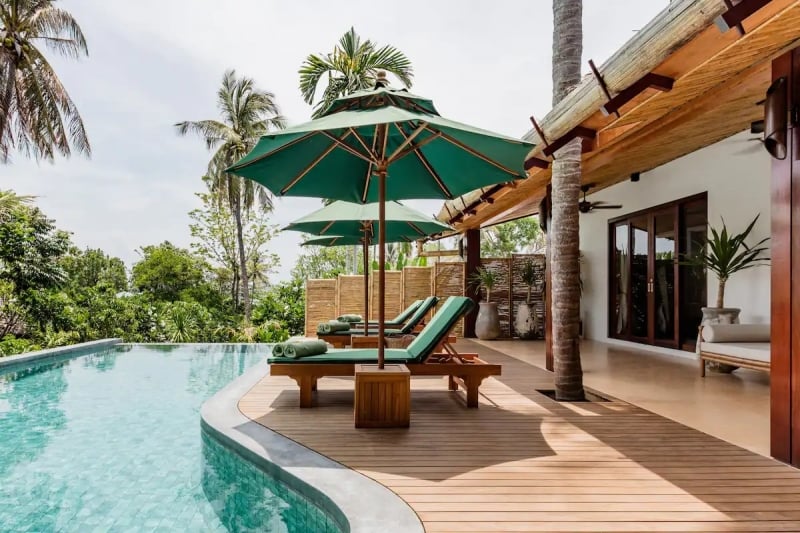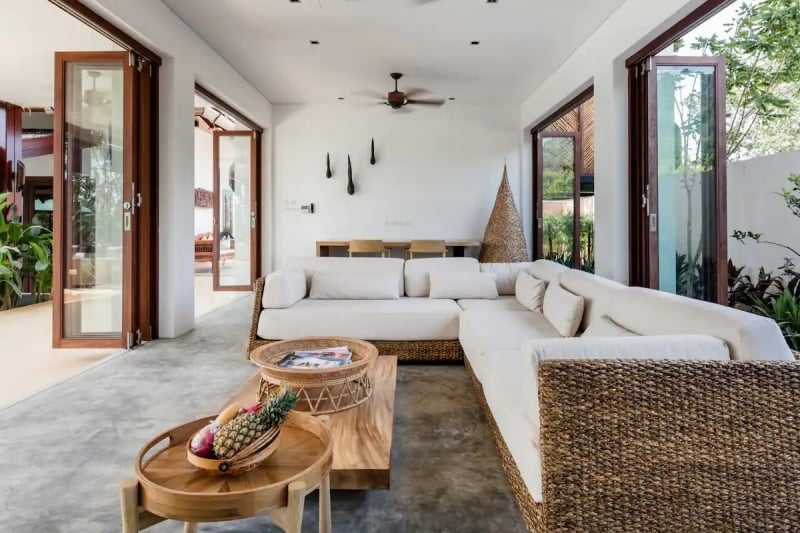 Listing name: Relax into Tranquil Island Life at a Secluded Eco Paradise
Listing type: Entire villa
Max. no. of guests: 6
No. of bedrooms: 3 
Dive into island life at this eco-luxe retreat on Koh Yao Noi. The palm-fringed island in Phang Nga Bay promises a quieter experience than the more popular Thailand destinations. If you're looking for eco-friendly Airbnbs in Thailand, then you'll appreciate this rental's solar power, rainwater reclamation system, and bio-septic tanks.
Plus, it comes with premium features: tropical gardens, luxurious interiors, and an infinity pool. A true wellness escape, this Thailand Airbnb even has a private outdoor massage area, so you won't have to leave for a blissful spa treatment.  
3. This stunning bamboo treehouse in cat paradise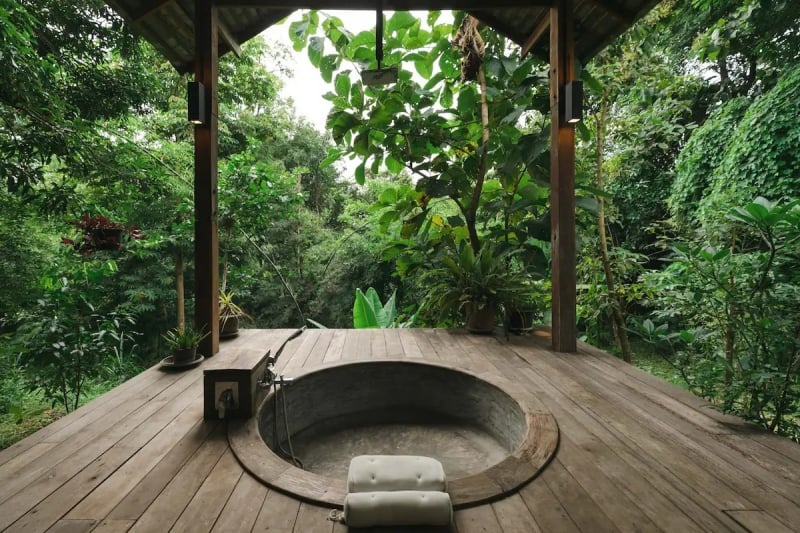 Listing name: Stunning bamboo tree house in cat garden
Listing type: Treehouse
Max. no. of guests: 2
No. of bedrooms: 1 
Love cats? Then you'll probably enjoy staying in this enchanting bamboo treehouse nestled in a garden that's home to 62 rescued stray cats. That's right: Pet lovers will be completely delighted, bonding with furry felines on vacation.
Of course, you don't have to be a cat lover to enjoy staying in this spectacularly built Thailand Airbnb. Designed by Ajahn Deecha, it's three levels of open space, natural materials, and beautifully crafted furniture. Take a soothing soak in the open-air bathroom fitted with a tub looking out into unspoiled mountains.
Also read: Treehouse Airbnbs & Vacation Rentals: Fall in Love with These Listings From Around the World
4. This seafront glamping spot on Koh Chang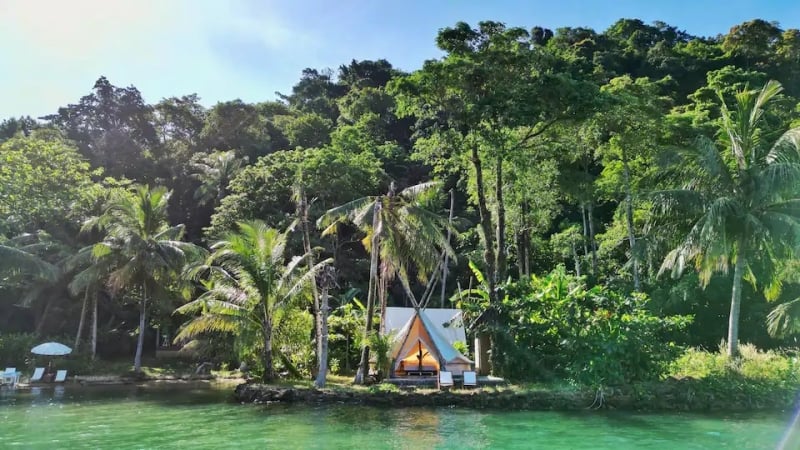 Listing name: Lisca beach: Seafront Glamping, private bathroom
Listing type: Tent
Max. no. of guests: 2
No. of bedrooms: 1 
With the sea in front, a tropical beach on the side, and a lush jungle at the back, this glamping site is among the best Airbnbs in Thailand if you want complete immersion in nature. Don't fret; you won't be roughing it at all! Inside, the tent is tastefully designed and surprisingly spacious. Next to the tent is your private bathroom, with towels and toiletries included.
Wake up to views of the sparkling waters, then sip your coffee on the deck. Swimming and kayaking are popular activities on Lisca Beach, but you can also explore more of Koh Chang, Thailand's third-largest island. 
5. This stylish little cottage in Bangkok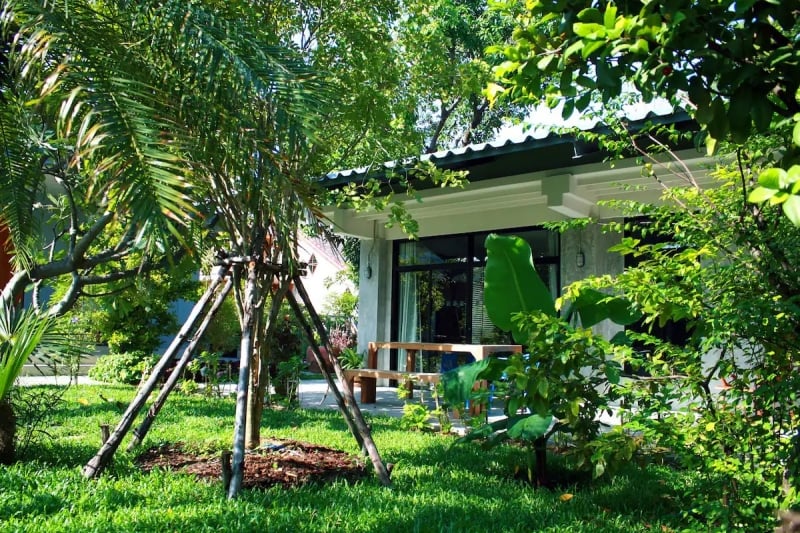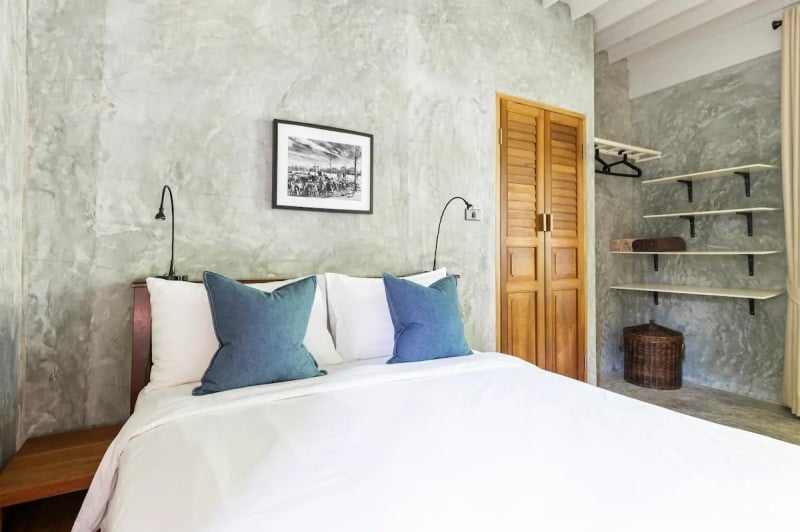 Listing name: Stylish house in tropical garden
Listing type: Entire cottage
Max. no. of guests: 2
No. of bedrooms: 1 
Step away from the hustle and bustle of Bangkok and stay in this cosy one-bedroom cottage away from the frenetic city centre. Tucked away in Samrong district by the southern border of the capital, this tropical-style abode allows travellers to enjoy some peace and quiet. At the same time, the neighbourhood is near a BTS Station, which means guests have easy access to many popular Bangkok attractions.
Also read: Bangkok or Kuala Lumpur: Which Southeast Asian Capital Should You See First?
6. This mountain escape in Chiang Dao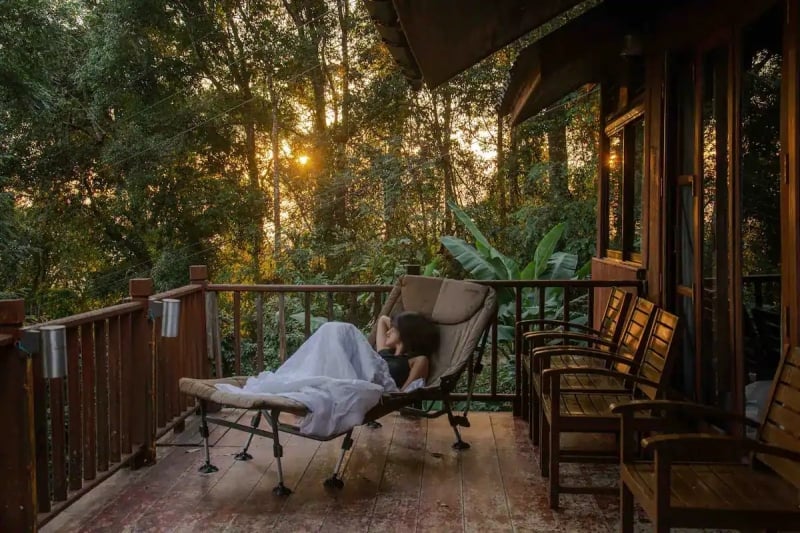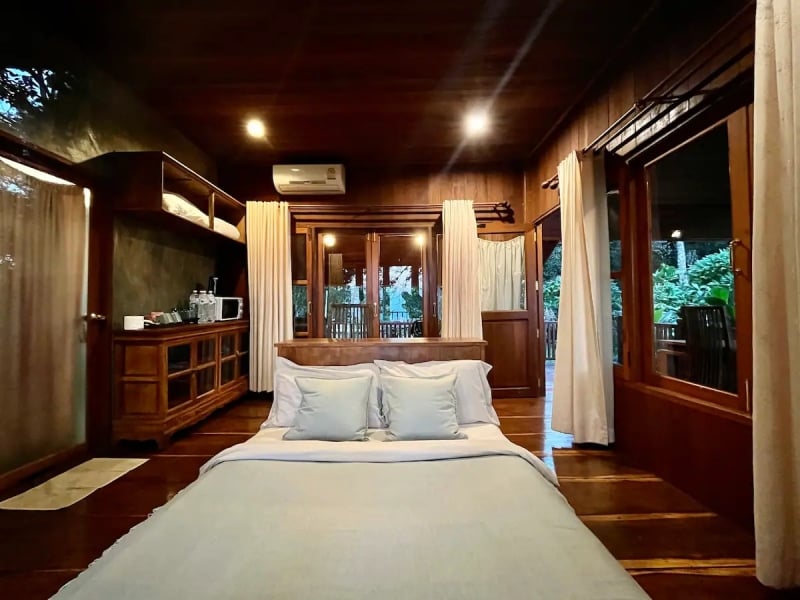 Listing name: Private 2 Mountain Cabins w/ Breathtaking View
Listing type: Tiny home
Max. no. of guests: 6
No. of bedrooms: 2 
Speaking of quiet hideaways, this secluded lodge lets you get lost in the majestic mountains of Chiang Dao in Chiang Mai Province. Nestled in a 100-year-old tea plantation, the Airbnb is surrounded by centuries-old Assam tea trees, verdant forests, and a sea of clouds around Mount Chiang Dao. There's no doubt about it: The views are a definite highlight! 
This Airbnb sits 1,312 metres above sea level, so the air is pleasantly colder here than in other Thailand destinations. You'll be a drive away from restaurants, though. So, make sure you come with food! Fire up the outdoor grill for a delicious alfresco dinner overlooking the mountains and the bustling town.
7. This tranquil farm sanctuary with a hedge maze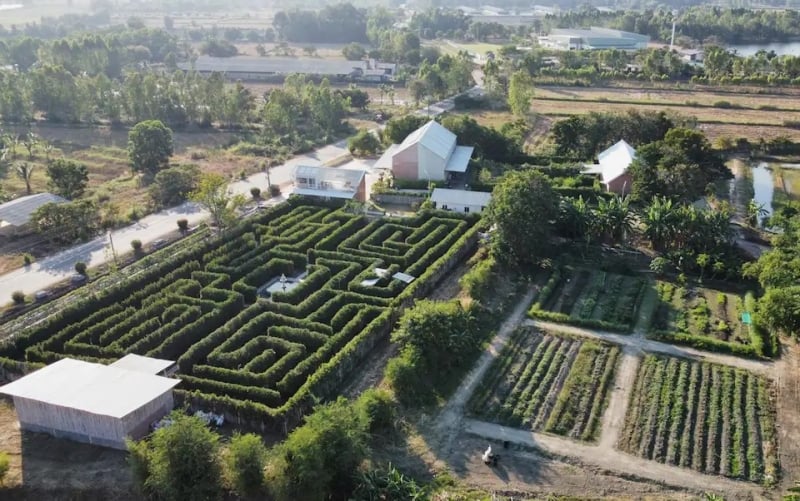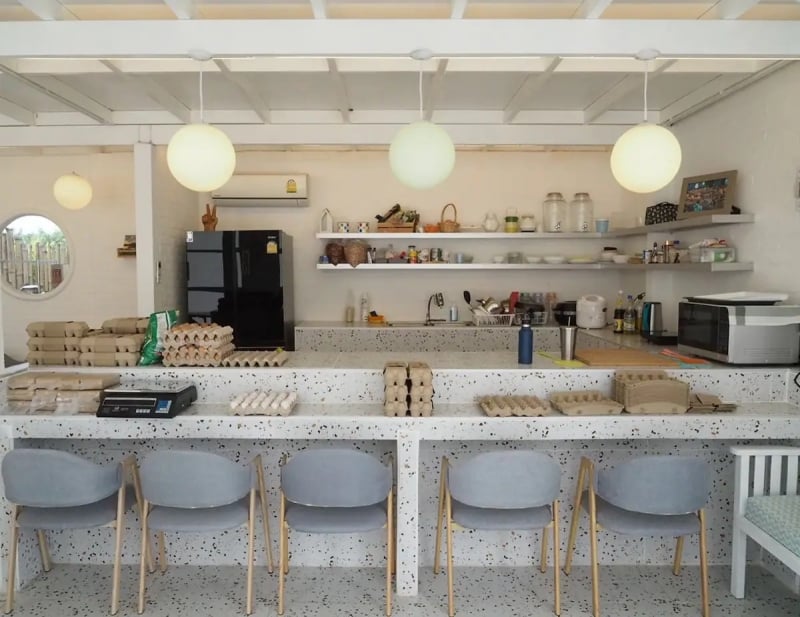 Listing name: Barn Stay in a Hedge Maze free-range Chicken Farm
Listing type: Farm stay
Max. no. of guests: 3
No. of bedrooms: 1 
Two hours away from Bangkok is this modern barn stay in Chachoengsao Province. The organic Nathan Farm is a tranquil slice of farm heaven, with light-filled interiors, modern amenities, and friendly little animals to play with.
Previous guests of this Thailand Airbnb say kids loved participating in farm activities like feeding the chickens, picking eggs, and riding bikes around the property. There's even a hedge labyrinth for chickens to run around in, as well as a little pond for tranquil boat rides.
8. This beautiful beach house on Koh Phangan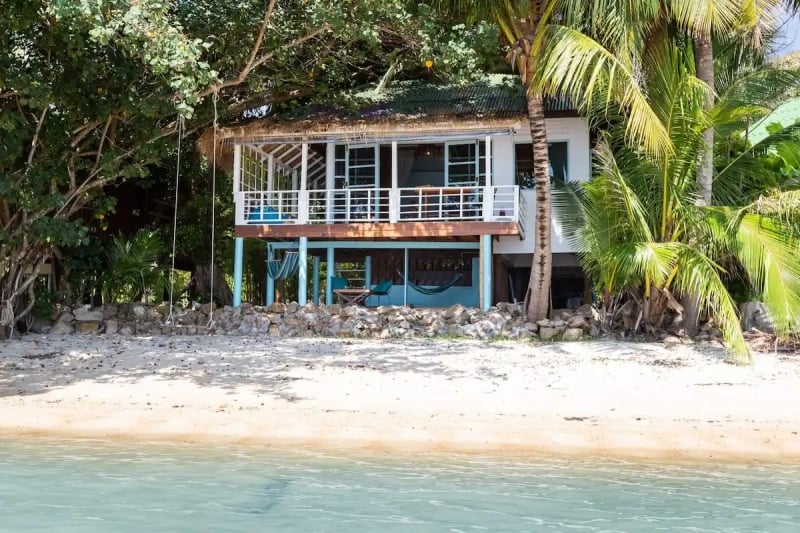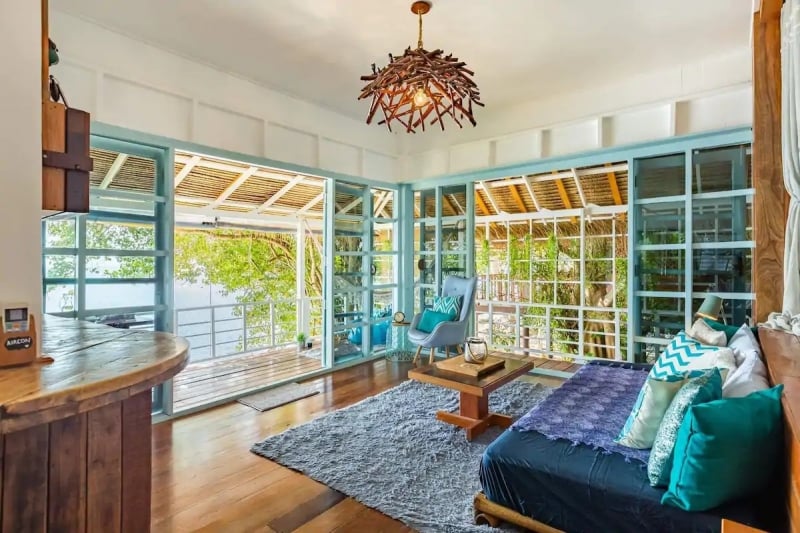 Listing name: ❤️ THE HATCH, Romantic Beachfront, HIN KONG
Listing type: Entire home
Max. no. of guests: 3
No. of bedrooms: 1 
If you never want to leave the sea, we got you! Embrace the beachy aesthetic at The Hatch, a beautifully designed beach house on the uncrowded Hin Kong Beach on Koh Phangan, an island best known for its monthly full moon party. This Thailand Airbnb is just steps from the waters, giving guests a front-row seat for breathtaking sunsets at the end of the day.
Also read: 12 Things to Do in Koh Samui, Koh Tao & Koh Phangan 
9. This tented villa in a vegan wellness resort on Koh Samui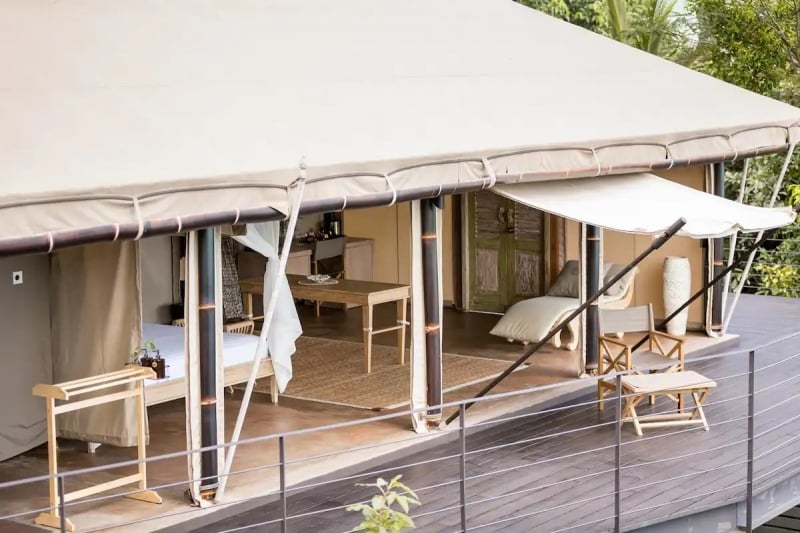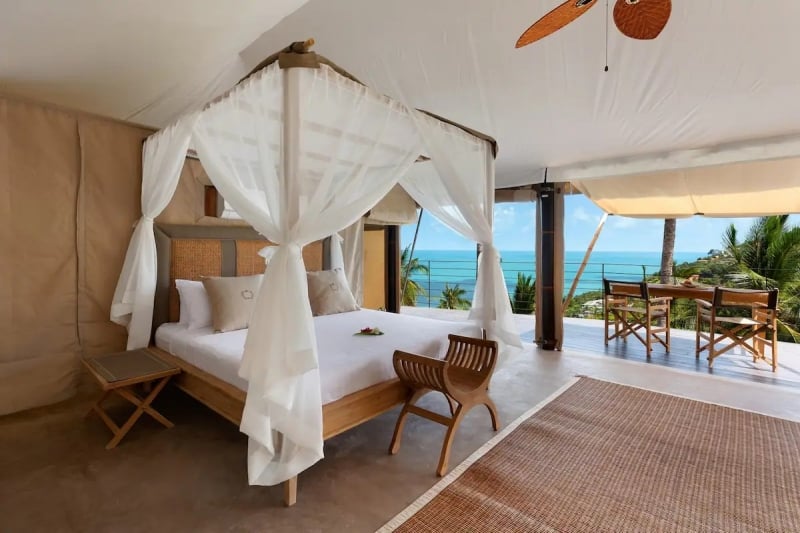 Listing name: Kapuhala Plant-Based Resort – Tented Villa 1
Listing type: Private room in bed and breakfast
Max. no. of guests: 2
No. of bedrooms: 1 
There's an abundance of charming and unique Airbnbs in Thailand, but for a premium wellness getaway, check out these digs in a plant-based resort. Here, guests are treated to a first-rate experience that includes a vegan restaurant, a rooftop lounge, a fitness studio, a sauna, and an outdoor pool.
Each tented villa floats above the treetops, with spacious interiors and unobstructed views of the ocean. A private terrace provides the perfect space for spending time away from the crowds of Koh Samui.
10. This sprawling container villa in Pattaya for extra-large groups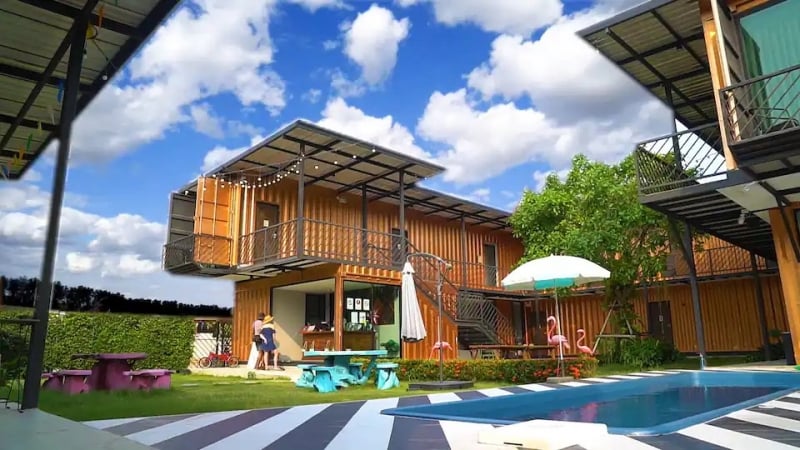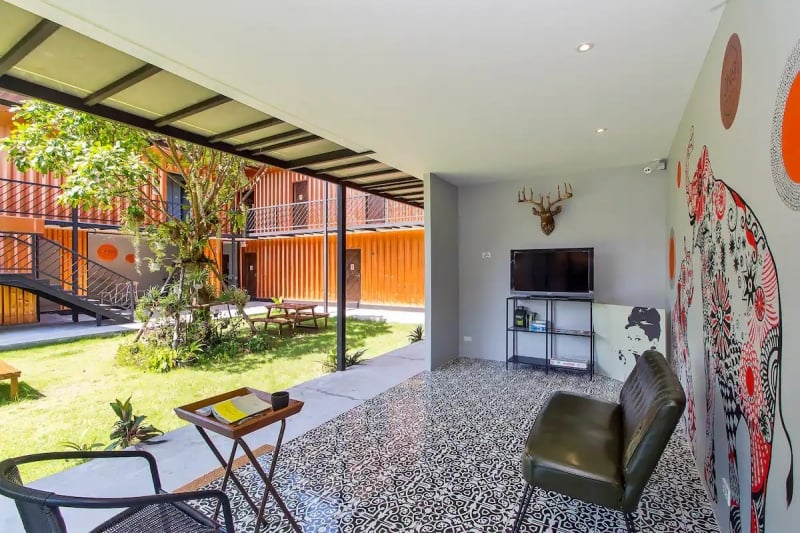 Listing name: Newly next To Beach 12bedrm Pattaya JN9 POSHTEL
Listing type: Entire villa
Max. no. of guests: 32
No. of bedrooms: 12 
If you're thinking of taking the whole clan on a beach vacation in Pattaya, then this sprawling private villa should be on top of your wish list. It's big enough to host 32 guests, with the option to add 10 more upon special request. 
Colourful interiors, spacious rooms, and a private pool promise a pleasant stay. Not in the mood to cook for the entire crew? Meal plans are also available. Best of all, this Thailand Airbnb villa is only a short walk from Jomtien Beach and the Night Market.
11. This mushroom house in Pai Valley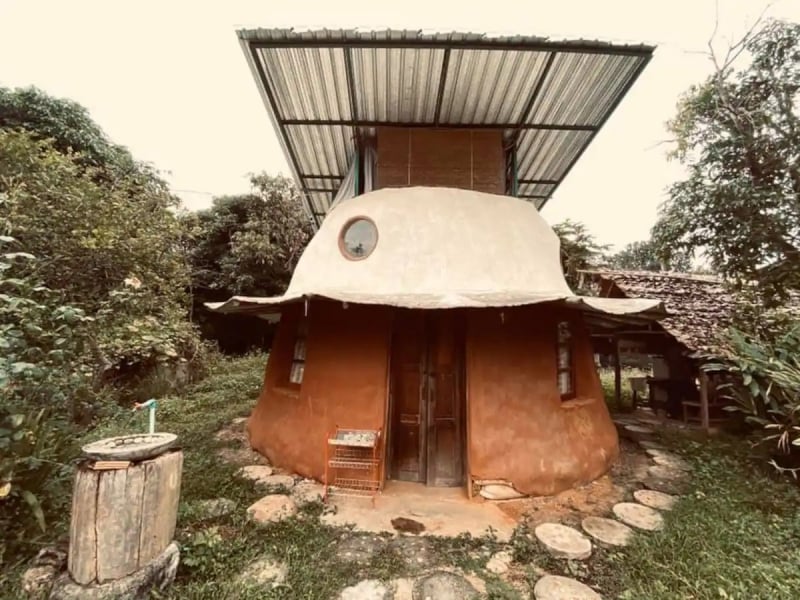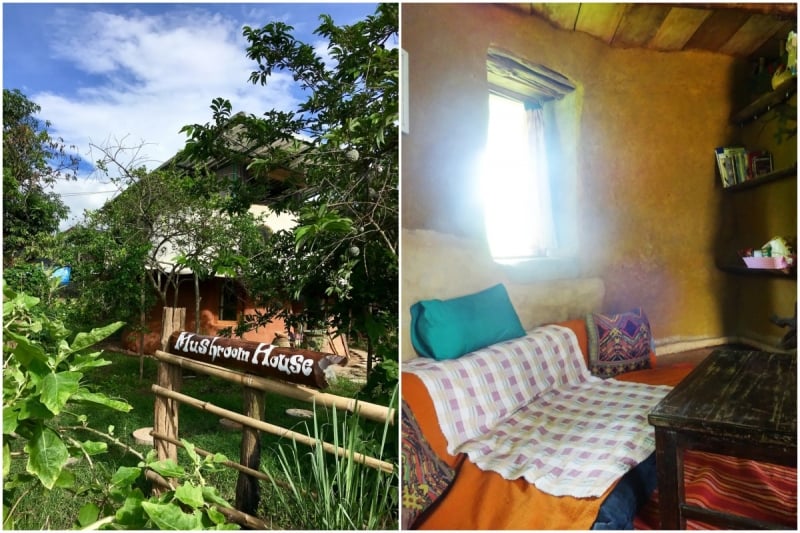 Listing name: Mushroom House – Eco earth bag round house
Listing type: Earthen home
Max. no. of guests: 2
No. of bedrooms: 1 
Feel closer to the earth in this quirky mushroom house in the bohemian Pai Valley. It's one of the most unique Airbnbs in Thailand, crafted from natural materials like earth, garlic straw, and 80-year-old teak wood. Cosy, clean, and creative, this Thailand Airbnb guarantees a memorable experience. Thoughtful touches like a handmade bathtub, hot water, and kitchen essentials make it easy to feel at home in this earthen home.
12. This gorgeous Lanna-style villa in Chiang Mai Old City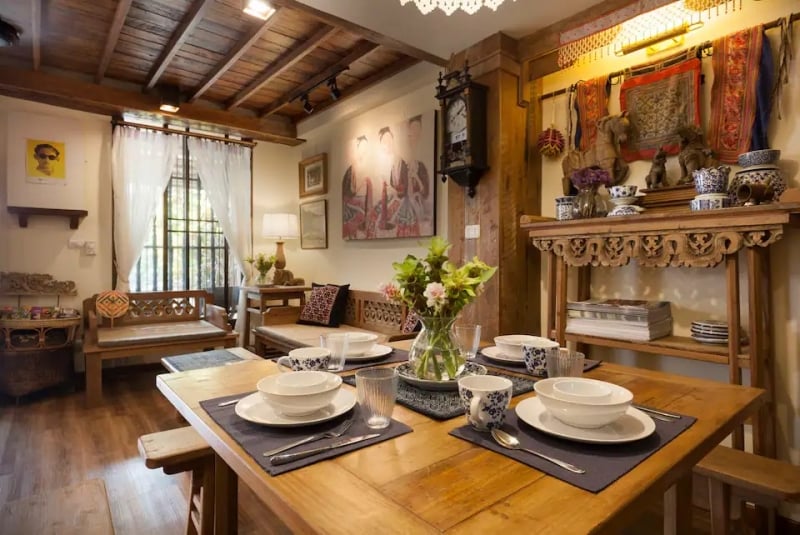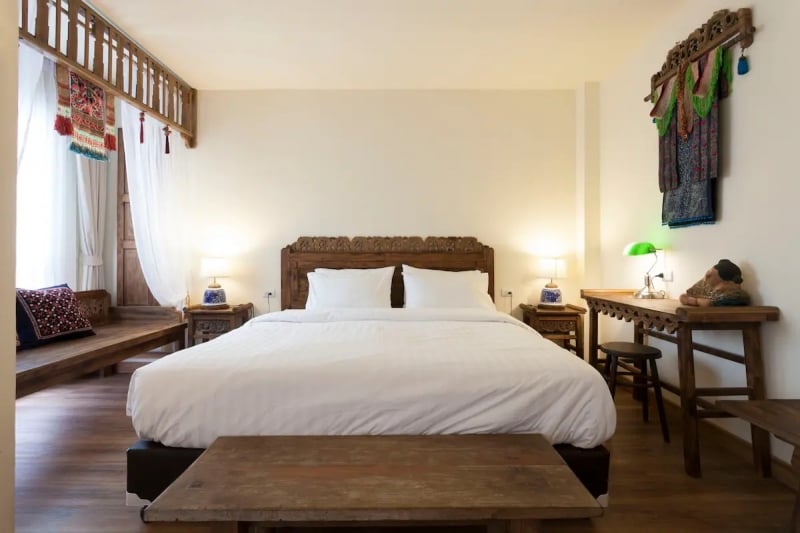 Listing name: Villa Nittra Singharaj
Listing type: Entire townhouse
Max. no. of guests: 4
No. of bedrooms: 2 
Looking to feel even more connected to local culture? Then, this Lanna-inspired townhouse should be the perfect fit. Not only is the Airbnb conveniently positioned in the heart of Chiang Mai's Old City neighbourhood, but it's also designed to showcase the spirit of Thailand.
Walk through the house and appreciate the Lanna-style decor, from expertly carved woodcrafts and cultural books to local art pieces and vintage heirlooms. Previous guests rave about the Airbnb hosts, who even prepared a home-cooked meal during their stay!
13. This riverside bohemian home in Chiang Mai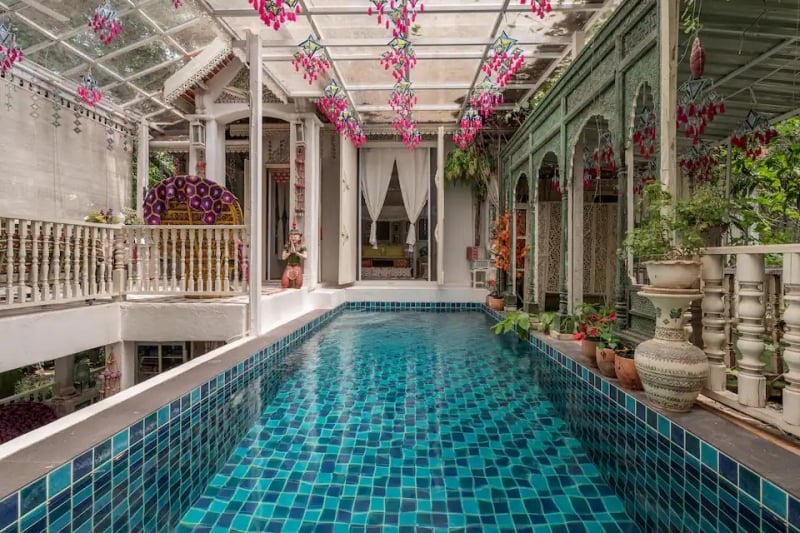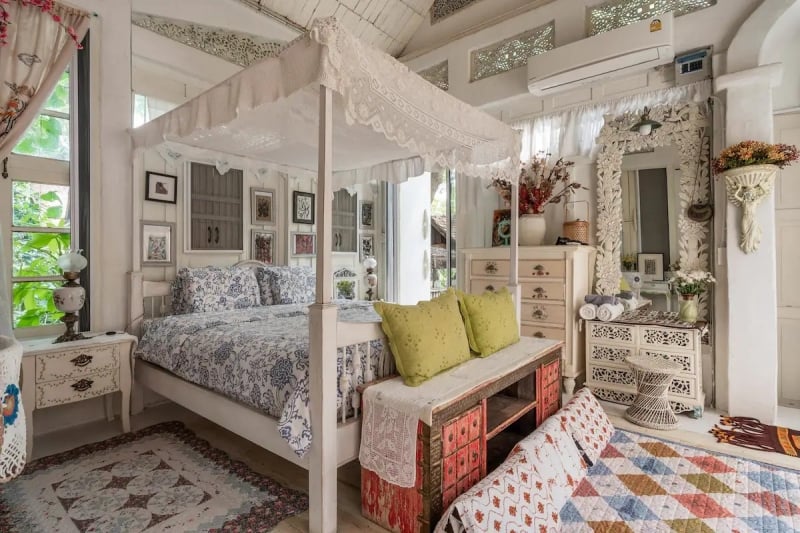 Listing name: Dala Ping River House in Chiangmai
Listing type: Entire villa
Max. no. of guests: 4
No. of bedrooms: 2 
If you'd rather spend your Chiang Mai vacation away from the crowds, then consider staying in this chic residence along the Ping River. A house owned by artists and interior designers, it's no surprise that it's exceptionally lovely with bohemian and Lanna-inspired touches.
Expect luxurious amenities like a free-standing tub and a covered pool. Additionally, river views guarantee a picture-perfect getaway. As a convenient perk, the hosts of this Thailand Airbnb villa even offer free airport pick-ups.
14. This traditional beachfront villa filled with antiques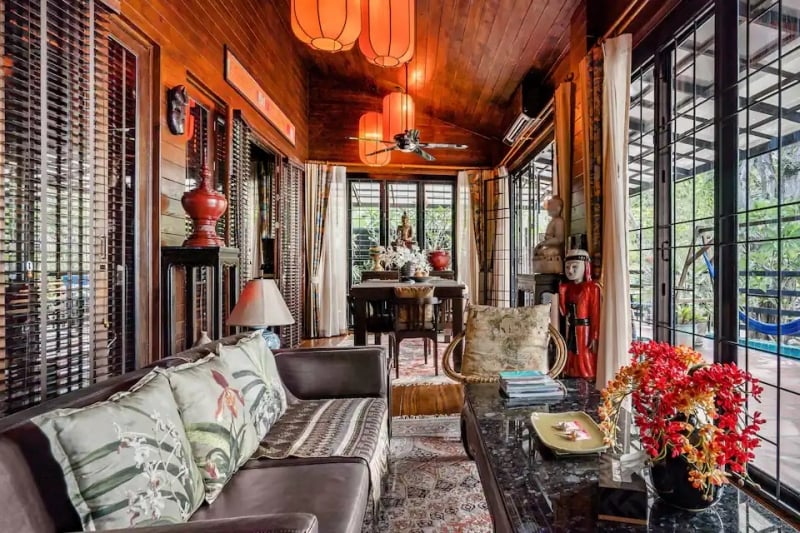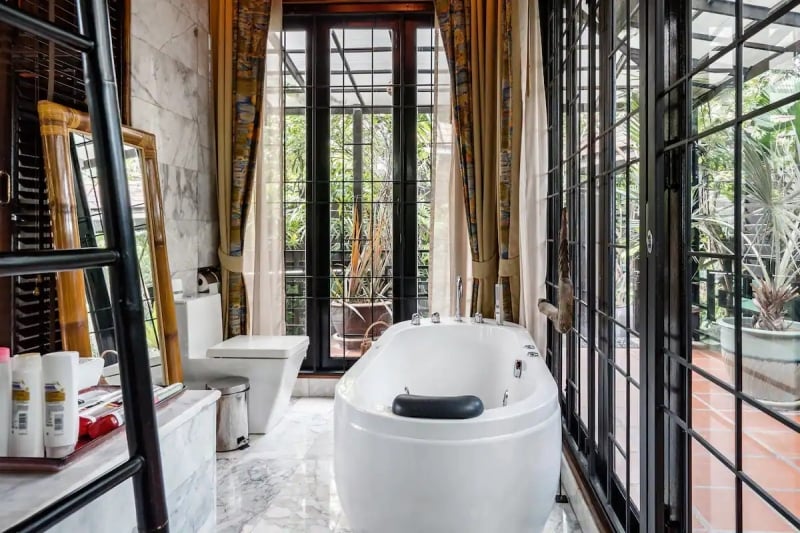 Listing name: Admire Asian Antiques at a Sumptuous Sanctuary On The Beach
Listing type: Entire villa
Max. no. of guests: 7
No. of bedrooms: 2 
When it comes to locations of Thailand Airbnbs, it doesn't get much better than this beachfront villa in Pang Ka Bay, Koh Samui. But we'd argue that the stunning interiors of this beach Airbnb in Thailand almost steal the spotlight. Light-filled rooms, glossy teak furniture, and Asian antiques create a one-of-a-kind sanctuary by the beach. 
Trust us: The rental is fit for relaxing getaways, whether you're sunning on the terrace or swimming at the beach right outside your door.
15. This luxurious private villa on Koh Samui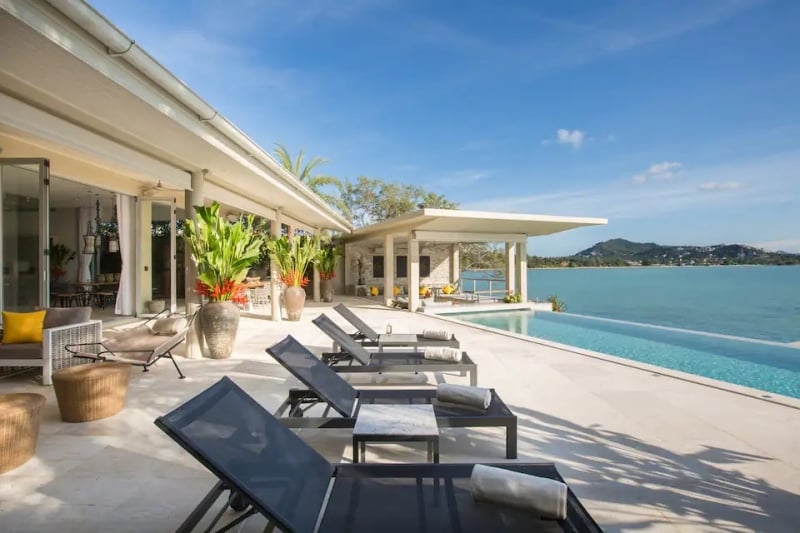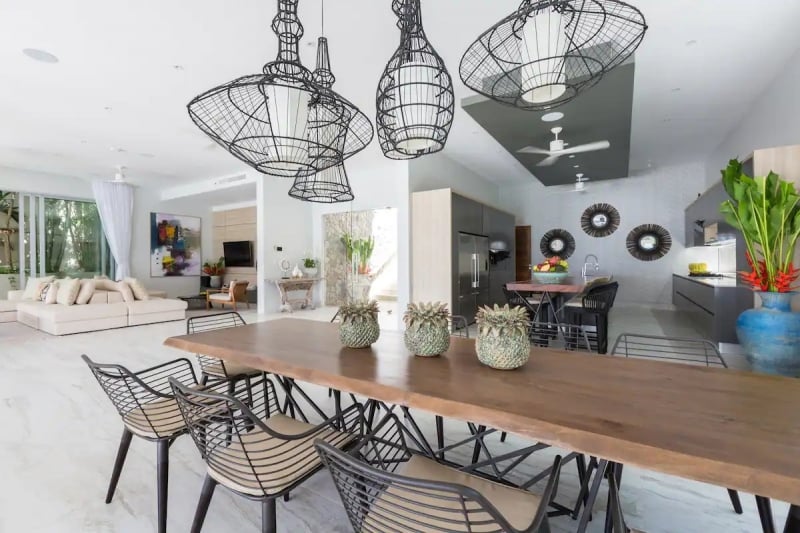 Listing name: Moonstone – Samui's Premiere Private Villa
Listing type: Entire villa
Max. no. of guests: 15
No. of bedrooms: 6 
Travellers who are willing to spare no expense for their dream Thailand vacation will fall in love with this swoon-worthy beach villa on Koh Samui. Perched atop the island's northern coast, it enjoys sweeping views of the glittery sea and gorgeous sunsets. Every corner is Instagram-ready, from the infinity pool to the private beach.
The house comes staffed with a villa manager, a private chef, and a villa attendant to make your getaway as seamless and stress-free as possible. Plus, all the best Samui beaches, dining spots, and shops are within a 10-minute drive. It's no wonder previous guests all gave this Airbnb in Thailand five stars after their stays!
Also read: 10 Best Destinations in Thailand for Culture and History
Whether you're booking a beach shack or a mountaintop hideaway, these unique Airbnbs in Thailand will make you never want to leave the country. What's your pick?
Got a property you'd like TripZilla to feature? Inquire with us here. 
---
This article contains affiliate links. When you book through these links, we may earn a small commission at no additional cost to you. All images courtesy of the respective property listings.