From Gordon Ramsay to the late Anthony Bourdain, Vietnamese cuisine has captivated the culinary imaginations of famous chefs across the globe. That said, what better place to have a taste of the Indochine than in Vietnam's busy capital, Hanoi?
While the capital's array of street eats may confuse the uninitiated traveller, discerning locals have since established their favourite haunts hidden among Hanoi's bustling streets. We asked a local guide for her food recommendations after a blazing summer morning touring the historic Temple of Literature, and she was more than happy to oblige.
Here's a list of Bách's favourite Vietnamese food in Hanoi — as well as recommended dining spots. You only have her to thank for your next amazing food adventure in Hanoi!
1. Phở bò (Beef slices with rice noodles)
No trip to Vietnam is ever complete without a bowl of piping hot pho bo, or beef served with rice noodles. With a rich broth made from beef bones and meat, balanced with generous helpings of fresh herbs and a squeeze of lime, this dish is a perennial favourite among both locals and tourists. Add a handful of bean sprouts for an extra crunch, or have yours with cut chilli to leave your tongue tingling with delight.
Bách recommends:
Phở 10
10 Lý Quốc Sư, Hàng Trống, Hoàn Kiếm, Hà Nội, Vietnam
With a signboard brusquely declaring what it offers — pho, and then its address — this is a no-frills restaurant perfect for a quick yet delectable meal. Among the many combinations on offer, the most basic includes pho with bo tai (half-done beef slices) and bo chin, or well-done beef brisket. At just 70,000 VND (~S$4) and with rave reviews across the Internet, this is the place to go to satisfy all your pho cravings.
2. Bún chả (Vermicelli with pork)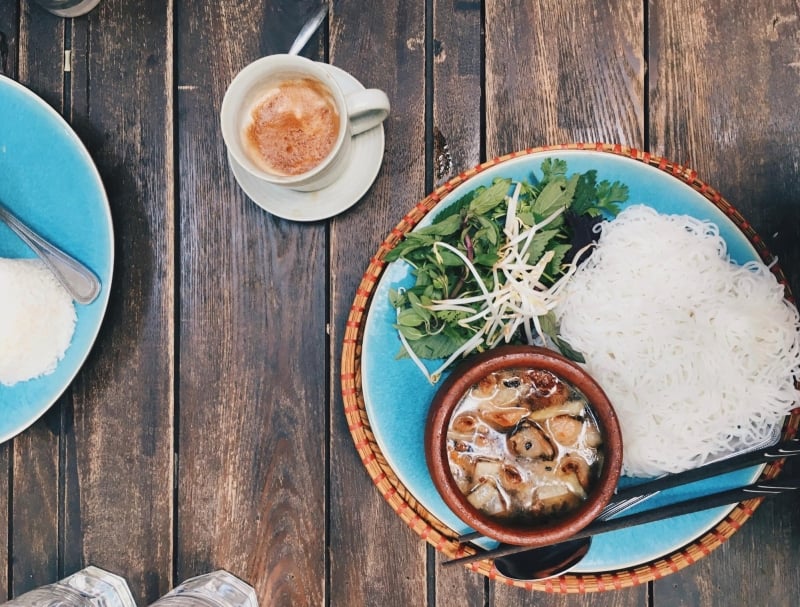 Don't let the simple appearance of this dish fool you — the chewy vermicelli, grilled fatty pork, and sweet and sour dipping sauce all come together to form an amazingly complex flavour profile. When in Hanoi, eat bun cha as the Hanoians do. Have it the Northern way by mixing the vermicelli in the broth and slurping it up as you would a bowl of noodles. Or, if you're a rebel at heart, have it the Southern way; take a piece of lettuce, roll everything in it, and dip it into some sauce before taking a big bite.
Bách recommends:
Bún Chả Hương Liên
24 Lê Văn Hưu, Phan Chu Trinh, Hai Bà Trưng, Hà Nội, Vietnam
As its nickname "bun cha Obama" suggests, this otherwise unassuming restaurant once played host to former United States President Barack Obama and the late Anthony Bourdain. If it's good enough for a president, then it's probably good enough for you too. Head down for a delicious bowl of bun cha, or simply to see the now glass-encased table where the men dined.
3. Nộm thịt bò khô (Dried beef salad)
Featuring a mix of dried beef, green papaya, fresh herbs and roasted peanuts all dressed with lime and fish sauce, nom thit bo kho makes for a light and quick meal with low calories to boot.
Bách recommends:
Long Vi Dung
23, Hồ Hoàn Kiếm, Hàng Bạc, Hoàn Kiếm, Hà Nội, Vietnam
Conveniently located off Hoan Kiem Lake and situated near the famous Thang Long Water Puppet Theatre, Long Vi Dung is an easy refuge from the chaos of Hanoi's Old Quarter. Here, expect a good crowd of both tourists and locals alike polishing off plates of dried beef salad.
Long Vi Dung serves its version with ample helpings of chewy beef and crunchy peanuts, zinged with handfuls of mint and coriander. If thit isn't enough, have a full meal with the other intriguing dishes on offer, like nem chua, or fermented pork rolls, and — if you're feeling really adventurous – even nom chim, or pigeon salad.
4. Miến lươn (Eel noodles)
While the thought of chomping down on these slithering creatures may not be everyone's idea of an appetising meal, a bowl of mien luon might just be enough to change some minds — especially when the sliced luon, deep-fried to rid the eel of malodours, looks nothing like the slippery fish we are all familiar with.
Served with glass noodles made from cassava flour and a light soup of eel bones and ginger, mien luon makes for a surprisingly pleasant and nourishing meal.
Bách recommends:
Miến Lươn
1 Chân Cầm, Hàng Trống, Hoàn Kiếm, Hà Nội, Vietnam
Enjoy mien luon in true local fashion at this tiny restaurant located at the head of Chan Cam street. Although it offers a variety of eel-based dishes, mien luon is a popular mainstay. And it's not hard to see why — its eel is deep-fried to perfection, remaining wonderfully crispy even when dipped in flavorful eel broth.
5. Cà phê trứng (Egg coffee)
First introduced by the French in the 19th century, ca phe, or coffee, has since become a major product for export in Vietnam. From traditional Vietnamese drip coffee to the expensive luwak and weasel coffee, Hanoi boasts a robust coffee culture indeed.
But nothing piques curiosity more than the seemingly bizarre mix of egg and coffee offered by a number of Hanoi's cafes and restaurants. Ca phe trung is a must-try for any intrepid tourist keen on sampling the capital's many delicious offerings.
Bách recommends:
Café Pho Co
11 Hàng Gai, Hàng Trống, Hoàn Kiếm, Hà Nội, Vietnam
With rustic Chinese furnishings, dangling bird cages and an assortment of potted plants, all four levels of this quirky cafe come together to exude an eclectic charm. The top floor partially overlooks the city's famous roundabout, making the cafe the perfect setting for an Insta-worthy picture or two with its main offering: egg coffee. Another cafe with ca phe trung worth checking out is Giang Café!
Comprising a cup of strong black coffee topped with a foamy cream made from egg yolk and condensed milk, one sip of ca phe trung will have you eager for more.
6. Bún thang (Ladder noodles)
Translated by Bách as "ladder noodles," this dish is traditionally made and served during the Vietnamese New Year, or Tet. Although unsure of the exact origins of the dish's curious name, Bách suggests that it points to the delicious satisfaction to be had from the meal itself — drinking the hearty broth of bun thang is akin to ascending a stepladder towards pure bliss.
And little wonder, of course, when the soulful soup is made from a flavorful mix of over twenty ingredients, comprising mainly chicken, dried shrimps and shiitake mushrooms.
Bách recommends:
Bún Thang Bún Bung
32 Cầu Gỗ, Hàng Bạc, Hoàn Kiếm, Hà Nội, Vietnam
Uncover the heart of Hanoi with a bowl of bun thang at this shop located near Hoan Kiem Lake. With a sweet and savoury broth complemented by slices of ham, egg, onion and cucumber, this bun thang deserved all of Bách's fervent praise, making for a warm comforting meal amidst the constant swirl of Hanoian traffic.
7. Xôi xéo (Vietnamese sticky rice)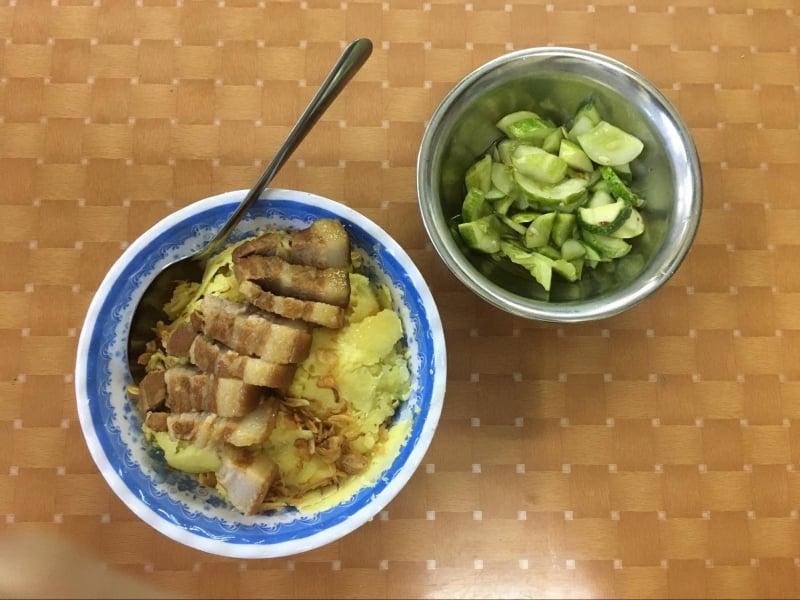 Coloured an intriguing turmeric-yellow, this bowl of glutinous rice served with mung bean and fried shallots is a working-class dish favoured for its low price. A single bowl is more than enough to fill your stomach up — heaped upon the densely packed rice are layers of hand-peeled and pounded mung bean, making for a heavy yet satisfying meal.
Bách recommends:
Xôi Yến
35B Nguyễn Hữu Huân, Hàng Bạc, Hoàn Kiếm, Hà Nội, Vietnam
Sat under harsh fluorescent lighting on low tables and plastic stools, a meal at Xoi Yen is a fascinating dining experience on its own. While its taciturn staff do not speak English, the restaurant's menu does come with translations.
Simply point to the type of xoi xeo you'd like when you order — ruoc, or salted pork, is a particularly tasty accompaniment. Then watch as the lady at the glass counter uncovers a giant basket full of steaming xoi, prepares your bowl with the requisite bean and shallots, and tops it off with a helping of pickled cucumber.
8. Bánh gối (Pillow cake)
Deep-fried and golden brown, this "pillow cake," or banh goi, is a greasy but oh-so-welcoming change from everyday Vietnamese fare and its light, balanced flavours. Essentially a kind of fried dumpling, these Indochinese empanadas are stuffed to the brim with minced pork, mushrooms, black fungus and herbs, coming together to create a sinfully good snack.
Bách recommends:
Quán Gốc Đa
52 Lý Quốc Sư, Hàng Trống, Hoàn Kiếm, Hà Nội, Vietnam
With vines hanging over its storefront, Quan Goc Da is a picture of Old Quarter charm: long, tubular houses packed like sardines along narrow avenues, with electric cables and overgrown branches streaming out overhead. Order a banh goi and watch as the snack is fried in a vat of hot oil to your satisfaction — a quick, cheap snack to fuel you on your prowls around the capital.
9. Bún bò nam bộ (Southern beef noodles)
A dish that allegedly originated in the South, bun bo nam bo numbers as one of many beef-based dishes characteristic of Vietnamese cuisine. Yet, what makes these beef noodles unique from a bowl of pho or thit bo kho is its delicately marinated beef slices, soaked as they are in a combination of fish sauce, sugar and pepper, among other seasonings.
Served with vermicelli, bean sprouts, and cucumber, and then topped with ground peanuts and fresh cilantro, this Southern-inspired dish has long been a street staple in the Northern capital.
Bách recommends:
Bún Bò Nam Bộ
67 Hàng Điếu, Cửa Đông, Hoàn Kiếm, Old Quarter , Hoan Kiem Hà Nội, Vietnam
Named unambiguously after its principal dish, the interior of this restaurant is lined with rows of metal tables and benches for its hungry customers. Watch as bowls after bowls of bun bo nam bo go flying off the counter, doled out to an endless stream of locals and tourists.
When yours arrives, remember to mix well before digging in, and slowly savour the beef slices marinated in the restaurant's secret sauce. Finish the meal off with a refreshing bottle of cold beer!
10. Cà phê cốt dừa (Coconut coffee)
This sweet, milky drink is made from a mixture of condensed milk, coconut milk and strong bitter coffee, the last adding a piquant kick powering through the milk's saccharine goodness. Giving you the buzz you need after a long afternoon in Hanoi's soporific heat, ca phe cot dua is a winning combination that needs to be in cafe menus just right about everywhere.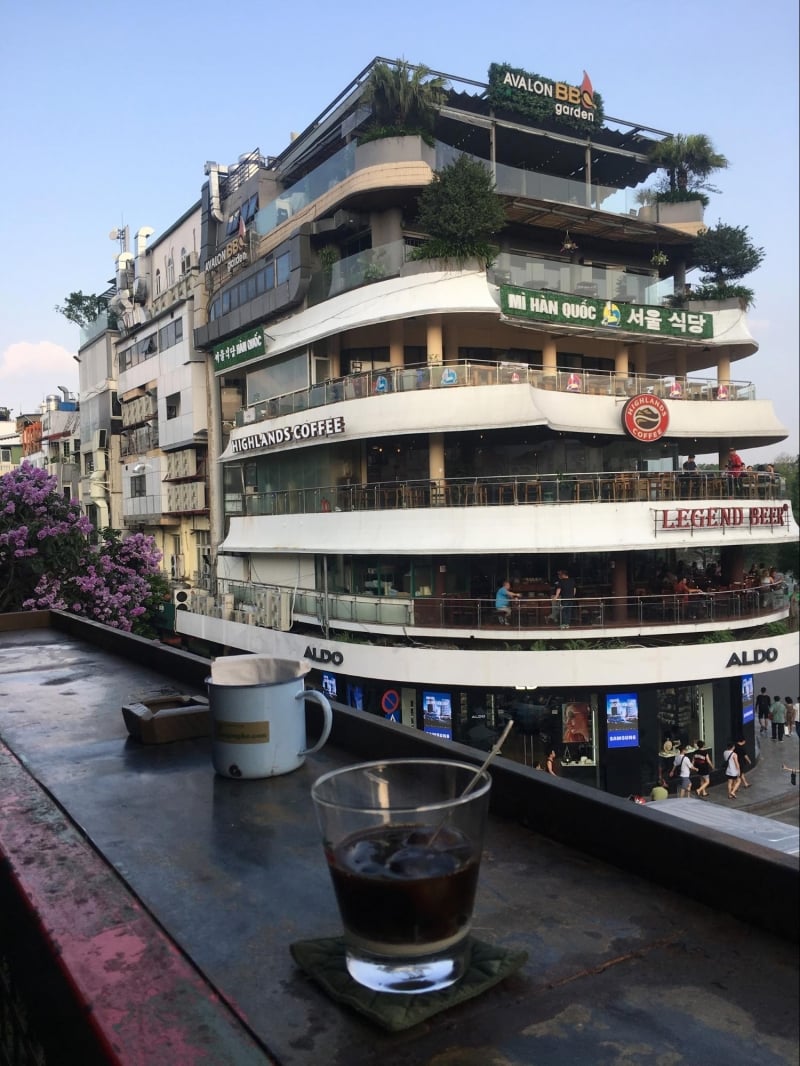 Bách recommends:

Cộng Cà Phê
For now, however, you can get your coconut coffee fix at any one of Cong Ca Phe's numerous cafes peppered across the capital. Sporting the classic green and red of Viet Cong uniforms, each cafe in this coffee chain is decked out in cool military chic, creating a charismatic ambience for you to enjoy your coconut coffee served with shaved ice.
For the best views of Hoan Kiem Lake and the Old Quarter, head up to the upper floors of the Cong Ca Phe located at 116 Cầu Gỗ, which feature balconies opening onto Hanoi's iconic roundabout. Perched high above the city bustle, they provide the perfect spot for the slow relishing of ca phe cot dua while the sea of Hanoian crowd and traffic seethes below.
Also read: A 6D5N Itinerary of Northern Vietnam: Hanoi, Ha Long Bay, and Sa Pa
While the city has its fair share of tourist-friendly restaurants and cafes, be sure to go off the beaten track with these places for Vietnamese food in Hanoi. Not only do they tantalise the tastebuds with their range of dazzling dishes, but they also offer dining experiences complete with local flavour, all making sure that your stay at the capital will certainly not be your last!